Housing
The people fighting to save Sydney's Sirius building

Nov 18, 2016
In this special This Vertical Life feature, Assemble Papers editor Sara Savage meets some of the remaining residents at the Sirius public housing building in Sydney, who for the last three years has been fighting the NSW government's decision to sell the building (as well as hundreds of other properties in the wider Millers Point area) to make way for luxury apartments.
When the New South Wales Government first revealed in March 2014 its decision to sell off hundreds of Sydney's public housing properties at Millers Point, Dawes Point and The Rocks – making way for the potential demolition of the historic Sirius building in favour of luxury apartments – the relocation process was slated to take two years. Thirty-two months later and nearly all of the 400 public housing tenants have been moved out of the area; but for a remaining few, the fight to save the historic Sirius building and its extended community is about to reach a critical juncture. "We are making plans to sell the Sirius building," reads a letter circulated earlier this month by the NSW Government's Department of Family & Community Services to the five remaining residents of Sirius – an important public housing building, not to mention Brutalist landmark. The letter continues, telling the residents what they already know: "Seventy-four of the original seventy-nine tenants have now moved or are moving to other locations and we would like to find appropriate accommodation for you, too." In this special This Vertical Life feature, Assemble Papers editor Sara Savage meets some of the remaining Sirius residents, as well as the activists behind the Save Our Sirius Foundation and Friends of Millers Point, to find out what the government's latest efforts mean for them in the continuing battle to save this significant fragment of Sydney's built and social heritage.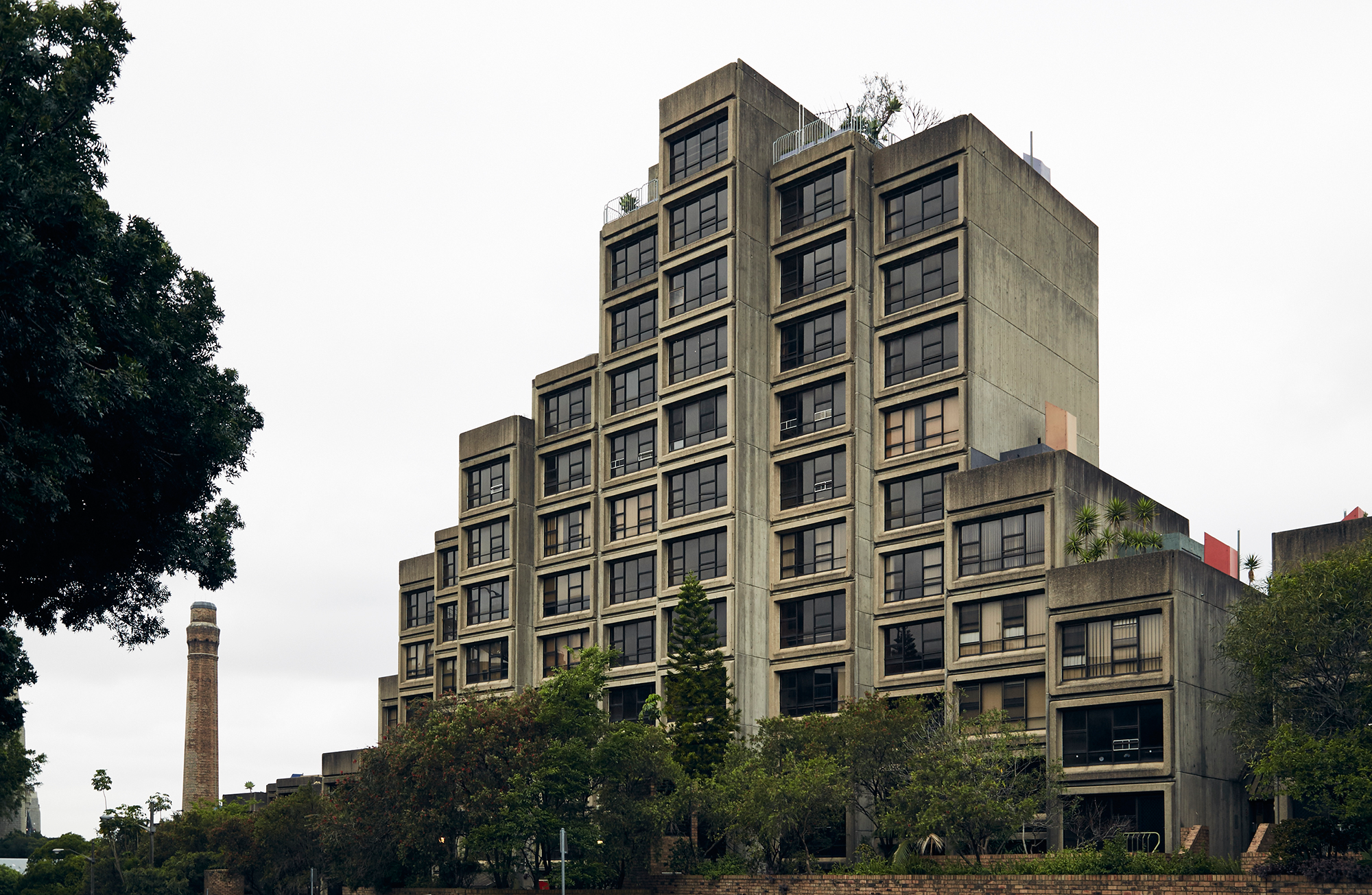 Cherie Johnson, 61, is an original Sirius tenant, having moved in with her mother shortly after the project's completion in 1980. "When I first moved into Sirius, I remember going around to Millers Point to buy the newspaper and people in the street would say 'good morning' to me – it was like a little country town, right in the city," she says, smiling. It's a different story now, with the majority of the area's public housing tenants having been relocated by the NSW Government over the last two-and-a-half years. "It's been a complete turnaround," Cherie says of the rapidly transforming neighbourhood she's called home for 36 years.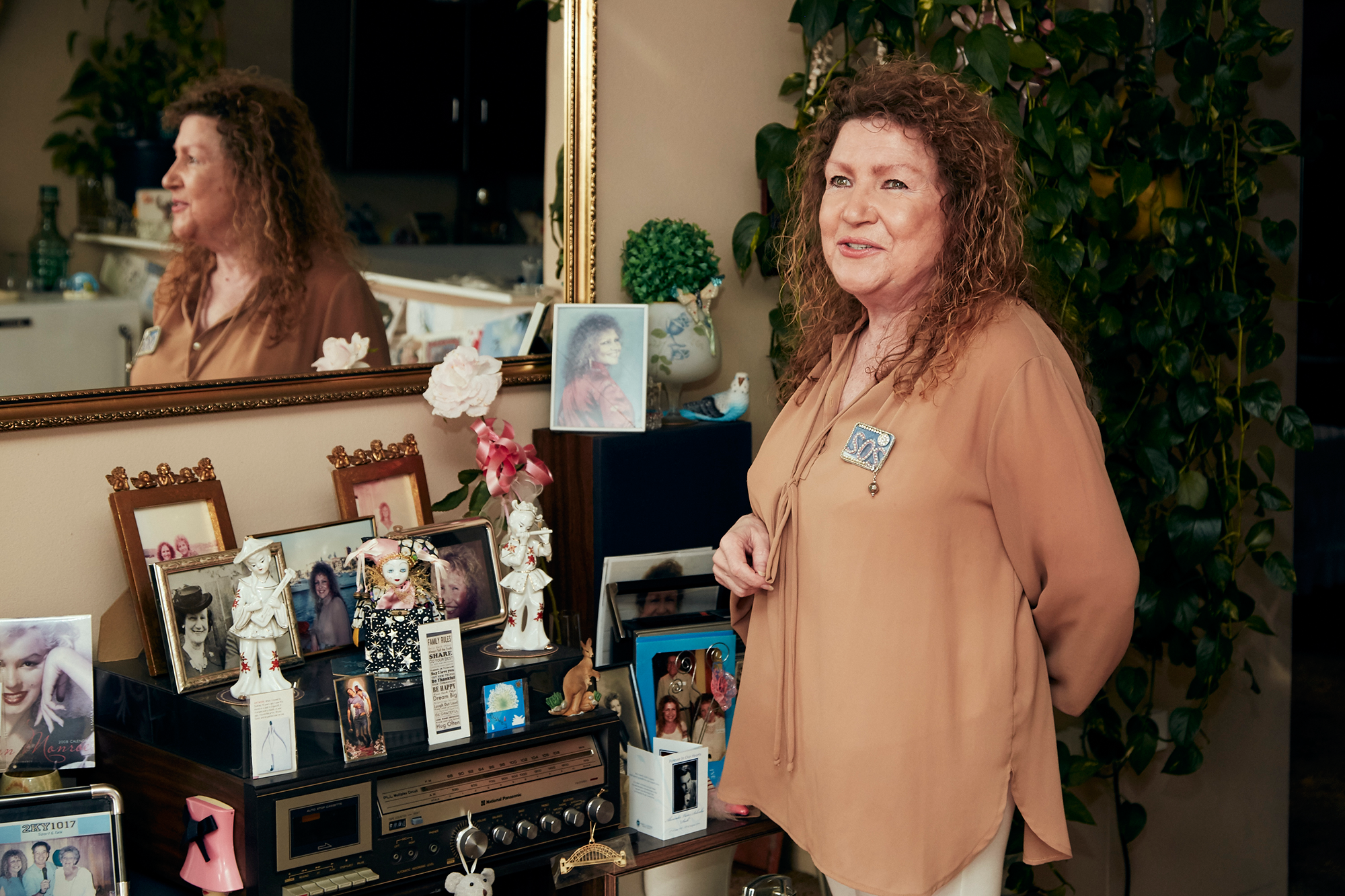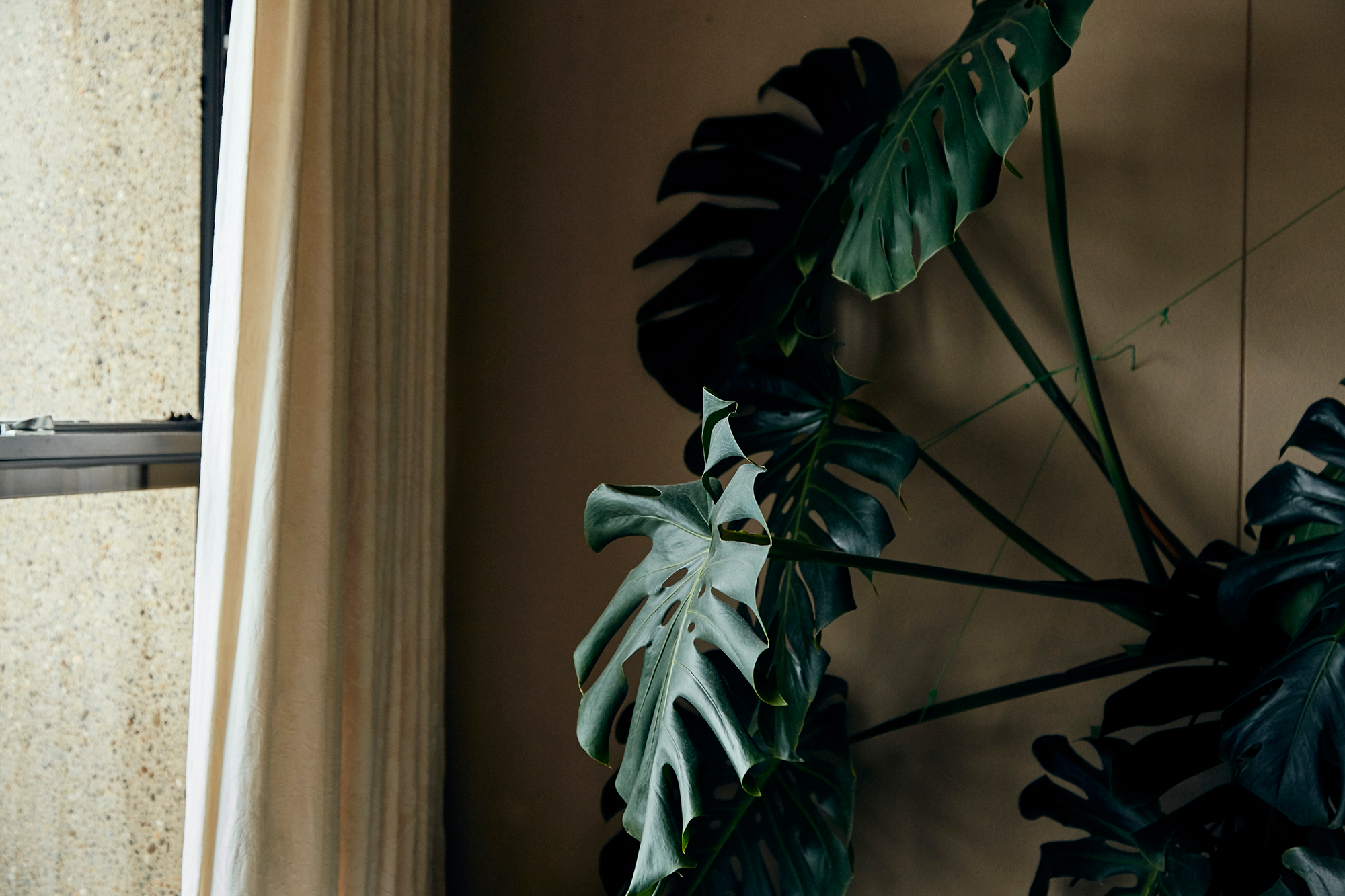 We're sitting in Cherie's ninth-storey apartment, immaculately kept and lovingly dotted with knick-knacks and ornaments, indoor plants and a shrine-like arrangement of framed family photographs. "Everyone who visits my place says it's like walking into a doll's house," she laughs. More generously sized than the average doll's house, however – or the average public housing unit for that matter – the 79 Sirius apartments were built to accommodate 200 people in a series of one, two, three and four-bedroom units, both single-storey and split-level. Many of the apartments enjoy picturesque views of Sydney's world-famous harbour, but you won't find the residents bragging about it. "The thing is, it's not about the view. It's about the people that live here," says Cherie, suddenly switching to the past tense. "That's what made this place."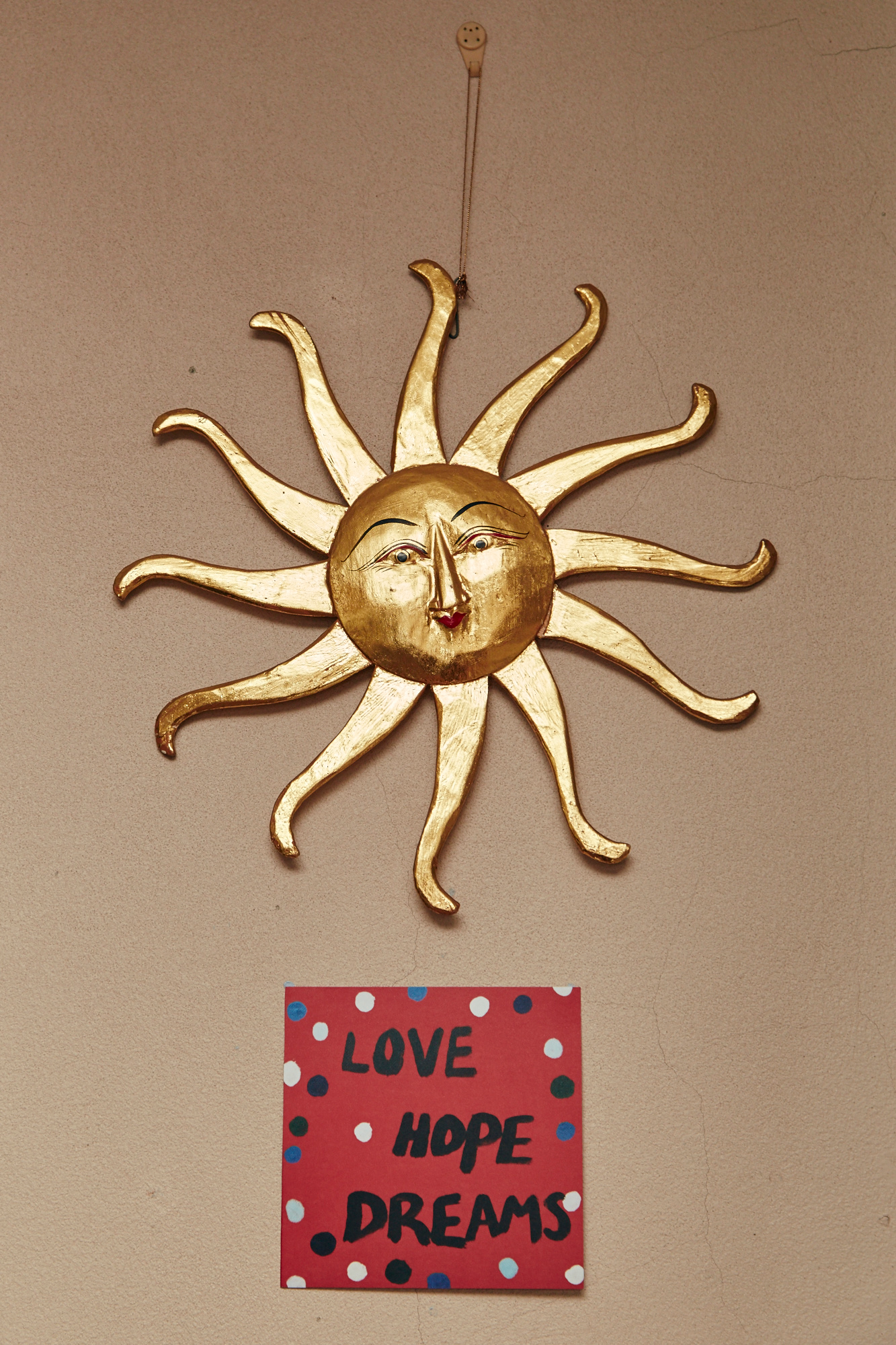 Sirius was originally built with the purpose of rehousing public tenants who had lost their homes during the controversial redevelopment of the Rocks in the late 1960s and 1970s. When development was halted by union Green Bans in the mid-1970s, the sparkling-new Sirius became home to many who had lived on the nearby George, Playfair and Atherden Streets. (The irony of recent events in September 2016, in which the CFMEU construction union declared a Green Ban over the site, is not lost on many.) In particular, Sirius was designed to accommodate the elderly, as well as low-income families both big and small – a rare outcome for the NSW Housing Commission at the time, but one that's ultimately responsible for the project's success over the past four decades.
Shaun Carter, president of the Australian Institute of Architects' NSW Chapter and chair of the Save Our Sirius Foundation, has been a consistent and vocal supporter of Sirius and its greater community over the past few years. "Sirius got all the urban cues right from the get-go. They gave it a front door and put it on the street, and those simple yet fundamental things have meant that Sirius is a building that is and has always been of the community," he says, adding that key worker accommodation and affordable housing are crucial to the functioning of any inner-city environment.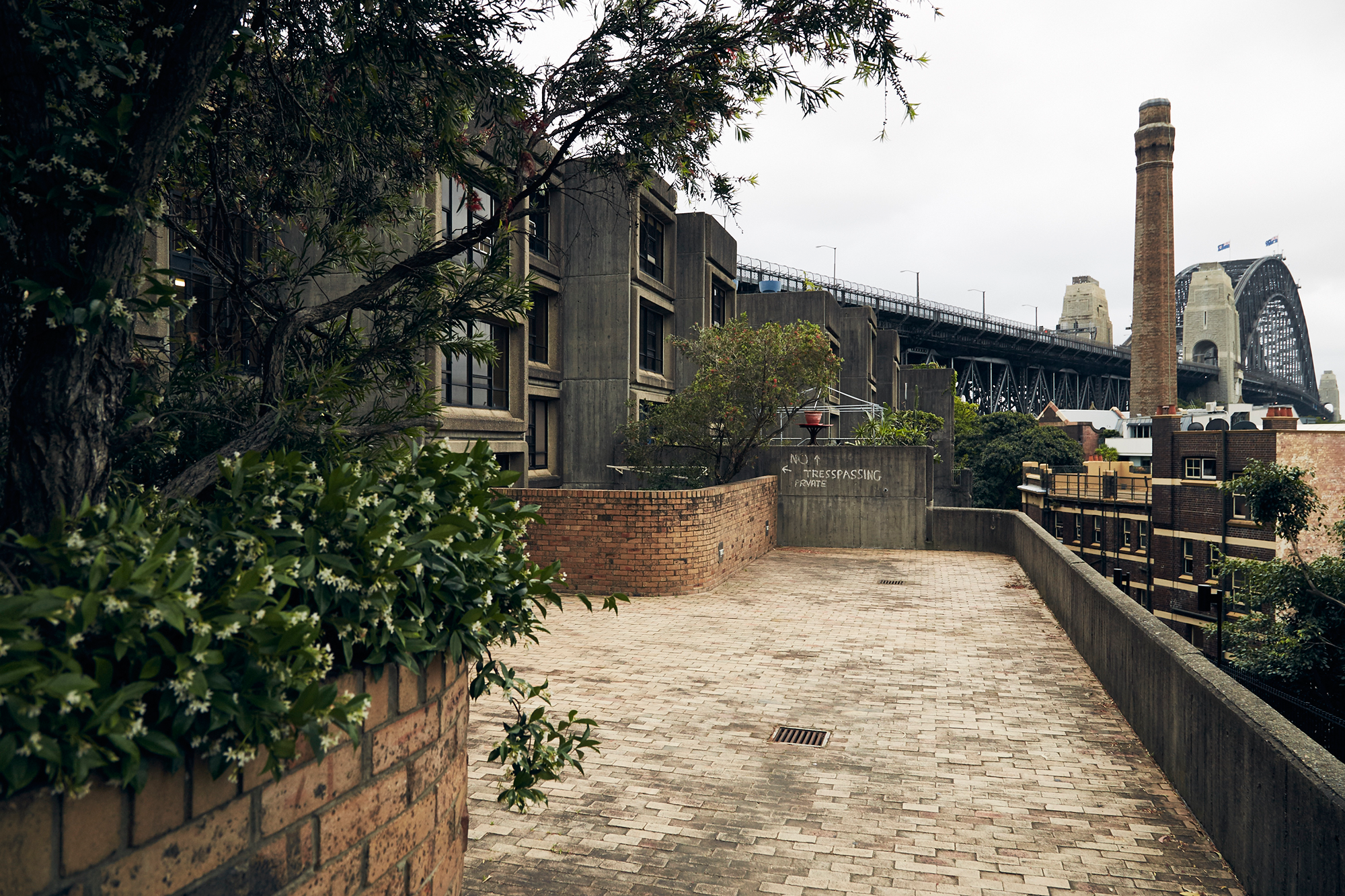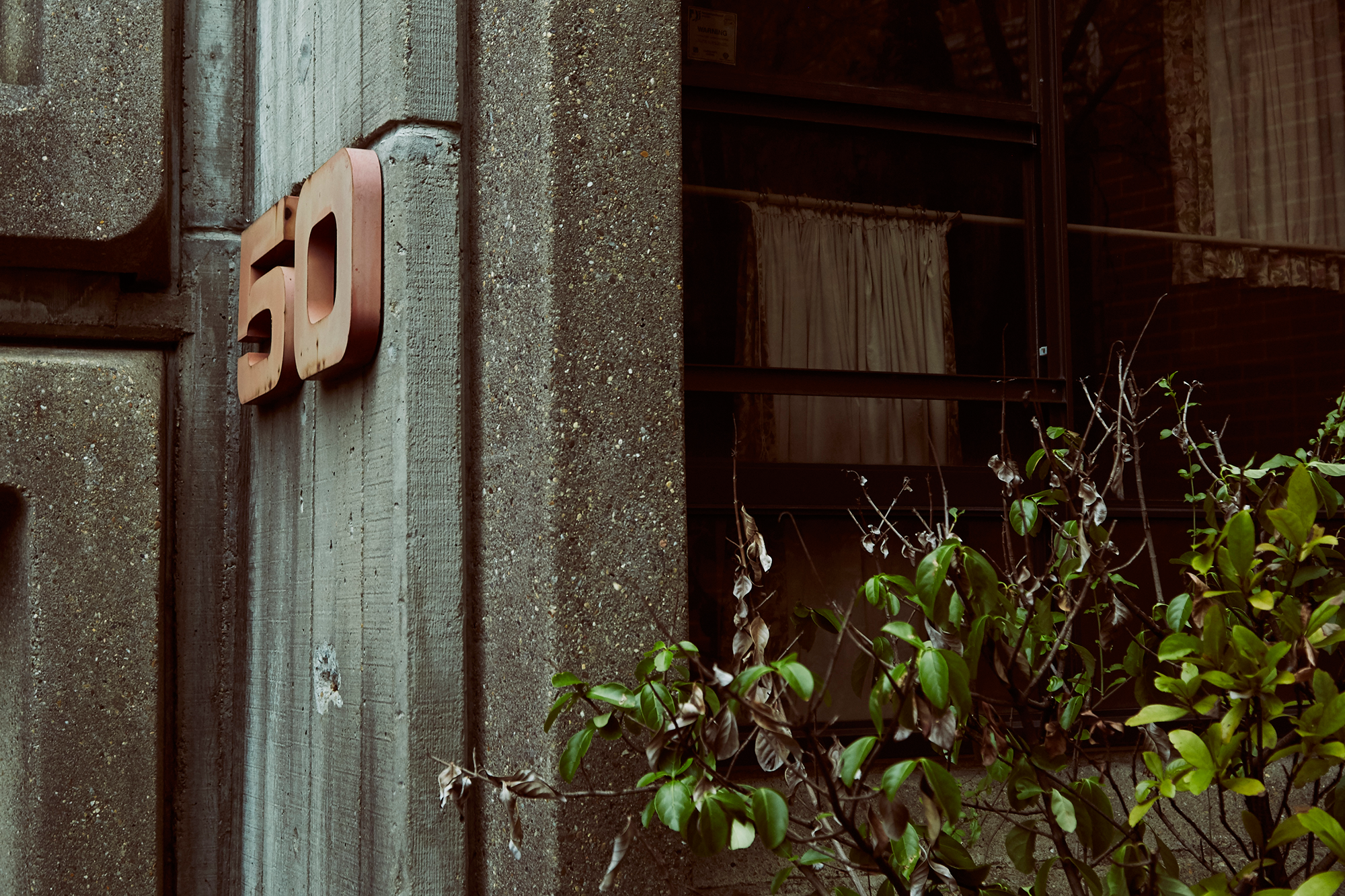 Sirius's architect, Tao Gofers (now 76 years old and very much involved in the Save Our Sirius campaign), was clearly inspired by Israeli-Canadian architect Moshe Safdie's Montreal housing complex and fellow Brutalist icon Habitat 67 – easily one of the world's most recognisable multi-residential projects. Though less than half its size, Sirius shares the modularity of Habitat 67, not to mention its inclusion of outdoor spaces like landscaped terraces and rooftop gardens, as well as communal space throughout the building. Both projects were designed with the wellbeing of future tenants in mind – something often overlooked in the present-day realm of affordable housing, and rarer still in any densely populated inner-city scenario.
In its decision to sell off the site, is the NSW Government implying that public housing tenants don't deserve the privilege of living in a high-demand area like the Rocks? Shaun Carter thinks so: "One of the great things about Sydney is that there's social housing in all our best suburbs, like Balmain for example. We know all great cities are made around diversity: socioeconomic diversity, cultural diversity, and so on. If we have a whole range of people living in these communities, it allows us to connect with other people and be a more cohesive society."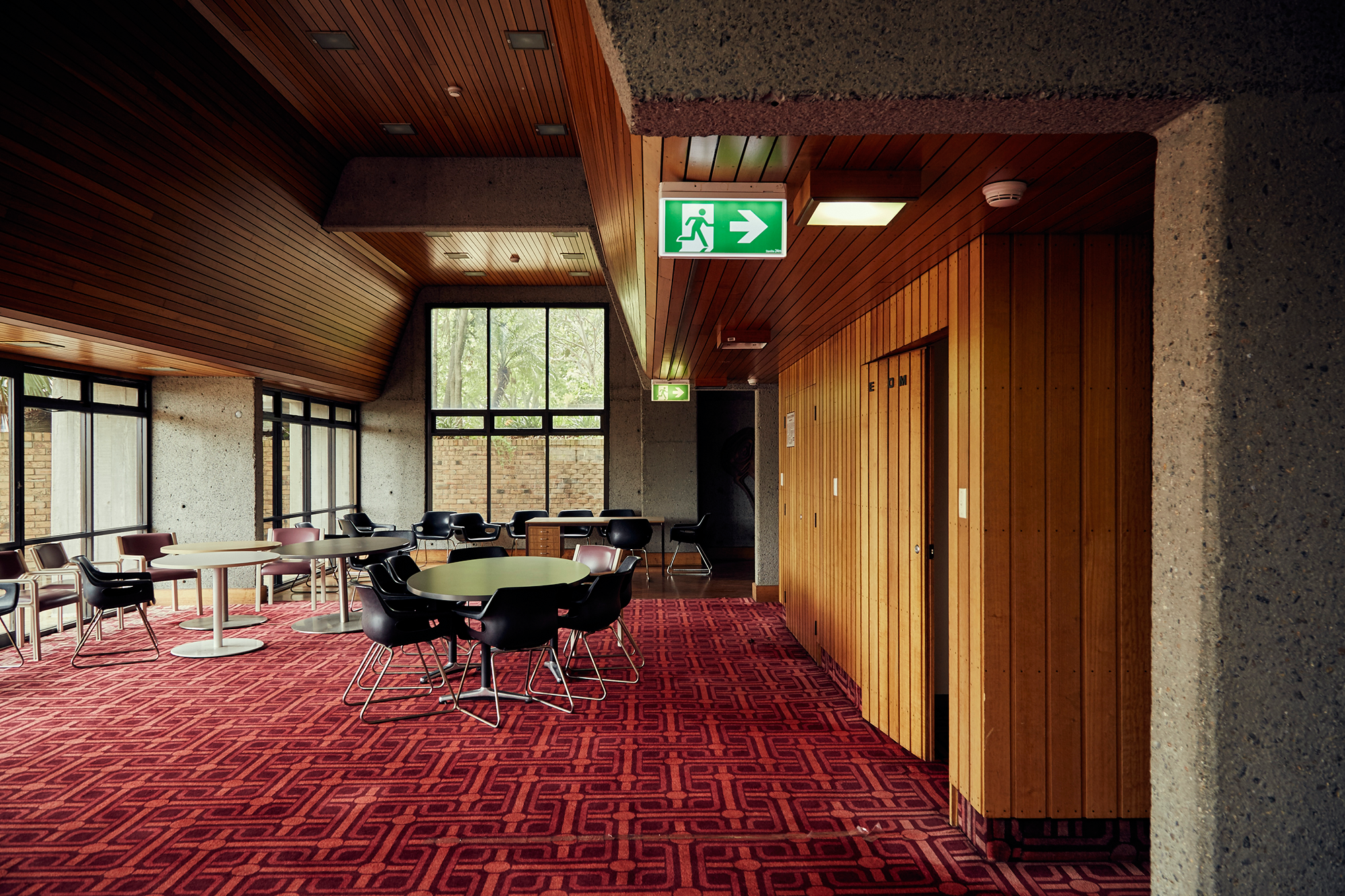 When the NSW Environment and Heritage Minister Mark Speakman announced in July 2016 that Sirius would not be listed in the State Heritage Register (despite a unanimous recommendation from the department's own Heritage Council on both architectural and sociohistorical grounds) he argued that heritage-listing Sirius would reduce the site's sale value by at least $70 million – money which he suggested could otherwise be used to fund several hundred social housing units for the 60,000 families on the growing waitlist for public housing. But many residents, community action groups and even politicians think there's more to it than that, and are suspicious of the government's reluctance to release further details of plans to fund further social housing. City of Sydney Lord Mayor Clover Moore has called the scheme "a blatant cash grab", adding that the Minister's decision not to heritage-list Sirius "sets a dangerous precedent". Federal Labor MP Anthony Albanese echoed these sentiments when he spoke at the most recent Save Our Sirius rally outside NSW Parliament on Thursday 3 November: "When [NSW Premier Mike] Baird looks at Millers Point, he sees dollar signs," he said. "But when I look at Millers Point, I see a tight-knit community of people whose sense of community is priceless."
The impact of the NSW Government's haste in moving out the residents of both Sirius and Millers Point cannot be overstated, with the remaining residents sharing a discernible air of exhaustion. The ever-houseproud Cherie ("I had just swept the ceiling and shampooed the carpets!" she says of the day she found out about the government's plans to sell Sirius) speaks of her diminishing will to clean the house with the same vigour she used to. Likewise, 55-year-old Kelly Moss, who has also lived in Sirius since the beginning, tells of her elderly mother – also a Sirius resident – whose health has deteriorated significantly since the announcement in 2014. "My mum was a vibrant, healthy woman two years ago – getting up early to walk the bridge every day. Now, she's a shell of her former self," says Kelly. "Being in limbo like we have been for the last three years… it's not a good way to live. You can't relax."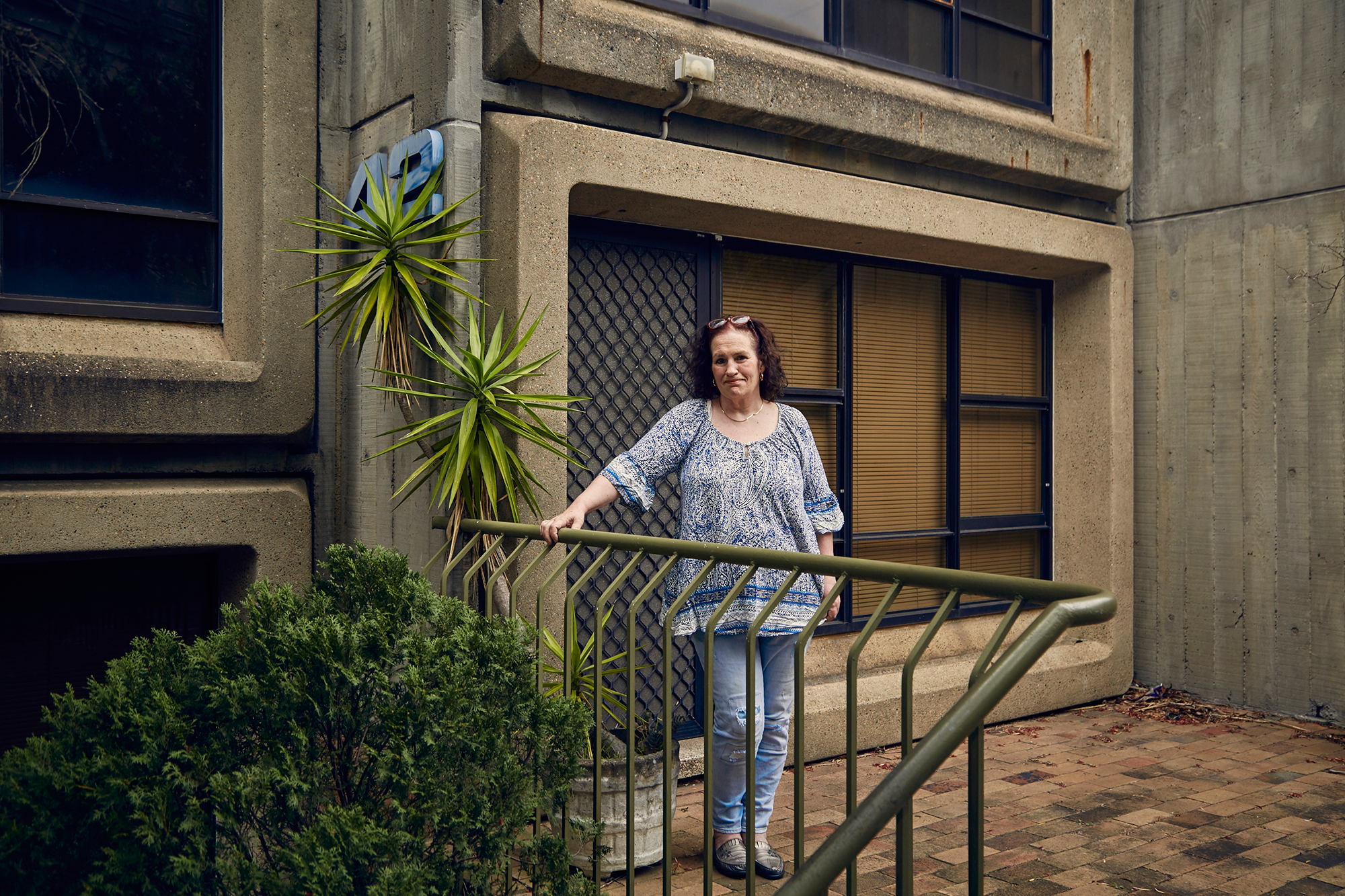 And then there's Myra. If you've followed the Sirius story at all over the past three years, chances are you'll be at least somewhat acquainted with Myra Demetriou – a figurehead of the remaining residents. Though 89 years old (she'll be 90 by the end of November) and physically frail, Myra is often described by others to be 'tough as nails'. Myra is blind – in fact, the armchair in her 10th-storey apartment faces away from her so-called 'million-dollar' harbour views – but she remains fiercely independent and is a cherished member of the local community, having lived in the area for 60 years and in Sirius since 2008. But for all Myra's resilience, she says her disability is a major reason why she's fighting for her right to remain in the building and in the area. "How can they expect someone like me to just pack up and go somewhere strange?" she says. "I want to stay."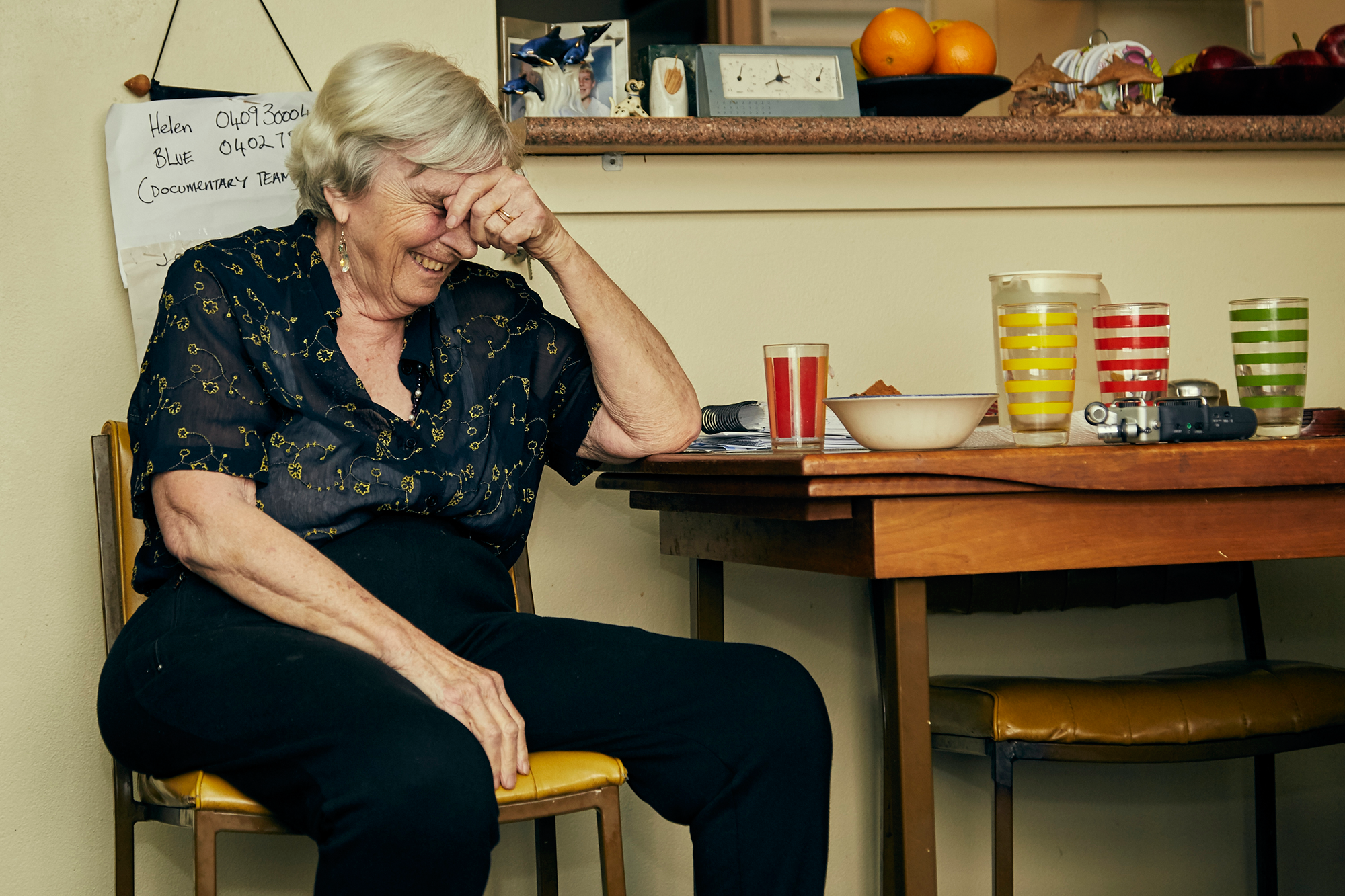 Myra's and Cherie's apartments sit directly on top of one another, and the two women became close after Cherie's mother Betty died a few years ago. Speaking to them both in Myra's unit (known to many as the apartment with the 'SOS' lights in the window), they agree their ideal outcome would be to stay – if not in Sirius then in the Millers Point area.
Thanks to the mammoth efforts of the Save Our Sirius Foundation, the Friends of Millers Point group and the Millers Point, Dawes Point and The Rocks Resident Action Group (the latter led by lifelong Millers Point resident Barney Gardner – another of the final few remaining), in September 2016 more than $50,000 was raised through a public crowdfunding campaign to challenge Minister Speakman's rejection of the Heritage Council's recommendation to heritage-list the Sirius building. On Thursday 3 November, the Environmental Defenders Office on behalf of the Millers Point Community Association officially challenged the decision in the hopes of reversing it – a court date is set to be announced on Friday 25 November. Meanwhile, the NSW Government's Family & Community Services department continues to make aggressive attempts at relocating the remaining residents without further delay.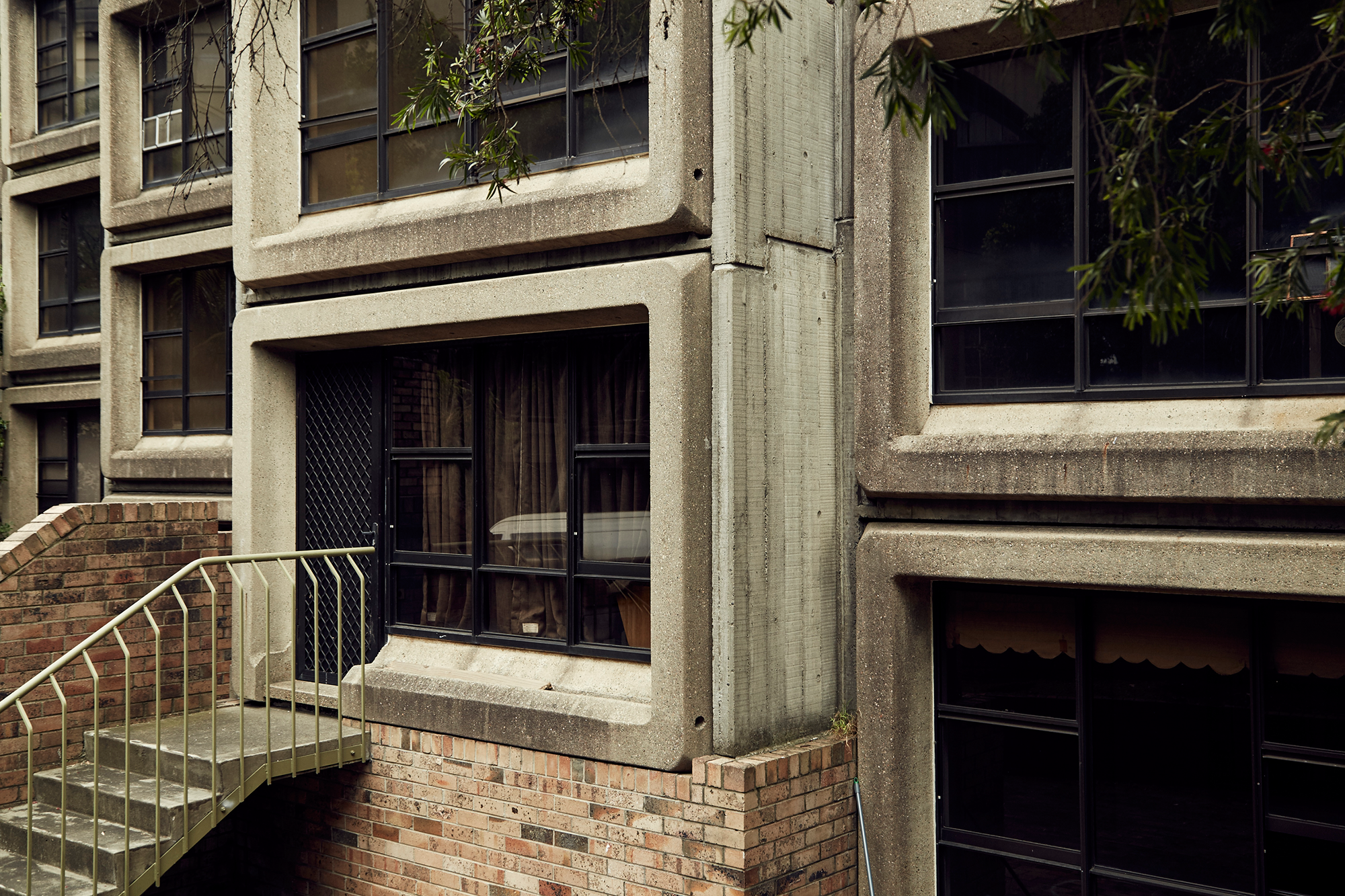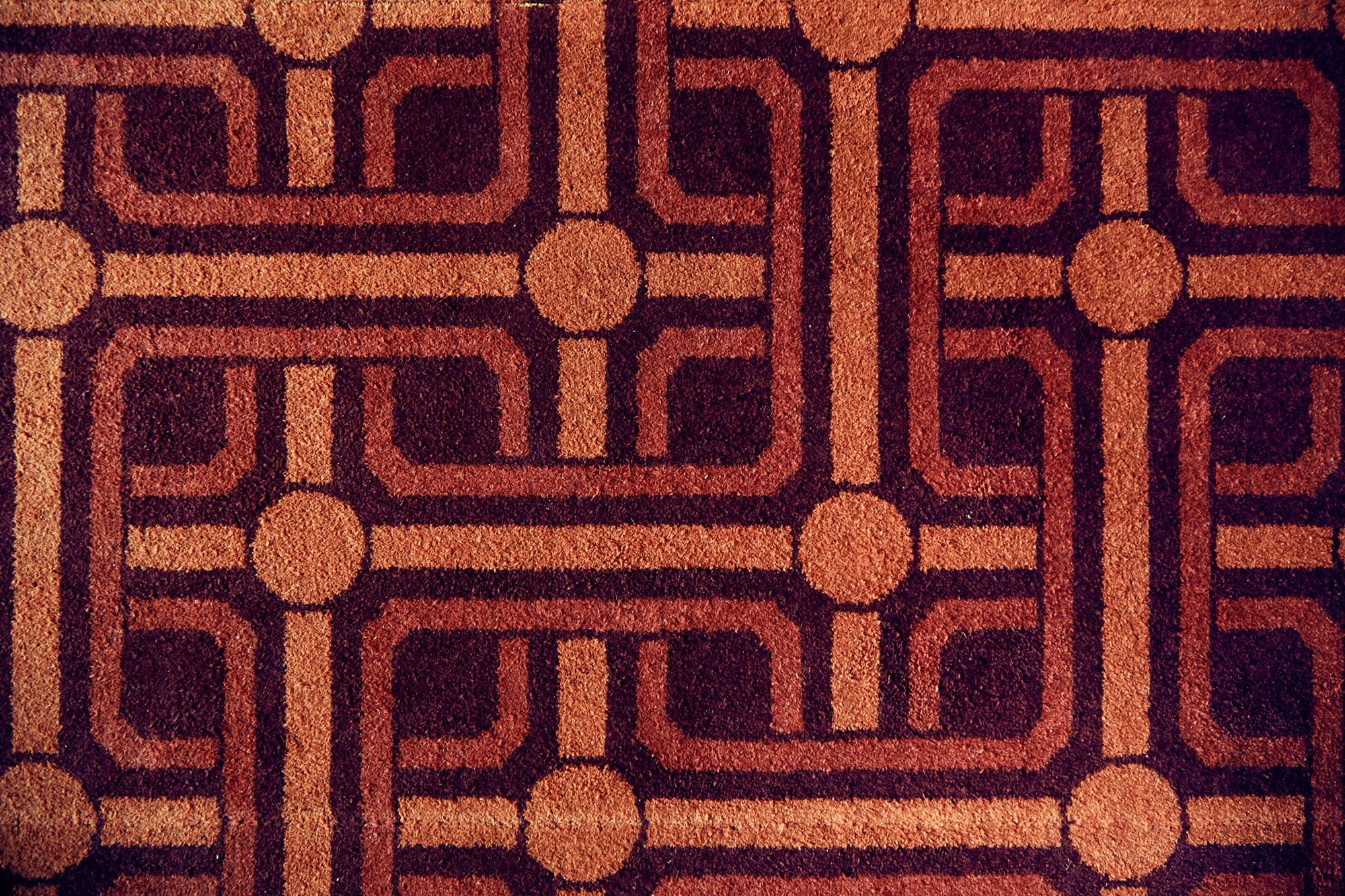 On the day we visited Sirius, local resident and tireless Sirius Foundation member John Dunn was kind enough to show us around. John stresses the importance of holding on to residents like Myra, Cherie and Kelly, but adds that many community members do understand the government's need to sell some of the property. "For years the community has been calling on the government to do this, but differently. Many historic houses owned by the government were left vacant for years and were becoming derelict, with the government unable to look after this heritage. Now the government is unable to look after Sirius," he says, noting that to retain Sirius as social housing would be ideal, but that the Foundation would be open to a number of middle-ground solutions.
"We've been investigating options for redevelopment that incorporate a significant portion of social housing while delivering a similar windfall profit to the government. These options save the building and save some of the Millers Point community, allowing people like Myra, Cherie and Kelly to stay, as well as providing homes for some of the elderly and frail residents who have lived all their lives in the area, while also allowing some houses to be sold to the highest bidder."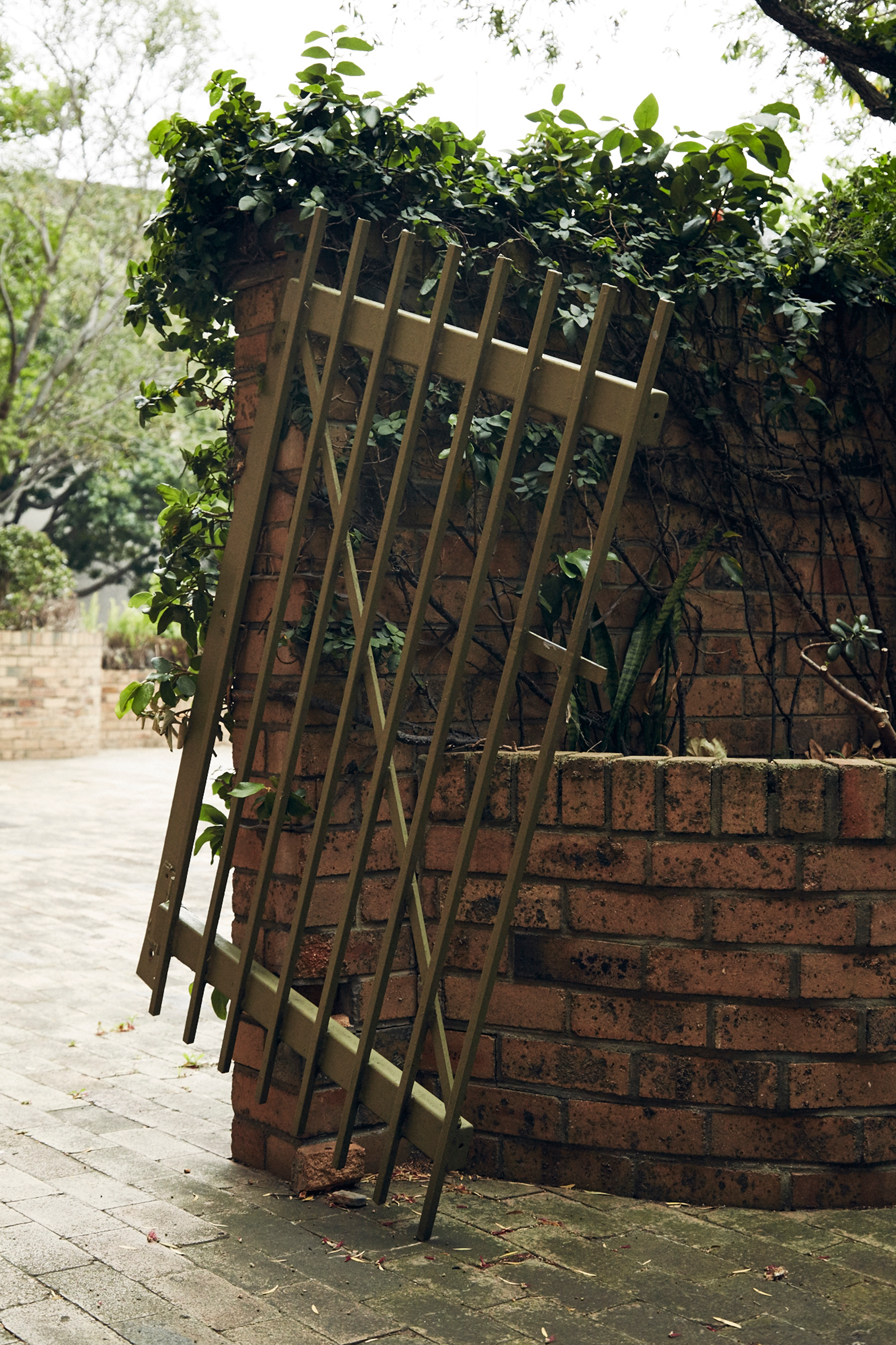 It's hard to know which fate lies ahead for Sirius, for the handful of remaining residents in the building, and for the broader Millers Point community. One thing, however, is certain – there's no shortage of people to help fight the cause. Shaun Carter thinks the media attention and overwhelming public and political support Sirius has received taps into a broader consciousness about the future of our cities and the way they should be managed. He hopes the Sirius building will go on to be a positive, landmark case for the preservation of architecturally and socially significant buildings in Sydney and beyond.
"We're like pebbles in a pond," he says. "These ripples go a long way."
*
Our deepest respect and gratitude to Cherie and Myra for welcoming us into their Sirius homes, and to Kelly for sharing her story. Thanks also to Shaun Carter and John Dunn for their assistance and insight in putting this story together. Lastly, the beautiful photographs in this article were taken by the talented Alisha Gore – see more of her work here: alishagore.com. Assemble Papers supports the Sirius Foundation in challenging the NSW Government's decision not to heritage-list the Sirius Building and wishes the residents and community members all the best in their quest for the fairest outcome possible. For regular updates on Save Our Sirius, you can join their mailing list here.
saveoursirius.org
millerspointcommunity.com.au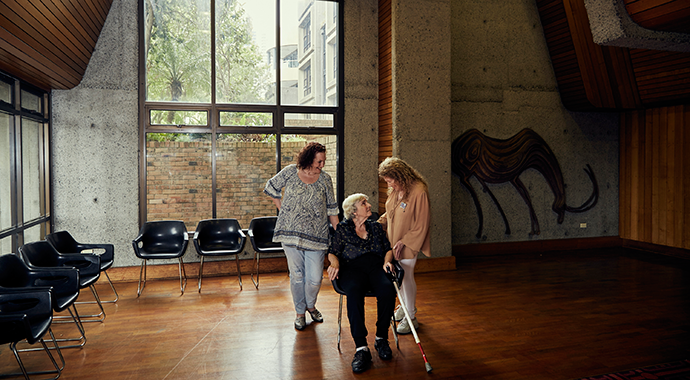 (L–R): Kelly Moss, Myra Demetriou and Cherie Johnson are among the five remaining residents in the Sirius building at the Rocks, Sydney. Photo by Alisha Gore.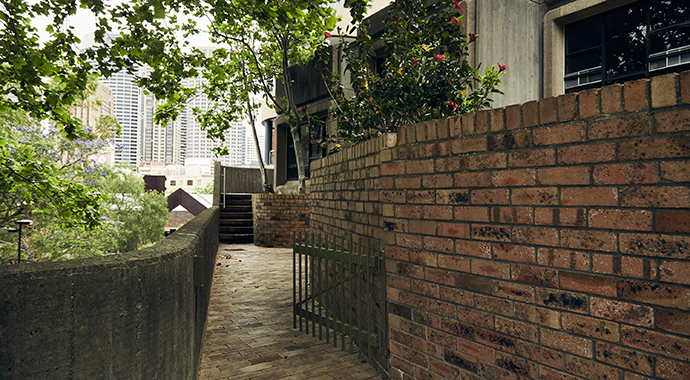 The building is bordered by a spacious walkway and luscious trees. Photo by Alisha Gore.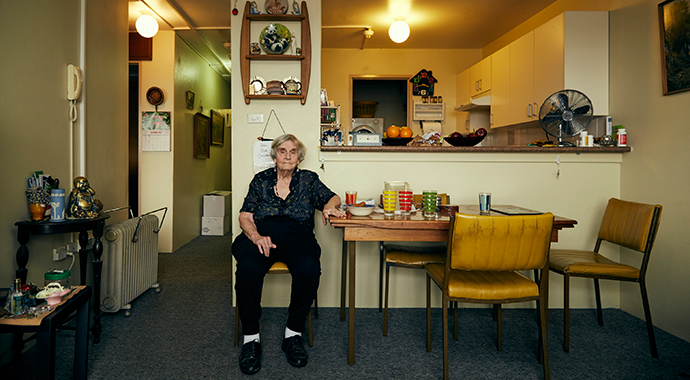 Myra Demetriou, 89, has lived in Sirius since 2008 and in the Millers Point area for 60 years. Photo by Alisha Gore.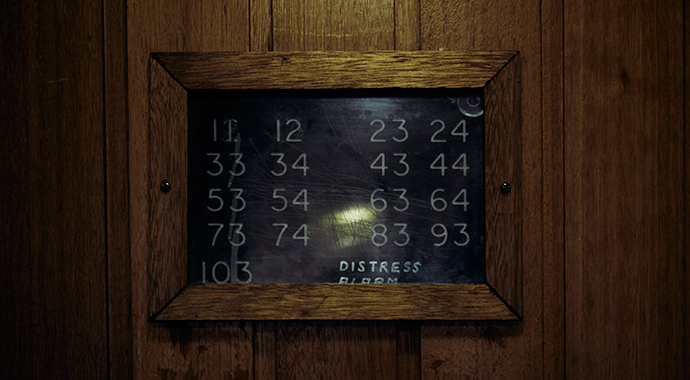 An old distress alarm lies dormant in the foyer of the Sirius tower building. Photo by Alisha Gore.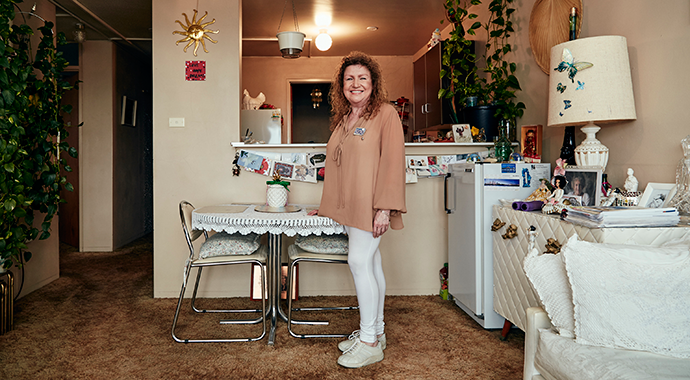 Cherie Johnson, 61, is one of the original tenants of the Sirius building, having moved in with her mother in 1980. Photo by Alisha Gore.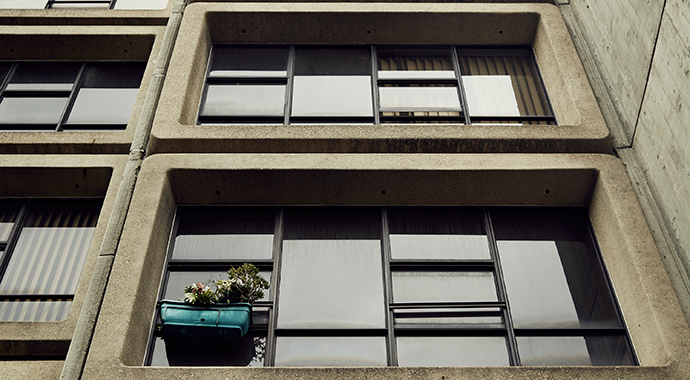 An exterior view of the Sirius building. Photo by Alisha Gore.