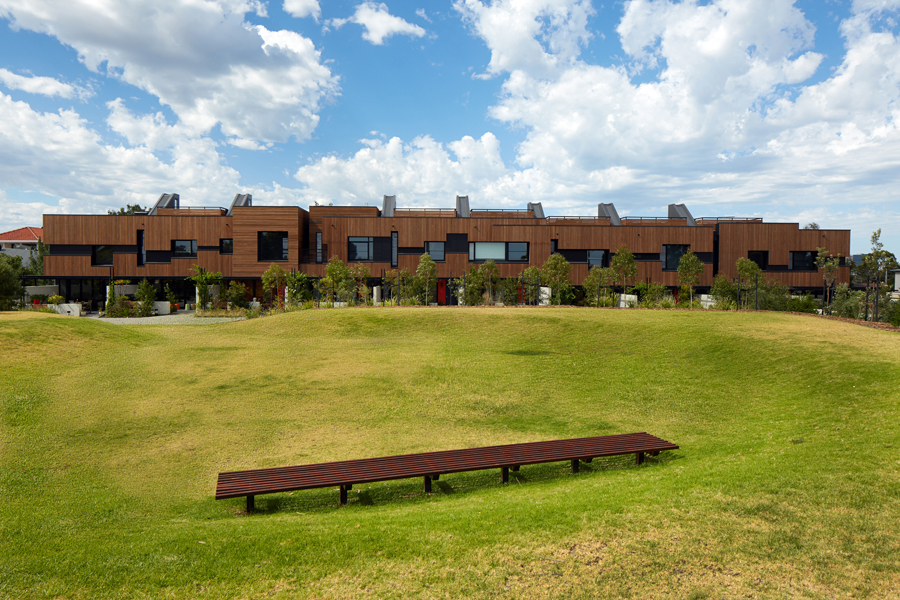 Aug 8, 2013
Introducing the first of our two part special on a medium density project close to our hearts – the Heller Street Park and Residences by iconic Melbourne architects Six Degrees. Completed at the end of 2011, this row of ten handsome timber-clad townhouses marries public and private interests and interactions in a design that sets the benchmark for a new model of inner-city multi-dwelling housing in Australian cities (while linking to the earlier groundbreaking work of Graeme Gunn and Merchant Builders' Winter Park). This week we visit the first three households.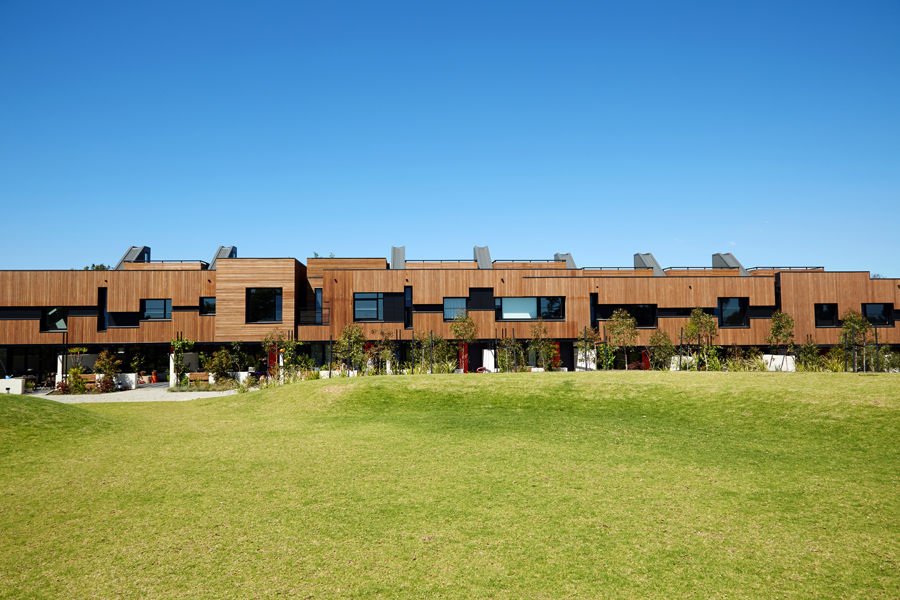 Located in the backstreets of Brunswick, a former tip is remediated into a communal park, blurring the boundary between public and private space, inviting not only the residents but the wider community to enjoy a new, shared green space. The ten dwellings are rendered as a unified horizontal form, with the border between the parkland and each home's private front terrace purposefully ambiguous, paying homage to the local area's heritage (in which predominantly Greek and Italian migrant families have for generations socialised and interacted with the street from their front porches). The project has garnered several key awards (including the 2012 AIA (National) Awards for Sustainable Architecture and Residential Architecture and 2012 AIA (Vic) Awards for Sustainable Architecture and Residential Architecture). This week, we meet the first three households from our summer of house calls – over a number of months, Assemble Papers visited Heller Street with photographer Tim Hillier, visiting five households in total, capturing a sense of what it's like to live side-by-side with kids, cats and community. But first up, a few insights from architect (and Heller Street resident!) James Legge of Six Degrees.
(Eugenia Lim) Heller Street is a design that appeals to many (having won numerous awards) and yet, it is also your own family home. Tell us about the process of designing your own "dream" residence within a medium density project?
(James Legge) A lot of what is appealing about Heller Street is the community that has, and is continuing to, develop. I had hoped that this would be the case, but had no way on knowing when first conceiving the project. The aim was really to create medium density housing within the inner suburbs that was family-centric, in other words medium density housing that allowed for a noisy young family to comfortably occupy and develop close relationships with their neighbours. We had spoken at Six Degrees about the difficulties of being able to afford a house within the inner suburbs that had anything more than a postage stamp sized backyard, and had looked around for a site that would allow shared outdoor amenities for residents. Then the Heller Street site came up, with requirements from Moreland council that dovetailed into this idea. This allowed us to try the model, but with the added bonus that the outdoor space would be a small park. I might add it still took a lot of convincing to get the planning department to allow us to ditch the private open space requirements insisted upon by planning departments everywhere, and instead blur what was private and what was public. North facing terraces face the park, with only low walls and vegetation separating these private spaces from the path the leads to everyone's front door. This was something that was important in developing a community and something that means it takes you half an hour to take the rubbish out, stoping for various chats along the way. As far as the design of the dwellings go, I simply imagined how my family and I would occupy the house. At that stage we didn't have any other known future residents, so I just had to assume that they would have similar needs.
(EL) What are the environmentally sustainable design (ESD) features of the project?
(JL) Various and many. Firstly the park is a remediated tip. In the process of remediation we tried to keep as much of the soil on site as we could, only taking off site the stuff that had to go off to a contaminated land fill. Why spread the problem somewhere else and anyway, this gave us the opportunity to terra form the park with the soil we dug up from the semi-basement level. In turning contaminated unused land into a public park and ten family occupied dwellings, there is also a social sustainability aspect to the project. The dwellings themselves are designed to incorporate first principles of ESD. Good cross ventilation, double glazing, thermal chimney up through the stairs and out through a ventilated skylight, thermal mass in the black concrete floor, good sun penetration in winter, but controlled sun penetration in summer through pergola and deep window reveals to the north. A double stud wall system to the north allows for the expression on the front façade, but also allows significant insulation, air gaps, and a ventilated timber façade. All dwellings were wired to allow the uptake of solar panels, and all rain water is directed to 100,000 litre underground tanks that are used to irrigate the park.
(EL) You chose to build ten homes on the site, not more, not less. What was your thinking behind this?
(JL) We could have put more on, if we had have made them flats, instead of what is essentially a contemporary three storey terrace house. However this would have gone against the intention of family-centric medium density housing, as any upper storey residents wouldn't have direct access to the park and everything would start to get a bit tight. If we had have put less on, then the dwellings would have been huge. As it is they are a good size for a family of five with all living spaces spilling out onto the park.
(Next week, we'll continue the rest of our interview with James Legge as well as peek into two more Heller Street homes. For now, meet our first three households below…)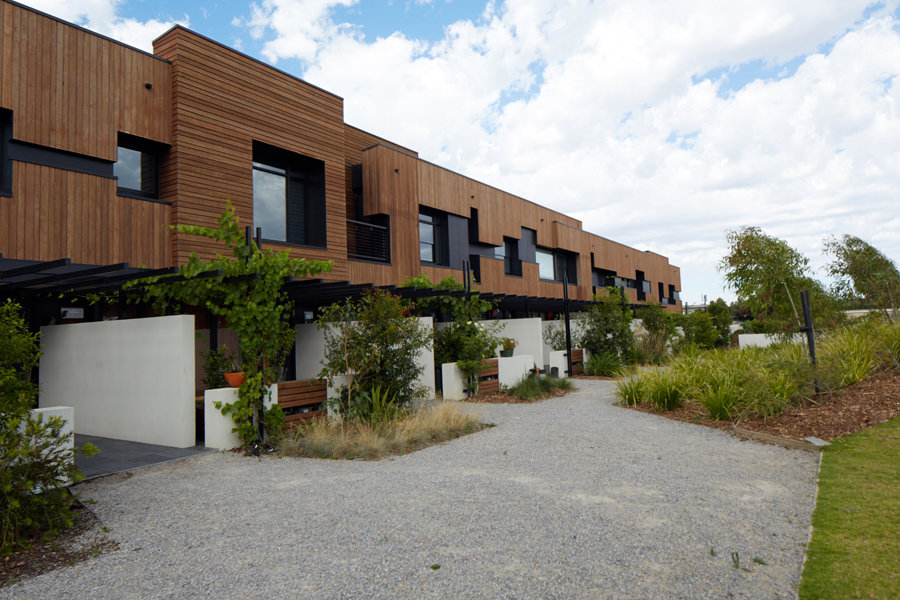 Damian and Adeline
Damian is an urban planner and his partner Adeline is a lawyer. They have two kids. "The four of us moved here in November 2011, before everything was finished, so it was a little bit chaotic. We were in Richmond before moving to Brunswick. Ad and I were there for seven years. It seemed great, a little space for little kids. But we knew as they were going to get older the space was going to get smaller. Here, most of the other houses have kids around a similar age. It's not long after we get home that the doorbell rings and it's Akira from three doors down wanting to play. It's a chance you take that the neighbours in your community are going to have a similar lifestyle".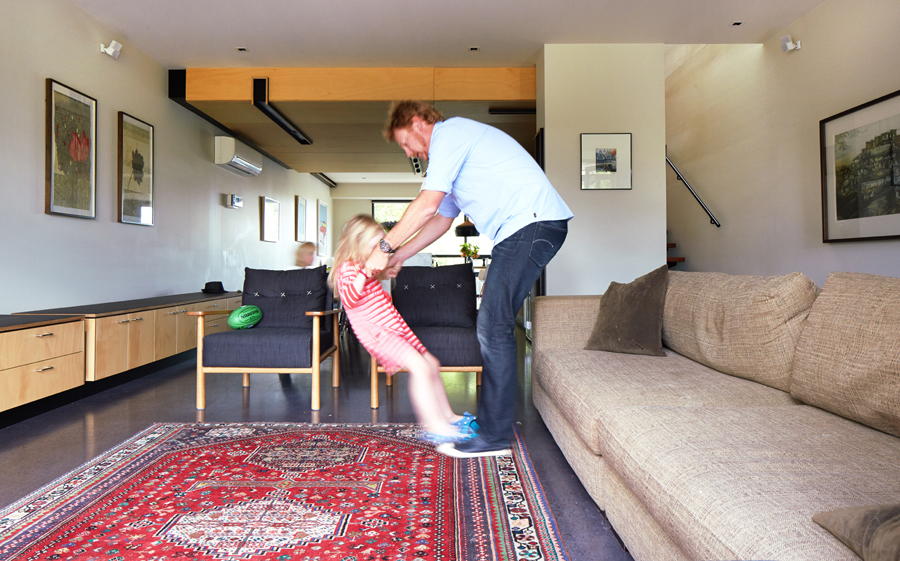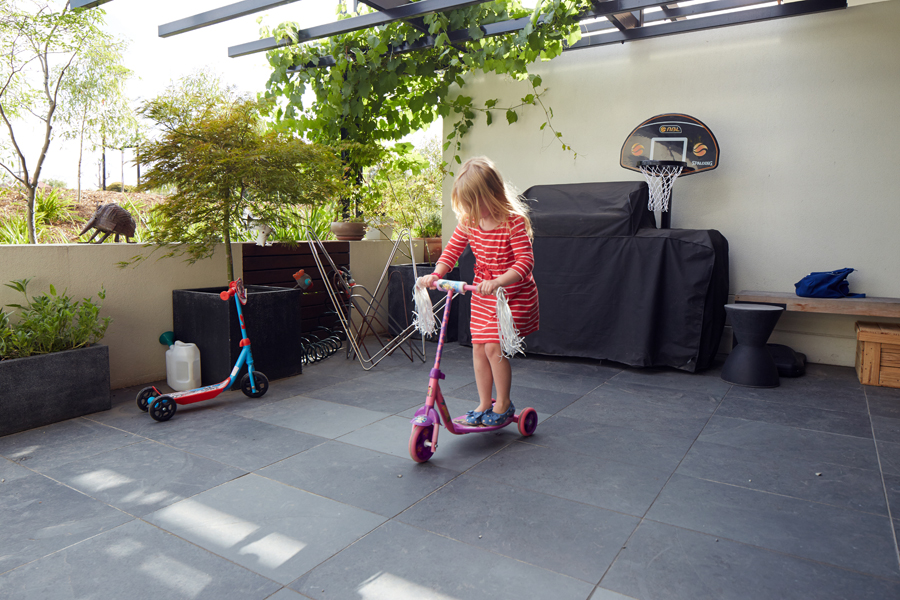 Damian was the planning consultant on the Heller Street project. "Through that stage, there was no real intention that this would be somewhere we would contemplate living, it was just another project, although a project we felt was unique in many respects. A few Christmases ago, having done a few projects with Six Degrees, James and I were driving to a client meeting and I had that realisation you have when you come back from holidays. You look at it with fresh eyes and have time to reflect on what you're going to do this year. I had known that he [James] was building it for himself but I didn't really turn my mind to the fact that it was much more than another project; it was something that was special that he had spent a lot of time thinking about and designing, and the needs in terms of the family needs was something that would suit us quite well".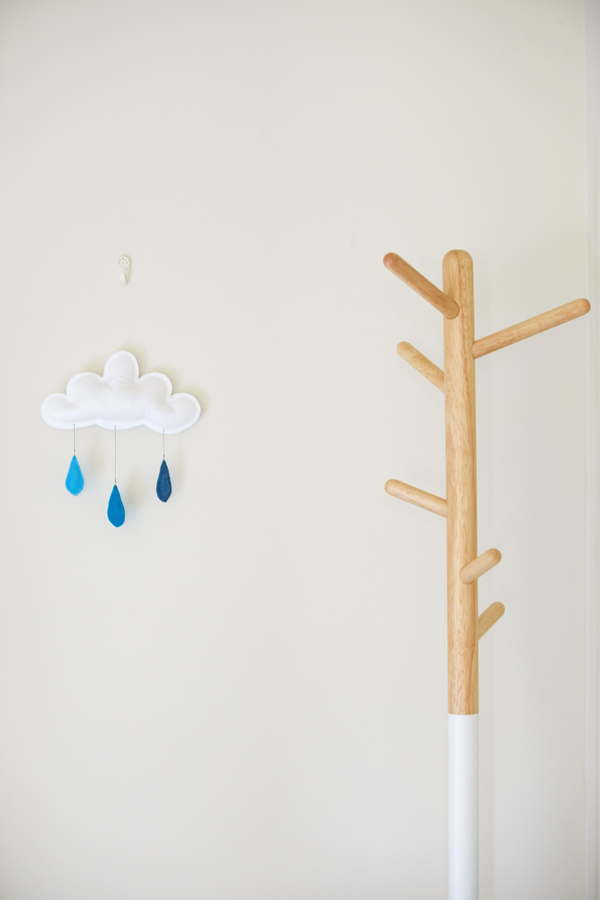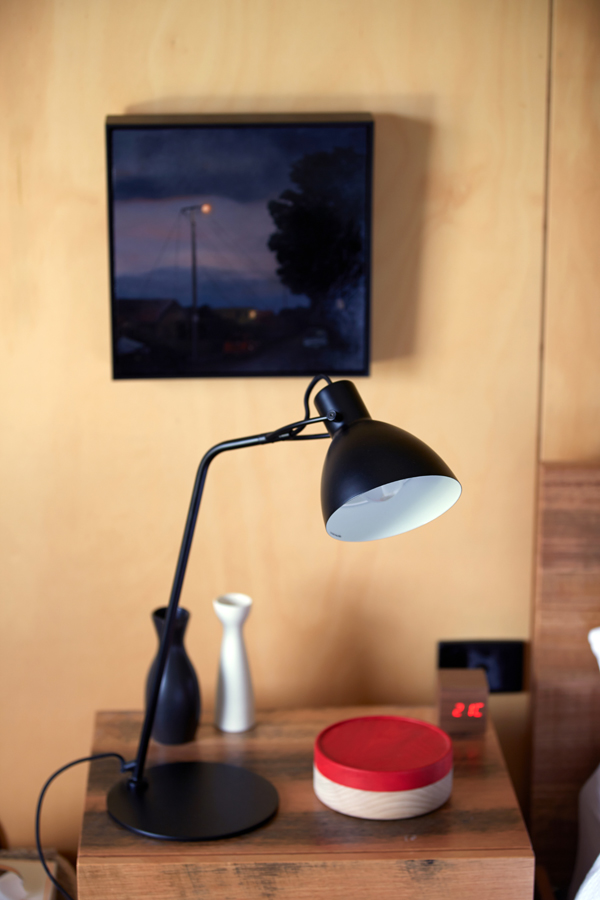 "The pub is 400 meters away, cafes are close by. Really, we are spoilt in terms of choice. Public transport – trams and trains that get us into the city for work. We're still getting to watch Collingwood play at the MCG – that was one thing that was hard in leaving Richmond! The pace of life is a bit different here. The good thing about this move has been it's opened our eyes to a whole new area of Melbourne. If we're not moving to New York, we might as well move to another bit of Melbourne!".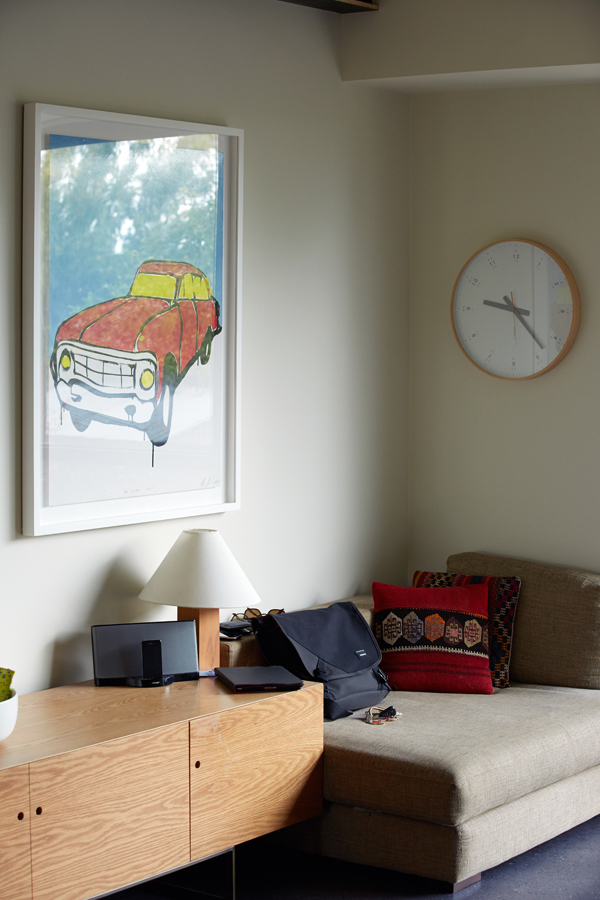 "Another good thing has been that many of the neighbours have become friends. Living in Richmond, our neighbours across the road were really the only people we met in seven years. This has been a success of the project, the people who followed the project have moved in – with varying backgrounds but a lot of similarities – at a particular time of their life. It is a diversity of people; everyone has a common interest, which is looking after the space that we're in. General goodwill to pitch in and get it done and make sure the space that we moved into was the space we looked after. People don't just tend to the garden that's in their courtyard but also the garden and communal spaces".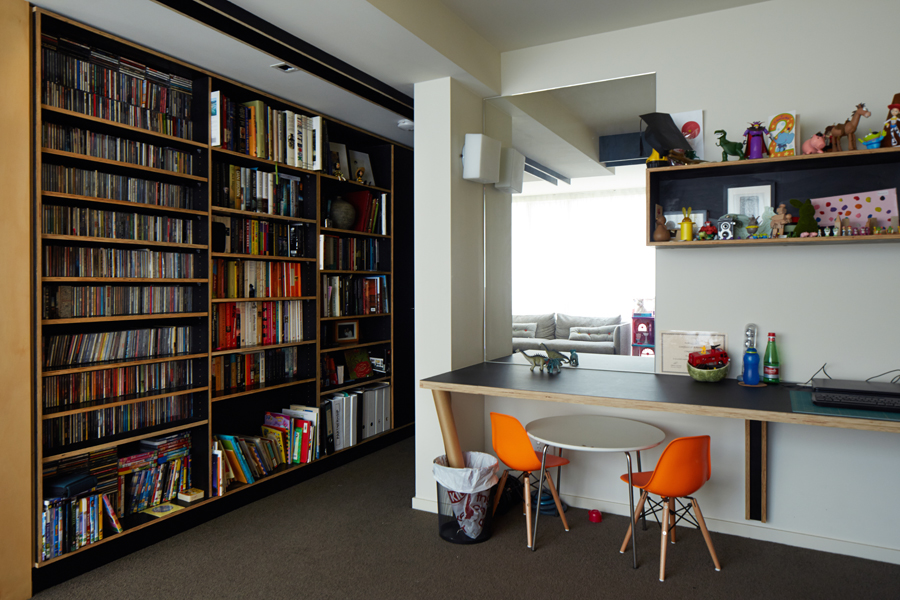 "Often the criticism in living in medium density housing is that the design isn't well considered and that it's yield based and developer driven rather than design driven. I think the secret here has been that the design is something that has bought likeminded people together who in turn have wanted to cultivate and improve or maintain it over time. And because that is hopefully going to endure, it means that people can come and appreciate the project and it will still be as good in the future as it was shortly after it was finished. We've got the local council executives coming around taking a real interest in it as a model of medium density housing potentially for other councils to consider, with their assets – old remediated or old landfill sites that are hard to do anything with. This is a real test case in many aspects of how it can be done. We've never had a disagreement; it's about how we want to spend the money. That new car smell will still be with us, you know that smell? That's the sort of thing I think all of us are still enjoying, the nice thing is I've got James to talk about getting some joinery and shelving over a bottle of wine.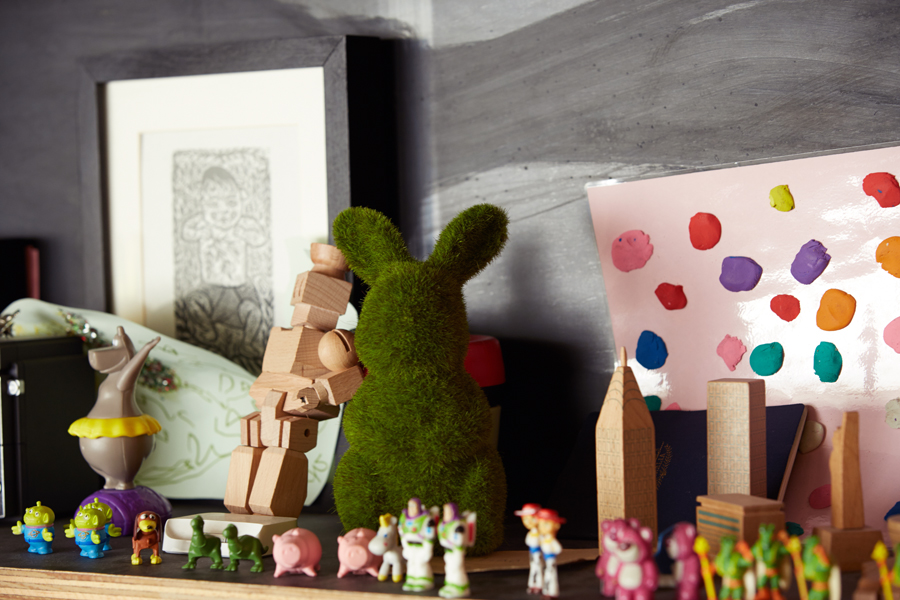 When asked where they spend the most time, Damian names either the park or courtyard. "Or, the neighbours house!", pipes in Adeline. "You're not restricted when you're home to be within your house. It's a roaming space, I feel quite content sitting on the grass being in the park and looking back on the building. It's a relaxing space to be in, I tend not to prefer the privacy of the space but the publicity of the space".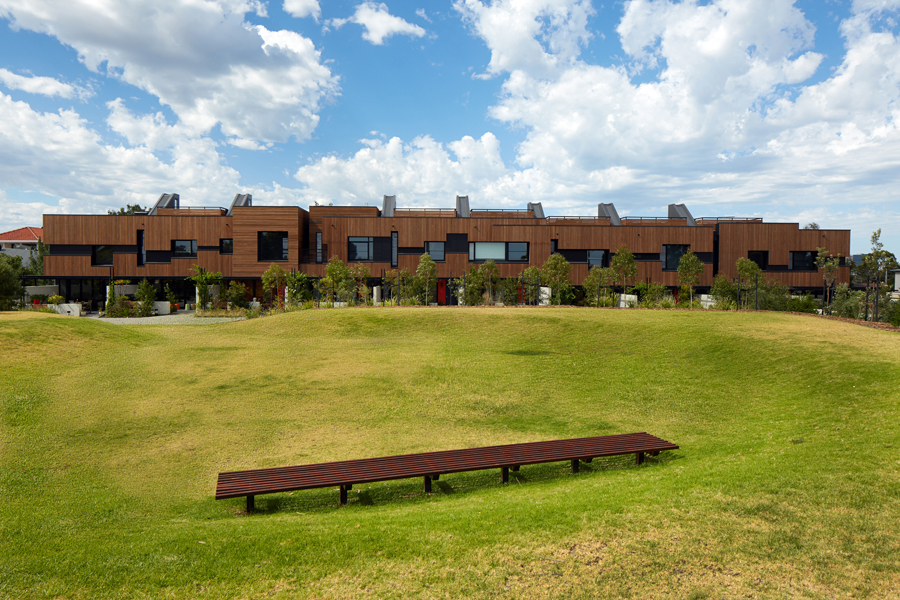 John and Simone
John Hudson and Simone Lunny often host visiting family members, so the space to welcome and accommodate guests is crucial at their place. John works as a consultant in PR and marketing and also works from home a couple of days a week. Simone is an accountant by trade and also works from home once a week. John is a music enthusiast and even plays in a rock band, Johnny and the Haemorrhoids. John has been a lover of architecture and design since childhood. "My mother thought I'd be an architect. I'm like the honorary architect for Six Degrees! I always brought home magazines about architecture and houses. People associate having an architect with something that is out of reach – more expensive, which isn't necessarily the case".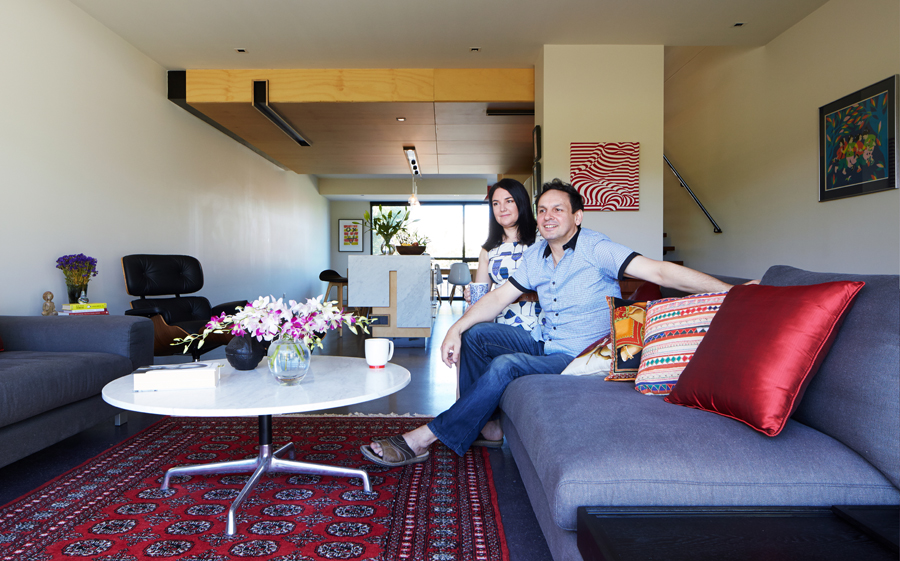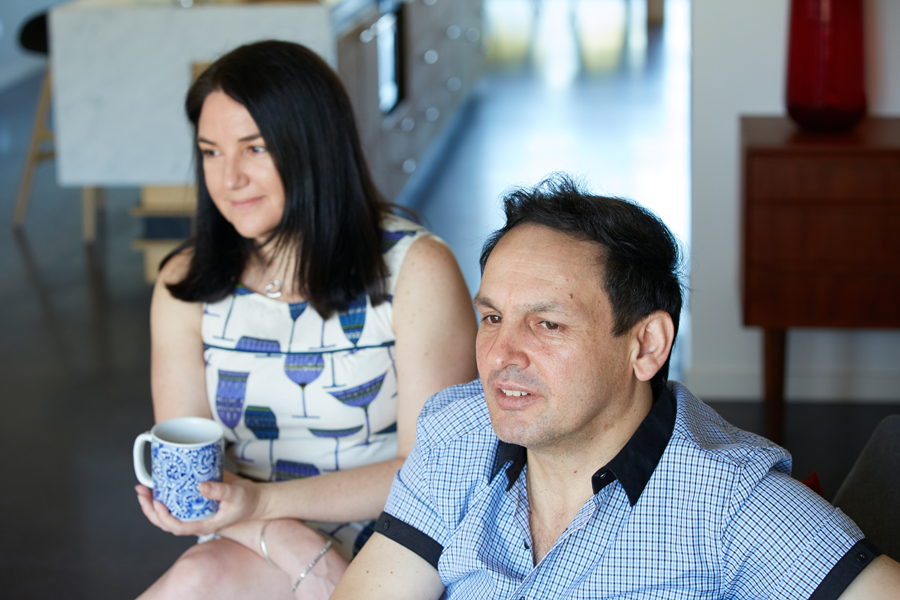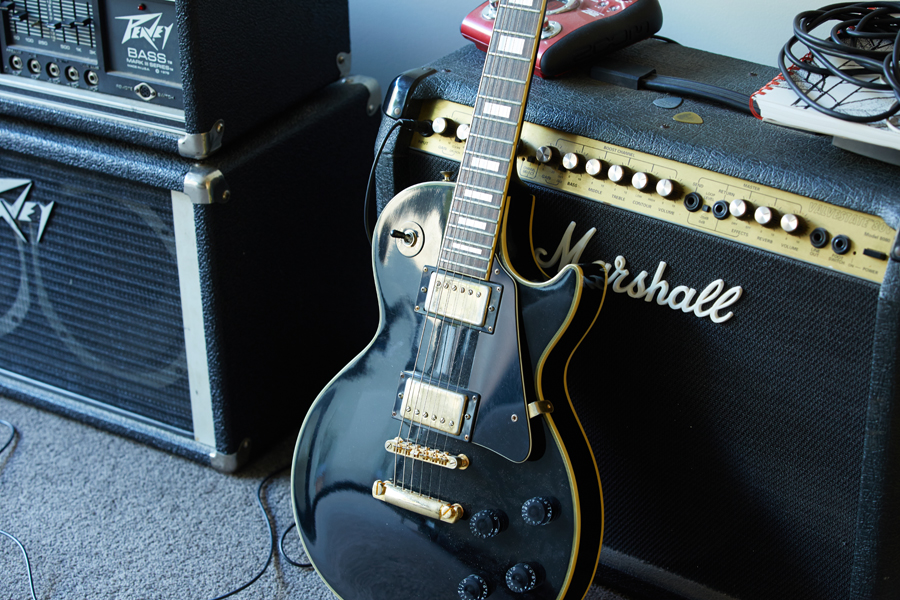 At first, Simone's taste in spaces and interiors seemed like the polar opposite. "When we got together we ended up moving in together. We went to auctions and just couldn't find anything we liked and John was getting deflated. We started to question whether we could agree on anything!". Yet, when they sat down and compared notes on what was important in a home, they found common ground in the basics: the importance of light and space.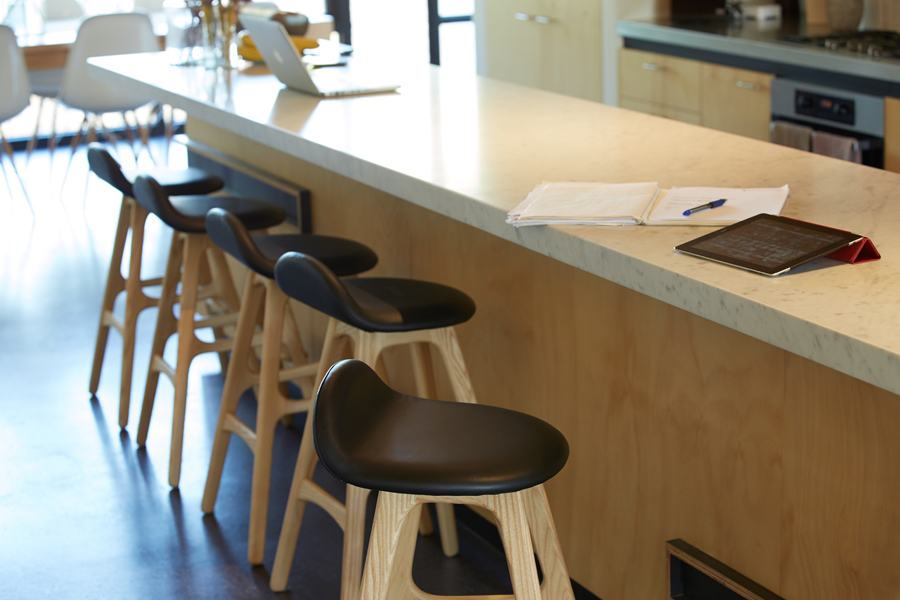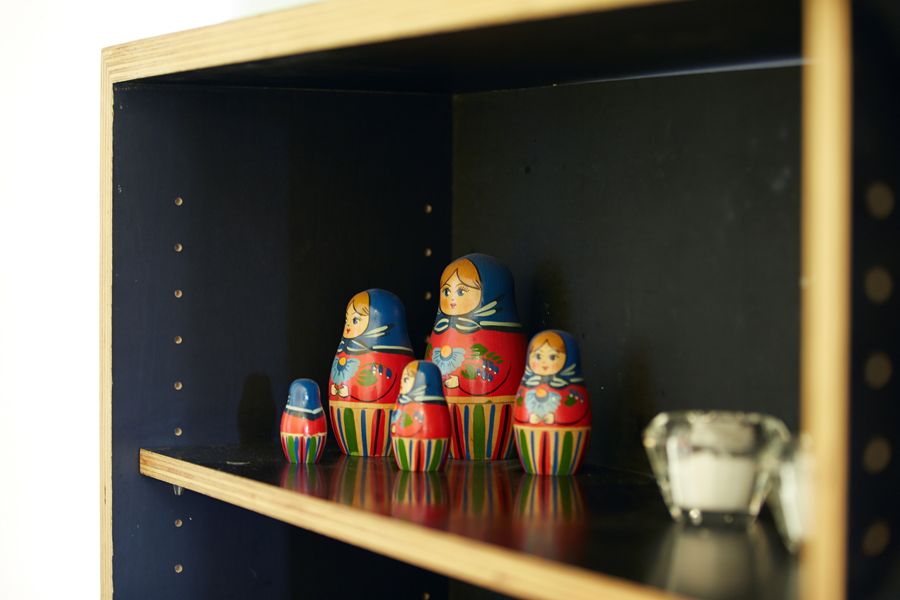 During the long build process, John would ride his bike over from his then home (with Simone) in Richmond every Saturday or Sunday to take pictures of the progress. "I'd even ride over during the week. I didn't mind the waiting, I knew it was going to be a special place". On meeting the other residents for the first time, John recalls "we met at the slab pouring. We were lucky when we moved in, there was a small crew of four or five families at the beginning".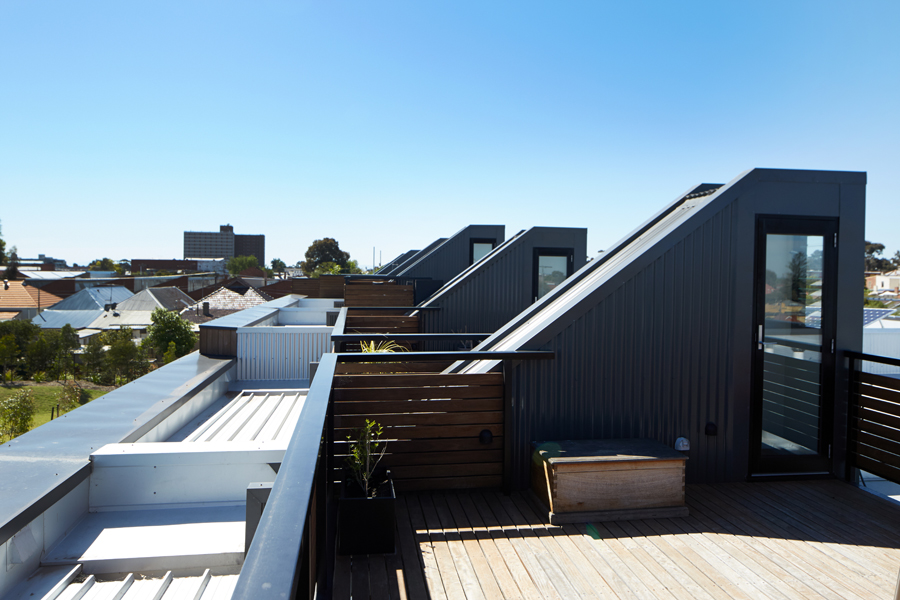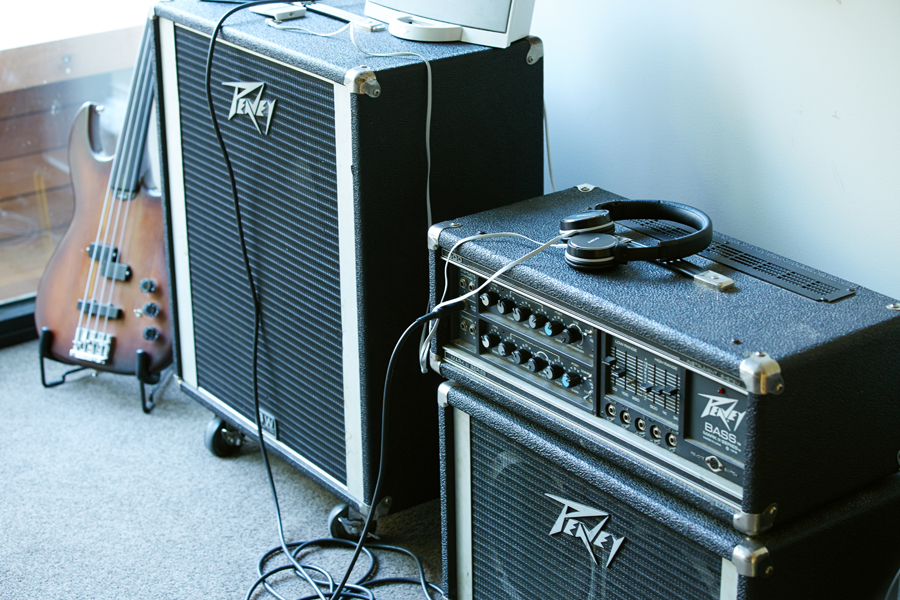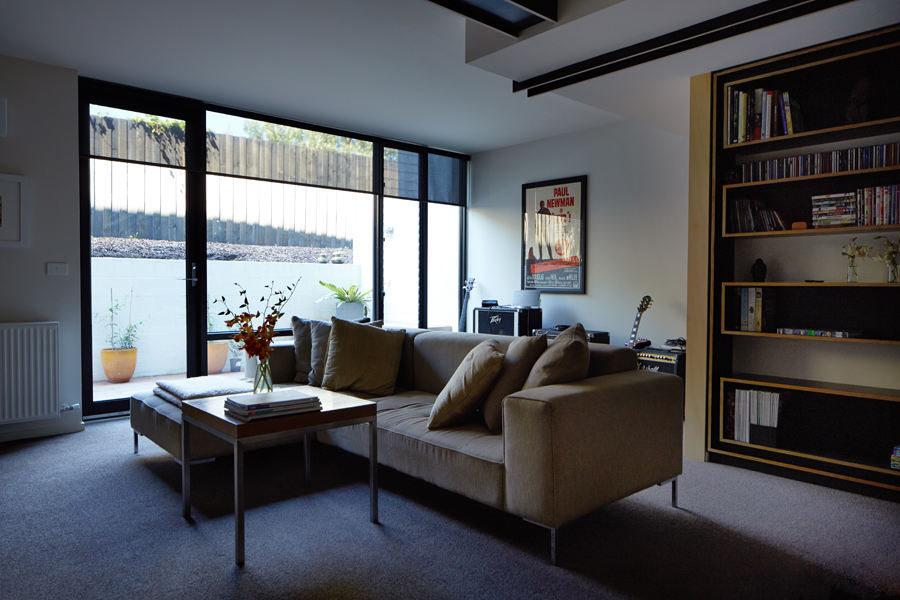 On her favourite part of living at Heller, Simone says, "I love the community aspect. I mean, at first when we moved here, I thought I'd have trouble adjusting to neighbours. We were used to living in buildings with lots of apartments – where you were unsure who lived there and who didn't. But when we got here it didn't take long to settle in at all. We spend a lot of time with our neighbours! On weekends, we all wander in and out and have a chat. We don't have kids, but in a way we get to! They are in and out of our house all the time. And, the community would really rally if anything happened. At high density you lose that. If anything happened, if John got sick, the community would rally. You live in a lovely space but you also live in a community. I didn't know it was going to work like this. It's social and we get together a lot – for things like pav (pavlova) in the park".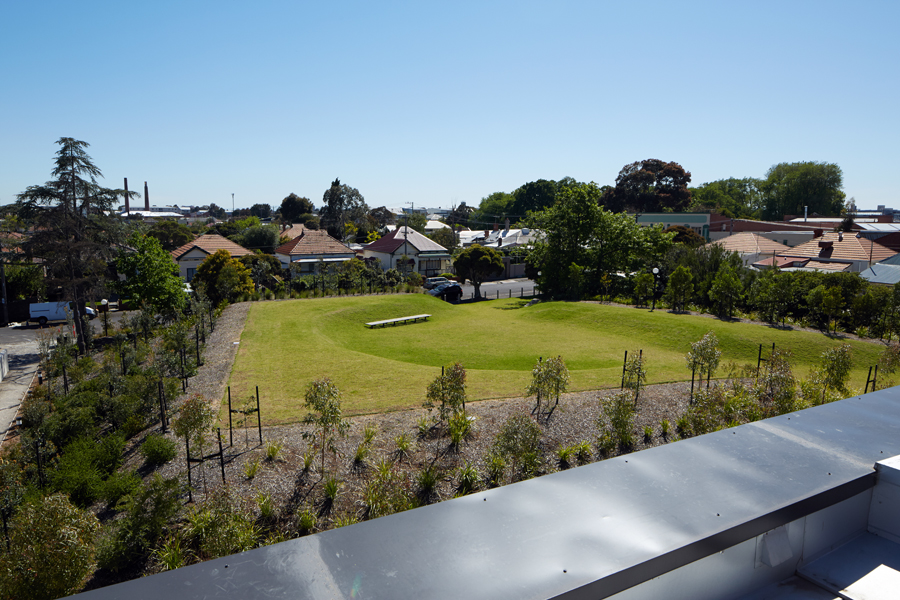 Hiroshi and Susanna
Hiroshi Kikuchi, Susanna Bevilacqua and their son live at Heller Street. Hiroshi is a graphic designer by trade, running his own agency Brandism and Susanna wears "a couple of hats" as Community and Business Development Manager at Bendigo Bank and director of Moral Fairground an organisation she set up about four years ago with the aim to promote and raise awareness of fair trade and ethical business practices.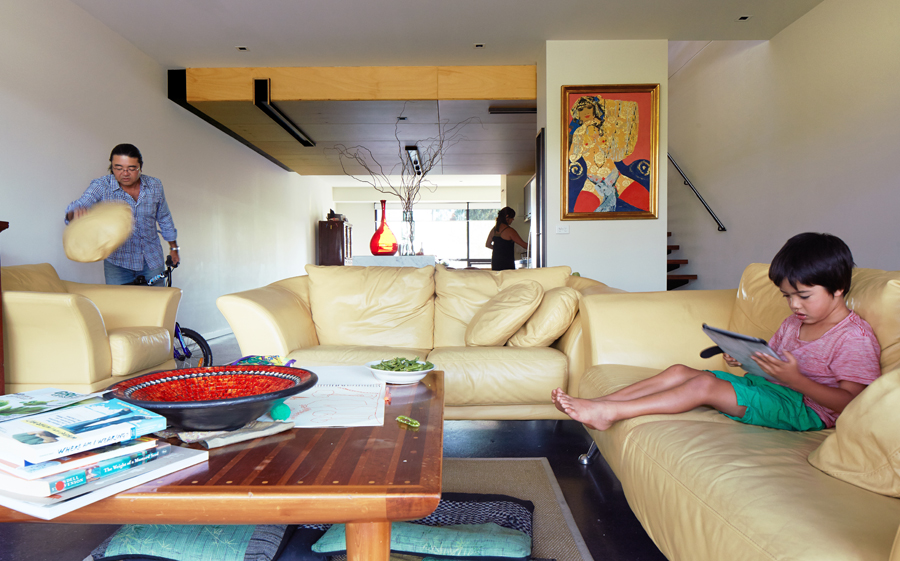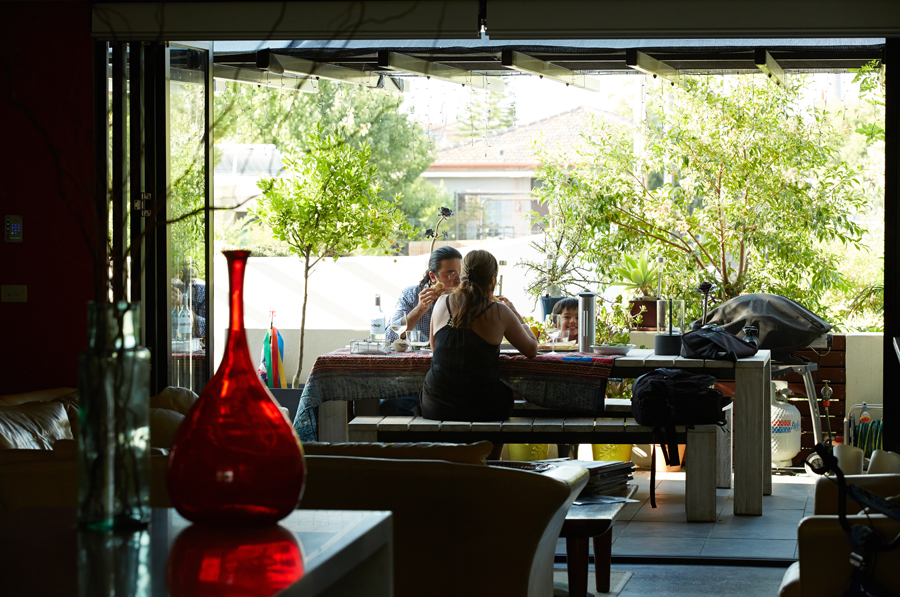 "We love our Brunswick neighbourhood, it has a wonderful mix of different ethnic groups, with a vibrant food culture that's modern and sophisticated all at the same time. We also love the fact that we have first generation Italian and Greek immigrants as neighbours, it's reminiscent of when we were growing up as kids during the 70s and 80s. Brunswick also has a lot of parks, gardens and sports grounds, which we love… and the fact that we have a nice patch of green right in-front our doorstep is a bonus!"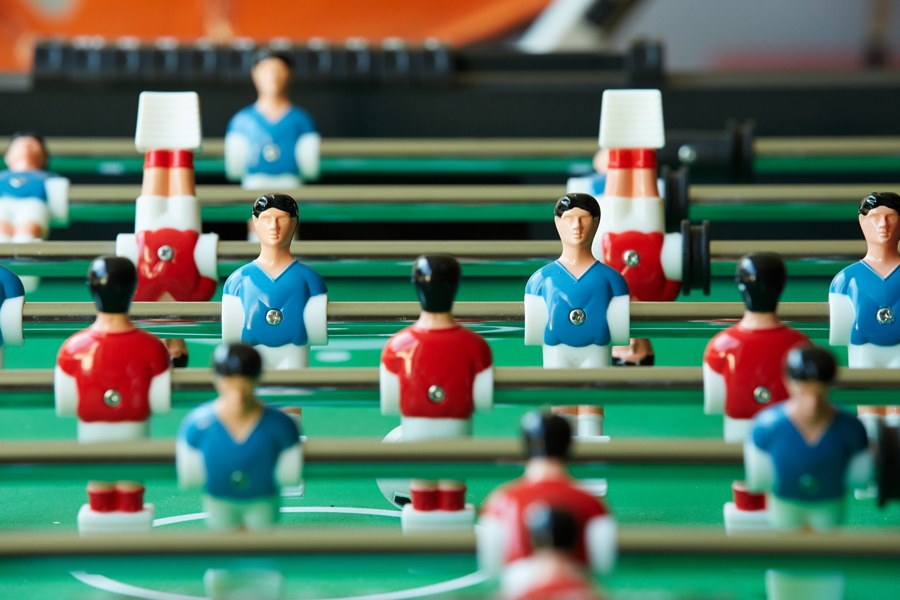 "We love entertaining family and friends, we were looking for a meeting place, something that was family friendly but at the same time had a great space for entertainment. We were looking for a place that could offer the same freedom as when we were little growing up and the same neighbourhood, community feel. The park at the front is amazing for all the kids in the block, it gives them the opportunity to spend time outside, with each other while being safe at the same time. When you come home it feels like you're in a holiday environment, you're almost forced to relax… which is just what you want in today's busy lifestyle. Even the surrounding neighbourhood have quietly dubbed the development as 'The Resort'. Before this, we lived in a two bedroom apartment in North Fitzroy which was part of a 90 unit complex. No one knew each other and there was no space".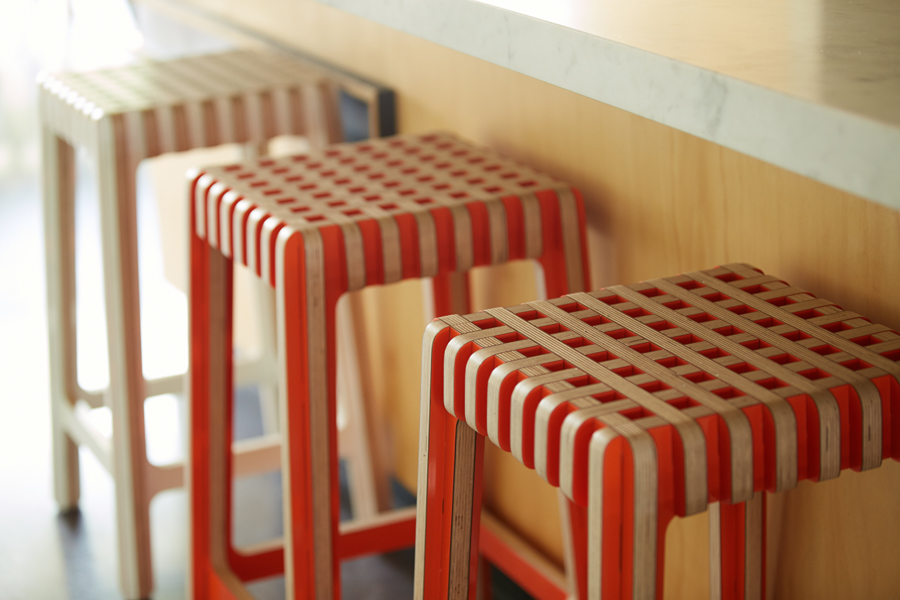 Says Susannah, "I love the kitchen, I love cooking and making food for family and friends, I love the long marble bench, it is great for making pizzas and gnocchi". For Hiroshi, the front outdoor terrace area is a favourite spot. "As soon as we open the bifold doors, we effectively double our living room space. Eating alfresco means we always have fellow neighbours automatically gravitating to our outdoor dinning setting and occasionally popping in for an informal chat, drink or bite to eat. We love the informality of it all. Our house is the closest to the entry path from the street, so we have become the unofficial 'gate keepers' of the development."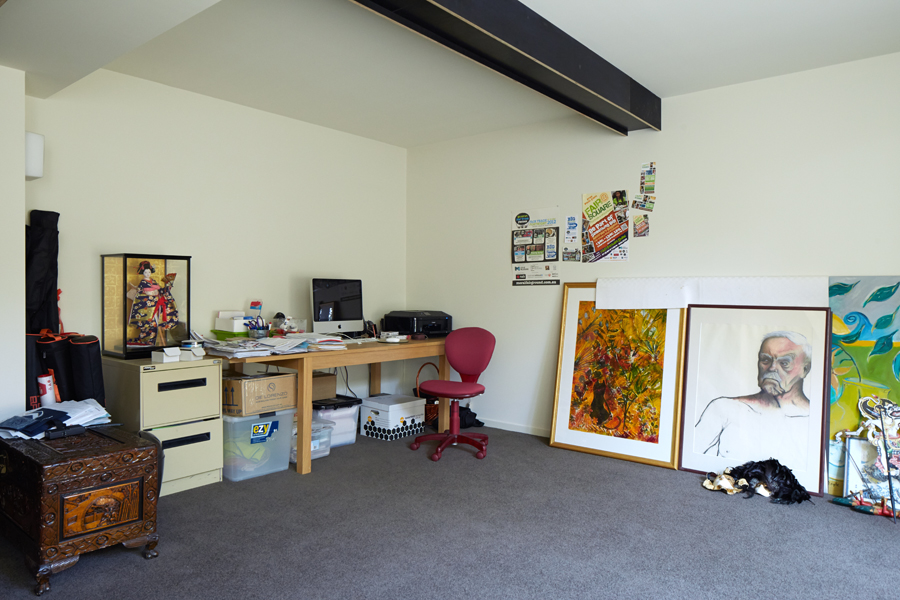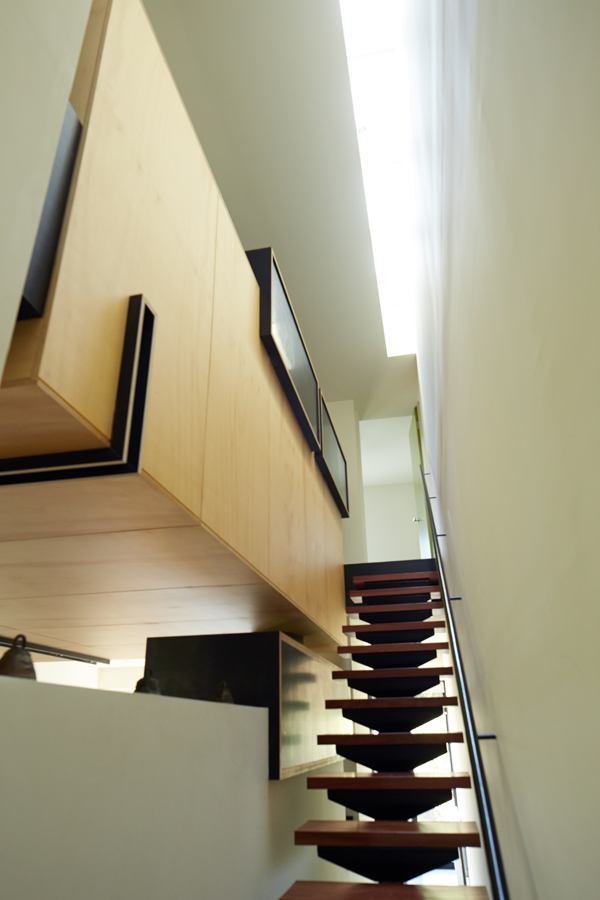 "On a 'normal day', in the morning we have breakfast together on the Cararra marble bench. Akira has learnt to make good espresso so his job is to either set up the table or make the coffees. After breakfast we rush to school and work. We generally do not get home before 6pm. Most days we open the front bi folding doors. Akira will go out to check who is around to play with before dinner whilst we prepare dinner. We love to eat in the front courtyard area and talk about our day. After dinner it's time for homework, shower, bedtime story and sleep for Akira. At around 9.30pm, Hiroshi and I will either do some work, read or watch some TV, we don't go to bed before midnight".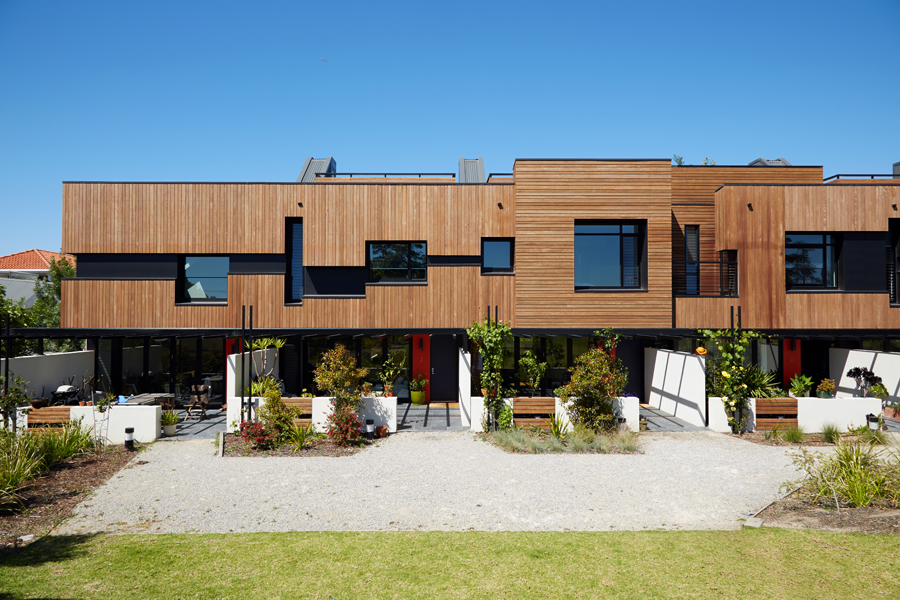 Huge thanks to the talented and patient Tim Hillier for his snappy angles and fine photo work and a big thanks to James Legge and the Heller Street residents for welcoming us into their homes. Check out part 2 of our visit to Heller here.