Housing
Breathing life into Vindmøllebakken, co-living homes in Norway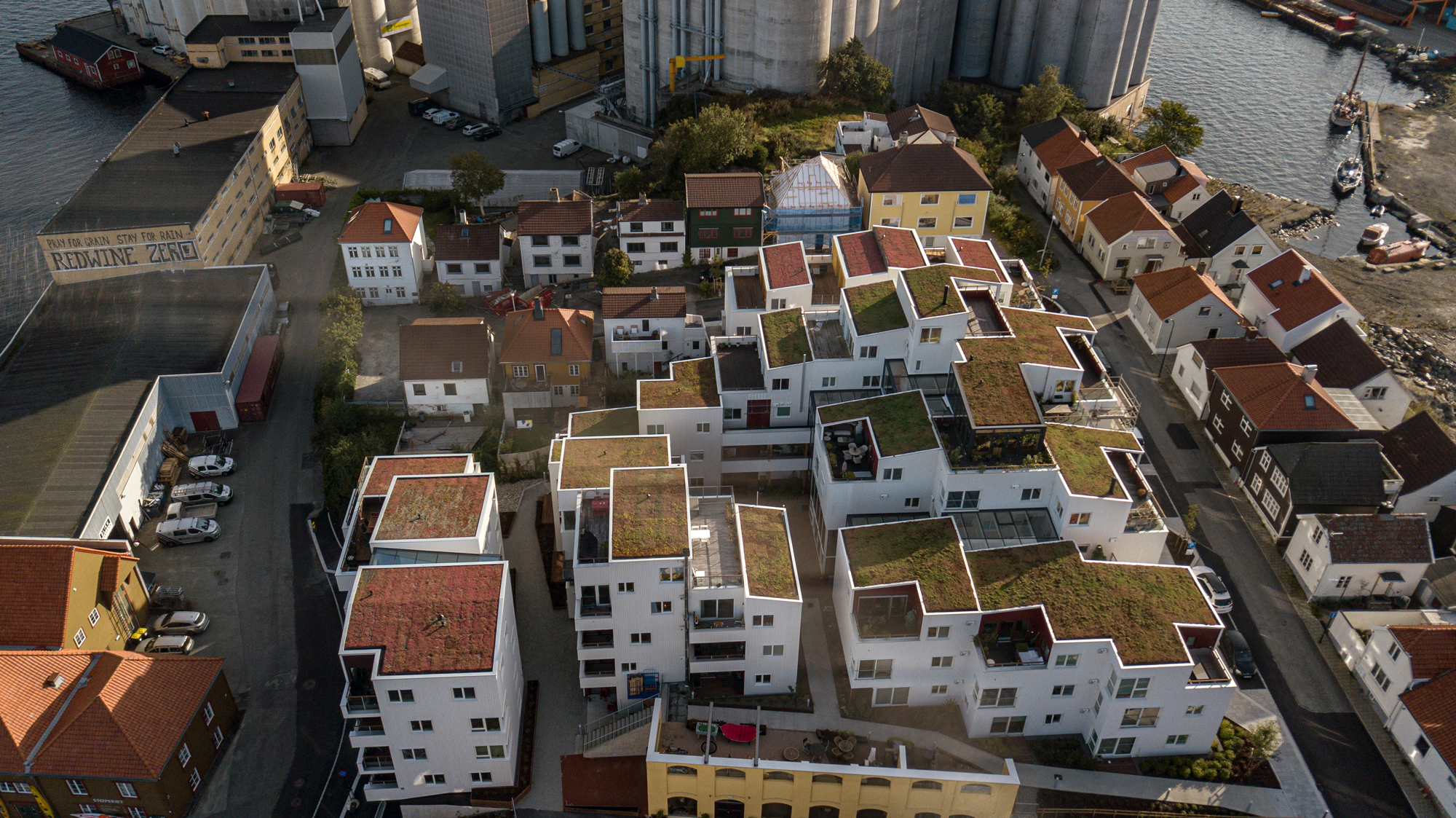 Feb 3, 2021
Vindmøllebakken, a recently completed co-living housing project in Stavanger, Norway, sits on a small peninsula where the North Sea meets the meandering blue branches of the Boknafjord. Designed by Norwegian architecture firm Helen & Hard, and developed with Kruse Smith, Indigo Vekst and Gaia Trondheim, it is the first project to be completed under the teams' co-living initiative, Gaining by Sharing.
Situated in the former industrial precinct, the building's crisp white timber forms blend with the nearby quaint gable houses for which the town is famous. It's hard to reconcile this image of the project with my memories of the place – when I lived in Stavanger, the site housed two old warehouses and a series of stacked 'floating hotels' discarded by the region's oil industry and adapted as tiny apartments. The precinct was also the location of Helen & Hard's office, and my daily destination when I worked for the firm's wildly creative founders, Siv Helene Stangeland and Reinhard Kropf, from 2010 to 2012. Around that time, Helen & Hard had shifted from being classified as an emerging firm to one that was widely celebrated, with a series of award-winning cultural and civic projects. Yet, they were becoming increasingly disillusioned with the commercial housing sector.
"There is no social housing sector in Norway," says Stangeland. "Housing is not answering the needs of society – not on the individual level, not on the site level – and the industry is definitely not thinking about sustainable solutions on a larger scale. As we see it, a dwelling is a very important building block for a sustainable society to work – that's where personal health, the tribe and social sustainability are given a base to grow." Stangeland and Kropf are deeply committed to the role architecture can play in improving community and environmental outcomes, so it's unsurprising that they were compelled to make changes. Eager to replace the lingering memories of 1970s hippie communes with a new form of co-living, they visited different community-based housing projects in Scandinavia, Germany and Austria to define a new Scandinavian model. "We had to make it contemporary," says Stangeland.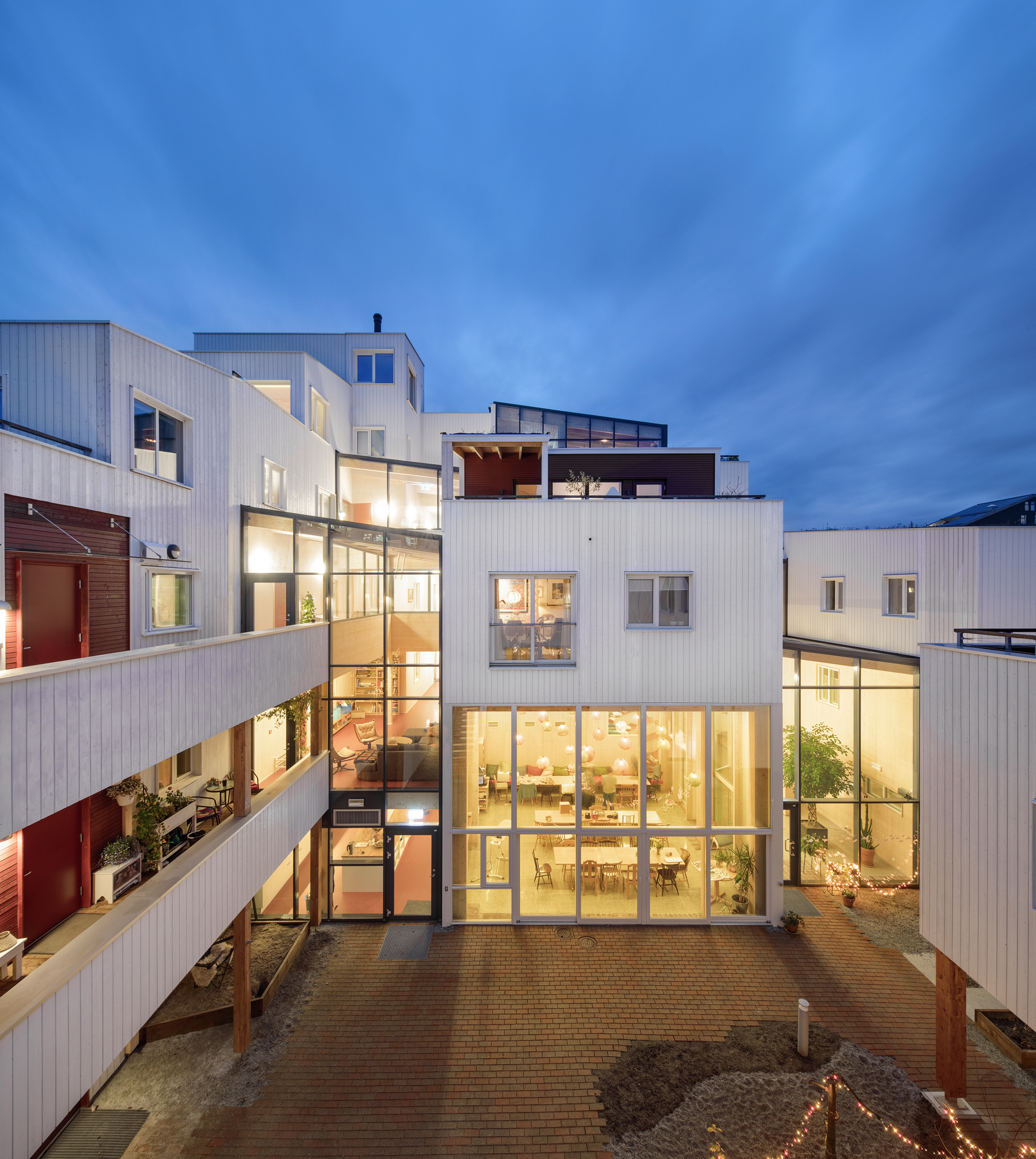 They had been savvy investors 10 years earlier, purchasing the Vindmøllebakken site when land in Stavanger's east was still cheap. The steeply sloping site, with its two existing factories, was surrounded by traditional timber houses that the municipality was keen to preserve. In addition, the area was still functioning as an industrial zone. Helen & Hard worked iteratively, exploring design options that responded carefully to the existing built environment. The small, historic timber houses captured their attention and inspired by these, they created block-like modules of the same dimensions. The blocks were carefully stacked to form the building, simultaneously reflecting the small scale of the neighbouring houses while creating a cohesive architectural language for the project.
"There is an invisible architecture, as important as the physical architecture, which allows this to work."
As the design developed, Helen & Hard also developed the community engagement process now central to the Gaining by Sharing model, with a series of meetings and workshops as part of an ongoing process. The initial planning and designs were flexible to accommodate growing interest. "We ended up with 40 apartments in the co-living part of the building, up from 16 in our initial scheme, and only 14 self-contained dwellings around it. We could adapt the structures to increase the number of co-living dwellings," Stangeland explains.
The 40 co-living units share 500 m2 of communal space. "Every unit owns an equal part of the communal space, approximately 12 m2 each. The model is based on ownership – you buy your apartment and a share of the common space," Stangeland explains. "Every year a fee is paid to the cooperative, which is distributed to the groups that need to maintain things, buy things for the group and pay bills." The shared spaces are at the heart of the project, physically and culturally. The calendar is alive with large dinners and events in the central space and parties in the cellar. These spaces are countered by more reflective, calming spaces, including an attic library and meditation space. A garden house on the roof allows for year-round gardening in the cool Norwegian climate. The surprise for the community has been the undefined 'buffer space' which separates private spaces from communal spaces – spontaneous activities and events pop up, from co-working to clothing repairs to indoor exercise.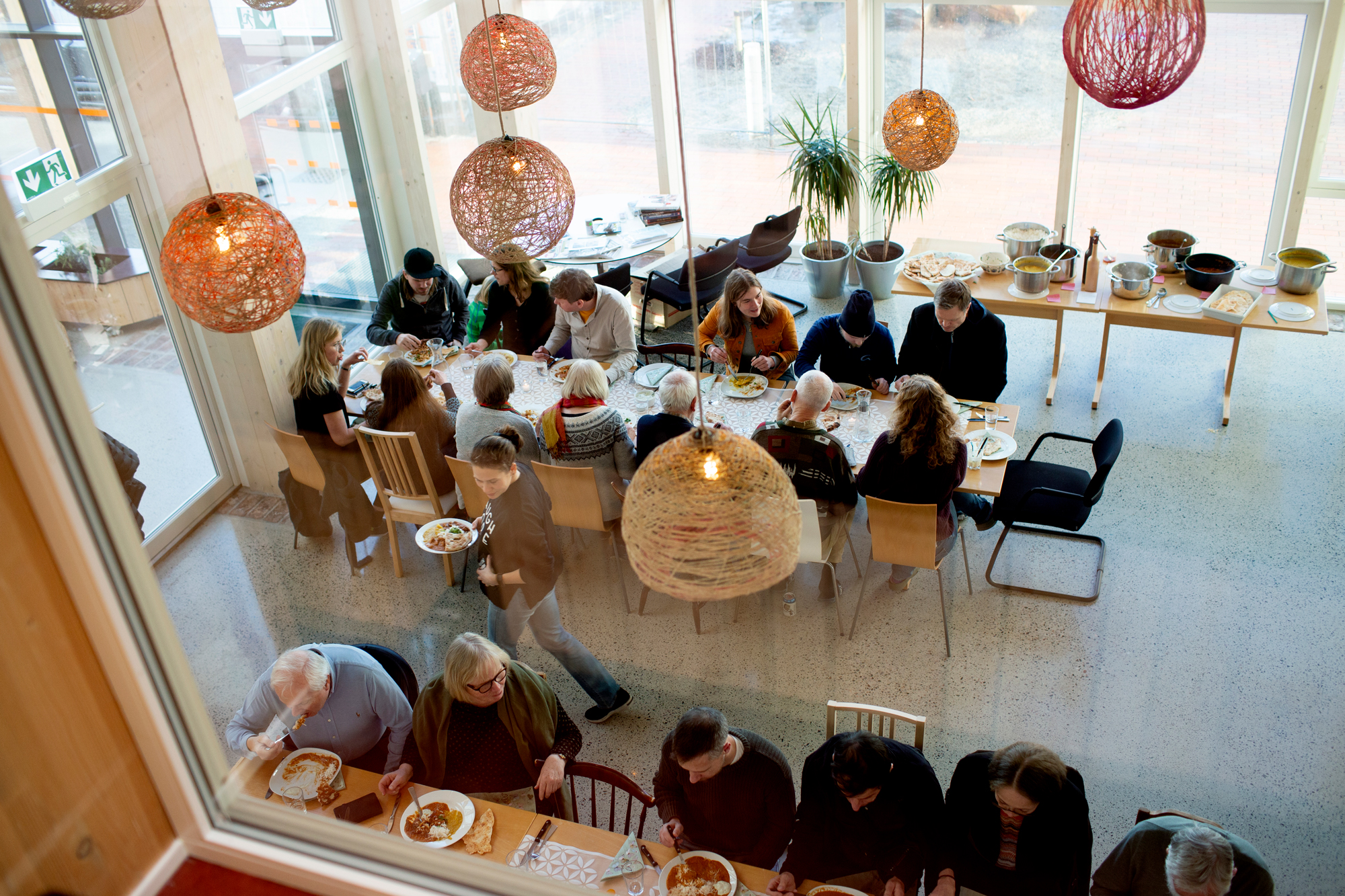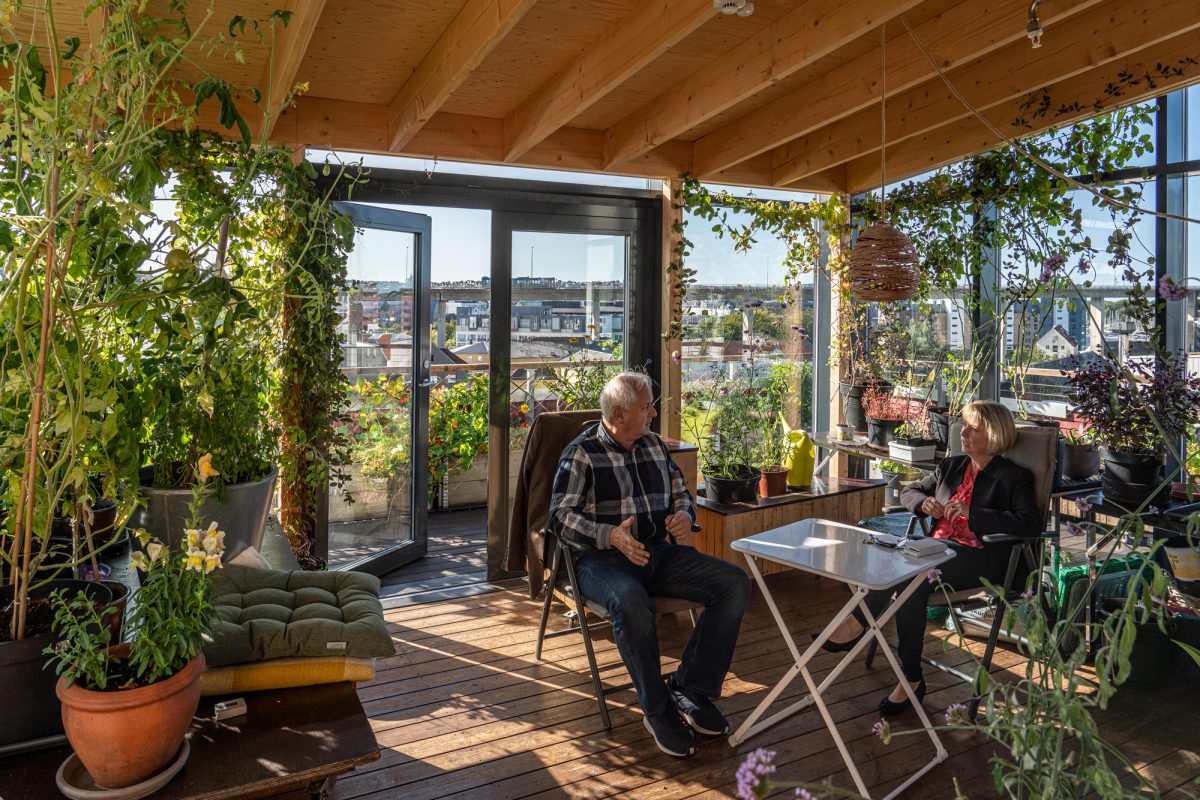 Vindmøllebakken residents catch up in the light-filled rooftop communal greenhouse, which allows for year-round gardening. Photo: Jiri Havran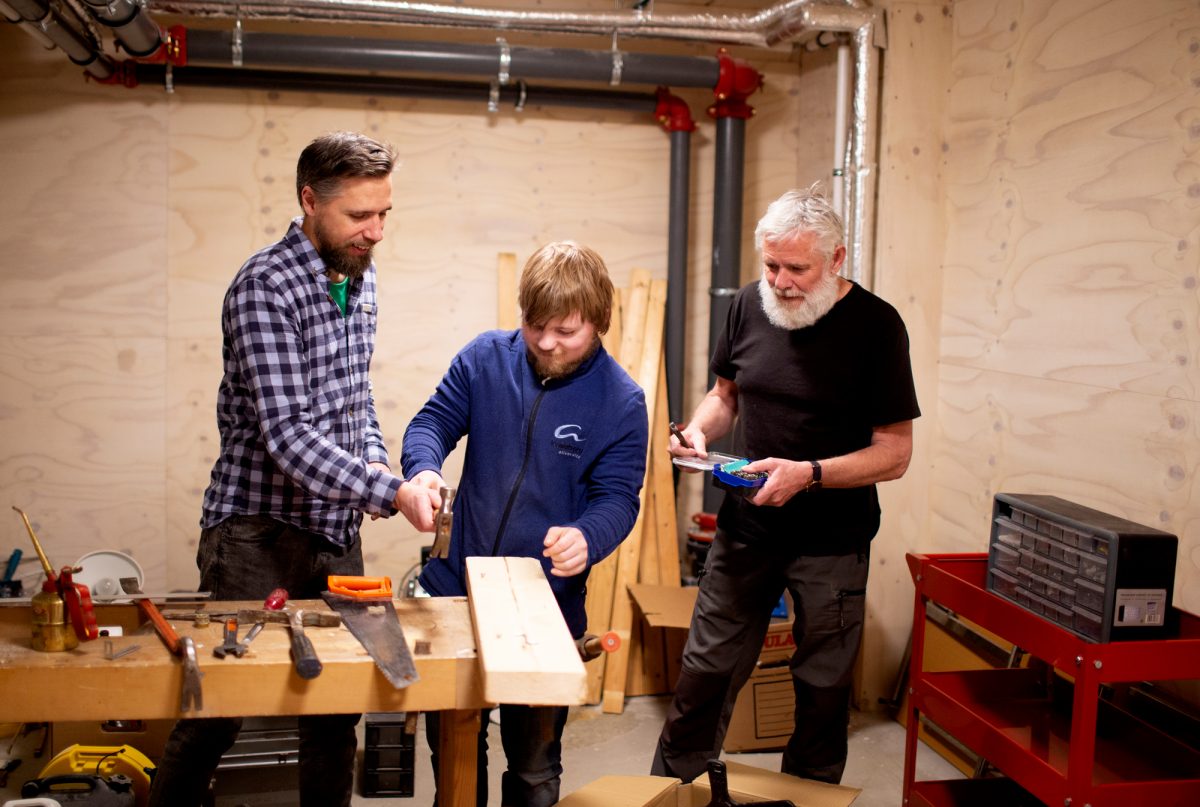 Residents help each other, trading knowledge and tools in the shared workshop. Photo: Minna Soujoki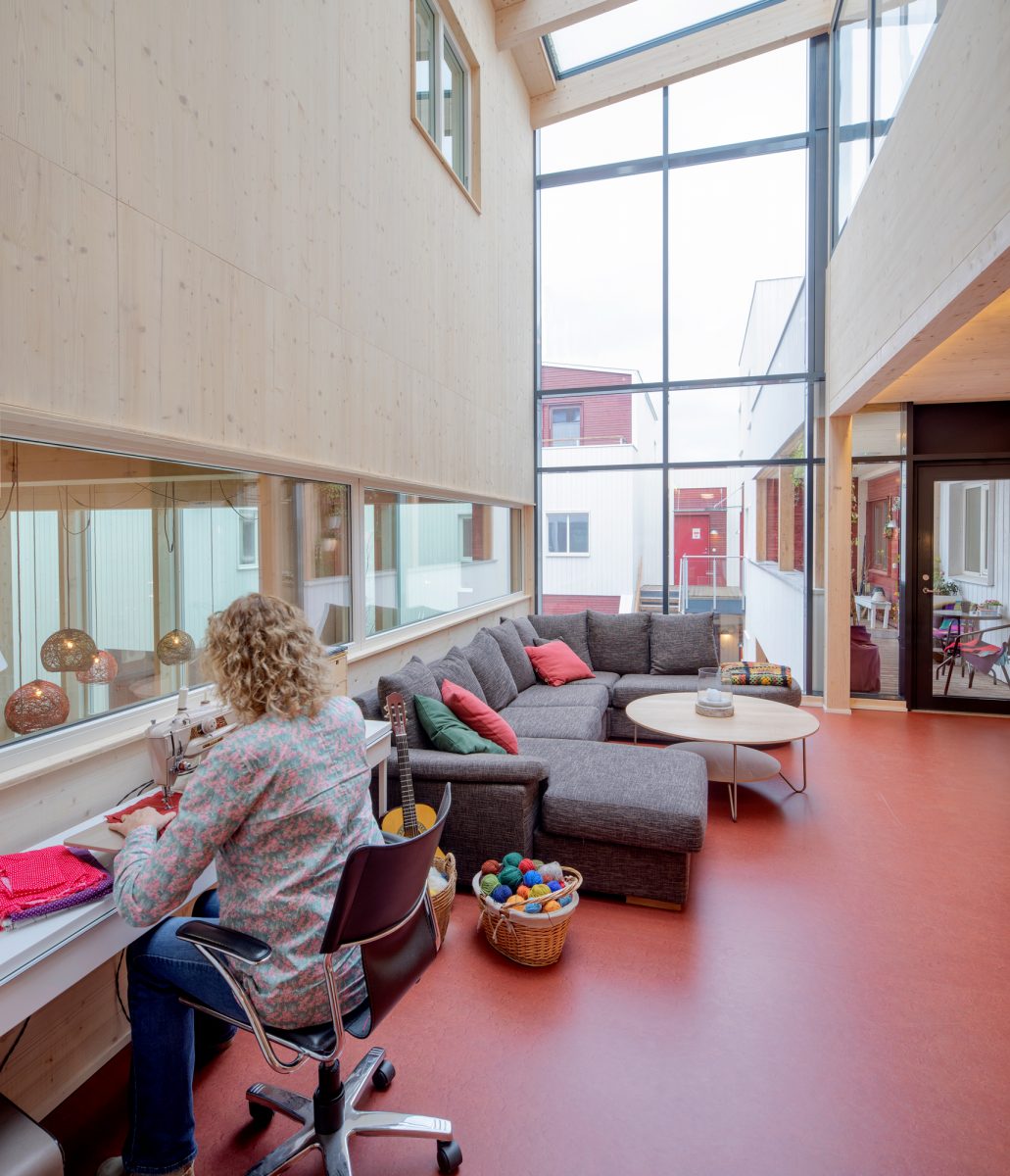 A multi-purpose communal space. Photo: Minna SoujokiPhoto: Minna Soujoki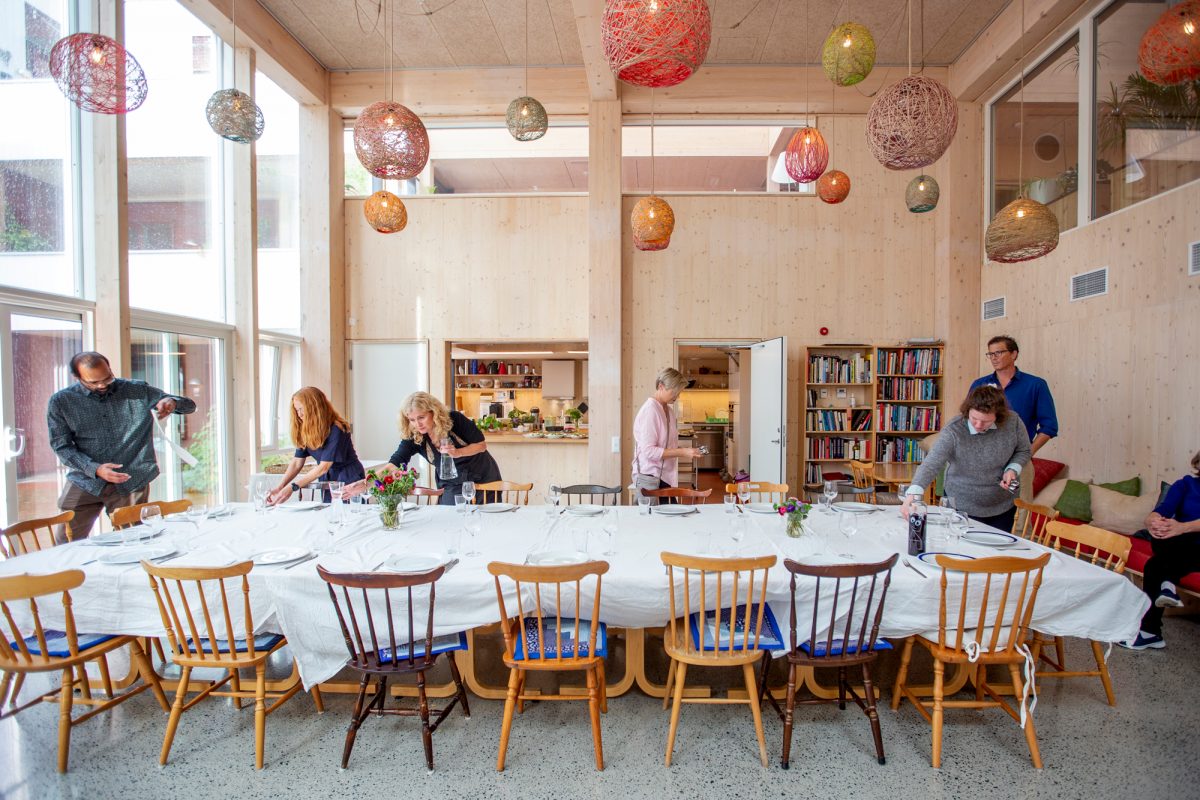 Vindmøllebakken residents preparing the communal table for their monthly dinner. Photo: Minna Soujoki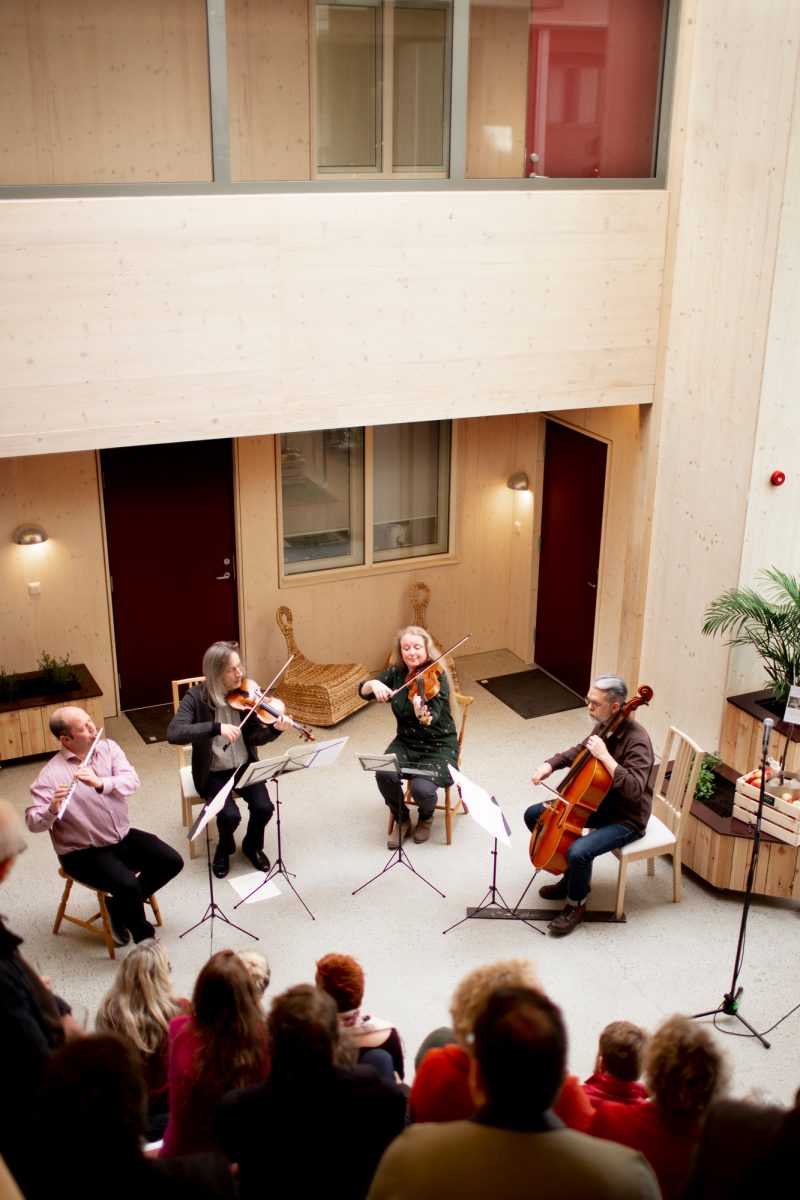 Resident musicians perform for their community in the atrium during the opening of the building in November 2019. Photo: Minna Soujoki
Involvement in activities is voluntary, self-organised and largely unstructured – the only fixed gathering is a monthly dinner, which doubles as a meeting where decisions are made about the building, maintenance and Vindmøllebakken's communal life. "There is an invisible architecture, as important as the physical architecture, which allows this to work," she says. "This structure informs how we are organised, how we make decisions, how we communicate in a constructive way, how we solve conflicts. What we found was that we needed some rules in the first year, but in the second year, the rules are more in the background."
The Vindmøllebakken community is deliberately diverse. There are people of all ages, from small children to retirees, from different backgrounds. There are artists, lawyers, engineers and healthcare workers. The diversity allows for residents to support each other in ways not possible in ordinary developments. "A differently abled man lives here," says Stangeland. "He couldn't have lived alone but living in this communal situation offers him enough support that he can have his own apartment – and that is beautiful." She continues, "We don't do a lot of work to support him – the form of living offers enough support. We are coordinated. We have monthly meetings, and different groups that take care of different actions, activities or spaces. As he is always involved, we know if he is fine or not."
So, have they created the Scandinavian model for co-living?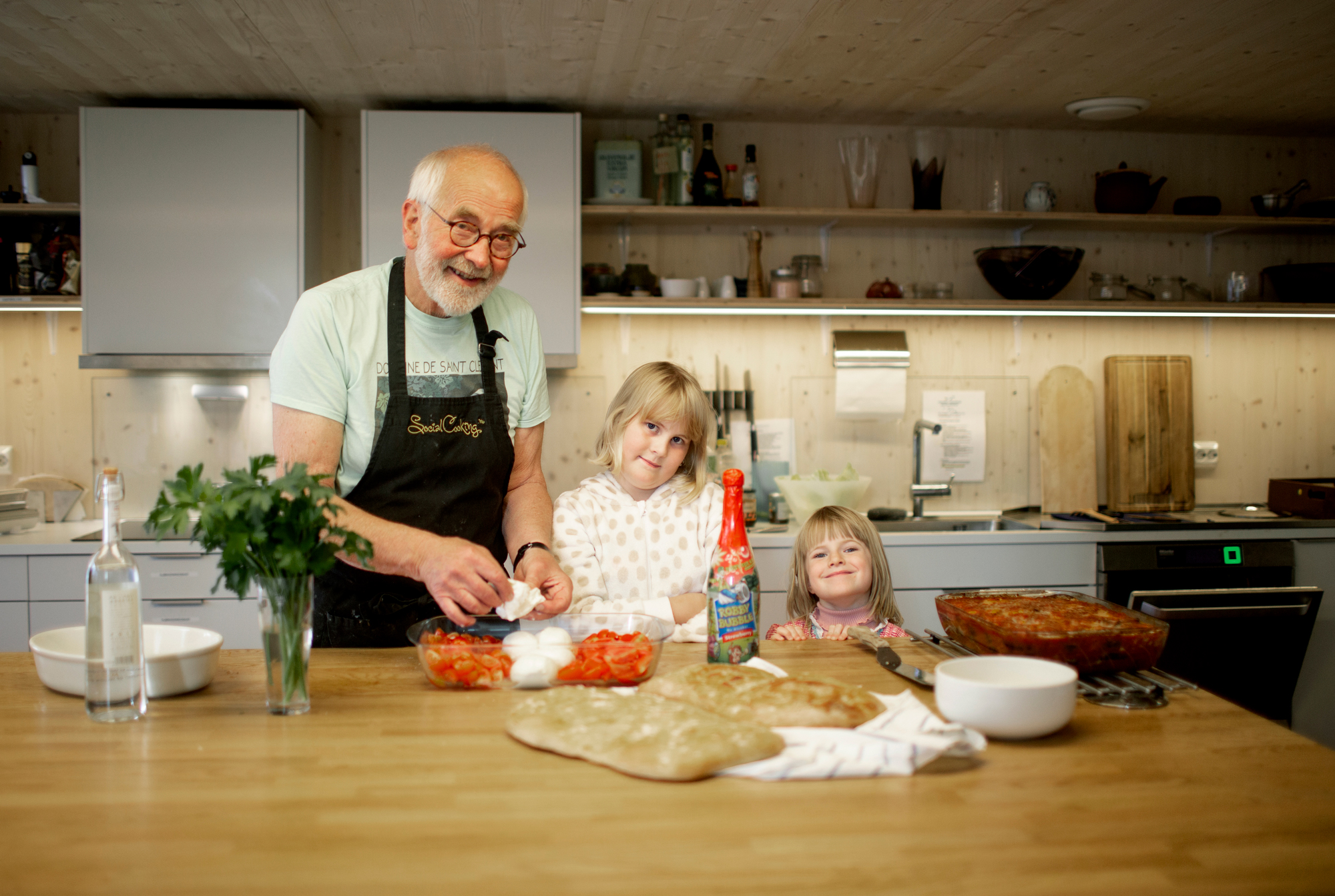 "We know there are co-living models in many countries and that how we arrange co-living is closely related to culture. Norwegians have a high level of confidence in each other: we dare to share without rules. We have a high degree of social trust, which makes things easier – we don't worry our neighbour is going to steal something or cheat us! It might be seen as naïve, but it makes our co-living work." Having spent two years living in Norway, I understand what she means. It's hard to articulate – it's more of a sense, something that is part of the Norwegian identity and culture. Stangeland continues, "There is no-one on the top; it is bottom-up, self-organised."
The tendency towards self-organisation propelled the community through its lockdown experience during COVID-19. A group was established to take care of rules, considering how the community could come together in safe ways and adhere to restrictions. And, of course, with nearly everyone at home all the time, creativity thrived: impromptu concerts brightened long, dark days; evenings were spent enjoying each other's company during dinners; and there were nightly singalongs. "While others were isolated, we were together, going strong."
---
This piece is part of Assemble Papers 13 Mind the Gap, published at the beginning of February 2021. Find the print version of Mind the Gap at cafes across Melbourne, or order a copy from our webshop and pay only postage costs.