RP I am interested in the artists you studied with, your peers, and whether they are still part of your community?
JL When I came back to Australia after studying Arte Povera in Italy, I had John Olsen as a teacher. His philosophy, a zen philosophy with the landscape, was about becoming it yourself. And I used to go on great nature walks, so that time was very influential.
But this was very different to what the art school was teaching at that time, which was more abstract expressionism. I kind of went along with that, because I was in the painting department. But I was making all these other configurations at the time – Australian artists influencing me at that time were Rosalie Gascoigne and Marr Grounds, but really there were very few artists that I was interested in. I certainly wasn't interested in my lecturers. (Bronwyn Oliver, Robert Owen, Joan Brassil and Joan Grounds, wonderful figures to respond to in my postgraduate studies. I preferred the art theory side of things at university.)
RP Do you collaborate with younger artists? Do you think that it is important to be connected to younger generations of artists?
JL Not really 'collaborate'; it is more that I work with other artists in different fields to create my works. Gary Warner does the video-technical side, and the soundtracks come from a friend of mine, Jane Ulman. She used to produce sound programs for the ABC, and specialises in bird sounds – she has a whole library of them. But rather than visual arts, it's the scientists I connect to. I connect with environmental groups – everyone mingling together in that concern. And I work a lot with architects who are in my studio space, as they have the skills to map shows out.
RP Nina Miall's final essay in the catalogue for After Nature, 'The Constant Gardener, On Janet Lawrence's Site Specific Works', brings up the idea of the care and a feminine connection in your work. This feels like a much different perspective to the other writers. Do you see this as an important aspect of the work?
JL Femininity and care is more apparent in my public works; also, historically, in wanting to make work with landscape, rather than make big monumental structures like men have traditionally. The installation I made in Homebush Bay, In the shadow (2000), was often referred to as 'lingerie works' – I think that the mist alluded to that. But persistent in my work is the veiling, and layering transparency into translucency. Ways of seeing into things. That seduction of the veil could be seen as feminine.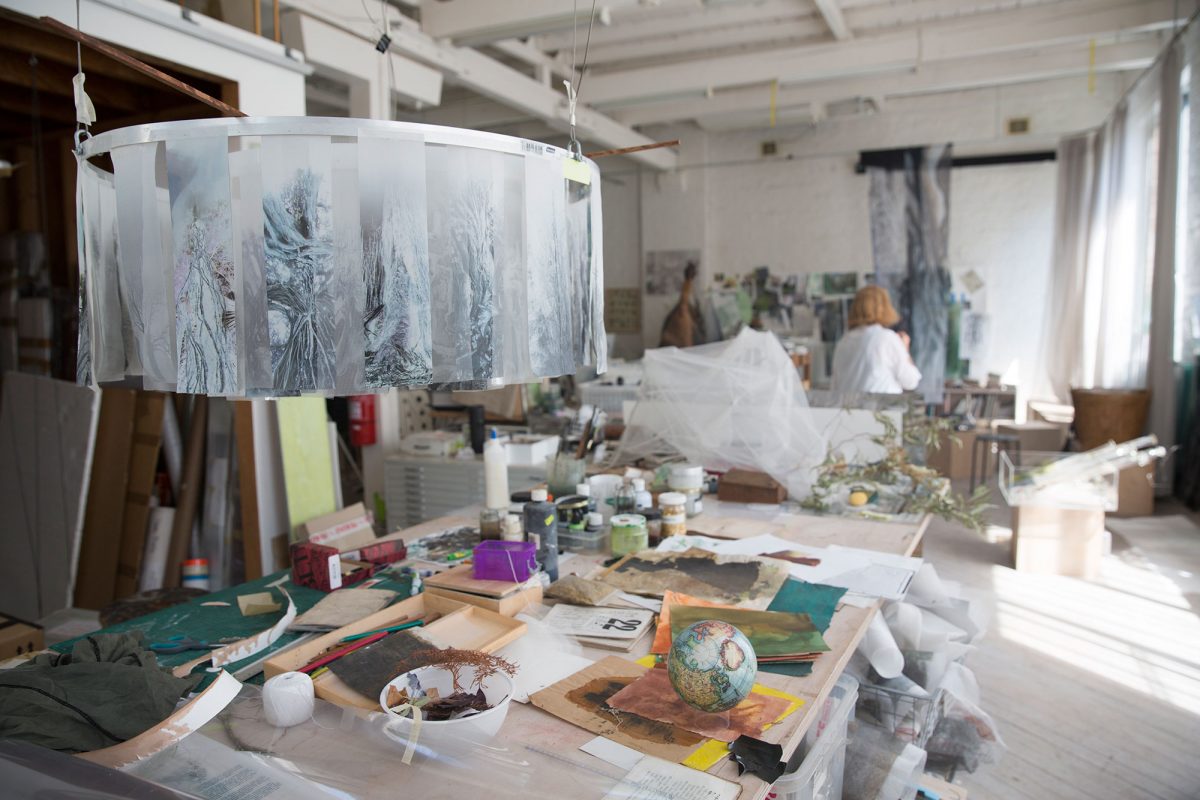 RP Are you aligned with any political parties that aligns with your work?
JL Yes. I support the Greens and I support Get Up, Australian Wilderness society and Greenpeace. I have got material from them which you can see in the exhibition installation at MCA.