Housing
Matt and Justin: Ancestral Magic

Sep 14, 2017
Artists Justin Shoulder and Matt Stegh live, work and breathe for their community. Across performance, costuming, queer parties and nightlife, the two combine the personal and the political – a fusion expressed beautifully within their home. On a still, sunny winter morning in Sydney's Summer Hill, I had the pleasure of visiting Justin and Matt at home, where they've lived since 2011.
Artists Justin Shoulder and Matt Stegh live, work and breathe for their community. Across performance, costuming, queer parties and nightlife, the two combine the personal and the political – a fusion expressed beautifully within their home. On a still, sunny winter morning in Sydney's Summer Hill, I had the pleasure of visiting Justin and Matt at home, where they've lived since 2011. The pair live with their son Zephyr (who is lucky enough to have two bedrooms: one downstairs with his two dads, and one upstairs with his mum) and their monk parrots Monkey and Rocket: ambassadors for the household with their "sharp, dramatic and loud emotional states".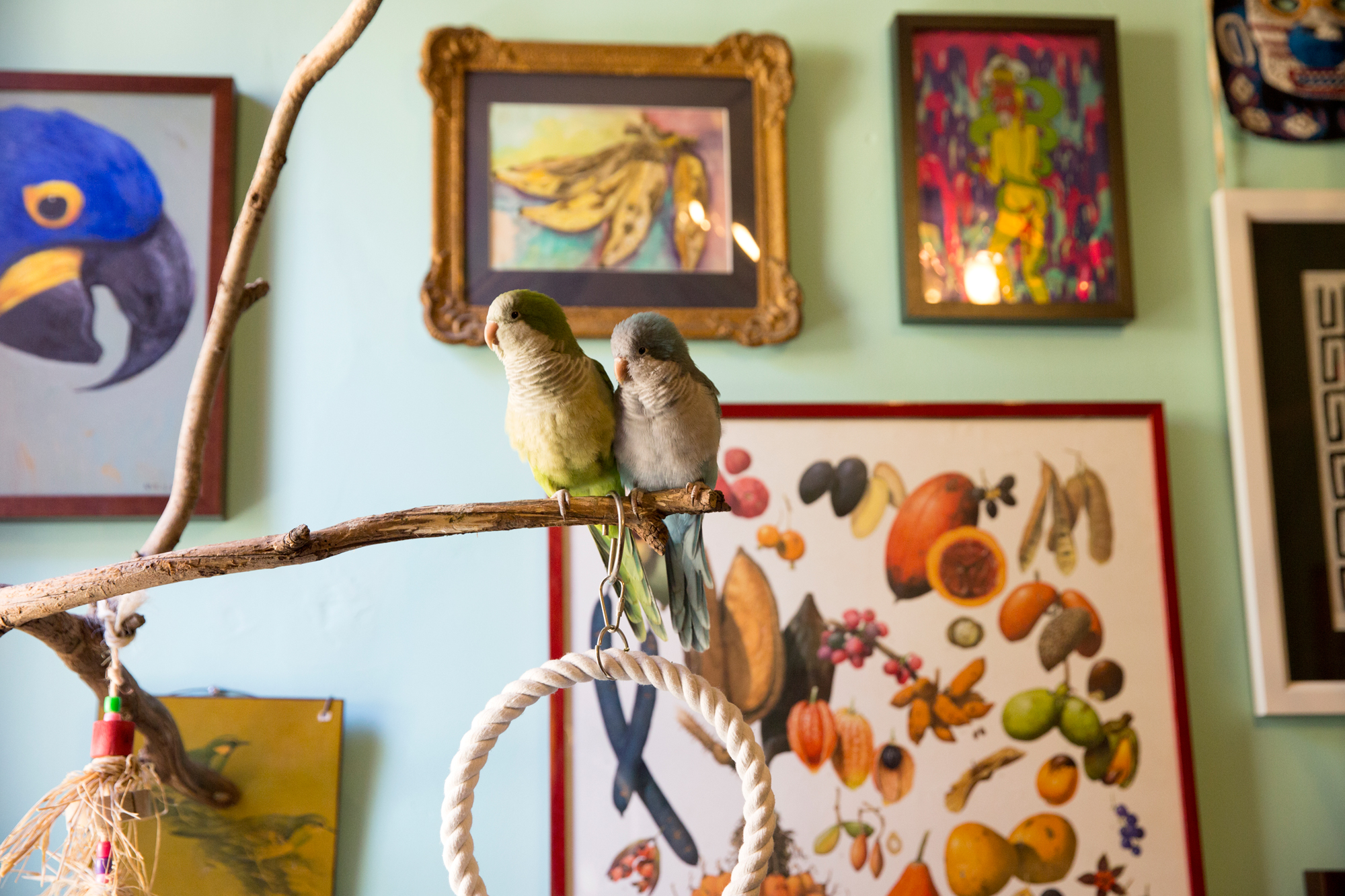 Justin's singular, genre-defying performance work centres on his ongoing Fantastic Creatures body of work: invented beings and alter-egos drawn from mythology, fables and fantasy, which he embodies through movement and intricately crafted costumes, designed and created by Matt. Justin's practice has its roots in nightclubs and underground live venues and retains the collective energy of these spaces. Partner and collaborator Matt is a stylist and costume designer, working across the breadth of design for fashion, events and parties, from large scale commercials through to queer parties and events like Monsta Gras at Sydney's Red Rattler. His extraordinary costumes are worn in performance and life by the pair's extensive circle of friends and family in the queer community.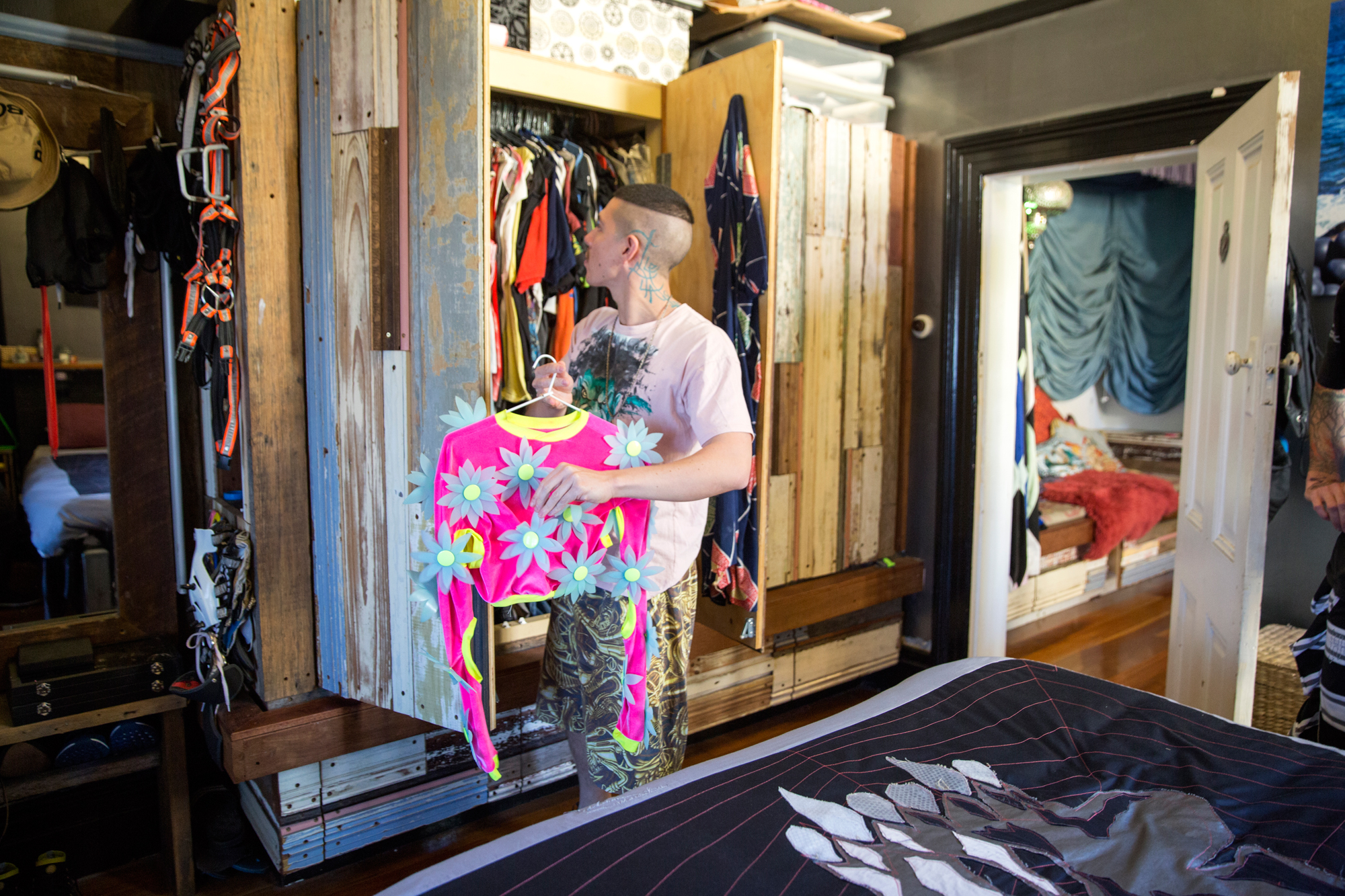 In each room, Matt and Justin's house is dense with art, photos of their extended family, painted wallpaper and weird, wonderful ornaments – like cockroaches having tea that Justin picked up on a recent trip to Shanghai. We also visit the pair's studio down the road in Marrickville, close to Reverse Garbage: an orderly explosion of costume materials and sewing machines. Justin says they are "resourceful out of necessity and politic" and try to reuse where possible: "Having these limitations often opens up really interesting craft pathways."
I ask the pair about how their art–life collaboration began; and about the home, garden and life they share.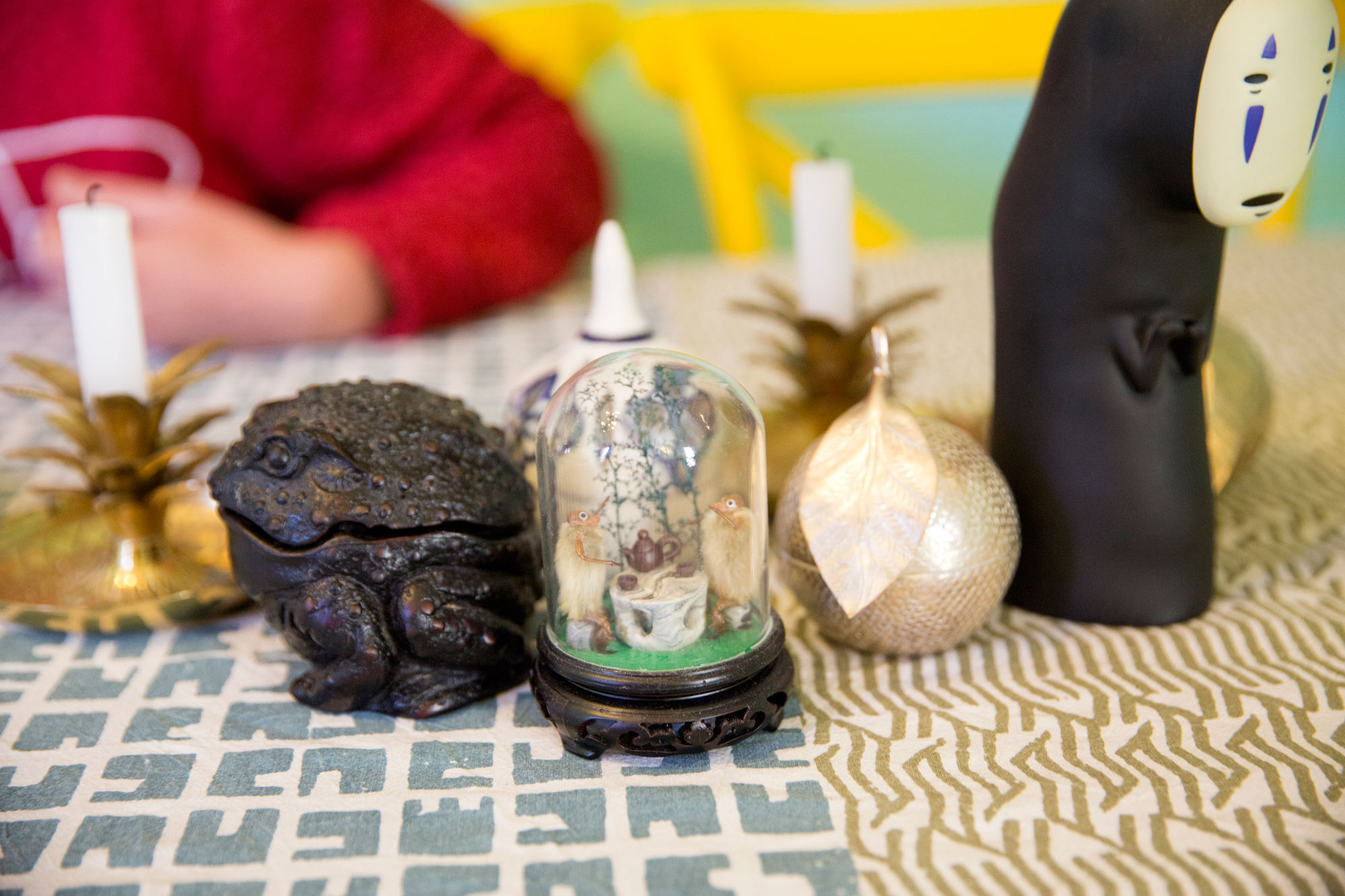 Justin Shoulder: We first met on the dance floor of Club 77, it was that Bang Gang party and Sveta was DJing. I had been admiring Matt from afar as his reputation proceeded him (LOL!) – as well as his strong jaw. I pretended to shoot arrows at him, and he played along. He was shirtless, dancing around in trackies and from what I saw at the time, had flaming hearts tattooed on his biceps and chest. I later realised I'd 'seen' different designs – some deep witchcraft there or perhaps something in the air. Probs both!
We started doing club shows together for cabaret nights like The World of Musicals and The Kids around Clown: big group messy narrative numbers with classic reveals and pastiche soundtracks. I miss doing that kind of work! From there we've been creating in different collective arrangements like the yearly costume ball Monsta Gras (2009–17), Clown Cult (2009), Pink Bubble (2015–17). We're always working on each other's projects as a mutual musing.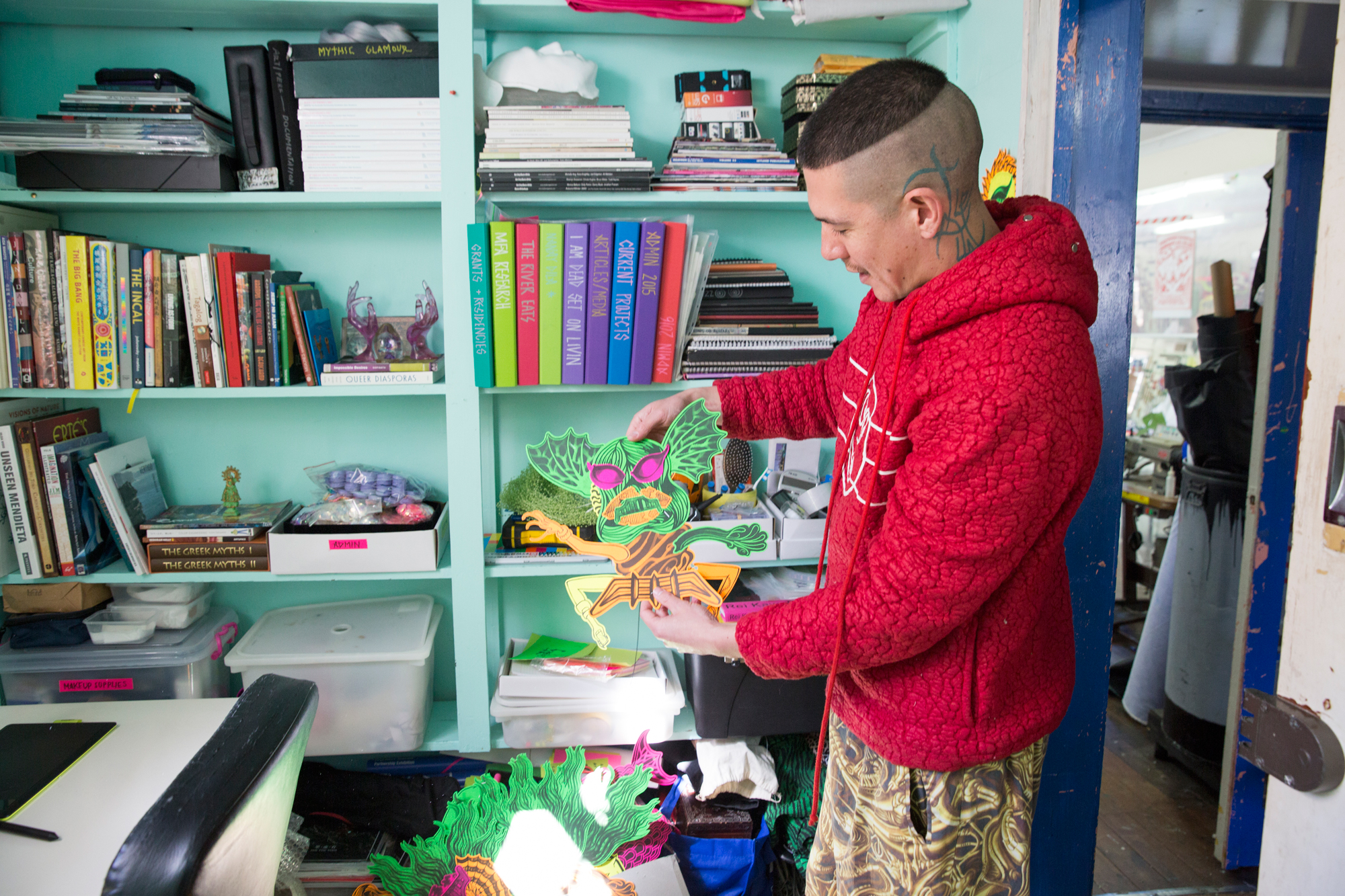 The wall is a collection of objects and images with connections to matriarchal figures both in our biological and queer families. Both my Lola Maria Pascua (from my mother's side) and Grandmother Phyllis Shoulder (on my dad's) guide me in life. They really paved the way for me to be here, through their work and devotion to family. My Lola lived in the province of Nueva Ecija in the Philippines, but spent long periods of time in Sydney when my sister and I were younger, helping my mum. I remember her for her sense of humour, creativity and nurturing energy. I was super close to Grandma Phyllis. As a child, she was a performer in the circus and entered into many pageants. There are some incredible images of her as a contortionist as well as tableaux with her trophies/costumes. She was always super chill with me and took a particular interest in my creativity. For me it's important to honour them as a reminder of lineage, grounding me in ancestral magic.
A good clubbing experience can turn me inside out. If it's a total theatre of the senses, you can bend time. That's a big part of why I like to perform in the club – it's such a malleable and imaginative collective space. I enjoy the potential of co-creating an entire atmosphere and altered state that offers non-linear ways of communication, like a big heaving organism.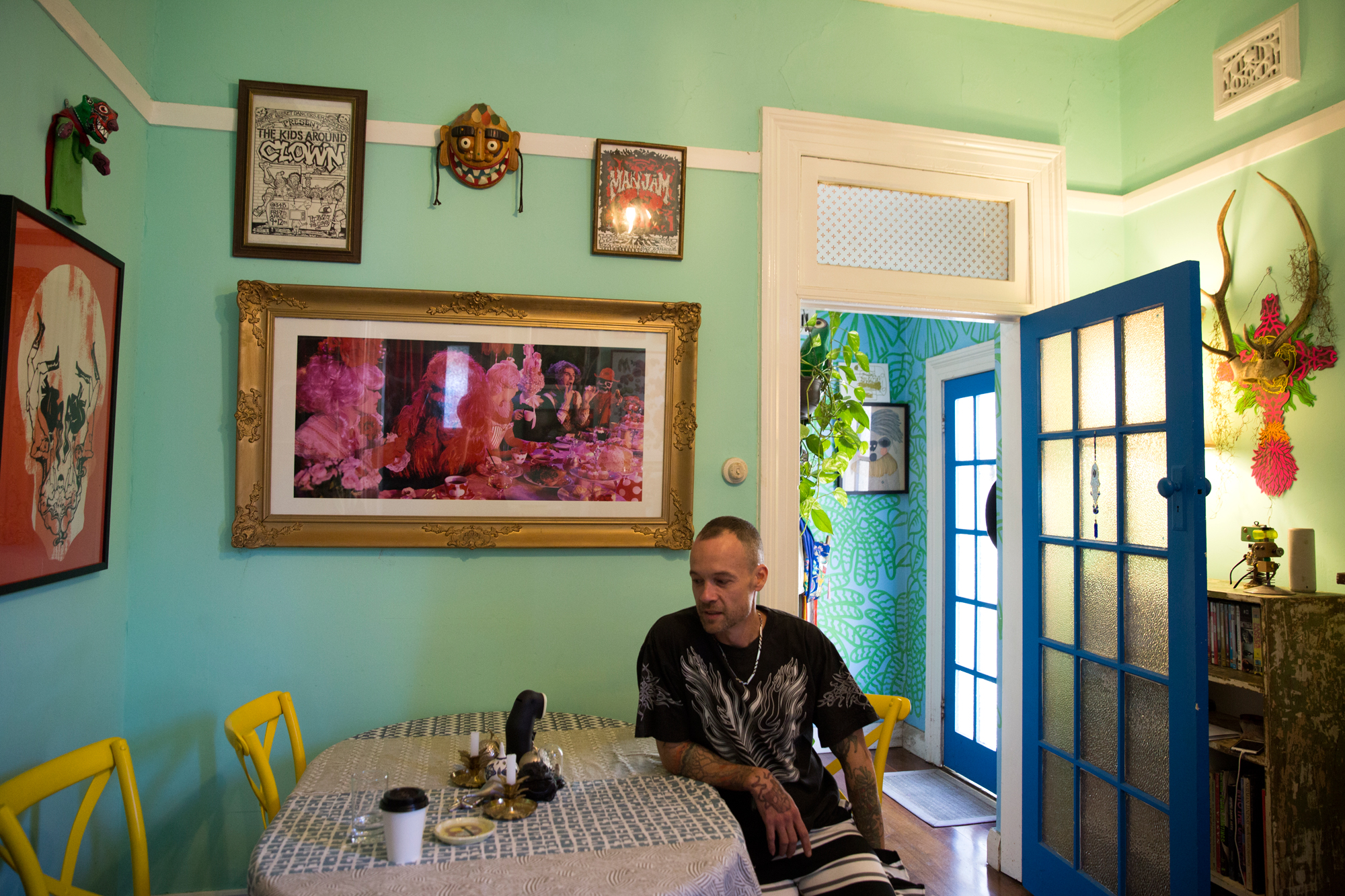 Matt Stegh: I had seen Buzz (Justin) around the traps, noticing this beautiful Romanesque boy who was being bossed around by awful drag queens that I knew. He had a sparkle in his eye which alluded to a deep, wild yet old soul. Buzz asked me to be in a performance installation at Kudos Gallery. The energy was there and it pretty much flowed from then.
I've worked as a costume designer and stylist for about 20 years. I really love to work and I suppose that has cemented my place within a really competitive field. My commercial work is very important to me; although advertising can be questionable, I'm respected by my peers and seen as both highly skilled and professional which is what keeps me sane and stable in a sometimes ridiculous and demanding industry. I'm known as 'that queer who can do things that others cannot' and that feels good. The time and resources that are now made available to me as a freelancer mean that I can balance that world with the other events and projects that Justin and I have real drive to do: parties, community events, personal projects and my new 'baby', fashion label Haus Of Hellmutti (HOH).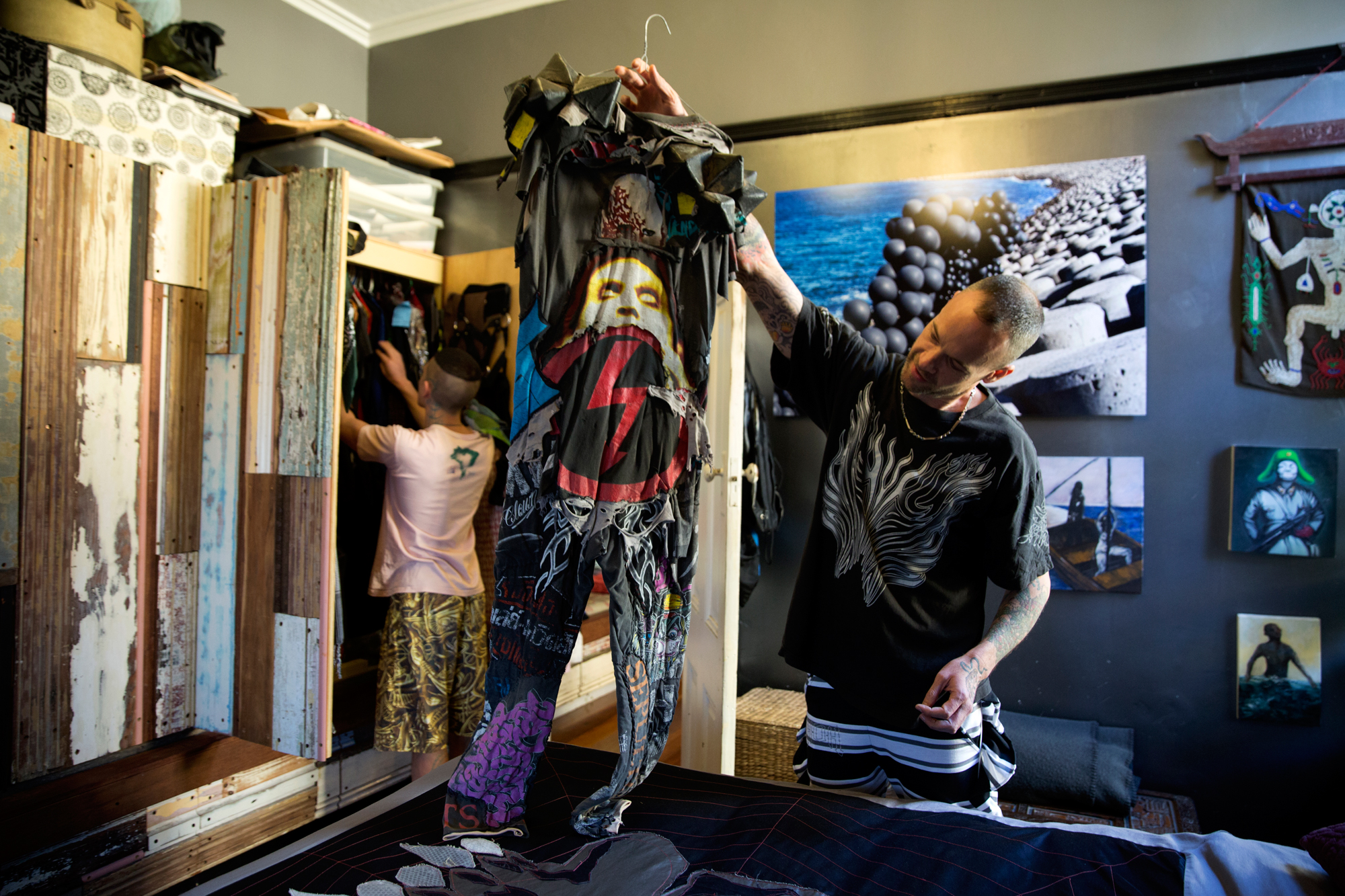 I began my career in fashion in the 1990s, but quickly moved away from it because of a lack of resources, a lack of interest in Australian fashion and its problematic modes of production and politics. I feel these are all things I can negotiate now. HOH is locally made from salvaged fabrics and its clientele is queer people. It's a direct creative response to all my amazing queer muses, and a reaction born from my disgust and dismay at fashion, heteronormativity and neoliberal politics. Hellmutti also references my European background ('Hell Mother') and blends with a lifelong love of camp, horror and sex. It's in the early stages but it's humming along: at this stage I'm selling to queer communities here and overseas via Instagram.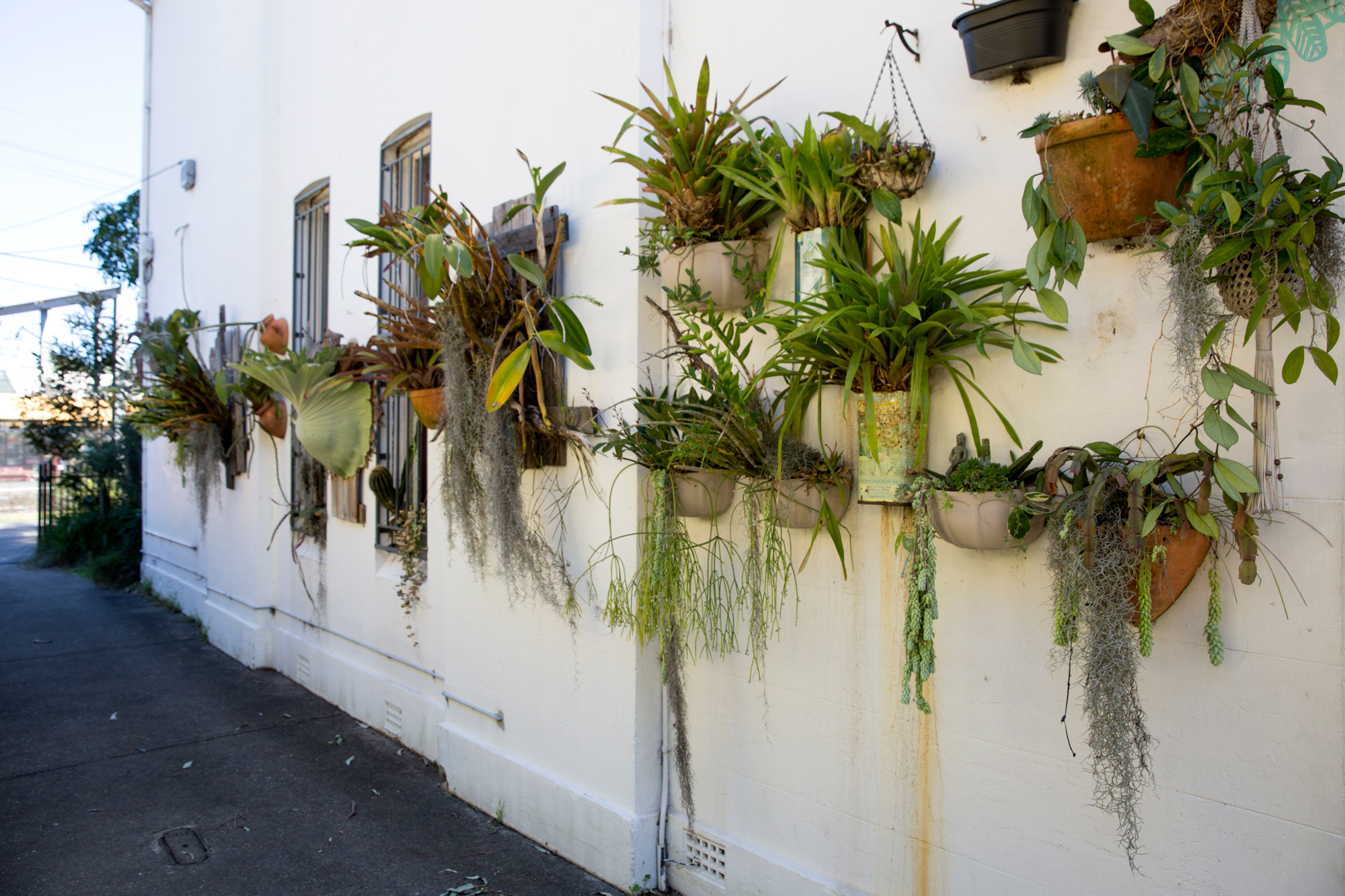 I grew up on the mid-north coast and spent a lot of time alone in the bush and found pockets of rainforest particularly magical because they existed in safe watersheds or rain pockets. As a kid, I became obsessed with the diversity and specialisation of these types of plants. Here, most of the plants in the garden are indigenous rainforest species. My Omi was a really keen gardener and had a real symbiosis with living things. I learnt a lot from her about sensitivity to the tropical environment around me – though strangely enough, Omi was a Croat refugee of WWII.
A lot of the cacti and succulents in the garden have come from the plants Omi had via my aunty (who's now passed); she collected them from wherever she visited, sometimes smuggling them back from overseas visits. A lot of our community love plants so we have regular cutting swaps with friends.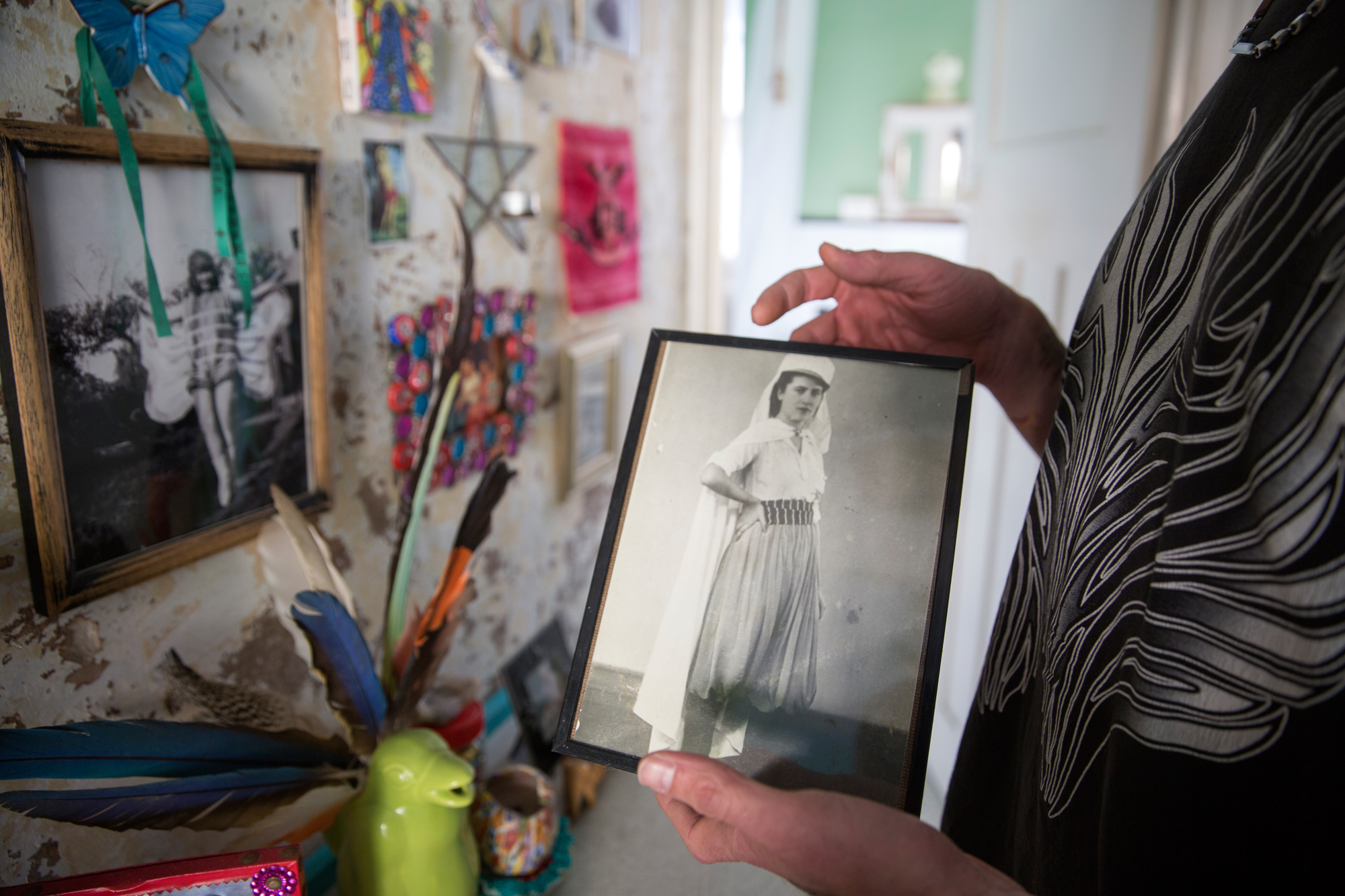 I was my Omi's first grandchild. Her life was extremely difficult – a forced arranged marriage to an abusive partner (she arrived in Australia after WWII illegally with her Nazi husband). She was an extremely loving and nurturing woman who had a deep sense of sadness. She used to tell me stories about how she would make costumes from Hollywood films and wear them to promenade around Belgrade before the war. I spent a lot of time with her growing up and she passed on a lot of knowledge, particularly craft, decorative arts, cooking and plants. I remember her extensive wardrobe of 1940s floral dresses and knee high boots. She kept a box of the best items for me to dress in. Her influence is a direct connection to my creativity and sensitivity, and growing up with romantic associations of European craft, tradition and folklore, to me, is a connection to my queerness.
I've been clubbing since 1990 and, quite simply, it's the thing I do best. The lock-out laws haven't really affected what we do; the more worrying thing is the dulling of culture and the erosion of enjoyment and respect for the culture of nighttime activities and the people who enjoy them.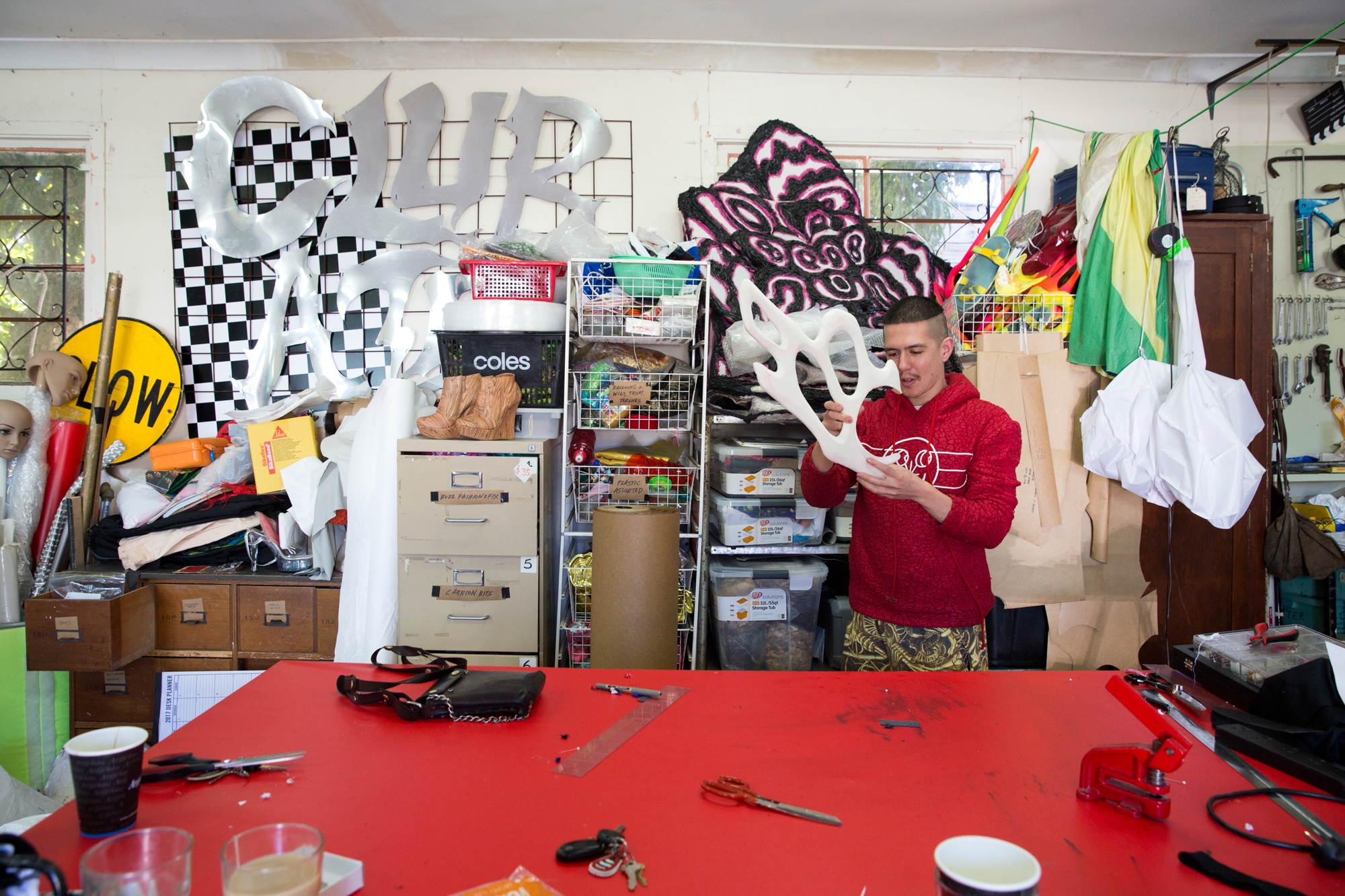 A huge thank you to Justin and Matt for welcoming us into your incredibly rich and inspiring home and studio spaces. You can catch Justin's major new performance work Carrion (we have seen Carrion-in-development light up stages in Beijing and Melbourne – this full-length show will be AMAZING) during Performance Space's Liveworks Festival (19–29 October 2017). For more info on Carrion, including dates and bookings, visit performancespace.com.au/events/2017-liveworks. And to view more work by Justin, visit justinshoulder.com and Vimeo and stay tuned for the launch of Matt's new label House of Helmutti  – soon! And for all our Australian readers – join us in voting for LOVE and EQUALITY this September to November.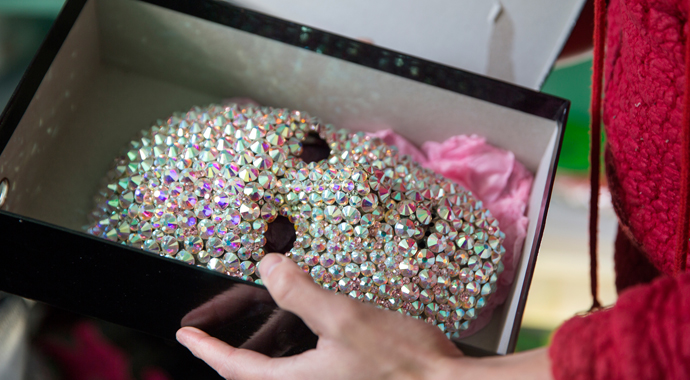 The dazzling visage of 'Pinky', artist Justin Shoulder's alter-ego in his performance work The River Eats (2012–ongoing). Photo by Rafaela Pandolfini.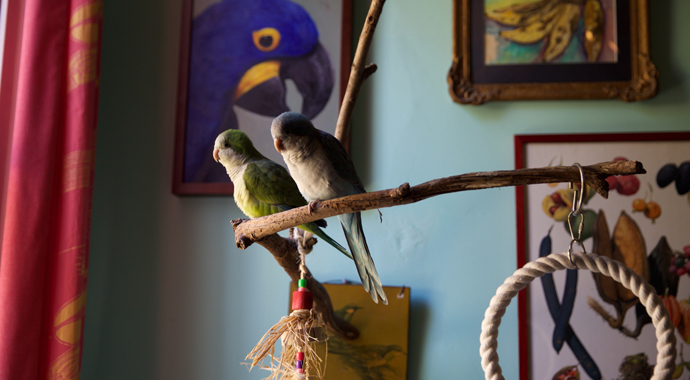 Monkey and Rocket, resident monk parrots. Photo by Rafaela Pandolfini.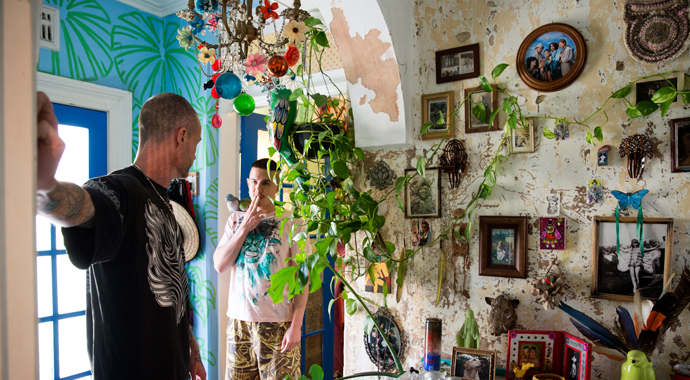 Matt Stegh (left) and Justin Shoulder (right) with a collection of objects and images connected to their familial and queer lineage. Photo by Rafaela Pandolfini.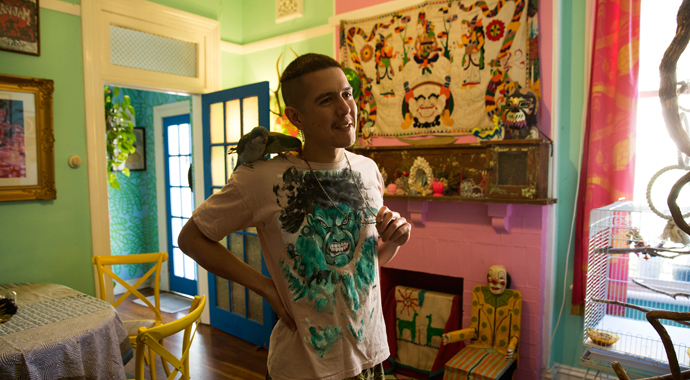 Justin with Monkey and Rocket. Photo by Rafaela Pandolfini.