City Living
Squishy Urbanity: Walking Melbourne with Rohan Storey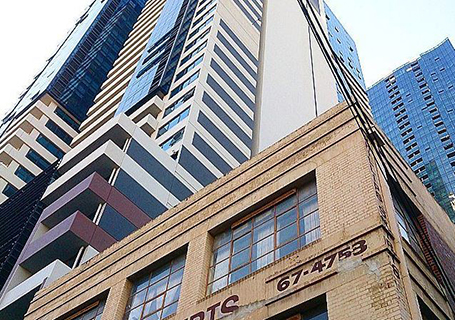 Dec 2, 2016
I love scrolling through Rohan Storey's Instagram account. Within it, he singles out buildings many of us have walked past hundreds of times and draws on his formidable historical knowledge, developed over 20 years of working at the National Trust, to tell the story of a city. Rohan – now vice-president of Melbourne Heritage Action, a community-based lobby group supported by the National Trust – is an avowed city-lover as well as a flâneur of sorts: his architectural eye captures the intricacies of high Victorian mansions (some of his favourite buildings in Melbourne), while in conversation he vividly describes the 'squishy urbanity' of the city's laneways.
Opinionated, passionate and often humorous, Rohan's captions on Instagram reflect our city at a very human scale – a perspective often overlooked in conversations surrounding population growth and high-rise developments. In observing Melbourne's CBD creeping skyward, Rohan documents the sometimes outlandish towers being built and, through Melbourne Heritage Action, makes submissions that put heritage and good urban design first.
I spoke to Rohan about apartment standards, what 'good' density looks like to him, plus his thoughts on the recent Corkman pub saga in Melbourne.
Emma Breheny: Your Instagram account has become a daily habit for me (and no doubt many others). What has Instagram done for your relationship with the city?
Rohan Storey: I suppose it's made me look again, sometimes a bit more closely, at the buildings. I learn more about them or, in some cases, I learn about them for the first time. I also avoid taking photos of the obvious buildings in Melbourne. I don't post pictures of Flinders Street Station and Parliament House – why should I when everyone else is? I might as well pick out the ones that are much less well known.
EB: Melbourne appears to have done better than a lot of other Australian cities at preserving its historic buildings. Is the city's current prosperity and coveted status as a 'liveable city' threatening our track record with preservation?
RS: It is. The problem being that preservation of central city buildings and industrial buildings now means keep the facade and stick a tower on top. That's an interpretation that has evolved since the 2000s. A lot of buildings that were actually saved, restored and preserved in the '80s and '90s are now going to be 'saved, restored, preserved', but not really – they're just going to be three walls and a setback with a tower sticking out of it. The latest one is the poor old Lindrum Hotel, which was saved in 1999 but is now going to have a tower on top.
Fortunately, so far this is confined to city fringe buildings. The central part of the city has a firm height limit so it's not going to happen anywhere on Swanston Street or most of Bourke Street or Collins Street, ensuring the best parts are pretty well preserved but, outside those areas, if the site's big enough it's likely to happen. And it is happening all over.
EB: The recent events surrounding the Corkman pub have shown the best and worst of Melbourne's planning system and community attitudes towards this. What are you hoping will come of the saga in the long-term?
RS: Do the events really show community attitudes towards planning? My opinion is that most of the reactions show the community's attitudes towards illegally erasing an old corner pub, one of the most appealing of Melbourne's heritage building types. Illegally demolishing a house or even an unused church would not have created such a reaction (both have happened over the years, though usually with a permit in place). The planning system as it is normally used hasn't failed – it wasn't a case of getting a permit they shouldn't have, it was totally ignoring the need to get one that was the problem. The only failure is that the system of enforcement in planning and local government doesn't have bodies on the ground to actually stop something like this happening. Since it's not a criminal act, the police can't step in, nor can council officers – they can only serve notices.
Apart from the accurate reconstruction of the pub, I hope that in the future fines for such illegal demolitions on commercial projects are increased to a size where they will act as strong deterrents, so the demolitions won't happen in the first place. So instead of one-size-fits-all AU$180,000 fine (or say $2 million for commercial projects) for breaching or not getting a permit, I would like to see fines in proportion with the possible profits – say half the cost of the increased value of the land. This would make developing the site unviable for the owners, who would then be forced to sell at a loss (including the cost of reconstruction). It should also be made clear that the fines apply to the directors of the company personally, not the company itself, to avoid the company simply declaring bankruptcy, avoiding the fine, and possibly coming back under another name. The best deterrent for destroying something on the Heritage Register would also be jail time. The [Planning] Minister [Richard Wynne] has declared that he will be reviewing the fines and I look forward to helping make sure that they are appropriate and enforceable.
EB: With Melbourne's space in demand, higher-density living is the most pragmatic solution to maintaining liveability. In your eyes, what's the right balance between the mega-towers approved by Matthew Guy and something that still provides higher-density solutions?
RS: Well, I think we're getting all kinds of density. Everyone focuses on the big, tall, skinny towers but there are lots of lower developments happening too, in the inner city, in the middle city, there's towers in Box Hill, in Doncaster, in Caulfield. It's not a case of up versus out, tall versus sprawl – it's not as simple as that. So many people have moved to Melbourne in the last 10 years – 600,000 people or something – so it's no wonder prices have gone through the roof and there's such demand for tower blocks.
How does that affect liveability? It depends what you mean by liveability: there's liveability, affordability, urban excitement versus too crowded, and then there's the matter of sudden and extensive change causing existential angst (which is definitely happening). Liveability in the central city is being affected by the fact that the tower controls were relaxed after 1999: as it turns out, the most significant was removing the basic 'plot ratio' of 12:1, which determines how much actual building you can have per site – developers gradually took more and more advantage of that. At the same time, the market boomed (partly due to student housing) and building technology improved so now you can build a 60-storey tower of 300 one-bedroom flats on a relatively small site. The policy that's been in place until now actually said that towers should be 35 metres apart but as time went on it came to be misinterpreted to be 10 metres. It didn't matter how much light they got or whether the bedroom had its own window or not. All of that was ignored or forgotten or not thought important, to the point where we now have a forest of tall skinny towers very close together on the northern fringe of the city between the Queen Victoria Market and La Trobe Street, for instance.
Melbourne's one of the few cities not to have plot ratios in recent years. Everywhere else in the world has it. Melbourne used to have it and it used to be part of the bargaining system but because we didn't have it, we're in the situation we're in now. Our basic plot ratio, the new one [of 18:1], is still almost twice that of Hong Kong.
EB: What lessons can Melbourne learn from your 'heritage mecca', wherever that may be?
RS: Nowhere is perfect but, surprisingly, I would say Sydney is doing better than Melbourne of late, having gone through a horrible period of demolitions and only preserving front facades in the 1980s. The city turned around completely in the mid- to late-1990s and adopted a lot of Melbourne's controls at that time, such as selecting the best buildings in the CBD and giving them very strict control. Sydney protects what they've chosen better, but we have a lot more listings.
Sydney has also had apartment standards for 15 years. In the CBD, there are very sophisticated sunlight-angle diagrams that are used to protect sunlight to various pocket parks and even some of the streets. A lot of parks are overshadowed so they've made sure they're not going to be overshadowed any further. Sydney also has a ministerial committee for certain larger developments, meaning everything goes through some public process, whereas here larger developments go straight to the Minister and it's much more opaque, with fewer alternative voices heard.
EB: What is Melbourne Heritage Action focusing on at the moment?
RS: There's new heritage guidelines for the CBD coming up [under the Melbourne Planning Scheme]. These will be a great boon, because the current guidelines are one page and essentially just say 'Look after heritage', which is how things have got to the stage now of just keeping three walls and calling that conservation. A major thing that's coming up is a complete review of all the CBD, which will be great.
Thanks to Rohan Storey for sharing his thoughts on ever-evolving Melbourne and the importance of heritage conservation. Learn more about Melbourne Heritage Action via their website: melbourneheritage.org.au. (If you liked our interview with Rohan, you might also enjoy his 2004 book published by the National Trust: 'Walking Melbourne: A guide to the architectural and historic landmarks of the Central City'.)