Culture
Shadows on the hill: Dan McCabe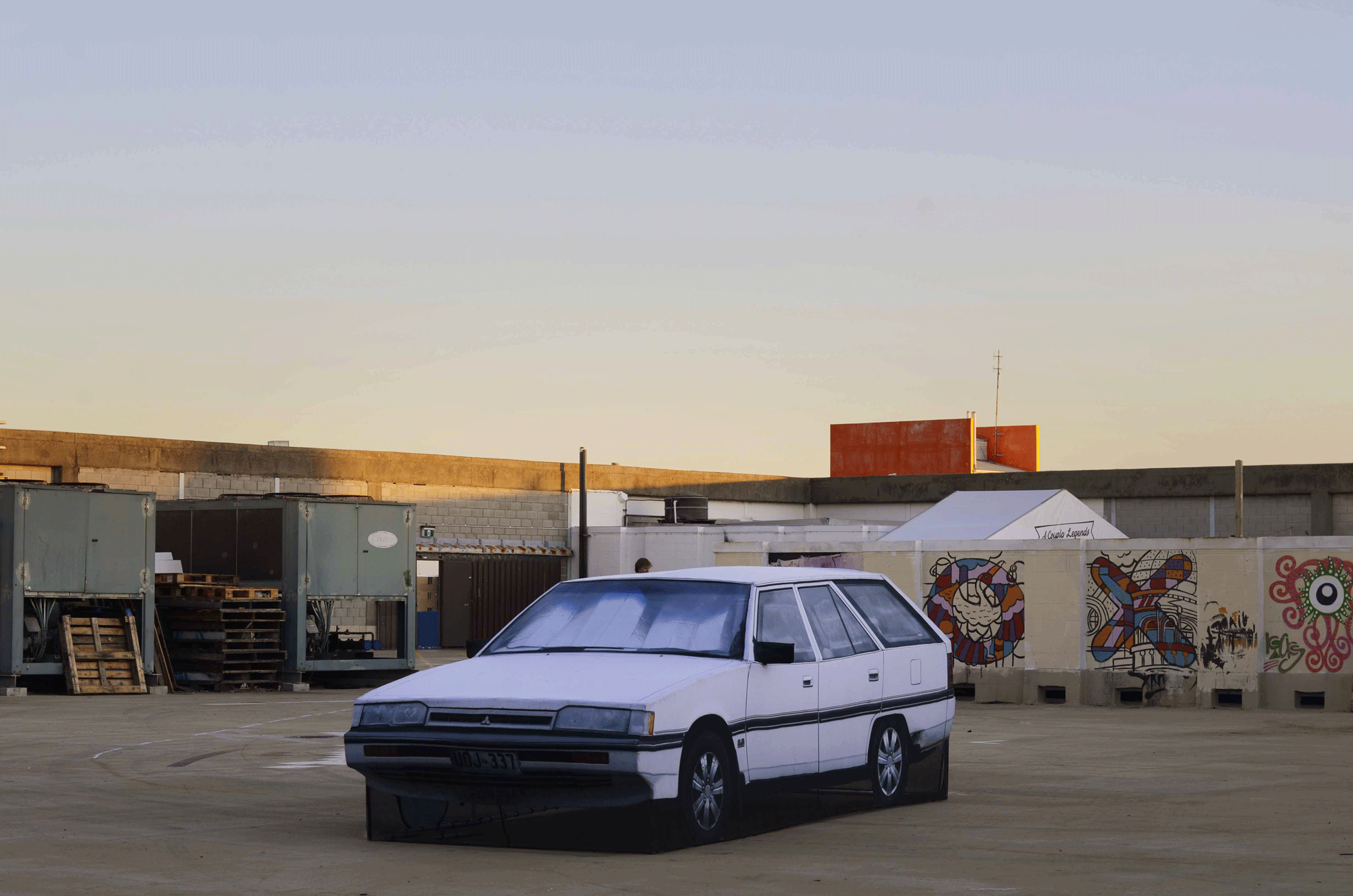 Apr 22, 2016
Like so many Australians, Dan McCabe grew up in the suburbs. Originally from Brisbane, the now Perth-based artist uses tactical photography and subtle illusions to question the idea of the 'Australian Dream' that for so many years has influenced local urban landscapes and our sense of where we fit within them. Commissioned and developed through Next Wave Festival's Kickstart program, Dan's latest work, Shadows on the hill, will see the 25-year-old artist living out of a mobile shelter for the duration of the festival in Melbourne. The shelter – at once camouflaged and disruptive to the urban landscape – takes the form of a tent disguised as a 1980s station wagon, in which Dan will camp out in various locations around Melbourne from May 5–22. We caught up with Dan ahead of the festival to talk about the Australian Dream, urban sprawl, and Australia's changing relationship with its suburbs.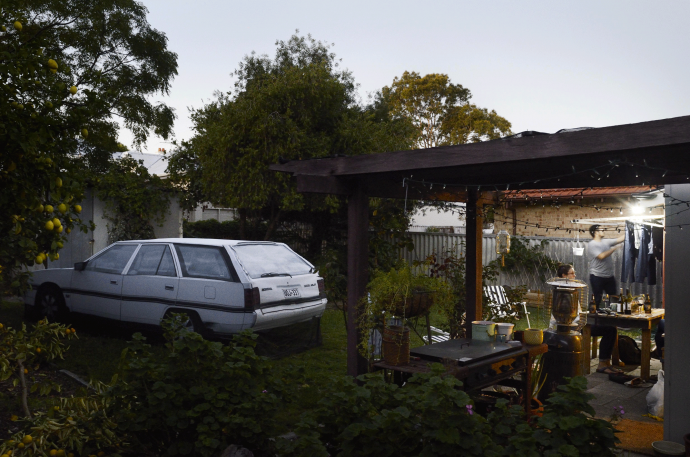 Sara Savage: How did Shadows on the hill come about?
Dan McCabe: I have spent quite a bit of time thinking about the places I have lived in and where I might want to live in the future, and from that I started thinking about the dominant housing model in Australia and how it doesn't really align with what I want to do in my life. My parents have spent years of their lives working jobs – fortunately ones they enjoy – to pay off a suburban home. To me this is a huge thing that I'm not sure I want to devote a large chunk of my life to. So I started looking at alternatives. My generation is often talked about as the 'renting generation'. I'm interested in this recent shift in meaning of the 'Australian Dream' which was established throughout the '60s, '70s and '80s, of owning your own home and what it signifies. The suburban mode of living also depends on finite resources and often perpetuates excess, which doesn't really align with my own objectives in life, so I wanted to steer away from that.
Movements like Tiny Houses as well as container homes are pretty inspiring, but are often considered project builds or holiday homes; literally a scaled-down version of the average suburban home. With Shadows on the hill I wanted to propose a creative alternative to the dominant housing model that allows me to engage with and live in an urban or suburban landscape and access the things that are important to me – whether that's work, cultural events, or other people and communities – but also that could allow me to live rent-free and under the radar. I'm not necessarily trying to present a feasible option – you know, I don't see it as something we could roll out on a larger scale – but I did want to subtly subvert the suburban ideal that I feel conflicted about.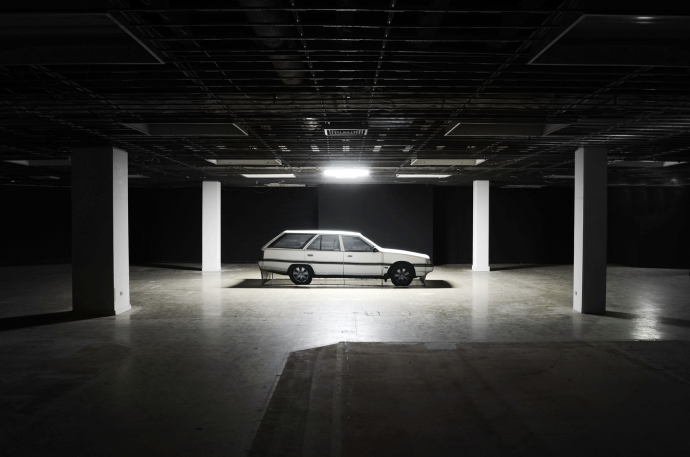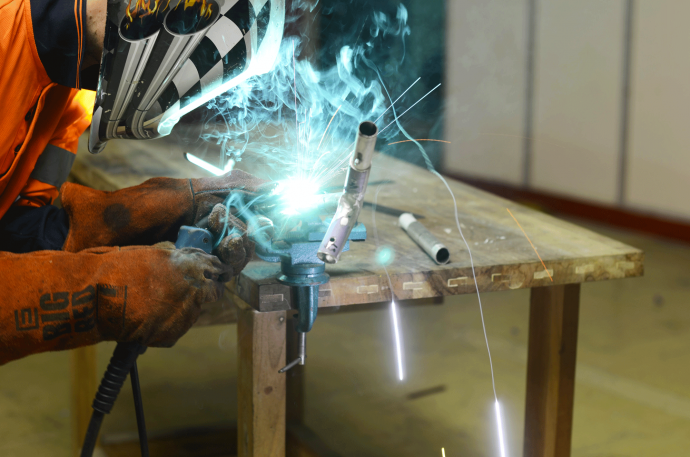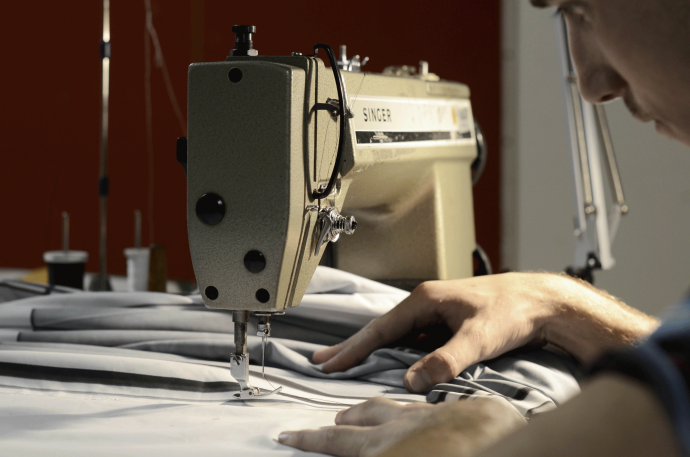 SS: Shadows on the hill isn't the first time you've worked with textiles. Can you tell me about the material aspects of the project, and how you went about constructing the tent?
DM: An aluminium tube frame makes up the skeleton of the car, and the fabric outer layer was printed using dye sublimation. The car is based on a 1980s Mitsubishi Magna. I found a guy on Gumtree selling one, so I called him up and he let me document the car extensively in a parking lot. From those photographs and measurements I made the frame and then the fabric to wrap around it. The tent is a 1:1 scale model of the station wagon it's based on.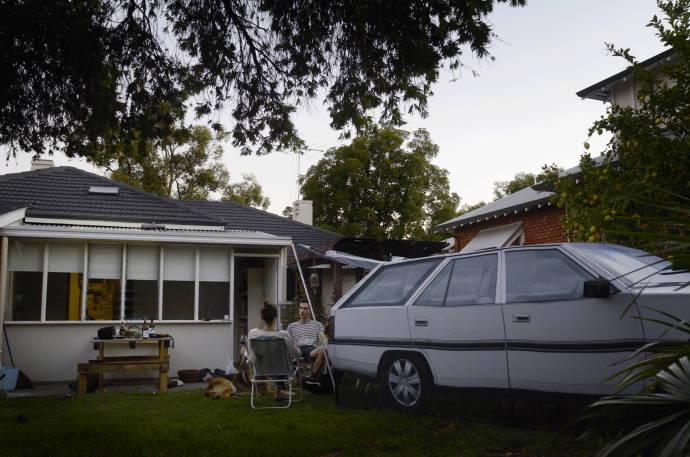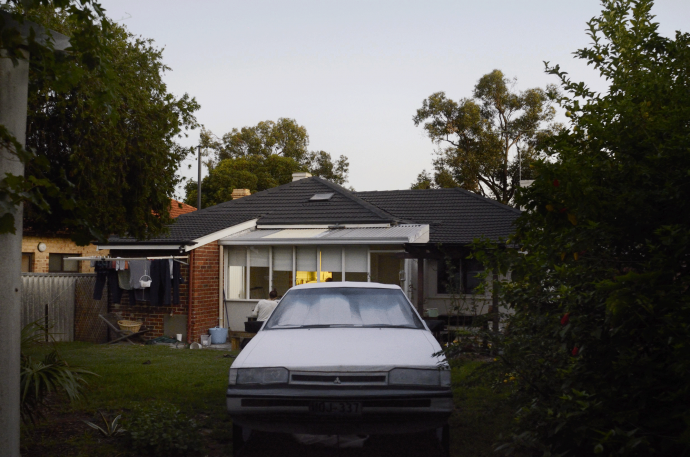 SS: To me, the motif of the car refers to urban sprawl and the resulting effect of automobile dependency. Was that the intention behind the tent's design?
DM: Definitely. I'm lucky enough that where I'm living now I have access to good public transport and can ride my bike nearly anywhere – I only have to use a car when it's absolutely necessary. I really love having that independence. With Perth being a mining town, though, there's all these suburbs out in the middle of nowhere, which have only been established in the last 10 or 20 years. They're not central at all, so if you want to go to the shops you have to drive your car; if you want to go to the beach, you have to drive your car; if you want to go to work, you have to drive your car; and so on. Nearly every aspect of contemporary life seems dependent on cars and oil-based transport.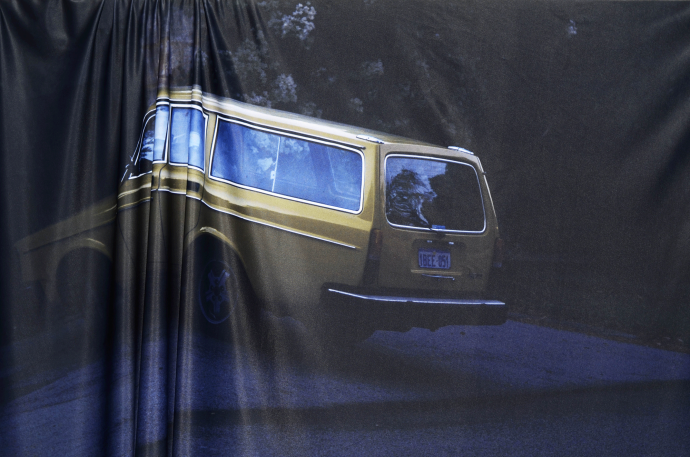 SS: Shadows on the hill is explicitly designed to create conversation and engage passers-by in debates about the Australian landscape, but there's also an element of wanting to go unnoticed with the tent camouflaging itself as a car. How does that work?
DM: A project that originally started as a camouflaged urban tent transformed to become an opportunity for me to start a discussion about the things have been on my mind: affordable housing, sustainable building practices, how people get around, and how different aspects of your life are dictated by location. I also like the idea of attempting to undermine the system I disagree with by disguising myself as the very object that perpetuates the particular lifestyle I oppose.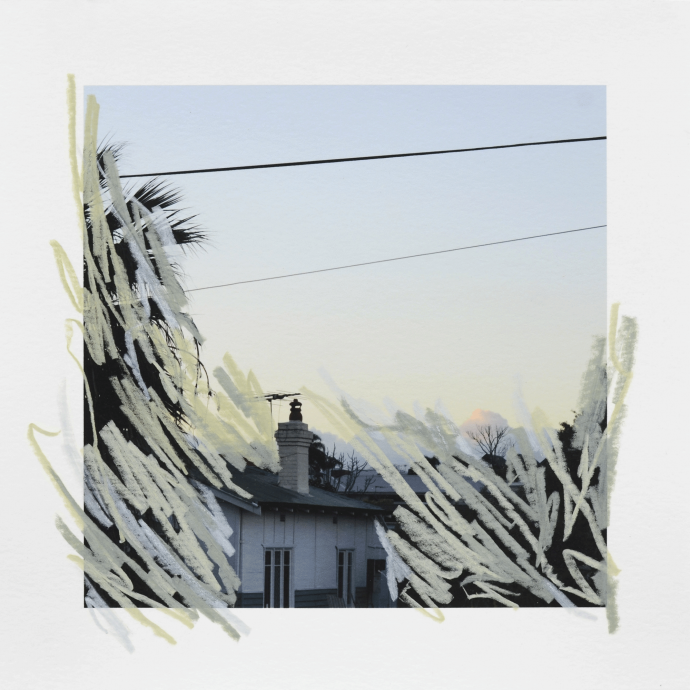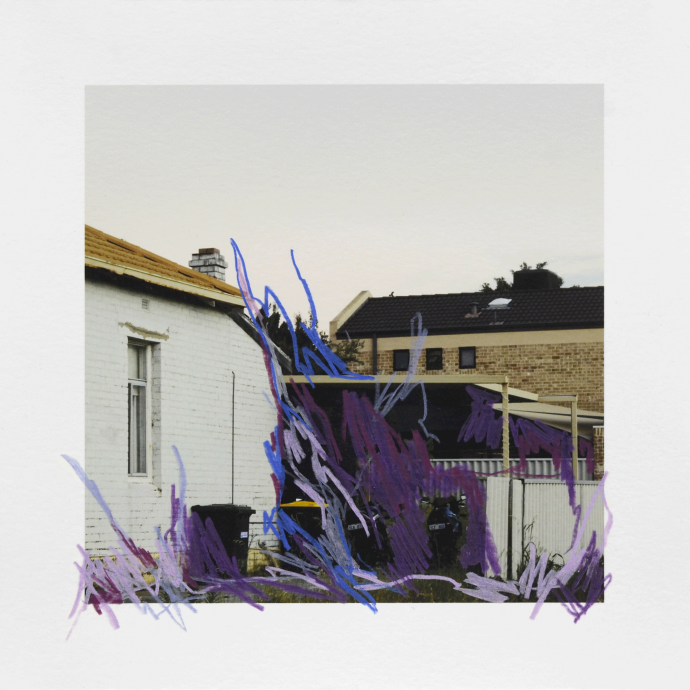 SS: Some of your previous work deals with the suburbs as well. It makes me think in a way about Howard Arkley, and how sometimes art that interrogates the suburbs ends up simultaneously romanticising them, too. Do you think that's true of your work?
DM: For a while I've had this compulsion to photograph and document the suburbs during the twilight hours. The thing I love about that time period is that it can make quite a harsh, rigid landscape filled with angular houses kind of melt away as the light slowly gets darker and softer. I think it's stunning, in the same way that some people perceive the natural landscape as being sublime.
I've been incredibly happy living in the suburban landscape, but at the same time I do have the desire to leave and escape it, which is a pretty relatable feeling. You see this reflected in the way products out there are advertised, like luxury camping brands or Land Rovers… it's 'escaping' gear – things that allow you to get out of the urban landscape, out of the daily grind, and into the wild. But I do romanticise the suburbs. In a lot of my photographic work, the objective was to make [the photos] really beautiful, romantic depictions of the suburban landscape, but at the same time I wanted them to feel sinister, unnerving. The photographs have been a way to explore this conflicting relationship.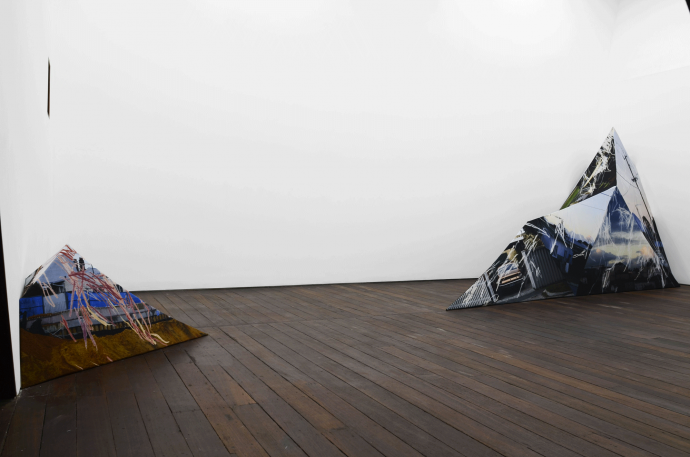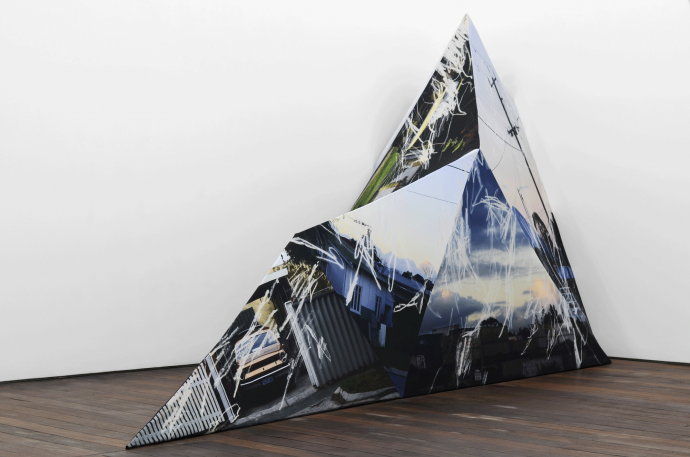 SS: Shadows on the hill is happening as part of Next Wave Festival in Melbourne. Do you hope to bring the project back to Perth at some point, too?
DM: Yes, I'd definitely like to show it in Perth. I've designed it to be toured – the whole tent packs up to under 20kg – and I'm keen to try it out in different landscapes. I think every different place I do it in will change the meaning of the work.
Shadows on the hill will take place as part of Next Wave Festival 2016, from 5–22 May, with the tent appearing across various locations over the festival's duration: Testing Grounds, Footscray Community Arts Centre, ACCA, Northcote Town Hall, and more (check nextwave.org.au for locations and times).