Impact
Words with friends: The Good Copy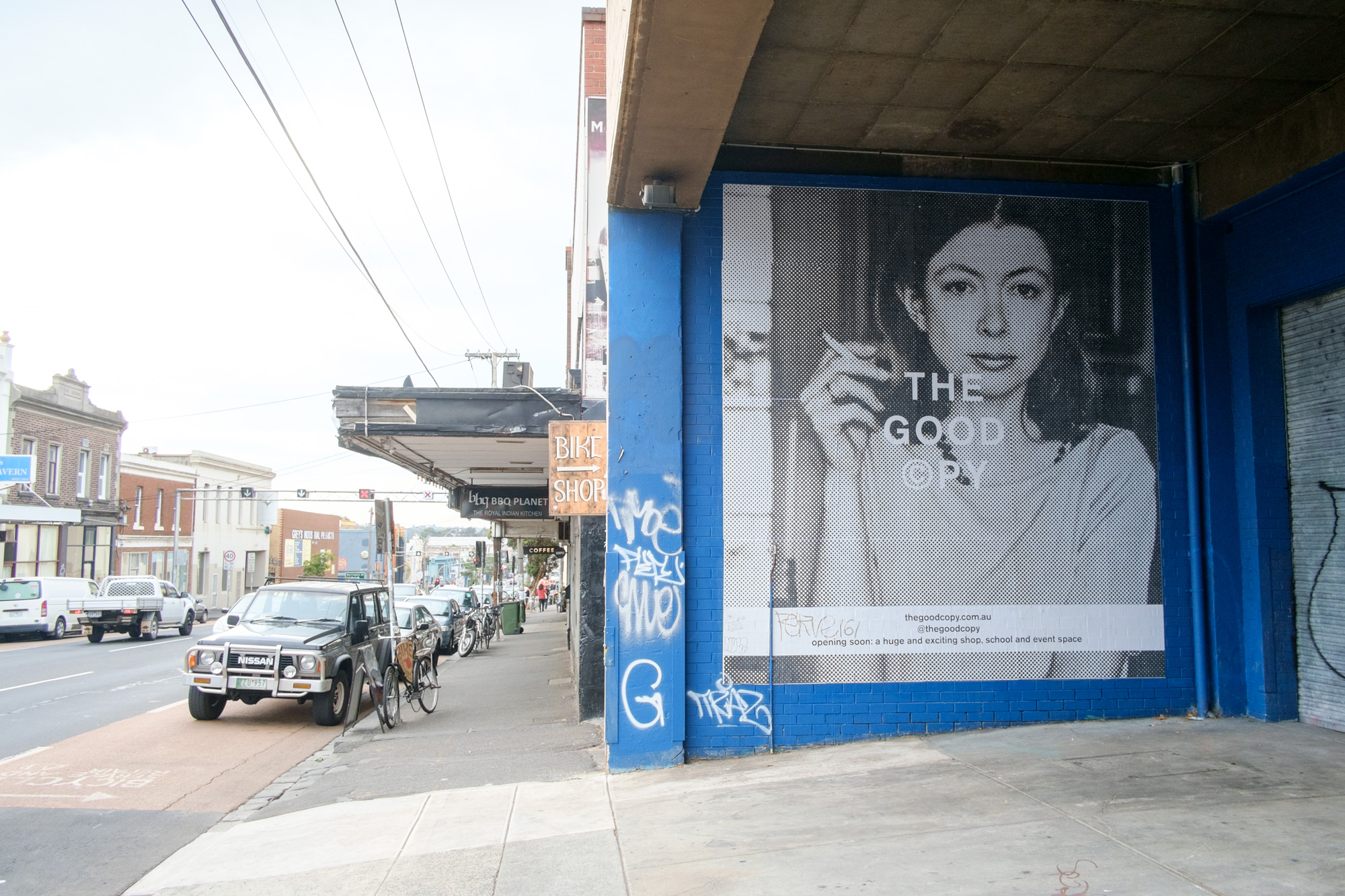 Mar 24, 2016
The Good Copy? More like The Great Copy! Sorry everyone – as you were. It's just hard not to let our enthusiasm get the better of us when tasked with describing Penny Modra and The Good Copy: the creative agency, studio, shop, library and grammar school nestled in the heart of Collingwood, that's been home to so many writers since its inception a few years ago.
The Good Copy is the perfect subject for a MADE IN METROPOLIS profile. Co-founded by Penny Modra (former editor of ThreeThousand) and Frunch Nazzari (also founder of Rooftop Cinema), The Good Copy specialises in creating content ("that crass term!" says Penny), but also spends much of its time unflinchingly dedicating itself to its community – that is, people who want to make a living out of writing. Anyone who meets Penny becomes immediately aware of her infectious enthusiasm (seriously, how many of us have the ability to get people excited about grammar?) and generosity, which has no doubt been central to the business's success.
Late last year, The Good Copy moved from its original HQ at Magic Johnston studios to the distant shores of, well, about 20 metres down the road. Split over two levels, the new space is much bigger, and sees the studio now living atop a giant warehouse, which in a few months' time will see the heart of The Good Copy – its shop, library and event space – reopen to the public. In the meantime, The Good Copy's hugely popular Stop. Grammar Time. classes continue to run out of the warehouse space downstairs. We caught up with Penny – a steadfast supporter of Assemble Papers since its early days – to find out the story behind one of our favourite businesses in Melbourne, and how it managed to turn the traditionally dry world of grammar education into something actually fun.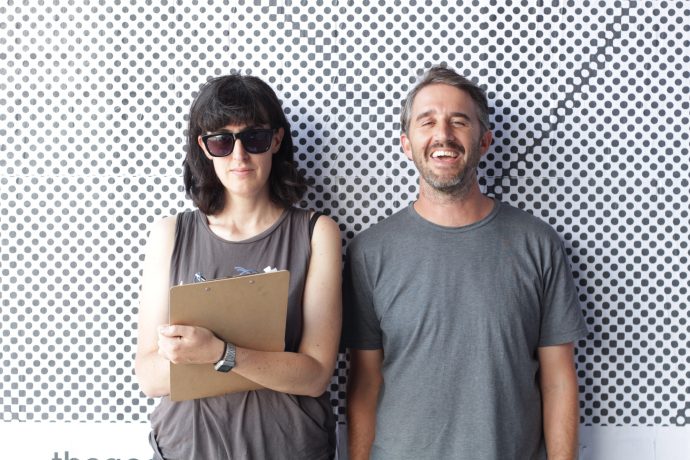 Sara Savage
How would you describe what The Good Copy does?
Penny Modra
The original idea for The Good Copy came out of my observation as an editor of how much more difficult it's getting for writers to make a living out of writing. We wanted it to be a business for writers – at its heart that's why it exists. It's not a business for making lots of money, and I suppose that's the reason we opened the shop. People can come into our shop to buy things that writers are interested in, whether that's a pair of slippers to wear at home while you're freelancing, or the AP Stylebook. If you visited us in our first two years, you'd have seen the library, which is actually a big working space where writers can use our wi-fi, write, and read out-of-print editions of our favourite publications.
SS What kinds of people do you find coming through The Good Copy's doors?
PM In the original library in our first few years, we had such an amazing array of people coming in, from comedians writing their comedy festival shows to people who work in communications commercially… oh, and Derryn Hinch! He donated a copy of his book. He wrote "Best wishes to The Good Copy. That's life! Derryn." [Laughs.] We've also had Graeme Simsion, who wrote The Rosie Project; he comes in with his friends. One of my favourite things to have come out of the shop is the Crossword Club – a coming together of nerds that I enjoy greatly. It happens on a Saturday morning every month, everyone is welcome, and it's non-competitive.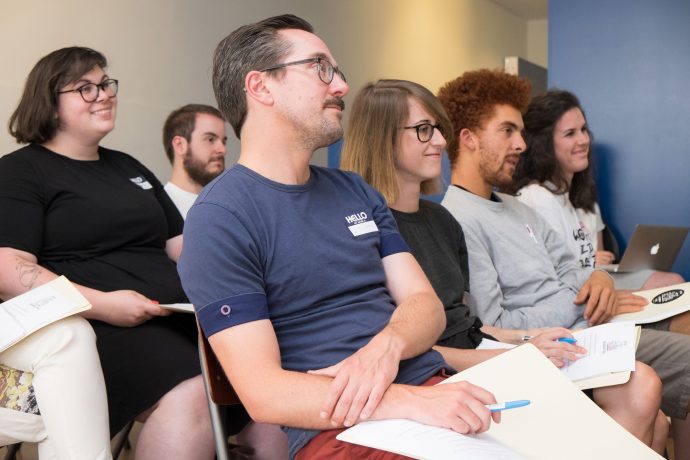 SS Have the social and community elements of The Good Copy been a crucial part of it all? Having been a freelancer myself, I know it can be a pretty solitary profession, which is a shame because so much great work comes from being able to bounce ideas off other people and engage in conversations.
PM I agree with that. One thing I loved about working at ThreeThousand was the diversity of contributors we had, and the strange ideas that came out of just a combination of people being together in a room. I do like working in a group. I don't know if that's true of everyone, but I think what is true is that working alone can get lonely. I used to combat that in my freelance days by going to a cafe, but it gets embarrassing when you have no money and can only order one flat white! This was part of the original reasoning behind our library. I always say it's like a cafe where you can bring your own coffee and we're not going to kick you out (at least until we have to go home!).
SS What was the idea behind The Good Copy's grammar school (Stop. Grammar Time.)?
PM I've always loved grammar, exploring it and talking about it, and it's sometimes baffling to me that people don't talk about language more, because we use it all the time. We talk a lot about politics, but we don't talk about, say, how Australian English is more likely to adopt Americanisms than any other English – there's the border we don't police! Anyway, one day Max [Olijnyk, The Good Copy's creative director] came up with the idea to start a basic 'nuts and bolts' school for punctuation and grammar, because so many of us have issues with it. They took that kind of punctuation and grammar teaching off the Australian curriculum around 1972, so in subsequent generations no one has really been learning it, but we all have a sense that we're just supposed to know it. We opened the school in February last year as a monthly class, and it's been empowering! Grammar can be empowering.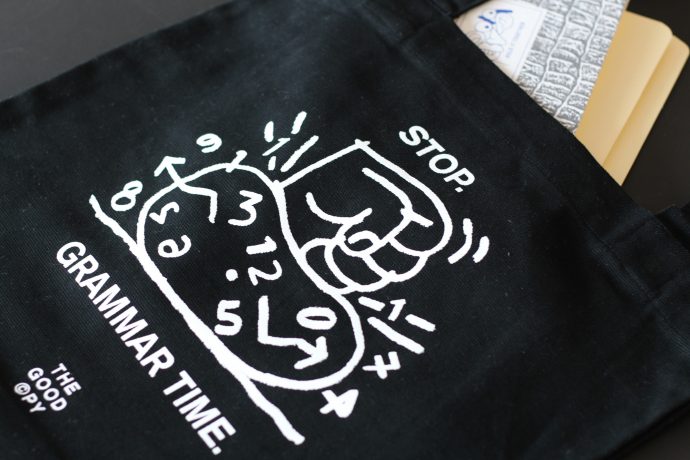 SS Why do you think grammar is still important?
PM What most of us contend with in our working lives is this background noise of paranoia. We think we don't know where a comma goes, or we're being corrected in the workplace by someone perhaps of my mum's generation, who still holds onto strange grammar conventions of the past. The first thing I say in our classes is that you get such a sense of relief when you realise that the majority of decisions you make are actually style decisions –a tiny minority of the problems with people's punctuation, grammar or syntax could actually be described as 'errors'. Just having the ability to make that distinction and employ the saying "that's a style issue" is amazing, and you realise most things you're getting corrected on could actually go either way.
The second thing I say is that language changes. Grammar pedants are fooling themselves! We have observed since about 1995, when the internet really took off, that the rate of change in language has been crazy and exponential. You can't build a dam – language is changing, and at some point you're going to have to change with language. If you look back on the history of spelling even, this becomes clear on a cosmic level. We used to spell 'horse' as 'hros'! And 'bird' used to be 'brid'! When you start thinking about it, you realise our spellings change with the way people pronounce words, and actually the community leads language change.
Susan Butler, who's in charge of the Macquarie Dictionary, gave an amazing TED Talk about this last year at the Opera House. She said how most people think she's a scary gatekeeper who decides which words are words, but the truth is the opposite: she's a representative of the language community. In her speech she said something like, if the word 'charity fuck' means something to a large group of people, then she has to put that in the dictionary!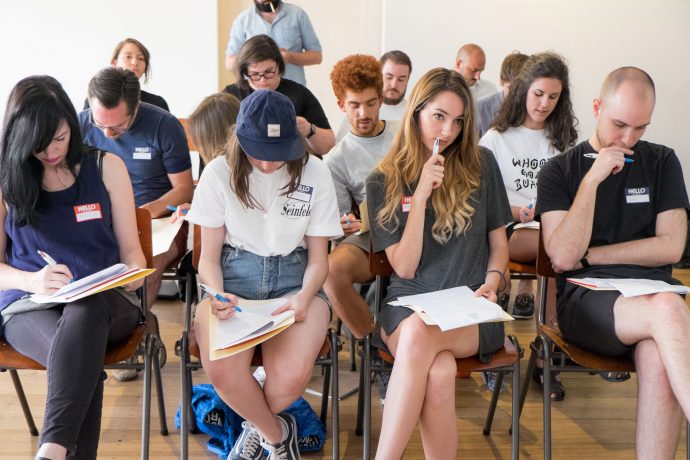 SS Do you think that 'gatekeeper' mentality is why people are scared of learning grammar? Because they think it's kind of untouchable?
PM I think people are scared of it because it represents this large set of rules that they feel they have no access to. I think the key to learning grammar is to understand what the real 'rules' of grammar are, which really many of us have in our instincts. And these rules might be 'is this a sentence, or is this a fragment?' or 'How am I joining these two clauses so that the sentence doesn't break?' They're pretty structural, and so many people have them inbuilt already. I think that approach makes you feel how you should feel about grammar: confident and loose.
SS Is that what you mean when you say grammar can be 'empowering'?
PM Yeah! It's not scary. You just have to have a bird's-eye view about it. Another thing I often say is that there's a lot of politics that comes with correcting other people's Englishes. I think the first thing to understand is that there are many Englishes, and actually, no English is more correct than any other English – the way we write and speak should take context into account. The second thing is to acknowledge that standard English is the language of power, and people who come to English as a second language are actually, in our society, disadvantaged in all kinds of contexts, whether they're applying for jobs or for grants. And so a command of standard English probably needs to be viewed as valuable, because people who are locked out of it are disadvantaged.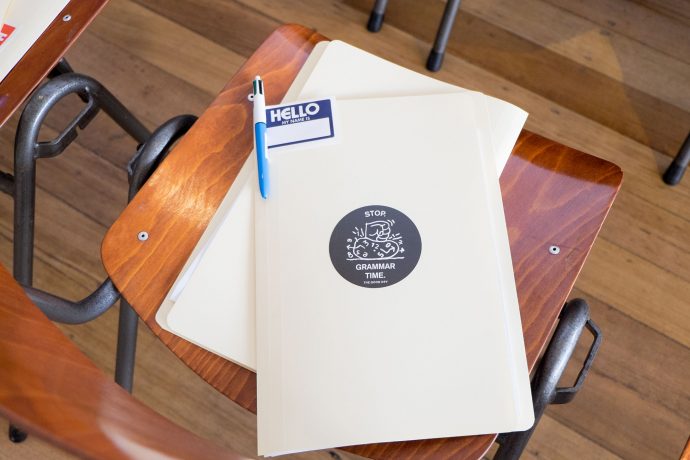 SS So are the classes just for writers, or can I send my mum along? (Or someone else who isn't from a writing background?)
PM The classes are for everyone. A lot of people come to the classes because they haven't had any writing education. They may come from a design background; they may have just finished their career as a nurse and want to write a novel; maybe they're a research scientist who wants to be able to talk about their research in a way people understand; or maybe they're a performance artist who wants to talk about their work to an audience. It's such a broad range of people. We also get interest from different organisations. For example we recently went and did a class with the City of Stonnington after they got a new style guide. We're going to try and do more of that this year.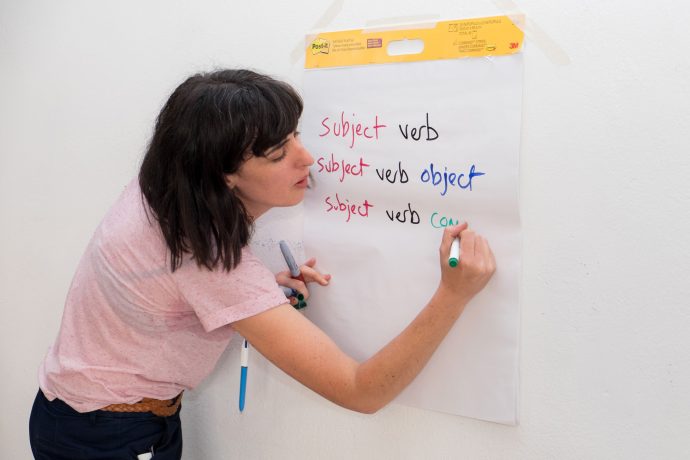 SS What do you hope to do once the new space is open?
PM Once the new space is open properly, we'll have a big flexible warehouse where we can make all our dreams come true! [Good Copy writer Brodie Lancaster's zine] Filmme Fatales will hopefully hold a conference soon that will cover film and writing about film from a female perspective. We also hope to do a few more one-off panels. Kane [Daniel, another Good Copy writer] wants to do a tutorial on writing your online dating profile; he wants to call it 'OkStupid'. We'll also hopefully start our dream Friday night get-togethers series, Friday Night Writes. We want publications to come and host drinks, to choose the playlist and sell their recent issue, and everyone who wants to write for them can come along and have a drink.
SS What's the best advice you could give to someone who wants to make a living out of writing?
PM I've commissioned a lot of work from writers in my time, and with range of budgets – both online (a.k.a. piddly) and commercial (a.k.a. ridiculous). Whatever the context, good writing stands out. I know it seems crazy to give the advice "be a good writer", but really, people who write well are so rare that those people will succeed. And what does it mean to be a good writer? You have to talk to the reader. And you have to be honest. When you break through all the tiers of writing and through the people who adopt authoritative, bureaucratic tones to make themselves sound more important – when you break through those clouds, that's where you see the world's great writers. I always remind myself of this by looking at the New Yorker and [its art critic] Peter Schjeldahl, who'll say something like, "Take a look at this sculpture. This thing comes out of the ground and goes up, and there's stuff above that spreads out and hangs down." And that's how he talks! He's just looking the reader in the eye and telling it like he sees it. He's not taking on anyone else's voice. And if you can do that right, it's compelling.
Thanks to Penny Modra for the chats, and for her ongoing support of Assemble Papers. Good news: Stop. Grammar Time. is still accepting enrolments for its April classes! Penny and Max will also be running an apostrophe workshop (yep), Greatest 'its, at the NGV as part of the Melbourne Art Book Fair 2016 (pssst, we'll be there too). Visit The Good Copy's website for updates on the opening of the new space, or to read Max's review of Jim's Greek Tavern – up to you).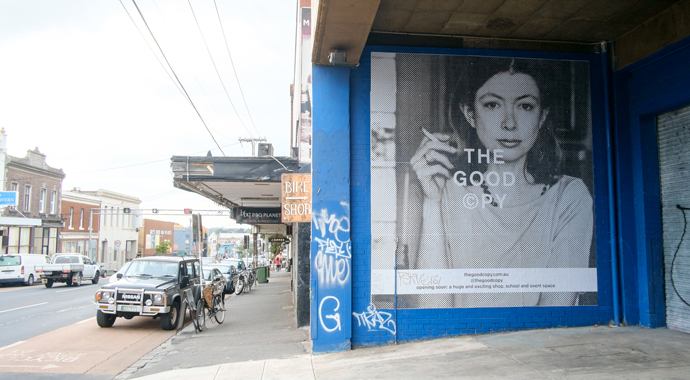 The Good Copy moved out of Magic Johnston studios late last year to a new, bigger space just down the road. If you find a giant Joan Didion poster on a blue wall, you're at the right place. Photo by Max Olijnyk.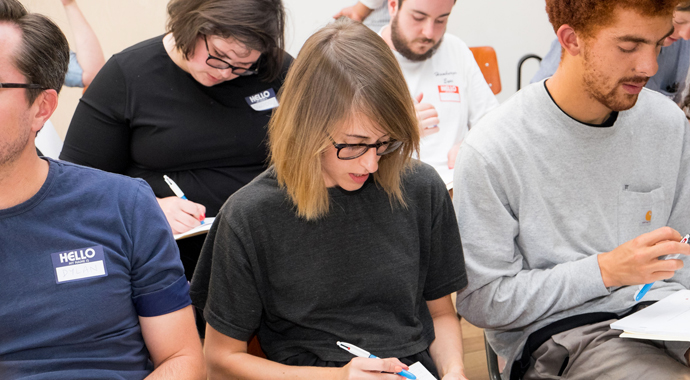 Through its shop, library and event space, The Good Copy sees writers and all kinds of people coming through its doors. Photo by Heather Lighton.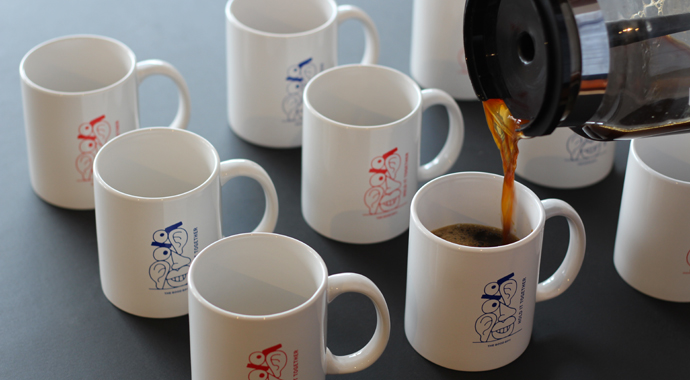 Penny describes The Good Copy's communal working space (set to reopen in a few months' time) as "a cafe where you can bring your coffee and we're not going to kick you out!" Photo by Heather Lighton.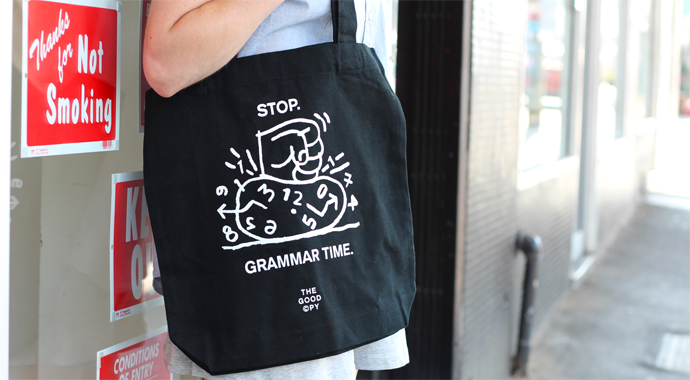 The Stop. Grammar Time. classes began early last year, and have been so popular that there's even classes in Sydney now too! Photo by Heather Lighton.