Culture
Offal, weeds, waste: Cooking with TOME

Mar 11, 2016
Plenty of couples can say they first connected over a shared love of food. But how many can say they were brought together by a passion for offal, weeds and waste? Such is the case with Melbourne's Jonny Kirk and Emily Wong, whose mutual interest in the foods often ignored by mainstream Western cuisine has been a talking point for the pair since they first met two years ago. What began as casual evening walks spent collecting prickly pears in their shared neighbourhood of Brunswick soon became a serious pursuit that eventually led to the creation of TOME – a "design experiment," as Emily puts it, exploring the idea of the 'subnatural' through food.
Coined by architectural theorist David Gissen in his 2009 book Subnature: Architecture's Other Environments, the term 'subnature' refers to the elements of nature that architecture and the built environment cannot escape from: smoke, gas, dust, mud, weeds and so on. While many sustainable or 'green' designs actively filter out these elements, in Subnature Gissen looks beyond the usual indicators of sustainability (like green roofs, solar panels and LEED ratings) towards a progressive kind of architecture that reconsiders its relationship with nature. Inspired by both Gissen's research and a 2014 Duke University project 'Subnature and Culinary Culture', Emily and Jonny began exploring the idea of subnature in food late last year. "We were interested in what some people consider to be 'exotic' foods and the things people eat that aren't necessarily widely accepted – foods that are thought to be undesirable or disgusting," says Emily.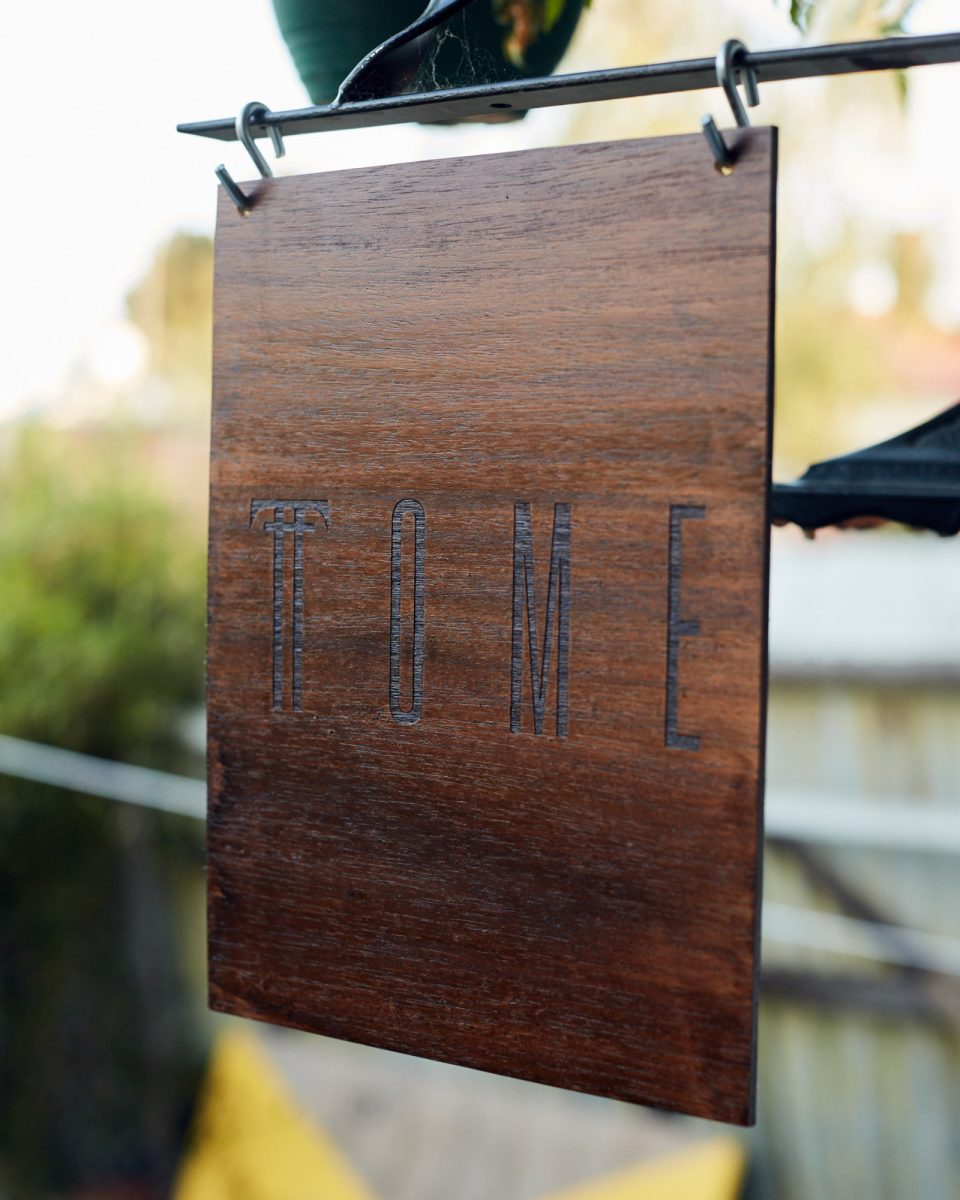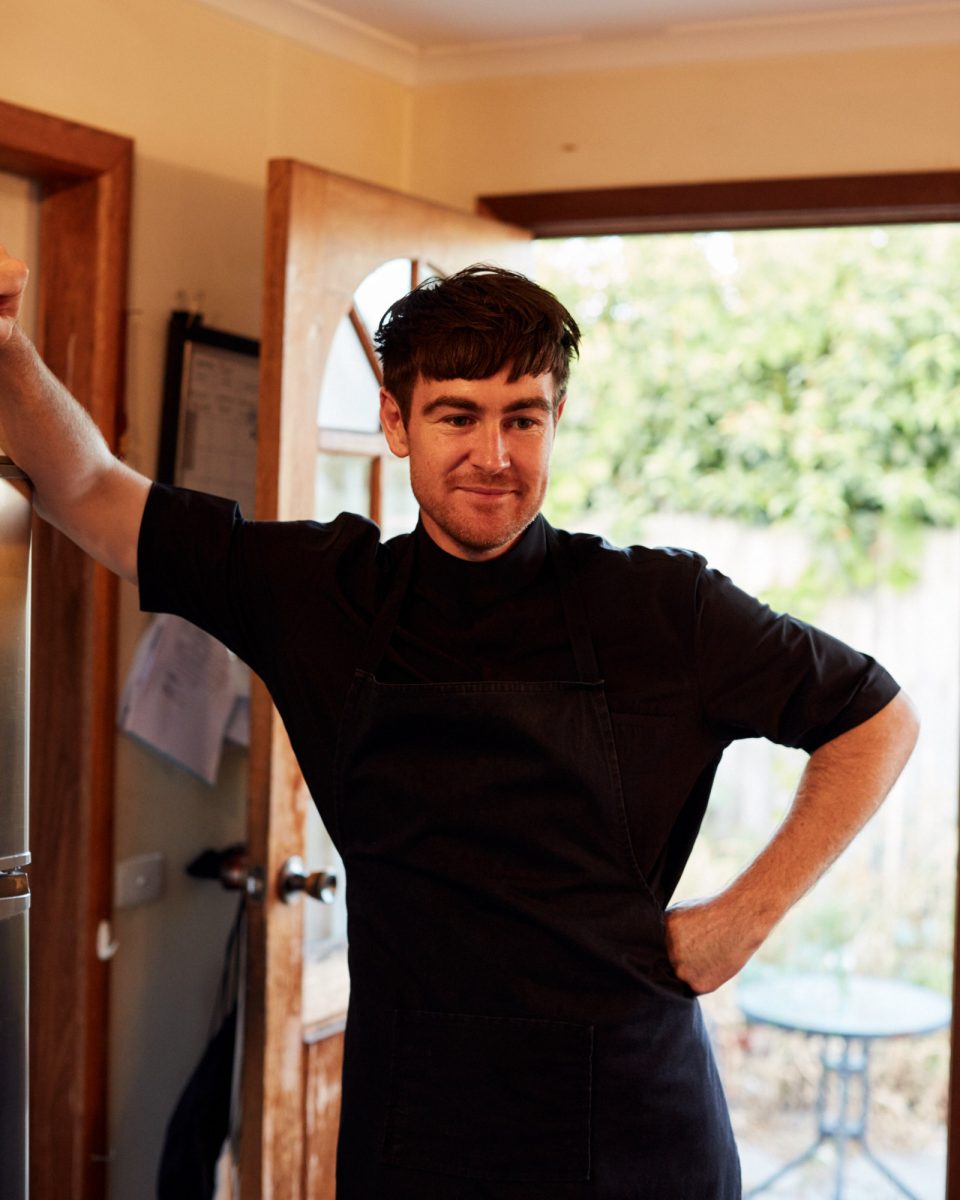 TOME was also inspired by Calvin W. Schwabe ('the father of veterinary epidemiology') and his 1979 book Unmentionable Cuisine, which looks at our various "food prejudices" (namely in the United States) and the reasons many people consider some foods appetising and others completely unpalatable. "[Schwabe] suggests that we're overly selective and restrictive in what and how we eat, and that this is going to have an impact in the not-too-distant future in terms of overpopulation and climate change," says Emily.
It's something both Jonny and Emily had considered long before their encounters with Gissen and Schwabe. Emily, a sessional lecturer in landscape architecture at Deakin University (and former Assemble Papers editorial assistant!), grew up eating all kinds of meat: "going to yum cha all the time when I was a kid and eating things like pork blood soup, tripe, chicken's feet … it made me more open to trying different kinds of food." Jonny, a fashion designer with a degree in biomedical science, grew up on a farm in St Arnaud in north central Victoria, where for most of his childhood his father worked as a butcher.
"My family bottle-raised cows and pigs that were runts or orphaned – when they were gown we would eat them, every part of them. It was a very normal thing for me as a kid," says Jonny, who grew up eating pressed tongues, heart and kidney pies, wild duck, wild pigeons, rabbits, and kangaroo ("before it was big in supermarkets!").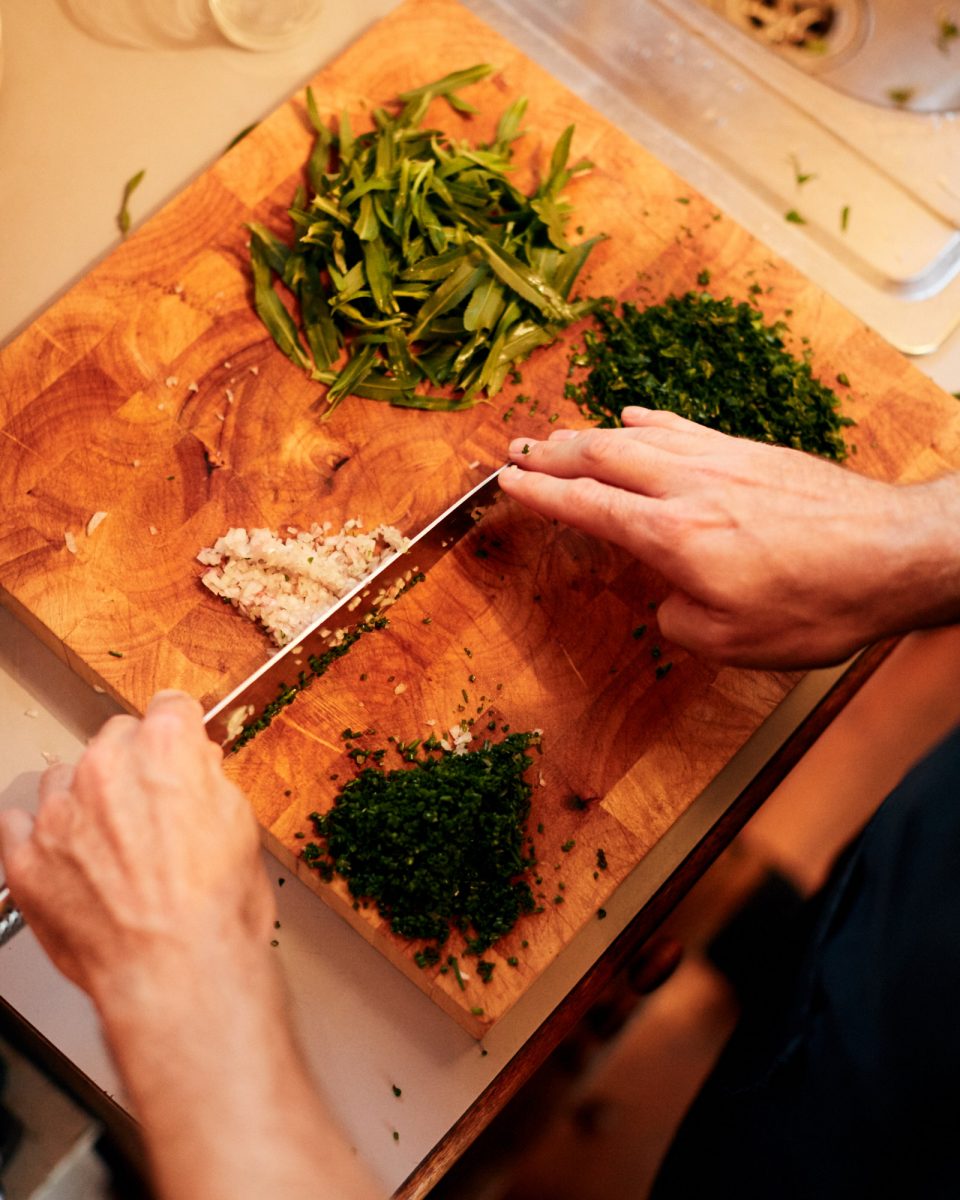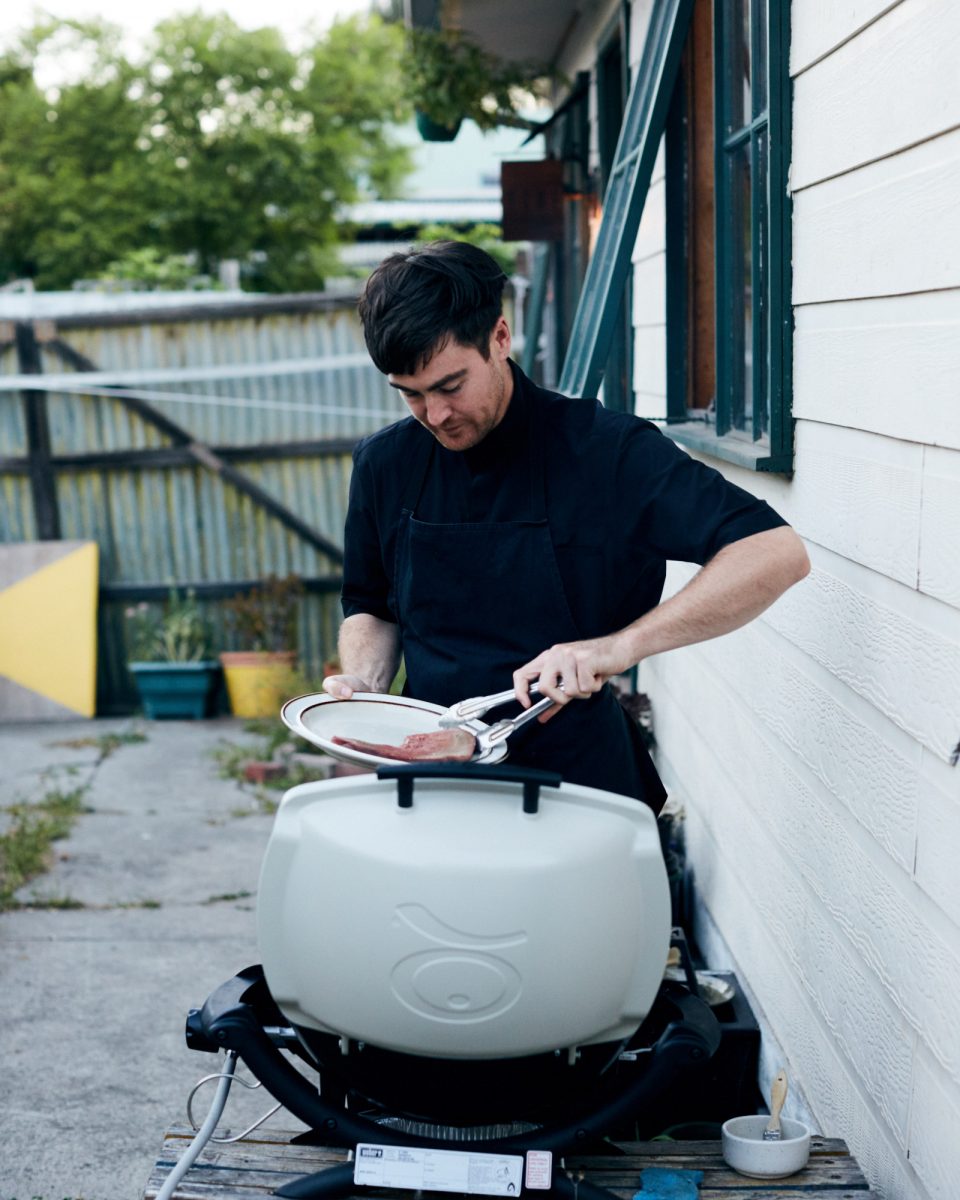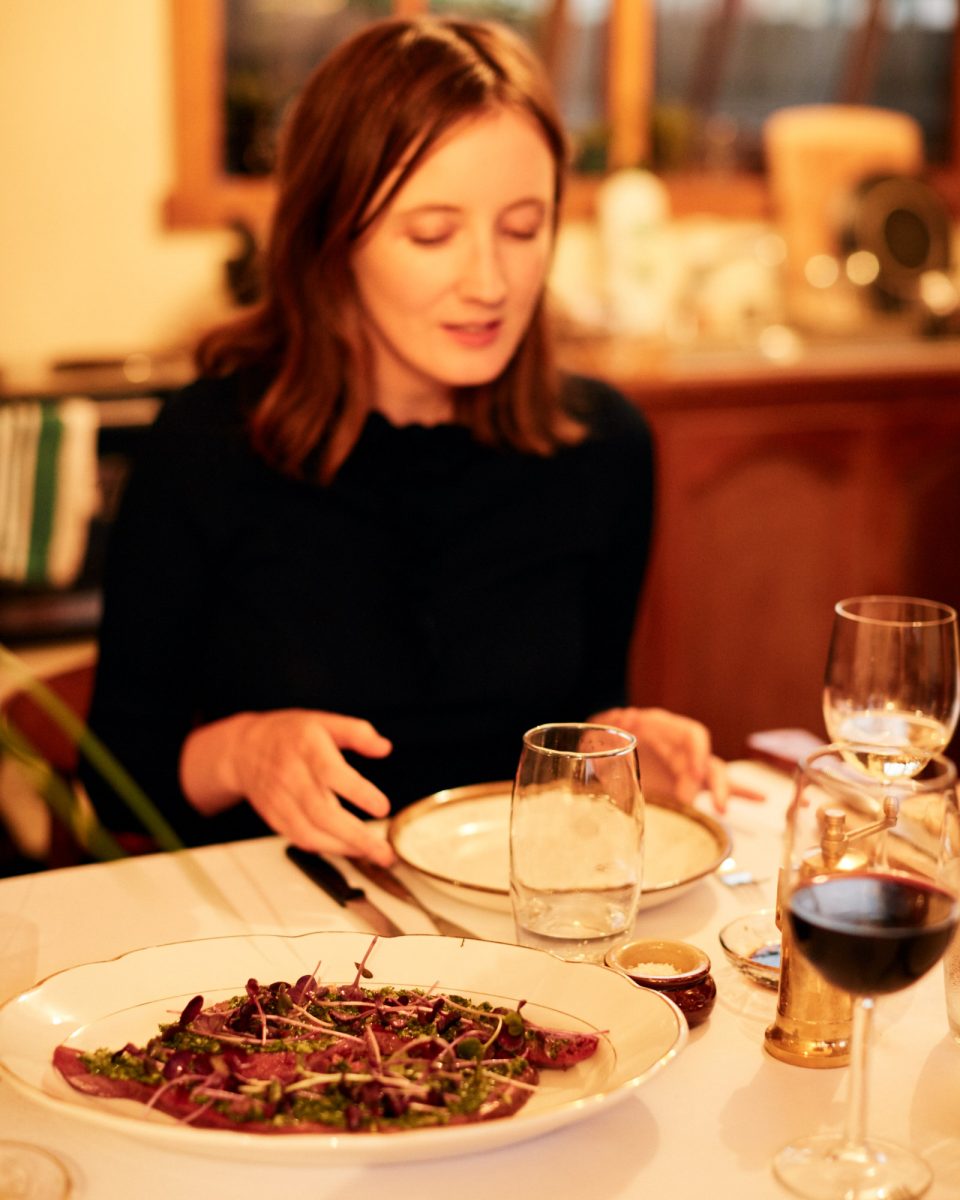 With TOME, Emily and Jonny were able to merge their respective culinary histories with their mutual design interests. "TOME is about using food as a medium through which to design," says Emily. The first iteration of the project manifested in a series of dinners over summer for four to six people at a time, presenting a range of dishes incorporating offal, weeds and other so-called 'unmentionables'. But don't call TOME a restaurant: "It's not a hospitality project – we're not really interested in being chefs or cooks," says Emily, who instead considers TOME a design project that incorporates the idea of a fictional 'pop-up restaurant'. "The idea of the 'restaurant' is simply a provocation – a way to encourage people to think about how they eat, what they eat, and why they eat the things they do."
The dinners are essentially private events in Jonny's home – a miniature granny flat in Brunswick that he and Emily lovingly refer to as 'the bungalow'. Comprising a bedroom, a small bathroom and a combined living-cum-dining-room and kitchenette, the bungalow presented design challenges that Jonny and Emily were keen to take on board. Almost inconceivably, all four courses are cooked on Jonny's miniature convection oven topped with twin hot-plates.
"I think the bungalow really added something to the challenge. We could have done it at my place, which has a full kitchen, but it was much better for us to have the quite restrictive parameters of the bungalow," says Emily.
"I think that's where our design backgrounds also came in. The extra challenge of designing with limitations or restrictions is quite rewarding," adds Jonny, who has lived in the bungalow for six years.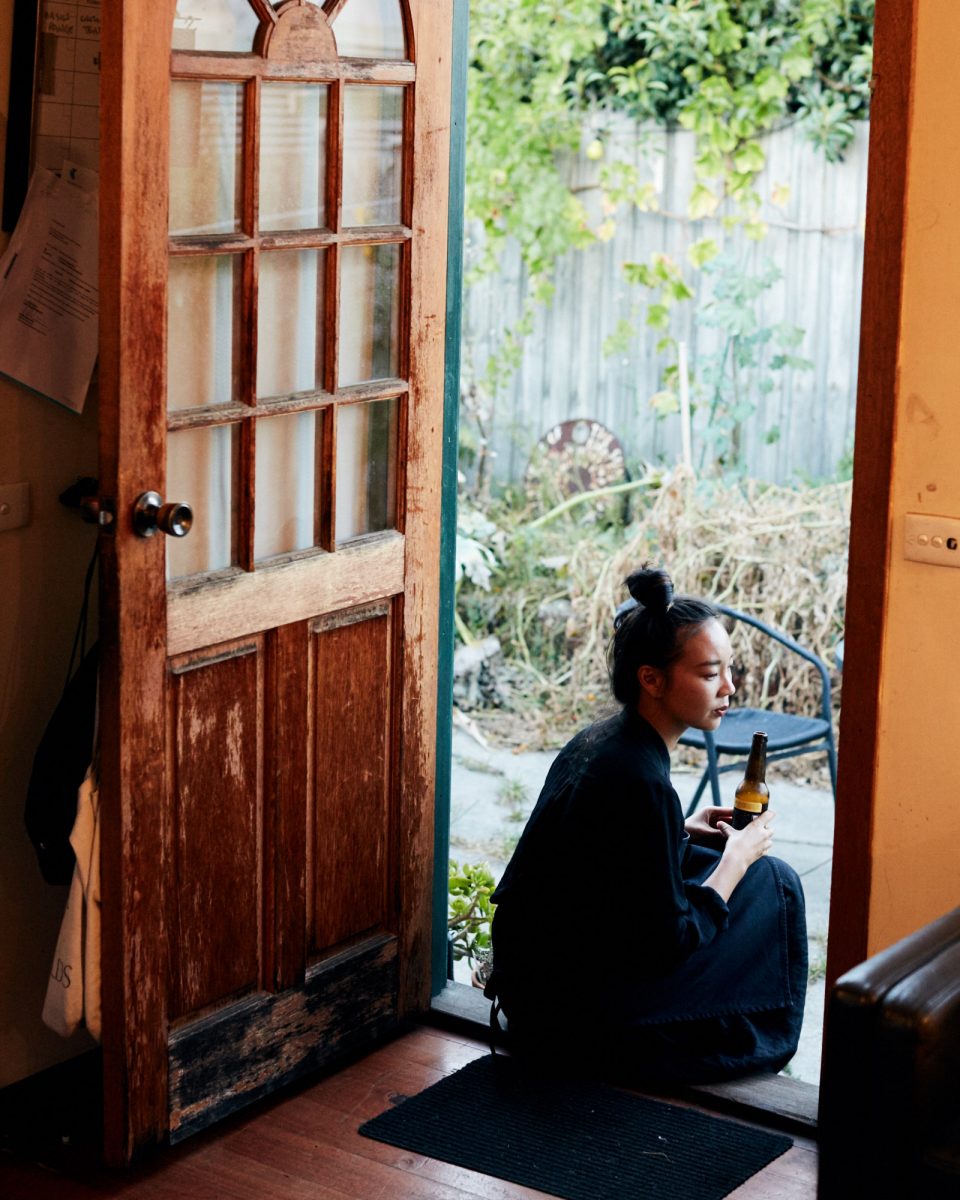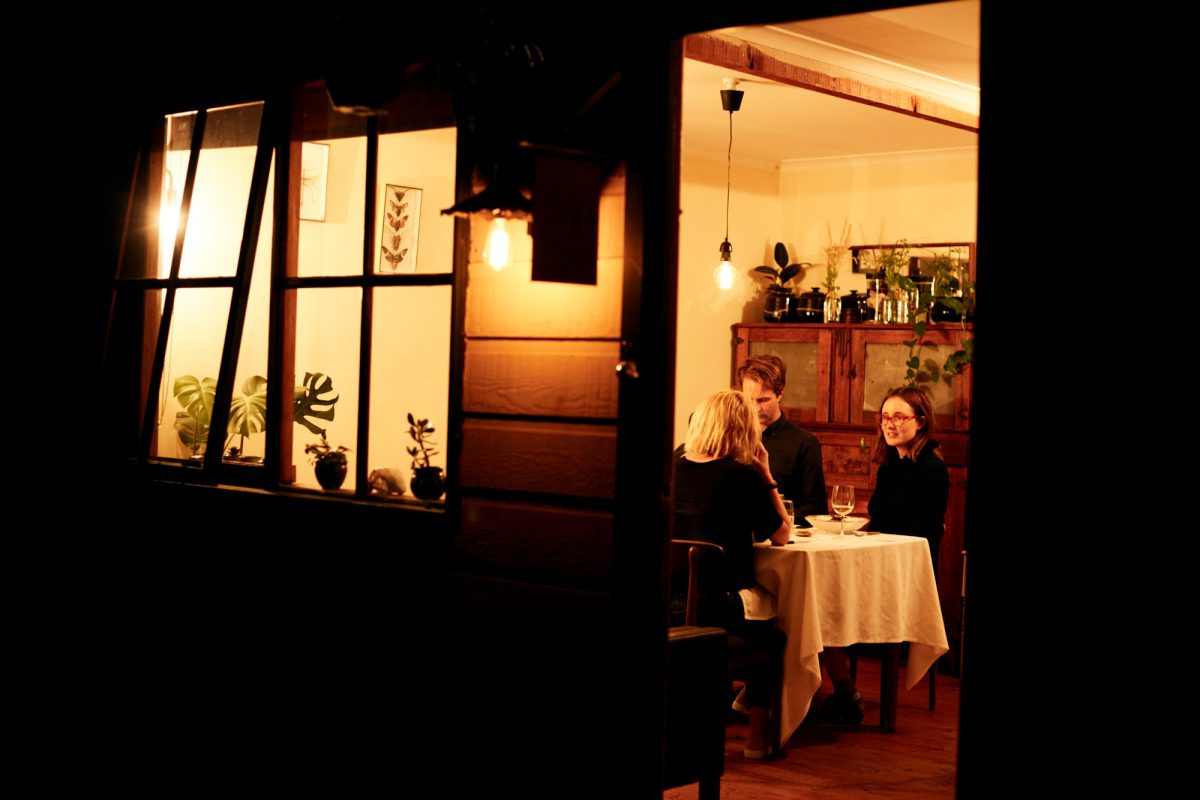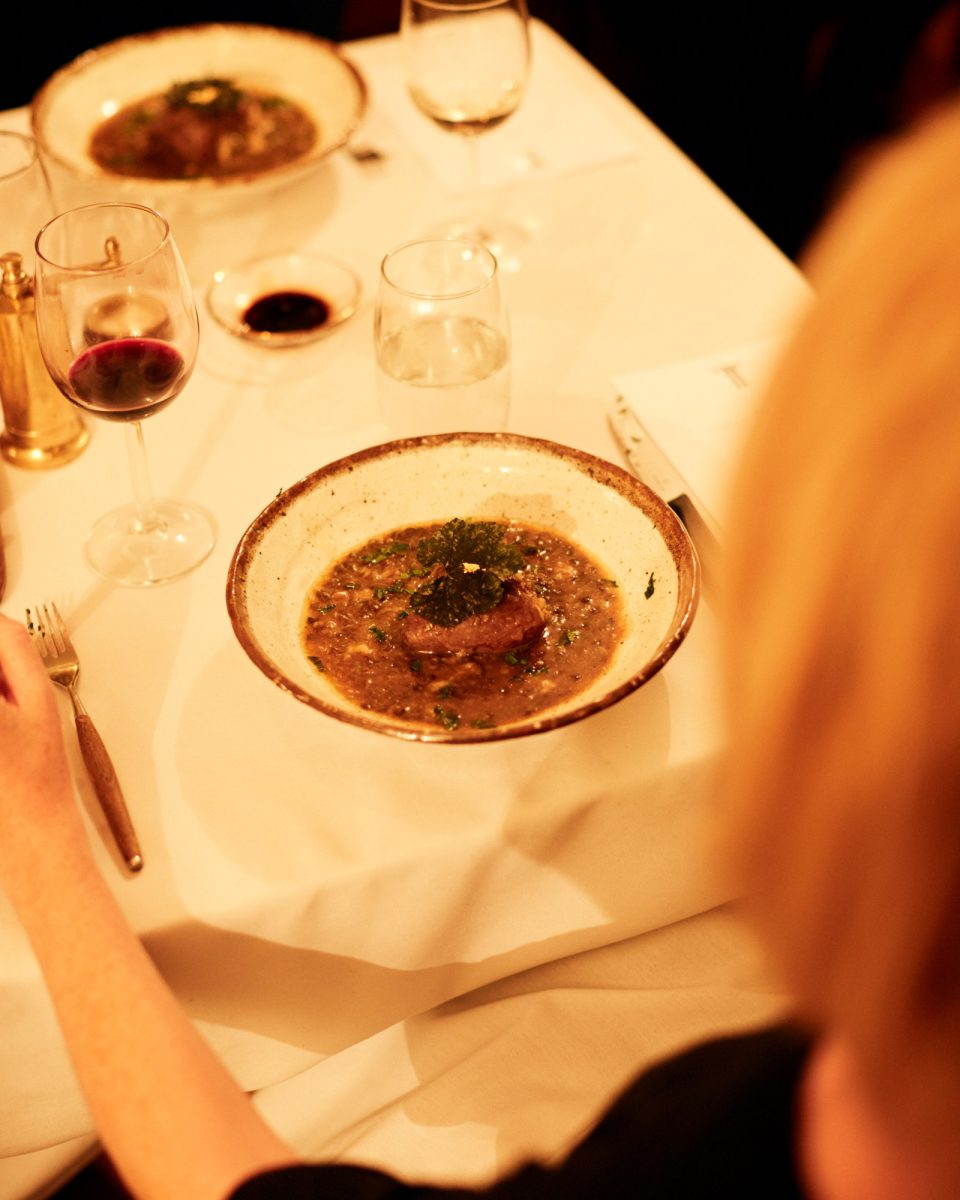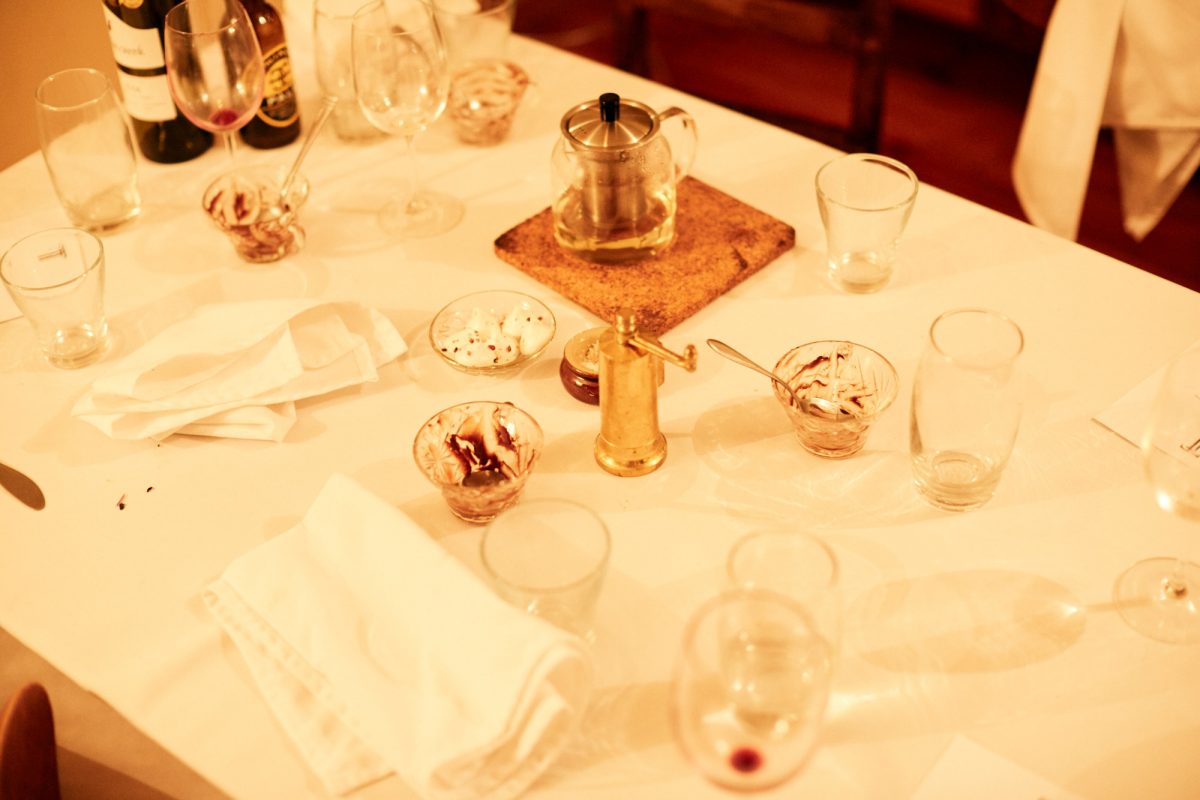 Also central to TOME is the straightforward presentation of the food: lamb hearts and ox tongues are presented to appear just as they are, easily recognisable, not wrapped in bacon or disguised in other ways. "With the lamb's heart dish we used whole hearts so people could see what they were eating and have an honest visual connection with the food," says Emily, adding that the same can be said for the pair's approach to taste. "We didn't want to cover up the taste of anything either. It's a cultural thing in a way. You can acquire a taste for something – the only reason many people don't have a taste for certain foods is because, at least in Western cuisine, they are no longer commonly prepared."
While the first iteration of TOME is decidedly meat-heavy, it does include a vegetarian entree incorporating purslane, a common weed. [Scroll down for the recipe! – Ed.] Currently Emily and Jonny are planning pescatarian and potentially vegetarian versions of the TOME dinners, but it was important to them to make meat the focal point for the project's maiden voyage. "We don't want to tell people what to do, and we're certainly not saying that everyone should eat meat, but we are saying that if you do eat meat, you should consider the implications of not eating the whole animal," says Jonny.
TOME is the current project run by Emily and Jonny's design studio TERRA FODA, which will continue to interrogate the world we live in through a series of food-related design projects. "Food as a cultural material is a really rich topic to explore," says Emily. "And as a medium that connects people, places and spaces … we want to encourage people to think about it and its relationship to the world in more complex ways."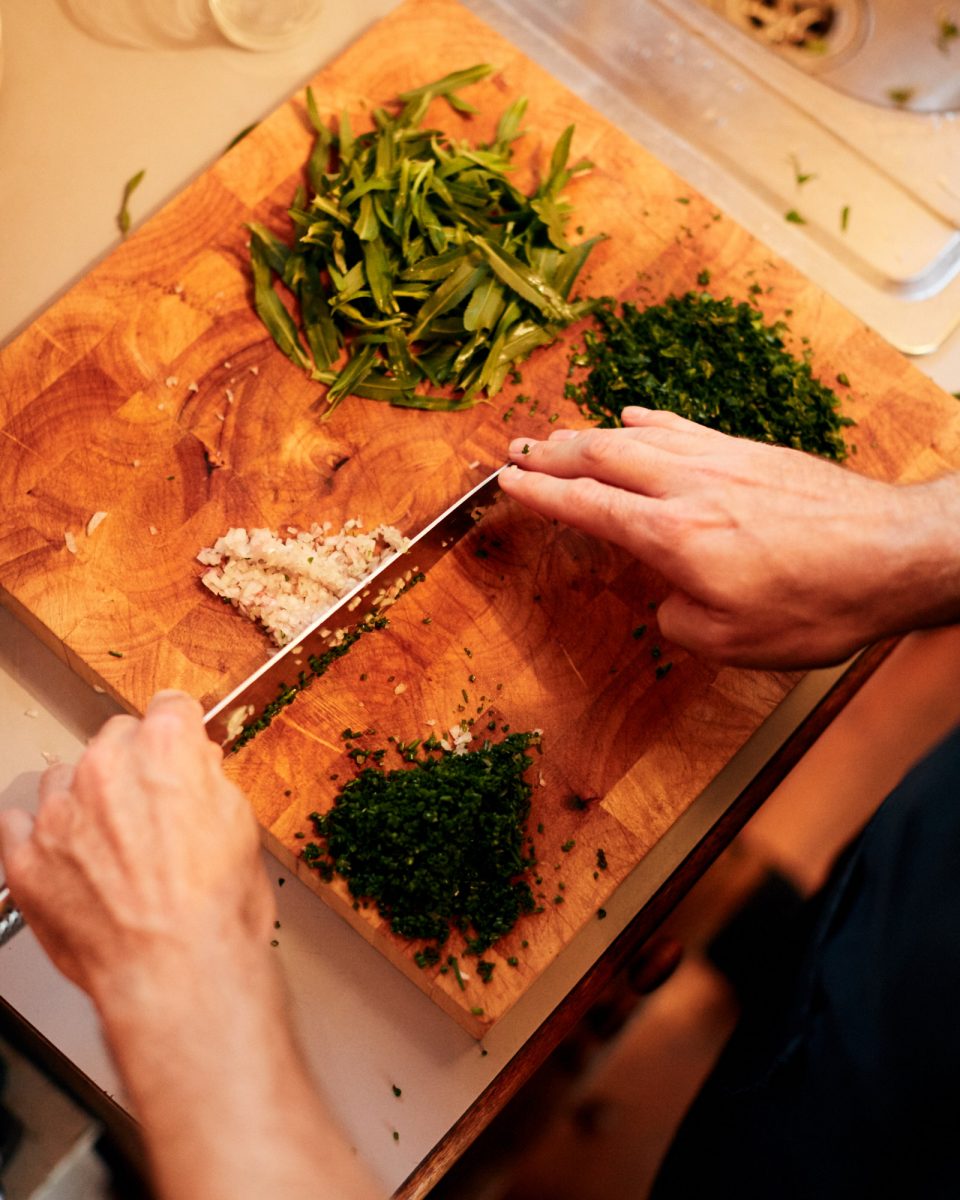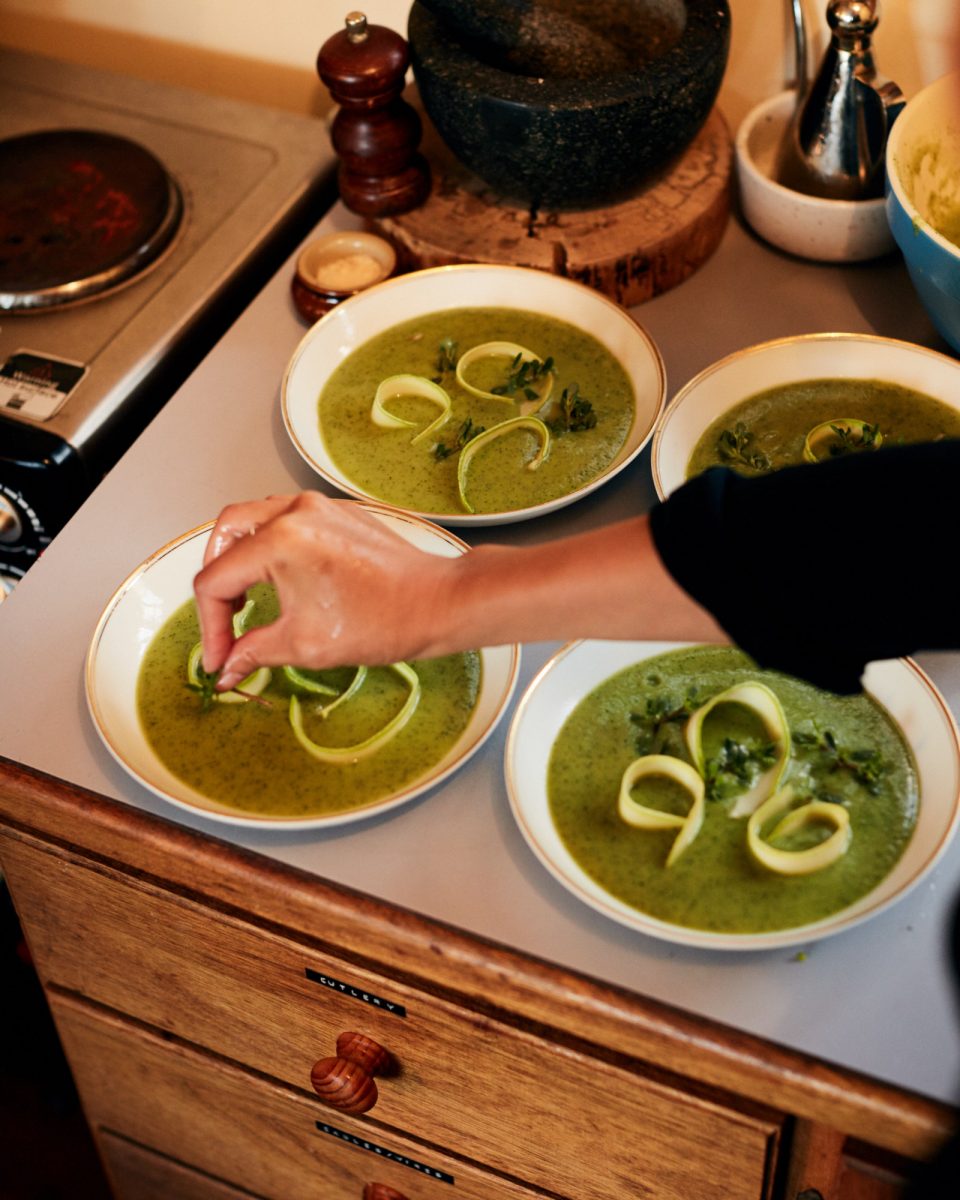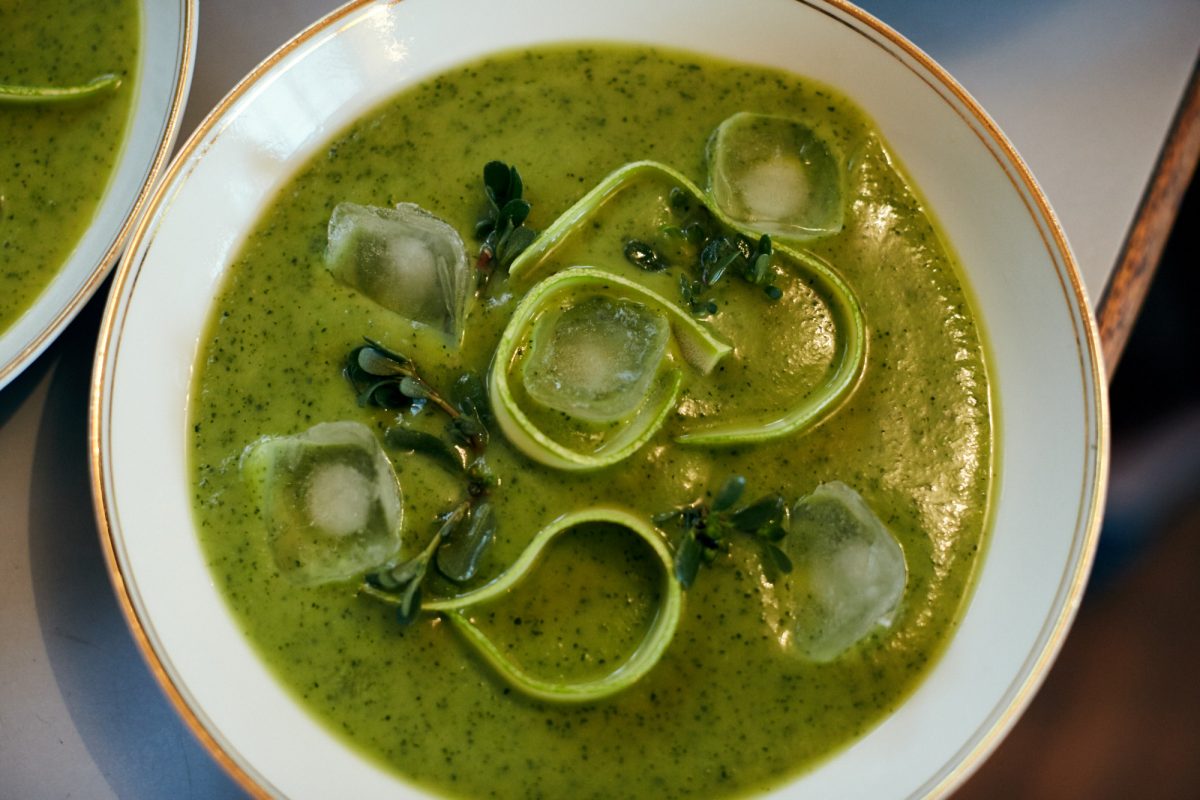 Chilled zucchini and purslane soup
(Adapted from Alain Coumont's recipe, Food & Wine magazine)
Serves 6
Served as a chilled entree at the first TOME events in the height of summer, Emily adds that this soup can be enjoyed hot as well: "Just ladle it up, grind some fresh pepper over the top, drizzle with extra virgin olive oil and serve with crusty bread."
What you'll need
2 tablespoons of extra virgin olive oil
¾ cup of wild leek (½ medium onion if not in season)
1 ½ small garlic cloves
1kg of small zucchini – we used a combination of Lebanese and regular zucchini, but you could use either for a paler or darker hued soup.
1 good pinch of sea salt flakes
1  dried bay leaf
1 teaspoon fresh thyme leaves, chopped
2 cups of water
2 tablespoons fresh basil leaves, finely shredded
1 ½ cups of ice
freshly ground pepper + sea salt flakes (for seasoning)
For the garnish
1 cup freshly washed purslane from the garden
1 x small zucchini (for curling)
1 cup of ice cubes
extra virgin olive oil (for drizzling)
Heat the oil in a deep saucepan, slice the onion and garlic thinly and sauté well over medium heat until the onion is translucent and just barely beginning to caramelise around the edges. Add the fresh thyme leaves and bay leaf and continue to fry a minute longer, stirring, until the herbs become aromatic.
Toss the thinly sliced zucchini into the pan, sprinkle with a good pinch of sea salt flakes and continue to sauté, stirring occasionally until all the vegetables have softened, become tender and the pan is full of juices.
Pour in the water and heat the contents of the pan until boiling. Continue to boil for 30 secs to 1 minute, until any slices of zucchini that are not quite translucent are uniformly tender (but be careful not to overcook!).
Take the pan off the heat, remove the bay leaf, tip in the basil leaves and stir. Puree the mixture in a blender until smooth and velvety, then pour into a large bowl and stir through the ice to cool. Place in the refrigerator for at least 6 hours until well chilled.
To serve
First, season the soup to taste with sea salt and freshly ground pepper, then ladle into shallow, chilled bowls. Garnish with thin curls of zucchini, generous sprigs of purslane and ice cubes. Drizzle with extra virgin olive oil and serve with rounds of crusty baguette.
Thanks to Emily and Jonny for having us at the TOME event in their cosy Brunswick bungalow. Thanks also to superstar Tom Ross for his stunning photographs, which truly capture the magic of the event. TERRA FODA is Emily and Jonny's design studio – for information on future events and projects, register your interest at the TERRA FODA site.