Impact
Mel Bright of MAKE on contributing generously to cities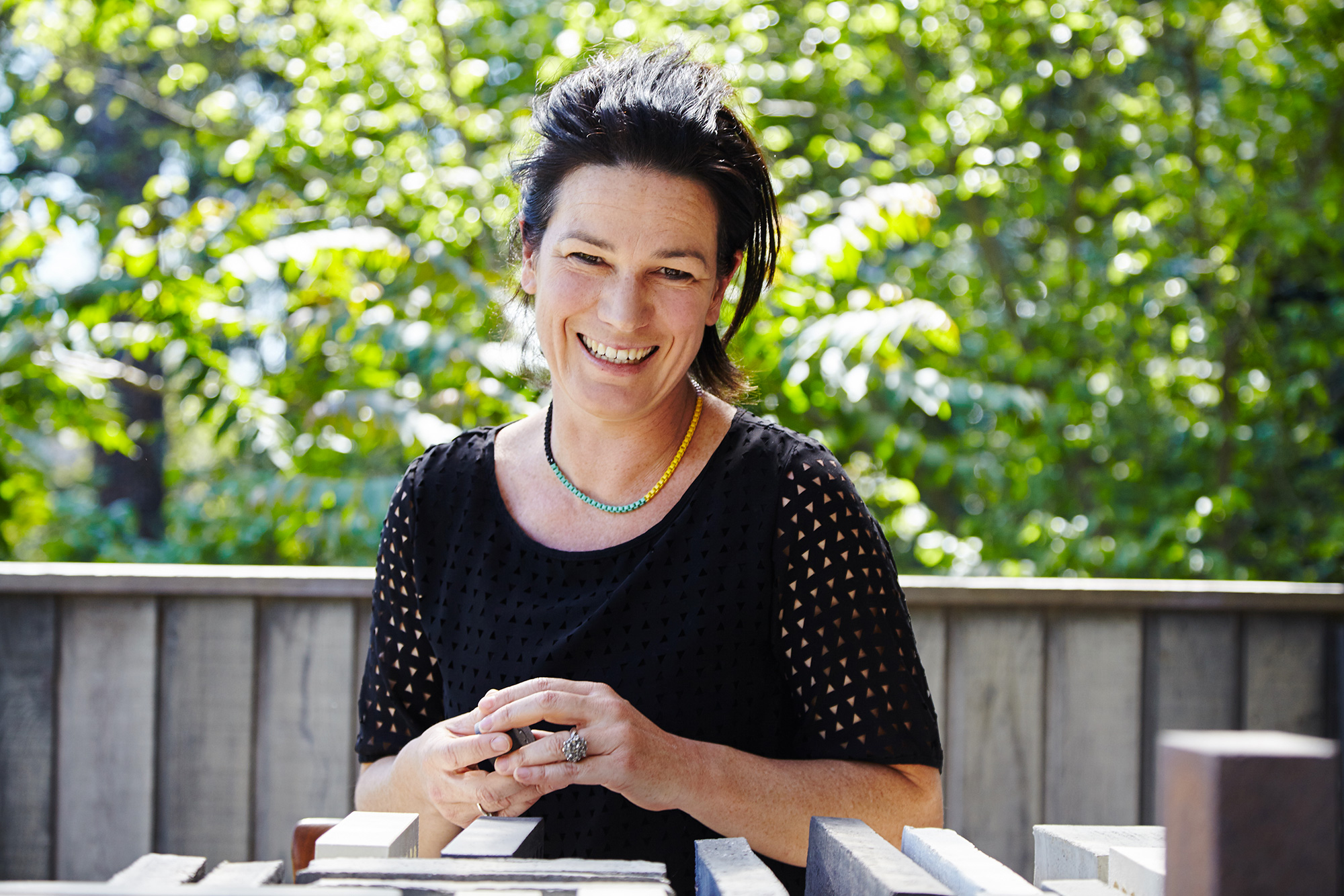 Feb 26, 2016
Even the smallest acts of architecture have the capacity to make generous – and genuine – contributions to the greater urban fabric of a city. It only takes a short conversation with Mel Bright, founding director of Melbourne-based architectural practice MAKE, to determine just how pivotal that approach has been in all of the practice's work.
The experience of visiting MAKE's headquarters is equal parts treat and retreat. The studio, in Kew, takes the quiet top floor of the McIntyre Partnership set along the Yarra's edge, with the studio's web map instructing visitors to 'enter via stone steps'. Immersed in treetop foliage and light, it's easy to forget you're in inner-city Melbourne. With the terrace sliding-doors open to the morning breeze, Mel explains the story behind MAKE's to-the-point practice name.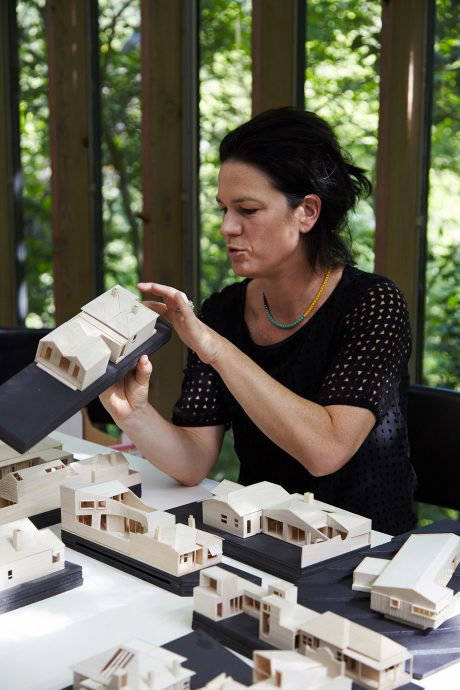 "[Our identity] isn't about style," she says of the practice she founded in 2006. "It was really about content, and this idea that we want to do things, so there's a sense of acting and making things better. We worked really hard [to hone in on] what we want to do, how we want to define who we are, what we want architecture to do, and what constitutes a good project for us."
Intent on avoiding a static and self-referential name, Mel opted for a universally understood word, not to mention a verb implying action: to make. It isn't the first time an emerging local practice has employed this naming method – Nest, Bild and Assemble come to mind – of setting the tone for the work to come. 'MAKE' doesn't point just to the physical act of making, but also to the social and communal making of acts – both inseparable sides to the coin of architectural practice.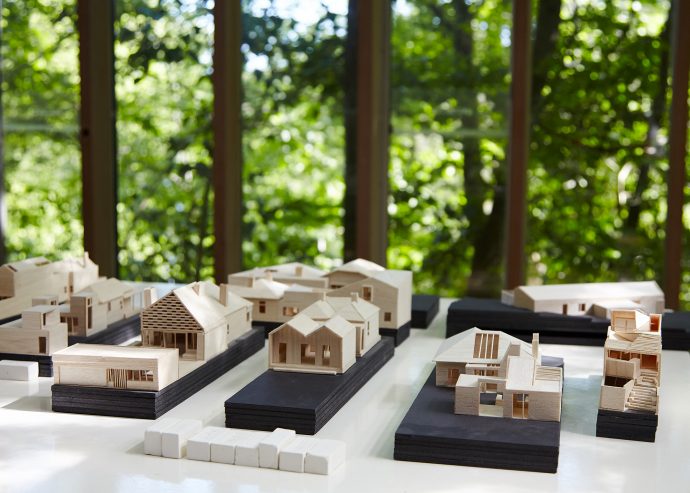 During our conversation, Mel refers to a series of signboards MAKE puts up at its building sites during construction: they are surprisingly uncluttered and free of the heavy promotional imagery that commonly adorns construction hoardings of inner-city developments. Instead, MAKE's signs feature one-liner calls-to-action that speak directly to a public audience, evoking general wisdoms ('MAKE it stitch into the city'; 'MAKE it to last') and specific moments ('MAKE it tell a story'; 'MAKE space to read a book'). "When we put them up it's like a call to the street, to let people know that architecture can do more," explains Mel, adding that the signboards are intended to act as mini-manifestos to local passers-by. "In some ways, making these 'manifestos' was a good exercise in [putting into words] what we think architecture should do."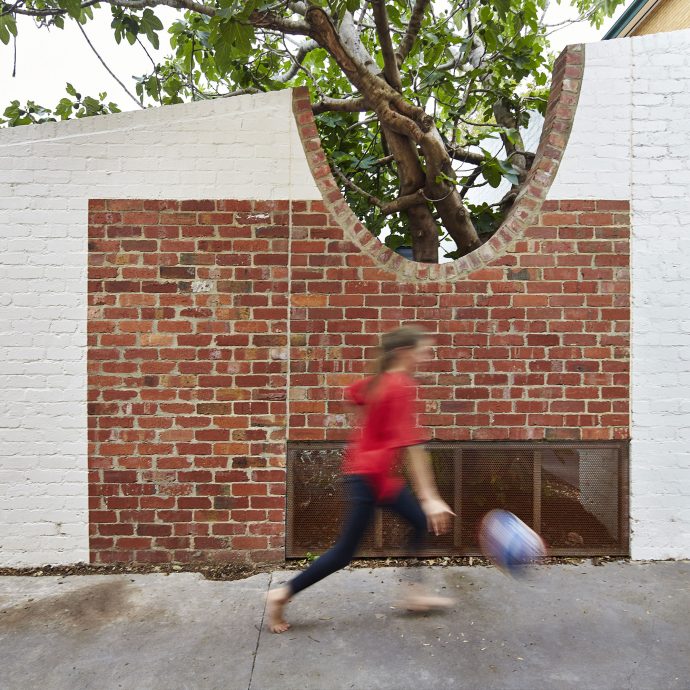 Mel repeatedly demonstrates her points with an array of carefully constructed balsa models that pepper the studio shelves, motioning to different details – from the 'tree crutch' wall cutout at Myrtle Tree House in Balaclava to the well-known timber screen at St Kilda's Local House. The practice's fascination with materiality extends beyond traditional practice into other settings, too. In 2014, MAKE's contribution to 'Sampling the City' – the 'architecture incubator' at the National Gallery of Victoria's Melbourne Now exhibition, in which MAKE participated alongside five other architecture firms – reframed the notion of the architect's finishes board not by showcasing applied 'styles' and superficial surfaces as convention may dictate, but by instead exploring the tactile layers of building systems through composed samples of MAKE's projects.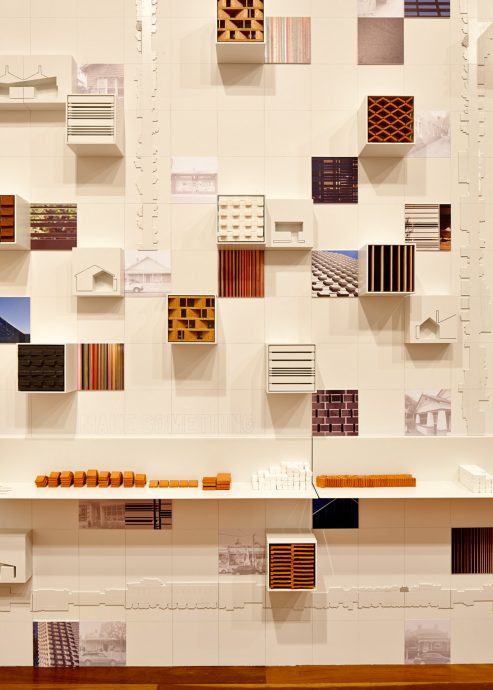 An early project – the Little Brick Studio (Abbotsford, 2012) – represents the core of the practice's ethos. The miniature yet highly amenable two-storey residential addition revisits a commonplace residential typology: the detached 'granny flat'. Its relocation to the street front affords the occupants a new separate street entry that supports flexible programming, from teenage retreat or home office to caretaker quarters or a rental unit, in what Mel terms a "loose fit," with the studio granting adaptive autonomy to its occupants and supporting continuity through generations.
This case study has since led to a number of urban experiments in street engagement: from the study desk and neighbourhood seat interfacing directly with the street outside the in-progress Perimeter House in Abbotsford; a flexible porch-fronted studio space at Local House; to an ambitious amphitheatre in an as-yet unbuilt project, featuring outdoor steps cascading down towards a nearby park. Almost with a parent's pride, Mel demonstrates as she speaks how each design move relates to its broader context, noting areas of strategic intervention – not as an afterthought, but a priority. It raises the question of why more architects aren't as personally invested in inscribing urban value into design and construction processes: why is the making of architecture so often reduced to an easily deliverable and marketable end-product?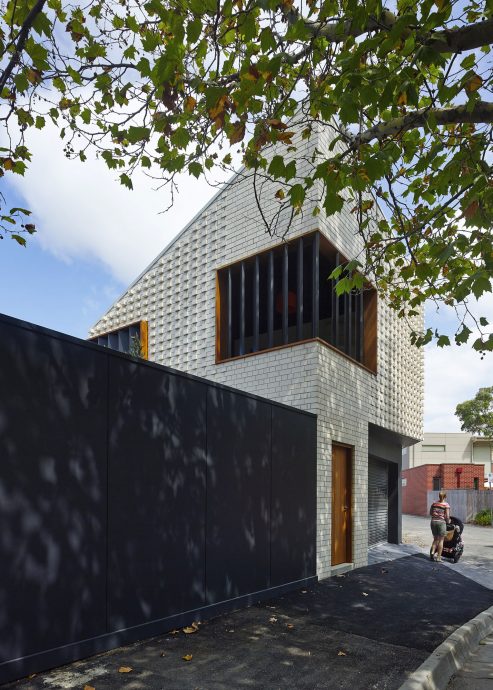 When speaking of each civic gesture the practice has built in spite of arduous council negotiations or client resistance, it's clear Mel derives great satisfaction from not having a recurring stylistic theme in MAKE's completed work. Rather than turning their backs on the street or being viewed as sculptures on a distant pedestal, MAKE's dwellings seek to return inhabitants to the public domain at sites' edges, making ambiguous the typically uncompromising relationship between public and private.
Regarding the imminent need for good housing in middle suburbs and areas of sprawl, Mel asserts that design plays a direct role in increasing dwelling density: "There are some major issues with the city that we need to resolve with suburban sprawl, and how to increase the density of the middle suburbs. Each intervention we do aims to keep it small but with a sense of delight – engaging with the larger themes of flexible and adaptable spaces, urban agriculture, built quality and densification, without compromising green space."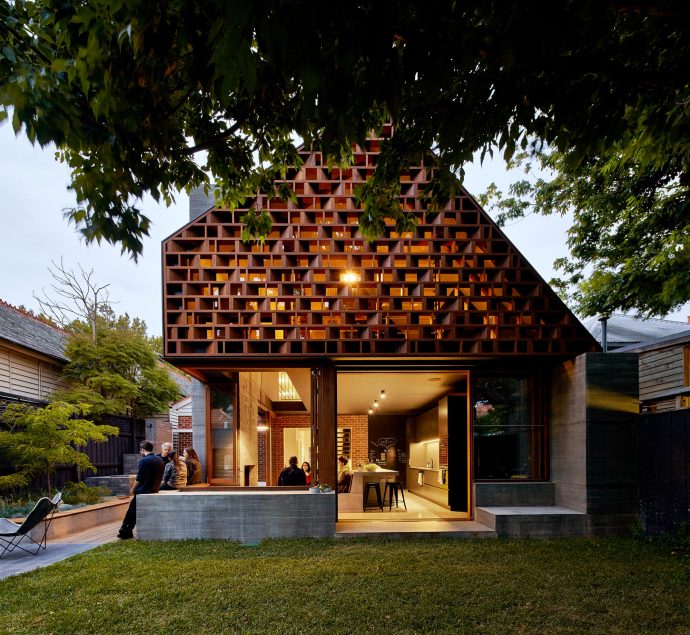 Reflecting on current suburban planning rules, Mel prompts architects to rethink conventional setbacks from residential streets where there is a good cause for urban interaction: "How do we provide suburban amenity on an urban-size site in inner-city Melbourne?" MAKE's defiantly titled 'Set-forward Street' scheme is testament to this critical question. The scheme, which took home the Raise the Roof – Rethink Tile Award at the 2013 Think Brick Awards, looks at reversing the dormant suburban typology of underutilised ornamental gardens and insular backyards, instead promoting a social front-yard environment that maximises active frontage and supports pedestrian-friendly street life. "In many ways, [current] planning rules push people away from other people," Mel notes. "I actually think we need to push people closer together and push houses hard up on boundaries." All too often, these community-oriented ideas are overlooked, rejected by councils or compromised by those less determined to challenge the underperforming status quo. A fighting spirit, Mel hopes more architects will use their design smarts to unlock amenity, efficiency, community, longevity and affordability across both new and existing housing stock. And these traits should be integral to architectural design, rather than discretionary: "I couldn't forgive myself if I was to give people something that's not practical and useful as well as beautiful."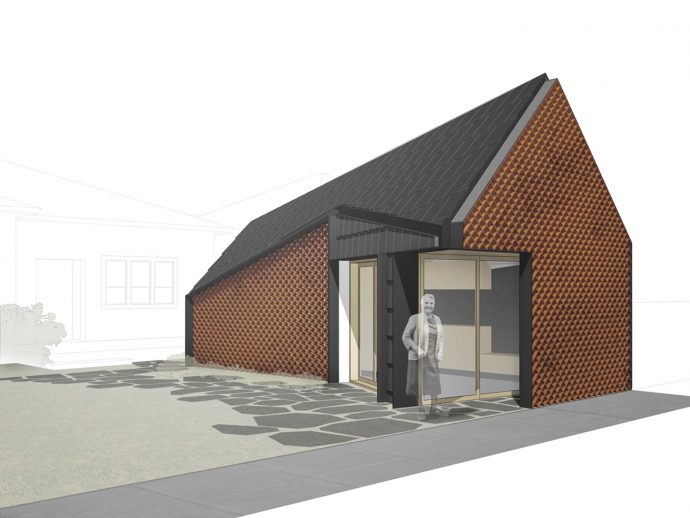 MAKE has also been working on multi-residential development 2-10 Loftus Street, an eight-storey mixed-use apartment and retail project in Sydney. Expected to commence construction in 2018, Loftus Street is part of an urban renewal masterplan in Circular Quay, which includes developments by larger multi-residential practices like SJB as well as emerging Sydney practices Silvester Fuller and Carterwilliamson. When asked how it feels making the leap from small domestic projects to a decidedly more corporate endeavour, Mel says MAKE has been lucky to be working with receptive developers who are open to civic innovation, though she recognises projects of this scale face inevitable development pressure. "Given the constraints, I feel like we've had some big wins on it. The apartment building envelope originally didn't fit for a roof terrace, but we got one in by fighting for it. We've also got ground-level public seating that can be used outside of tenancy opening hours – seats that are not just about selling coffees but shared amenities." She reiterates MAKE's priority of producing considered, human-centred, city-making spaces, rather than high-yield grand gestures – even if it means staying small and remaining selective about projects. "I'm not chasing big work, I'm after good projects with good clients … I don't want to build a practice so big that it takes on work I don't believe in, or that I'm not passionate about."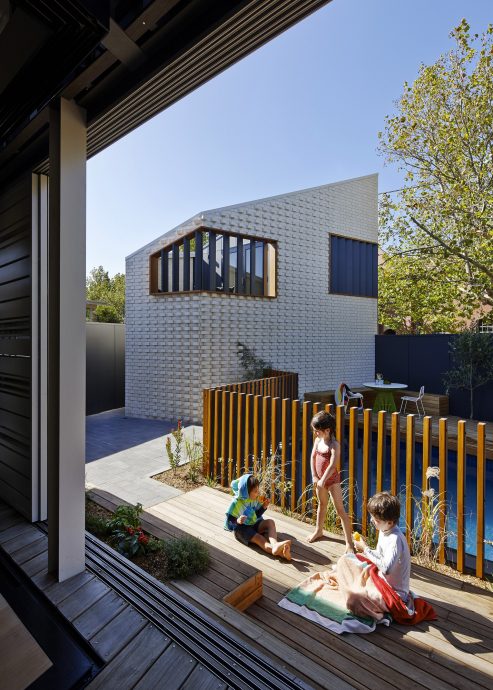 MAKE's residential work to date is an encouragement to the practice that architecture doesn't simply consist of abstract ideals and noble gestures, but of deliberate, nuanced moments of conscious intervention that follow these ideals into built realities. Ego is nowhere to be found; instead, a coordinated effort, as Mel puts it, "to engender a sense of respect and collaboration with client, building and architect, where everyone has a voice."
Even the smallest of gestures can have a ripple effect. Good design is about being able to change perspectives on what 'liveability' means, how streets might be shared with overlapping programs and how generations could comfortably inhabit spaces over time. The shift towards adaptable high-density living has already begun; it will be interesting to see what MAKE makes of it.
To see more of MAKE's work, visit makearchitecture.com.au. Huge thanks to Sam Wong for his photographs of Mel and the MAKE studio in Kew, and to Peter Bennetts for his photographs of MAKE's projects.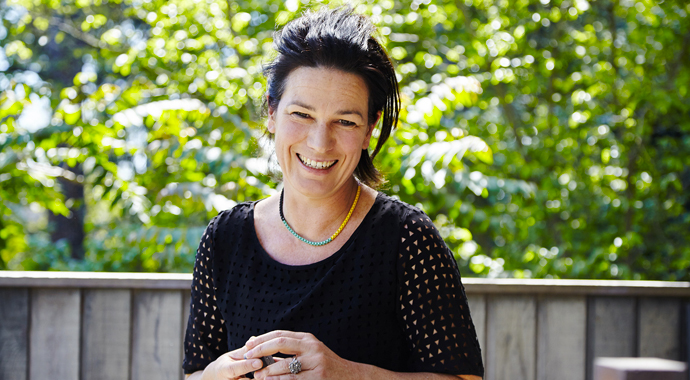 MAKE architecture founding director Mel Bright at the practice's studio in Kew. Photo by Sam Wong.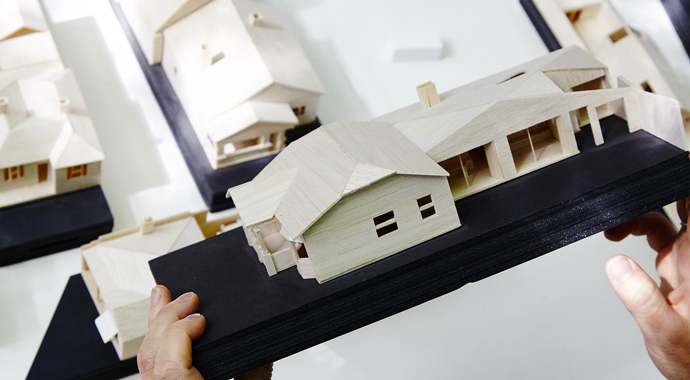 Carefully constructed balsa models pepper the shelves in MAKE's studio in Kew. Photo by Sam Wong.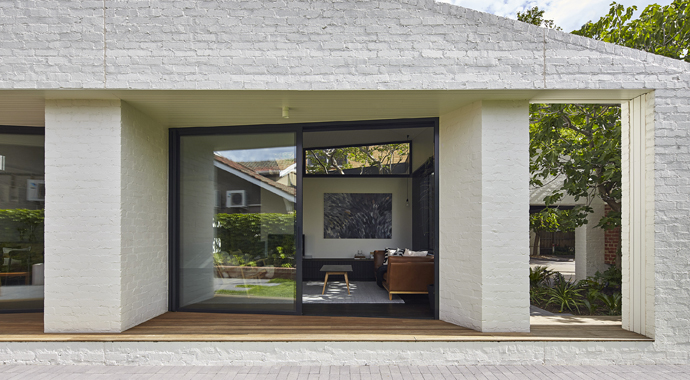 MAKE's Myrtle Tree House in Balaclava, Melbourne (2015). Photo by Peter Bennetts.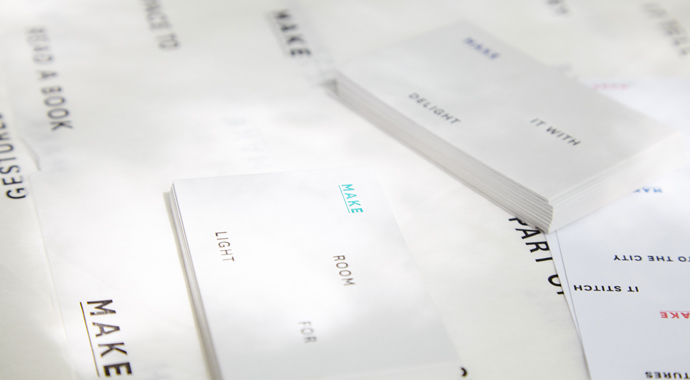 MAKE's visual identity features one-liner calls-to-action evoking general wisdoms. Photo by Sam Wong.