Impact
Pushing The Limits of Representation: Bêka & Lemoine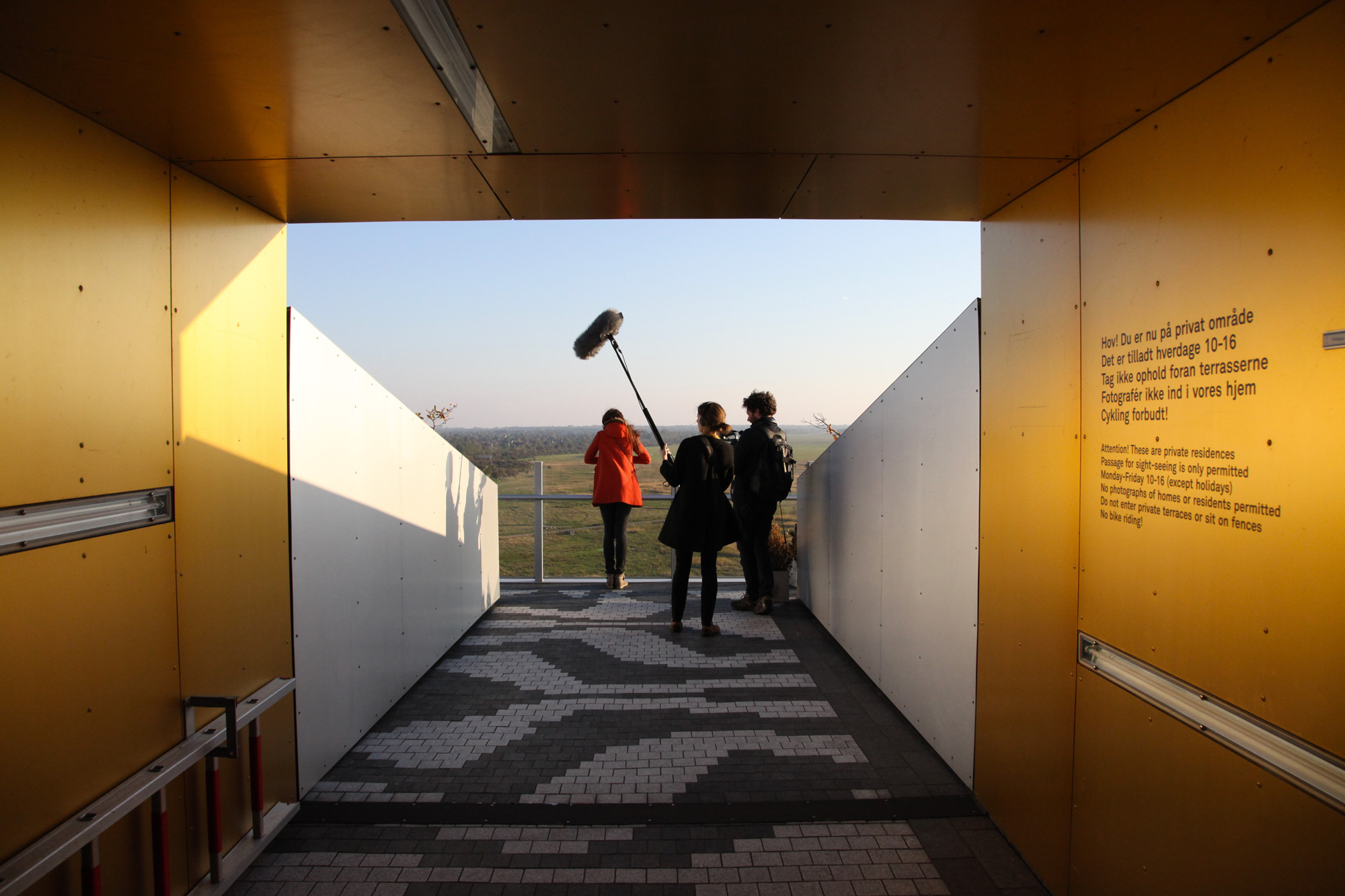 Feb 18, 2016
In 2010, there was no shortage of fanfare surrounding the opening of 8 House, Bjarke Ingels's ambitious multi-residential project in Ørestad, Copenhagen. And for good reason, too: the figure-of-eight-shaped structure located at the city's urban fringe is the largest private development ever undertaken in Denmark. Comprising 61,000sqm of varied residences and 10,000sqm of office and retail space, the mammoth vertical neighbourhood is stacked over 10 storeys connected by a bike path and winding promenade.
"8 House is a perimeter block that morphs into a knot, twisting and turning to maximise the life quality of its many inhabitants," said Bjarke himself at the time of the project's completion. But beyond the press releases and jury citations, how can we ever truly measure the quality of life of such a huge project's inhabitants? Enter Paris-based filmmakers Ila Bêka and Louise Lemoine, whose 'Living Architectures' documentary series seeks to develop a way of assessing architecture that shuns idealised representations of the built environment.
From their first film Koolhaas Houselife in 2008, which gave a glimpse into the life of the housekeeper at OMA's acclaimed Maison à Bordeaux, to 2014's Barbicania, a visual diary of one month spent inside London's iconic Barbican building, Bêka and Lemoine aren't interested in the rhetoric surrounding the representation of so many architectural projects in the media. Instead, they're interested in getting to know the true nature of architecture through the lived experiences of occupants. Ahead of the screening of their 2015 film The Infinite Happiness at this year's Transitions Film Festival in Melbourne, Sara Savage sat down over Skype with one half of the inspiring duo, Louise Lemoine, to discuss what it was like to live in 8 House for a month during the making of the documentary.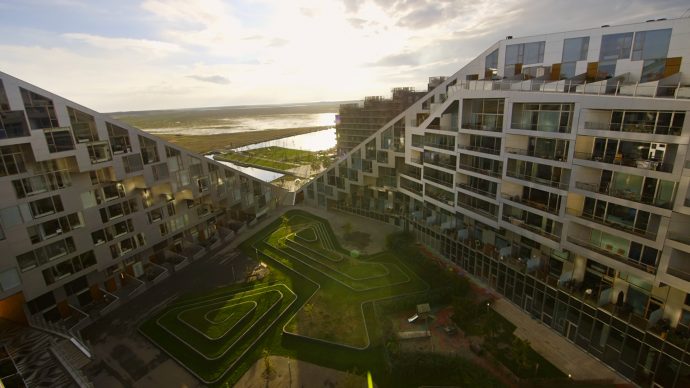 Sara Savage: How did The Infinite Happiness and your involvement with 8 House come about?
Louise Lemoine: We had known Bjarke Ingels for some time, and he was very much interested in our work on the relationship between architecture and film over the past 10 years. With our first film [Koolhaas Houselife, 2008], we started with the smallest scale of a house, then we worked our way up to larger and larger scales – we're currently working at the scale of a city – but the Bjarke Ingels building looked at a very interesting dynamic in a community. It's a very young community at 8 House, so there's a sense of living together and building a new way of living together.
SS: There's no denying that 8 House was a groundbreaking project. Often, though, you can't measure the true 'success' of a building until much later down the track, when it has existed and been utilised for a few years. Is that why you decided to revisit 8 House five years after it had been built?
LL: Yes. Actually, we had come earlier to 8 House with Bjarke. We had visited it maybe two or three years before, but it was not completely inhabited at that time, so we thought it would be better to wait a little longer to understand the sense of the building once it was completely full of inhabitants. And 8 House isn't only apartments – the main part is apartments, but you also have a lot of offices, you have a school for kids, then you have shops, communal areas, and so on. But we decided to wait until the building had reached the stage of its most interesting occupancy. And actually, it was difficult to find a place to stay! A very nice family actually left their flat for us – they left for one month and we stayed in their flat.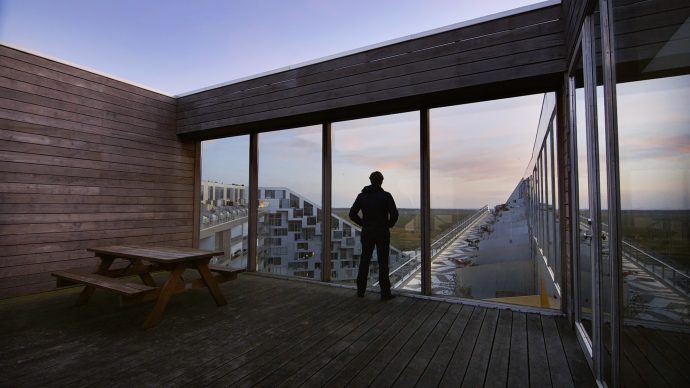 SS: I was going to ask you about that: what was the experience like of living there yourselves?
LL: Well each film we've made is very much based on personal experience, and [The Infinite Happiness] is like a personal diary made up of spontaneous impressions. It's conceived as a diary in the sense that each day is dedicated to an encounter with a neighbour, or even with an animal, or something we see or we discover onsite. The experience was extremely intense for us, because we didn't know much about Danish culture, and in one month we had to understand urban Danish culture within a very specific environment. We met hundreds of people, but they were extremely welcoming. You can see in the film that people invited us to have dinners, they made us cakes, they were extremely curious about the family arriving in their environment and trying to understand them. I think the key in terms of being accepted in a community is how you present yourself – we're not a big TV crew looking for scandals; we're interested not only about the building but also about all the persons in there. That's a really specific feature of our films: that we do not deal with architecture as the main subject. Architecture for us is sort of a situation and an environment, which, in order to understand how it works and how successful it is, we have to enter the lives of the people there and recount their stories. And through the connections of their personal stories, you understand the building.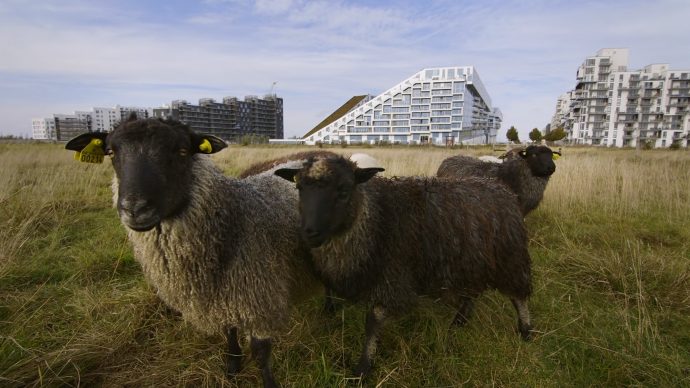 SS: Your collaborator Ila Bêka has said in the past that the goal with the 'Living Architectures' series is to "democratise the highbrow language of architectural criticism." Was that the particular purpose of The Infinite Happiness? There's a lot of humour in the tone of the film, even though there's no voiceover or overarching narrative. It's very human.
LL: Ila is an architect and I have a background in art history, and we're very much interested in experimenting in a new way of looking at architecture that is completely free from any kind of productivity, in the sense that our films don't have an aim of anything other than just being a personal expression of an experiment, and of an experience. I mean, in the field of architectural film, you don't often have this kind of freedom. Architectural film, and even architectural photography, is often very much linked to being commissioned for specific purposes. In [The Infinite Happiness], we started with a building that was very well known internationally, because the idea was to look at what the limits are in the representation of architecture. We wanted to understand why architectural representation has such limits, and what we could show that we never usually see. We were interested in ordinary lives within extraordinary buildings. This includes the unprepared, the uncertain, and all the things that don't function well – everything that isn't in the glossy magazines.
SS: Or in the press releases for the buildings.
LL: Yeah, exactly. So our goal was not to criticise; we wanted to open up the possibilities of what could be represented. That's also why we wanted to make films that were not for the very narrow, specific cultural world of architecture, and it's why we wanted to make films. We didn't intend to make films just for architects, we wanted to make films for an audience. That's why we make films that don't use the professional language of architecture.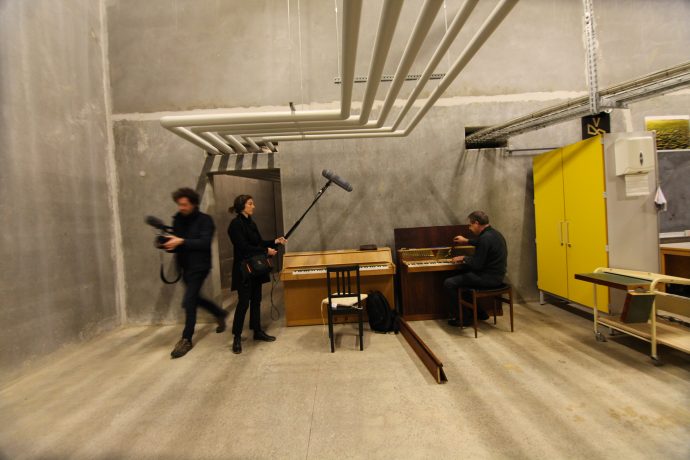 SS: Not everybody in the documentary has positive things to say about 8 House. I'm recalling in particular one man who blames his heart attack on 8 House and on Bjarke Ingels, because of the lack of privacy in his apartment – which drove him to set up surveillance cameras on his patio! The film was co-produced by Bjarke Ingels Group (BIG) – was the company okay with the negative feedback making it into the final cut? What was the nature of the collaboration with BIG?
LL: I think that's the key of our first film's [Koolhaas Houselife, 2008] notoriety, too. That film was a landmark in architectural representation because it was very much the first time someone was daring to talk about the dysfunctioning of architecture. We were interested in dealing with an architectural icon [OMA's Maison à Bordeaux, 1998], but also its fragility. Everyone who works in the field of architecture knows that architecture cannot touch perfection, or rather that perfection does not exist. So introducing these people who complain or recount stories that are not at all promotional for the architects, those voices are very important. And we've done it in all our films. So I think when Bjarke came to us with the idea of making this film, he knew perfectly well what our approach was, and our intent. We're not looking for the voice of an architect; we are trying to have an honest approach to the reality of a building. When you deal with honesty, you deal with the complexity of life. [The man who complained about 8 House in The Infinite Happiness] was very much touched by what he's talking about, and we needed to talk to him! When you deal with reality, you have to talk about these complexities. We don't make films for publicity, and I think from the start Bjarke knew this. He saw [The Infinite Happiness] once it was completed, but he was not at all part of the filmmaking process.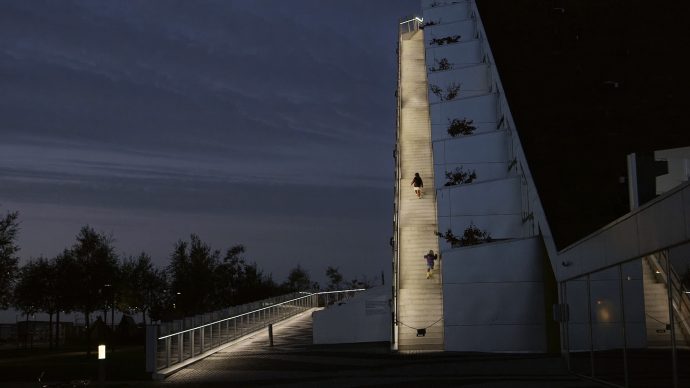 SS: Was the man who complained to you about 8 House in the documentary an anomaly, or were there many other interviewees you encountered who echoed similar frustrations?
LL: Well it's in the title of the film, The Infinite Happiness – we were impressed by the collective enthusiasm of the people who live [in 8 House], and locally I think it's an incredible success. We didn't meet many people that had much to say about the dysfunctioning of the building. I think [this man] was a really specific case. He also had the most beautiful apartment, which is why all the tourists gather in front of his door. It's because he has the best views!
SS: So not everybody at 8 House has that experience of their porch being overrun by curious tourists?
LL: No, no, no! And you know, there are many reasons why people are so happy there. First of all, it's a pretty new building. A building that's five years old is going to have less problems than one that's 50 years old. Most of the people there own their flats and have really decided to live there. There's a really specific set of values that links all the families who live there together: family, modernity, sports, health, living in the countryside on the border of the city. So this creates a really harmonious community.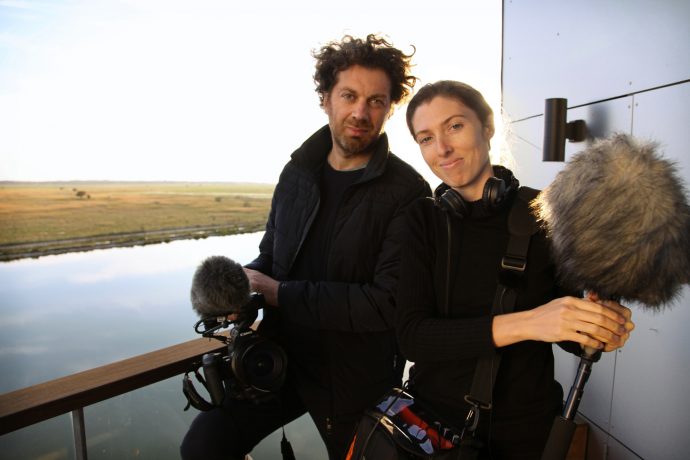 SS: You've had a lot of experience documenting all kinds of architecture and living situations around the world through your work with the 'Living Architectures' series. Do you think a building like 8 House could be successful outside of what Bjarke Ingels himself has called "semi-socialist" Copenhagen? Will it work in New York?
LL: Well the huge building he's finishing right now in New York is quite similar to 8 House, so we'll see! I definitely think it will. Bjarke Ingels is a man of our times. I think being so young and building such huge-scale buildings, the key of his success is being conscious of a country's way of life and of a certain generation looking for a pragmatic way of living, but with a very important sense of hedonism! With 8 House, it's on the border of the city, so you have right in front of you a wonderful landscape. I think in New York, with the attention to volume, to light, and to making sense of a community… I think there are various elements which will work outside of Denmark. I think there are also cultural elements that make the result successful or not, but I also think people who move into a Bjarke Ingels house are adopting or looking for a certain way of living – this is certainly the case with 8 House. It's a generation looking for that kind of community living with contemporary design. I'm sure it will work. We'll see.
Thanks to the ever-inspiring Louise Lemoine for generously taking the time out of her busy schedule  to speak to us. If you're keen to watch The Infinite Happiness, catch it screening at Transitions Film Festival in Melbourne on Tuesday 1 March at Cinema Nova. (We're giving away a double pass here – but hop to it, because entries close on 23 February!)
Bêka & Lemoine are also on the cusp of releasing the latest addition to the stellar Living Architectures series, Voyage Autour de la Lune – an urban diary of Bordeaux, France, along its renewed river banks. Check out the trailer here.