City Living
Bridging borders at Shuffle Festival in Mile End, London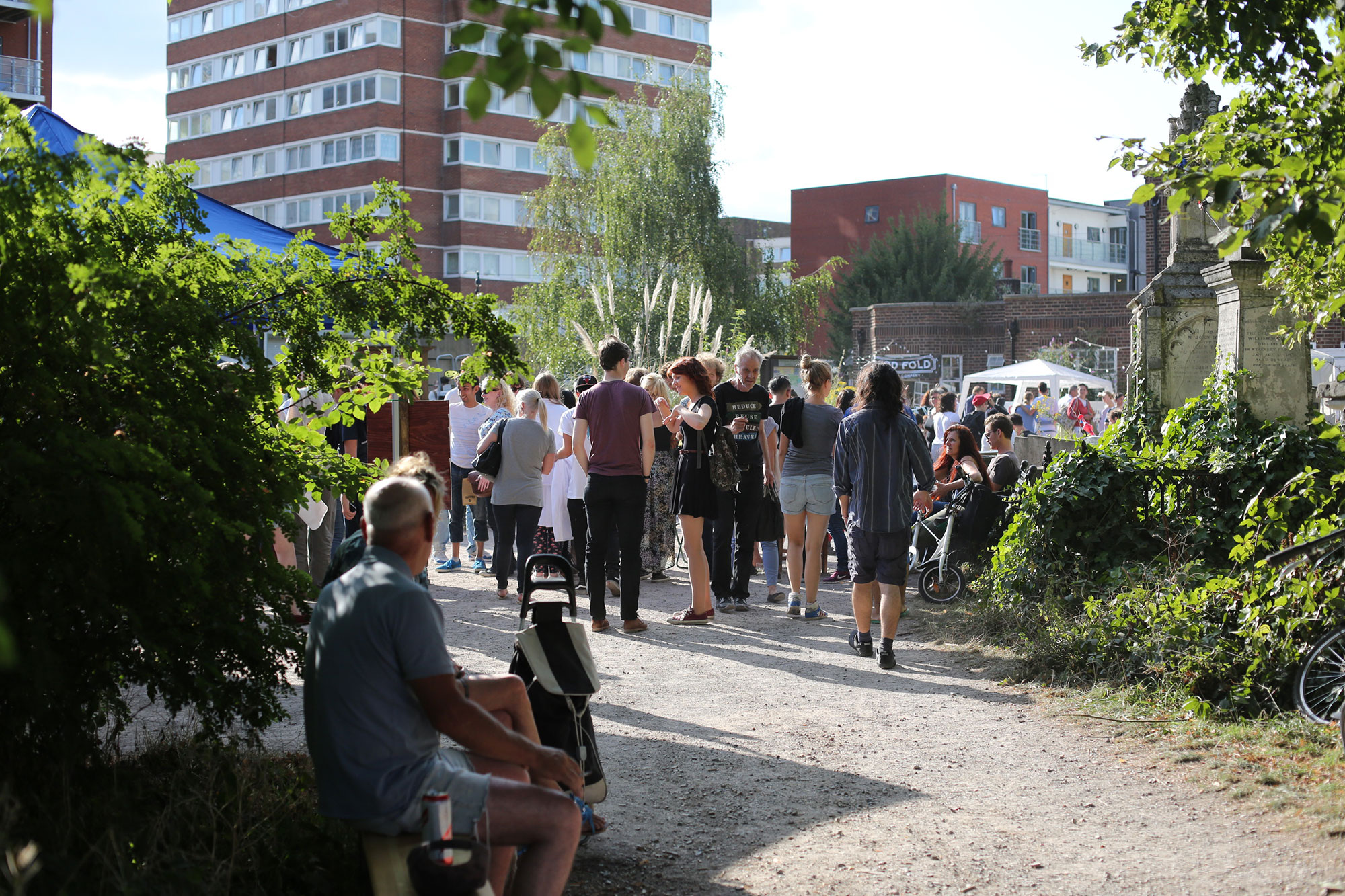 Feb 12, 2016
Designed to help lower income earners enter the housing market, community land trusts (CLTs) aren't a new concept, but the movement has recently experienced rapid growth. This is particularly true in East London, where overcrowding is rife and where the first urban community land trust was launched by Boris Johnson in early 2014. The development provides 252 new homes, with 23 of them belonging to the East London Community Land Trust, which offers affordable housing sold at prices linked to local wages rather than the open market. While the launch of the new CLT is largely deemed positive, it raises questions of integration: how do you ensure that such a radical development maintains strong, ongoing links with its community? Enter Shuffle Festival, launched in 2013 by former Melbourne resident Kate MacTiernan, local resident Lizzy Daish, and backed by filmmaker Danny Boyle (of Trainspotting and Slumdog Millionaire fame). The festival – initially held at the site of the CLT in Mile End, and later at a nearby cemetery – aims to involve the local community in the rapidly changing environment through film, science, architectural installations and more. Recently, Emma Breheny spoke to Kate MacTiernan about the festival's evolution, keeping in mind the significance of such a project in settings closer to home.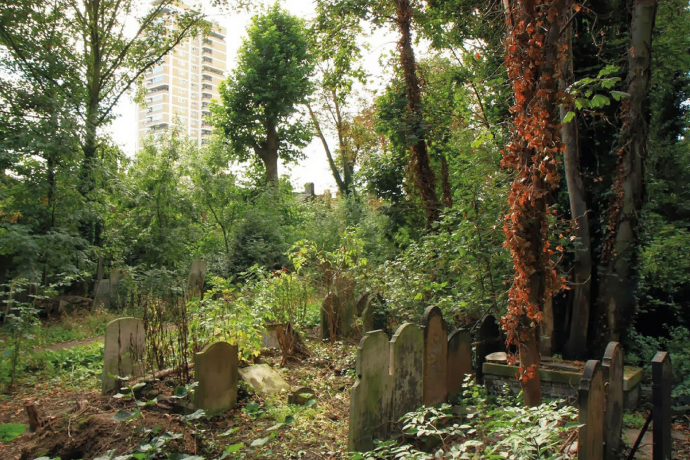 No one has been buried in Tower Hamlets Cemetery since 1966. It's now a protected urban woodland spanning 11 hectares in London's east that's used by schoolchildren, retirees and, occasionally, a cultural festival called Shuffle.
Among the cemetery's haphazard tombstones and wild greenery, there's a surprising sense of calm that's rarely found in London's open spaces. There's no eerie graveyard feeling, just the cool, dense air of vegetation that masks the traffic noise of the high street one block away.
The few people around are bunched in industrious huddles of twos and threes. They're mostly volunteers who help to plant wildflowers in the former cemetery, but on the day of my visit there are more people around than usual, preparing for Shuffle, which is due to open in two days.
Shuffle Festival occupies disused spaces each summer to celebrate people, public spaces and cities. The festival was started three years ago by architect Kate MacTiernan, geographer Lizzy Daish, and with the backing of filmmaker Danny Boyle, and is now an annual event in Mile End, the neighbourhood that fans out from the cemetery and the nearby St Clement's Hospital. Both sites had fallen into disuse before being reimagined by Shuffle.
St Clement's has served many purposes in its 165-year existence, built as a workhouse for London's poor before being turned into an infirmary and, finally, a psychiatric hospital, until in 2012 it was chosen as the site of the UK's first urban community land trust. Kate MacTiernan, a former Melbourne resident and Shuffle's creative director, came up with the idea for the festival when she was working for East London Community Land Trust, which was developing the St Clement's site. The psychiatric hospital closed its doors in 2005 and had sat idle ever since, occupying a relatively huge portion of land in the middle of London and a larger place in the imaginations of residents. While they lived beside the imposing structure and saw it each day, many Mile End locals had never been inside until the launch of Shuffle.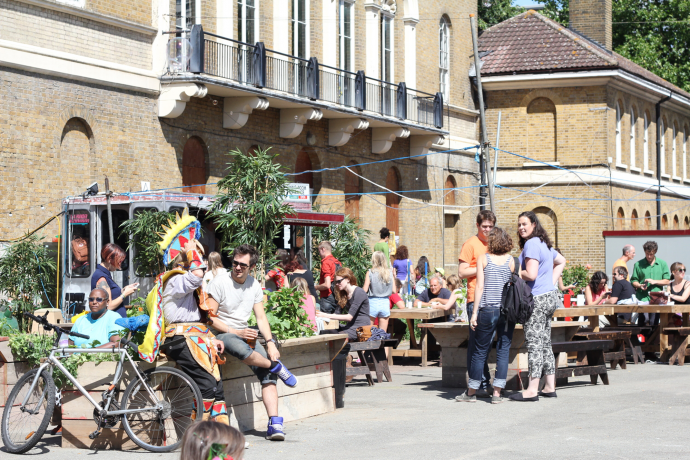 The festival was a way of bringing together people with diverse life experiences and backgrounds before they were forced to live side-by-side. Through Kate's research into community land trusts in the US, where the model arose, she discovered that people's connection to the area was crucial to successful developments. Schemes that built the housing first and then ushered people in were essentially manufacturing communities. While this only confirmed Kate's own beliefs about thriving neighbourhoods, she knew that a quick fix would be the developers' preference. "They [the developers] had only seen the model in which you go in, wipe history clear, create a blank sterile space and then ship people in for lots of money."
Kate and her colleagues convinced the developers to let them take over the six-hectare site for two weeks to stage a community arts festival. "The way we told it to them was, 'We're working with Danny Boyle to do a festival.' That got their attention," she chuckles. It was 2012 and Boyle had just choreographed a spectacular opening ceremony for the London Olympics. He also lived locally and was thrilled to see St Clement's finally come alive for the whole neighbourhood.
The hospital was occupied under the UK's innovative 'meanwhile use' provisions. Meanwhile use does exactly what it says: community and arts organisations temporarily lease unused buildings until the site's more permanent fate is decided. Building owners who agree to a meanwhile lease avoid extra taxes for allowing buildings to sit empty, while the community can take advantage of newly vacant space to experiment with new initiatives.
Mile End residents responded so eagerly to Shuffle's debut that two weeks stretched into one year of programming and discovery, as the previously shuttered space of St Clement's was opened to the public for the first time in a long time. Former patients saw the institution that once separated them from others transformed into a welcoming and inspiring space. Today the festival is held in Tower Hamlets Cemetery Park and is a yearly focal point for the neighbourhood.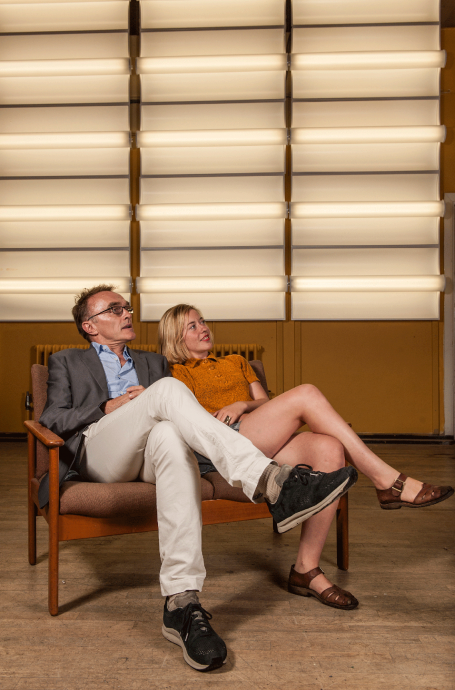 Shuffle's work of turning the imaginations of residents and planners towards their city has injected much-overdue life into a place commonly perceived as dangerous and depressing. "The overwhelming feature [of the area] is that there is no centre. There's no kind of heart to Mile End," Kate says. It's here that London begins to press in on people. The area's main landmark is Mile End Road, a four-lane artery that bisects the neighbourhood into quaint Georgian row houses that survived wartime bombing and generic tower blocks constructed later without much thought or love.
The other major structures of the area are St Clement's and the Cemetery Park, both established over 160 years ago. Today, a large Bangladeshi population (Tower Hamlets' is the biggest in England and Wales), nascent gentrification and newer migrant communities define the neighbourhood's character. Among the busy road, the cemetery and the former asylum, there are few places the community can call its own.
Through Shuffle, Kate and her team are attempting to create a centre where there was none before. Entry to the festival site is always free, while events are offered at a low cost that's waived for those who absolutely cannot pay.
Think about any major city: there are a handful of places that are absolutely 'free' – whether literally or spiritually. Homes are held onto through rising rent or repayments each month; parks are designed for certain activities; even the footpath is governed by laws that allow walking and not much else. The way we use 'public' space is limited to a fairly narrow set of possibilities, thanks to the regulations of zoning, commerce and social expectations.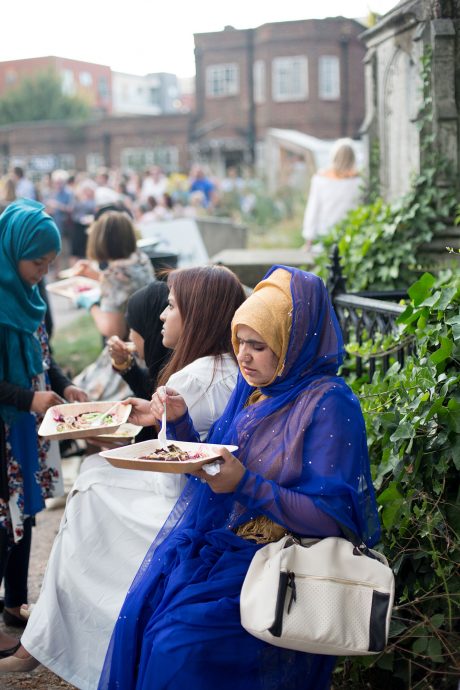 Shuffle presents a rare opportunity to claim some free space in the city – a small victory in the midst of London's density and wealth. It's Shuffle's ability to push physical and circumstantial barriers to the side and create truly public spaces – albeit temporarily – that keeps attracting people to its events, even from outside Mile End. "It's always about bringing back the original component of what makes a community and what makes a cohesive, rich way of living," Kate explains.
For most city-watchers, people are the fascinating and unpredictable element that defines place. Kate understood this early in her training as an architect and considers people to be equally as important as form. She's not particularly interested in scale or commissions; instead, simple ideas and gestures are used to return to a focus on the relationships between people. This underpins all of the programming decisions and was the reason for the festival's initial focus on film. "People have always sat around in dark spaces and told stories around the campfire. Film is just a modern way of doing that," says Kate.
Last year's festival theme of movement, migration and place was a response to recent hysteria by the British government (and echoed around the world) on people crossing borders. Kate was adamant that the program wasn't political but instead offered a clear-eyed take on the issue.
"All the films [in Shuffle 2015] were about the idea that humans have always moved around the world. That's how we live in every part of the world. It's a natural cycle; it's not something to be feared," she says.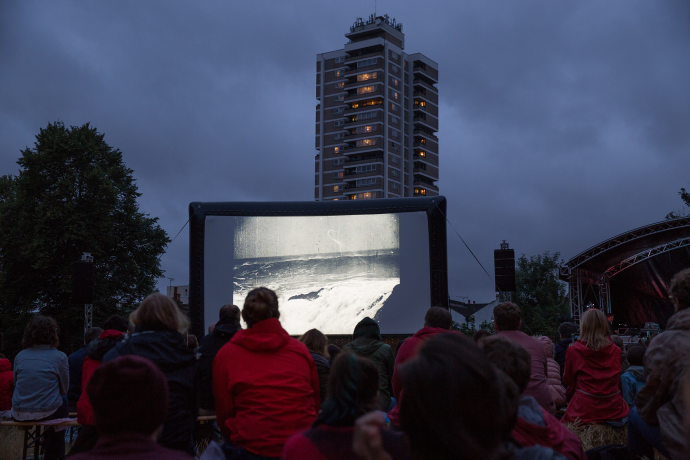 As well as films exploring homecomings (Three Colours: White), journeys (2001: A Space Odyssey) and belonging (Brick Lane, Strictly Ballroom), the program featured talks from scientists; an interactive map showing the journeys taken by migrant families to their new homes in Mile End; and a treetop restaurant themed on the idea of 'symbiosis' that tackled issues of farming and sustainability by fusing conventional ingredients from around the world with more scientific explorations of food (sometimes even involving insects).
Future iterations of the festival aim to move closer towards Kate's initial goals of realising an architectural practice that is about true placemaking, rather than simply building. At last year's festival, held in July, people were encouraged to build small pavilions in the cemetery gardens, a nod to the annual pavilion constructions that pop up each summer at Serpentine Gallery in London and, since 2014, at MPavilion in Melbourne. At Shuffle, local artists led the way and became 'community architects' for a few hours. Their completed structure acted as a meeting place for them and other visitors throughout the festival, which complemented the campfires that dotted the cemetery grounds each night.
Kate is planning construction of a permanent space for film screenings and performance in a disused brick building in the cemetery, as well as a café and an office for the charity that looks after the park grounds. Through these small acts of architecture, Kate wants to show people that it's possible to build themselves into the city.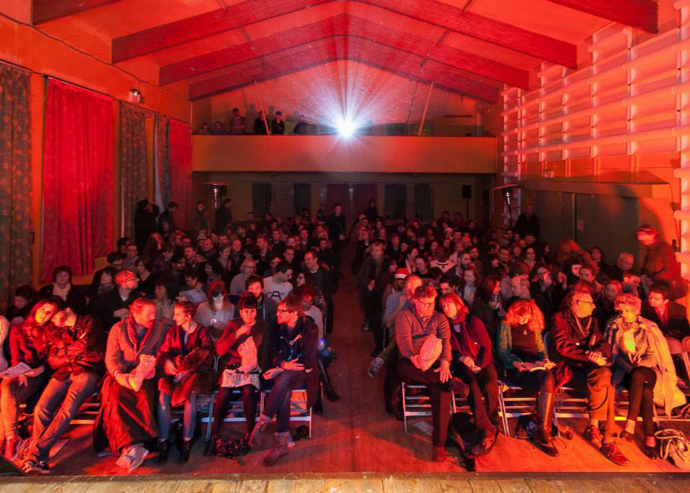 Compared to previous years, Shuffle 2015 included more immersive elements than the film screening and Q&A formats. "Now film is so pervasive – everyone has it on their laptops – that you actually need to do something a bit more interesting with the storytelling," Kate explains. British Sea Power performed the score of 2012 film From The Sea To The Land Beyond, while an uncannily timed drizzle mimicked the sea spray and grey English seas being projected onto the screen. A walking tour using virtual reality goggles (titled 'The Feelies') tried to recreate the experience of journeys and travel using the Walking New York film and Clouds Over Sidra, a documentary set in one of the world's less successful symbols of immigration, a Jordanian refugee camp.
While Kate continues to push the festival forward, she still holds on to its humble aims of ensuring the essential elements for human connection exist in this small pocket of the world. "Mile End is an area that's kind of got two halves and we're just trying to be the bridge between. Hopefully it will become a model for other bits of London where you have pretty different groups living alongside each other, cheek by jowl," Kate reflects.
As she mentions this, my mind wanders back to familiar territory: Fitzroy, Richmond, Prahran, where blocks of housing commission flats share streets with wine bars and clothing stores stocking designer cast-offs. In times of hysteria, xenophobia and misinformation around immigration and refugees, a real opportunity for people to get to know their neighbours can be far more powerful than any newspaper op-ed. While these opportunities remain few, Shuffle represents an inspiring and evolving blueprint.
Last year's Shuffle Festival ran from 24 July – 1 August. For more information on past festivals, and to keep up-to-date with future developments, visit the Shuffle website.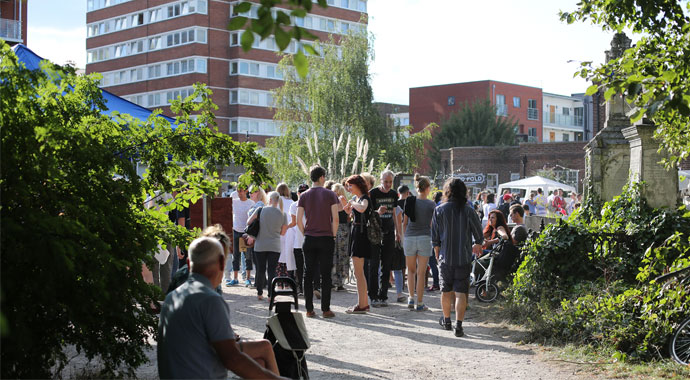 Crowds mill by the entrance to Tower Hamlets Cemetery Park, the site of Shuffle Festival in 2014 and 2015. Photo by Elena Heatherwick.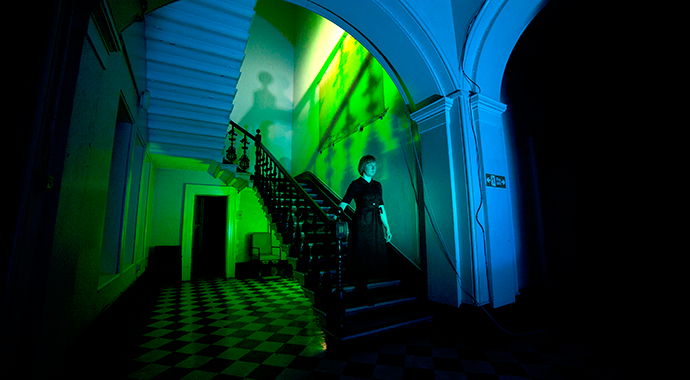 From workhouse to infirmary to psychiatric facility, St Clement's has recently been developed as London's first urban community land trust. Photo by Tessa Garland.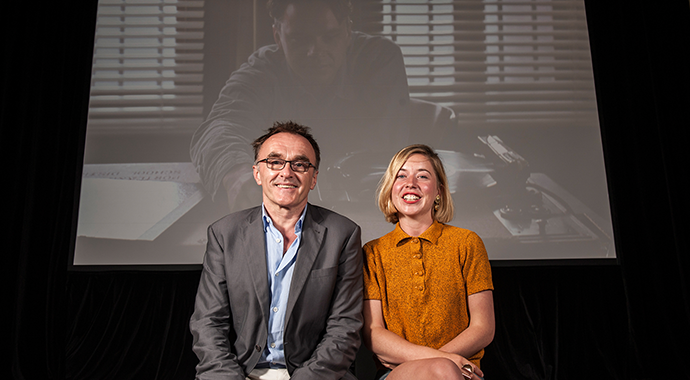 Kate MacTiernan, an architect, and Danny Boyle, celebrated filmmakers, have collaborated on Shuffle since the festival began in 2012. Danny has lived locally for over 30 years.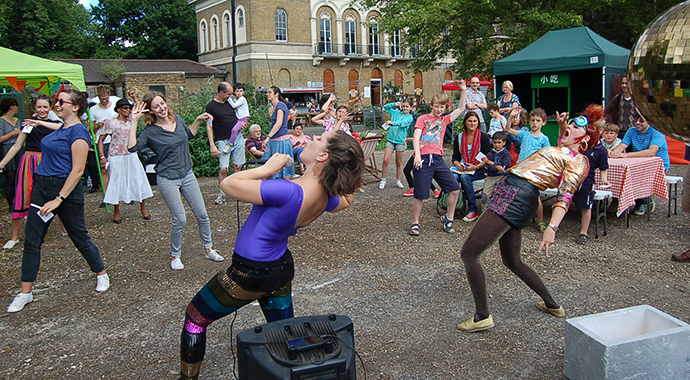 The first program of Shuffle, held on the site of the former psychiatric hospital St Clement's, included a 'Day of the Mind': the events intended to explore mental health from neurological, social and cultural viewpoints and looked at alternative therapies, including dance. Photo by Vin Shahrestani.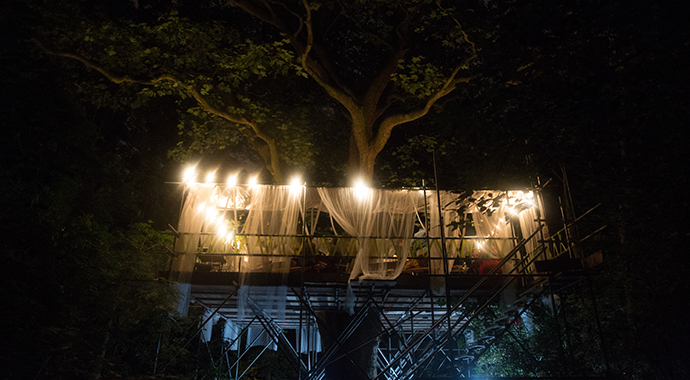 The Treetop Restaurant was a feature of the 2015 festival program, with a menu focusing on sustainable eating habits from around the world and a stunning location amid the park's treetops. Photo by Elena Heatherwick.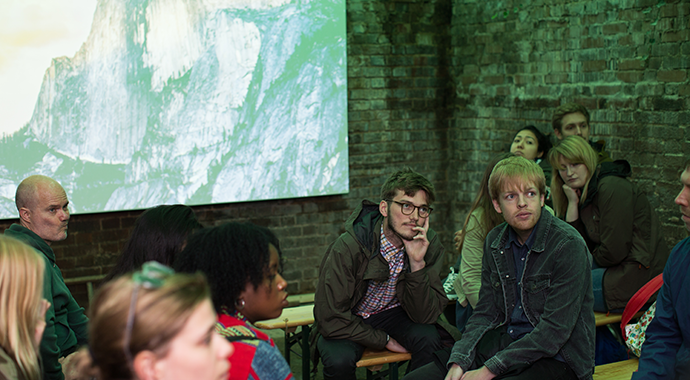 Shuffle Festival occupies disused spaces each summer, including a former psychiatric hospital and a now-defunct cemetery, to celebrate people, public spaces and cities. Photo by Elena Heatherwick.