Impact
Grafa: grounded in principle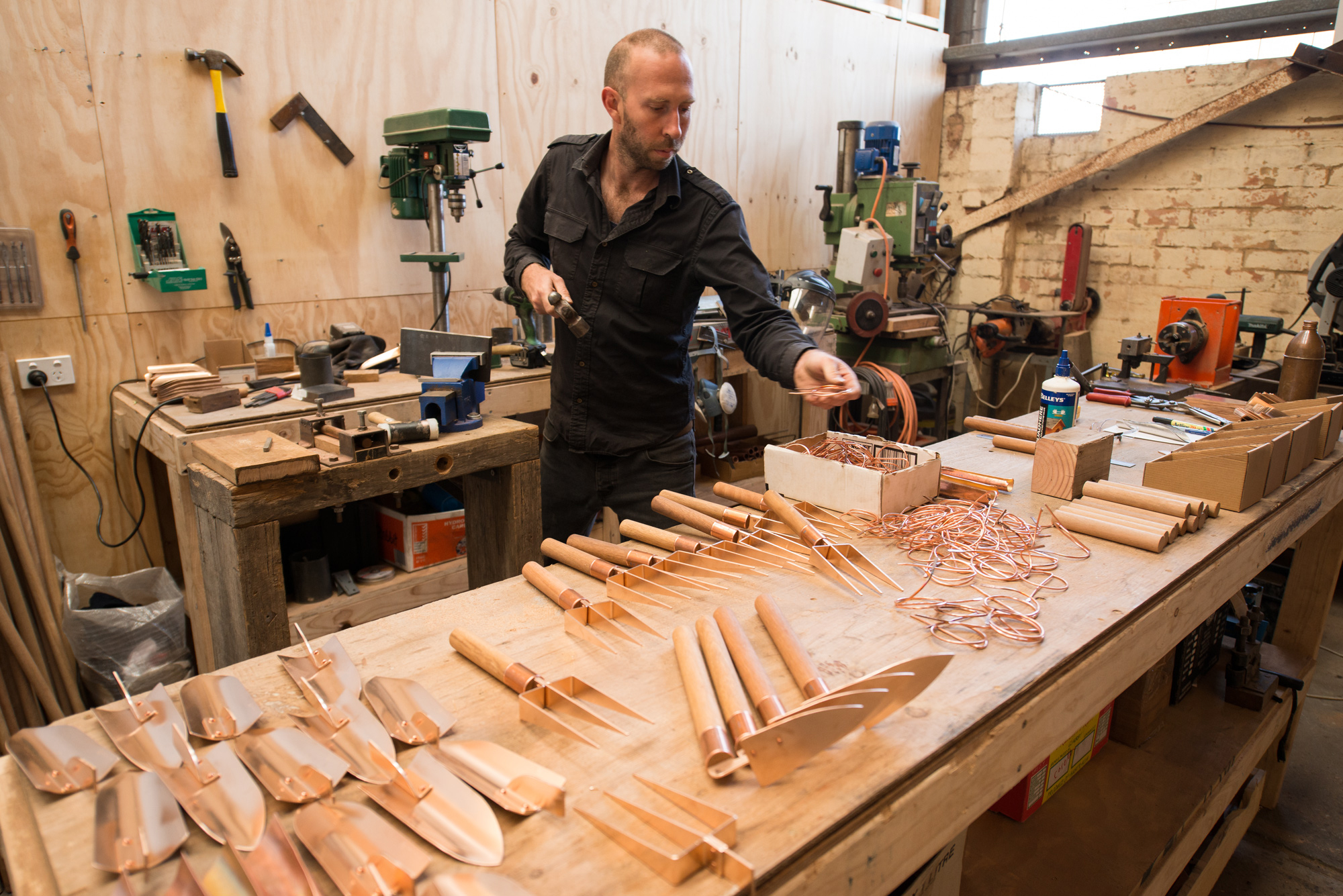 Nov 17, 2015
For many years, Travis Blandford toyed with the idea of founding his own company: one that would fuse the Iron Age durability of copper with a contemporary sensibility. These tools would target the 21st century backyard organic gardener; elegant gardening companions, destined to become family heirlooms. After a few stops and starts, it wasn't until Travis moved to Melbourne and met his partner, interior designer Harriet Devlin, that his copper experiments became a viable reality. Since 2014, Grafa's utilitarian collection of copper and spotted-gum garden planters, trowels, forks, scoops and hoes have earned a steady local and international following, becoming coveted items to design and gardening enthusiasts across New Zealand, the US and the UK. Light years ahead of your usual Bunnings fare, Grafa's tools combine a minimal yet warm Japanese-influenced design sensibility with an environmentally sustainable ethos. Hudson Brown drops by Grafa HQ to meet with Travis and his co-founder and partner Harriet Devlin to learn more about the company's grounded philosophy.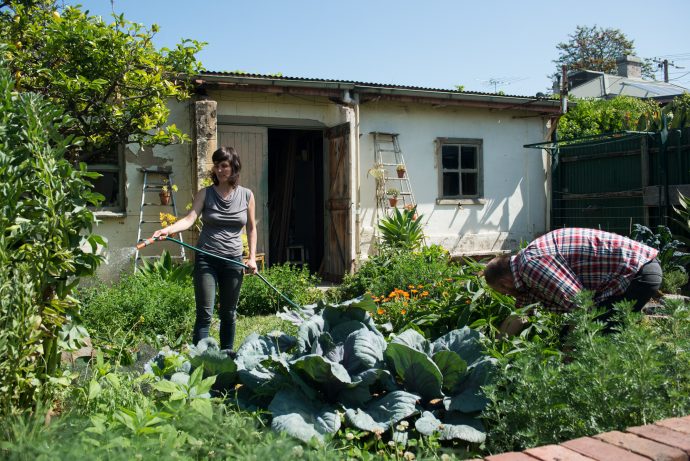 A fitter and turner by trade, Travis Blandford developed a passion that took him beyond his daily grind of grease and heavy machinery. A keen gardener, Travis's interest in growing his own vegetables led him to undertake a permaculture certificate. Away from the soil, his readings on permaculture principles led him to discover the musings of Viktor Schauberger, an Austrian naturalist, philosopher and advocate for the benefits of copper in agriculture. In the late 1940s in Salzburg, Austria, Schauberger experimented with iron and steel and found that the rust that developed on these metals hindered the growth of his crops. He began using copper – a material that has been used in agriculture since before the Iron Age – to work his fields. He discovered that the quality of his harvest improved significantly after several seasons. His theory? That the flakes of copper that fell from his tools ended up feeding into soil microstructure, increasing nutrient uptake in plants. Inspired by Schauberger, Travis began his own experiments in his workshop: fashioning garden tool prototypes out of a spare sheet of copper.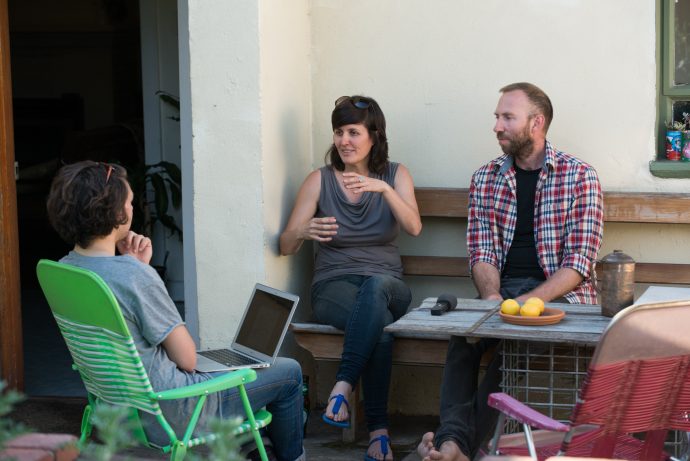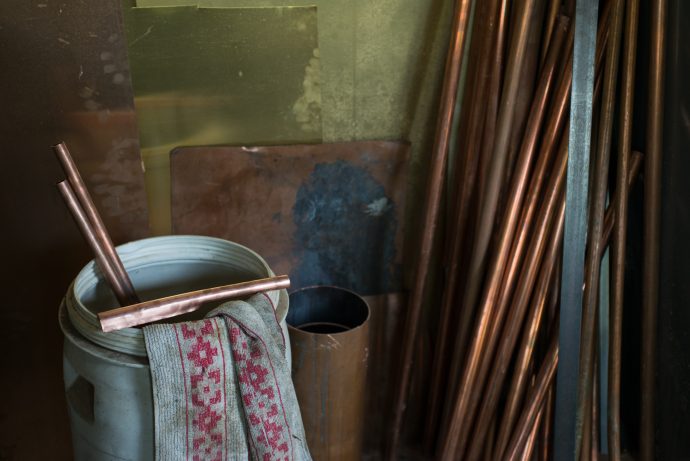 Based on the Sunshine Coast at the time, Travis wasn't sure how to promote his copper ideas through local retailers and the design community. While the agrarian and utilitarian nature of Grafa's tools remains as strong now as it was back in Travis's early prototypes, Harriet explains that it was Travis's move to Melbourne that ignited the business; this city's 'design fiends' have really latched onto the Grafa philosophy. Now Grafa's audience extends from the organic gardener through to design-hungry professionals and the wider conventional gardening sector. "I guess the interest has been led by design-savvy people, but I also think that organic gardening has become more mainstream again", explains Harriet. "Melbourne is a great place for a progressive mindset. It fosters this kind of industry… it's really the place in Australia to use as a launching pad for an idea like this", says Travis.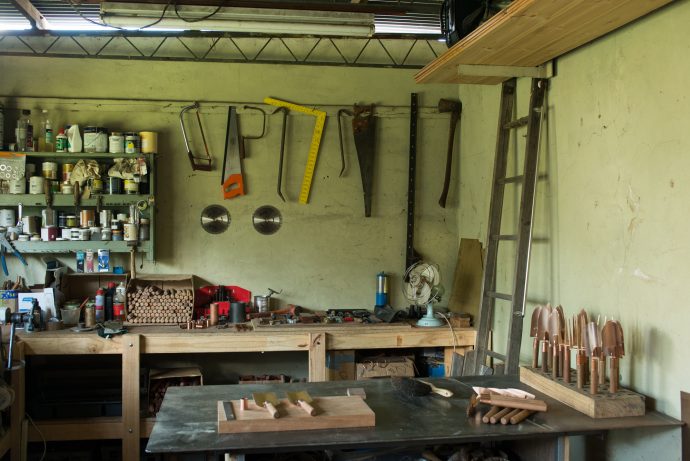 It was the addition of Harriet's expertise in design and small business operation that gave Grafa the ability to flourish. Travis readily admits that he had struggled with the commercial aspect: building business and customer relations and communicating and marketing the Grafa ethos. Now with Harriet alongside, Grafa's reputation as a maker of fine 'artisan' tools has steadily grown. At a busy time for the company, Grafa has just moved its production offsite to a larger workshop within Sunwest Studios in Sunshine. Travis explains this was as much about the couple's mental as well as physical wellbeing. "There was material piling up and not enough bench space. A recipe for disaster, especially when it's busy. I had a mini-meltdown last Christmas and knocked stuff off benches," laughs Travis sheepishly, before Harriet fills in the details. "He totally hit the wall. Trav was making tools around his full-time job. He has a very high stress threshold, but one day I said, 'Oh, this is not looking good, I think this needs to stop!'"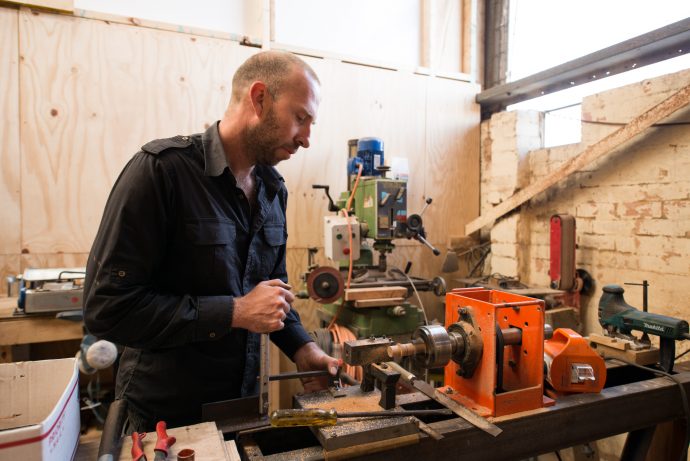 Travis and Harriet continue to balance day jobs alongside their Grafa collaboration. Increasingly, the lines between the design, manufacturing and commercial sides of the business have blurred. Time constraints often mean that the couple's 'distinct' roles merge, with Harriet becoming more hands-on with the tools: sanding wooden handles, polishing copper and packaging products. Travis jokes that while he now takes on more of the administration tasks when needed, this often "comes with a few more mistakes."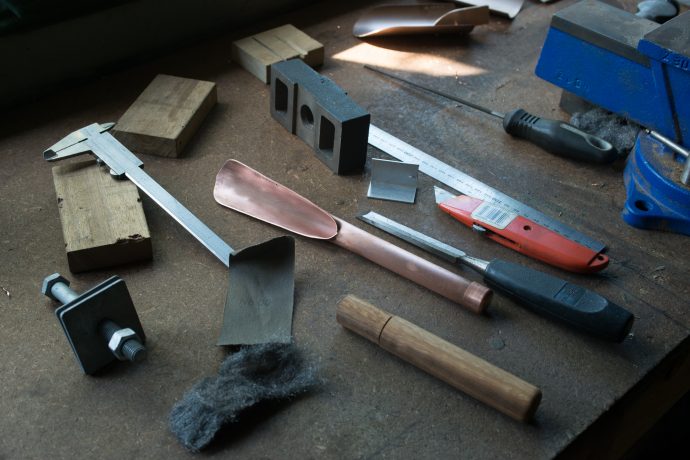 In terms of their footprint, Travis and Harriet have always been conscious of keeping waste to a minimum; fortunately, copper is able to be recycled in its entirety without any loss in quality. It is speculated that European and Middle Eastern copper products may contain the same metals that were used two thousand years ago – the raw metal is repeatedly melted down and reshaped. Grafa source their new metal from two non-ferrous local metal suppliers, while the copper in their 'reclaimed' tools, along with the tubes and ferrules, are up-cycled from several Melbourne metal recyclers. In addition, the wooden handles on Grafa tools are made from highly durable Spotted Gum eucalypt that is sourced from sustainably managed local mills.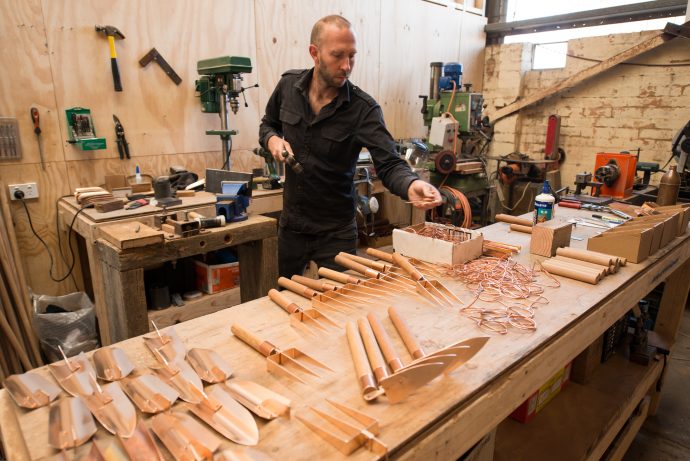 One of the few copper tool producers in the world, Grafa now boasts an inviting collection of handmade garden planters, trowels, forks, scoops and hoes. The tools maintain a sense of old-world charm, similar to the classicism of old pocket knives, axes and hammers. Travis finds inspiration in the way these keepsakes "seem to last forever" and are passed down through generations. Stocked across Australia, New Zealand, the US and UK, Travis and Harriet will look to expand Grafa's reach to Europe, Japan and South Korea in 2016.
In the bustle of artists and craftspeople at Sunwest Studios, Travis is currently working overtime to produce enough products for what the couple predict will be Grafa's largest holiday season to date. At the same time, Travis and Harriet are itching to get back to the drawing board, to design the next generation of gardening tools for their growing fan base. "When you have a standardised product, it's hard to find the creative time to innovate. I'd quite like to get into kitchenware. I like Japanese utensils and their design aesthetic. Also, maybe a brass barbeque set…", "To go with the bronze bottle opener," quips Harriet. Travis smiles as he says, "every gardener has got to have a bottle opener. Or a copper stubby cooler."
Beyond Christmas and Australia's peak stubby-cooling season, as Grafa moves into its sophomore year, we look forward to seeing the continuing evolution and reach of Travis and Harriet's backyard agrarian dream.
A massive thanks to Travis and Harriet for showing us around both their home office and Sunshine-based workshop. Be sure to check out Grafa's artisan gardening tools via their website, or catch them in person at Melbourne's 'The Big Design Market' at the Royal Exhibition Building, 4-6 December.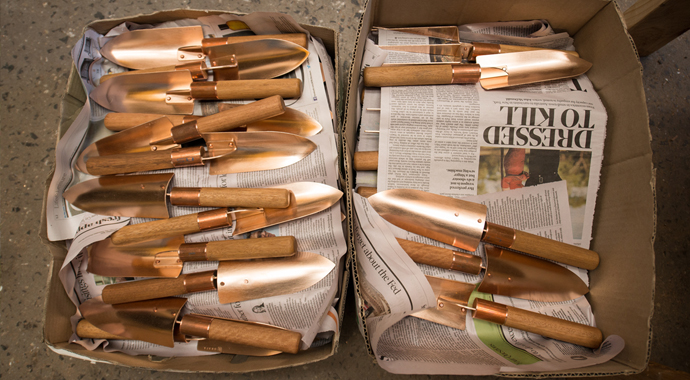 Crates of tightly packed trowels crafted from upcycled copper and sustainably managed Spotted Gum line the floors of the Grafa studio – ready for the upcoming Xmas rush. Photo by Fred Kroh.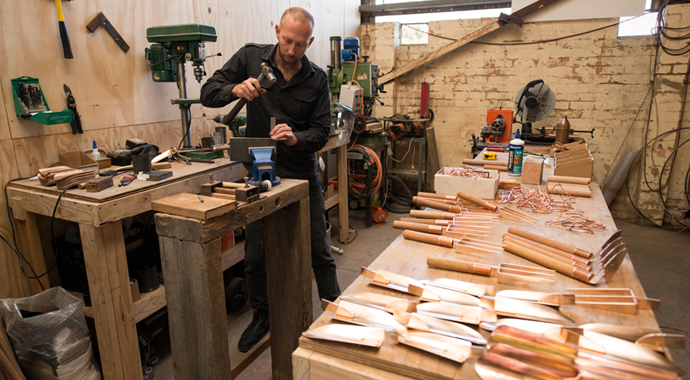 Grafa combines a handcrafted aesthetic with an environmental agenda. Here, co-founder Travis Blandford gets hands-on in the new workshop. Photo by Fred Kroh.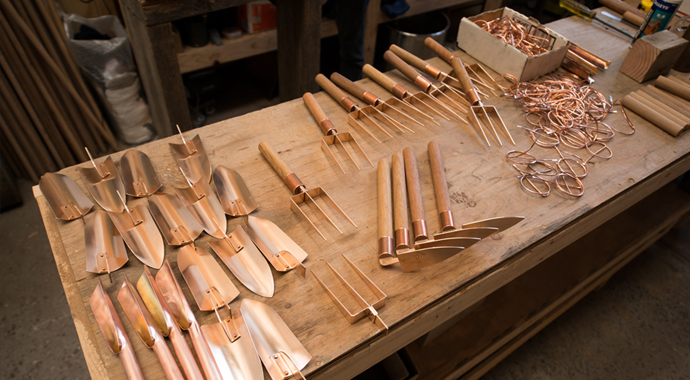 Textural contrasts of rosy copper and light wood: the Grafa collection of trowels, hoes and forks in progress. Photo by Fred Kroh.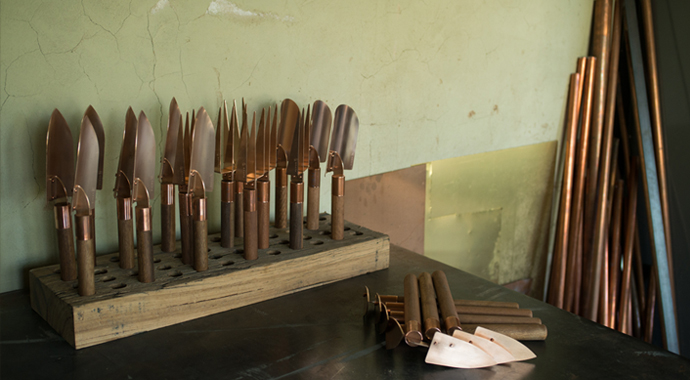 Trowels, forks and scoops ready for polishing stand at attention. Photo by Fred Kroh.
Made to last: the elegance of the finished Grafa scoop. A garden companion for life. Photo by Fred Kroh.