Mar 12, 2015
Sixty-one years ago, seamstress Gina Basso left her family in Carmignano di Brenta in northern Italy and travelled across the world to North Carlton, Victoria to be with her new husband, tailor Giacomo. Now 82, the impeccably presented Gina can still be found four days out of seven at her century-old Dürkopp Adler sewing machine—often with 27-year-old granddaughter Emily on the Janome beside her.
Sixty-one years ago, seamstress Gina Basso left her family in Carmignano di Brenta in Northern Italy and travelled across the world to North Carlton, Victoria to be with her new husband, tailor Giacomo. They set up shop (and home) at 376 Rathdowne Street where they worked side-by-side until Giacomo passed away five months ago. Now 82, the impeccably presented Gina can still be found four days out of seven at her century-old Dürkopp Adler sewing machine—often with 27-year-old granddaughter Emily on the Janome beside her.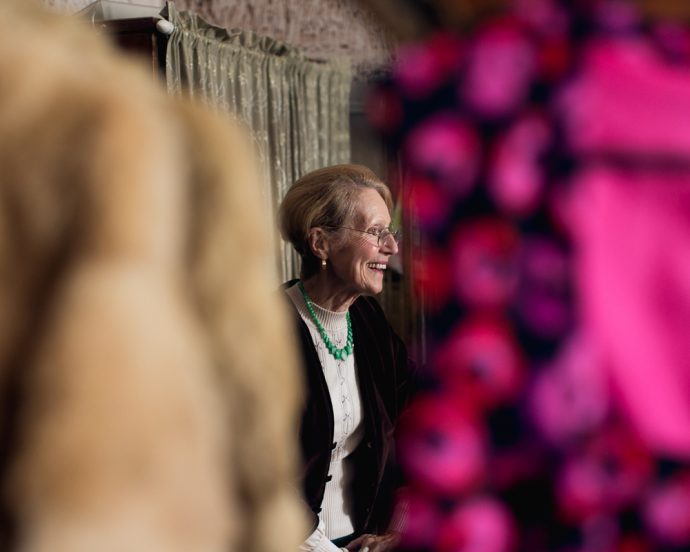 The work of Gina Basso is legendary on Rathdowne Street. Few who enter her shop will emerge unimpressed by the fineness of her stitch, the fit of her cut. Since she was a teenager, she has refined a skill that ensures an endless stream of customers still pass through her door each week. At 82, she's as sharp as the needles she's threaded in this space for over six decades, and it's with much joy that you can still find her on the North Carlton strip—which has changed so much over the years. The space from which she works is compact: machines sit side-by-side; a cutting desk, a small change room and a full-length mirror stand at the ready for customers to take a spin. Brightly coloured clothes hang haphazardly around the space ready for pick up. On the days Gina is working, the machine can be heard gently whirring as you pass by on the street. The position of the vertical blinds in the large front window generally indicate whether the shop is open or closed. Sometimes when the light is streaming through, the sun reflects the golden letters which have long elegantly spelt out 'Giacomo Basso' on the plate glass.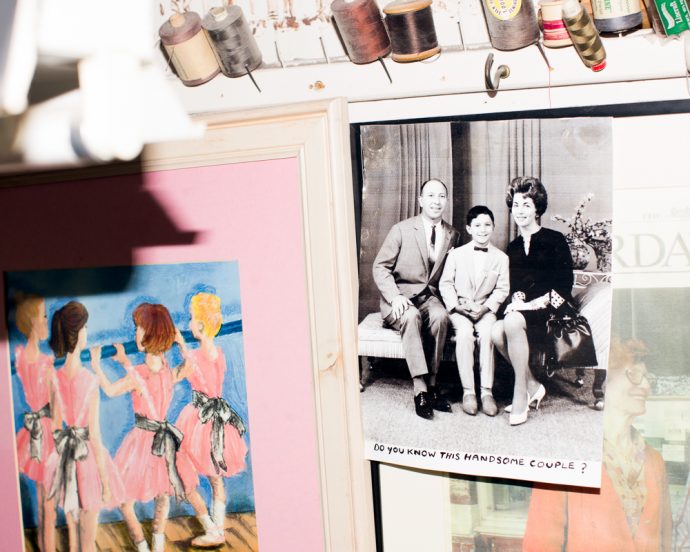 The story of how the couple met is a tale of romance and struggle. While training as a tailor after serving as a soldier in World War II, Giacomo Basso met seamstress Gina Costa and the two fell in love. Older than Gina, Giacomo took a chance migrating to Australia in 1951 to escape the struggle of post-war Italy. Two years later, a 21-year old Gina (the only daughter of her family) married her love by proxy and boarded a ship to meet him in Melbourne. It was 1953 when Giacomo put a payment down on the dilapidated former barber's shop on Rathdowne Street, and the two set up both home and shop here, servicing the community with both ladies and men's impeccably made garments. It is Giacomo's name that still adorns the front window in gold lettering. Gina's own health and the death of Giacomo five months ago have seen the community rally around her. The fondness with which people talk about Gina is a testament to her standing in the Carlton community. Her granddaughter Emily Basso, a fashion design student, now helps in the shop. We asked two generations of Basso women to talk about the blink-and-you'll-miss it business that has stayed true to its original form for more than half-a-century.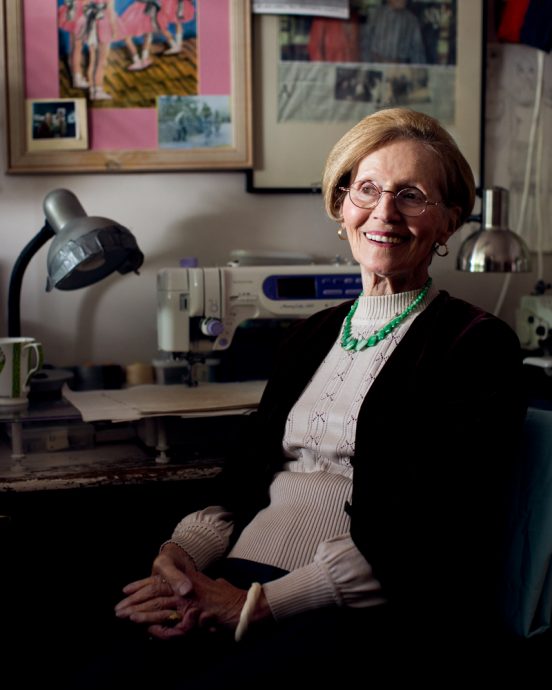 How long have you been here in Carlton?
Gina: Sixty-one years last September. I like this area and also, honestly, I can't move from here. This is my home. I have to keep working. My husband didn't work for more than twenty years, he had a heart attack twice. And I have to keep going. Financially, I have to stay here. For me it is good here to communicate with people, to not feel lonely. After a long time I am still very busy. If you make a nice job people will be come back. At the moment I'm still here and I'm happy to be here because my memory is still good. I remember people: when they come back, when they don't, if they've paid, I know everything. I have no book to keep nothing! I have always worked from my head, otherwise you're dependent on the diary. Completely different businesses surround me now. Next door is a delicatessen, but before was a hardware, that was there for many many years. On the other side was always a delicatessen and grocery but now it has all changed. Only me—I am here the whole time. There were a lot of Italian, Greek, German, Yugoslav people here when I arrived. They moved from here because they went to different areas like Doncaster and Bulleen. People know me a long time. Sometimes they call me and say "Are you still there?" and I say "Still here!" and they are surprised.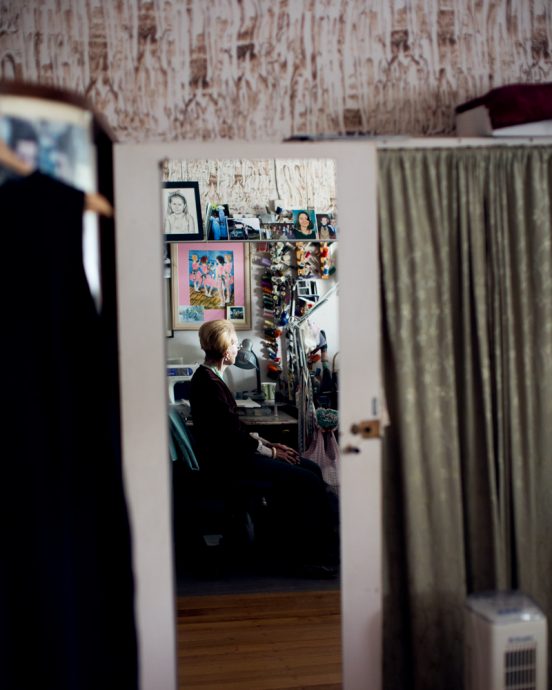 It seems like the shop is still very busy!
Emily: Saturday mornings are crazy! My grandparents have never once had to advertise their business. Their motto was always 'a job done well and a happy customer is the best advertisement',  and this has obviously worked! [Customers] know she's a gem and that she's few and far between.
Gina: Emily comes in twice a week. I am not here Tuesdays and Thursdays. And not Sundays—never Sundays! Sometimes if I leave the gate open they will call me for a button, for a something else. I never open the door [laughs]. I lock the gate! Sometimes if I am just in here reading a book or newspaper it's impossible, people see a light on and they think I am working! [as soon as we open the closed blinds someone knocks on the door]. It's like a familia though.
So you have customers who you have seen for a long time?
Gina: I have customers that I have had for many many years. My husband was also a tailor. Most of those customers have moved from here; now it's mostly young people, who go to uni, like RMIT. There are a lot of young people who come in, especially young girls. I work for a lot of ladies and for men, both of them, because I'm a dressmaker but I also know everything. As you get more mature you know more and more every day!
Emily: Honestly, there is no one, clear demographic: men, women, children, teenagers, old and young. Locals and also people who travel from far and wide based on a recommendation or because they used to live in the area but don't trust anyone else with their clothes. And the jobs are just as varied. Nonna always says, despite her sixty-odd years in this line of work, she still sees some jobs come in that she genuinely has to think hard about how to tackle. She says she likes that because it keeps her brain sharp!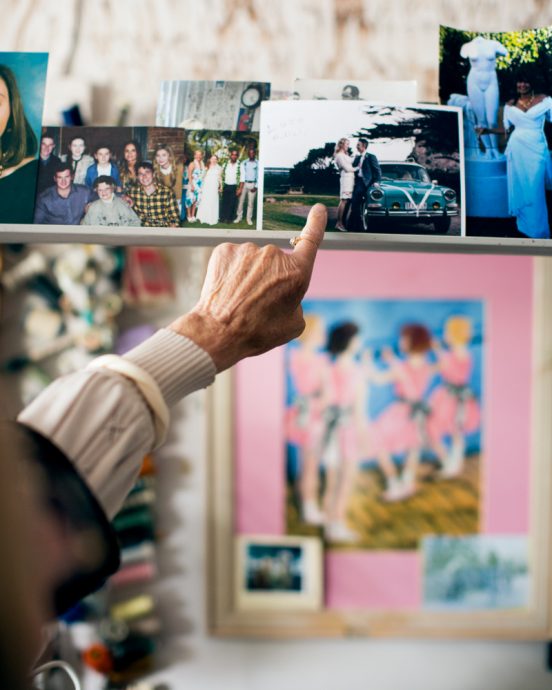 Emily, do you see a local community around Gina? 
Emily: She has so many regulars who have been coming for years, which is so lovely. I feel really proud when they tell her that she's the best around and no-one can do the job like she can—what would they do without her?! She's so modest – she always responds with 'it's because I'm old'. It's particularly lovely to see how much the community has really shown their support for her in the past months since my Grandpa died last year. These people aren't just customers, but have become great friends over the years. Honestly, she had flowers coming in for months…she was running out of space for them!
How have things changed since Giacomo died?
Emily: We miss him a lot. They were the most beautiful couple. In work and life. He taught her everything she knew (they fell in love when she went to work for him when he was a young tailor in their village). He was a fair bit older than her, so he hadn't worked in many years for health reasons, but he still very much loved to keep an eye on things, impart his wisdom. He also used to regularly go out and stock up on things we needed such as zips, thread, needles…as Nonna doesn't drive, that's now my job. I don't mind – it's the least I can do. But his absence definitely leaves a hole. They were such a tight unit.
Gina: Yes, well I learned many many things off him because he was more mature than me, older than me. I learned a lot. Now, his face is here when I do a job [she has an embroided face of his above her cutting desk], I look at him and I talk to him and I say "Look at this!".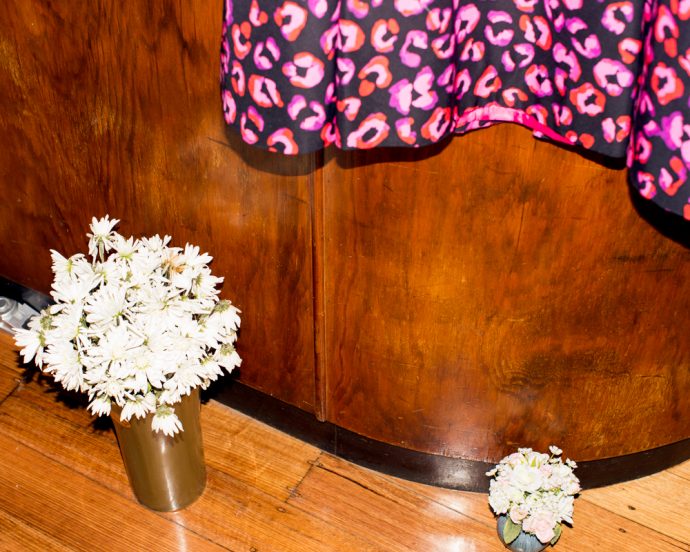 Emily, do you have vivid memories of the shop as a child?
Emily: Definitely. I like to think the environment inspired my love for style and fashion. The shop was (and still is) my second home – I often used to sit at the cutting table and draw (fashion figures, naturally!) whilst Nonna served the customers. I always used to be in awe of my grandparents pattern tracing skills – so quick! And straight onto the fabric, so old school! None of this time wasting with paper!
Being here has obviously had a huge influence on your career path? 
Emily: I feel I've had the best possible education because I learnt the traditional ways of pattern-drafting, fitting and sewing at school, TAFE and uni, but this has been complemented with the million little tips and tricks I have gleaned from my grandparents over the years. I feel like it's given me a more robust, well-rounded understanding of the technical side of fashion.
Nonna never actively influenced my interest in a career in fashion. She's the type who would honestly just want her children and grandchildren to do what they love. Fashion is the only vocation I can ever remember being seriously interested in though, so maybe growing up around it subconsciously inspired it. I know it was her dream too when she was young, but unfortunately being post-war immigrants, for my grandparents options were limited. I think she fell into the next best thing though.
Gina: She learns a lot through me. She was here a few years back for three years because she needed a job and she learned a lot, especially with fitting. Now she has three machines, I gave her one as a present on her 21st. They are all computerised—I use all the time the old one [the Adler]. This is my one, from Germany. It is maybe a hundred years old? When we bought it sixty years ago, it was already very old from a factory closing down. It is still the same machine; there should never be nothing wrong except that it needs oil and that's it!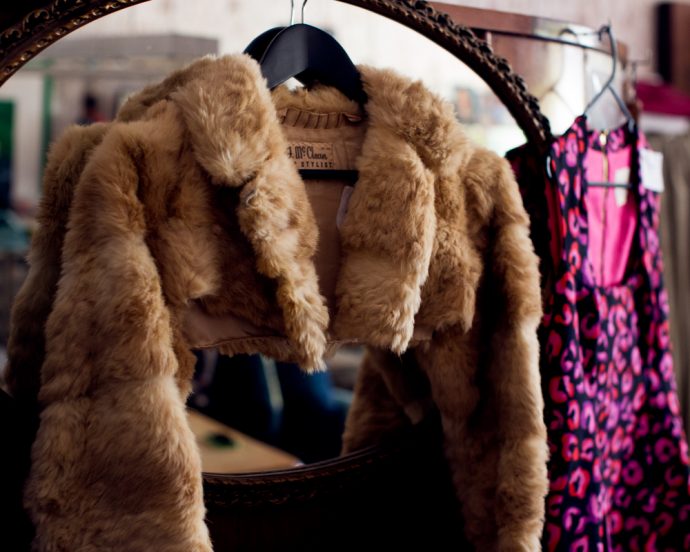 And Emily, how is it working alongside Gina?
Emily: Really lovely – it's so nice to just spend time with my Grandma, whilst keeping my practical skills alive (and practicing my Italian!). I feel very lucky to have an amazing mentor. She's an absolute inspiration, insomuch as she is the age she is and not only still working but whippet thin and the most stylish woman I know! She still wears the same tailor made clothes she made for herself when she was little older than I am now!
Gina: Of course [I make my own clothes]! Maybe you don't believe me but I made this jacket forty-five years ago. My body hasn't changed. And these trousers! Also, you learn continually all the time. I say very often to myself, "Gina, you're still good!", when I make a nice thing. Alteration is more difficult to do than from scratch. It's much harder to make a nice job—the fit is very important. A lot [of people] buy from the internet and nothing fits properly! Especially wedding dresses—they are just too tight!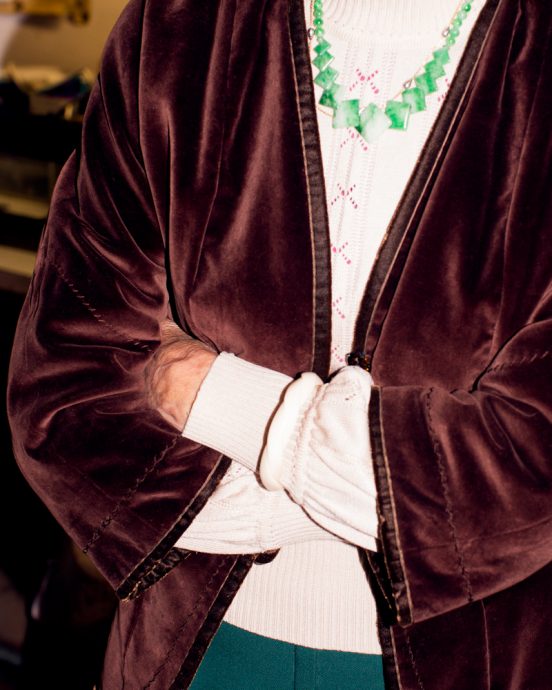 I like the way both your machines sit side-by-side, Gina's hundred-year-old machine and your's Emily, the new!
Emily: Ha, yes I suppose it is very symbolic! As I said, she's very old school. I wouldn't know how to operate her machine and she wouldn't know how to operate mine! Needless to say, I am in charge of the overlocker and the blind hemmer – before I came along and we bought the blind hemmer, she was still doing invisible stitches by hand!
Gina, did your Italian family ever come out here? 
My father came out here thirty-five years ago. He just came to visit. I went back just once, forty years ago. My husband never went back. And we've been through some hard times, so there was no money, he was then sick too. So I had to work many hours. Soon I will be 83 and I am still working! The Prime Minister says you all have to work later, and I say, "I am working late!". You have to! I also think to live longer it's very important, otherwise you might not feel like getting up in the morning. I will work for as long as I need to. I have been through cancer, three years, maybe four years ago and I still have another year to go with medication. You can't sit down and think about things too much. Whatever comes though I'm ready. 
The shop at 376 Rathdowne Street, North Carlton still bears Giacomo's name on the glass, however you will find Gina inside on Monday, Wednesday and Fridays, and Saturday until lunchtime. To check how busy they are, call ahead first on (03) 9347 1527. A huge thanks to Gina for welcoming us into her shop and for speaking so candidly about her life. Thank you to Emily Basso who no doubt will continue to keep the fashion talents of this family alive long into the future!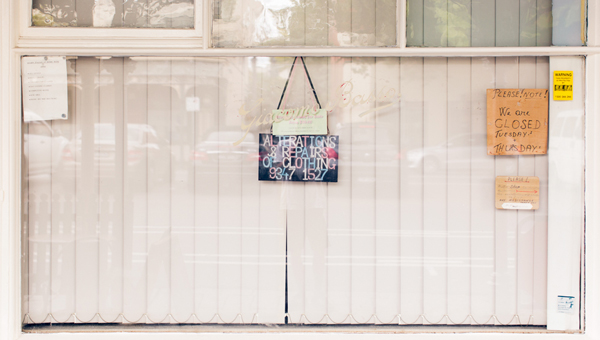 The faint words 'Giacomo Basso' in gold lettering are the only signage to alert you to the location of the shop. Blink and you'll miss it. Photo by Tom Ross.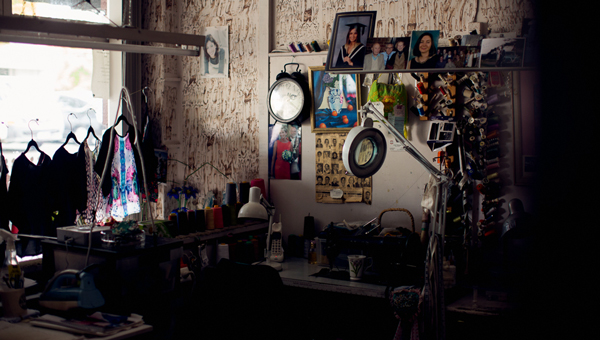 Afternoon shadows settle across the shop. Photo by Tom Ross.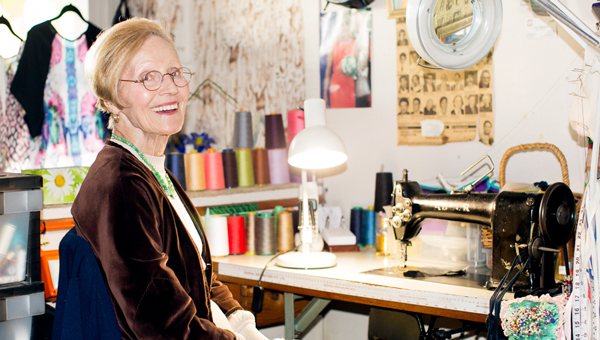 Gina at her 100-year old Adler sewing machine. Photo by Tom Ross.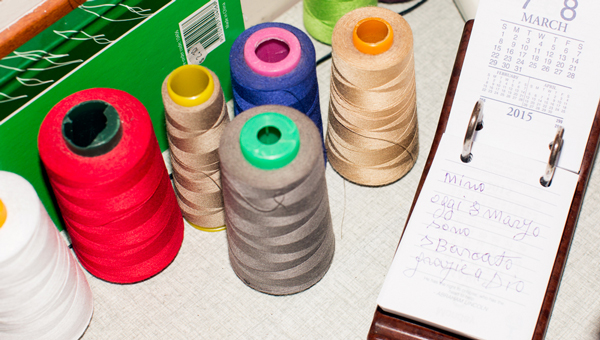 Shelves are lined with vibrant bobbins and reels of brightly coloured cotton thread. Photo by Tom Ross.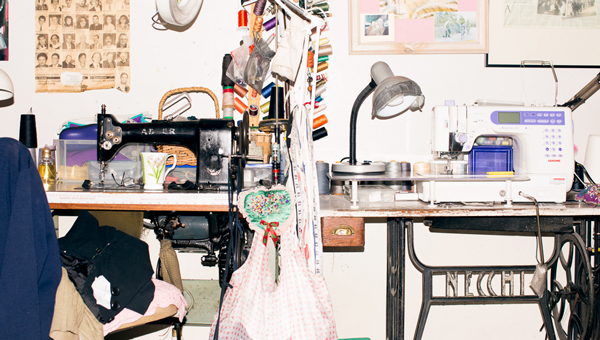 The vintage Adler sits side-by-side with the modern Janome. Only one will keep going if the power blacks out! Photo by Tom Ross.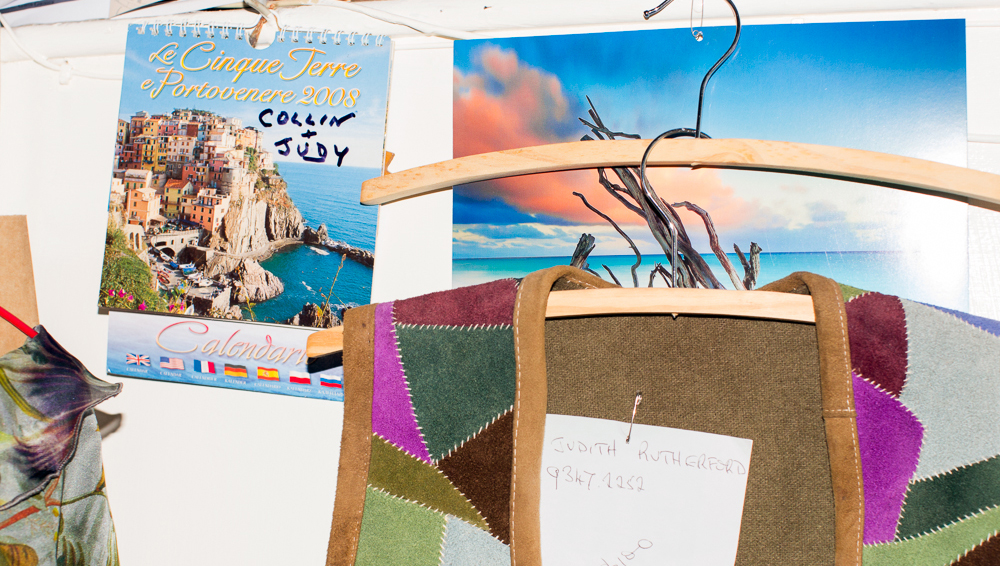 The shop walls are lined with momentos, newspaper clippings, photos and clothes on hangers. Photo by Tom Ross.