Housing
Backyard Bungalows: Murray Barker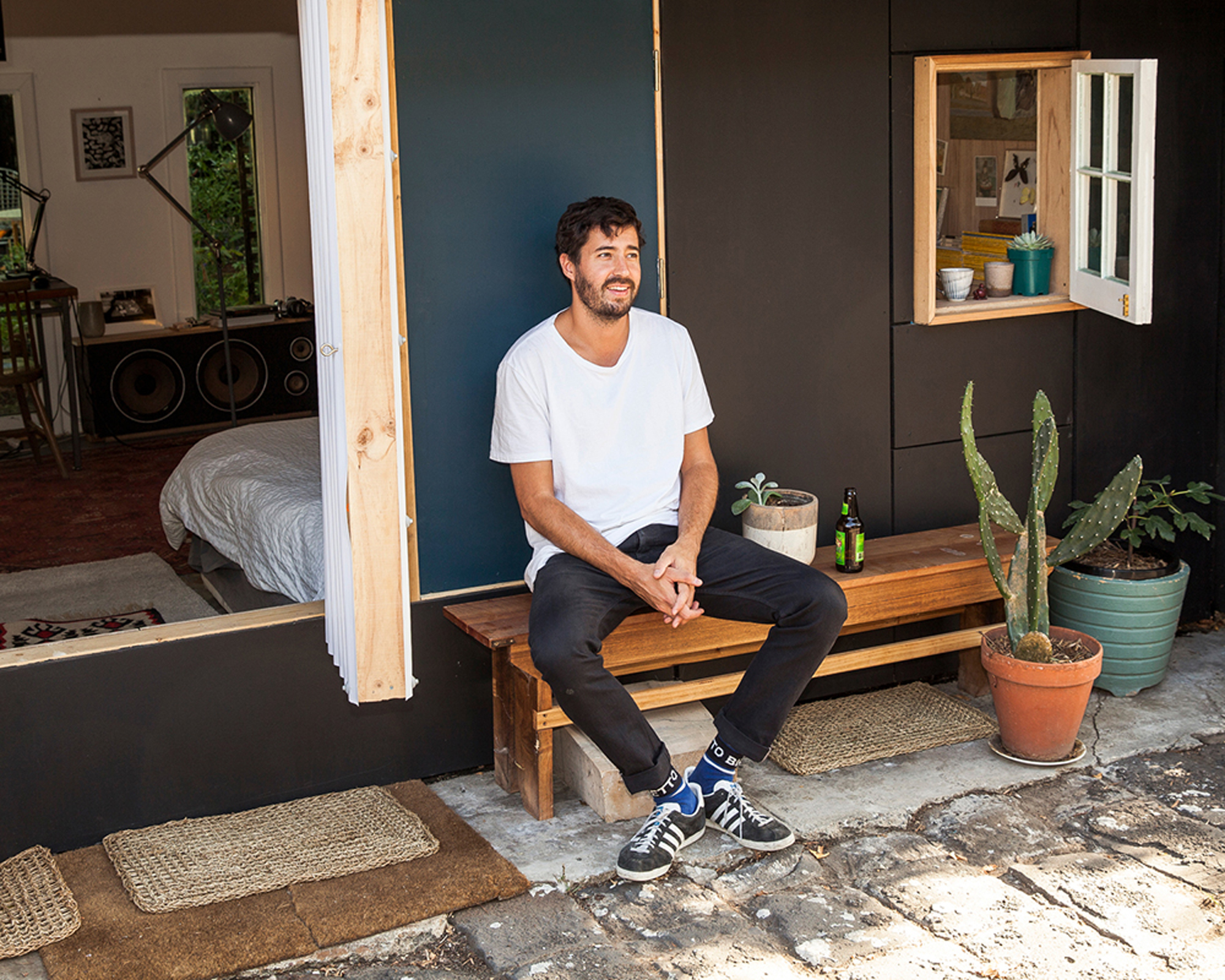 Mar 5, 2015
The additions Murray Barker has made to his garage could be applied to almost any garage space, be it for living or as a workspace—Murray envisions both. He tells us here how he did it.
"It was out of necessity two years ago, that I found myself moving into the shed of a typical Federation-era terrace house in Melbourne's inner-north. I'd arrived home from five years living abroad, and it was the only free room in the house. It was also the cheap option, out the back, right on the rear lane. The bathroom, kitchen and living areas are located in the main house, but the old garage was the perfect size for a bedroom.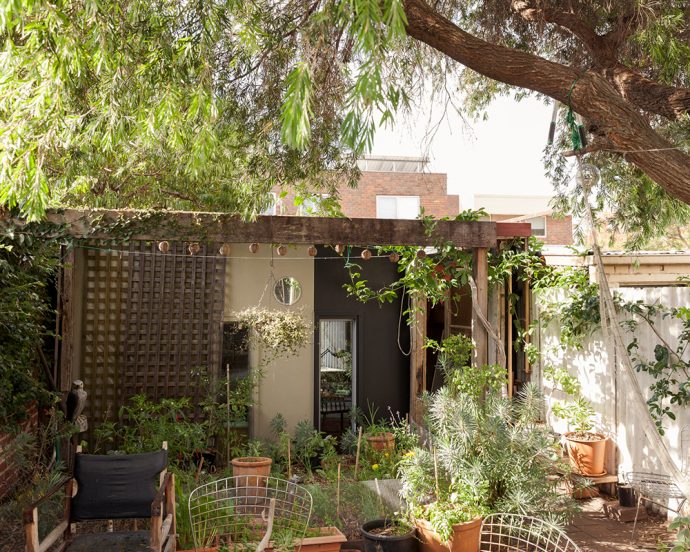 I still remember the pool of sweat the first morning I woke up there—it was a hot summer and probably fifty degrees inside. I could hear animals on the roof, feasting on the nectarines that dropped from the tree next door. After years of apartment living in Europe I was excited by the sensory experience of the place—in the back yard, under the bottle brush. I was in the city but it felt a bit like being in the Australian bush, with bright light shining in through holes in the old iron sheet walls.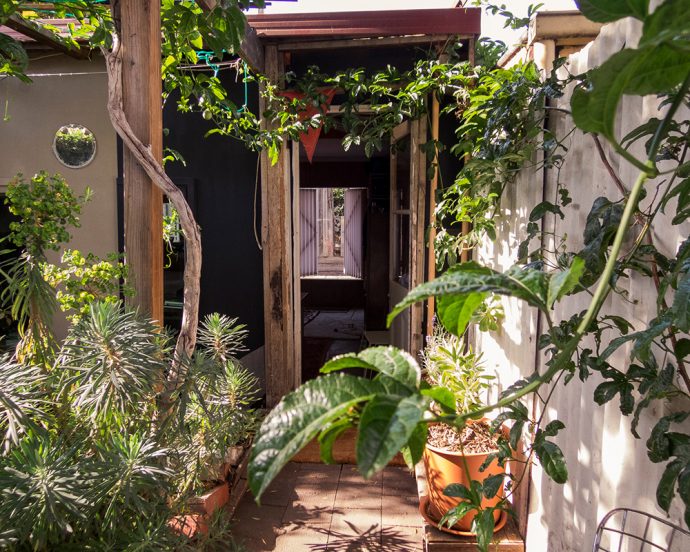 It was pretty perfect for a while, but once I decided this 18sqm was going to become my permanent home (and with winter on its way), it was time for some proper work to be done. Previously people who had lived in the shed were sleeping in beanies and gloves by July, and I wasn't keen on that. I had the time to fix it up but hardly any money. I decided to start doing things slowly, bit by bit, working around the few belongings I had brought home. I'm an architect, so I understand structure and how things go together, but I didn't really know how to actually build anything. Since nothing I had planned was structural I thought it was worth a shot—to make the internal storage shed into a functioning space that could work as a room or a studio or a workspace, linked to the courtyard but also connecting with the quiet laneway.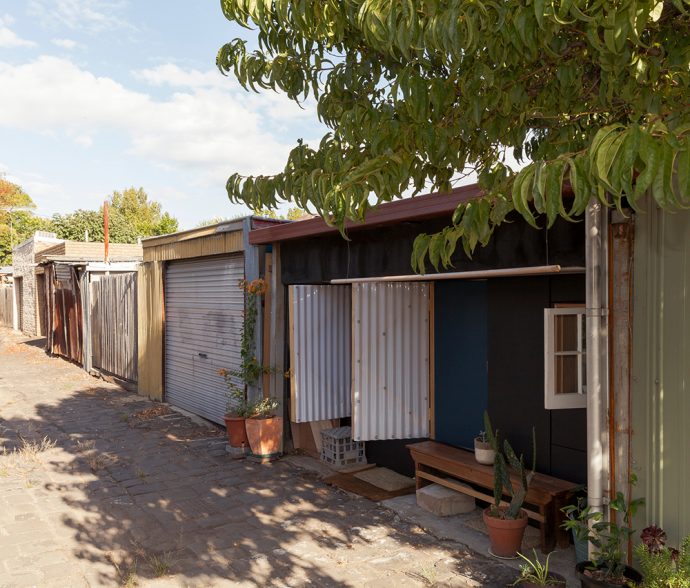 It wasn't so much designed in advance but made up as I went along, using found materials and seconds. The main mission was to insulate and seal the place, which has made a huge difference. I built new timber framed walls in front of the original corrugated iron walls, with a third wall built behind the garage door. The timber framing was all seconds, which I instantly regretted—building stud walls with slightly warped timber is a nightmare, don't do it! I infilled these new walls with insulation and lined the framework internally in ply. I found the plywood online for a steal, almost like it had fallen off the back of a truck. The guy told me it was usually used to line Mitsubishi caravans; it has a beautiful grain quite different to the typical stuff. I then set about insulating the ceiling, adding new structure between the existing beams, before insulating and finishing with plasterboard. I had help from tall friends for this, the only part of the build I really needed more than two hands for. Four hands, plus a pair to hold the drill.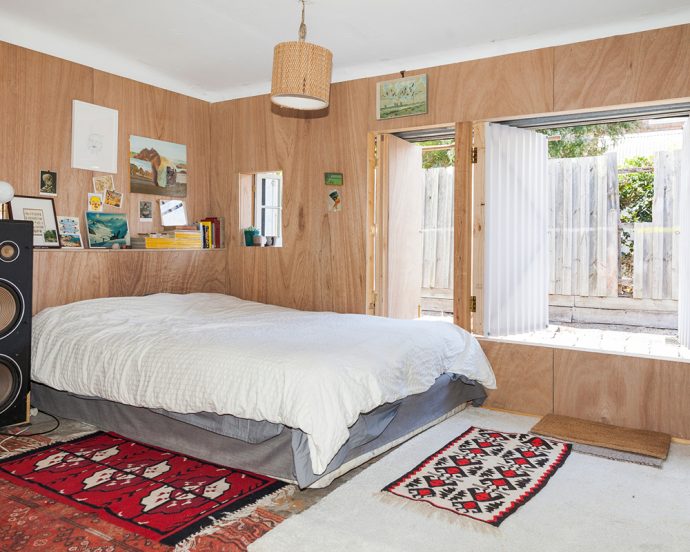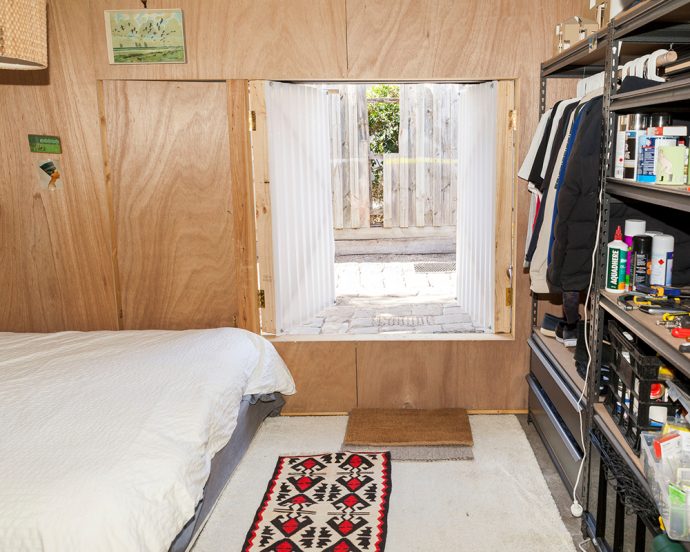 Before building the new laneway wall, behind the rollerdoor, I was keen for the room to connect somewhat with the alley, and thought a bit about how to mediate that public edge within the limited space and with limited means. Very few cars still use the laneway for access, so it's really quiet, and the northern light from that side was something I wanted access to—it's a perfect place to sit in the afternoon. I'd seen amazing row houses in Vietnam and Japan, right on the road, and interconnected courtyards in European towns. I'm really interested in the way this screening and shuttering can filter the level of engagement between public and private. There's a great example of this, the D-House built by Donovan Hill in Brisbane in 2000, where a berm, an entry path, and a screen separates the internal living spaces from the footpath—just metres away.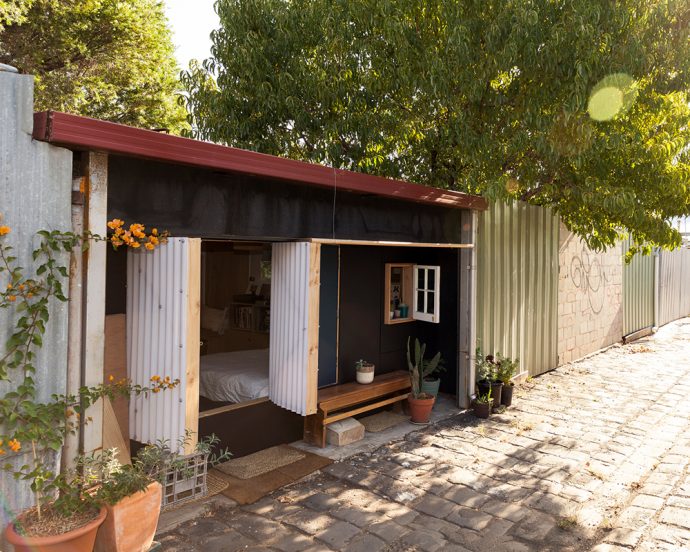 My crude attempt at handling this interface used a number of operable panels to make the wall, as well as a small window which I found in the garden. The solid black timber cladding was left-over from a demolition I had worked on. I clad the panels in timber and translucent polycarbonate, which lets in light but obscures the view. You can open up the space for a party or on a sunny day or close it off to gain complete enclosure. A few neighbours sticky beak or drop by to chat from time to time, but most don't even know I'm there. There's an old European neighbour who has built his own sitting place to the side of the lane, in the sun, surrounded by his potted plants.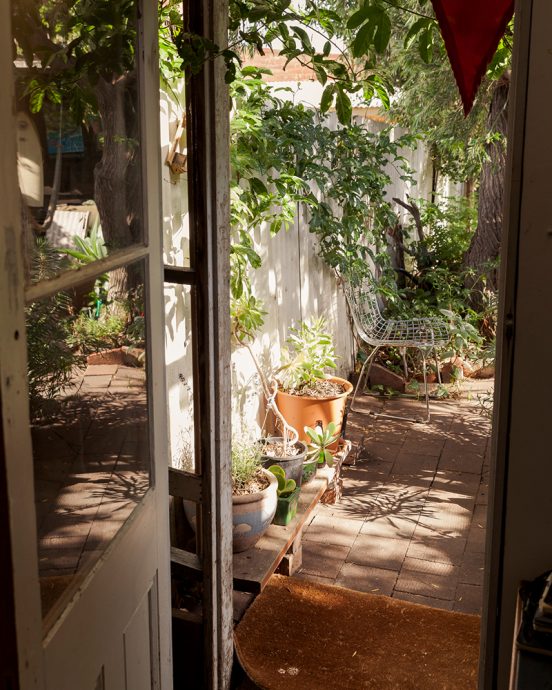 I really love this little wooden cabin, squeezed in between the laneway, the garden and courtyard. It's just a little bit more connected to nature than the main house, where my flatmates live. Maybe it has something to do with my growing up in Queensland, where timber and tin houses creak and crack with each change in the weather and the rain on the iron roof. It can be tough, in mid-winter, running to the shower through the rain, but that five metre dash over paving is mostly a good thing. The need to pass through the outdoors wakes me up, and often forces me to pause and notice the sky and the weather.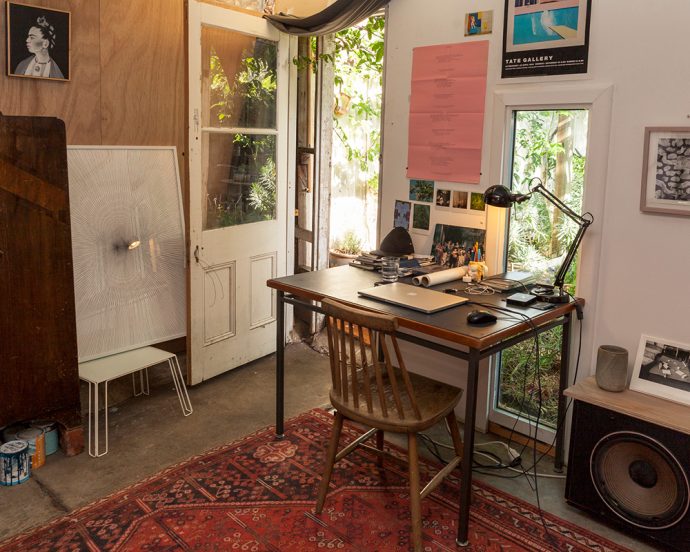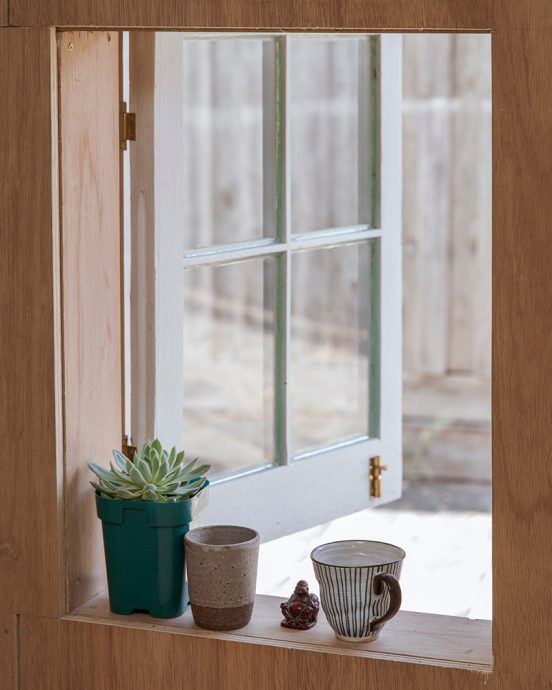 One downside to this project was that we no longer have a shed. A place to make things, to store my tools and where it's OK to have sawdust flying all over the place. I'd like to make a roofed, outdoor cupboard—something that folds open to make a covered workbench, and closes up again. Maybe that is the future shed for the inner-city house.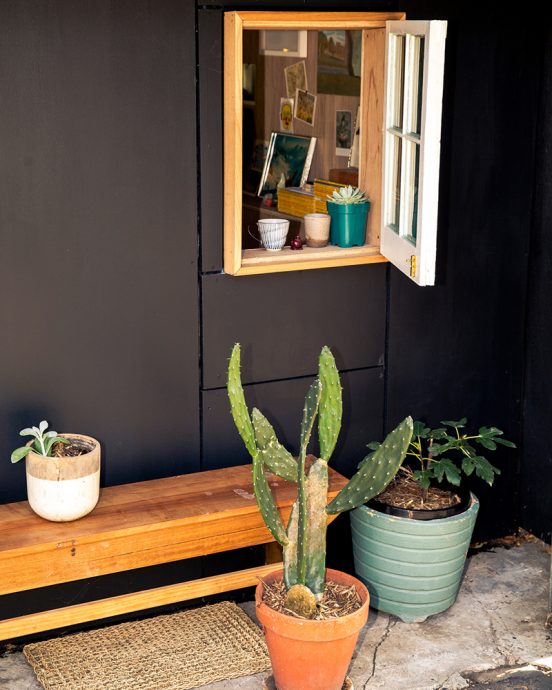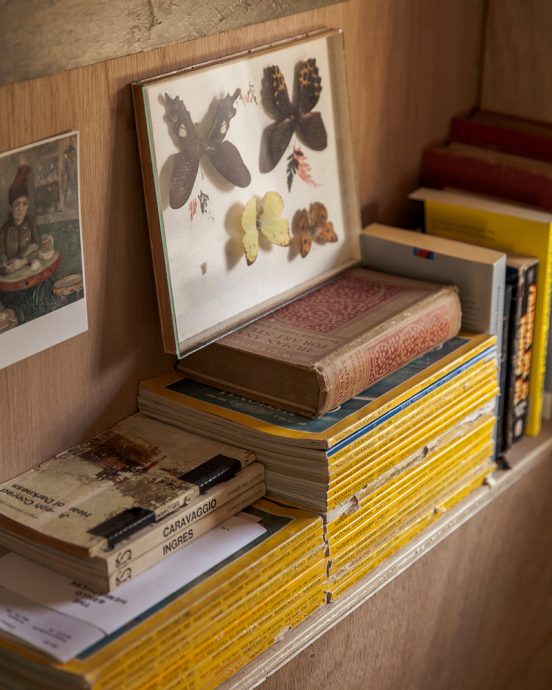 This was a bit of a backyard job, purely done to squeeze a bit more habitable space out of what was there already. It's a room for now, but it could work as a studio one day soon, a retreat, or even a shed once again. I know a lot of people who have done simple renovation jobs like this, but I can see so much potential for people wanting to do something like this properly. As densities increase and demographics fluctuate in the city and the suburbs, small footprint living—with programmatic flexibility at street level—will become more crucial. The way a small house can maintain private space but still connect to the outdoors and the street is really worth exploring.
Murray Barker is an architect who runs his practice out of Schoolhouse Studios in Collingwood. He is a member of the GROUPWORK collective and collaborates on projects with Sarah Trotter's Hearth Studio. Thanks to photographer Ben Clement for his wonderful shots of the space.