Housing
Backyard Bungalows: Alex Kennedy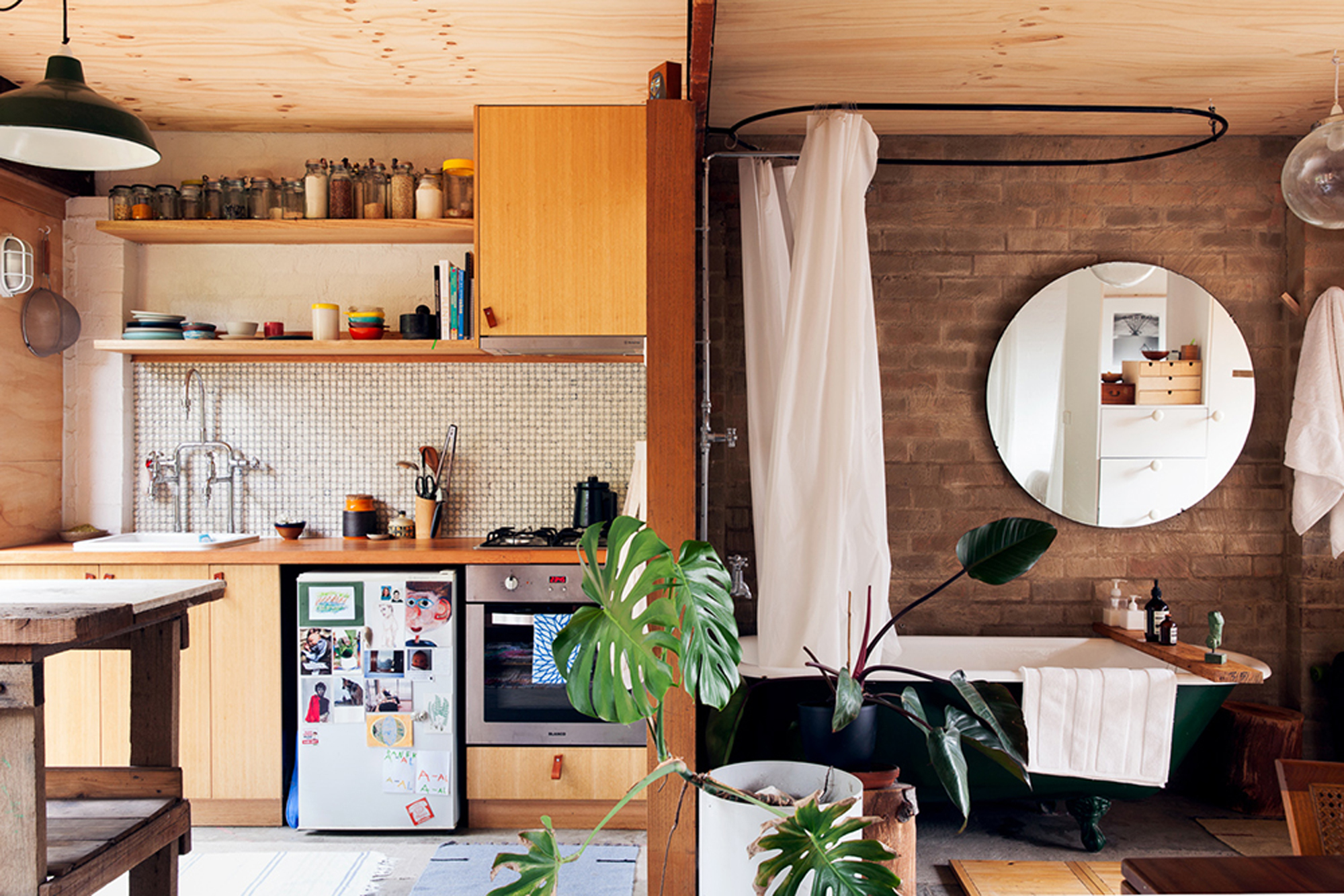 Feb 6, 2015
In our third instalment of Backyard Bungalows, we take a turn through the Carlton North cabin of Alex Kennedy. The 35sqm space was once a car garage amidst the lush garden behind her mum's house, until Alex (and friends) took to it one summer with a hammer and plastering board, and designer Sarah Trotter of Hearth Studio helped translate Alex's ideas around recycled materials and Japanese minimalism into built form. Alex takes us on a tiny tour.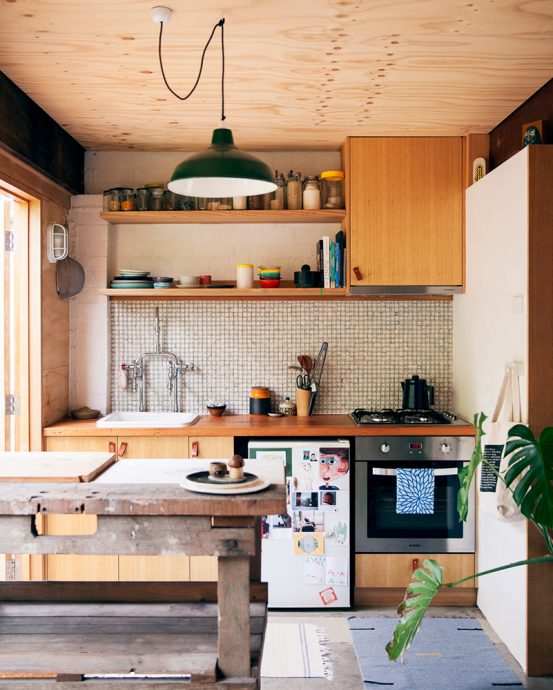 "Previously the space was a very dilapidated garage at the back of my mother's property. The idea to renovate it started through conversations with my family, particularly with my uncle who built a sauna and a spa when I was a kid. He's always been interested in handmade building and doing interesting things with small spaces.
I had spent some time in a commune in New Zealand, which inspired me to use mainly recycled products and to do some of the labour for the reno myself. Recycled timber and fittings are so much nicer; they have a story and a personality. I also travelled to Japan before the project started. I had always been interested in Japanese design and architecture but living with friends there gave me a whole new understanding of space.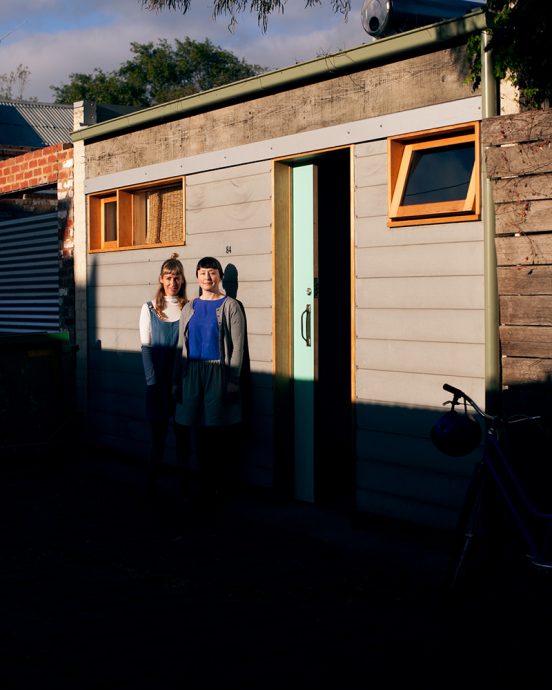 The space is roughly 35sqm and is set on a laneway back from the main street. Lanes have a whole other life! There is almost a whole new community I would never have known on the street. It's only down side is not having an exact address when ordering takeaway.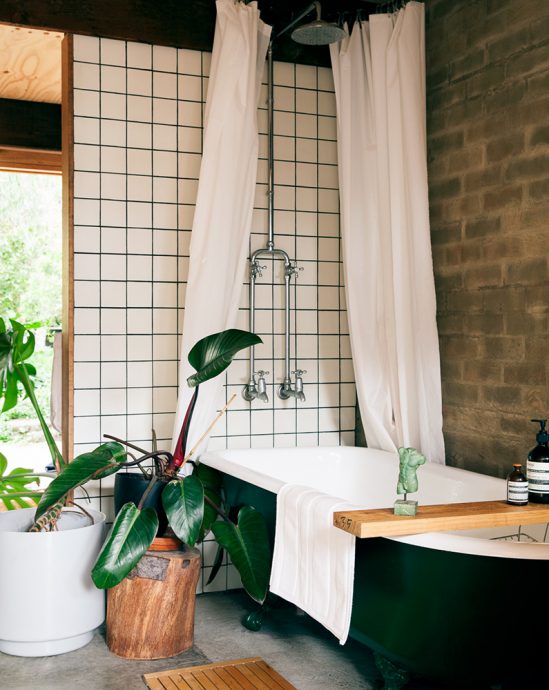 The size is great and functions well—I can have dinner parties and do all the things I like to do. It does mean I can't hoard though, so I am always getting rid of excess stuff, which I actually really enjoy. It feels like a cleansing ritual. Oh and you have to be OK to get nude with a bathroom that's open to the rest of the space! Ideally, at some stage, I'd like to build a bedroom on top. With two people it can be a bit hard if one person wants to sleep and the other needs to get up and do things.
My mother still lives in the front house. There is a large, lush garden that separates the two dwellings, so it feels very private. I usually see her about once a week, unless I feel like stealing a snack. It's good because I can help out with the garden and other chores she needs help with now and then.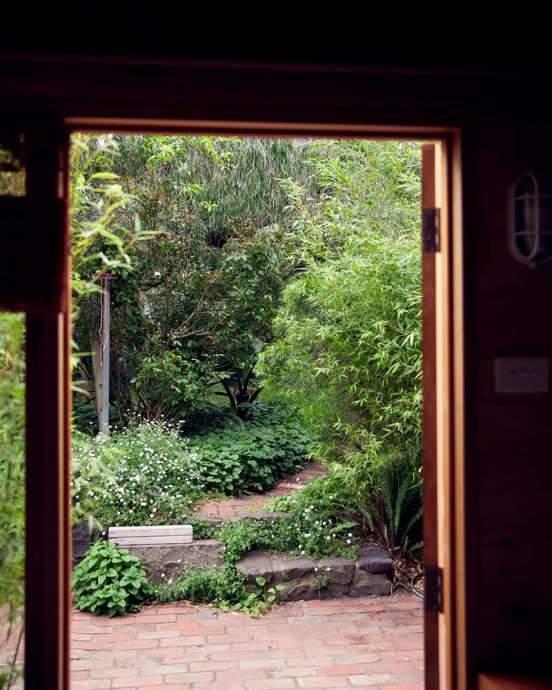 Sarah Trotter—what a dreamboat! She was the designer, and most of all she's my friend. I took some basic designs to her and she worked them up. Sarah had some fantastic thoughts on light, space and storage (thank you Sarah for the storage!); she also helped me source most of the hardware, making sure it was true to my aesthetic. Her ability to understand what I wanted to achieve and her attention to detail were so important to the way the renovation has turned out.
In planning the space, the most important design considerations for me was that the house took in the full aspect of the garden and that it felt open, yet private. The garden gets really beautiful light for most of the day—I can spend hours just looking at it and how the light moves through the trees.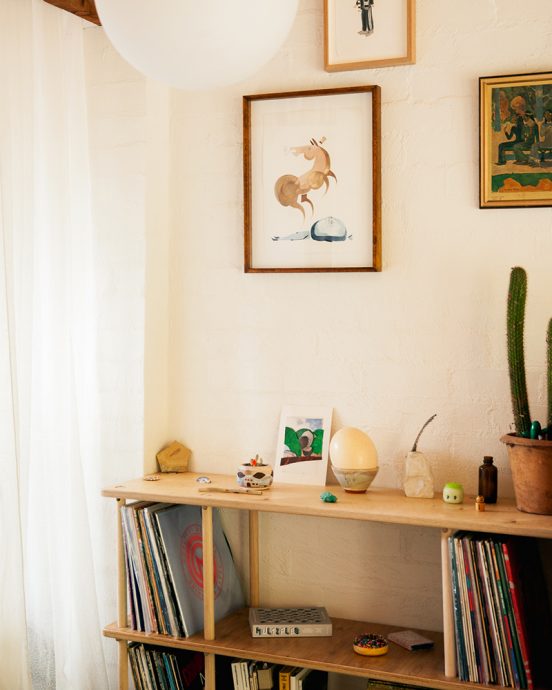 My friends and I did all of the demolition, I helped lay the hardwood floor and wall, and ceiling, and did all of the tiling and most of the finishing work, including sanding, staining, painting, paving and adding handles to cupboards. Oh and grinding down the plumber's bad concrete work (haha) and other stuff that is too boring to mention.
Moving in has definitely changed the way I think about space. It's crazy how much space and stuff people think they need, and how little of it they actually use. It is really important to connect small spaces with a feeling of openness and the outdoors, which is something many new apartment developments fail to do. I think its because Australians are obsessed with privacy and are actually quite conservative. European apartments are much better at considering external space that can be shared.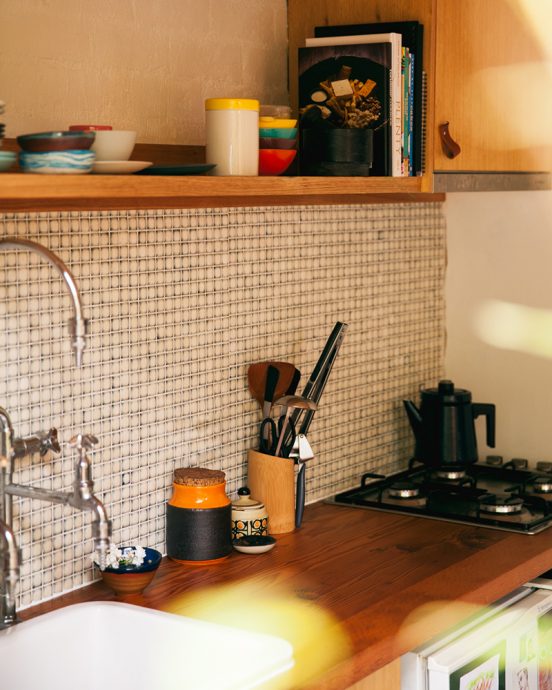 The overhaul cost a bit over $50,000 all up. I've never done the exact calculations (and don't want to!) but that doesn't include the cost of my labour—two weeks of demolition and every Friday, Saturday and Sunday throughout the build, which took about four months. I also managed the project and would get up before work and meet my builder (Scott McCormack, what a legend!) to talk things through and then come back after work most days and check in when there were issues. I'm very lucky to have mates like Sarah and Scott who totally undercharged me because they wanted to work on an interesting project.
I feel pretty lucky having a home so close to the city—something that's becoming less and less of a possibility for my generation, without the support of their parents. My advice if you ever want to do something like this is to work with people you like. I was lucky enough to have an incredible group of people that worked so hard and made it all so enjoyable. Oh and expect to add at least $10K to your original budget."
Huge thanks to Alex for welcoming us inside her home. Renovating designer, Sarah Trotter is the director of interior architecture practice, Hearth Studio which received a 'Highly Commended Cafe' mention for their fit-out of the Queen Victoria Markets Market Lane Cafe at the 2014 Eat, Drink, Design Awards. Sarah also directs design collective, GROUPWORK, is one of the founders of food blog Troski & Ash and co-writes and shoots a monthly food column for The Guardian.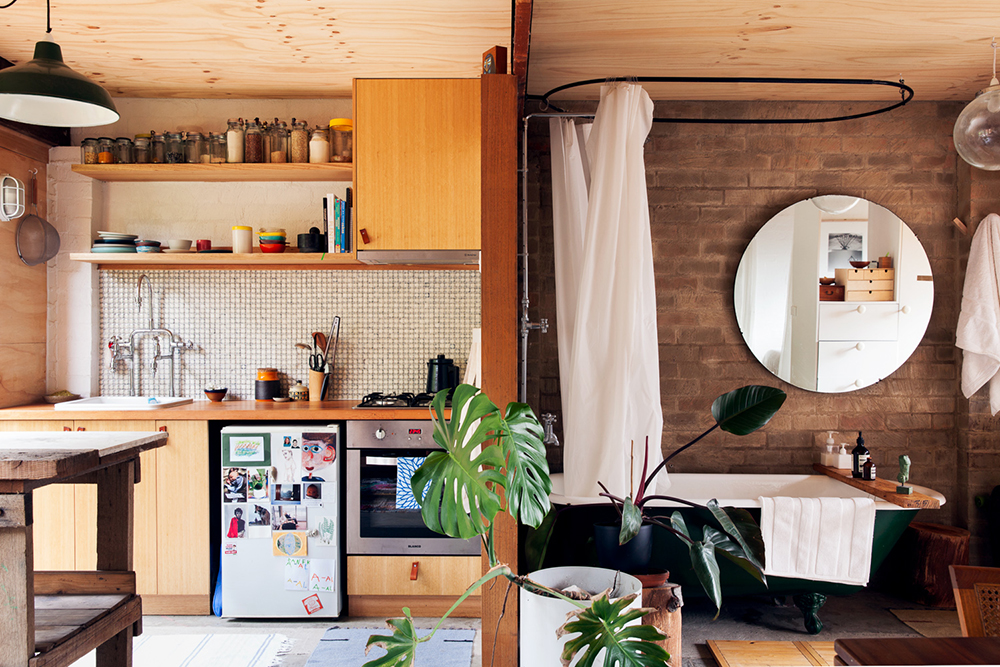 Open plan living – kitchen meets bathroom in this compact 35sqm space. Photo by Tom Ross.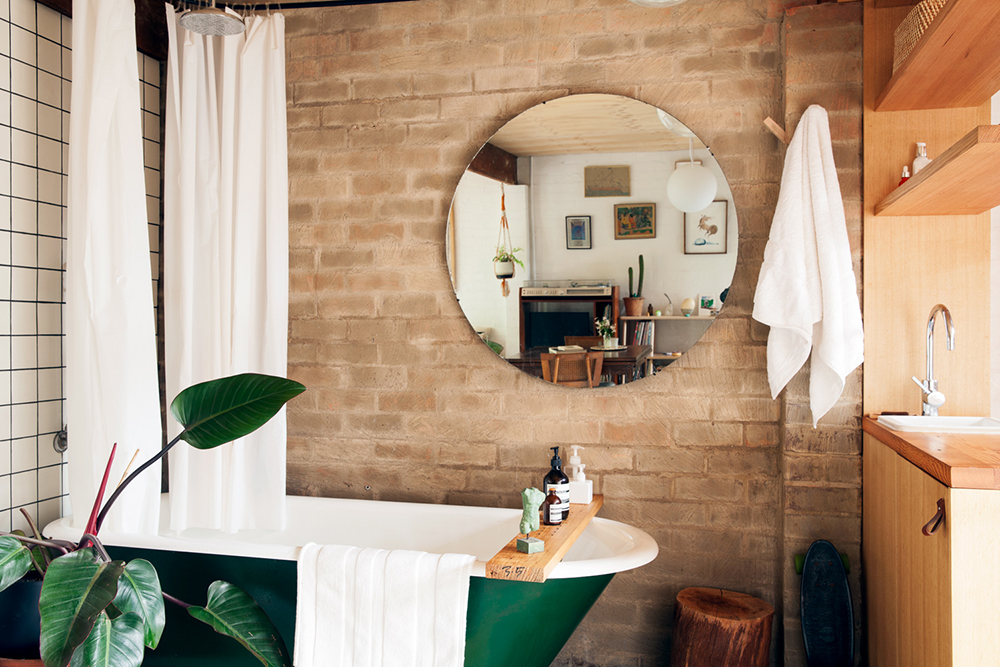 Recycled wood, white tiles and raw brick offer a contrasting play of textures. Photo by Tom Ross.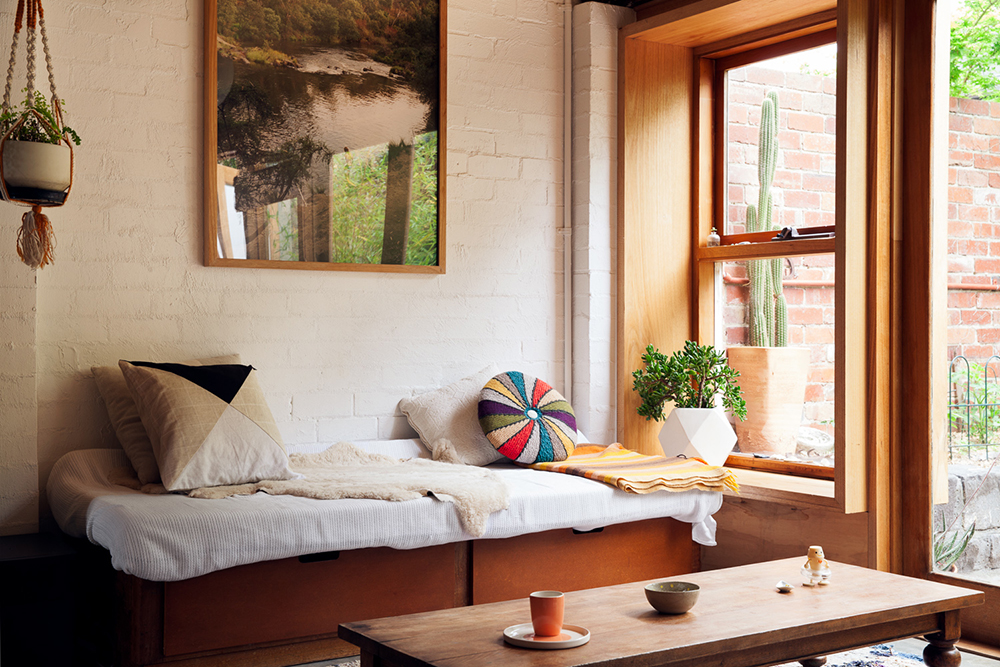 The cabin abounds with natural light – a reclining space with a view into the garden encourages hours of passive contemplation. Photo by Tom Ross.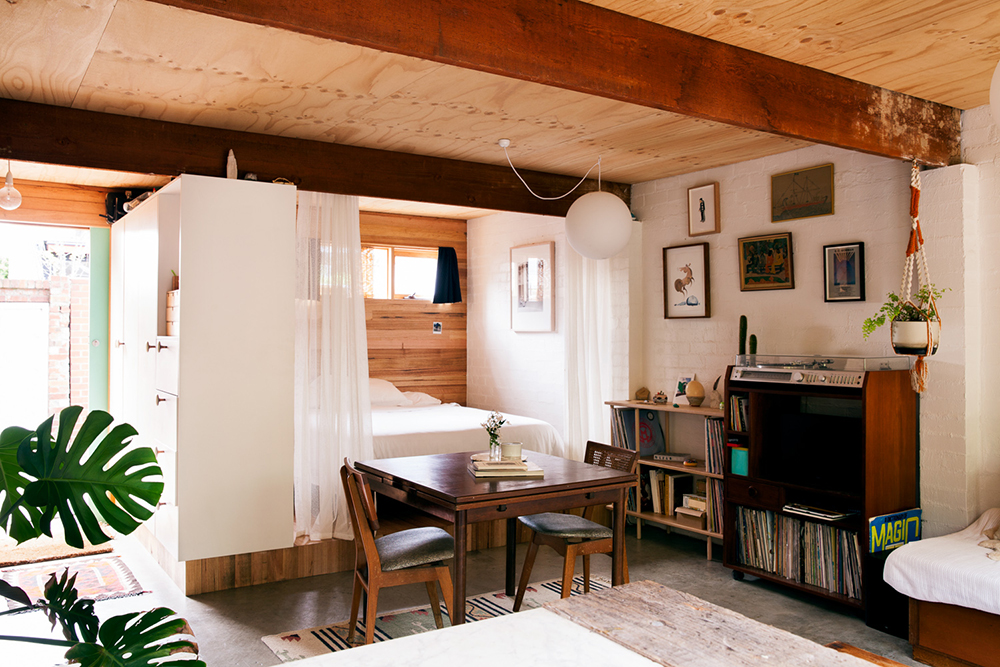 Smart storage solutions and a careful curation of objects means you can fit a surprising amount into 35 square metres. Photo by Tom Ross.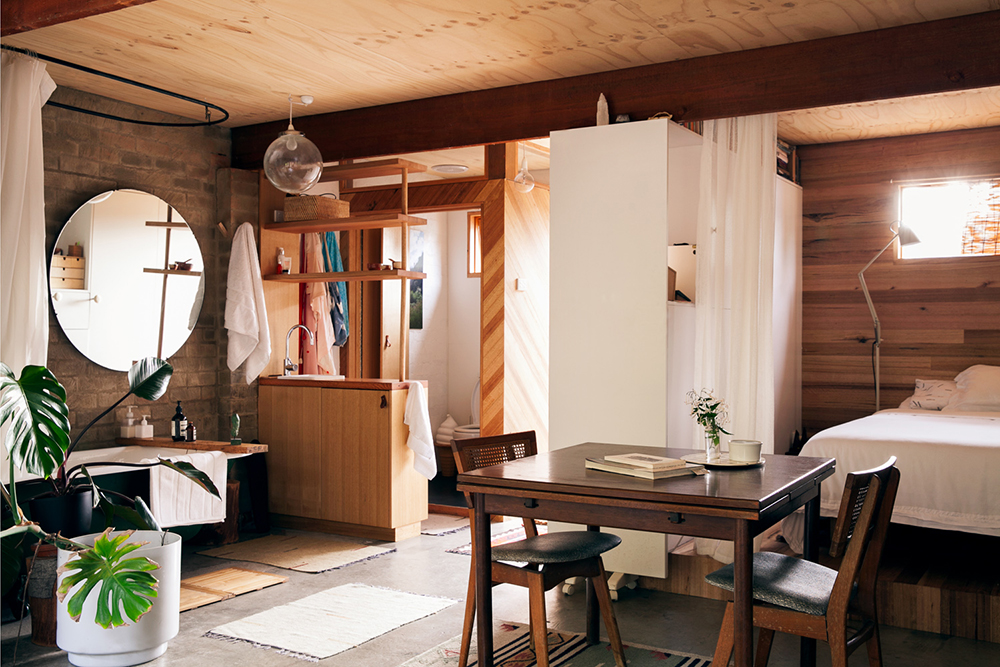 Bedroom, bathroom, living space – the cabin is an exercise in integrated and minimal living. Photo by Tom Ross.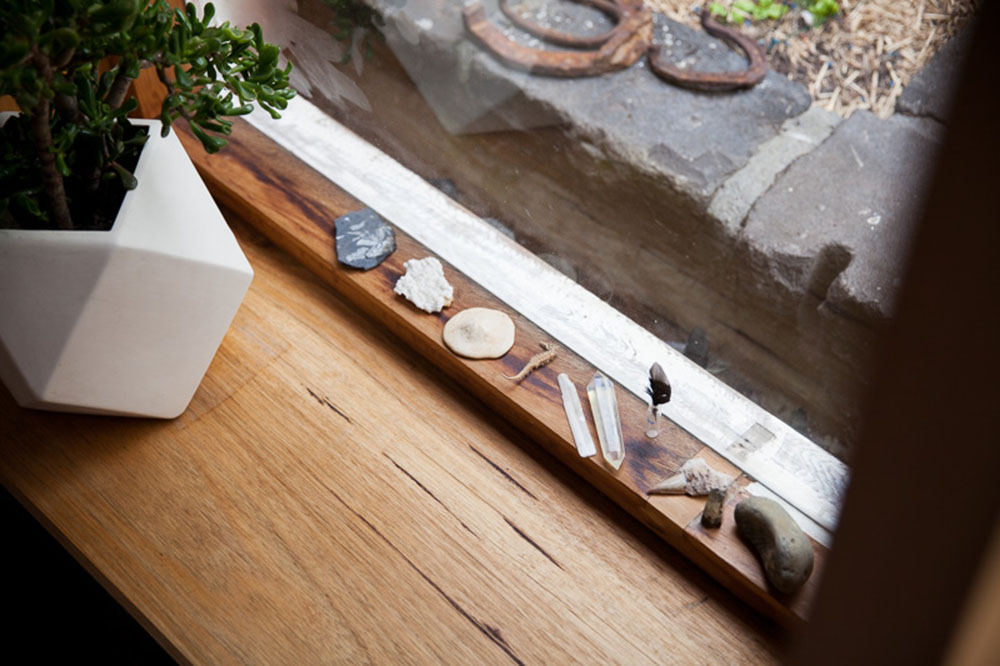 Collected treasures line the window sills. Photo by Tom Ross.