City Living
A Place to Break in the Movement of the Crowd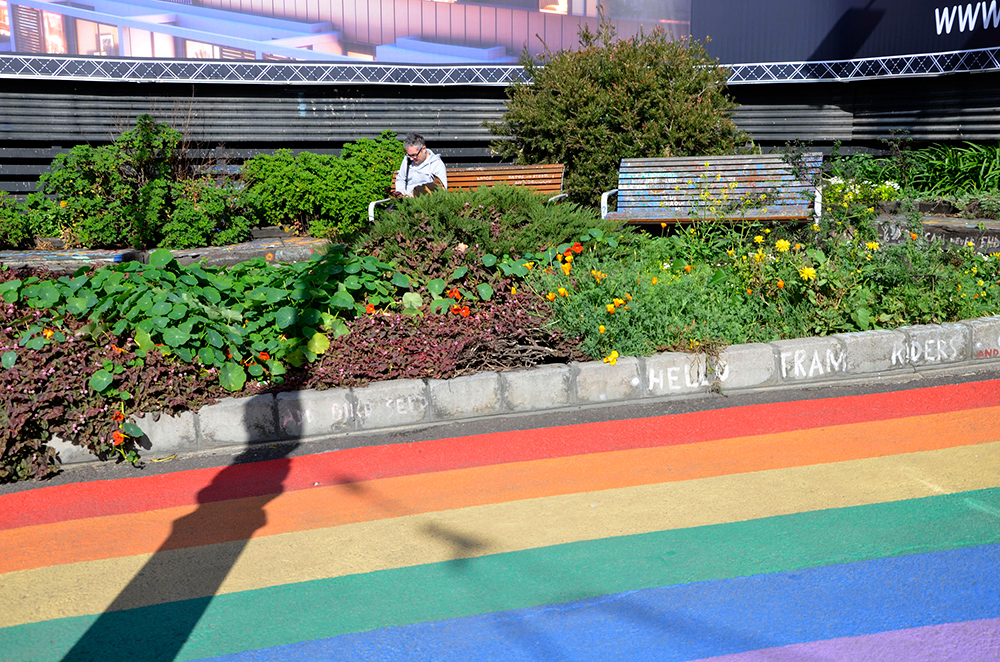 Oct 31, 2014
Talking civic spaces and 'the space between' we asked Rafaela Pandolfini to turn her lens to people using public areas. Leaning, lounging, perching, conversing – the moments captured are a tale of two cities and the collective personalities of their inhabitants. Where in the past Rafaela has observed the movement of the crowd, now she discovers where we find a place to break in it.
"The age-old tradition of comparing Australia's two largest cities is neverending – and always ultimately futile as they are such distinctly different places that there is no conclusion to ever be drawn. With a foot in both cities I am a culprit of this useless conversation and of course it played on my mind as I wandered through each city watching the break in the movement of the crowd where people found a spot to relax and take a break from the hustle and bustle.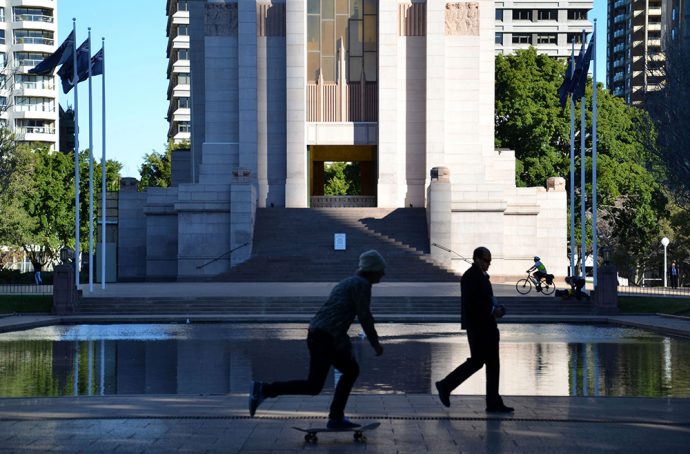 Dr. Astrid Lorange recently captured an essence of their differences that resonated with me on FBI Radio's program Out of the Box. Dr. Lorange describes Melbourne as a self-assured city; "Melbourne has a particular type of identity that seems to be effortlessly performed by the whole city all the time." On the other hand Lorange argues that Sydney is equally seductive but for the opposite reason; "Sydney seems to be a place of total amnesia, everything is disorganised with no clear lines of communication, the whole place is wet and sodden, but then you stumble upon a little pocket of rainforest or strange sandstone bedrock. Nothing can hang around long enough to be remembered but everything stays. Things seem hidden, so there is a lot to discover.
Self-assured Melbourne really is confident with its decisions and there is evidence of dedication to encouraging urban interaction; like the wavy steel chairs in the Bourke Street Mall, colour and space in Birrarung Marr, and simply the general abundance of public art that cuts through classic grey Melbourne weather, keeping the city connected, lively and encouraging people to linger. I watched people actively interact with the good and bad public art, which added to the energy and pace that the shops, cafes and bars respond to, in abundance.
On a beautiful and sunny day you can stop in Sydney's magnificent Hyde Park and have lunch or just lie in the sun amongst the well-manicured gardens. But within the city streets the number of urban spaces that encourage interaction and offer passersby a place to take a break seems all too limited. In Pitt Street Mall there are rows of tiny seats which were full each time I went past but they were individual seats rather than benches so everyone looked rather uncomfortable. There is also an obvious lack of public art to enliven or even just break up the paved streets. Award-winning Prince Alfred Park Pool, by architect Neeson Murcutt, is an extremely positive step towards meeting Sydney's need for more design communication with commuters, with its colour and the way it flows it's engaging and interesting to spend time in even simply as you walk through. Similarly the recently announced City of Sydney public art commission series is very exciting for the city. I can already envisage how Hany Armanious's Pavilion would shift Belmore Park's vibe dramatically. Though I was restricting myself to daytime, I couldn't help feel that Sydney's new 'lock out' sentiment had perhaps crept into the daylight hours. With the desired effort of the lockout being to curb violence it seems to be most effective in dampening the spirits of a city so keen to continue expanding culturally."