The Great Apartment Design Debate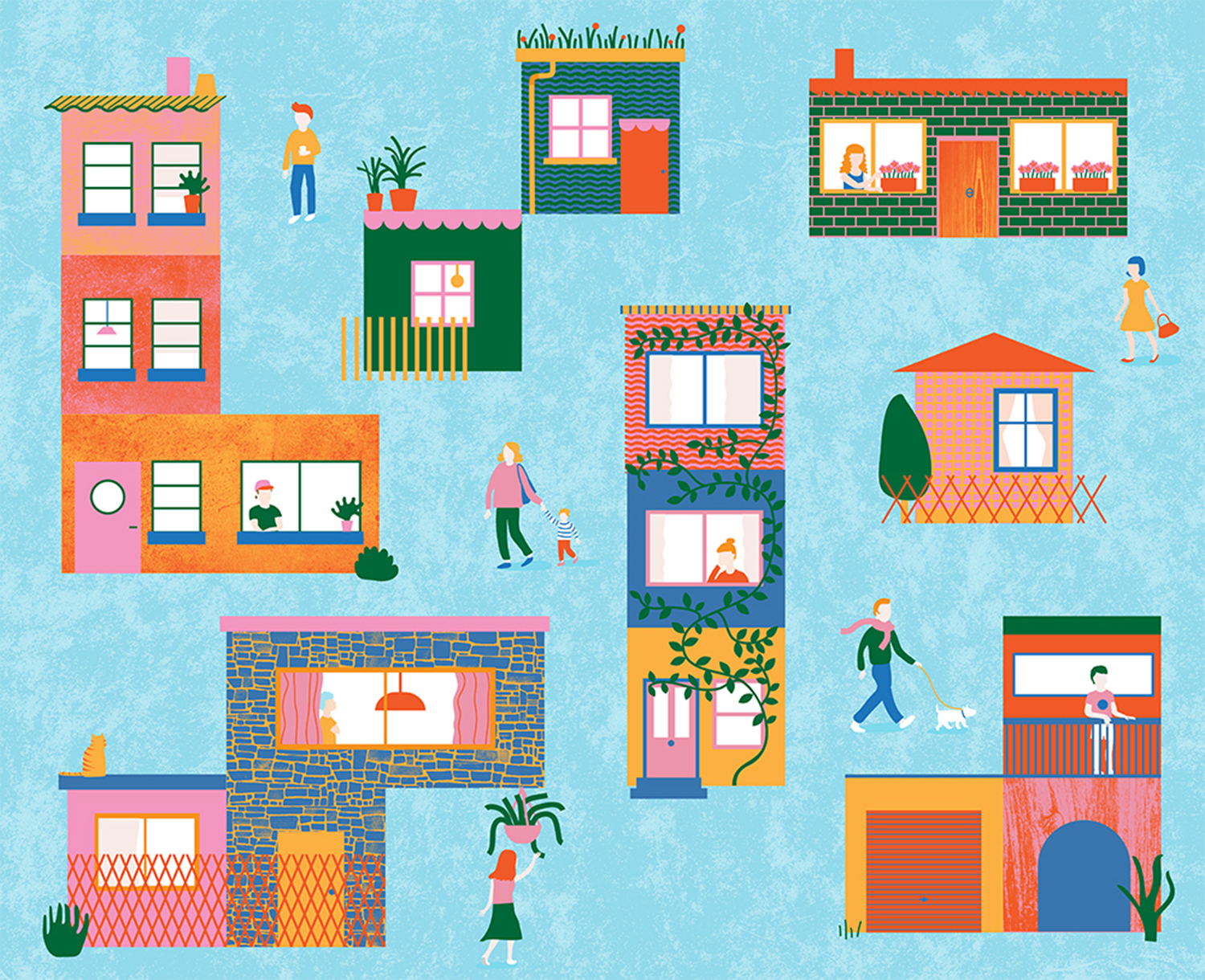 Sep 19, 2014
In July 2014, a draft of the proposed Victoria Apartment Design Standards (VADS) prepared by the Office of the Victorian Government Architect was leaked and reported in the Financial Review and The Age, prompting heated debate amongst the planning, architecture and property development communities. The call for these standards was made in Plan Melbourne, the State Government's strategy document to guide the city's growth to 2050, one of the key initiatives of which is to improve the quality and amenity of residential apartments.
Plan Melbourne states that "there is currently no regulation in Victoria to stipulate how apartments must be designed, beyond what is required under the National Construction Code" and there are "concerns about the design quality of apartments" including those relating to size, access to daylight and ventilation, setbacks and apartment choice.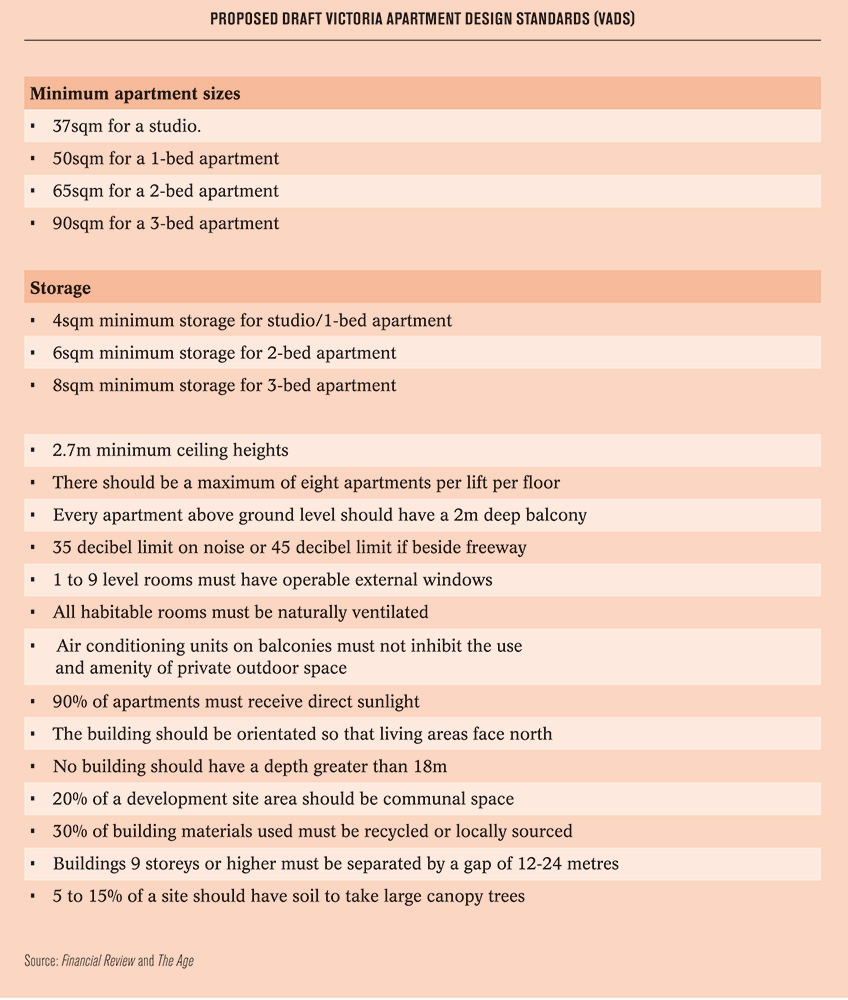 Looking back: A view of Melbourne's apartment history
Before analysing the merits of these proposed standards, and to provide context to the debate, it's worth summarising the history of multi-residential architecture in Melbourne. As Robert Stent, Director of Hayball, explained in an article for the 2014 'Urban Housing' issue of Architecture Australia, the sector has been "full of turn-offs, short sprints and long runs of both type and frequency." He identifies four distinct periods that have been most influential:
1930s–1940s: The modernist movement of the '30s and '40s, led by architects Roy Grounds, Frederick Romberg and Best Overend, who embraced the need for compact living by designing studios and one-bed apartments. Overend's Cairo Apartments in Fitzroy (1936) and Grounds' Moonbria in Toorak (1940–41) are two excellent examples of apartment buildings from this era.
1950s–1960s: Planning controls were relaxed to allow three- and four-storey apartment buildings to be constructed throughout the suburbs with little or no participation from architects. This coincided with the construction of commission flats during the '60s as part of the Housing Commission of Victoria's Slum Reclamation Program (HCVSR)
1970s–1980s: The government responded to community concern about the HCVSR in 1971 with an amendment to the planning scheme that effectively eliminated the delivery of apartments for the following twenty years. During these years, the primary growth in Melbourne's housing supply was detached dwellings in the fringe of the city.
1990s–2000s: In the early '90s, housing developments in inner-city Melbourne began to grow in number, particularly in former industrial areas such as Southbank. Part of this growth is attributed to the City of Melbourne's Postcode 3000 policy initiated in 1992 that actively encouraged residential development within the boundaries of City of Melbourne. The scheme rapidly added to the supply of apartments in the city.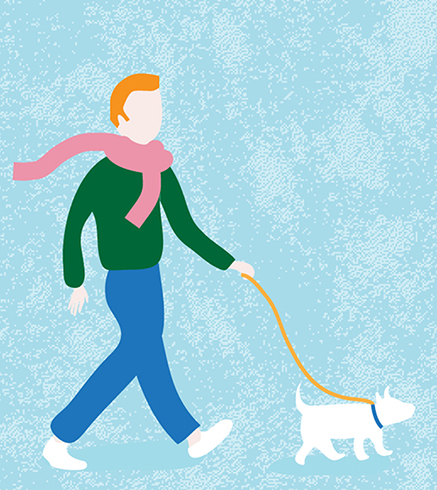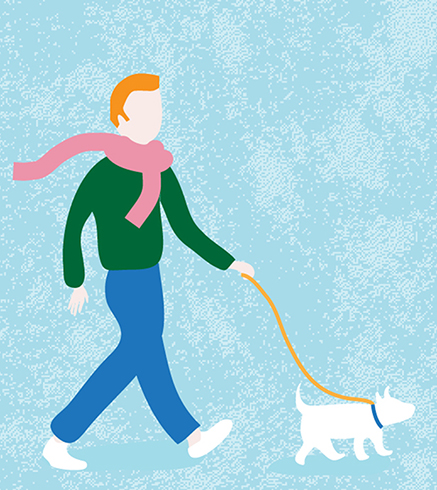 Current dynamics of the Melbourne apartment market
Post the global financial crisis, the apartment market in Melbourne has entered a new stage of growth with fundamentally different drivers to what it has experienced previously. Sam Nathan, Director of Projects from Charter Keck Cramer, observes in a recent article on the topic, "the Melbourne apartment market is trading in two distinct contexts: a Global Melbourne (across the central city region) and a Local Melbourne (across the city fringe and suburban regions)".
In relation to the central city region, Sam explains that "the apartment market is increasingly driven by the greater participation of offshore developers, offshore capital and offshore apartment purchasers. Globally, apartments are emerging as a conduit for capital transfer and asset diversification traded more as financial commodities and 'safe haven' instruments rather than for their fundamental real estate attributes. Melbourne (together with Sydney and Brisbane) is now competing with global cities (e.g. London, New York, Singapore) and other emerging global cities (e.g. Vancouver and Toronto) for a slice of global residential capital."
In relation to the city fringe and suburban regions, apartment development is still largely the domain of local developers selling to owner occupiers and local and offshore investors, however the participation of offshore developers is likely to expand into these areas as their knowledge of the city evolves.
With all the cranes in the sky and talk of "over-supply" in certain areas, it's easy to overlook the fact that Melbourne's apartment market is very immature. According to Charter Keck Cramer, apartments in buildings of four or more levels as a percentage of total housing stock in Melbourne is only 3.3%. Sydney (10%); Chicago (30%); Greater London (35%); Toronto and Vancouver (40%) and even Los Angeles (35%) are significantly more mature apartment cities. A shift to a much more diverse and affordable housing supply, which includes apartments and townhouses, will be critical to the long term economic viability and liveability of Melbourne. Further, apartment development is an increasingly important driver of economic and investment activity for Victoria. It is therefore crucial for policy, such as the proposed VADS, to balance the need to encourage the delivery of new and affordable housing supply (both from local and offshore developers) and ensure that that the type and quality of this new supply will serve our current and future residents to a high standard. And, therein lies the challenge!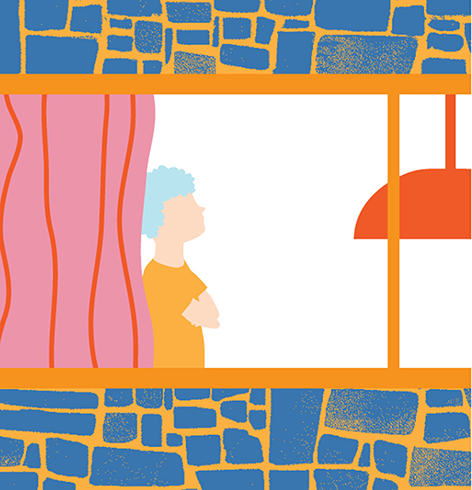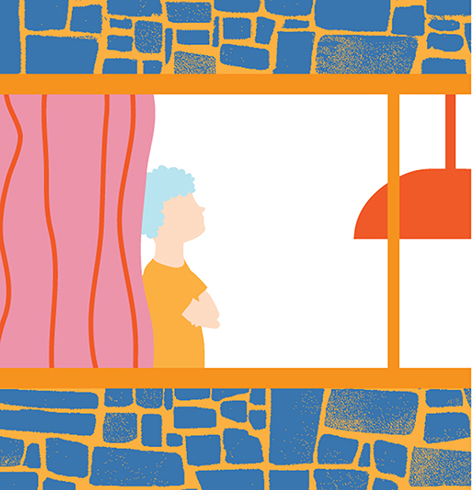 Regulation of apartment design in NSW
The proposed VADS are based on the "rules of thumb" contained in NSW's Residential Flat Design Code (RFDC). Introduced in 2002, the RFDC is a 'how to' guide to achieve the 10 principles outlined in the State Environmental Planning Policy No 65 (SEPP 65), the overarching policy designed to improve the design quality of apartments in NSW. These principles include: (1) Context, (2) Scale, (3) Built form, (4) Density, (5) Resource, energy and water efficiency, (6) Landscape, (7) Amenity, (8) Safety and security (9) Social dimensions and housing affordability, and (10) Aesthetics.
In addition to these principles, SEPP 65 requires apartment buildings to be designed by registered architects and requires 'sign-off' from a registered architect prior to and at the completion of construction to confirm that the design quality approved at town planning has been achieved or improved upon. SEPP 65 also provides for the establishment of design review panels, comprising up to five experts from the fields of architecture, urban design, environmental planning or landscape architecture, to provide independent advice to councils on the design quality of apartment development applications.
In a recent essay for Architecture Australia exploring the impact of SEPP 65 on the quality of multi-residential design in NSW, Lindsay and Kerry Clare state that "research, feedback and anecdotal evidence all point to the policy's success." They refer to a survey conducted by the Property Council of Australia seven years after the introduction of SEPP 65 showing that 82 percent of the 17 respondents agreed that it had led to improved apartment design.
SEPP 65 and RFDC are currently under review by the NSW Department of Planning and Infrastructure and a discussion paper has been released summarising some of the concerns and areas for improvement. One of the main concerns cited is that some councils are applying the "rules of thumb" as rigid rules, even though the policy recognises that they can't all be satisfied and should be applied with discretion.
The impact of the regulation on apartment supply and affordability is not mentioned in much detail in the discussion paper, despite the undeniable problem Sydney is facing with respect to both. According to Charter Keck Cramer, from 2009 to 2014 (year to date), the number of off the plan (OTP) apartments releases in the Central City, City Fringe and Inner regions of Sydney amounted to approximately 40,000. This compares to around 60,000 in the comparable regions of Melbourne. With regards to affordability, our recent enquires of agents and analysts in each city indicate that your typical one-bed apartment in a 5–10 km radius of the CBD is about $100,000 to $150,000 more expensive in Sydney than in Melbourne.
The lack of supply and relative unaffordability of apartments in Sydney compared to Melbourne can't be attributed to SEPP 65 and RFDC exclusively, however the regulation is a contributing factor according to Urban Taskforce Australia (UTA), a non-profit organisation representing some of Australia's most prominent property developers. In a 2013 submission to the NSW Department of Planning and Infrastructure, Chris Johnson AM, CEO of the UTA, states, "planning controls that restrict the development industry from delivering a product that is acceptable to the market simply means that development does not occur. Lacklustre development performance has been the result of inflexible and/or inappropriate planning controls in… the Sydney metropolitan region."
On balance, it appears that while SEPP 65 and RFDC have improved the standard of apartment design in Sydney, it has contributed towards a reduction in the supply of new apartments and, consequently, a decrease in affordability relative to Melbourne.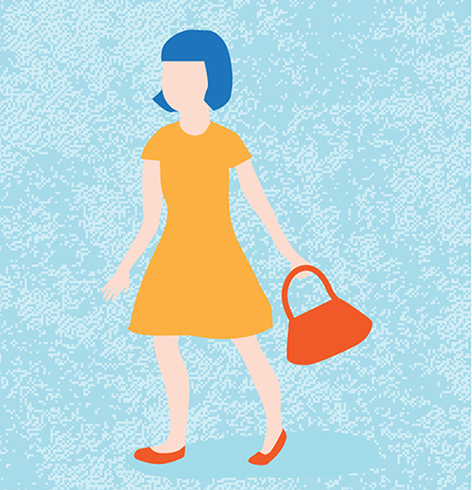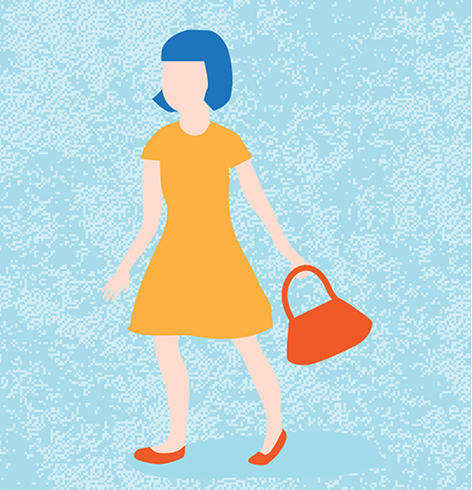 Proposed regulation of apartment design in VIC
Given the inevitable growth in apartment living in Melbourne, it's crucial that the level of understanding about good apartment design improves amongst the community and the standard of completed apartment design is raised.
To this end, initiatives such as City of Melbourne's research on Understanding the Quality of Housing Design, Future Living and Draft Housing Strategy as well as City of Moreland's Higher Density Design Code are important initiatives. Like SEPP 65 and RFDC, these documents are thoroughly researched and put forward worthwhile ideas to guide the community and practitioners on how apartment design can be improved.
If these ideas and the proposed VADS are translated into policy, it is vital that they are used as guidelines and applied with discretion, rather than applied rigidly, as some councils in NSW have done. To understand why the rigid application of these rules could have adverse consequences, let's take a look at some of the proposed standards in more detail.
Minimum apartment sizes
As long as light and air amenity to an apartment is of high quality, then a studio that is smaller than 37sqm or a one-bed that is smaller than 50sqm can be a great place to live. There are many examples of very small apartment types from around the world, including several notable local examples featured here and here. Mandating minimum apartment sizes is a 'one size fits all' approach. It assumes a conventional apartment layout with conventional 3m x 3m bedrooms. It doesn't allow for innovative layouts such as micro bedrooms, mezzanines and fold out beds which can result in more efficient use of a smaller space, providing affordability without compromising amenity.
By way of example, our colleague Quino and his then girlfriend bought a 34sqm one-bed apartment in Copenhagen and lived there happily for three years. It had a micro kitchen, a tiny bathroom and a glass shower cubicle in the bedroom, yet good natural light and air amenity, high ceilings and a clever layout made it a wonderful space to live in, and given the small footprint, very affordable for the location.
The building should be orientated so that living areas face north
Orientating living areas to the north might mean turning one's back to a great view of the city, a park or the ocean. There might be a situation where the northern orientation of a site looks out over a view which could detract from amenity, such as a petrol station. In Melbourne, for eight months of the year, a western orientation for living spaces is really pleasant, because it means capturing the afternoon sun in spring, winter and autumn. As long as shading is provided to block the strong afternoon sun in summer, a western orientation can be fantastic. Further, if a well-designed common space with solar access is provided in a building, then residents with living spaces facing in a direction other than north can to still access as much sun as they need.
Maximum of eight apartments per lift per floor
If stairs are user-friendly then they can be used as the principle access to levels 1, 2, 3 and even up to 4,thereby reducing reliance on a lift. In theory, you could have a four-level apartment building, with say 20 apartments per floor, all well-serviced by stairs as the principle form of access and sharing a single lift for disabled access and moving furniture, etc. By way of example, the classic Barcelona walk-up apartments are up to six levels in height and have been a successful long-term housing model.
5 to 15% of a site should have soil to take large canopy trees
While we endorse the idea that vegetation in private and public space is really important to amenity, requiring in-soil planting to this extent for all developments is over-simplistic. Some of the great urban spaces in the world are those that have buildings built boundary to boundary (e.g. the laneways of Melbourne). In certain contexts, this rule could be entirely appropriate (e.g. where there are already established setbacks and planting can be provided without compromising the urban character of the area). New buildings should contribute as much as possible to the greening of the city and the provision of ground level trees is not the only way this can be done successfully. Significant planting can be done in planter boxes, rooftop gardens and green facades. An excellent recent example of the latter is Central Park Sydney by Jean Nouvel in Sydney, which has lush vegetation covering the entire facade of the building.
From these examples, you can see why the mandatory application of the proposed VADS would be problematic. More broadly, it's important for policy which seeks to implement such standards to recognise that apartment residents make trade-offs when selecting where and what to buy or rent and that they value apartment attributes differently. As Alan Davies, explains in a recent article on the topic, "if I can't afford to have everything, I'll make trade-offs. For the young singles and couples moving to city centre and inner city apartments, the location is the key attraction, not the dwelling." By way of example, Davies says, "I might be prepared to save money by foregoing a 2m deep balcony, calculating that above nine storeys it would be too windy to be useful; I might see the vibrant streets and squares that attracted me to apartment living in the first place as providing all the outdoor space I want." Similarly, developers and architects face trade-offs in designing apartment projects. It would be very challenging for developers to achieve all of the proposed VADS and still have a project that is marketable and financially viable.
If the rules are applied inflexibly, and the height, setbacks, site coverage ratios, minimum internal areas, etc. are prescribed, the number and type of apartments that a prospective development site is likely to yield will be more or less a given, meaning that the site will be sold to the developer who thinks they can build the project for the cheapest and sell for the most, all else being equal, rather than to the developer who uses their skill and market knowledge, combined with the expertise of their consultants, to come up with creative solutions. This would be a bad outcome for apartment design quality and affordability. It's the innovative developers that provide new and well-designed product to the market and these are the type of developers that regulation should be encouraging to participate.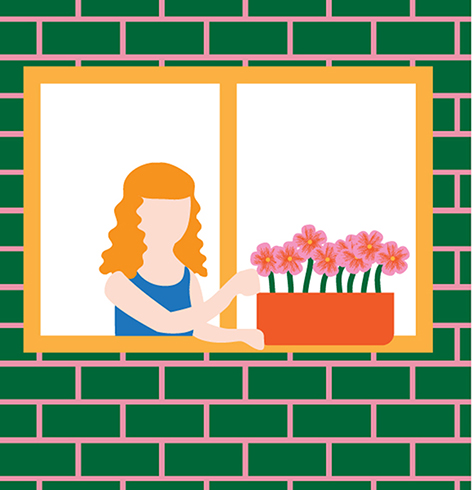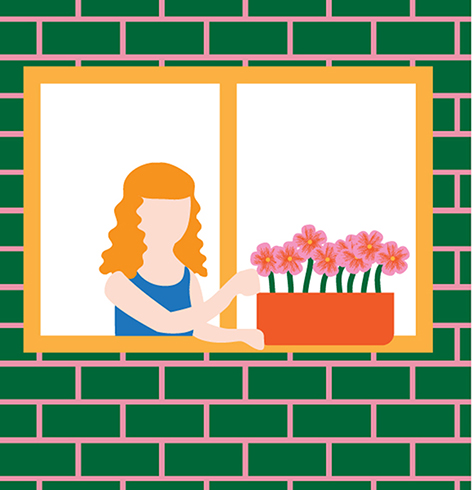 Some thoughts on an alternative approach
In our view, the core issue of this debate is one of design rather than density. The community at large has accepted the reality that Melbourne needs to become a denser city in order to maintain its high standard of liveability. The alternative of urban sprawl, and its associated inequality, is not a sustainable option. Most people are comfortable with the idea of a denser Melbourne, but they are fearful of an ugly Melbourne full of poorly designed apartment buildings. We firmly believe that the standard of apartments in Melbourne can and should be improved. A significant step in this direction would be introducing legislation, like in NSW, which requires apartment buildings to be designed by registered architects and enforces their continued involvement to ensure the design quality approved at town planning is achieved. As for the proposed VADS, we believe policy that incentivises good design could potentially be more effective than policy which tries to enforce it.
Such policy, albeit relatively unofficial, is already in effect in the more progressive councils of Melbourne. In these councils, if a development proposal strives for design excellence and a high level of environmental sustainability then it is often rewarded through additional height, reduced setbacks and/or other relaxed guidelines to increase the net sellable area of the proposal. These councils understand that many of the features of good apartment design come at a price by either increasing construction cost (e.g. high quality facade materials, operable shutters, higher ceilings, large landscaping areas and sustainability features), forgoing net sellable area (e.g. providing cross flow ventilation to a high proportion of apartments and larger communal spaces) or forgoing revenue (e.g. offering apartment choice with larger apartments which tend to sell at a lower price per sqm than smaller apartments). Recognising there's a price that needs to be paid for these features, these councils incentivise developers to incorporate them with better (and more valuable) planning outcomes. It's a simple financial equation which makes sense to developers and a compromise which these councils are prepared to make because they would prefer to have denser, well-designed and high quality buildings over relatively less dense, poorly designed lower quality buildings.
The challenge is how such measures could be introduced in a formal sense and applied in a fair and consistent manner, particularly given the subjective nature of assessing design. NSW's idea of design review panels could be a solution to this, so long as they don't hold up the already lengthy planning process.
Looking ahead, with an optimistic lens, as our apartment market becomes more mature, there will be more examples of well-designed apartment building to point to. Hopefully, with the benefit of these examples, increased understanding and effective regulation, the quality of apartment supply will continue to improve and the demand side of the market will continue to respond by paying a premium to buy and rent apartments in these buildings, such that standards are maintained and continue to improve more through market forces than regulation.
This is a vital, complicated and passionate debate for our city. There don't appear to be any silver bullet solutions and more research and thinking is required. Close consultation between the property, planning and architecture communities will be necessary to strike the delicate balance of encouraging new and affordable apartment supply and a high standard of living for current and future generations.
The beautiful graphic for this article was commissioned from Melbourne illustrator Alice Oehr.  If you would like to get in touch regarding anything you've read in the above article please don't hesitate to drop us a line at hello@assembleprojects.com.au.