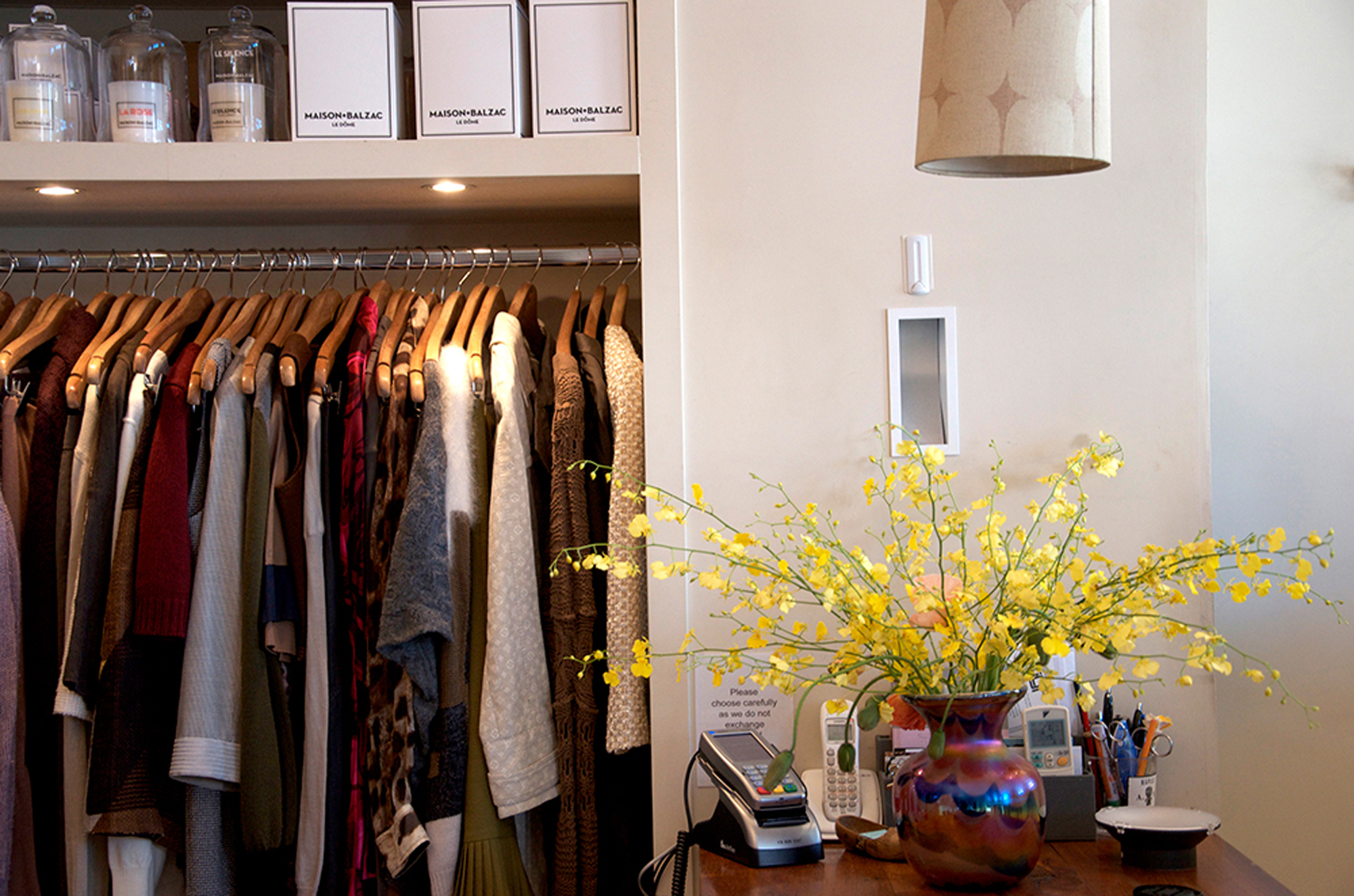 Aug 28, 2014
Apart from our sanity, the casualties of our fast-paced lives often end up being the things that used to be bestowed with intention – the way a journey was taken, the preparation of food. So it's here that the old adage 'a stitch in time saves nine' takes relevance as Rafaela Pandolfini explores sustainability in fashion and how designer recycled boutiques such as Melbourne's Archive and Sydney's The Frock Exchange offer more affordable access to clothes so special you'll want to keep them for a lifetime.
The Frock Exchange in Sydney and Archive in Melbourne are in the business of extending mindfulness from our lives to our wardrobes – in a fabulous way! By slowing down the fast-paced, high-turnover fashion retail experience they encourage us to think independently, and with consideration, when it comes to the clothes we buy and the way in which we treat them.
The Frock Exchange and Archive operate by offering a retail environment where beautifully maintained, timeless designer pieces are sold on consignment, regardless of season or trend. I have a real soft spot for these stores, for keeping so many amazing garments in circulation and for making them available to buyers who generally wouldn't have access to them. Further, by making pieces accessible price-wise, the buyer can appreciate the longevity of things that are made well.
While both are very different stores, each business represents the antithesis of disposable fashion and advocate for a sense of community in retail. Archive Melbourne opened in 2013 and is run by Lauren Urquhart and Maya Webb, who agree with my reasons for loving the concept, "These elements are at the very heart of why Archive exists." Archive focuses on stocking mostly high-end, well-made garments that clients have shown enduring respect for while in their possession. "People are very connected to their clothes, certainly our clients are, so when they entrust us with their things there's a process of letting go – they need to know the garments will be treated respectfully. It's also that thing of the clients knowing they can always acquire a great, unique piece for less than they would spend if they were to buy something new."
Archive came about "quite simply – two friends with similar dreams coming together and deciding to take the plunge." Their philosophies, centred in garment sustainability, connect them with other like-minded people, both through the consignment process and various collaborations, as well as the relationships they form with clients. "It's about people and creativity, not just selling fashion."
Bee Gilbert of The Frock Exchange describes her business as "economically sustainable and environmentally friendly", a fine balance achieved here to success. The idea that you can wear a designer piece and then on-sell when you feel you've had enough wear out of it is enormously appealing to a broad audience. The trick is in selecting the right product and then presenting it in a clean and appealing manner, while maintaining strong and genuine relationships with clients and customers alike. It's a second-hand clothing business, but executed in a way that allows pieces to pass quietly from one home to the next…."
Upon opening, the premise of The Frock Exchange was to provide a retail environment for the 'exchange' of pre-loved designer clothing, using the cheeky idea of 'love is sweeter the second time around.' It has also allowed women to purchase fashion of excellent quality at a price that isn't as prohibitive as on the original tag. Designer clothing has an in-built longevity that fast fashion doesn't possess. Often purchased as an investment piece, the original owners often tire of them, or somehow they just never worked out as imagined. Everyone has pieces they wish they've never bought, and places such as these suggest there's a market for that.
Originally established by Belinda Seper of the iconic Belinda group, Bee Gilbert bought into the Frock Exchange in 2012, and now manages the store day to day while Seper still remains a silent partner. Having previously worked as a photographic stylist, Gilbert's passion for pre-loved designer fashion was an opportunity to turn this personal interest into a business venture: "When you do something you love, the results are always so much more rewarding."
Neither Archive nor The Frock Exchange stores are located among traditional shopping strip environments or arcades, but this seems to align with the way these businesses operate.
The Frock Exchange is tucked away in the affluent eastern suburbs of Sydney in the quiet beachside suburb of Clovelly, and is therefore a destination boutique. The thinking behind setting up here was to be close to their core client area, but far enough away so as not to compete with the full price stores Seper was operating in Paddington and Double Bay. The store is cosy and welcoming and always full of incredible clothes and accessories. The relaxed nature of the store allows you to take your time in looking through clothes that you would only see in international Vogue or Harpers, and that's half the joy of skimming the racks.
Archive is located in Melbourne CBD five levels up in the beautiful, artdeco Mitchell House, with a fit-out designed by Melbourne architecture collective Sibling. Owners Urquhart and Webb explain, "We really love this building and the space we created with Sibling. It works for us – we are fairly niche so the destination fits. The response we get is always positive, however [fifth floor retail] has posed a challenge as it's not the way people traditionally shop in Melbourne, and in that way, it is a little hard to find. Initially people were a bit shy about coming up but I think that's changing slowly as more retail spaces open up in similar locations".
Everything about the Archive space is interchangeable and was specifically designed and built by Sibling. "Our brief to them was to create a modern space that could be easily modified. This was very important to us so that we could merchandise effectively based on the stock we had – due to the nature of our business we can't be certain what we might have at any given time. It also allows us to dismantle the shop for the various events we hold periodically."
Gilbert believes her business model doesn't suit traditional advertising, and even maintaining a website beyond having a presence for contact details and opening hours doesn't quite capture the essence of what the store is about. The Frock Exchange has recently become more active on Instagram, and posting a different garment or outfit daily has made Gilbert feel more connected with her broad clientele, making it easier for clients to purchase over the phone.
Archive describes their web presence as "absolutely vital". "We somewhat underestimated this need in the beginning as we really wanted to focus on the potential of having a physical space. We still do, but we have learnt that an online presence is both complementary to the space and a necessity in this day and age."
The consignor clientele at Archive are diverse but share a common desire to recycle their designer clothing. On a by-appointment basis, people bring in their garments and Archive select what they'll take on consignment. "We have quite a few online customers from interstate and even some from overseas. This is most likely because what we offer is not readily available and certain items can be quite rare and sought after."
Customers are cut from the same cloth, and often shoppers and consignors are one and the same. "Quite a lot of our customers are young, 20–28, but age ranges all the way up to the 70s. The common features are that they are all fairly individual folk, often in creative fields of some sort and obviously have a penchant for beautiful, well-made clothes."
Like any successful niche business, The Frock Exchange relies heavily on the close relationships they have with clientele, and having been in the business for years, it has become a staple destination for affordable designer fashion. Customers and clients include everyone from high finance, judges, lawyers, celebrities, and TV personalities to new mums and students. A lot of stylists for TV shows use The Frock Exchange as a resource too. "It's a community-focused business, and there's a very local flavour to it. Approachable and unpretentious, it makes the whole idea of wearing designer clothes more accessible and affordable. You never know what you'll find either…. We get some amazing pieces through the business."
From the city to the sea, head to the heart of the CBD to find Melbourne's Archive store, and to the beachside suburb of Clovelly for Sydney's The Frock Exchange. A big thank you goes out to Bee Gilbert from Frock and to Laura Urquhart and Maya Webb from Archive for showing us through their collections and modelling the best of them. For more consignment stores try Sydney's Blue Spinach and Revivre, and in Melbourne Bruce or South Yarra's Secondo.  All images by Rafaela Pandolfini.