Jenny Kee is a fashion pioneer. Never one to follow, Jenny spent the heady, flower-power era pursuing life, love and art in London in the 60s. Since returning home to Australia in the 1970s, Jenny has cemented her name as a cultural icon through her vibrant fashion, scarves and art that celebrates Australian landscape and culture. An avid recycler since before scavenging was 'chic', Jenny's eclectic residence was hand-built by herself and her late partner, Danton Hughes, from recycled materials. Balancing out her larger-than-life designs, hers is a truly less-is-more lifestyle in which spirituality, environment and creativity are key. Says Jenny: "I'd go from fashion shows to dumpsters… recycled and vintage… the whole lot was and is my principle for being alive". Surrounded by waratah and wattle, Rafaela Pandolfini visits Jenny Kee at her Blackheath home.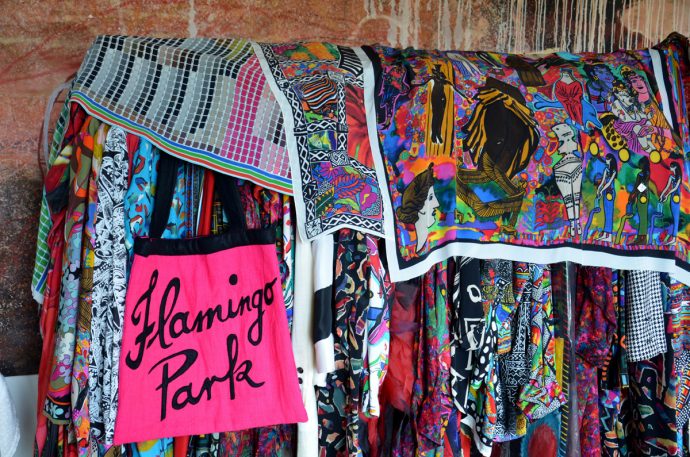 In the final weekend of winter 2013, I drove up to visit Jenny Kee in Blackheath at her unique home, which extends beyond her studio and residence, deep down into a gully of tree ferns and gums. I had met Jenny previously at fashion shows and seen her tearing up the dance floor with a glamour and style I hope to possess in my 60s. Visiting the Australian fashion icon in her natural habitat tears through the glitz and glamour. On arrival, I was literally surrounded by her aesthetic and designs, art and ornaments. In her home, I met a passionate, strong and energetic woman – deeply spiritual and committed to art.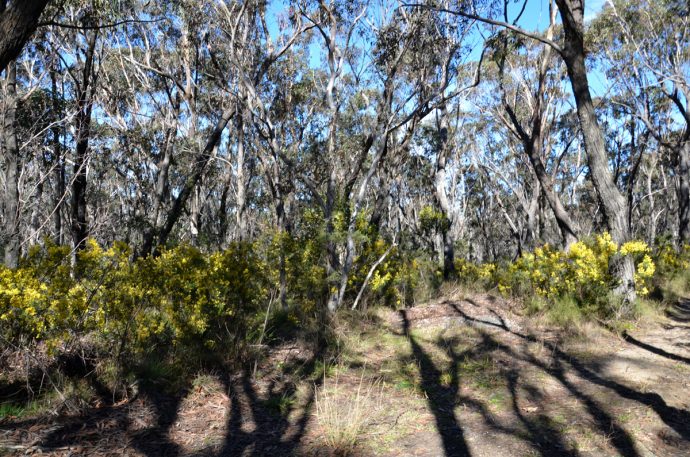 Jenny was excited to show me around and after a lovely conversation about the build process of the house, she insisted I drive down the road to view a parting gift – a most painterly crop of wattle in full bloom. Afterwards, enjoying a hot black coffee and rice pasty on Jenny's recommendation, I thought about the spiritual connection to landscape that goes back so many thousands of years in this country for the indigenous people of Australia. Here, Jenny speaks about her home, her inspirations and her work.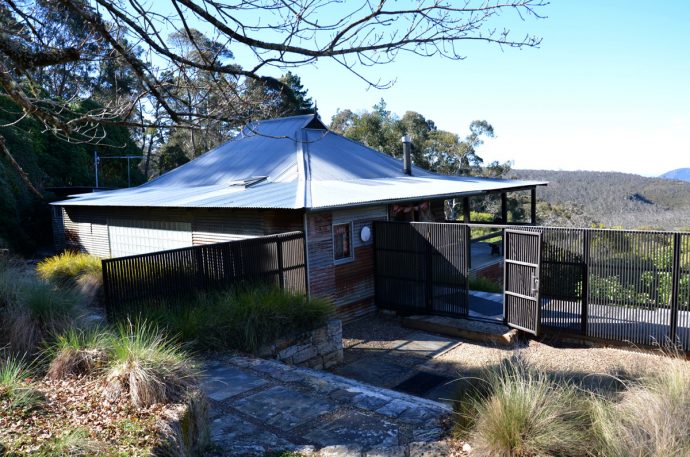 "This was a Danton Hughes job, with design input from me. This was a very dilapidated building and Danton's premise was 'work with what we've got'. The house was a dump – people couldn't see the view, it just looked like too much work. It was 1996, a time when Blackheath hadn't really taken off. You could poke your fingers through the walls because they'd been eaten by white ants. I really couldn't visualise doing the amount of work that it needed. Danton walked down that hall and just said, "I want to keep this place". He loved the tiny hallway, so petite, simple and humble. But I really wondered, can't we just pull it down? I let him go ahead anyway. As soon as the first room was done, it was our bedroom. With Danton and his principle of "work with what we've got", we had to think about how to make the rooms work. The room with the Buddha was the ugliest add-on: low ceilings, pine walls, thin little rafters. So we decided to clad it and that's how that started. We started peeling back the wood and found the originals. We took off the roof to find lovely high ceilings.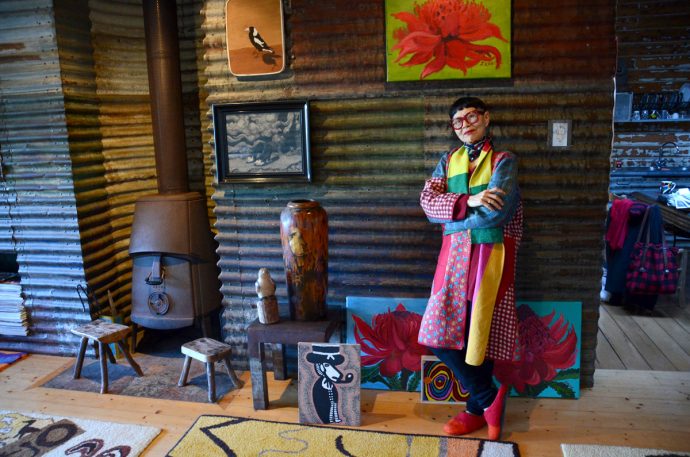 There was no architect, Danton was it. He was untrained but a real artist, with amazing attention to detail. That is what is beautiful about this place. All the little details, the handmade finishes, light switches… just beautiful, well I think they are beautiful. It took a year-and-a-half or more to do it all. It is all now nearly 20 years old, but it's a place that will never need re-doing and all of that was thought about. The floors are beautiful old floors. The rest was mainly rusty gal [galvanised iron] that we salvaged – aesthetically unbelievably so beautiful, every piece a thing of beauty. Also, it cost nothing then and there was so much available. People were coming at us with gal, all the oldies around the mountains were just like, 'we've just taken the roof off, please take it away mate'!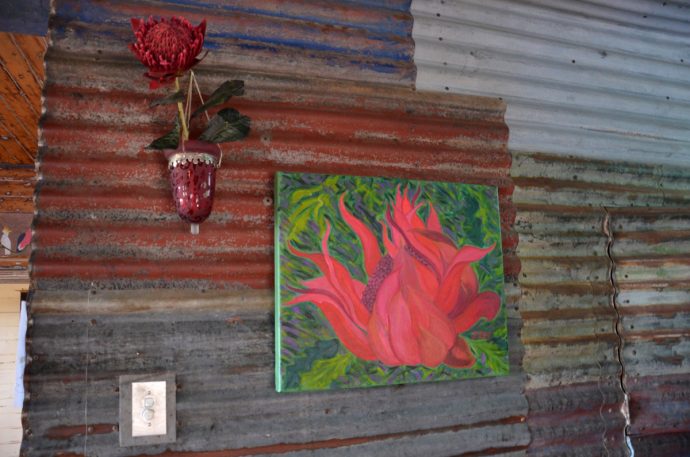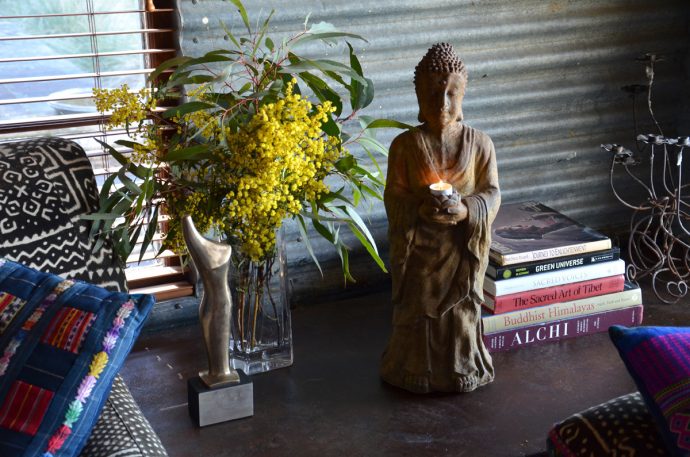 We could pick and choose which gal we wanted to use. Danton had one pair of old jeans and boots – the whole process was organic, the finding of the material. I'd go from fashion shows to dumpsters. Organic and recycled. Before recycled was trendy. So we know where all of the bits are from. For example, my naturopath's roof is in here, and this piece [Kee points to the wall behind her] has had a branch swishing against it for years… nature making patterns on man-made materials. Everything I do is like that – I recycle, like now my designs are being recycled [Romance Was Born collaborated with Jenny Kee for Australian Fashion Week 2012]. I was really good when I was back doing design work as I kept everything fastidiously clean, having a finicky Italian mother as an inspiration. This has left me with many magnificent clothes, still. The whole idea of recycled and vintage… the whole lot was and is my principle for being alive.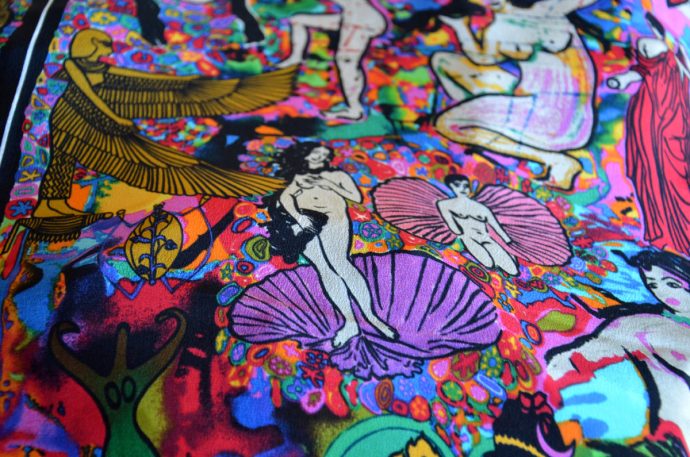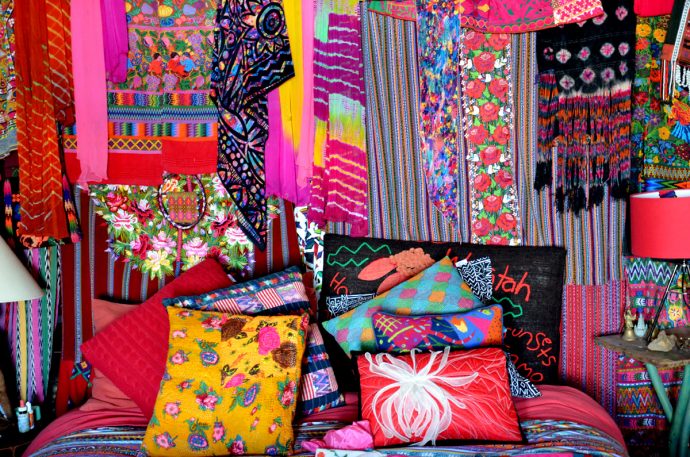 The idea of 'quality of life' originally drew us to the mountains – this wasn't really a consideration for people back then. Michael Ramsden [Kee was married to Ramsden, an artist, for 21 years] wanted a lifestyle. He was inspired by Jeffery Smart the painter who lived on a beautiful farm in Tuscany. Michael pestered me – I had just opened Flamingo Park – to move to the mountains! After I came back from London I used to come to the mountains with my friends Linda [Jackson], Fran and Michael on the weekends. We lived in Wonderland Ave for $18 per week and then Kenneth St in Bondi for $27 a week: 1975 when everything was so ridiculously cheap. We used to commute. We would live and work in Sydney during the week and then come up to the mountains on the weekends. Grace my daughter used to come down with me, until she went to school, with my Italian mother in tow looking after her.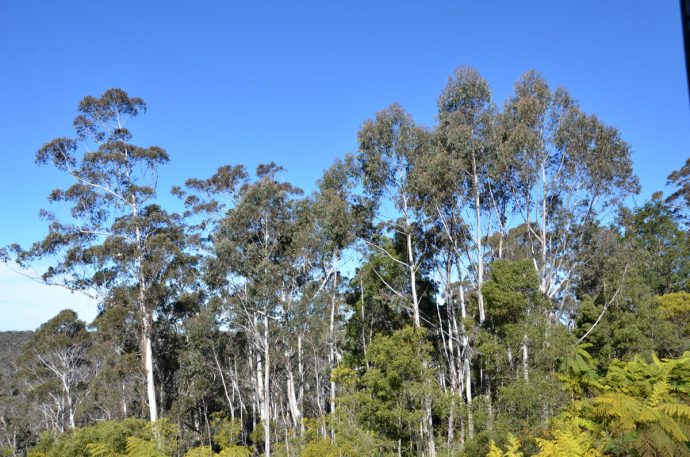 I have lived in the Mountains since 1976, at first I lived in a grand and exquisite Glenn Murcutt-designed house, but then I met Danton. We wanted to move and this place came up in 1996. We found this property because of its position overlooking the Grose Valley [within the Blue Mountains national park]. I couldn't live anywhere that didn't look over the Grose Valley because of my beautiful experience of this bushland – wattle and waratah. All of this was my inspiration so I wanted to still be a part of it. The valley here hasn't ever been farmed. They wanted to mine it, but thankfully it was saved. Now we have this ancient valley that is intact that could have been an environmental catastrophe. It's bush up the top, down to temperate rainforest below – just beautiful. Where you see beautiful gums and tree ferns – I would never have been able to do that on my own.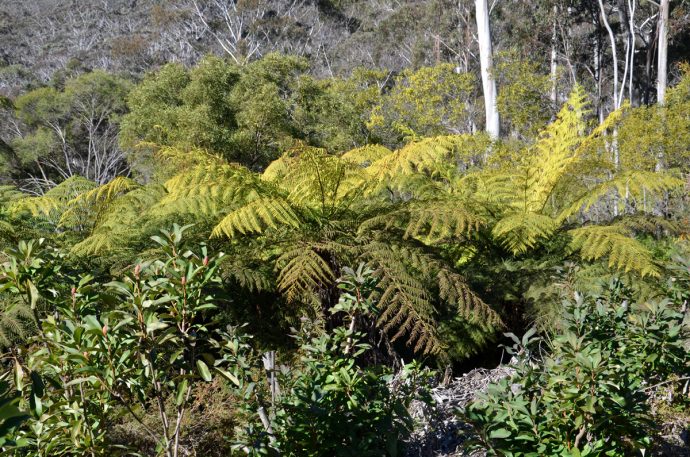 This place was initially a wreck, there were towering pines everywhere. Danton went for it and got tree surgeons in and got rid of them. My waratahs are hybrids and so they come out all the time, but the ones in the bush only come out after fire… like banksias and grass tress. Fire is really what stimulates the growth. Fire is part of the natural cycle; you can't live here and not accept it. Danton loved tree ferns, like I love waratahs, and now that what's out there. We could all have a little cry about that… it is like the energy has come. The guy that loved tree ferns isn't here anymore [Danton passed away in 2001], but the ferns and waratahs are. In 1978, when Grace was tiny, the fires were burning to the road. It was like a spiritual moment after fires… I would walk through this cindered and burnt bush and then one year later, out came the waratahs. Waratah petals are like flames after the fire. The fire ignited my creative energies. Here is where I started observing what happens after fires, seeing the waratahs, walking through cindered burnt bush that was just devastated.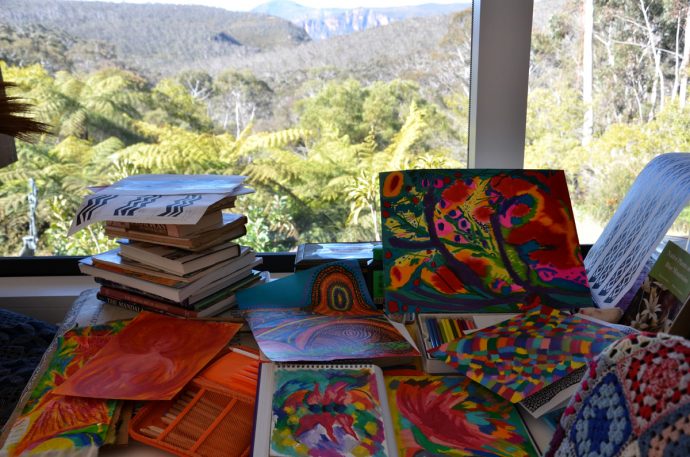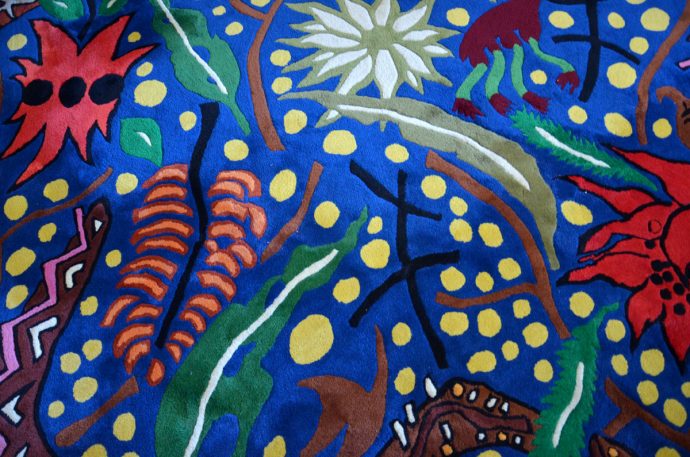 Inspiration comes from what's in the landscape. For me, it is the extreme beauty of where I live. I see the way today's youth seems to work, always having to come up with something new, new, new. But for me, if you do it for long enough people get the message that it's real and sincere. People believe it – you are buying a piece of me when you buy something of mine, you are buying a piece of my passion. And it will stay special for a very long time. I am not moving fast. I am 66 and I can move slow. But I can still inspire youth and I think that is a really good thing, that people like me exist who move slowly and not fast. That is a healthy thing to know – that there is another way.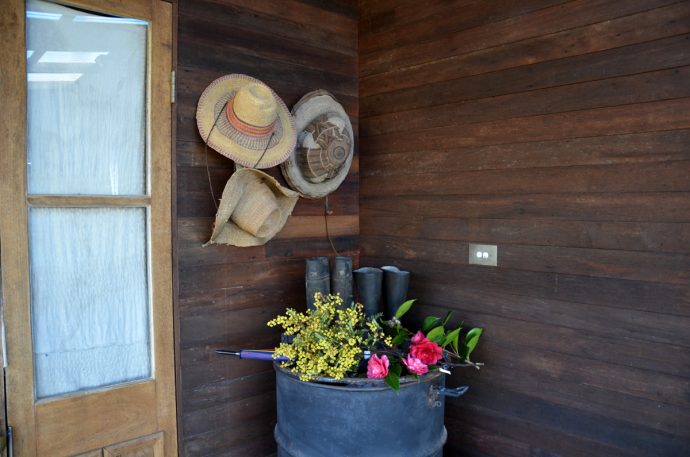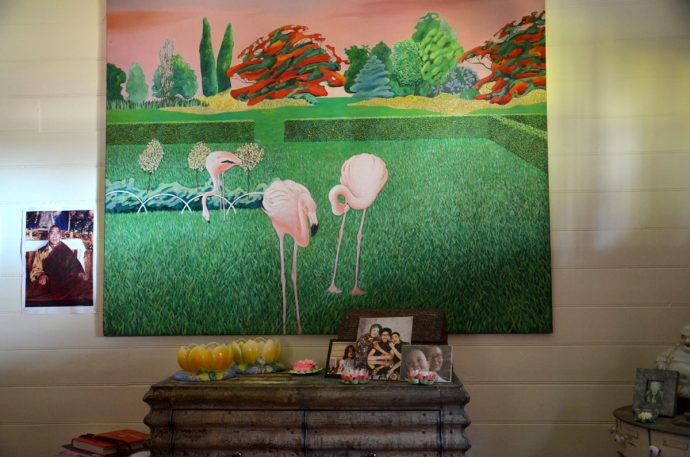 I used to dream about the sun in London. When I was born in Bondi, there were big, expansive skies. The sky in London was like a blanket on top of you, the magic of London is that because it is so grey design and the city thrives. I just never wanted to live anywhere else except Sydney until I moved to London at 18 years old. It was the Renaissance for us, the 60s in London. We were living the 1930s…we were listening to 30s music, Al Bowley, and dressing in Schiaparelli, Mainbocher, Poiret, all the designers from the 30s. But now, it is 50 years since the 1960s and the era's influence is still going strong, it still feels current to me, it's just timeless, such an exciting time. I was working at the Chelsea antique market, a divine time to have been inspired by things for the first time. For example, vintage was a new idea; no one had ever wanted to wear their granny's clothes before. But then there was Jane Ormsby Gore who was working for Vogue in 1964, wearing her Lady Harlech upper class granny's clothes. She turned Vogue onto that.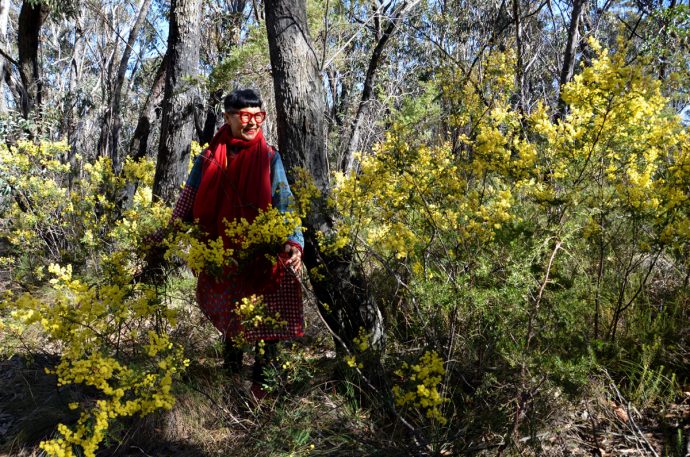 Having lived here [Blackheath] for nearly 40 years, I do love living in a community. People don't care who you are up here. They treat you the same as the next person, yet it is so diverse. It's extremely working class, and then it has a middle class, and then it also has really great alternative artists, writers and designers, a very, very interesting community. The whole of the upper Blue Mountains is interesting but Blackheath, I am passionate about this place. I go up to town in my pyjamas sometimes…under my big coat of course. So you are one of the mob and that is a lovely feeling. You know people are watching out for you.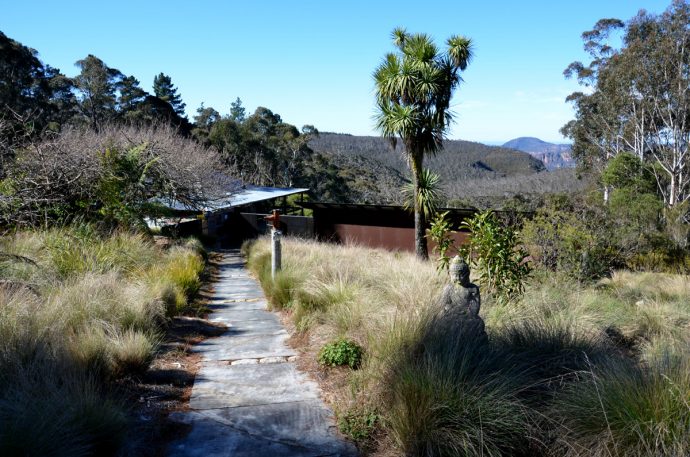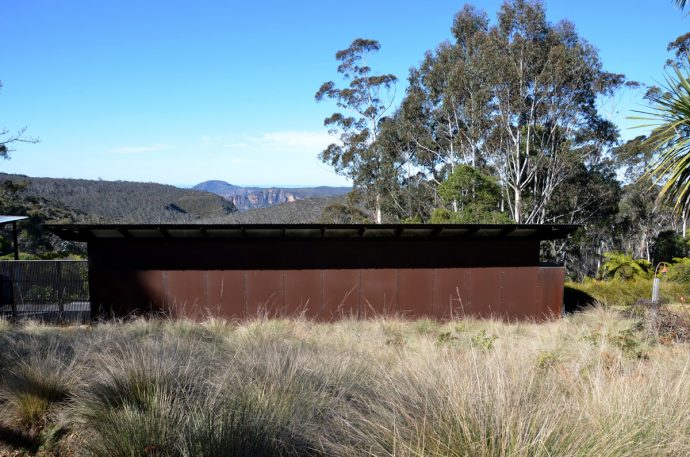 As you can see there is a studio out there. But when I am working, the whole house is my studio, that table, the floor, that studio out there. There isn't just one place that is a sanctuary, it somehow trails through, and that is just the reality. In terms of the studio though, Danton had died and I wanted to have a studio. The only person I could ask was Glenn [Murcutt] because I love his work and I respect him. So he made that jewel of a building which is just is the most exquisite little building. Now I rent out the guest room. I told him I wanted Corten steel because I had seen it in Melbourne and I loved the way it rusted…and he had never worked with it before… but was happy to do that. It's little but it's got everything that is beautiful about [the work of] Glenn Murcutt.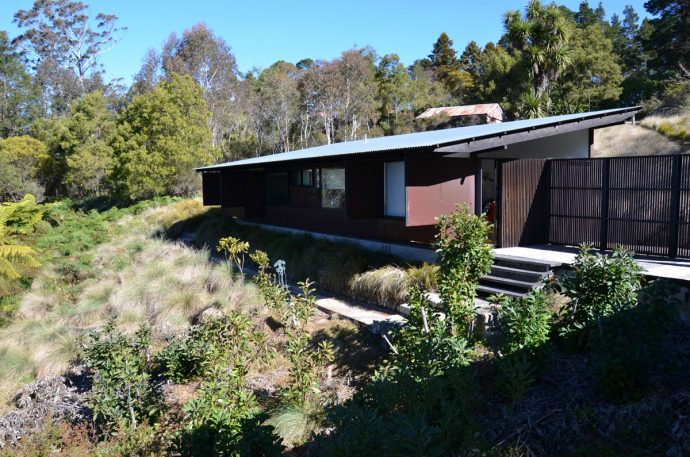 My favourite space is probably the 'gal room'…I love lying in the lounge room looking at the alter and out the window. I do my yoga in this room and that is pretty special for me. I love my bed too, I love getting into a warm bed. My favourite thing, I have to say is my waratah beanie my mother knitted for me and the one she knitted for Danton. The waratah one was for me… and I have worn it every day in winter since 1988, when she knitted it. The fact that my mum made it for me…that is why when Anna Plunkett and Luke Sales [of Romance Was Born] wanted me to do beanies, I modeled them on these.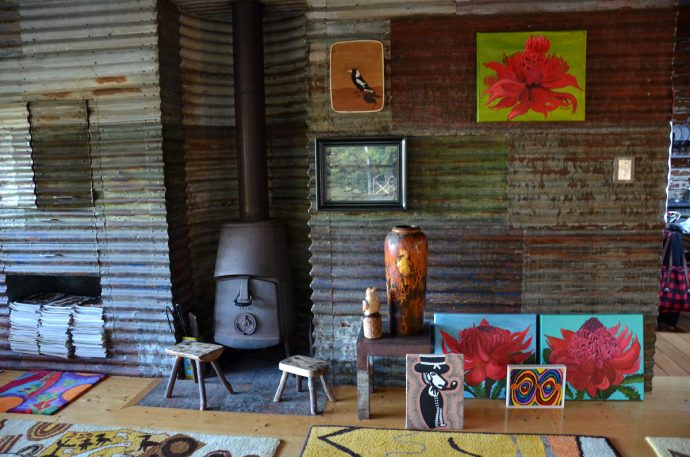 My daily routine? For physical reasons [Kee and her daughter survived the Granville train crash in 1972] I have to do some form of strong exercise every day – walking, yoga or swimming and I am compelled to do it because if I don't my back goes. Some form of my Buddhist practice… I still struggle with the discipline of that daily. And then some sort of design work or some form of art each day. I have to attend to my scarf business because I iron everything and pack everything so there are a lot of things that happen throughout the day – like getting the orders out etc. Maybe working on an exhibition obsessively. I am not a 9–5 in the studio type of artist…I work with a frenzy when I work but then I take a break. And a lot of dharma, weekends spent doing Buddhist retreats with an occasional lovely thing that happens in Sydney but my concentration is on my health yoga, walking in the bush and the art. Here it is, home is where my altar is, it is this nature around me, this is home. Home is where nature that I love is and then this house… coming from the heart. I couldn't live anywhere else and my spiritual life is in this home".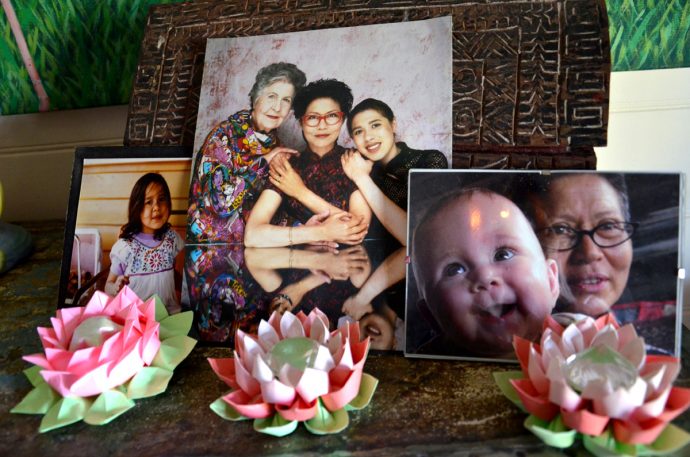 Sincerest thanks to Jenny Kee for her time and candour. You can find out more about Jenny and her formidable work over on her website (which we love!): jennykee.com. All photographs by Rafaela Pandolfini.