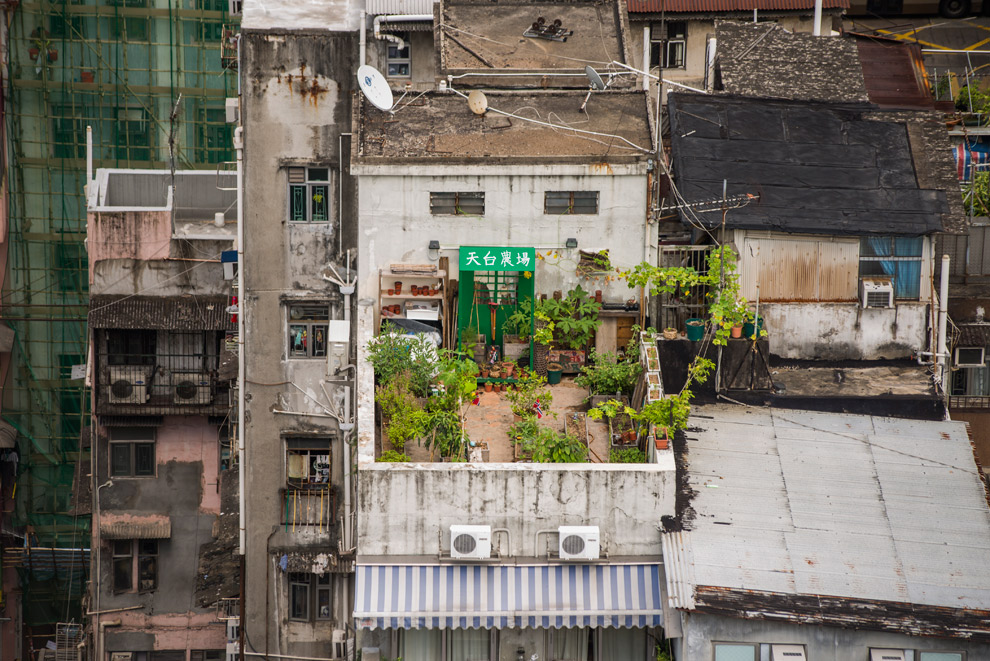 Oct 17, 2013
On the rooftops of Hong Kong, Michael Leung has built an informal and unlikely hive of collaborators: artists, designers… and honey bees. After encountering a sleeping hive in the Swedish countryside, Michael returned to his native HK, a megacity of 7 million people, eager to learn more about how urban beekeeping might impact the origin and security of his city's food. After an apprenticeship with Mr. Yip, a beekeeper in the Shatin region of Hong Kong, Michael Leung became Hong Kong's first urban beekeeper, founding HK Honey in 2012. A creative and driven individual, he channels his energy into his work as a designer, community engagement as founder of Shanghai Street Studios and as an urban farmer and independent producer through complementary sustainable food projects HK Farm and HK Salt. Thanks to the humid and temperate climate, HK Honey harvests year-round (at least four times a year), keeping the continuous flow of liquid gold to local restaurants, retailers and residents. Since its establishment in 2010, HK Honey continues to extend its reach and impact through its non-profit HK Honey community trust, collaborating with the community through workshops and talks at schools, parks, charities and organisations. Here, Joanna Kawecki speaks to Michael about the origins of HK Honey and living the high life with his hives of apis cerana honey bees.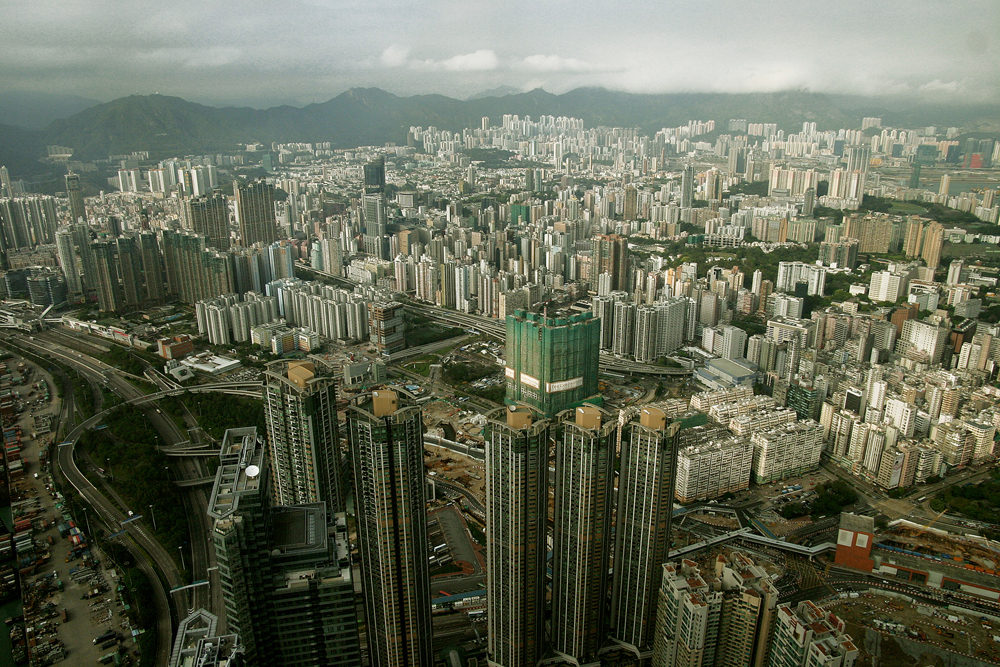 A vertical city – a birds eye view of Hong Kong by Trevor Patt (CC-license via Flickr).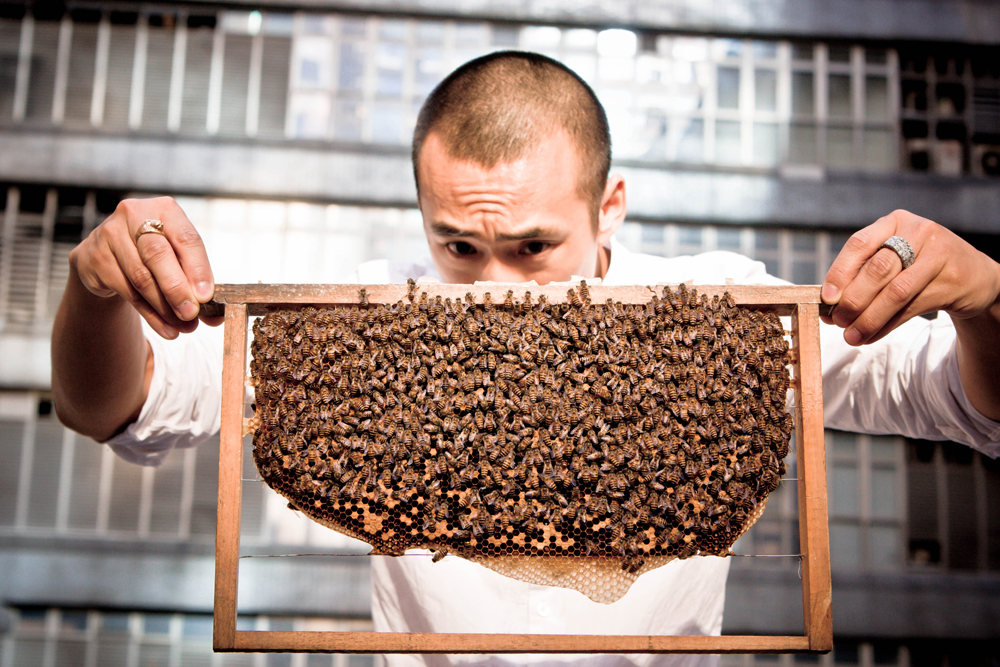 Michael Leung inspects a frame of bees – notice, no protective clothing! Don't try this at home! Photo by HK Honey.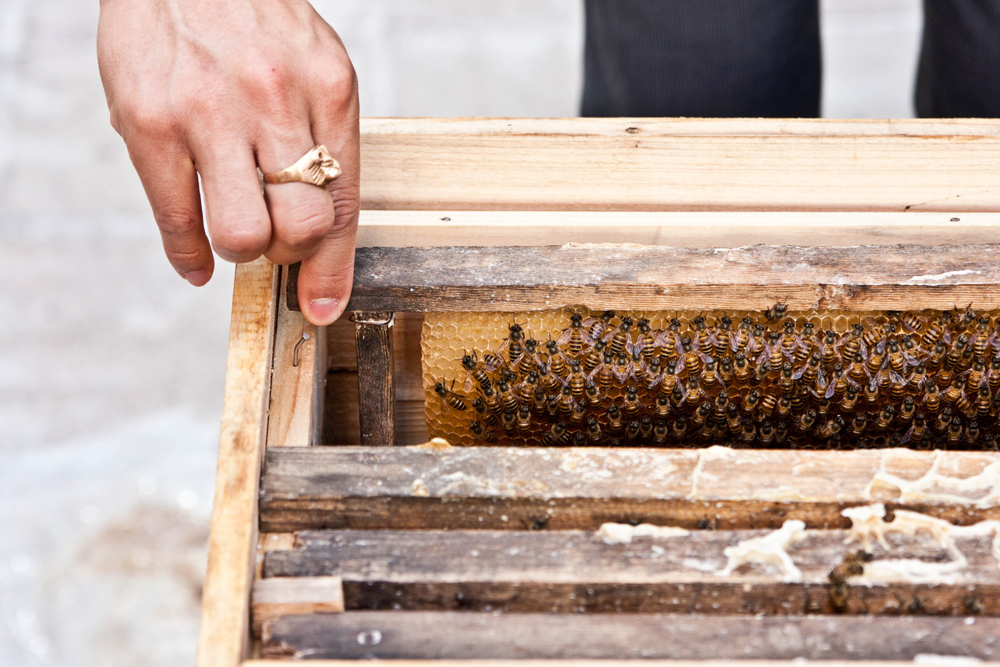 Michael's brave, bare hand. Photo by HK Honey.
We know bees are important, but why is the focus on them so important now, than ever before?
Food safety is a very important issue right now, perhaps more than ever before. Over the past few years a lot of food "horror stories" have emerged from mainland China such as the tainted baby milk scandal, dyed-black sesame seeds and glow-in-the-dark pork. Hong Kong's proximity to China often means food traceability is near impossible to do. Globally, food production is now in hyperdrive and requires many farmers to use pesticides and insecticides on their commercial crops. This is bad news for the bees as these chemicals seriously affect their health. Food safety and food production go hand in hand and we hope that projects like HK Honey can help raise this awareness and encourage people to make more responsible and sustainable choices.
Tell me how HK Honey started.
A few things led me to start HK Honey. The first step was seeing a beehive for the first time while on holiday in the Swedish countryside. It was winter, just after Christmas 2011, snowing, and an unlikely place for me to see beehives. Walking through the forest with my ex-girlfriend, we came across two wooden boxes and I asked her what they were. She told me that they were her dad's beehives. Being brought up in London, I wasn't used to experiencing such things and I became increasingly curious and wanted to see inside the beehive. Unfortunately, it was winter and the bees were hibernating. She told me that opening the beehive would've frozen them to death. Instead I had hours of conversation with her dad and naturally, tried the honey that he harvested in the previous beekeeping season. This experience – of seeing where the honey came from – inspired me. It made me start thinking about where food comes from and issues such as food origin and food safety.
When I returned to HK from that holiday, I kept thinking about the bees and the honey I had tasted. This led me to do some research and eventually meet Mr. Yip, a beekeeper at Wing Wo Bee Farm in Shatin. Mr. Yip kindly took me on as an apprentice. From then on I was inspired to learn more and found out that there was an activity called urban beekeeping that was happening in cities across the world such as New York, London and Paris [and locally in Melbourne through Rooftop Honey – ed.]. I thought, "Why not Hong Kong?". After two months working with Mr. Yip, he kindly supplied me with my first two beehives and this is when my beekeeping hobby started to compliment my design work.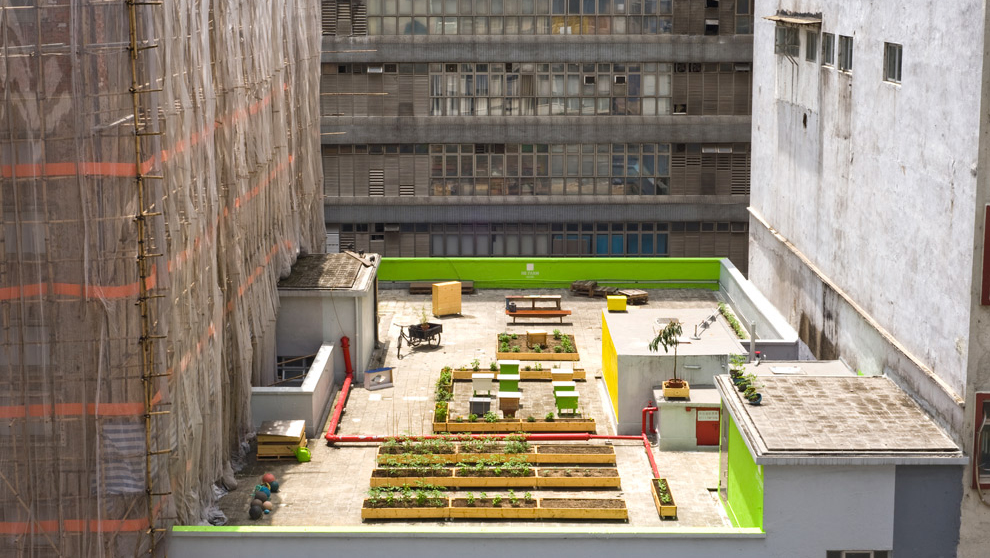 Ngau Tau Kok Rooftop Farm, an HK Farm project which includes several HK Honey hives. Photo by Glenn Eugen Ellingsen.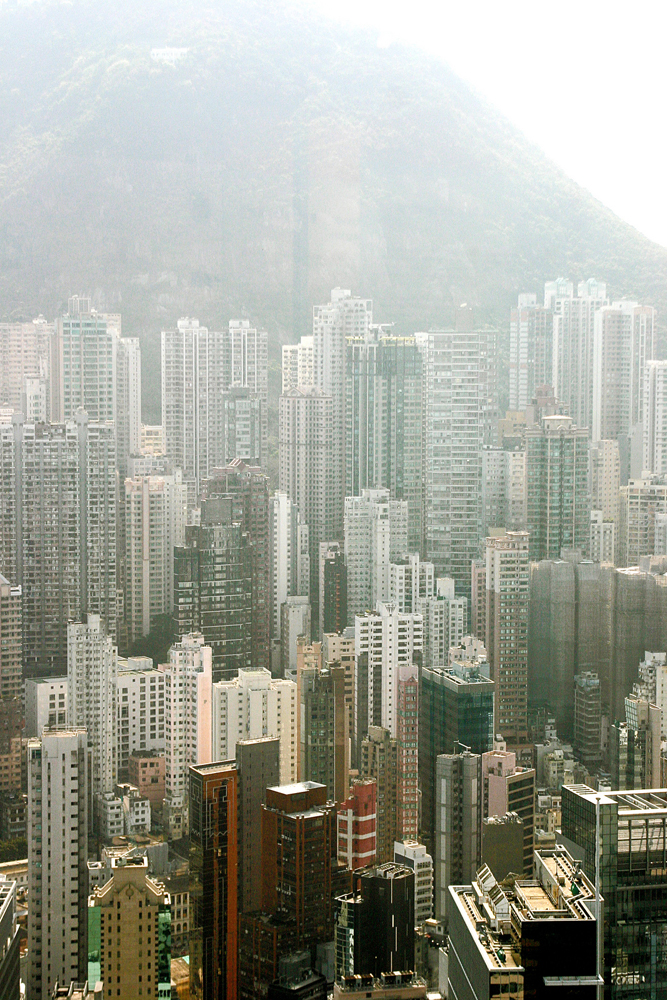 Buildings in the sky in Hong Kong. Photo by Trevor Patt (CC-license via Flickr).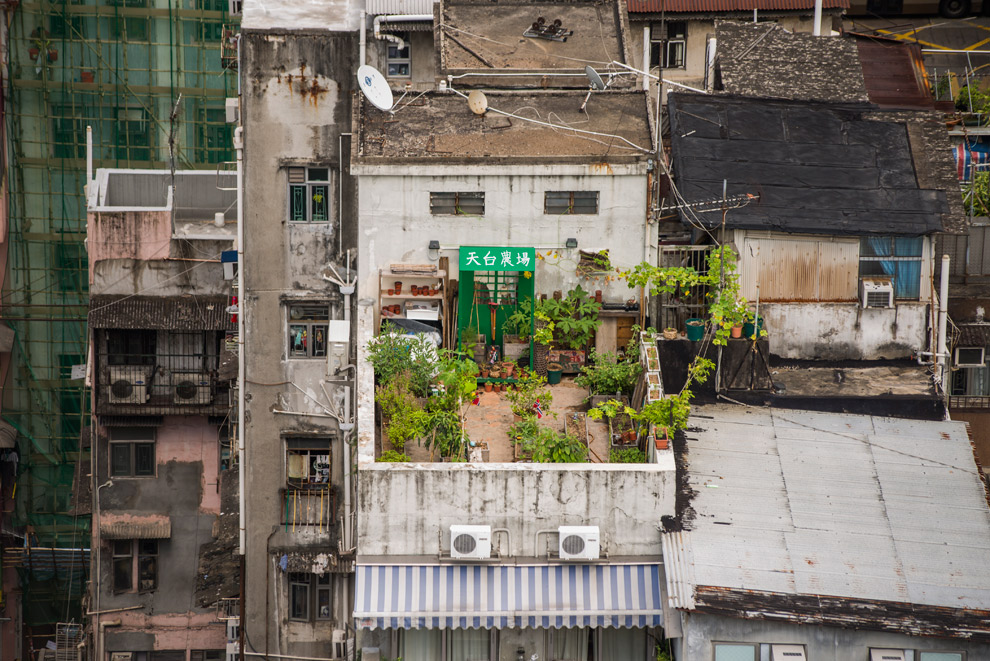 HK Farm in Yau Ma Tei. Photo by Glenn Eugen Ellingsen.
How big is your 'bee network', which is made up of designers, beekeepers and artists, in HK?
We have design interns that help out for a few months at a time. They are a great help and always bring new ideas and a strong passion to our projects.
We've done one batch of HK Honey Rice Beer that was launched at an exhibition. This collaboration with Josh will be in full swing soon and will more than likely involve an illustrator and a photographer to help document the process. We continue to work with Mr. Yip and Mr. Man who are integral to the project. Without them, HK Honey wouldn't be as meaningful. We are happy to support and be inspired by rural beekeepers. The artists we collaborate with are picked for one-off commissions and sometimes come back into future projects, or even other projects that I work on such as HK Farm and HK Salt. The collaborations are very organic.
Beekeeping is often seen as something best left to the experts. It seems bees are quite gentle creatures. Can you tell us about some of your experiences working with beehives and bees?
Bees are incredibly friendly insects. I grew up watching My Girl and reading about The Swarm (a Marvel super villain). I also recall being stung four times by bees/wasps when I was younger. These experiences definitely helped form my fear for bees and being stung, but after meeting Mr. Yip and seeing how he interacts with the bees, all preconceptions were thrown out of the window.
How is the honey that Hong Kong bees produce, different to anywhere else in the world?
Hong Kong is an incredibly dense and high-rise city. We weren't 100% sure if bees could sustain themselves in Hong Kong's urban environment. If they didn't like the city we would've moved them immediately back to the countryside. Surprisingly and fortunately they did sustain themselves in the city, and they continue to amaze us with each new location that we setup a beehive in. The honey in Hong Kong is an eclectic mix of wild and seasonal flowers. But when we taste it, we also taste all the hard work that has gone into producing it. The honey from beehives camouflaged in the urban environment is priceless and a real treat to harvest and eat.
You also worked with Amnesty International on a special honey candle, where the proceeds of sales all went to Amnesty. How important is it to collaborate? And for a good cause?
Very! As a designer it is important to be involved in meaningful and responsible projects. This is something that I teach my students at university (I'm a visiting tutor at the School of Design). Check out #eatchitchat on Instagram for a recent project that I've done with my students. The collaboration with Amnesty is one of those projects that we would never say no too. Food safety is a human right and with Amnesty we can amplify both of our values and messages to an international audience.
Your team is quite proactive in educating others on the importance of sustainable living. Do you agree that with the right knowledge and right attitude, we can change our way of life to the benefit of the environment?
Definitely. It's important for us to be flexible and optimistic. There are a lot of negative things happening with bees, agriculture and food safety, but we endeavour to be optimistic and celebrate what bees can do as opposed to being too preachy and statistic-y. We use our creative projects as vehicles to reach out to different communities and keep things fresh.
HK Honey candles are made from natural beeswax from Shatin. This sort of process is interesting, whereby we make the most of the tools we have already – and use them to their full capacity. What will be next?
In parallel, we are working on HK Honey Beer (seasonal), beeswax lip balm, honey sweets, beeswax hand cream, a handkerchief designed by one of our interns from last year and a HK Honey Dessert Club that will be hosted at Shanghai Street Studios!
Big thanks to our wonderful collaborator and kindred spirit, Joanna Kawecki, editor of London/Tokyo-based cultural publication Ala Champfest. From time to time, AP and Champ readers unite across our two publications through an ongoing partnership. This article, along with a 'Food Culture' special with more background on Michael Leung and his team at HK Honey appears in the latest print edition of Ala Champfest (issue #7, available at handpicked excellent purveyors of printed matter, including Mag nation (Melbourne), Yvon Lambert (Paris), Tate Modern (London) and many more. For more information on the creative urbanism and food production of Michael Leung and co, visit HK Honey: hkhoney.org, HK Farm: hkfarm.org and HK Salt: hksalt.org. And for a profile of active local purveyors of urban beekeeping, check out our piece on Melbourne City Rooftop Honey. Thanks to HK Honey for images (by Glenn Eugen Ellingsen, HK Honey and Kiku Ohe, who also directed the short video documentary in this post). Creative Commons-licensed images courtesy Trevor Patt.