Following on from last week's visit to the Heller Street Park and Residences, architect James Legge talks further about the ethos behind his award-winning multi-residential design. And, what it's like to live in a community… with your clients. Below, we return to Heller Street with photographer Tim Hillier as we capture the stories and living spaces of the final two neighourhood households. In case you missed it, check out last week's Heller Street – part I for the full story.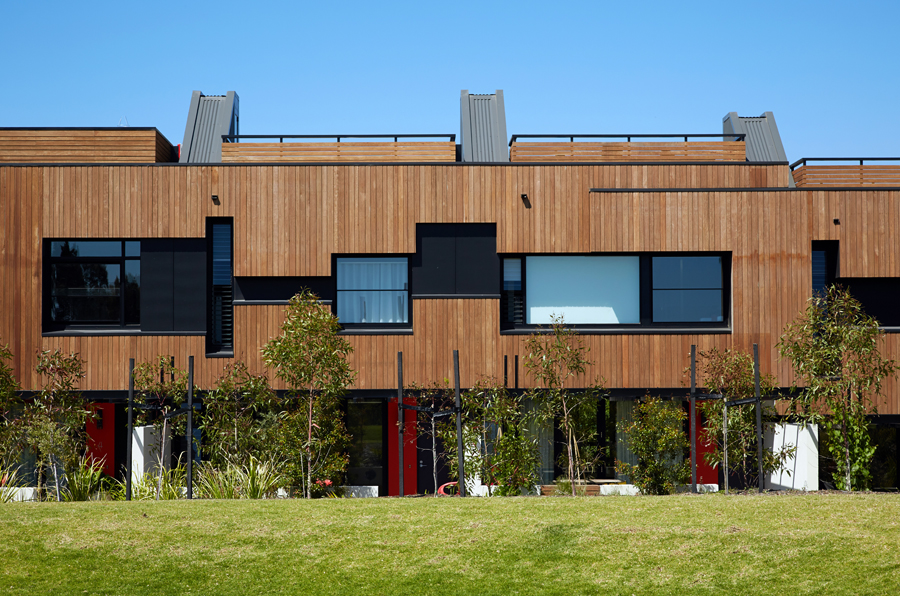 (Eugenia Lim) Can you tell us about any key projects (of your own, of other local/international architects/planners) that influenced your design and thinking for Heller Street?
(James Legge) There are many ideas and references contained within the project. From the shared commons of the traditional English village and shared, walled gardens in English metropolitan areas, through numerous medium density housing schemes in Holland and northern Europe. Locally there are the Griffin sub-divisions around shared parks in Ivanhoe, and the experiments in the 70's with shared open space between houses. Even the suburban cul-de-sac has something to offer, albeit in low density. Other ideas came directly from the local Greek and Italian immigrants, particularly in the way they inhabit their front porches to sit and socialise with their neighbours and neighbourhood.
(EL) What is it like living side-by-side your clients? 
(JL) They weren't clients until mid-way through the project, when much of the design had already been done. So I have to presume that they came to the project liking it, which is a good start. We only had the chance to tweak their apartments within the bounds set by the builder. Since moving in, they have all made their places their own, and this continues.
(EL) There is an overwhelming sense of shared vision and collaboration amongst the residents. Was this a key goal in your design, or an unexpected result? 
(JL) I think that everyone who has bought in to the development is keen to see it work. To be honest, it was something that worried me slightly during the project's conception. What if the people who moved in were humourless misanthropes? However, I needn't have worried. The project seems to have attracted likeminded people, who are all keen for a sense of community to develop.
(EL) What comes first in developing a sense of community – people, or design? 
(JL) I think the two are needed. In some ways, you might argue that the local community and the local council came up with the idea of remediating the land and providing a public park, paid for through the development of a third of the land. However, this development could have been many things, and this is where the importance of design comes in to support and facilitate the development of residences that add to the sense of community. Key design choices around the openness of the dwellings to the park, the importance or otherwise of privacy and the likely daily encountering of neighbours are all important in facilitating the development of community. But then it comes back to the people living here wanting it to happen. So design is important, and if badly handled can wreck and prevent opportunities. But people are vital too, and when it comes down to it, they are the main ingredient.
Many thanks to James for his first-hand insights into the cleverly-designed community of Heller Street. Now, we meet his neighbours Antony and Cath and Matt and Simone, heads of the final two families we were lucky enough to visit for this special two-part Living not Decorating.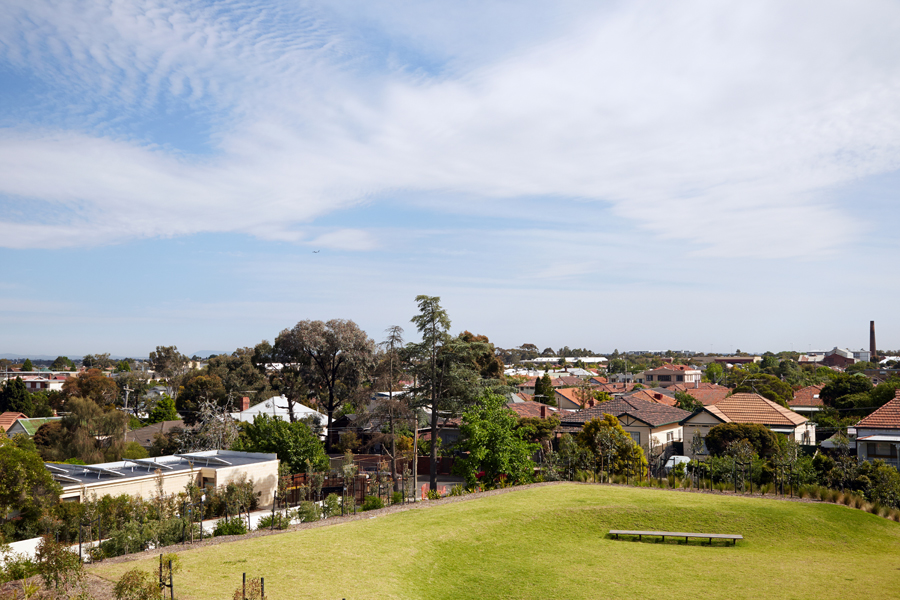 Antony and Cath
Cath is a commercial lawyer who works full time, while Antony is an architect with his own practice, MRTN. The couple have three young children. After seven years living in New York, Cath recalls "it got to the point that we wanted to settle and put down roots – and we had to make a decision where that would be. We wanted to build relationships with people long-term. James (the architect) was over in New York during that time and he told us he'd found a site. It got to the point in New York where we had to decide, are we staying or going? We lived in Manhattan between Avenue B and C in the East Village, then Greenpoint in Brooklyn, then Williamsburg. When we thought about where we wanted to settle it was about the people, our friends. So we came back to Melbourne. Because we're from New Zealand, we don't have our family around. So living here, we do have a kind of family. We do Christmas together and Halloween too".