Culture
Finding memories and art amidst displacement in Stanislava Pinchuk's Carlton home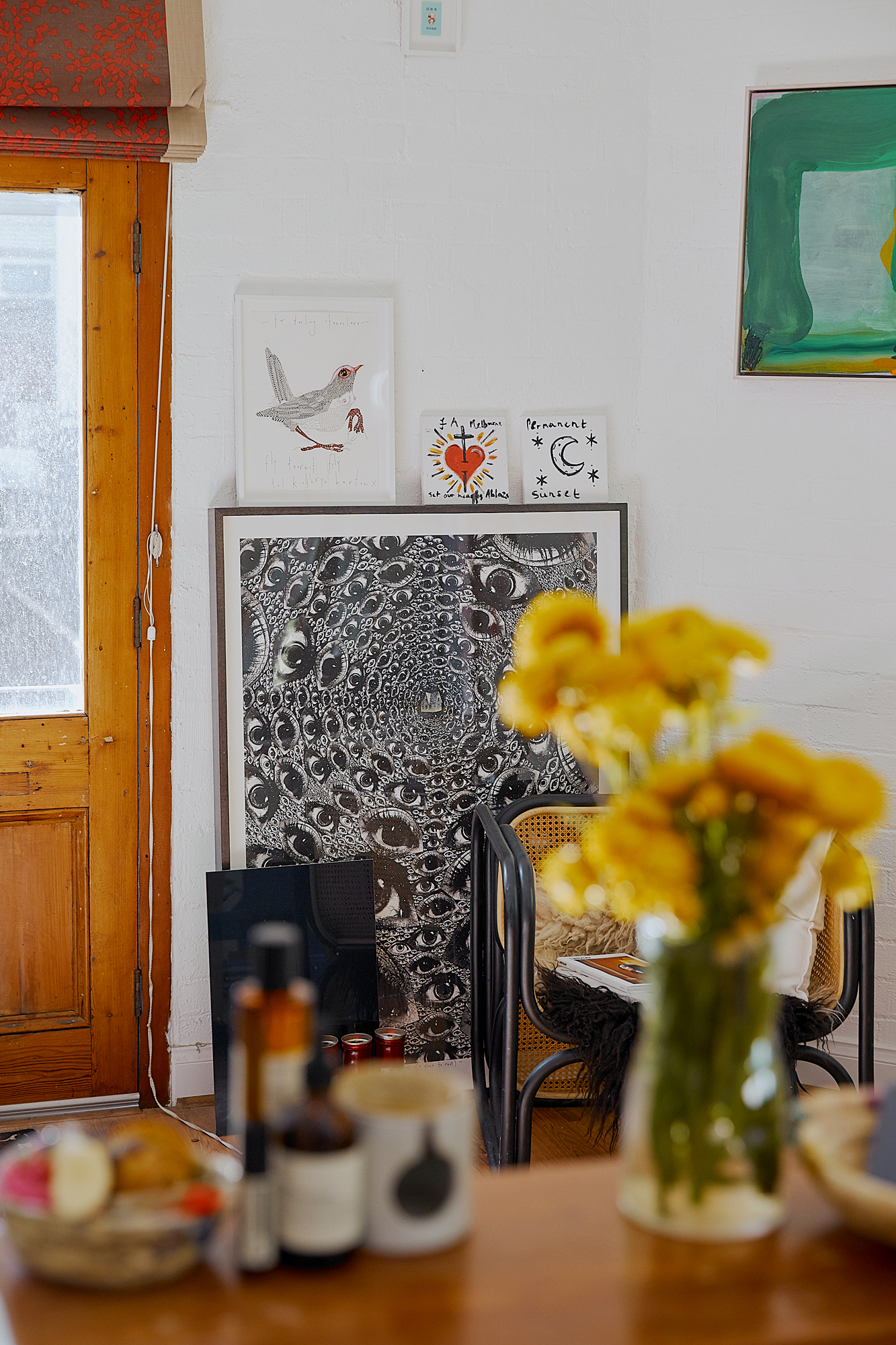 Mar 20, 2020
Artist, Stanislava Pinchuk (Miso), while in Melbourne, lives in an art-filled, heritage horse and coach stable in Carlton, just north of the city. Her apartment is one in a cluster of five, arranged around a central bluestone courtyard. Upon arrival, the open-air courtyard with a central stair, this arrangement of buildings gives the sense of immediate shelter. Aside from the familiar bluestone and pressed red brick, it feels as though you could be in Europe. The building typology is rare for Melbourne – more common in a city like Berlin.
Early on a Sunday morning, photographer Ben Clement and I met with Stan. Her practice as an artist, working with data-mapping the changing topographies of war and conflict zones, takes her all over the world – often to places where people have been displaced and the idea of "home" is ever-changing. Sitting in her sunny apartment, with coffee, croissants and some very special honey, we began to chat about travel, beekeeping, textiles and the concept of home to her.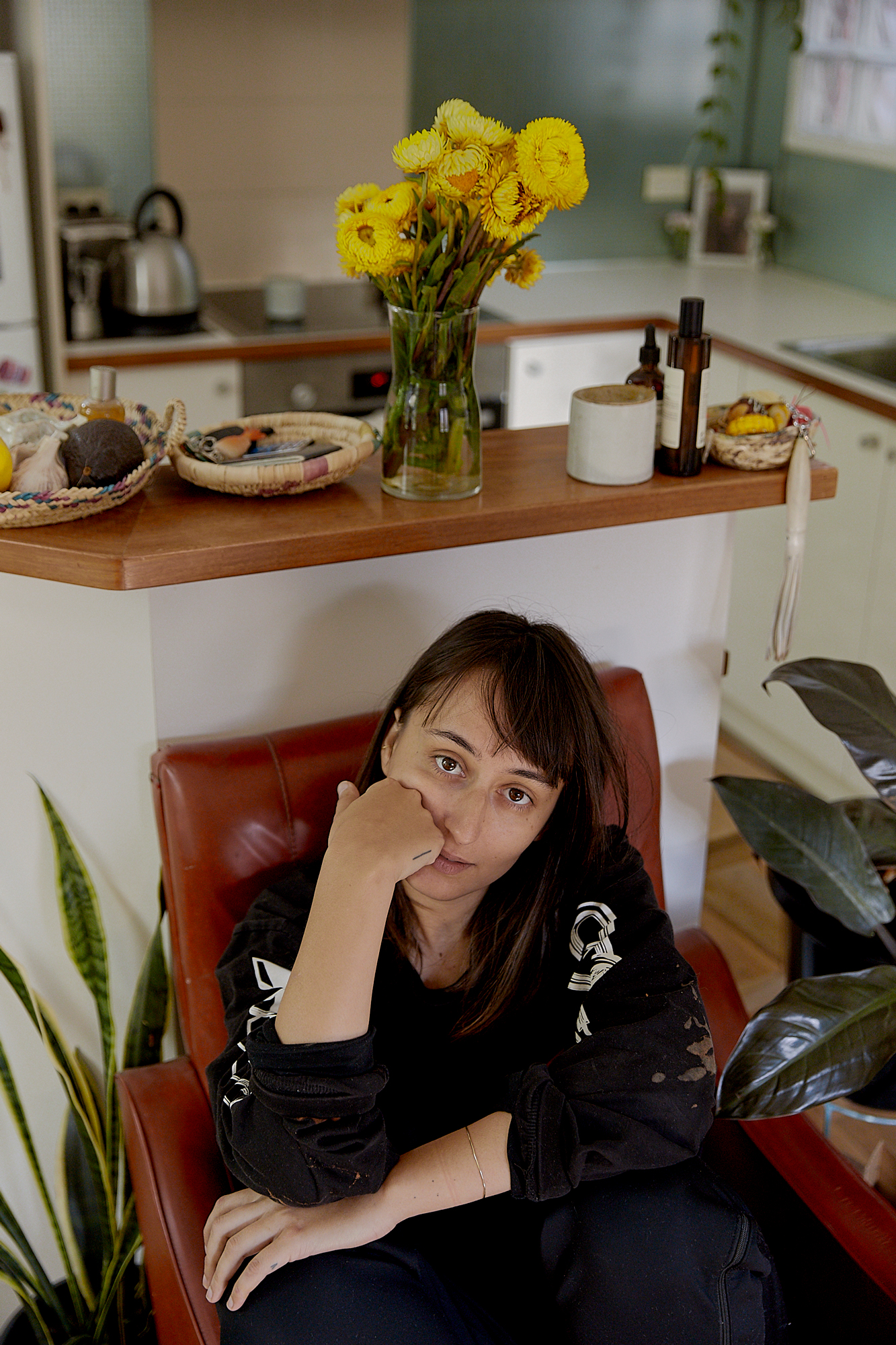 "This honey is from the Tupelo trees in Louisiana. It's really special. Even if you don't want any, you should have some anyway. It only gets collected a few weeks a year from the swamps; bee-keepers take their boats to collect it."
Between her work travels and living in Sarajevo, Stanislava has returned to Melbourne to focus on some upcoming projects. She has just launched a major project commissioned by the Sydney Opera House, as well as a new book surveying the Calais 'Jungle' camp evacuation with La Chambre Graphique Paris.
On the horizon is a career survey exhibition with Heide MoMA, a film commission from ACMI – along with a new project with the national Zemaljski Muzej in Sarajevo, Bosnia & Herzegovina. But for right now, she is busy writing a book manuscript commissioned by the Wellcome Museum in London – on women, tattooing, textiles, medicine and interiors.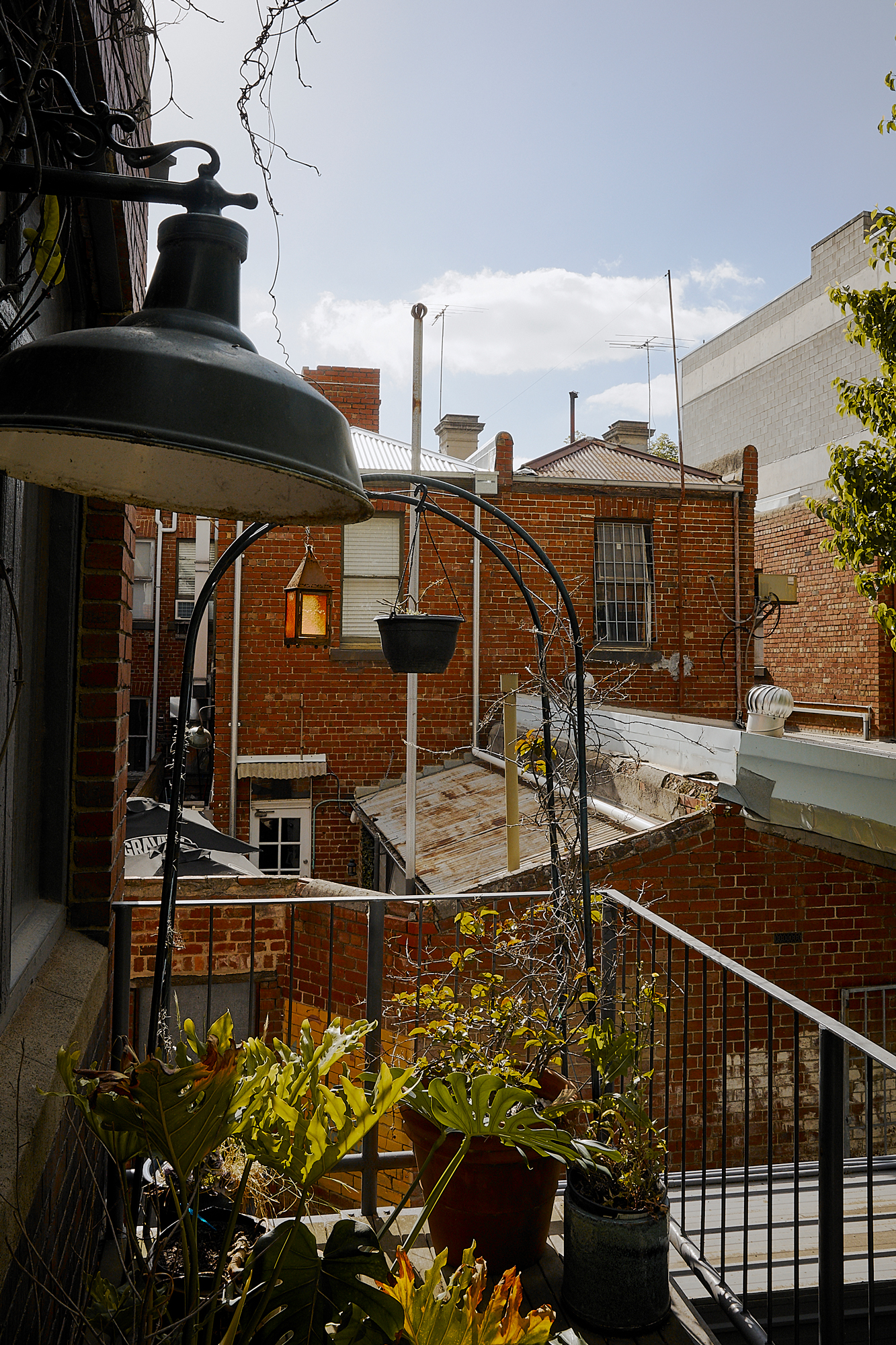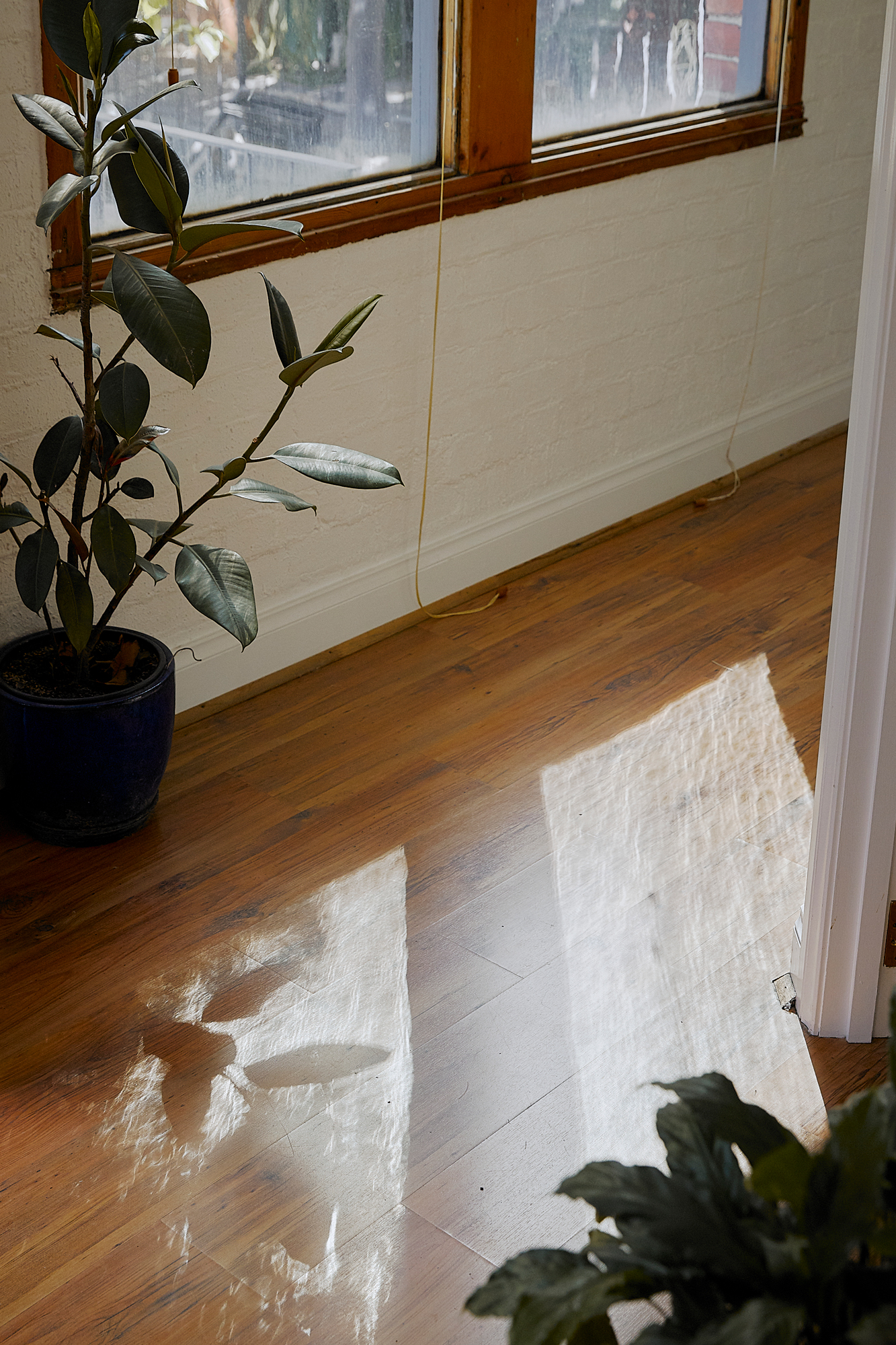 "I used to live next door with some friends I met while I was living in Tokyo. Tim was working in Tokyo a lot, so I ended up temporarily living in their flat while he was there. Then, the apartment next door came up, which was for a single person. Tim's dad is my landlord, so it's really like one big family here – and Tim's living room is kind of like my living room, still. Overall, there are five apartments in the block; I think my one is the smallest. The whole block is so small – there is a real sense of community."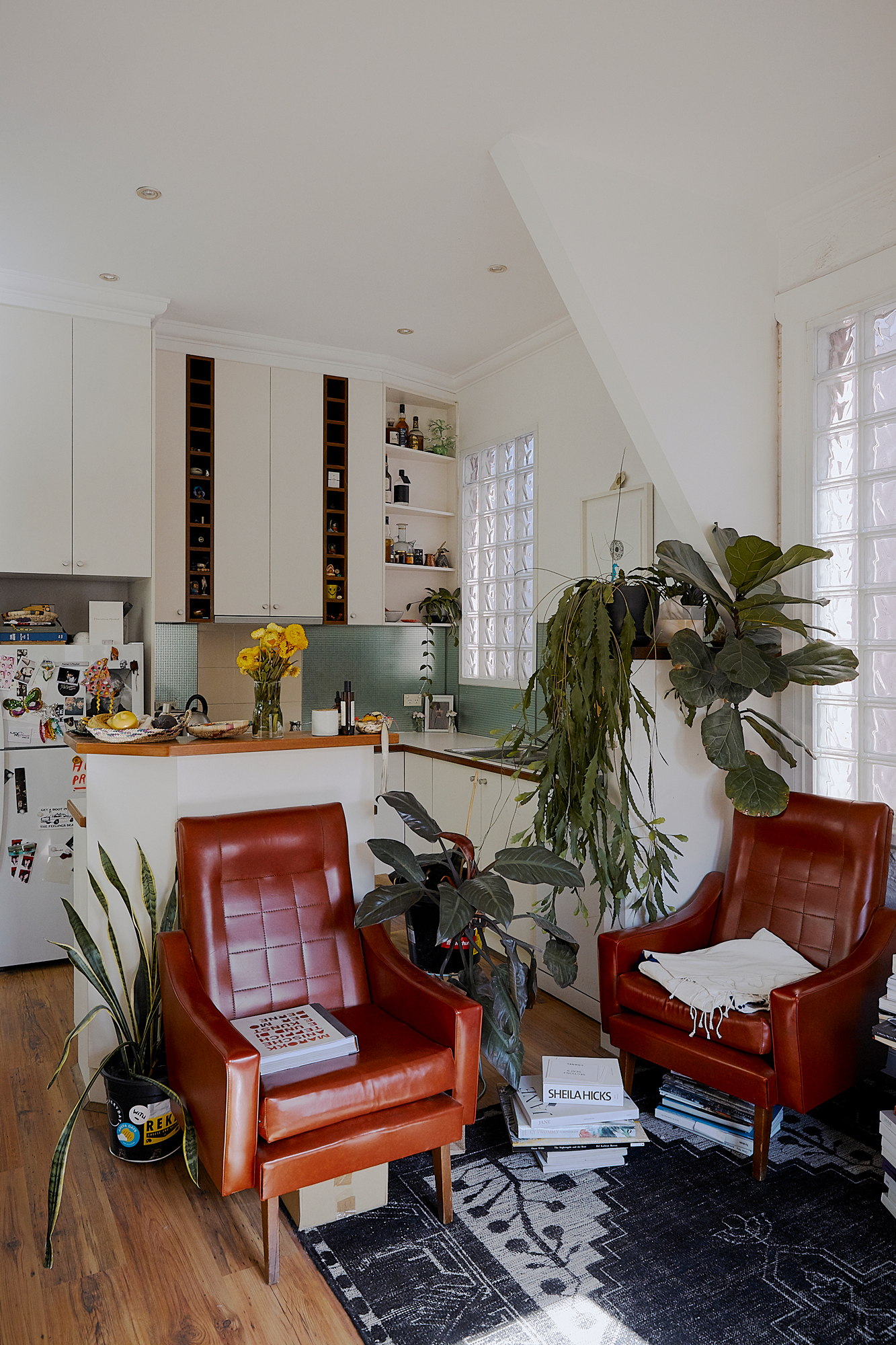 "I travel a lot, but it really suits me. In a way, I feel grateful that I don't have a particularly strong concept of home. I never have, you know. I come from a place where my city is not my parents' city, their cities are not their parents' cities, and so on and so on. I'm kind of from a very displaced, constantly moving people. I feel like I've never had a strong barometer of 'this is my home, or this is where people are like me', because I don't always feel that I blend into my hometown in Ukraine anyway. So, it's like my home is my body. I'm really happy to have this feeling because, in that way, I feel really at home everywhere."
Every one of the pieces Stan keeps in this place has a story, a memory about a relationship she has with someone. Each object holds an experience of a place or person; most hold stories of both. Because so many friends have keys, many have left things: there are pieces of furniture and art which have been traded for art or tattoos, books are piled under her couch, plants and artworks are scattered around the space in different light conditions.
"To be honest, it's kind of really haphazard. I haven't bought any of my furniture. It's just kind of on an as-need basis, as I make things, and because I work here. Everything else is just books or trades of things people leave here. So many people stay here and have keys. So, it's kind of a mishmash of things, you know, it's not organised."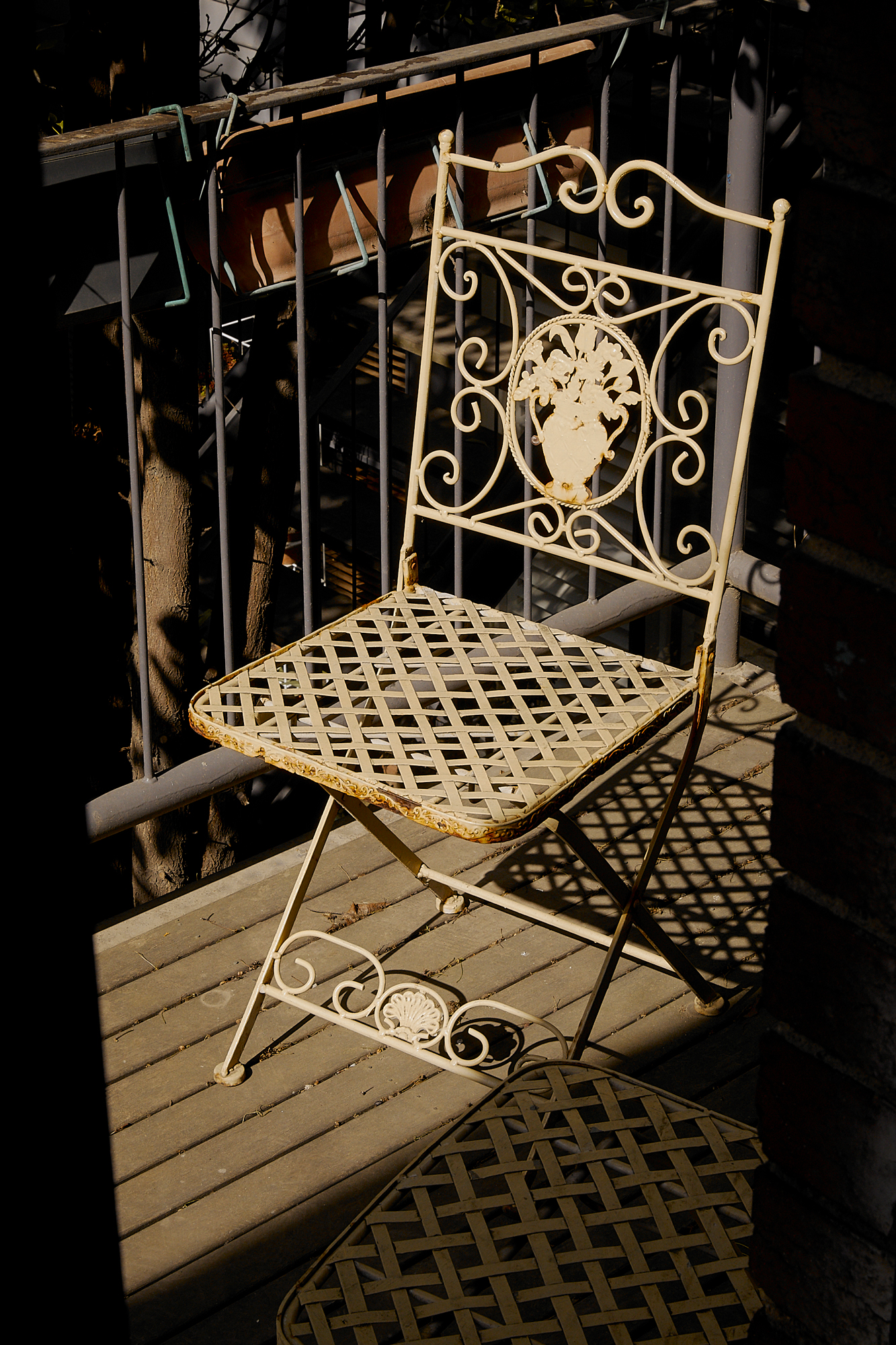 "Sometimes, I think I'd love to be in the carpentry workshop making myself some furniture that I really thought about, you know. But I also kind of don't mind living in a mishmash house, because I'm not really domestic and it's often a frenzy. The piece over there," Stan points to a black wicker cane chair, "is super special. It was from my friend when she moved studios. It doesn't fit with anything else."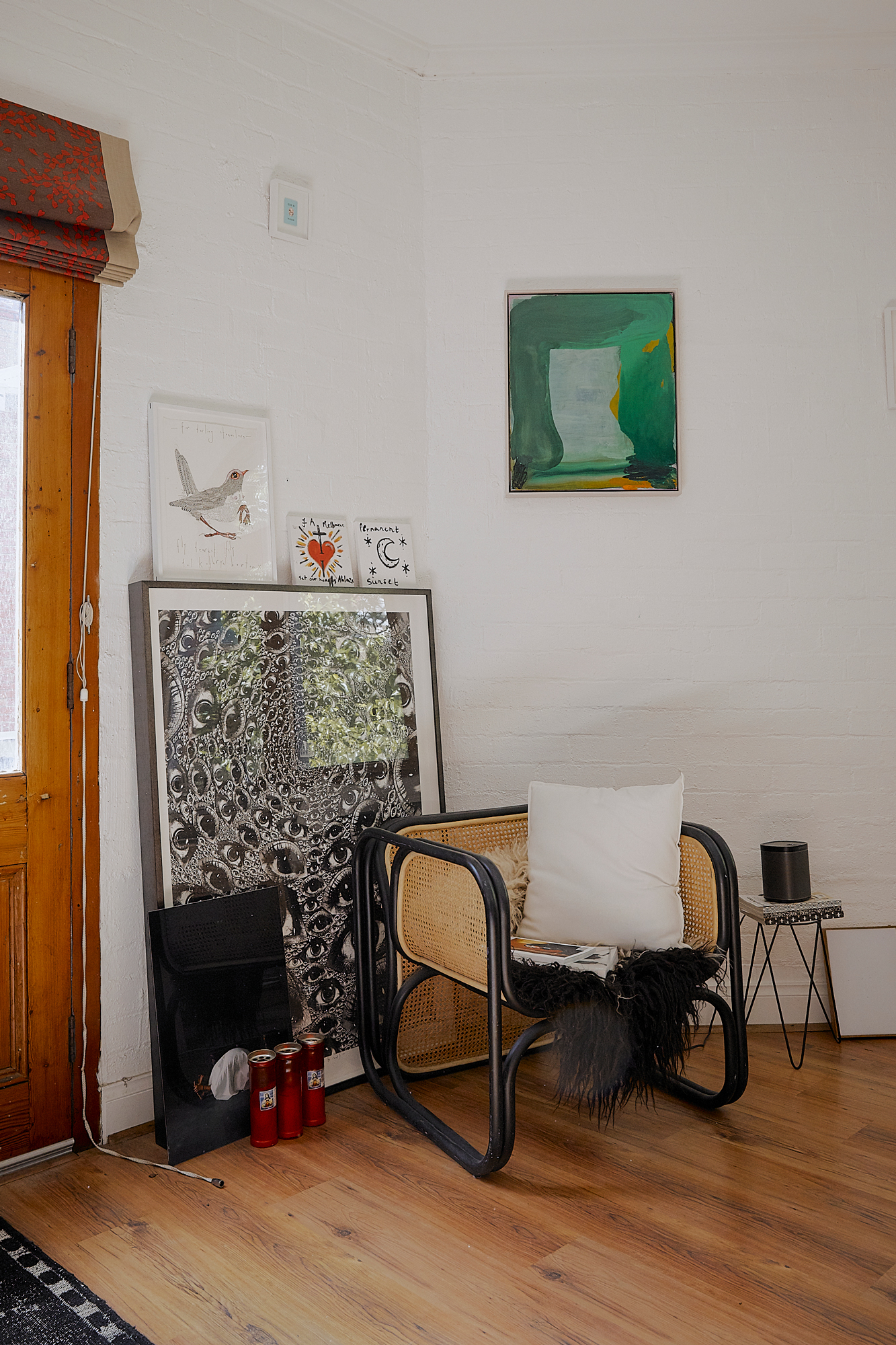 "The big photo collage work is by Del Kathryn Barton. The other one above is by Del as well, that was a gift, from her ACMI animation – Oscar Wilde's The Nightingale. I love the bird's breasts, and I love my name underneath her on the drawing."
"['Heart' and 'Moon'] are from my friend Florence Welch, and another drawing in my bedroom as well. 'Green' is from Miranda Skoczek, who owed me a painting trade for three years. I got it like three days ago, and it was completely worth the wait. That one's me, up there. It's a study for Borders. The terrazzo blocks are me too, obviously. That's a Tracy Emin etching. I bought it with all my student dollars. She had a big neon of that text in her Venice Biennale exhibition – I usually have it near my bed, where the message feels like a good omen or reminder. But I also really like rotating artworks around the bed, because I stare at them so much when I wake up, so it's nice to look at them all attentively. I really love the sad lumpy figure underneath too. That one is a David Shrigley from Yvon Lambert in Paris, I also spent all my student dollars on that. I've had that one for ages, over ten years now. The carpet is a trade from Beci Orpin. I tattooed her back and chest. When she was making the rug, I sent her lots of references, because I love rugs – and she gave me the first sample."
In her bedroom, there are pieces from Anthony Lister, Dan Price, Andre Piquet and Ian Strange. The two pieces from Jeremy Geddes hold special significance, "They're both me – they're really confronting. Both are oil paintings and are really special. I sat for a series of ten for him; one is from the series and the other is a study."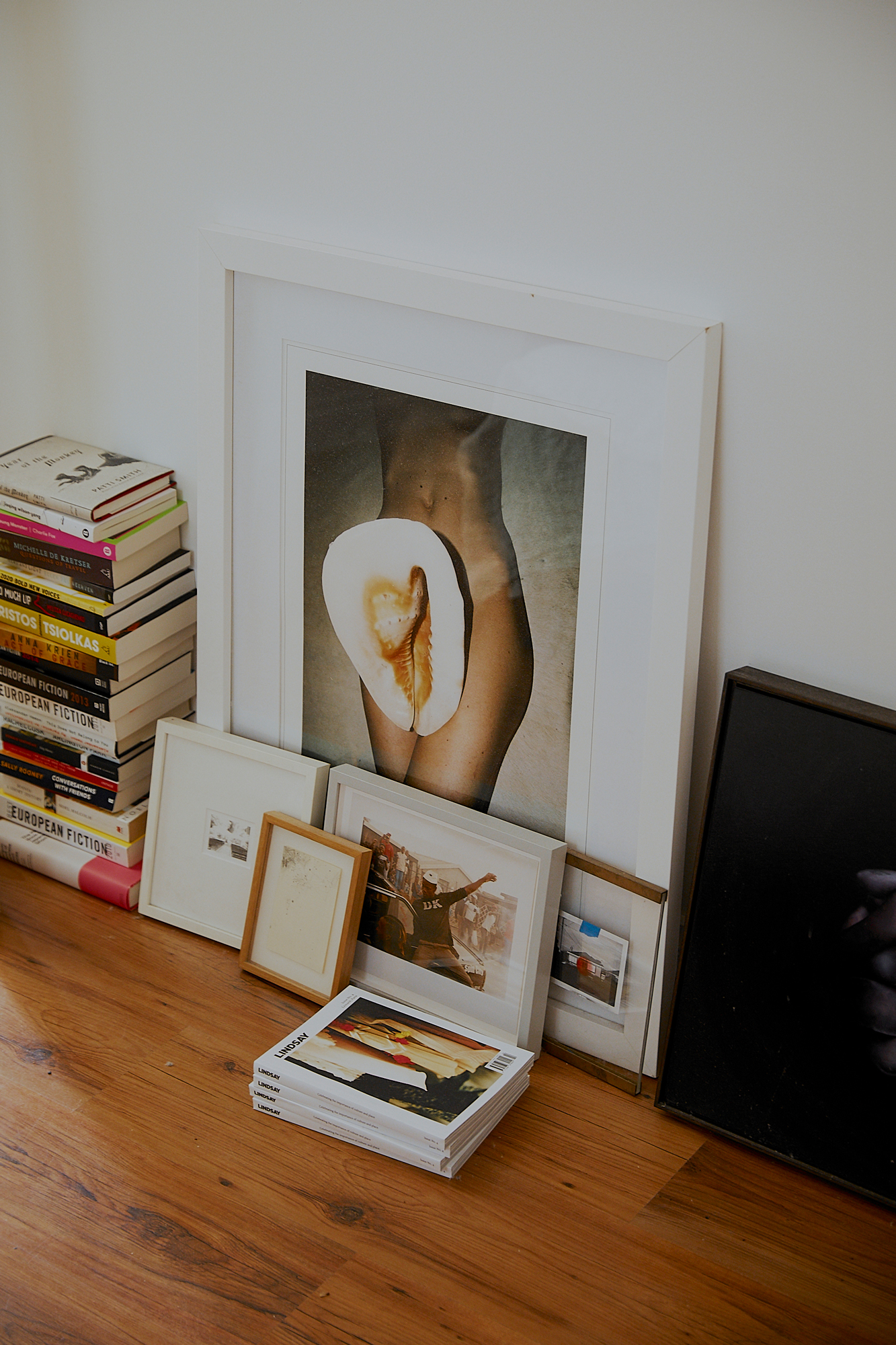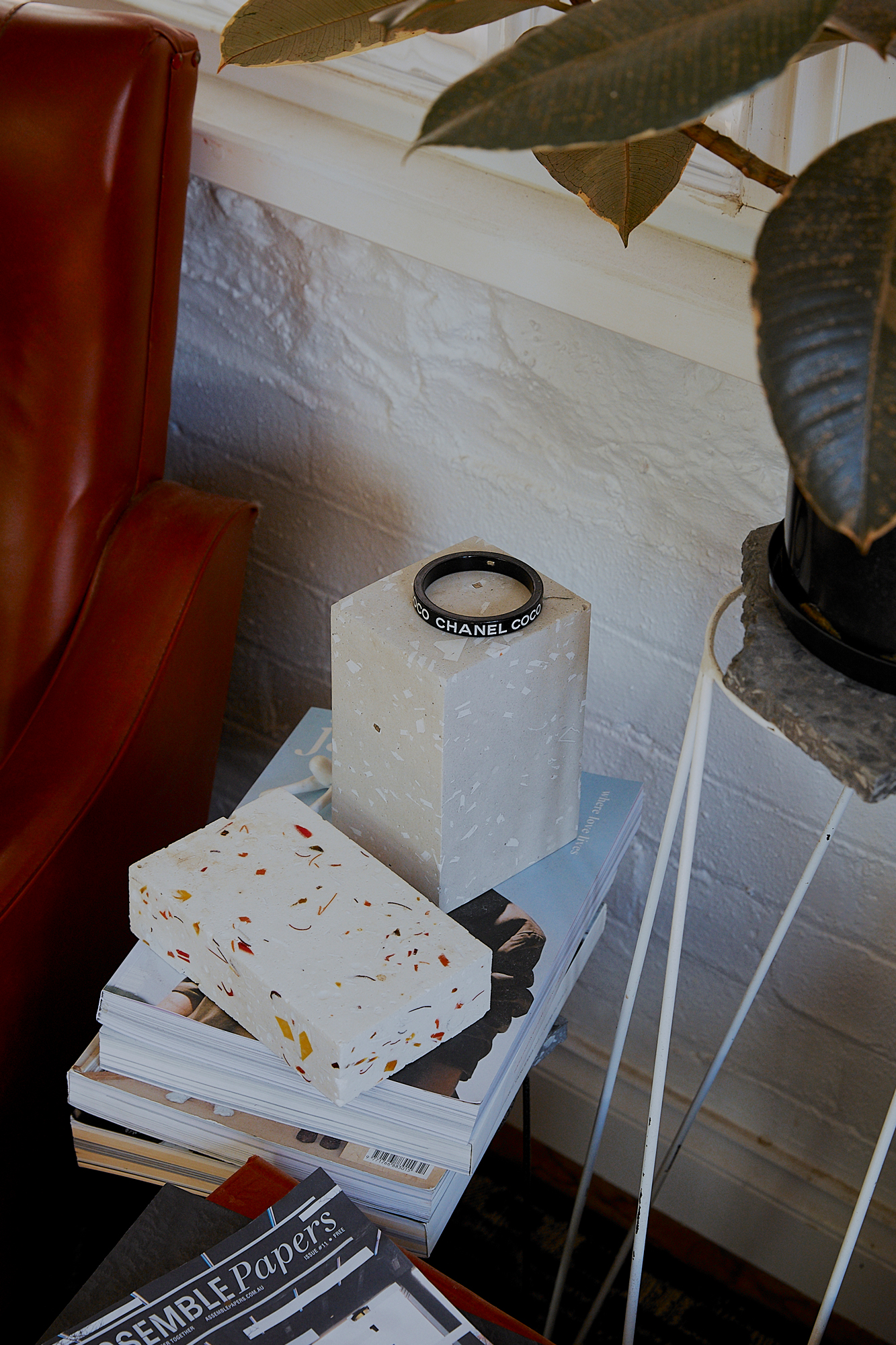 The conversation shifts a little to the topic of rugs, travel and Morocco. Stan pulls out a book she picked up in Frankfurt called "Moroccan Carpet and Modern Art." The book is a collection of carpets from Berber weavers throughout Morocco, many from the High Atlas. Their carpets are placed side by side with artists – Rothko, Kandinsky and Klee – and they are pretty much identical. "When you see the dates, you realise how long ago the women in the Atlas Mountains were making these, and it really drives home how interesting it is, what we consider avant-garde."
"There's another Del here and a few Miranda's, Sam Hodge. There's another portrait of me by Jeremy there. These two are by Bianca Chang, they're really beautiful, they're cut layer by layer."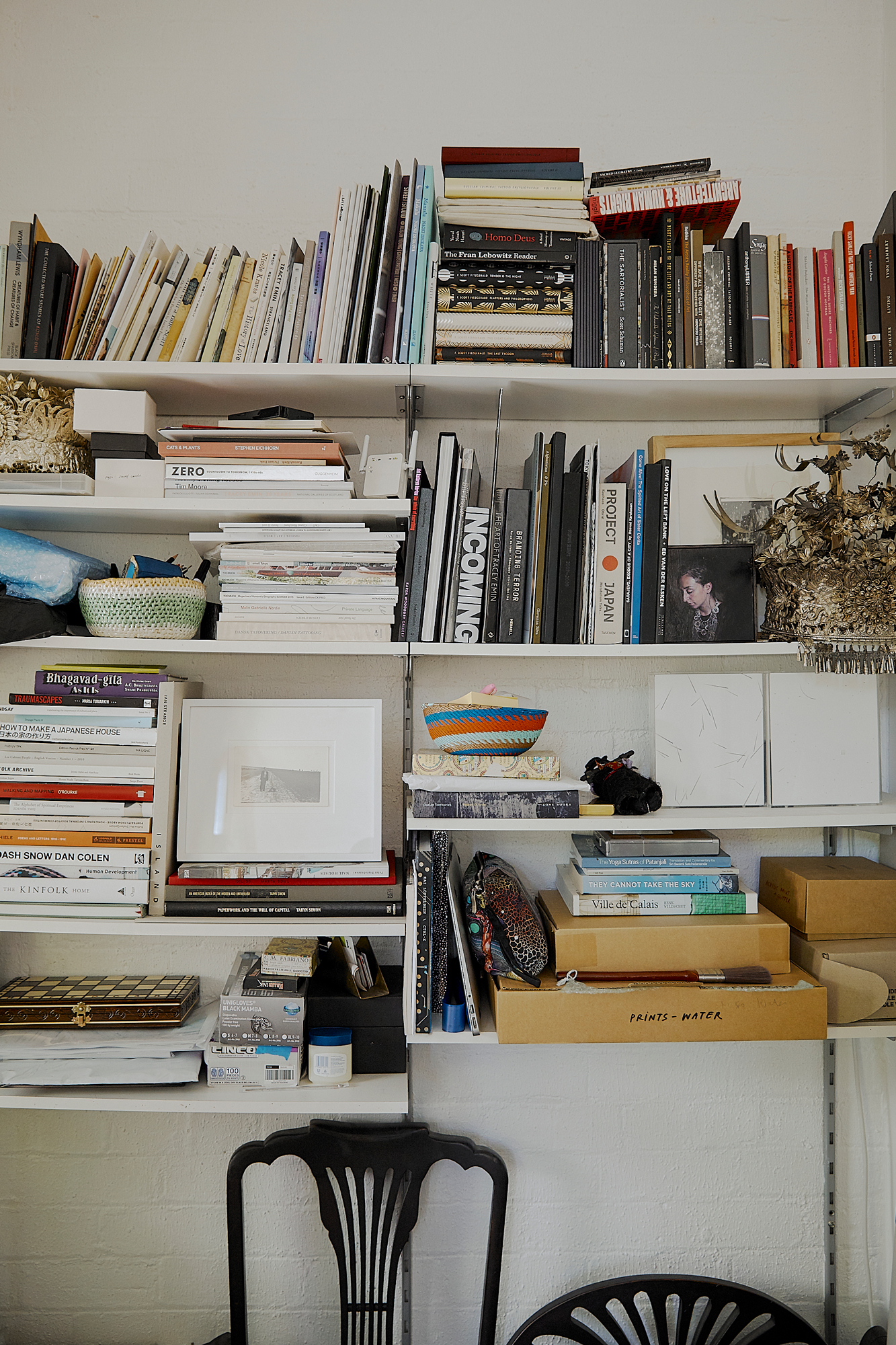 "The [photo on the bookshelf] is my great-aunt. It's one of the few photos of her that exists. She was really incredible. She ran away. Her, my grandmother, her brother and their mother had to flee because their father was a pretty well-known resistance leader in the Poltava region of Ukraine. So, he was really wanted by the Nazis. He was organizing the resistance in the forest in the evenings. He was also a beekeeper, like me."
"They all fled together, while he stayed and kept fighting; took two horses and bolted. My great-aunt later left them and joined the army as a nurse. From there she became a soldier and ended up becoming the lieutenant."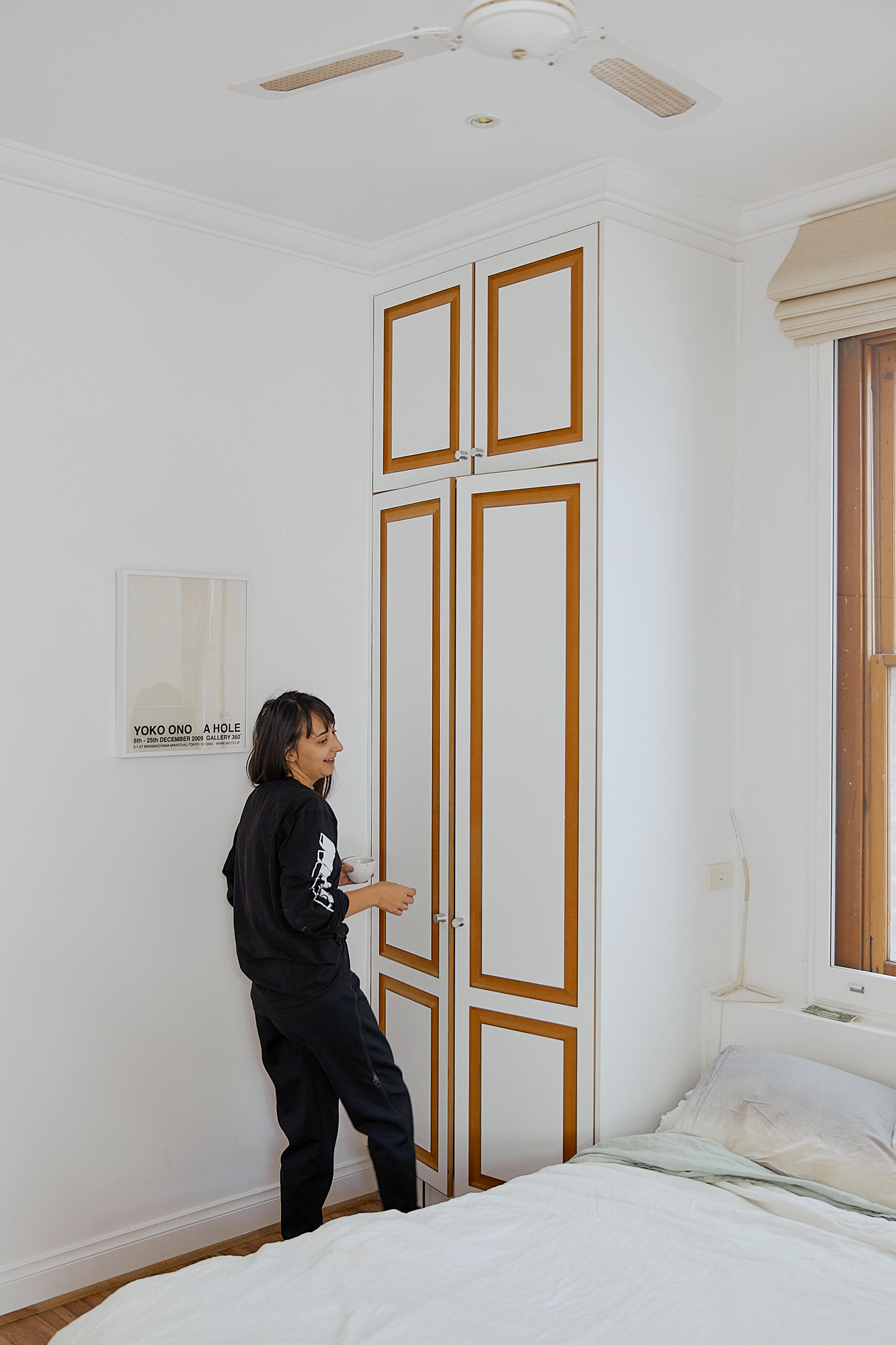 "From her youth, even before the war, she always dressed quite masculine. Short hair, suits. When the war finally ended, she ended up in Poland, and lived with a woman – whose name I've never been able to find. She died five years after the war, in really strange circumstances. She sent my grandmother a strange goodbye letter, like a suicide note – but was shot through the window of her apartment, by someone else. But I love this photo, from those five years she was alive after the war, where she just looks happy."
"This is my art studio, storage and books. I'm a little transient, so I try to pass on books when I've finished with them – so these are the really constant reference points for me, that I really work hard to hold onto in all the moving."
A sincere thank you to Stanislava for having us in your stunning home, and Ben Clement for capturing the space so beautifully. Thanks too, to Elizabeth for crafting this piece.