Housing
Meet the community at 122 Roseneath St: Part I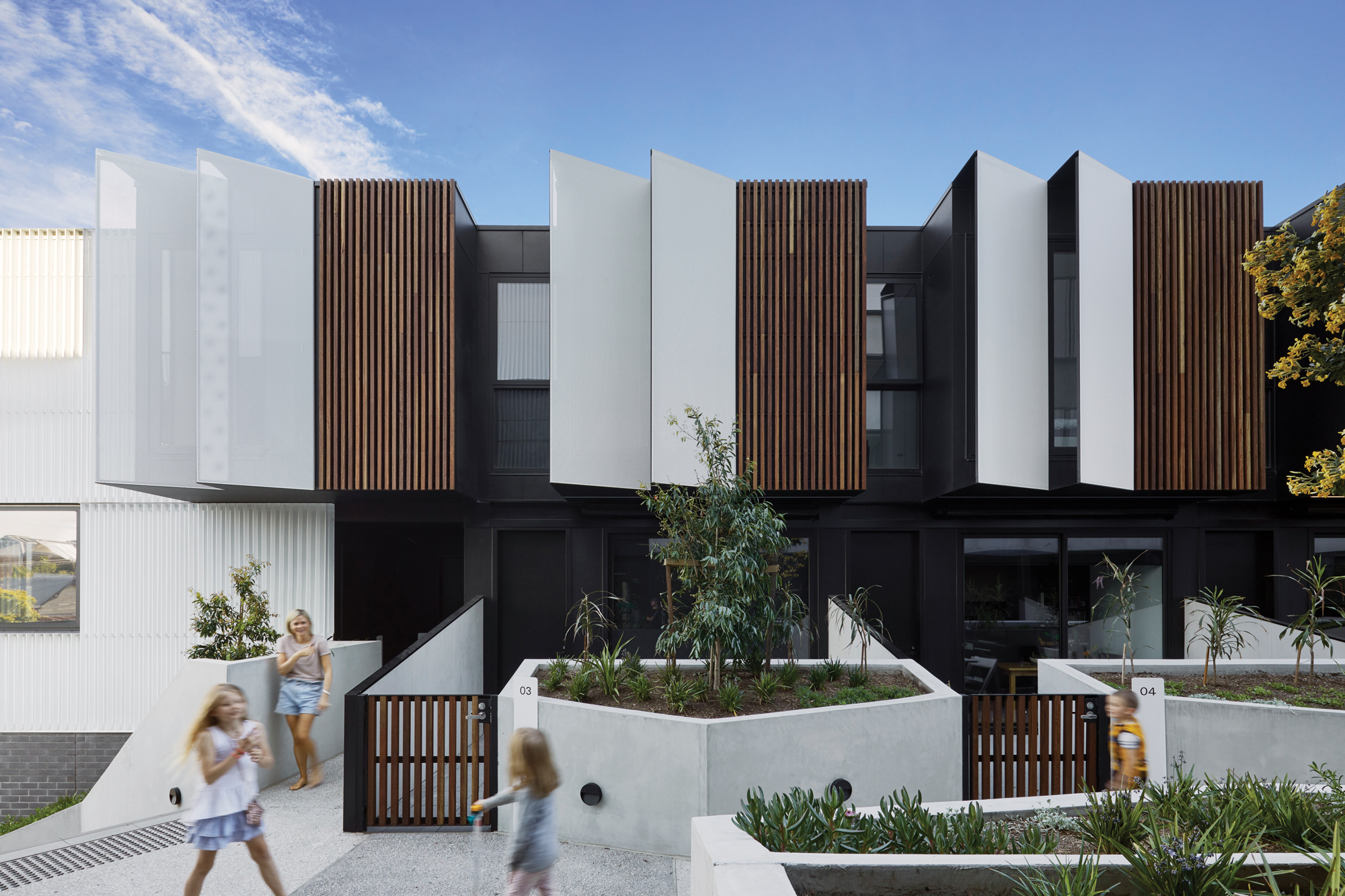 Nov 26, 2019
122 Roseneath St was completed in 2018 by Fieldwork Architects: the first building developed by Assemble, serving as a testing grounds for the company's ethos and philosophy. Introducing the first of our two-part special on the small footprint project close to our hearts, this week we visit one of the architects on the project, who now lives on this address.
On a quiet street, in the leafy suburb of Clifton Hill, stands a strong, black-and-white-banded apartment building. It consists of 49 apartments flanked by 18 townhouses, allowing for a diverse mix of residents at any stage of life, and stands in place of a former brutalist warehouse, which was partially retained.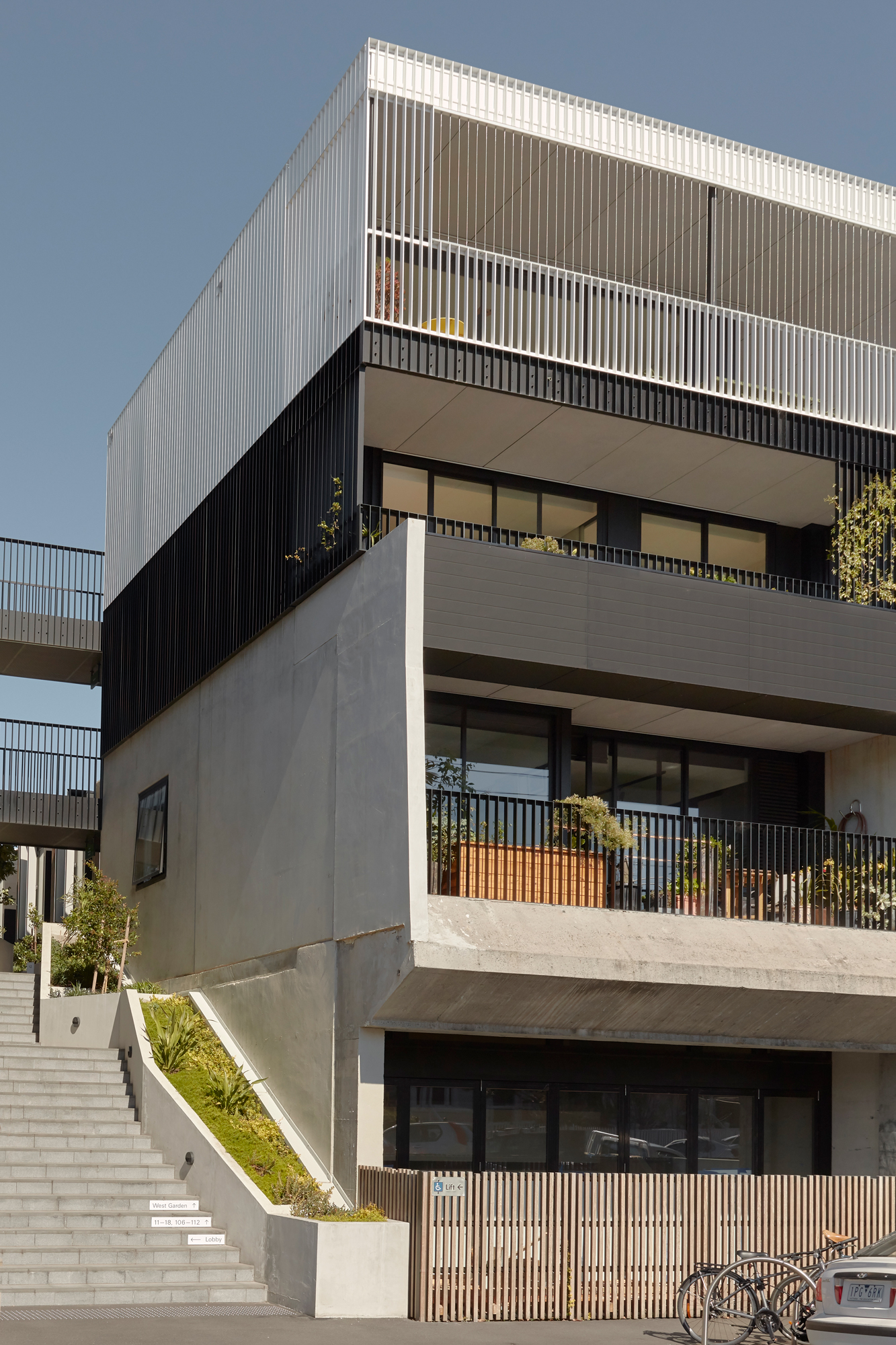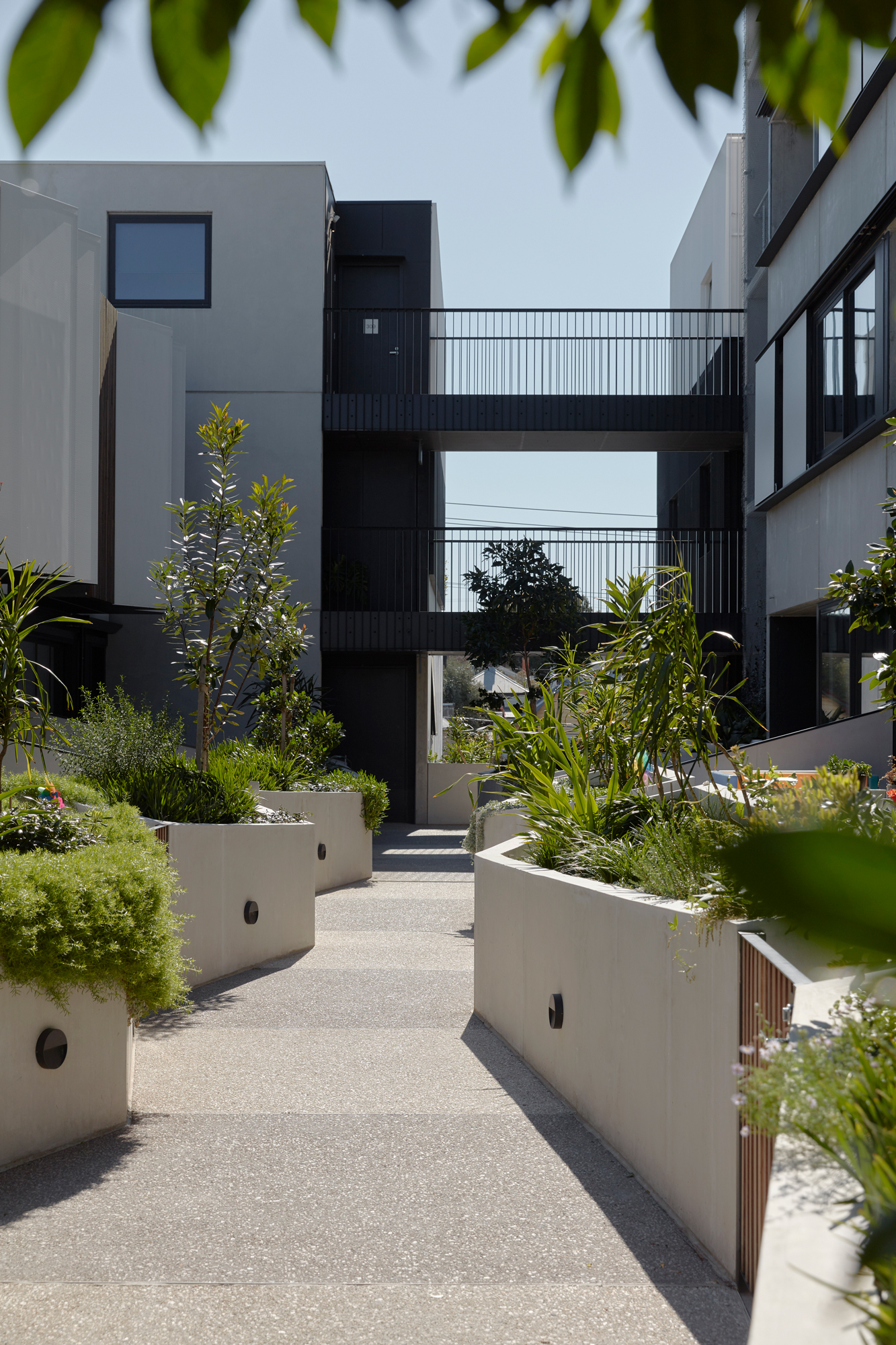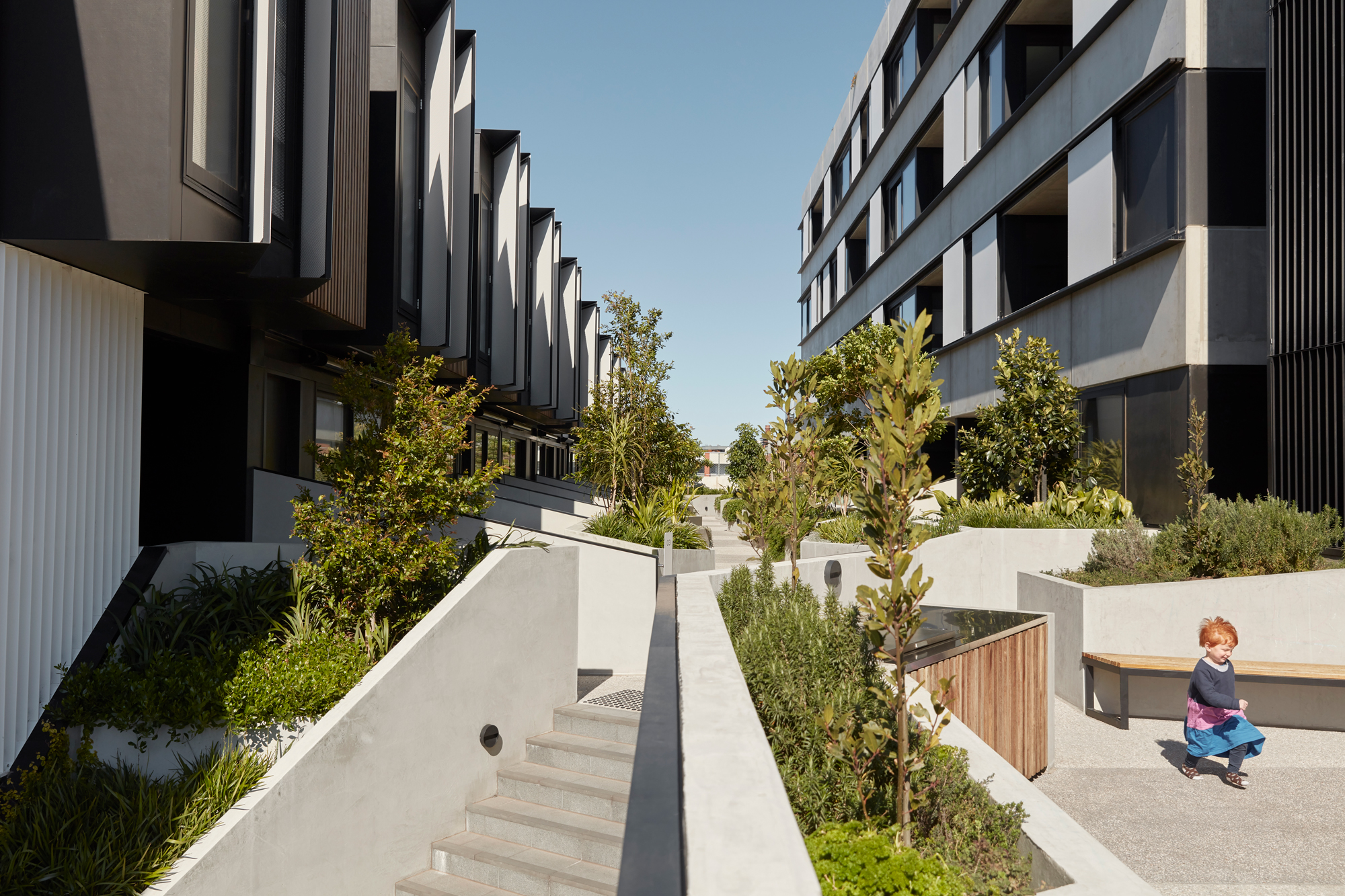 This is the first building developed by Assemble [the publisher of Assemble Papers – ed.], in collaboration with Wulff Projects and Icon developments, and served as testing grounds for putting the company's ethos and philosophy into built form. The development of the project started with the community. Mid-2016, the team at Assemble started organising multiple rounds of design presentations, with the purpose of conversing with potential future residents, to ascertain exactly what they wanted in a multi-residential development. A series of questions, conversations and online surveys assisted the architects, Fieldwork, to understand their needs when designing different aspects of the building, both communal and individual. This process has now set a standard for many community-focused housing developments throughout Melbourne.
It has been just over 12 months since the residents have moved into 122 Roseneath Street. We had a chat to some of the residents to see how they have settled into the building, and its community.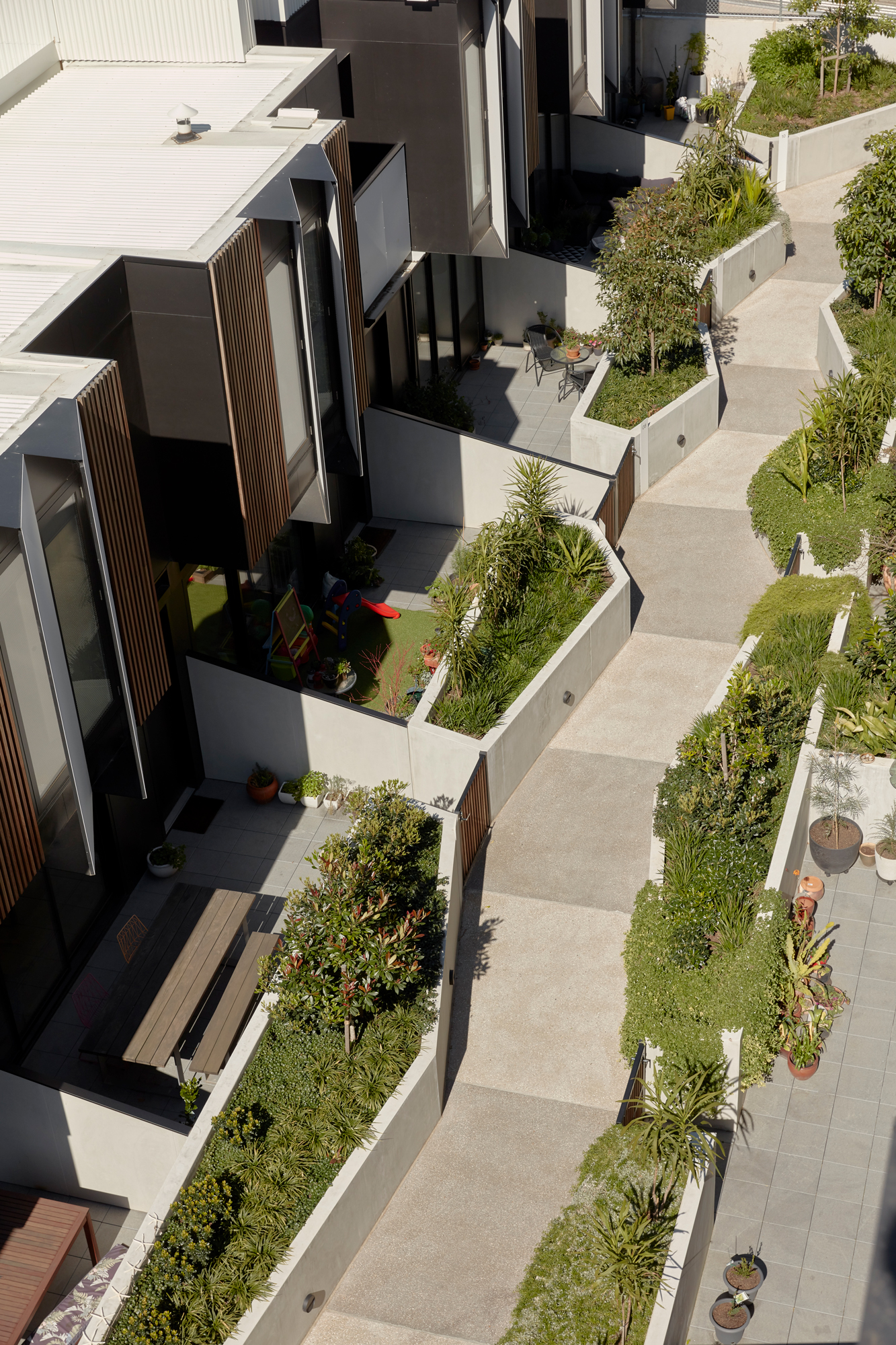 Looking down into the 'green St'. The common pathway encourages a sense of community.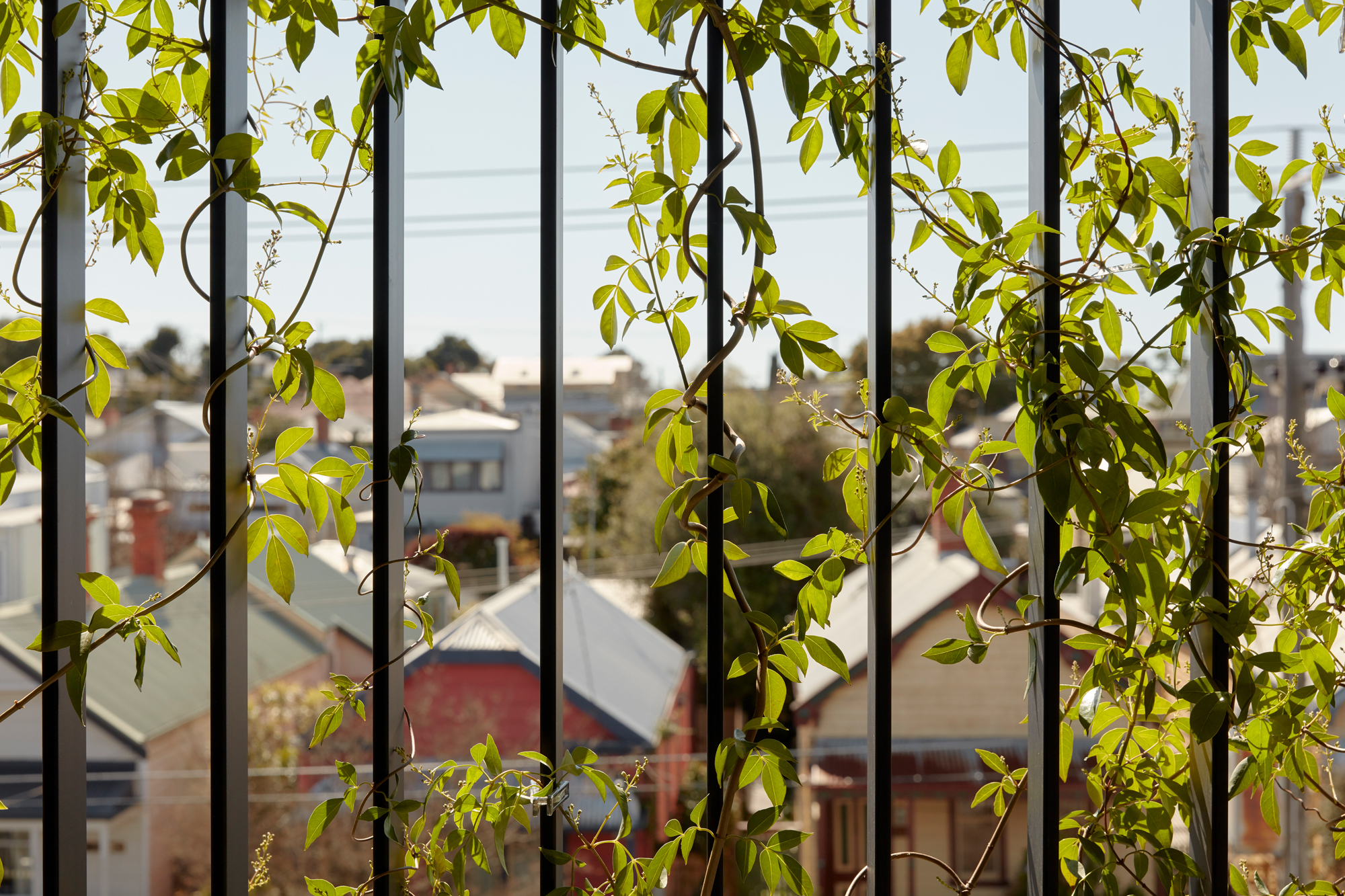 The new and the old – a view across cottage rooftops from Briony and Andrew's balcony.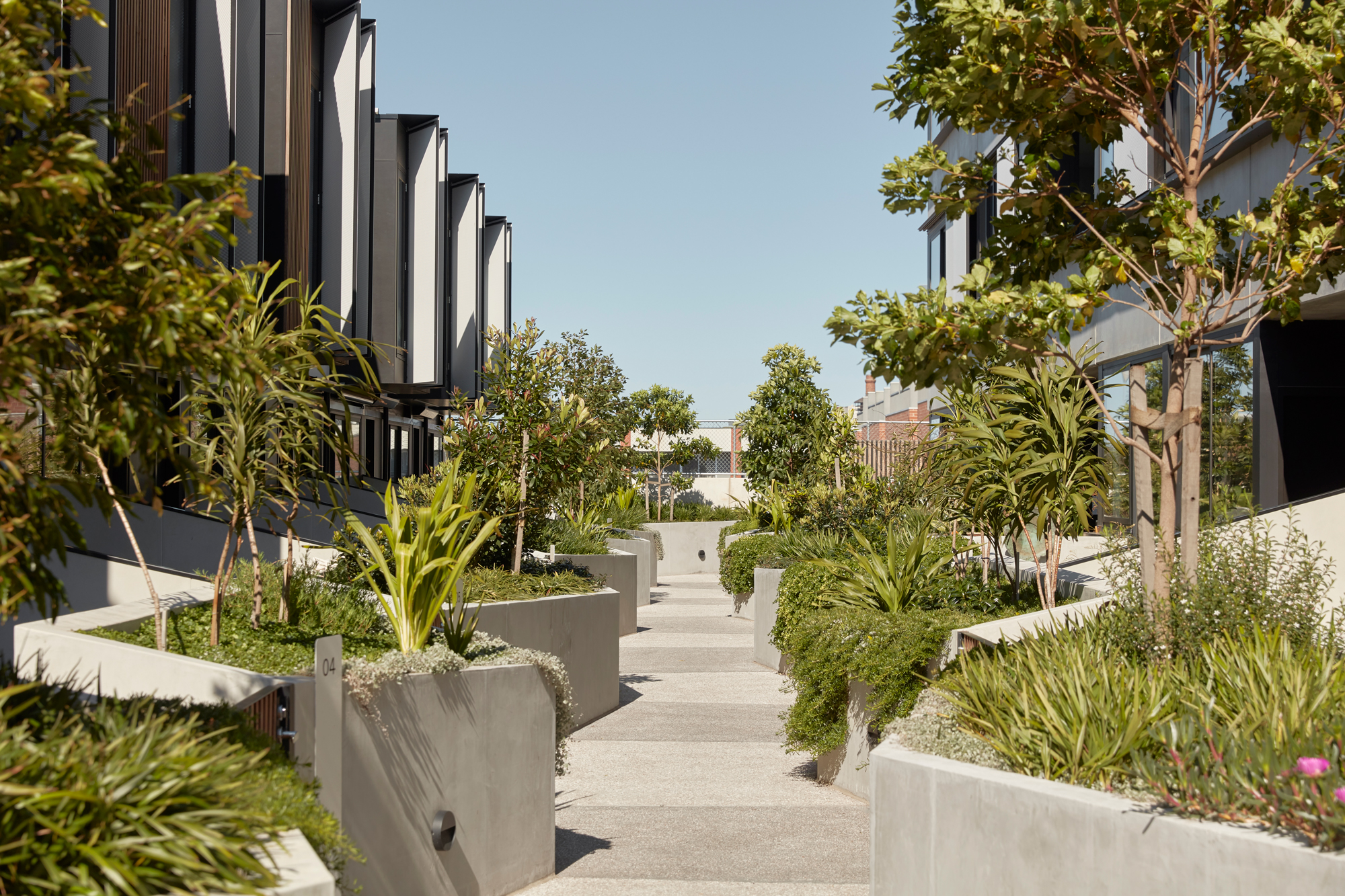 The Roseneath St development consists of 49 apartments and 18 townhouses, allowing for a diverse mix of residents.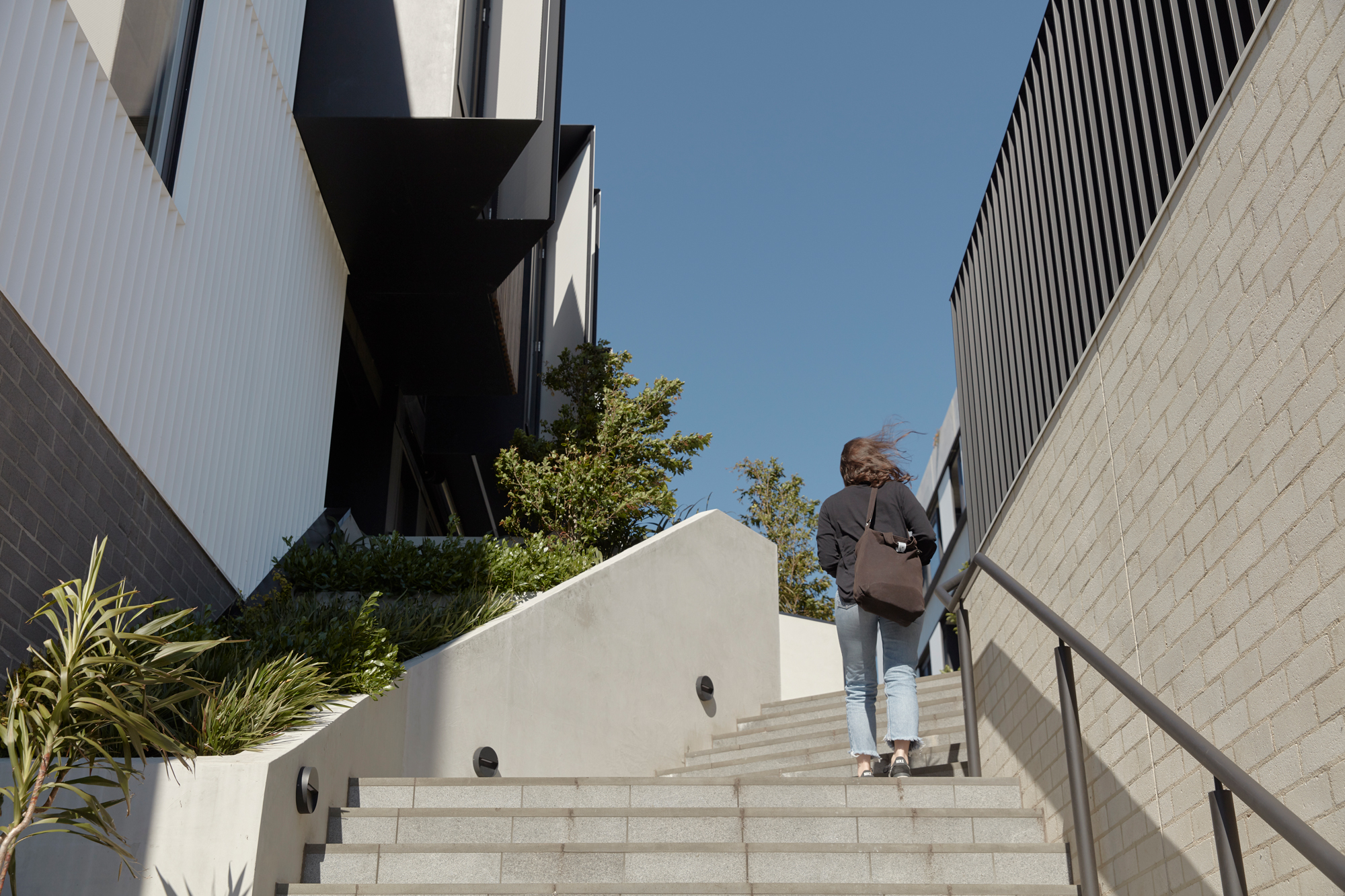 The main entrance in the Roseneath St apartments – the building sits on the site of a former brutalist warehouse, which was partially retained.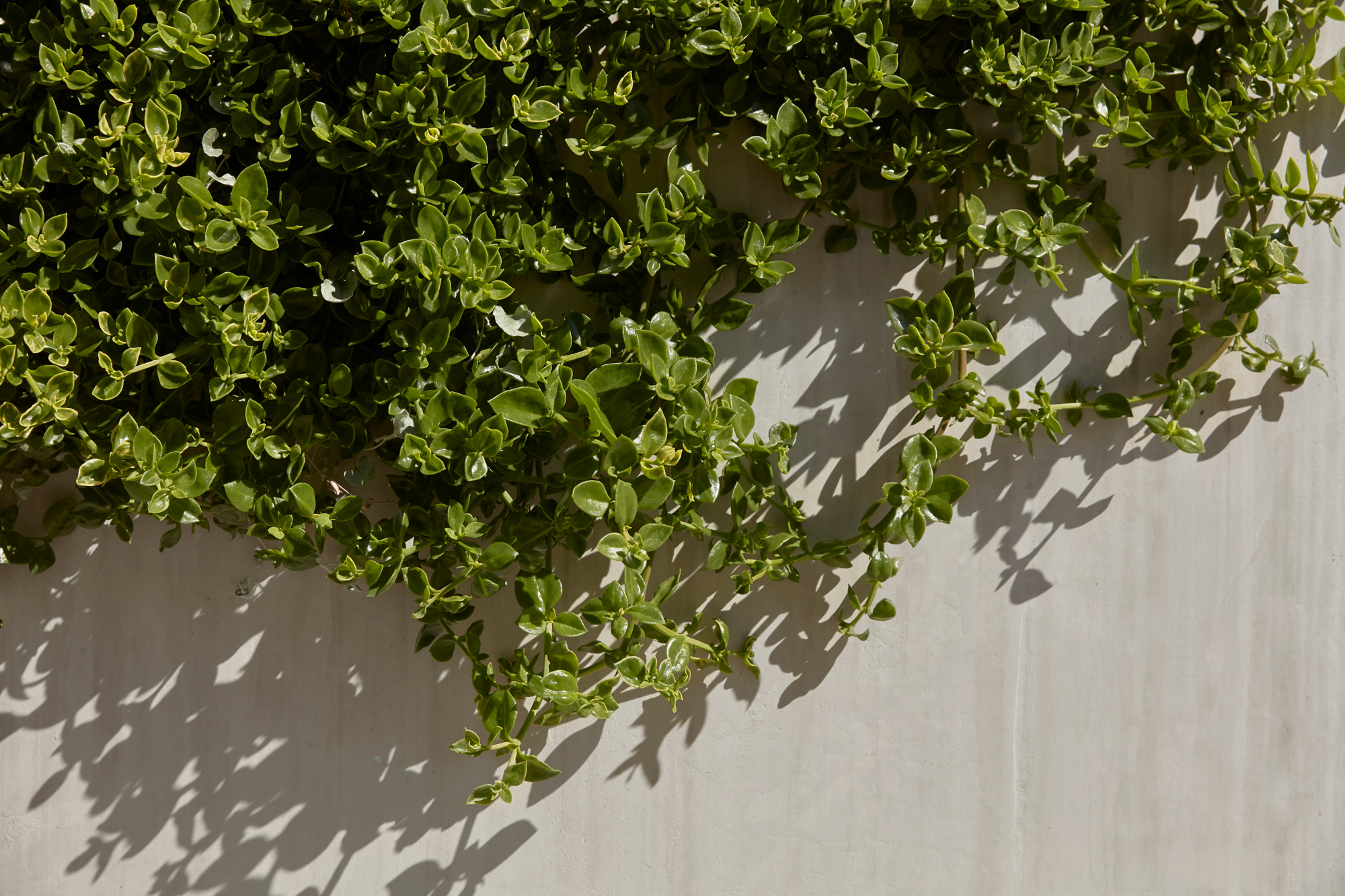 Greenery creeping down the building's facade.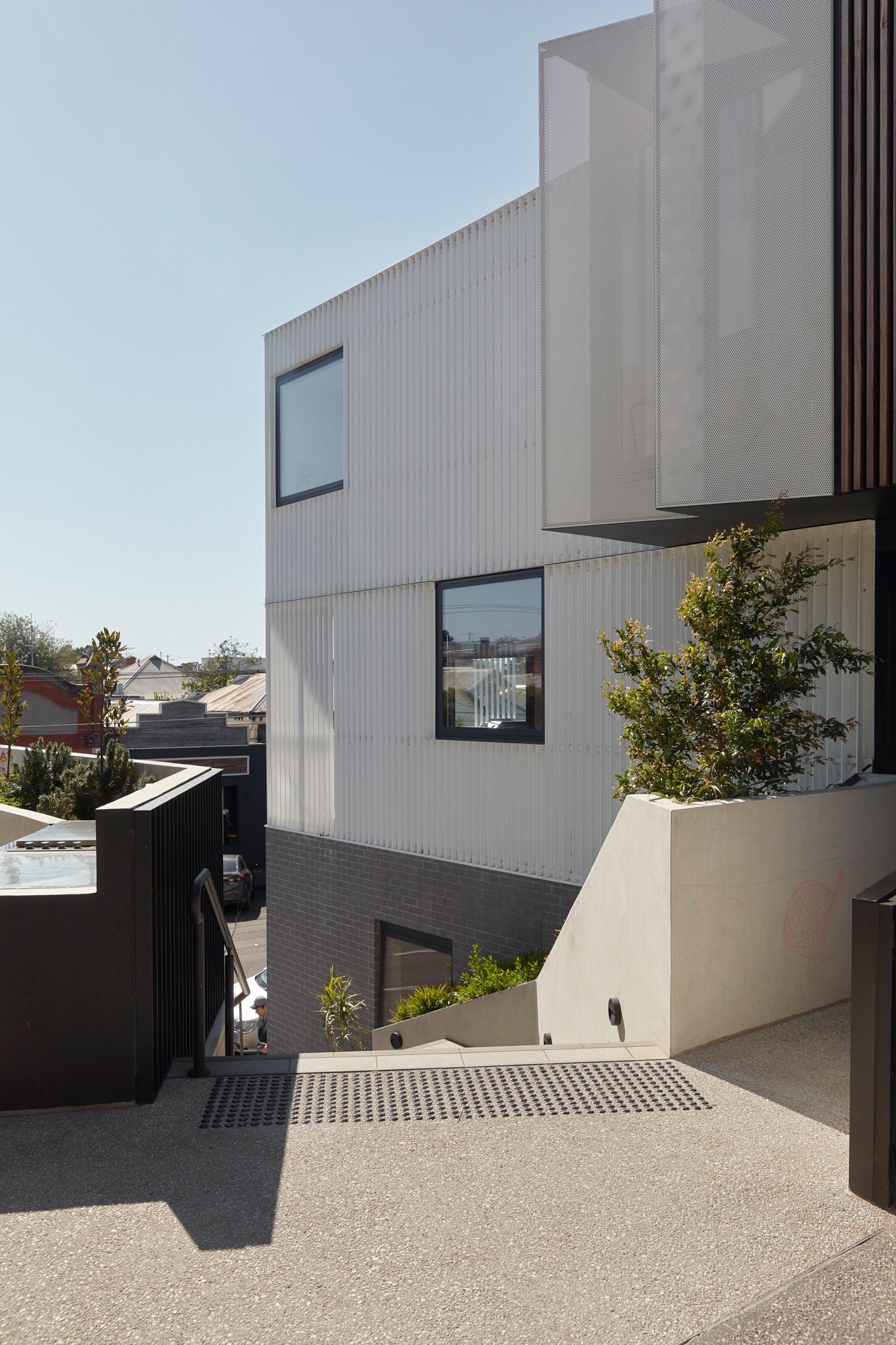 The rigid, geometric style of the Roseneath St development was inspired by Brutalism.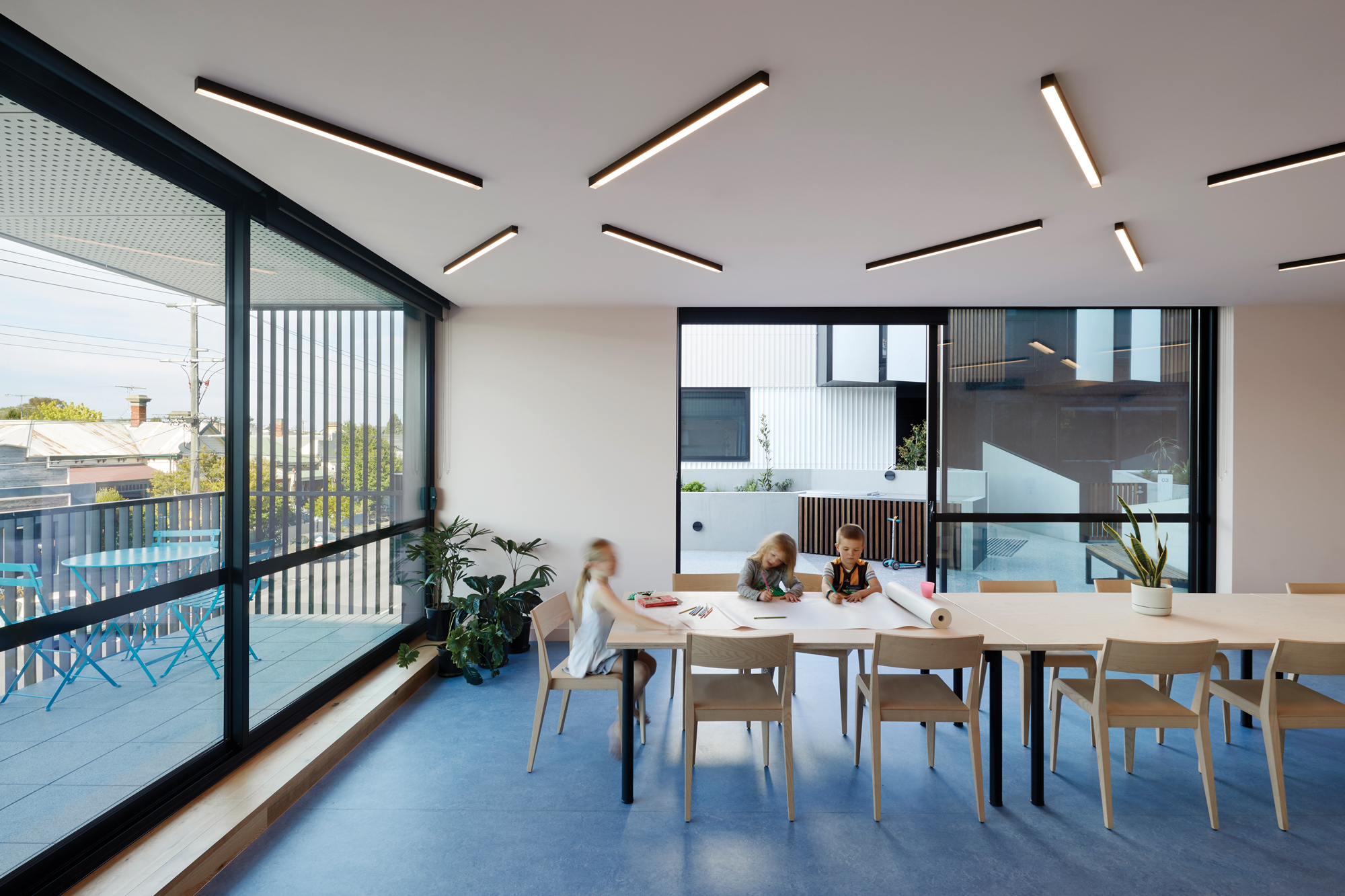 The mixed-use communal room at Roseneath St. Among other things, residents share pot-luck dinners here once a month. Photo by Tatjana Pilitt.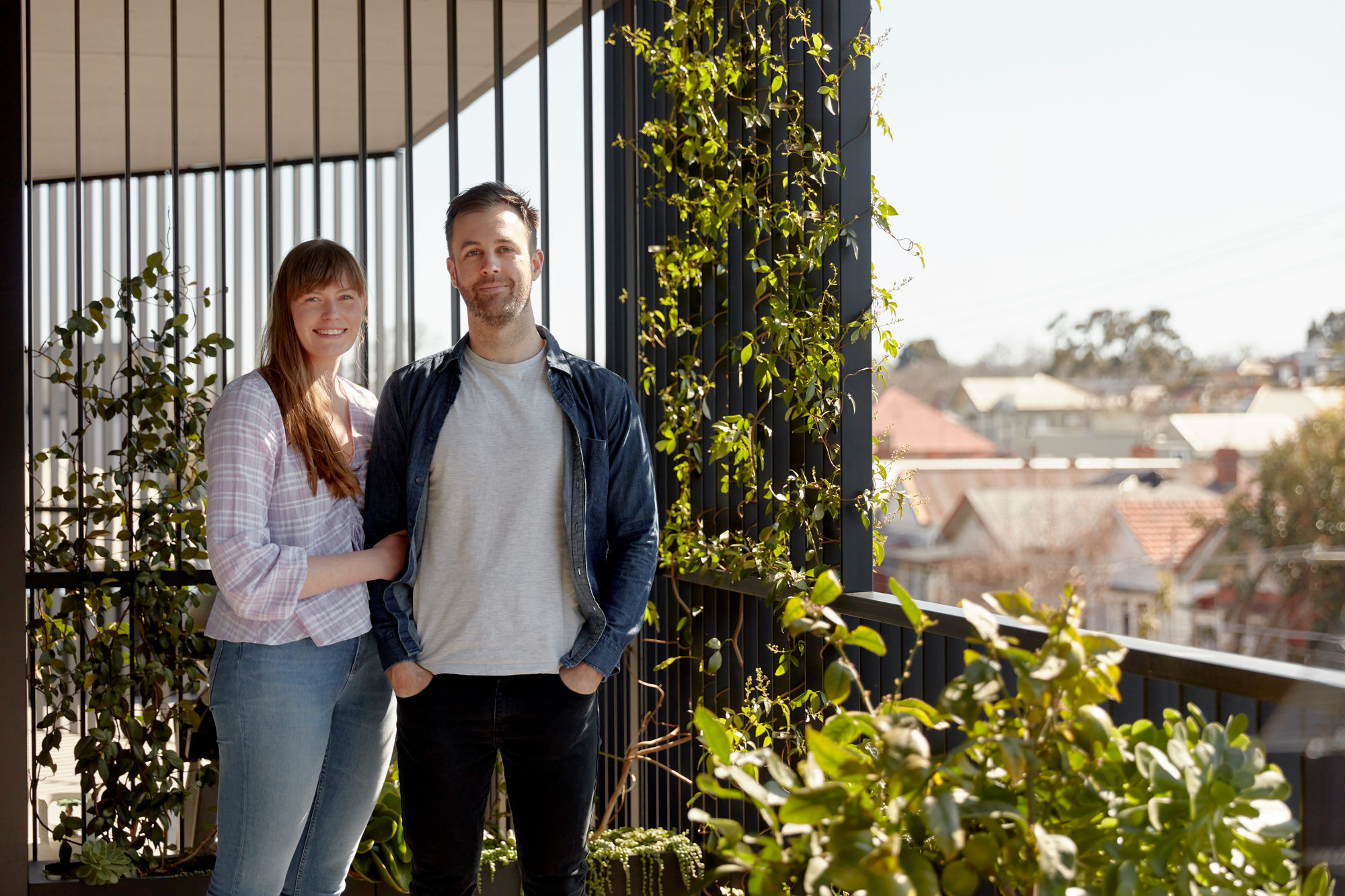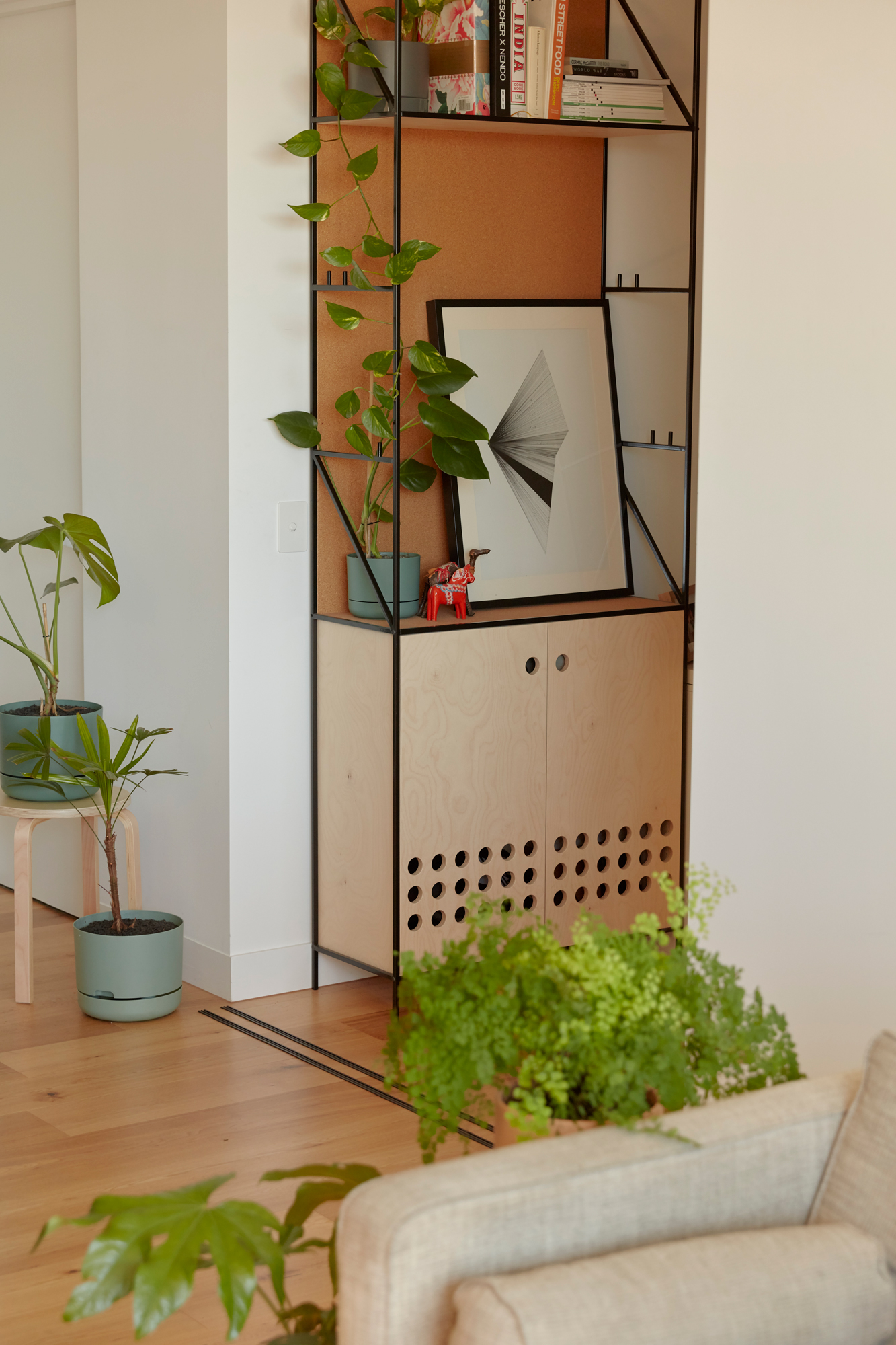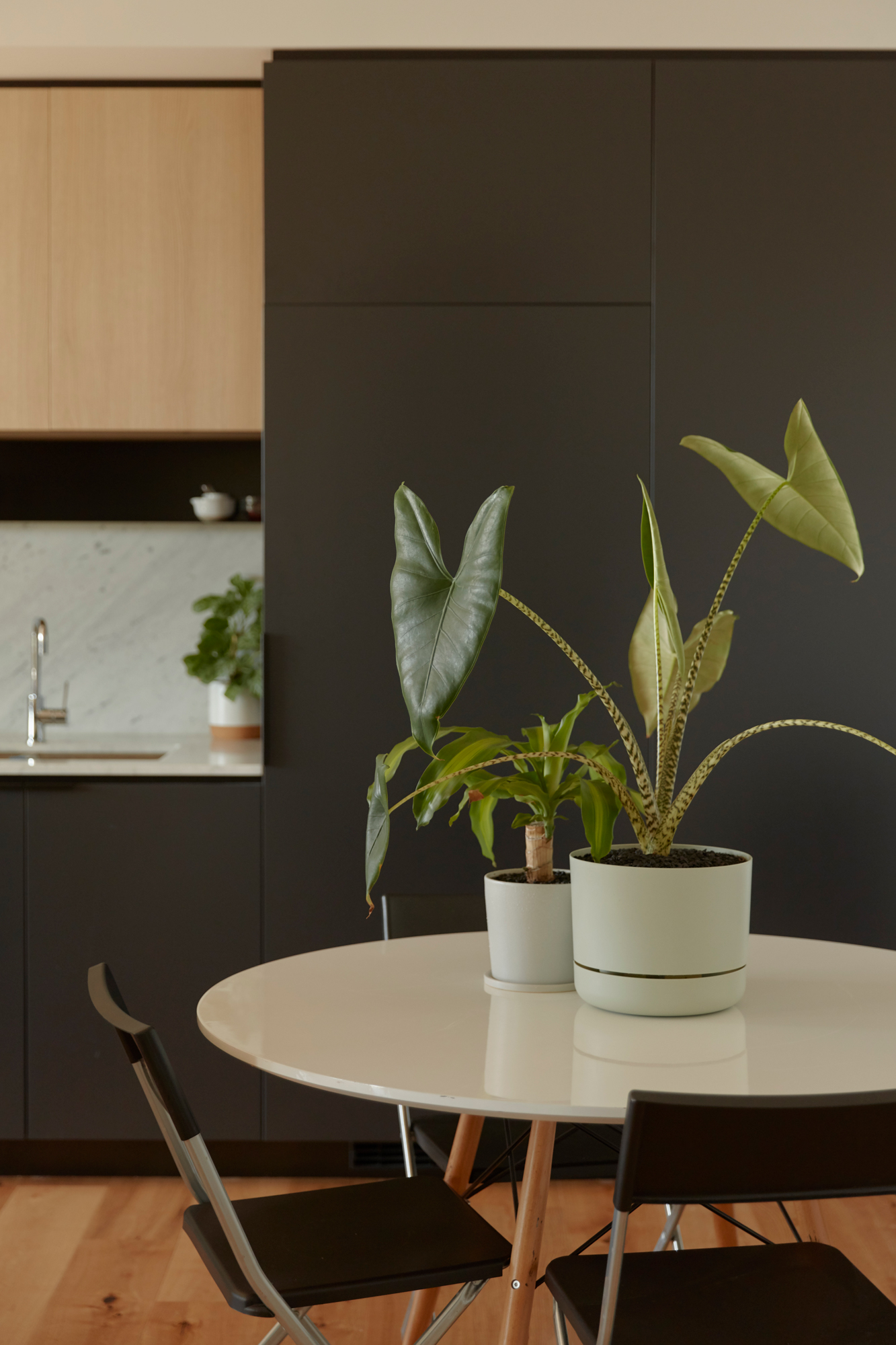 Briony & Andrew
Briony and Andrew both work in the architecture industry. Briony is an architect and associate at Fieldwork, and was the project architect for Roseneath St. The couple live on level two with their pet bird Frankie, in an apartment which faces north looking over the terrace house roofs on the opposite side of Roseneath Street.
Briony
I grew up mainly in Newcastle, with a little bit of time spent in Zürich and Bangkok. Andrew and I met at university. I had a gap year in Sydney between completing my bachelor in architecture and starting my masters degree. During that time my family moved overseas, so I decided to move to somewhere new to complete my masters. Melbourne was the choice and I haven't looked back since.
Andrew
I grew up in the Central Coast and went to Newcastle University to study architecture. I moved to Melbourne a couple of years after Briony. I've been working in the architecture industry for around 10 years now.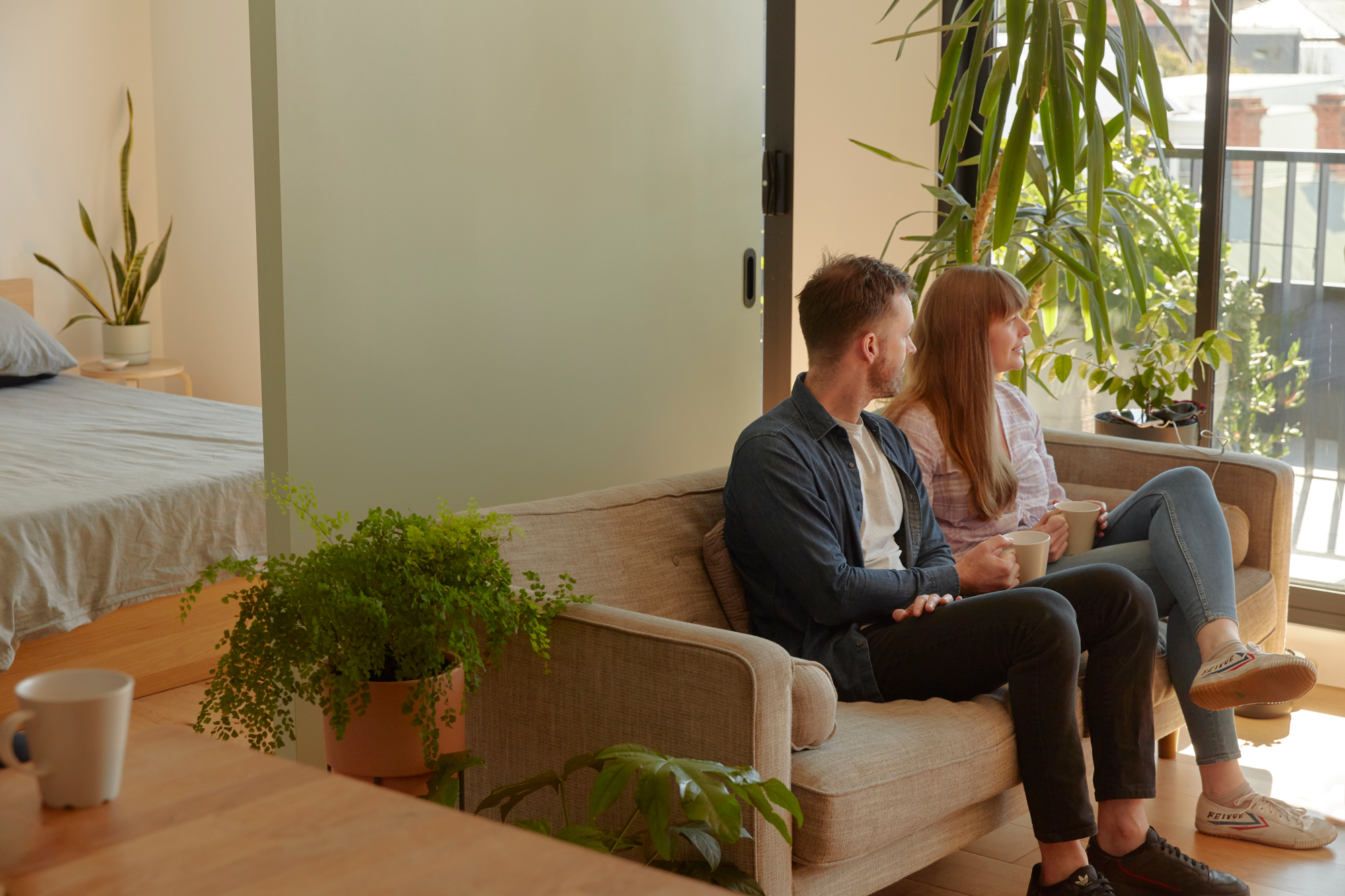 From left to right: interior details of Andrew and Briony's apartment, including a view from their north facing balcony.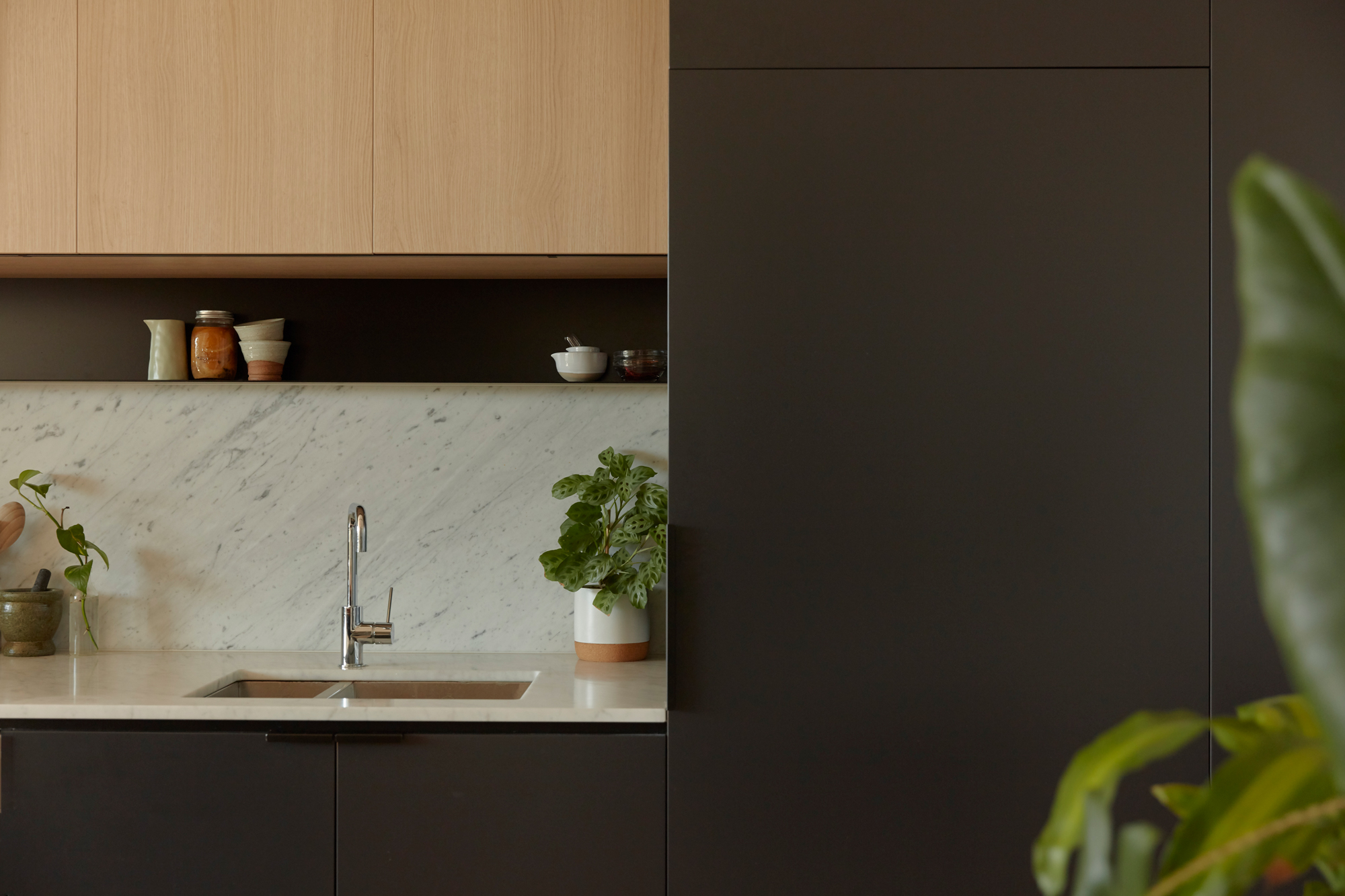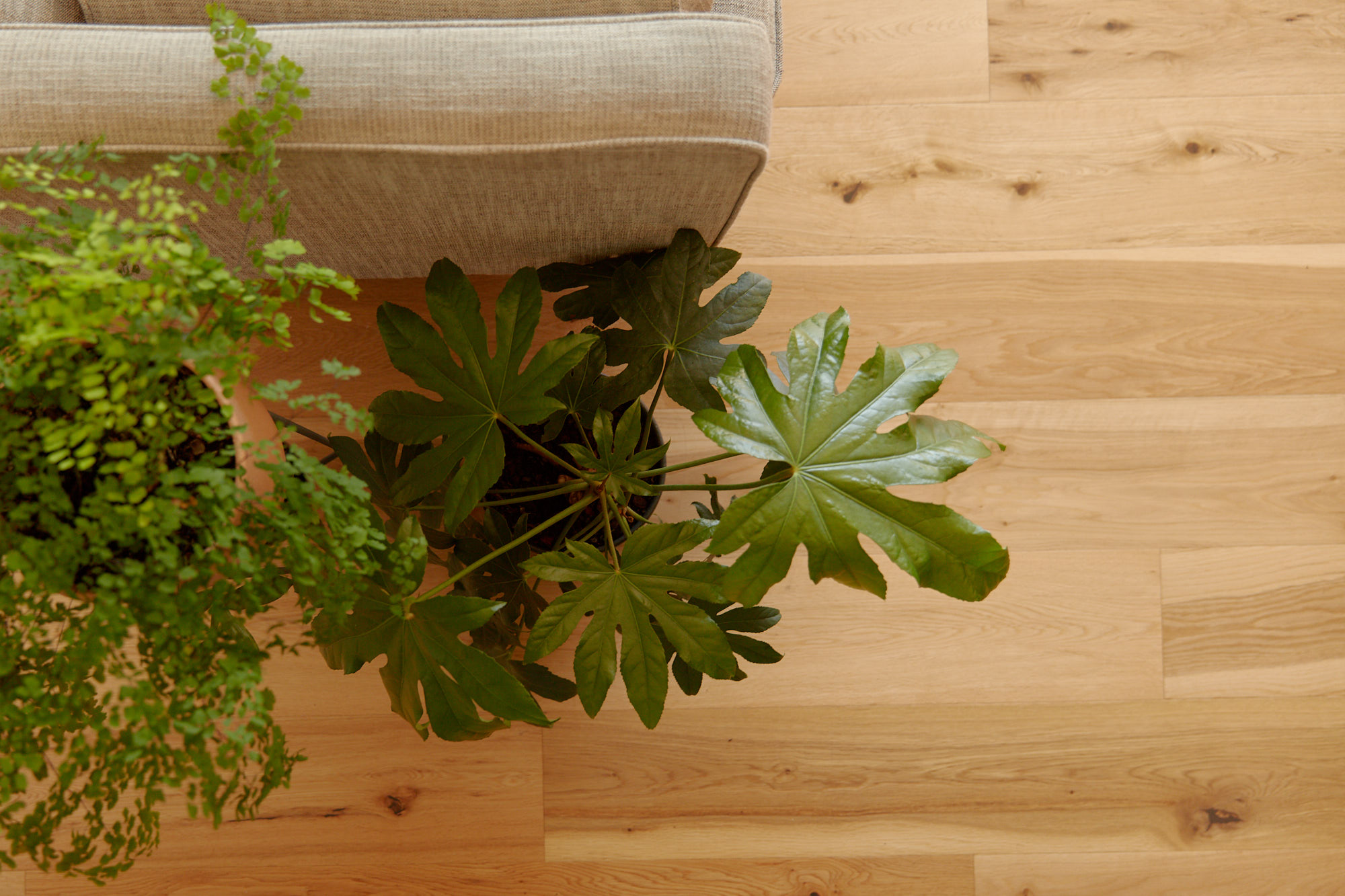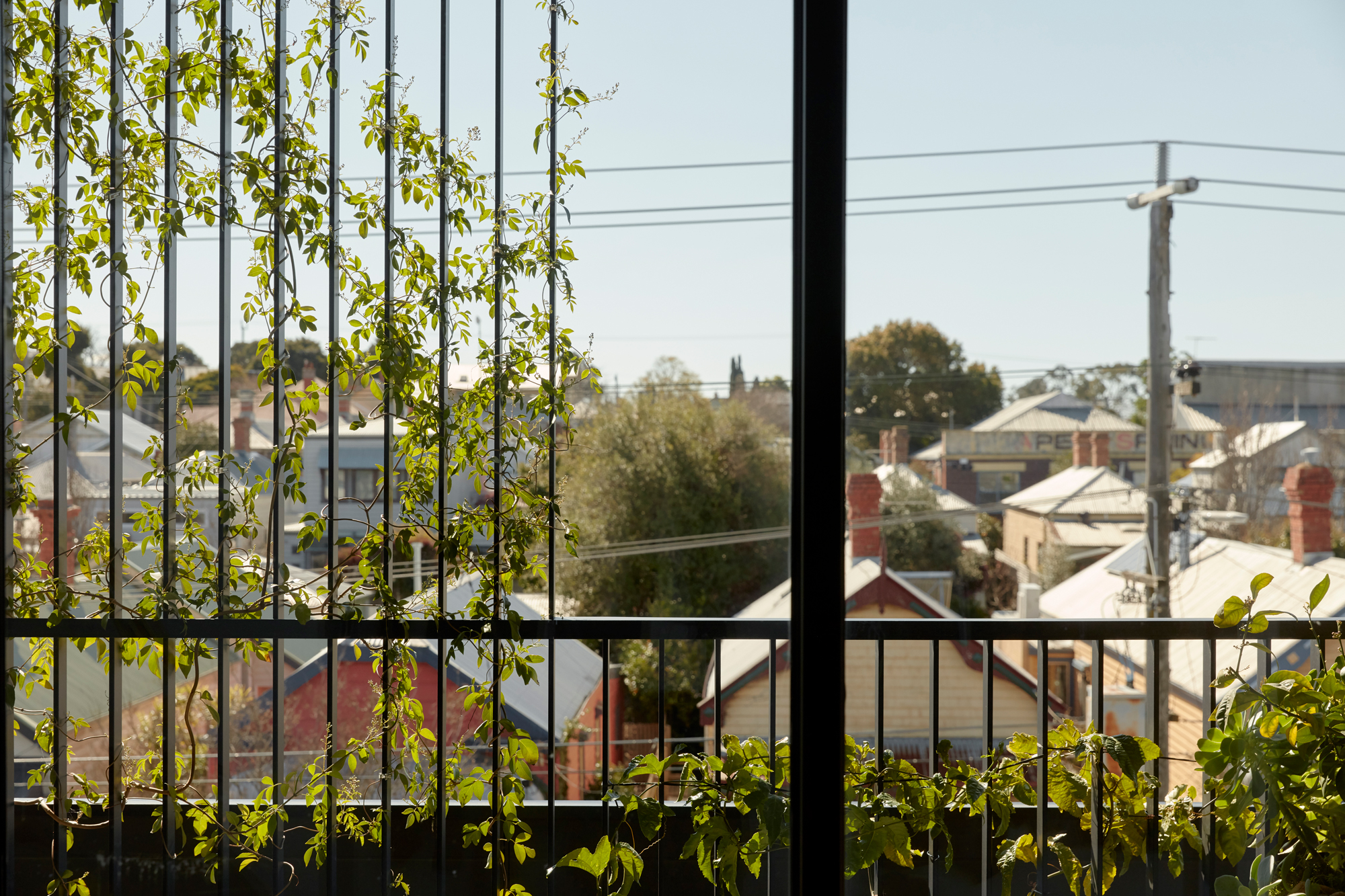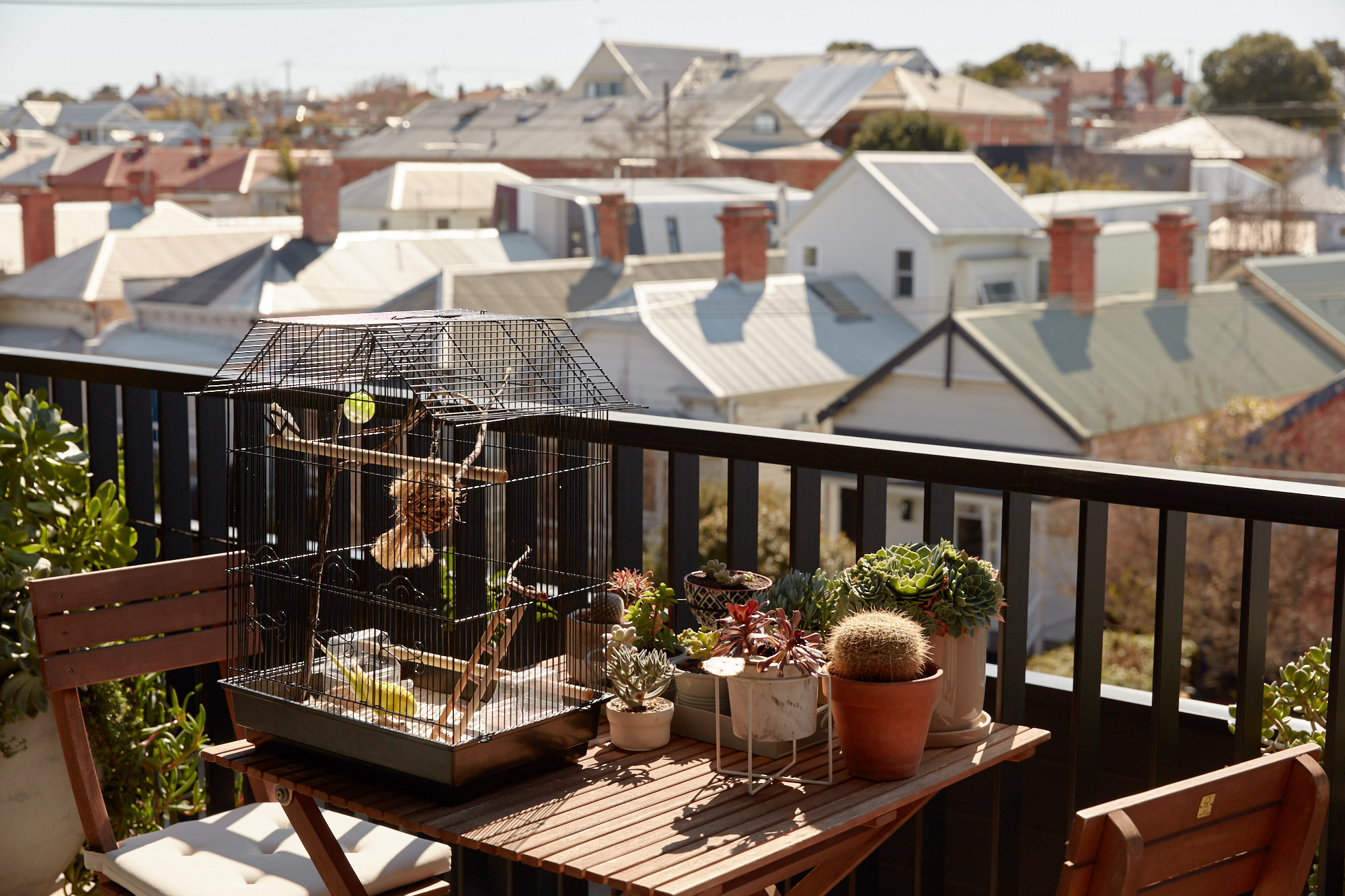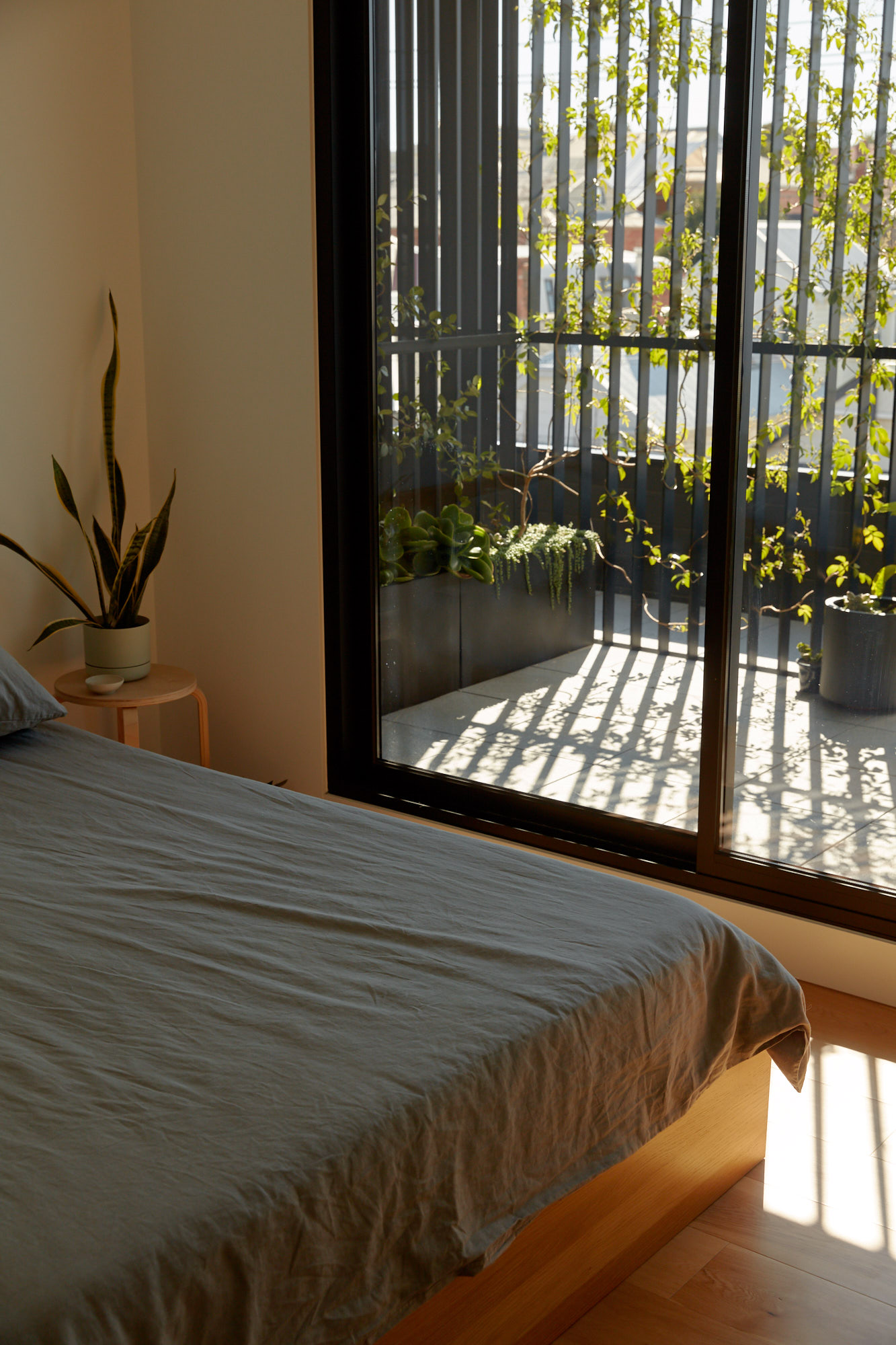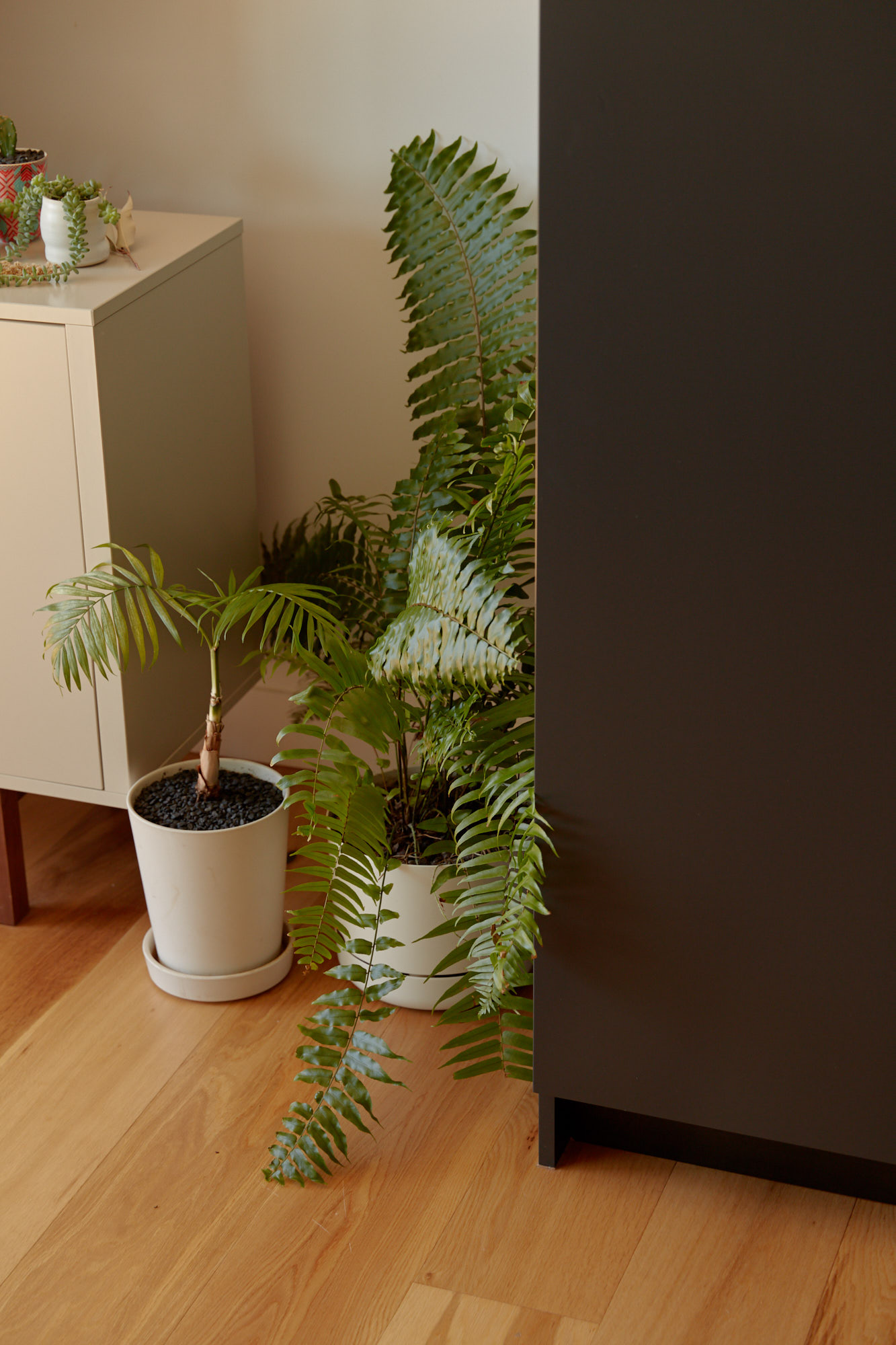 Elizabeth
Why did you choose to buy into this particular development?
BRIONY I was helping out with the design presentations we were hosting for initial community engagement. I've had a lot of experience working in the multi-residential sector of architecture – I knew that this building was going to be something special. The focus of 122 Roseneath Street was completely different to any other apartment building I had worked on: it was all about the community. So, when we had the opportunity to buy in, we took it. I also love Clifton Hill, the location is great. It's easy to get to work, it's close to the Merri Creek.
ANDREW I had hardly spent any time in Clifton Hill, or north of the city, but Briony had worked here in Clifton Hill and talked so highly of the area. We previously lived in St Kilda East. I was happy to move into a nice sunny apartment. I was really taken by the northern aspect. I really love to garden, so the balcony and the northern light were big draw cards for me. We chose the option of substituting the wall between the bedroom and living room with full-height sliding door panels, so we can open up the apartment.
BRIONY We're hoping to get the balcony to be completely green. We keep adding to the pot plant collection and the creepers are starting to take off. Andrew and I studied each apartment plan in detail before we landed on this one. This was our first choice.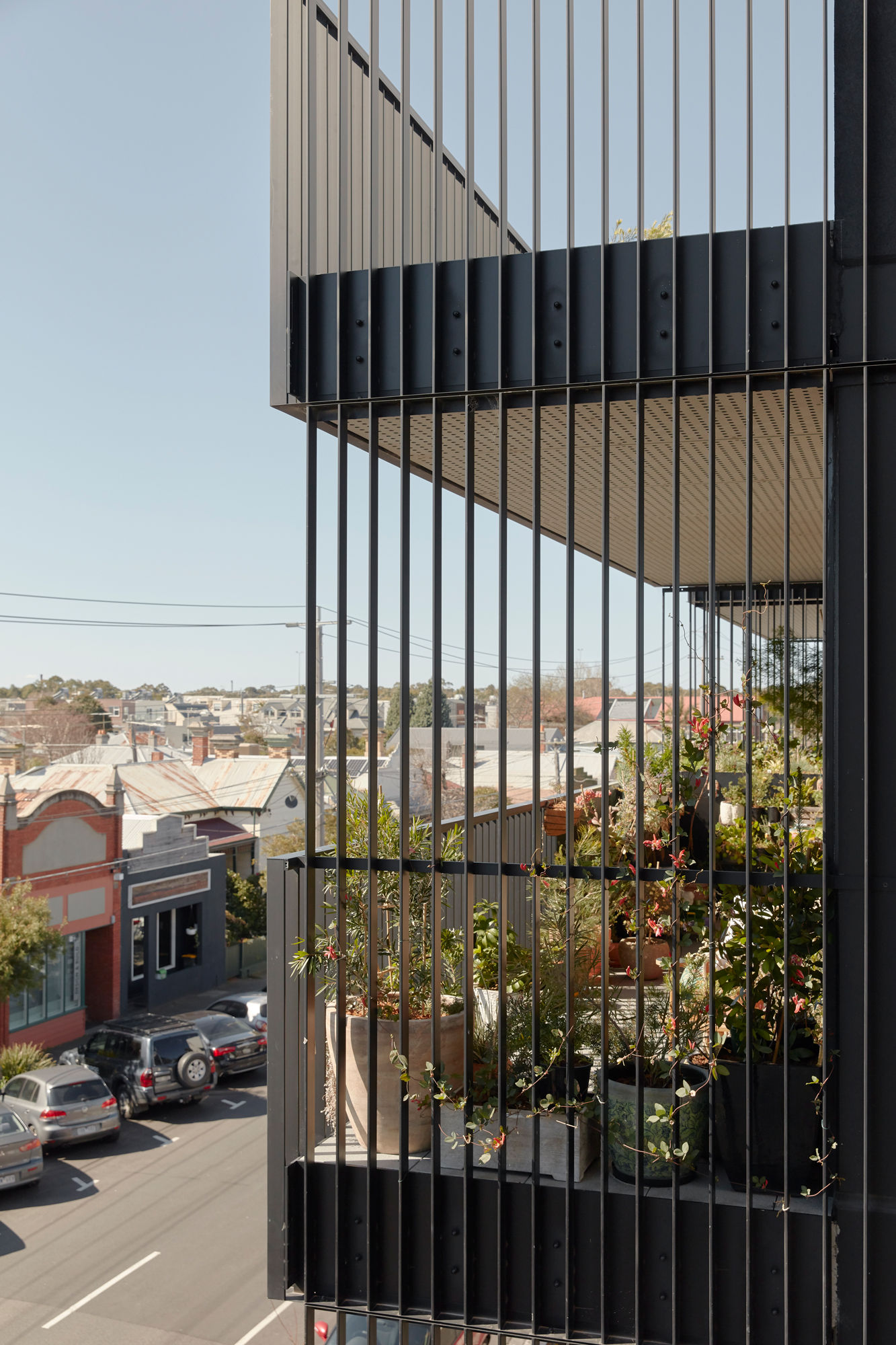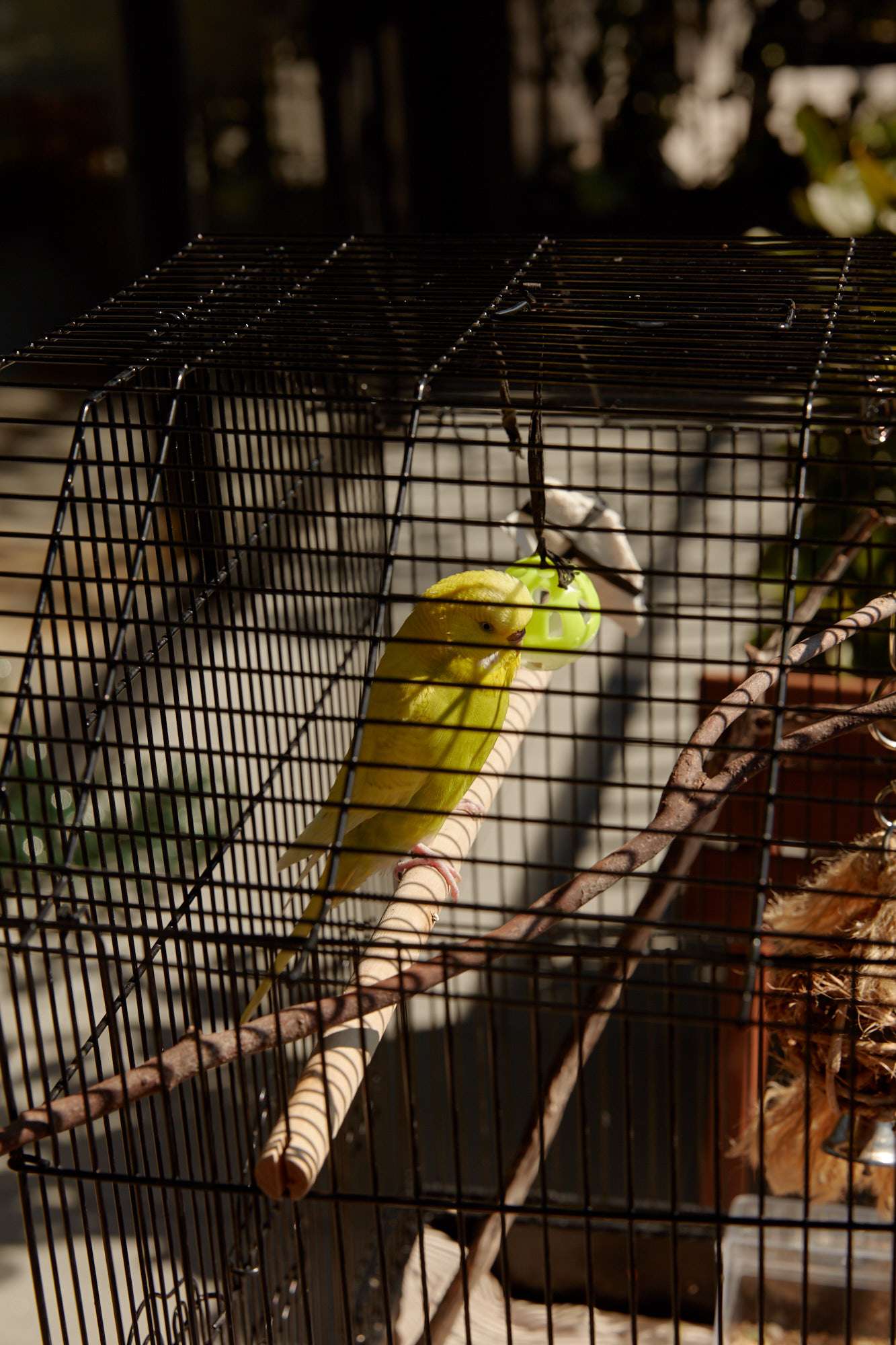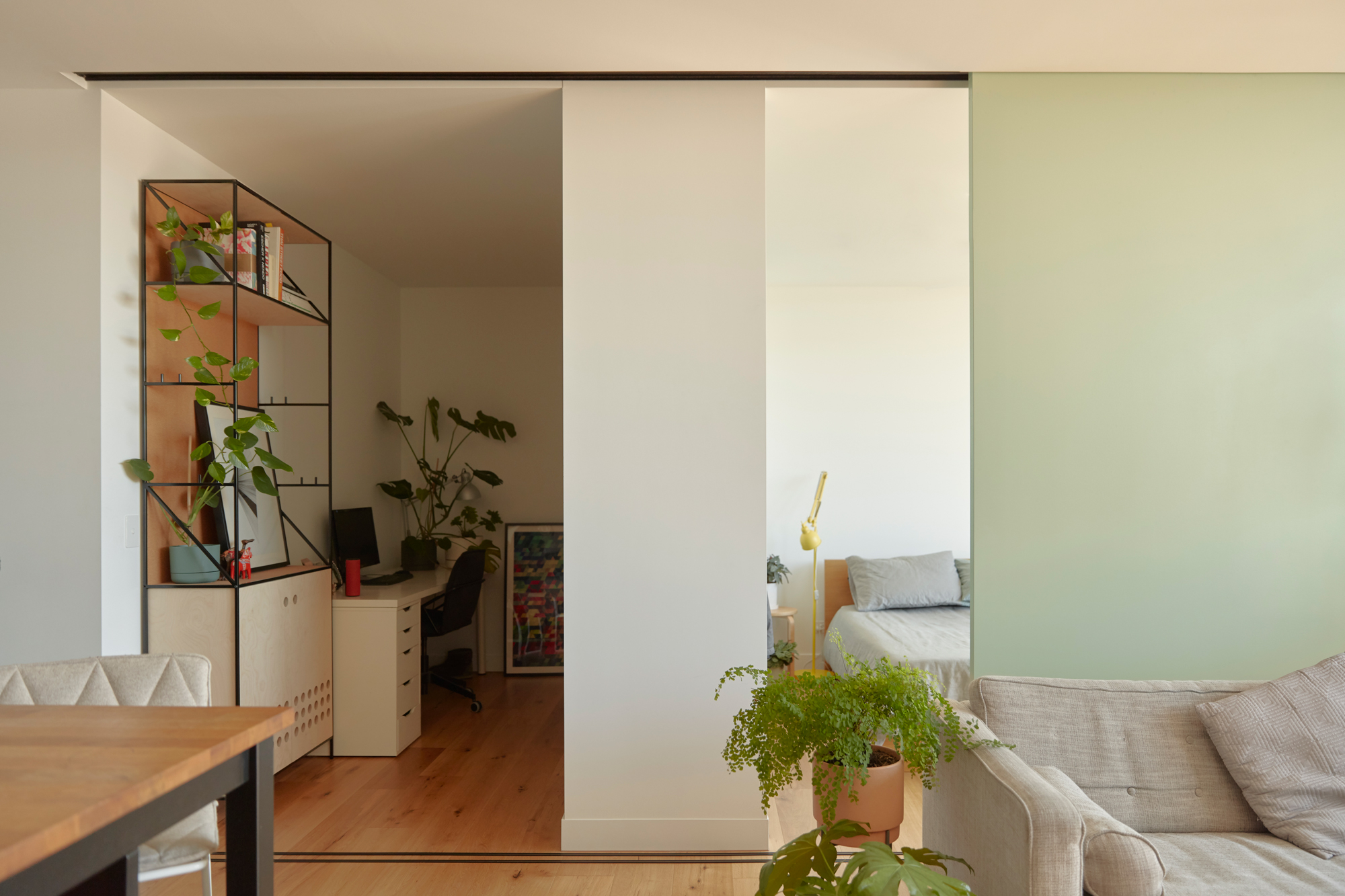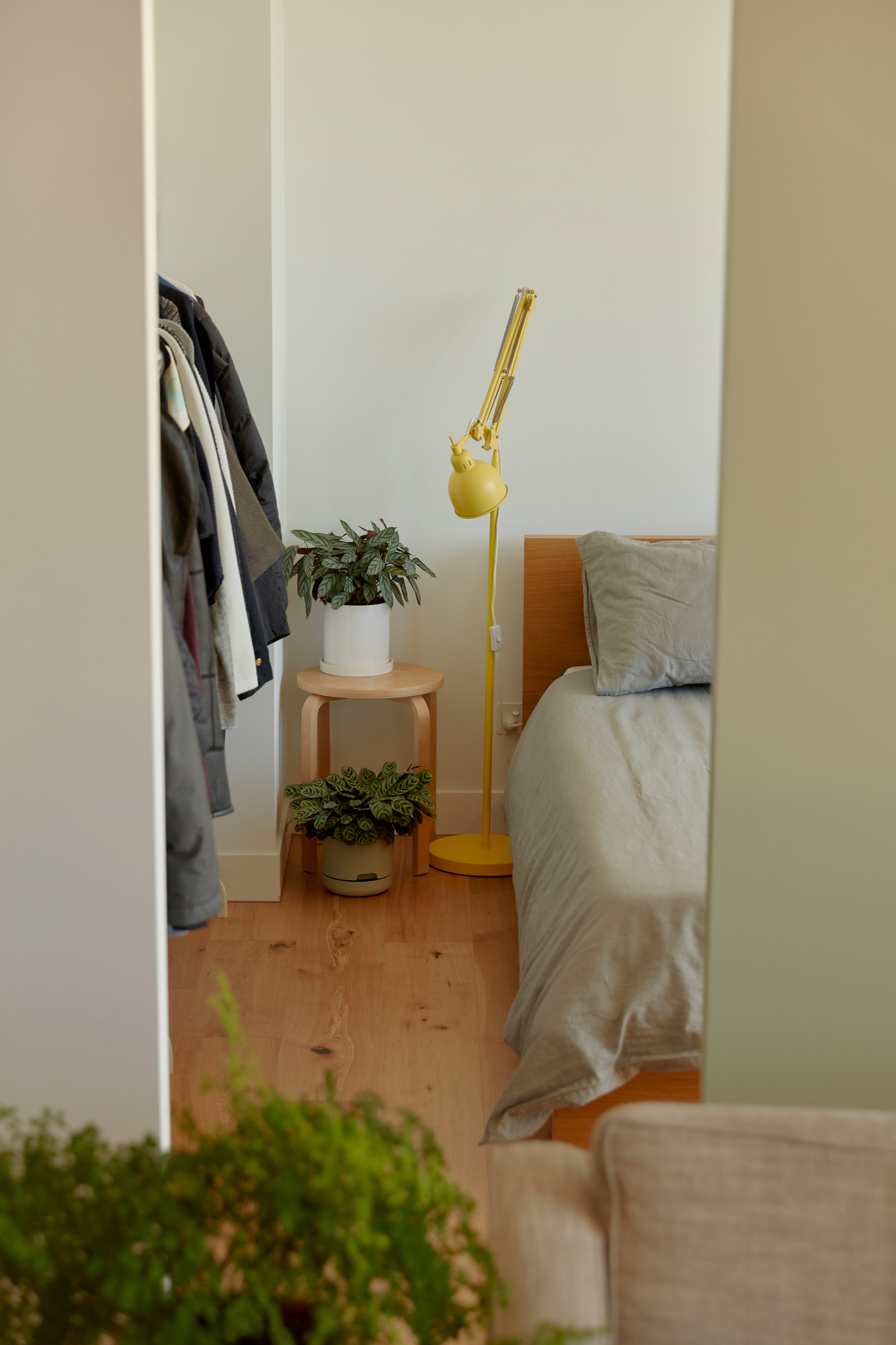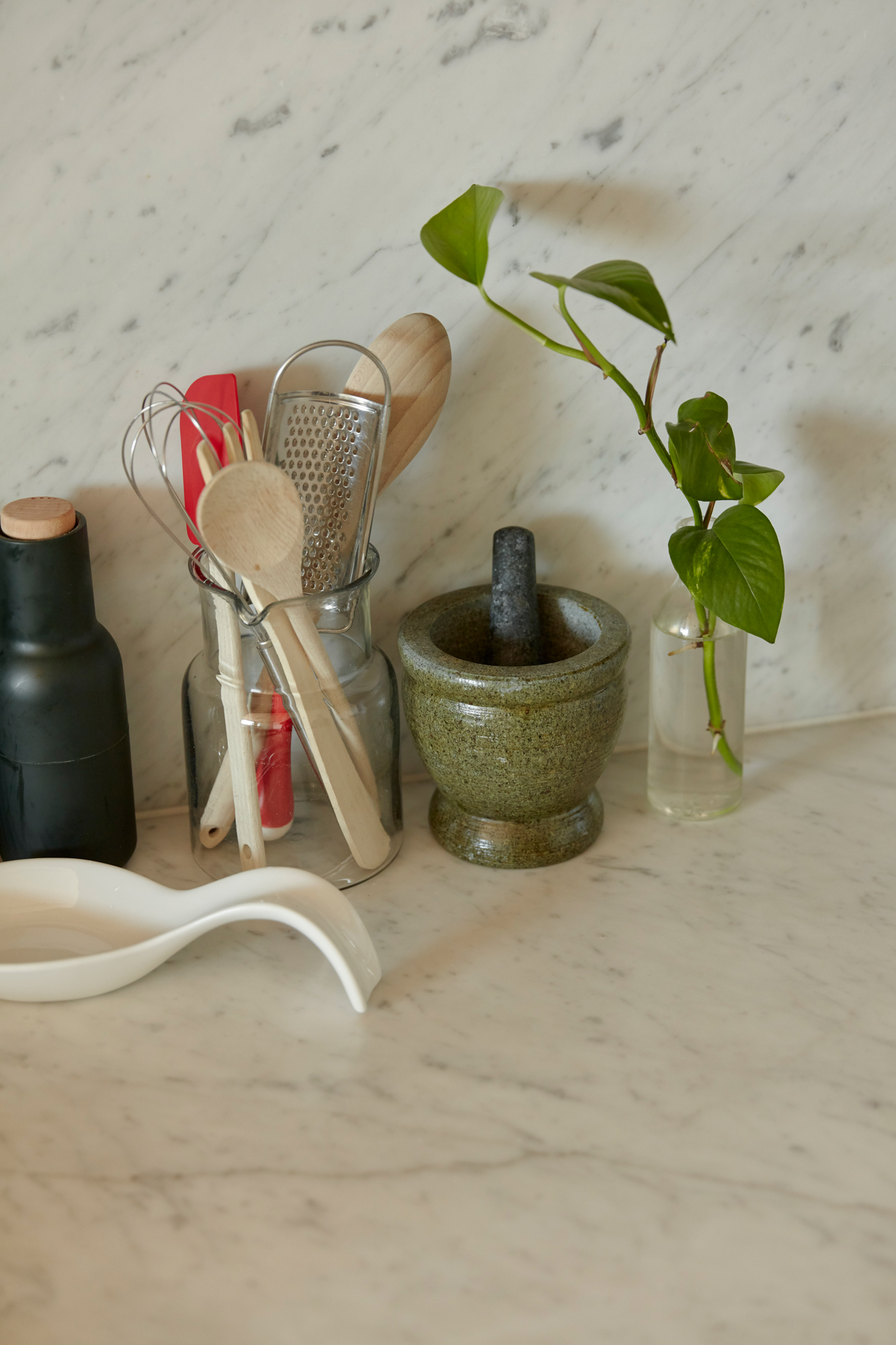 ELIZABETH What are some of the environmentally sustainable design features of the building?
BRIONY In our apartment, we love the northern aspect and the deep eaves from the balcony above. It's a simple design move that allows sun into the apartment during the winter months and keeps it out during summer. On the central block, each residence faces either east or west, so the sliding shutters are a really great feature. They make a huge difference. The ceiling fans are also great in summer: we rarely use the air conditioning.
ELIZABETH How do you feel being located outside the main apartment building?
BRIONY We see so many other residents on the walkway and coming in and out of the communal areas of the building – especially the workshop downstairs. We also love attending the residents' pot-luck dinners in the communal room, which happen once a month. Now we've been in the apartment for over 12 months, the community is getting closer. There are a lot of strong friendships now everyone has settled. We have some online groups that we use for communication when needed, but there is less verbal traffic on those platforms now that people know each other more. It's still useful for when you need to borrow something – ladders, super glue, cordless drills etc. Bulk-buying has started to take off too – some of us bulk-buy toilet paper and a few other things, which is great. The whole community is really active because they're all passionate about making the place where they live better.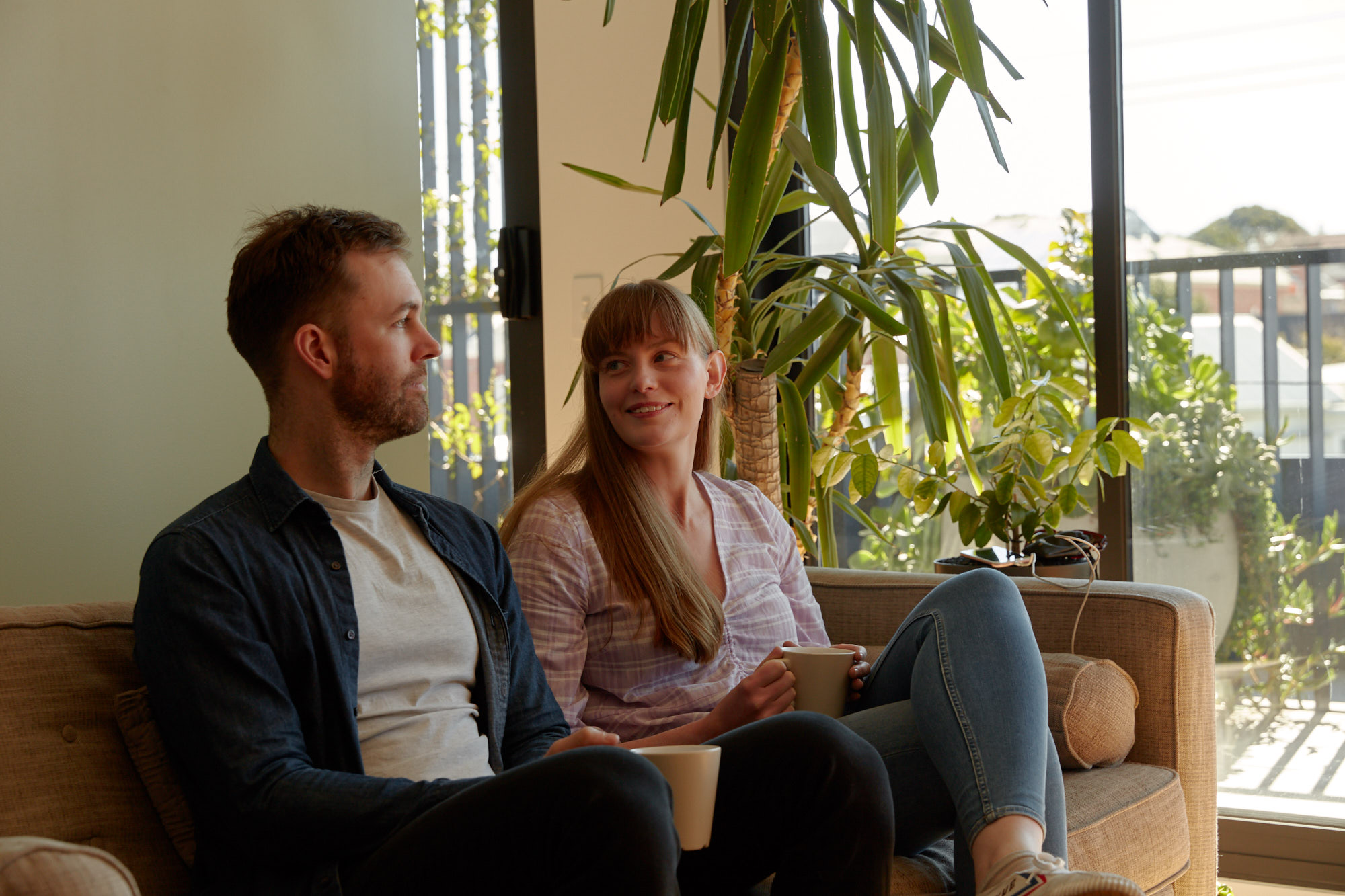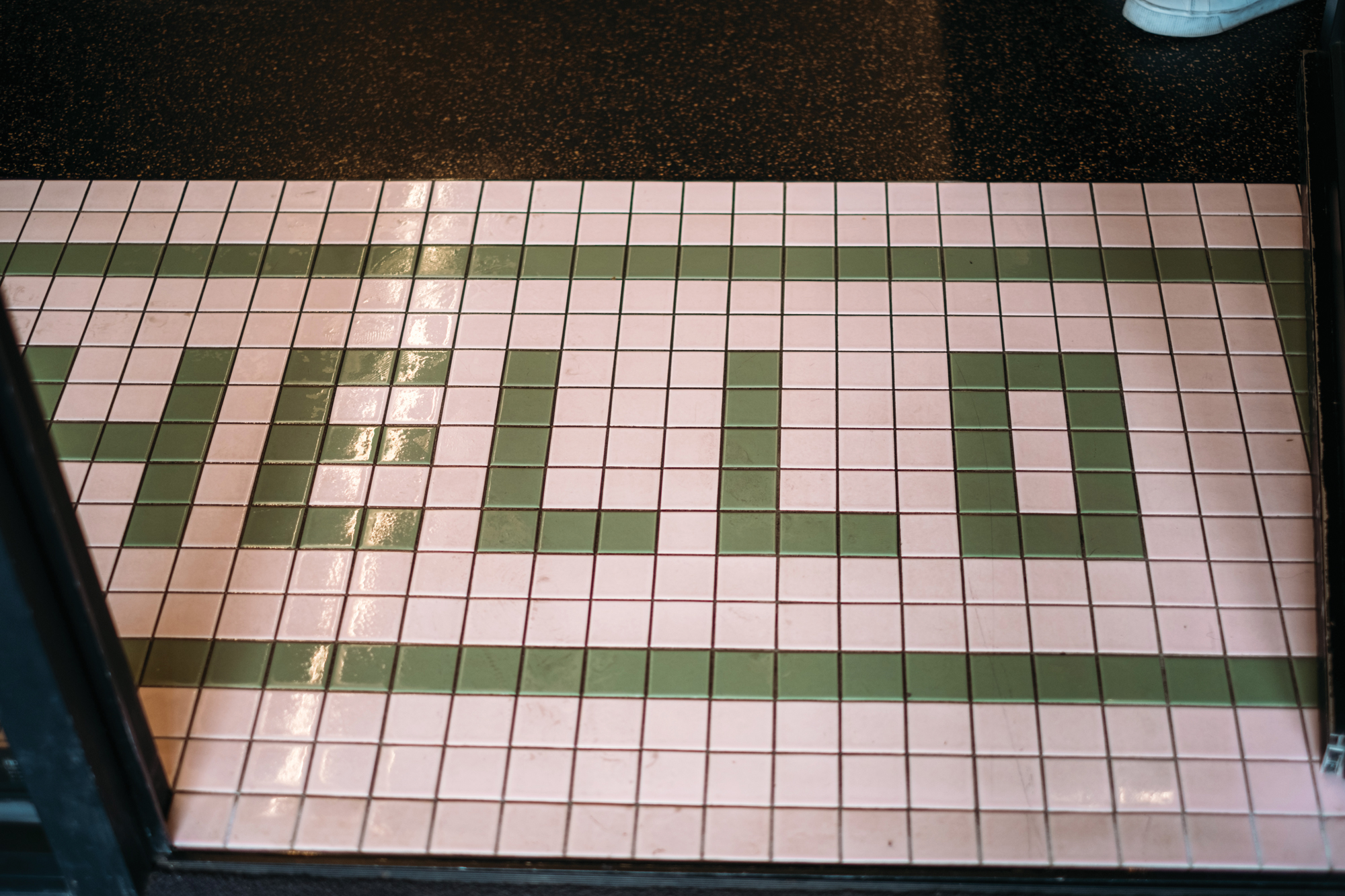 ELIZABETH Is there anything you would change or add to your apartment?
ANDREW Over time, we will be gradually updating our furniture and adding in built-in storage, but nothing substantial. The planning is really simple and efficient.
BRIONY We would like to get some seating built into the living room eventually, and have a large island bench and integrated dining table made. For us, it's been wonderful to live in the apartment and gradually work out what our priorities are, how to further make it our own.
Thank you to Briony and Andrew for opening your beautiful home to us, and to Elizabeth for taking the time to craft this piece. The top image is by Tatjana Pilitt. A shorter version of this story also appears in AP print issue #12: (Future) Legacies, free to pick up all summer from MPavilion. To see what other projects Assemble have on the go, visit their website.