Nov 14, 2019
Australia's only Pritzker Prize winner is also the award's most unlikely recipient: Glenn Murcutt AO prefers to work alone, and has never built a single structure outside Australia. This choice reflects his dedication to working with the nuances of the local climate and natural conditions. As Glenn's MPavilion opens in Melbourne's Botanical Gardens, AP editor Jana Perković sits down to chat with Australia's most environmentally conscious architect about past and future legacies.
"The government essentially accepts that people will air-condition buildings," architect Glenn Murcutt tells me, "even though, until 15–20 years ago, most people did not have any form of air-conditioning. That means you have to make the building airtight, so you don't lose cold air in the summertime from the cooling, or the warm air in winter from the heating. Sealing of buildings is unbelievably unhealthy, and yet it's required under our laws."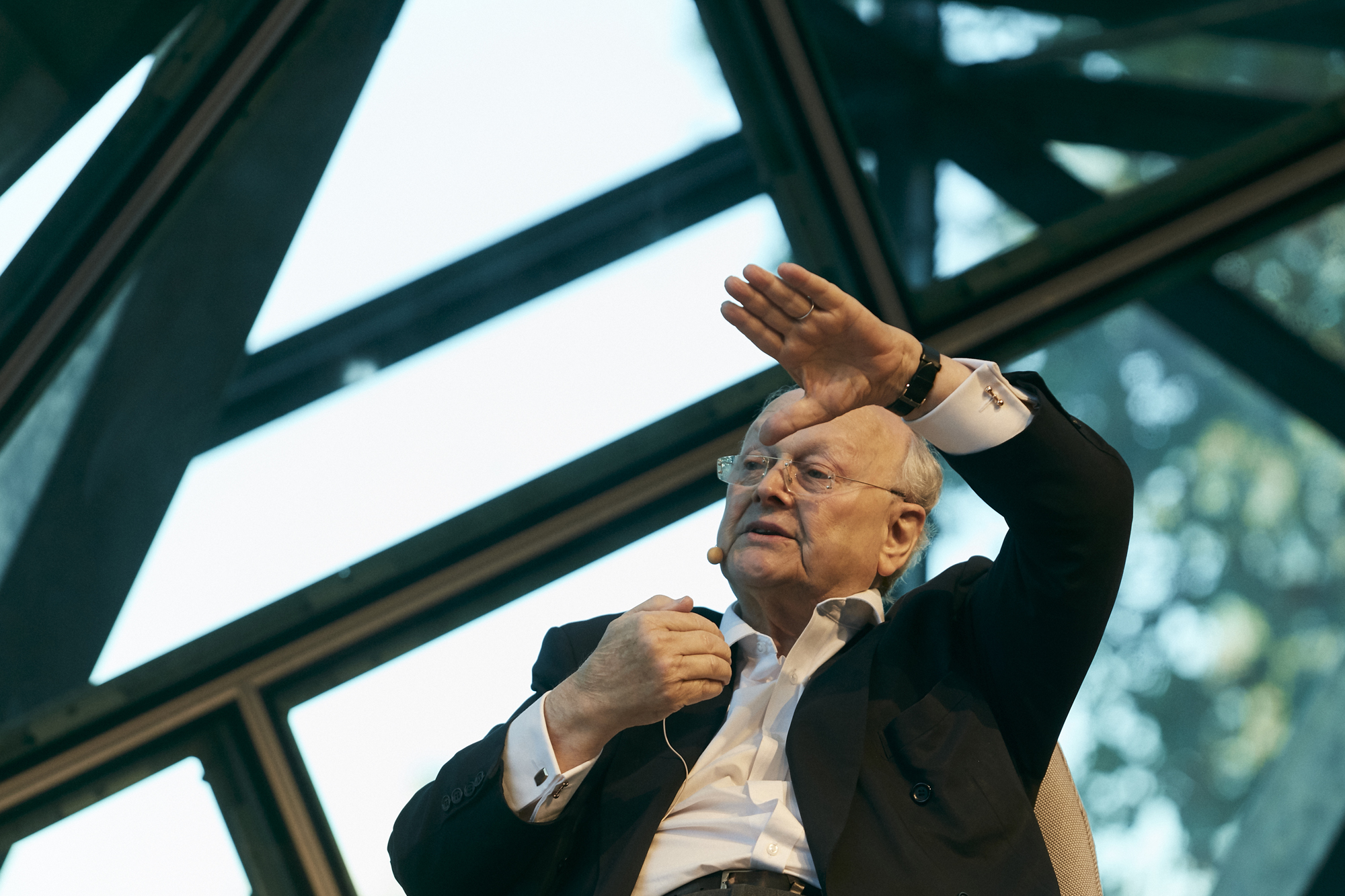 Glenn's houses are the antithesis of sealed: houses with shutters, blinds, slats, and gills in the roof to let the hot air out; buildings lifted off the ground so that the air can circulate underneath – these are buildings that breathe deeply in Australia's heat. None require air-conditioning. They are world-famous, too: among Glenn's many international accolades is the coveted Pritzker Prize. He was awarded the 'architecture's Nobel' in 2002, the only Australian architect so far. Unlike most other winners, heads of major international firms, Glenn works as a sole practitioner, at a minuscule scale, and has never built anything outside of Australia.
His generation defined a distinctive national architecture, leaving an impressive – and daunting – legacy.
Unmistakably refracted through Glenn's architecture is a childhood in Papua New Guinea, with two remarkable, adventurous parents. Arthur Murcutt ran away from home at 13 to work as a sheep shearer, bootmaker, saddler, and other odd jobs, before gold prospecting took him to New Guinea. He almost sailed across the Pacific with Errol Flynn (the boat sank shortly after being launched). He spent a year living in Japan. In 1936, Arthur and the heavily pregnant Daphne Murcutt flew to Berlin for the Olympics: Glenn was born on the way, in England.
Arthur was a practical man, a quintessential maker. "My father was really interested in design," says Glenn. "He designed and constructed his own buildings. And all the houses had louvres, insect screens and ventilated roofs. Fresh air was considered to be the most critical thing."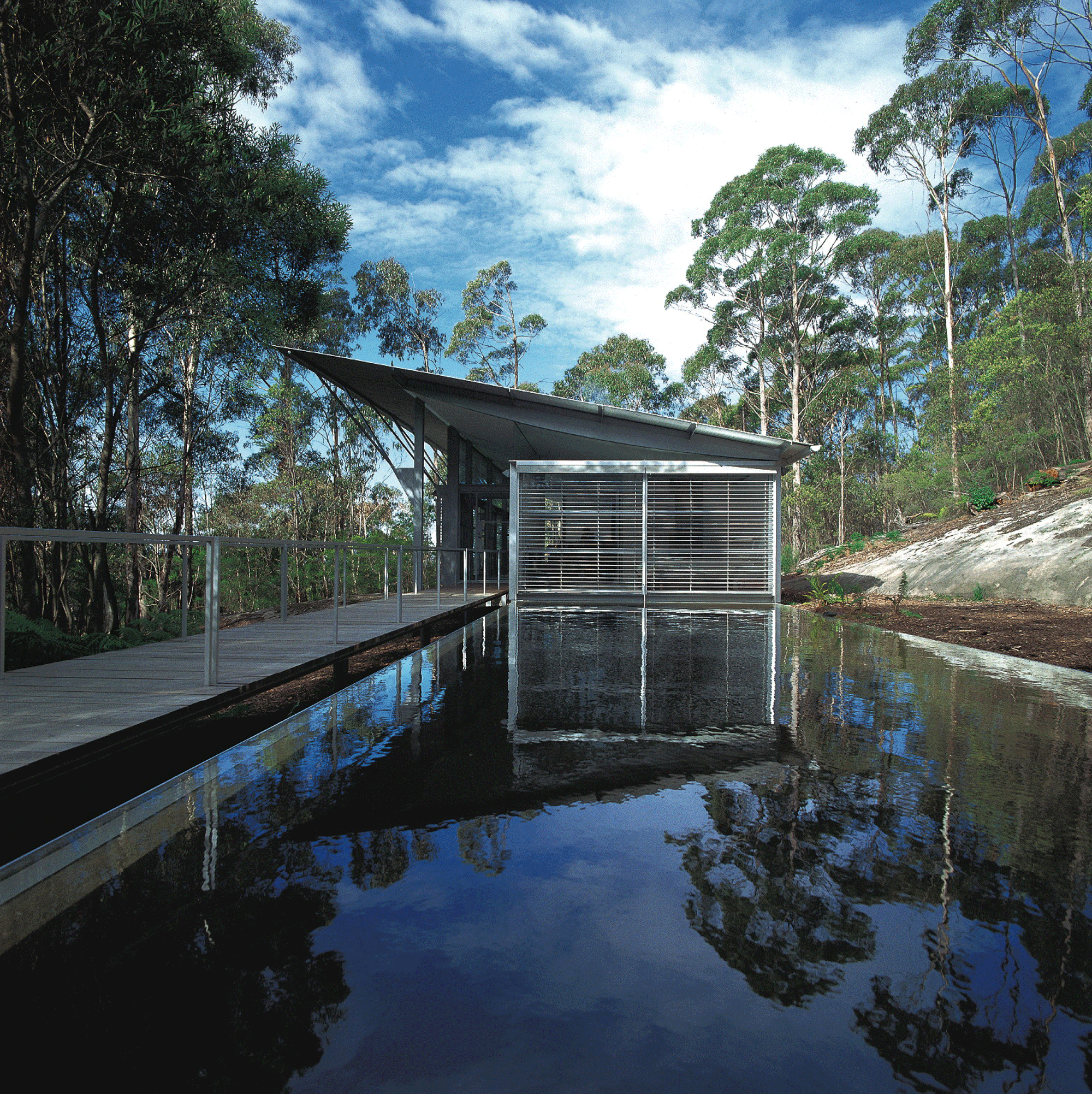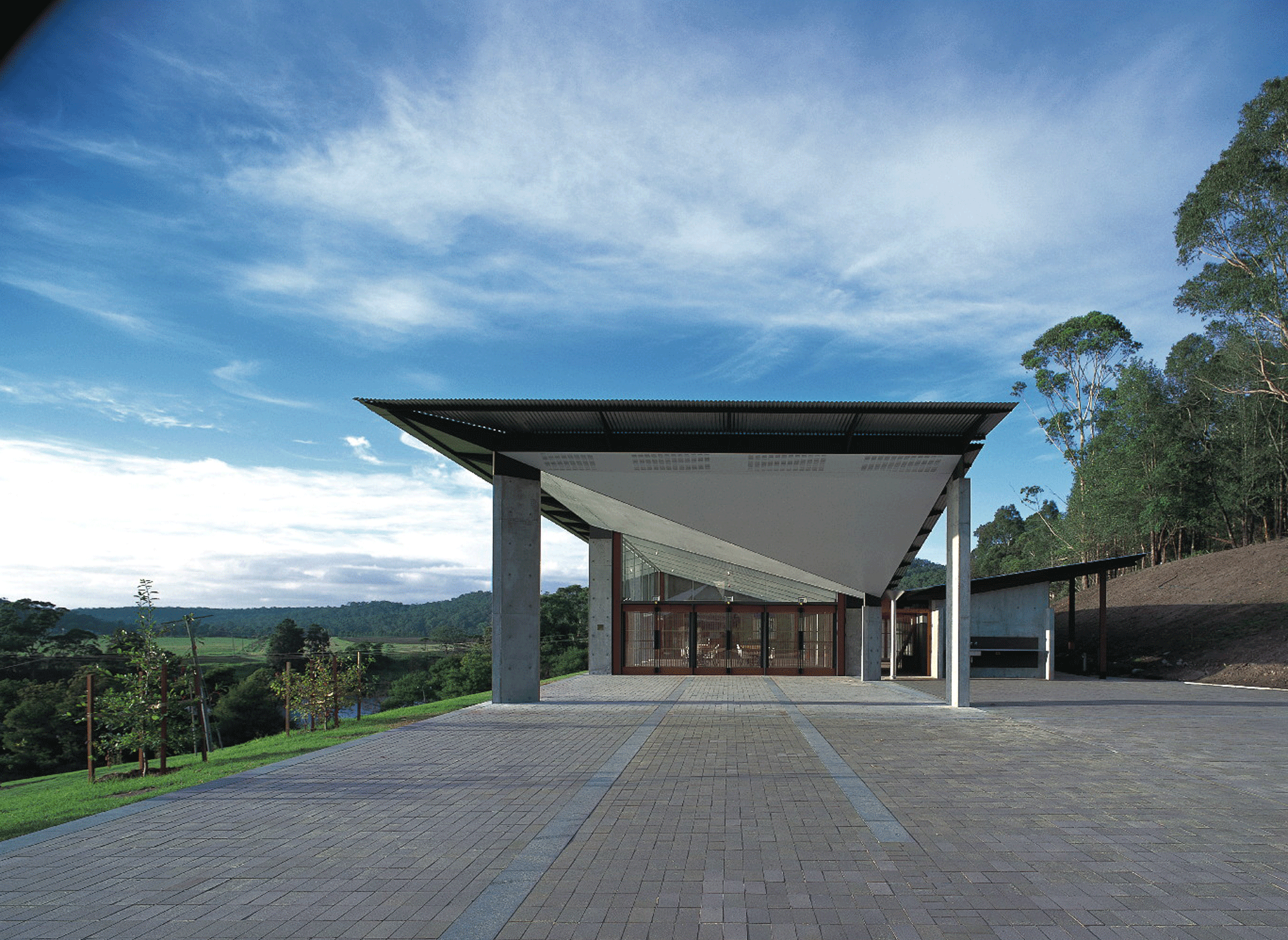 Arthur instilled in his children a discipline in everything they did, from studies to exercise, sports to music. A fan of Henry David Thoreau, he raised Glenn to be a curious, hands-on child, approaching engineering and composition from first principles. "When my father returned from the war, he brought Architectural Record and Architectural Forum in from the United States. I was required to read certain articles – particularly on the work of Philip Johnson, Mies van der Rohe and Frank Lloyd Wright. I was then examined! And all the questions were about principles: 'why is this building off the ground?' 'Why are these buildings hugging the ground?' 'Why is this cantilever like it is?' 'What about the sunshine? How is the sun being resolved?' These questions brought a rationale to me: it was like composition in music. There was a poetic component to it, and also a rational quality." From the age of 12, Glenn was in his father's joinery shop, carrying bricks and bending reinforcing (with some help). By the time he was 18, he was building sailing boats.
These are the values Glenn Murcutt would later bring to his remarkable architecture: a marriage of beauty and logic, a pragmatic engineering that leads to the most beautiful of resolutions, and a willingness to learn through making. It is a sensibility that finds resonance in the humble sophistication of Scandinavian and Californian regionalism, Wright's Prairie style and mid-century Modernism of Mies and Jørn Utzon. Glenn's appreciation of craft has led him to develop long relationships with European builders who migrated to Australia post-World War II, "many of them great craftspeople, marvellous at producing concrete, carpentry". He is fond of paraphrasing Thoreau: "Since most of us spend our lives doing ordinary tasks, the most important thing is to carry them out extraordinarily well."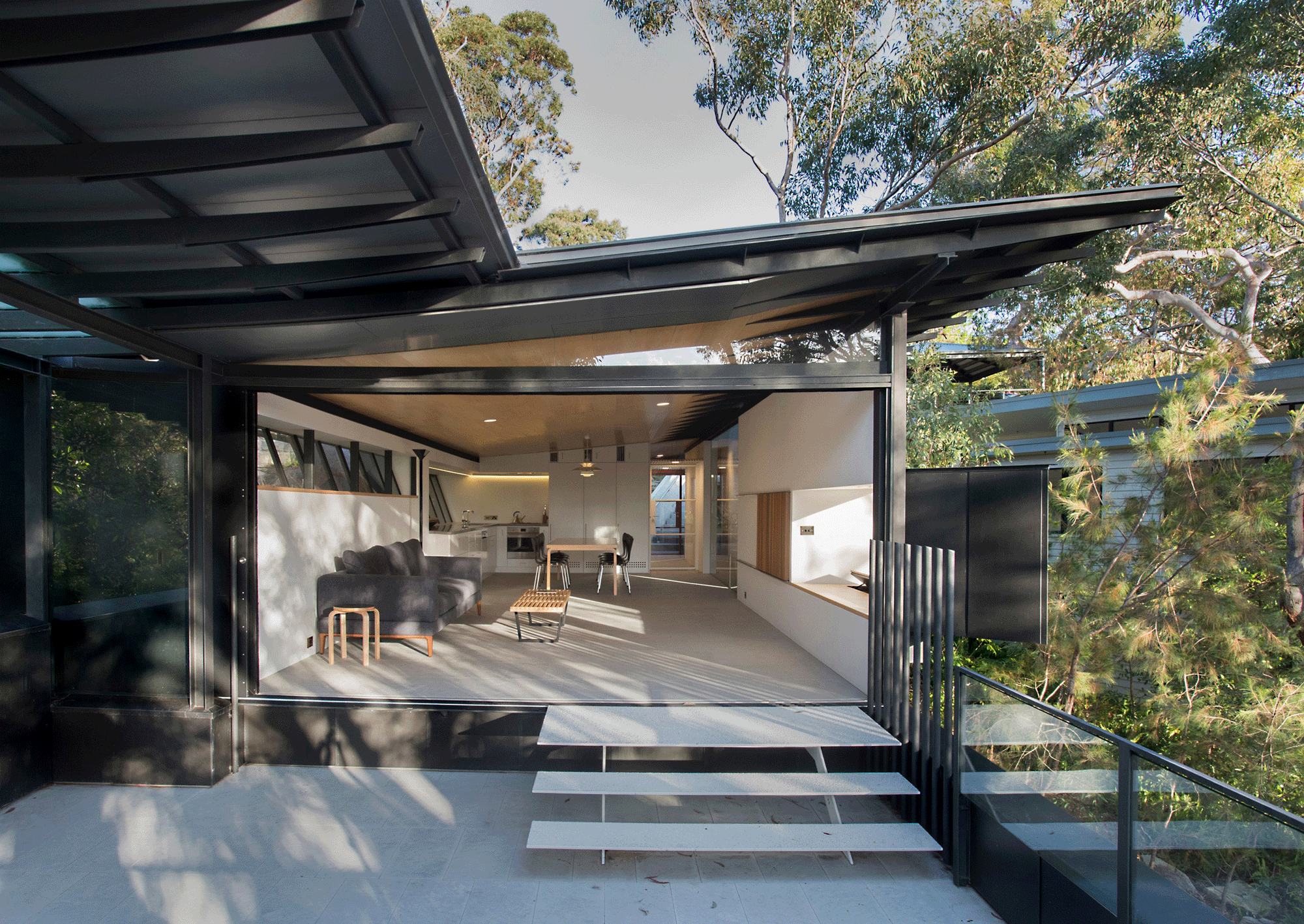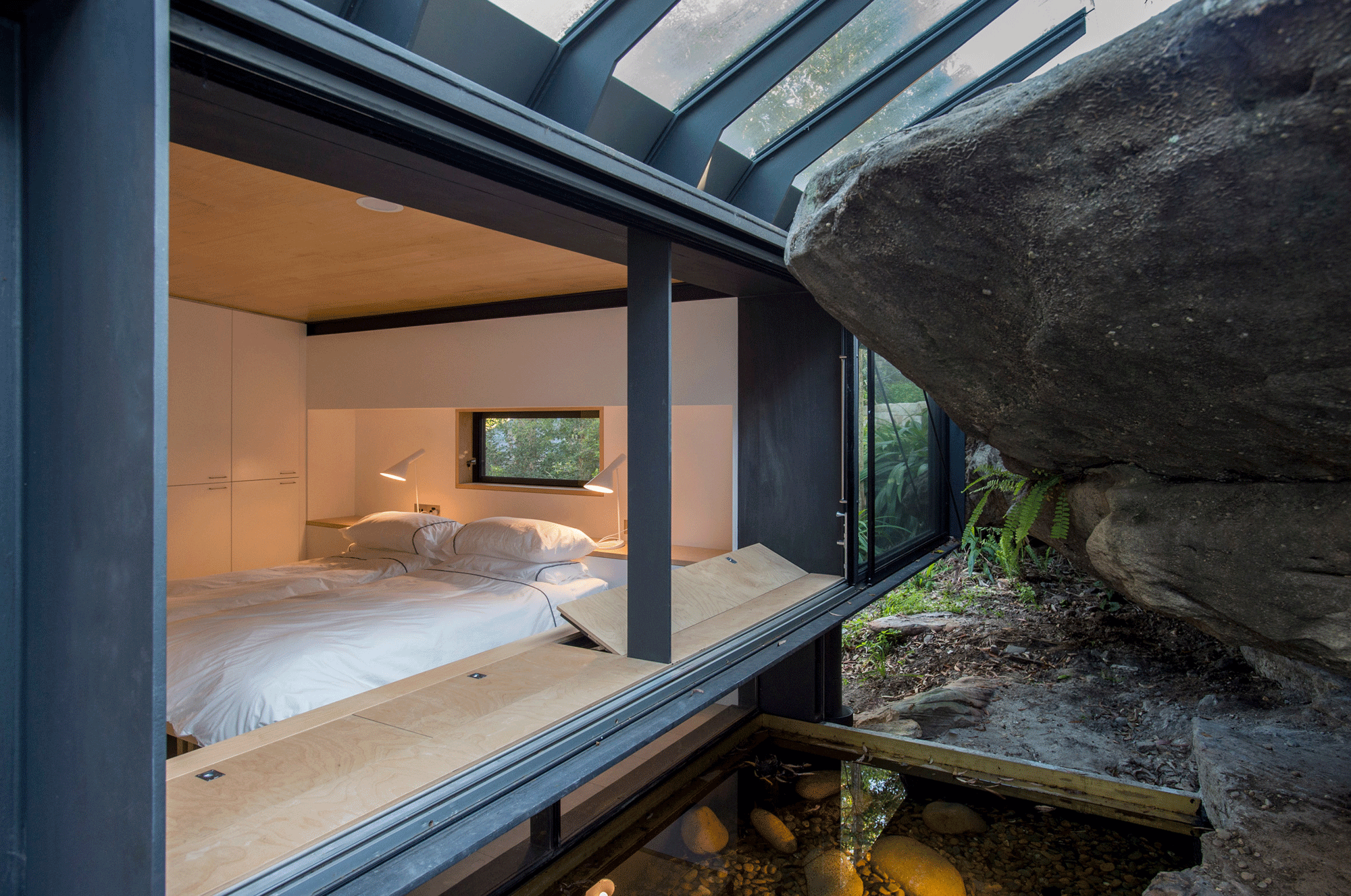 However, Glenn Murcutt added something quintessentially New World-ish to this crafts-led architecture: an industrial roughness, use of outback station materials such as corrugated iron, and a willingness to build as little house as possible.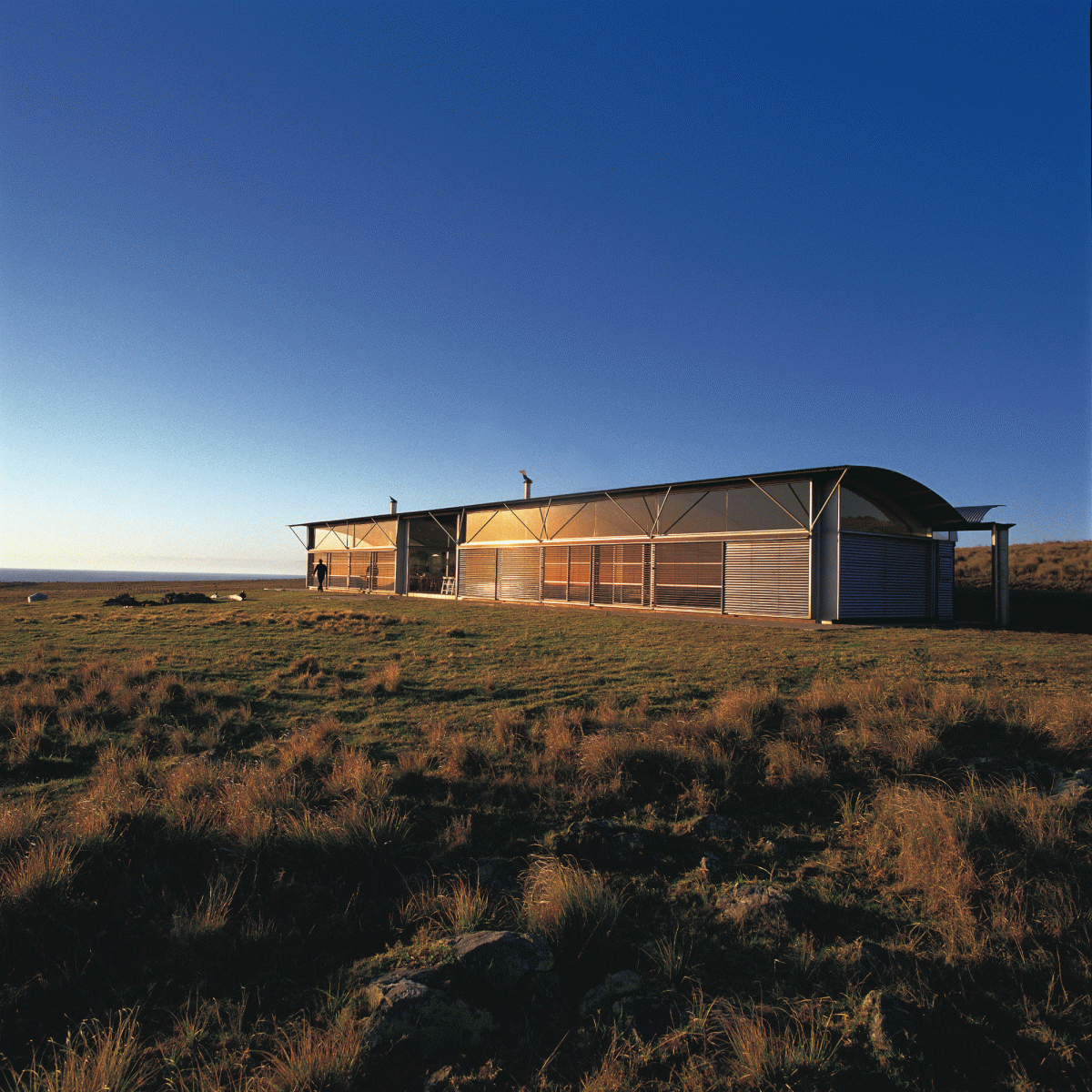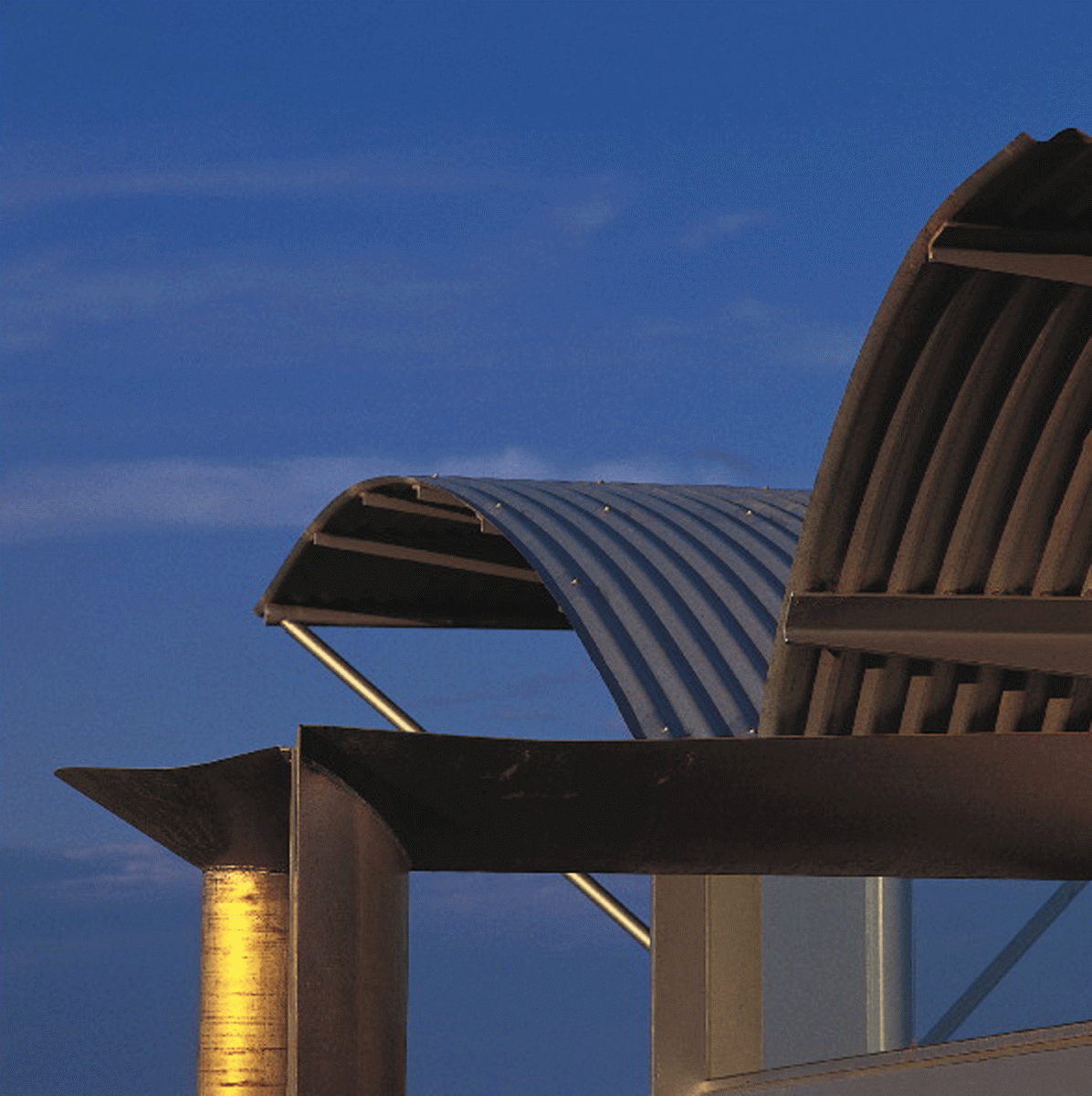 "Melbourne has some of the maddest buildings in the world already. I think that what we need is a level of sanity."
This vision has brought to life a series of remarkable – though at first glance unassuming – buildings. The Marie Short House (1975) in Kempsey, NSW, built from local timber, post-and-beam like an Australian wool shed, with adjustable steel louvres and sitting on stilts to let the airflow through. "[Glenn Murcutt] has created an architecture that's both true to the place and unexpectedly rigorous," wrote Jim Lewis in The New York Times, "like a bow and arrow made out of titanium." The iconic Magney House (1984) on the NSW South Coast, with its curved corrugated iron roof that collects rainwater, a shipping container-like structure that has come to represent contemporary Australian architecture. Touching the earth as lightly as a tent, it was described by the Pritzker jury as a "testament that aesthetics and ecology can work together to bring harmony to man's intrusion in the environment". Or the prefabricated, tin-roofed Marika-Alderton House (1994) in Yirrkala, Northern Territory, with walls made out of removable plywood panels, and no windows whatsoever – a simple shelter resembling an Aboriginal hut built from long sheets of bark. The main considerations in all his designs are airflow, orientation to the sun and prevailing winds, and locally available materials.
Now, Glenn is in Melbourne to create a quintessentially urban project: the new MPavilion, a temporary structure for Melbourne's Royal Botanic Gardens. "One of the dangers of doing a project like this, for an architect, is to want to produce a fandango – to do something just mad," he tells me, with characteristic bluntness. "Melbourne has some of the maddest buildings in the world already. I think that what we need is a level of sanity."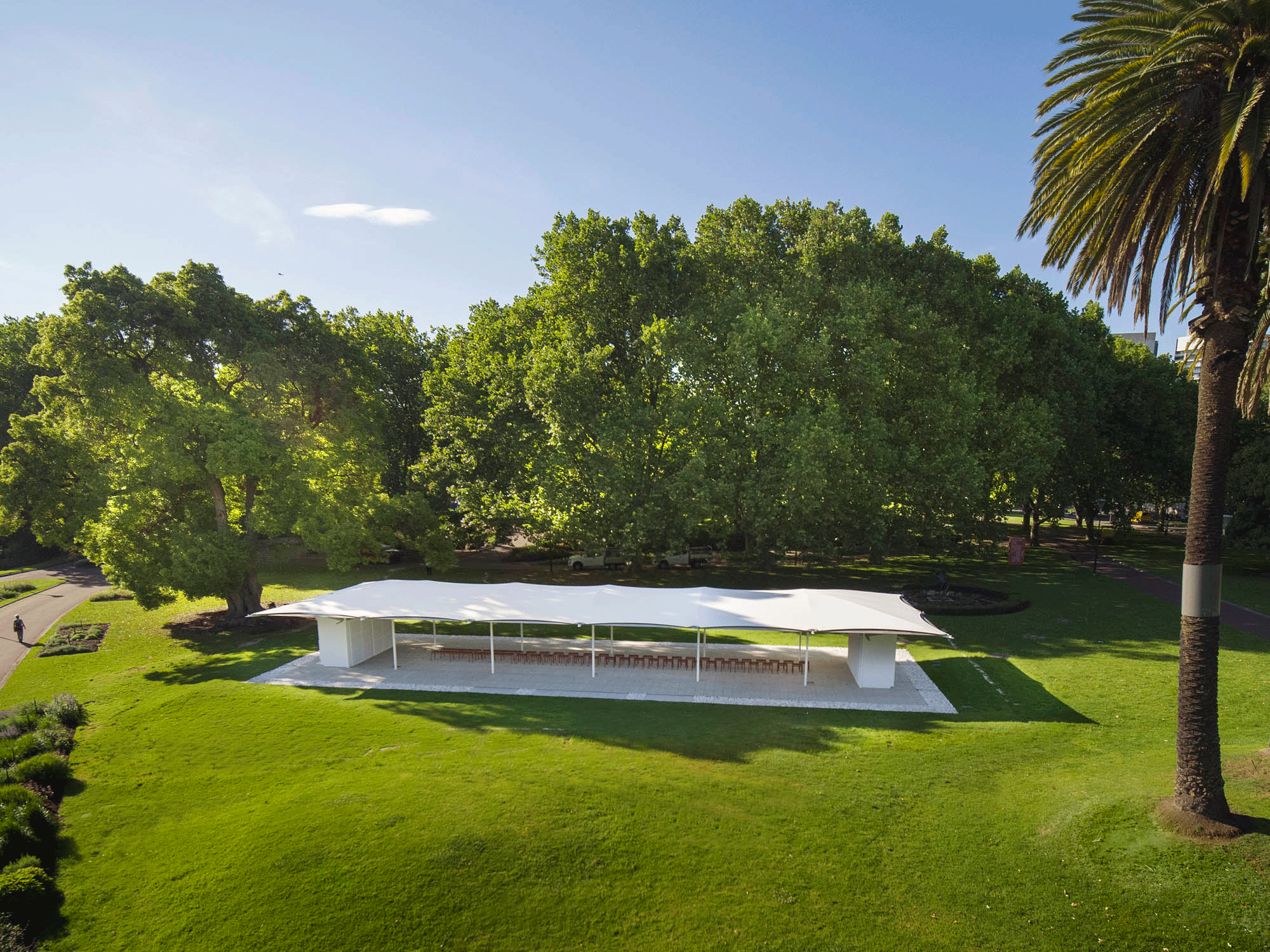 Left to right: Glenn Murcutt's MPavilion in Melbourne's Botanical Gardens. Photos by John Gollings.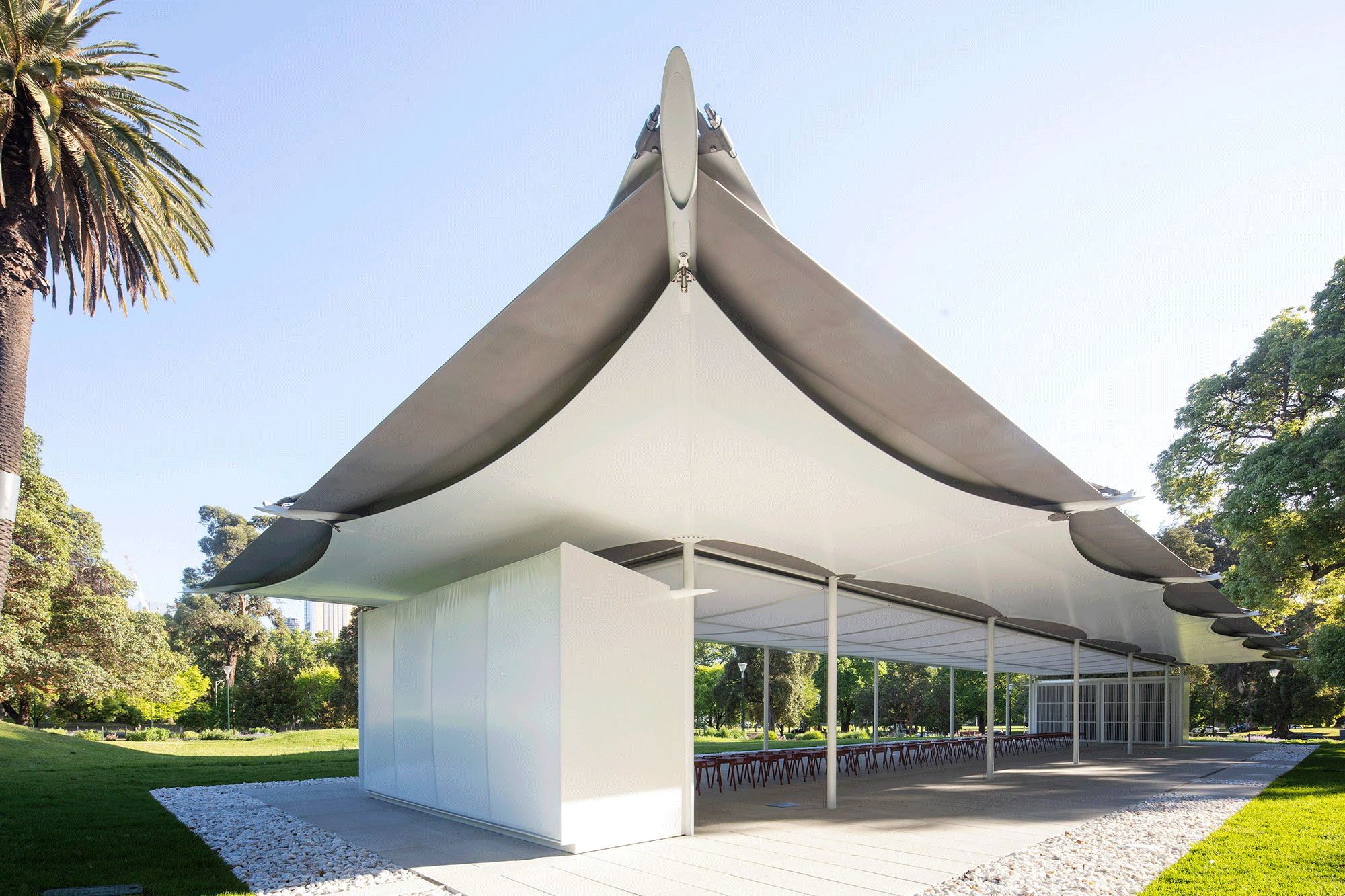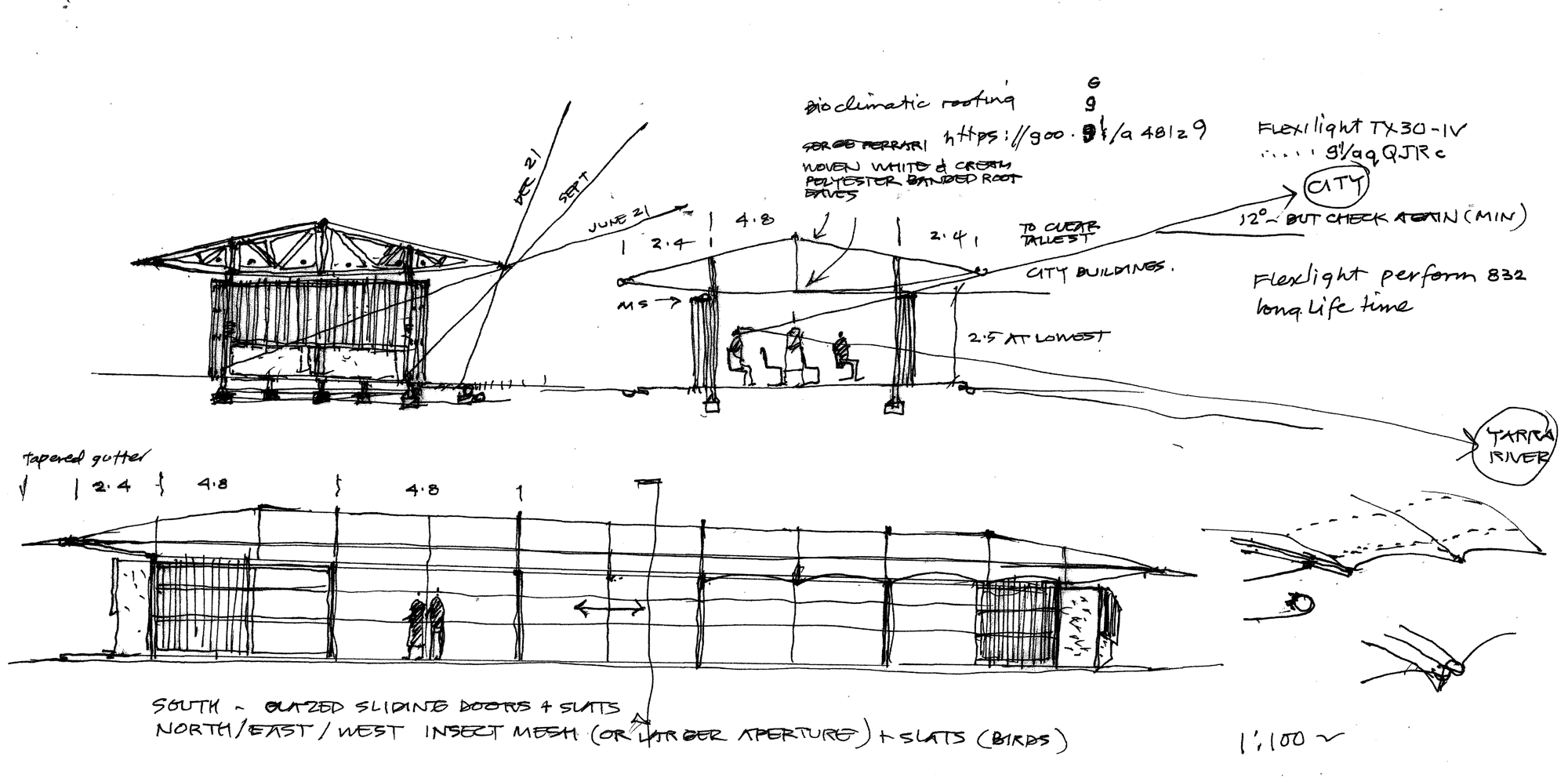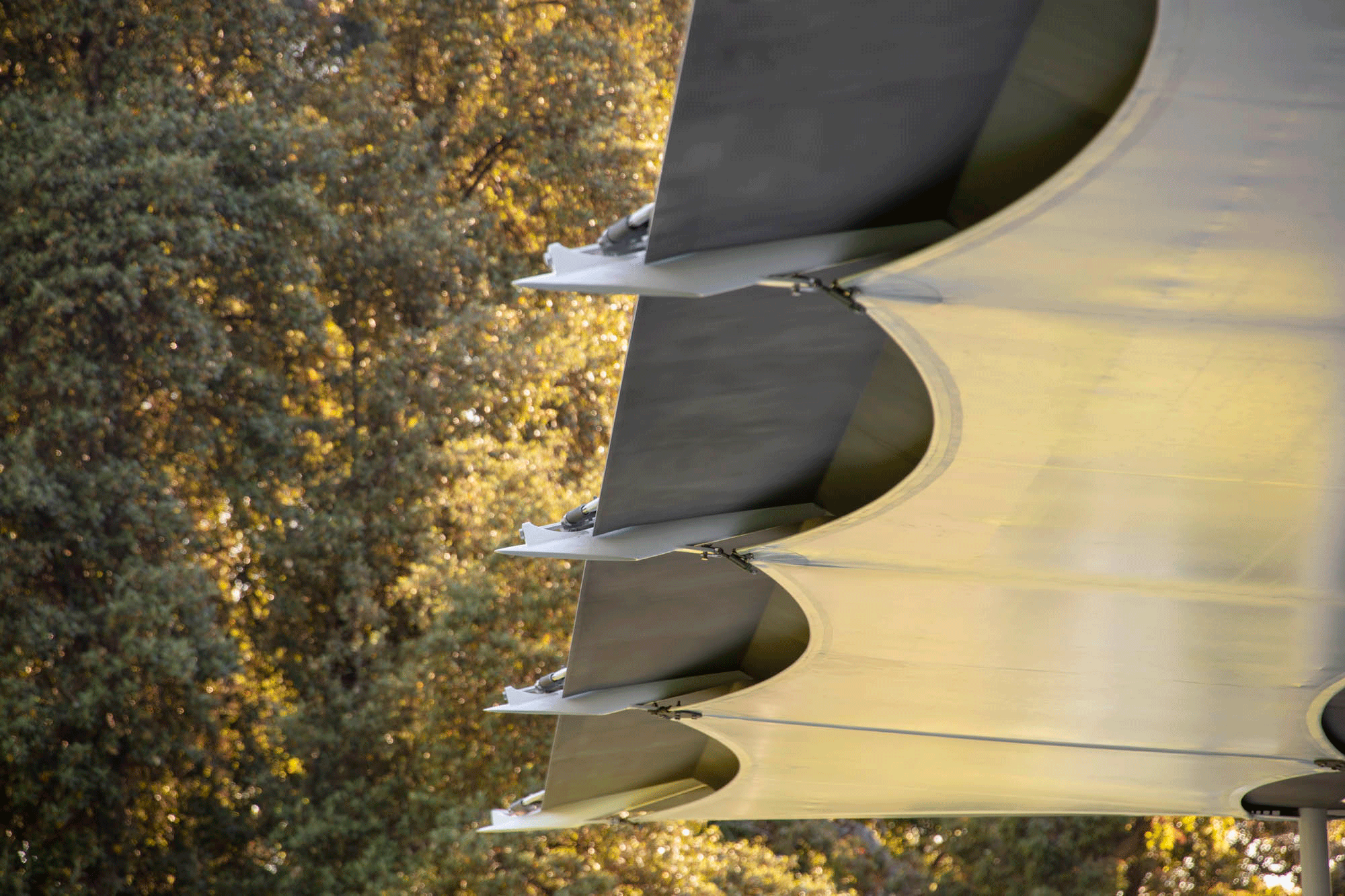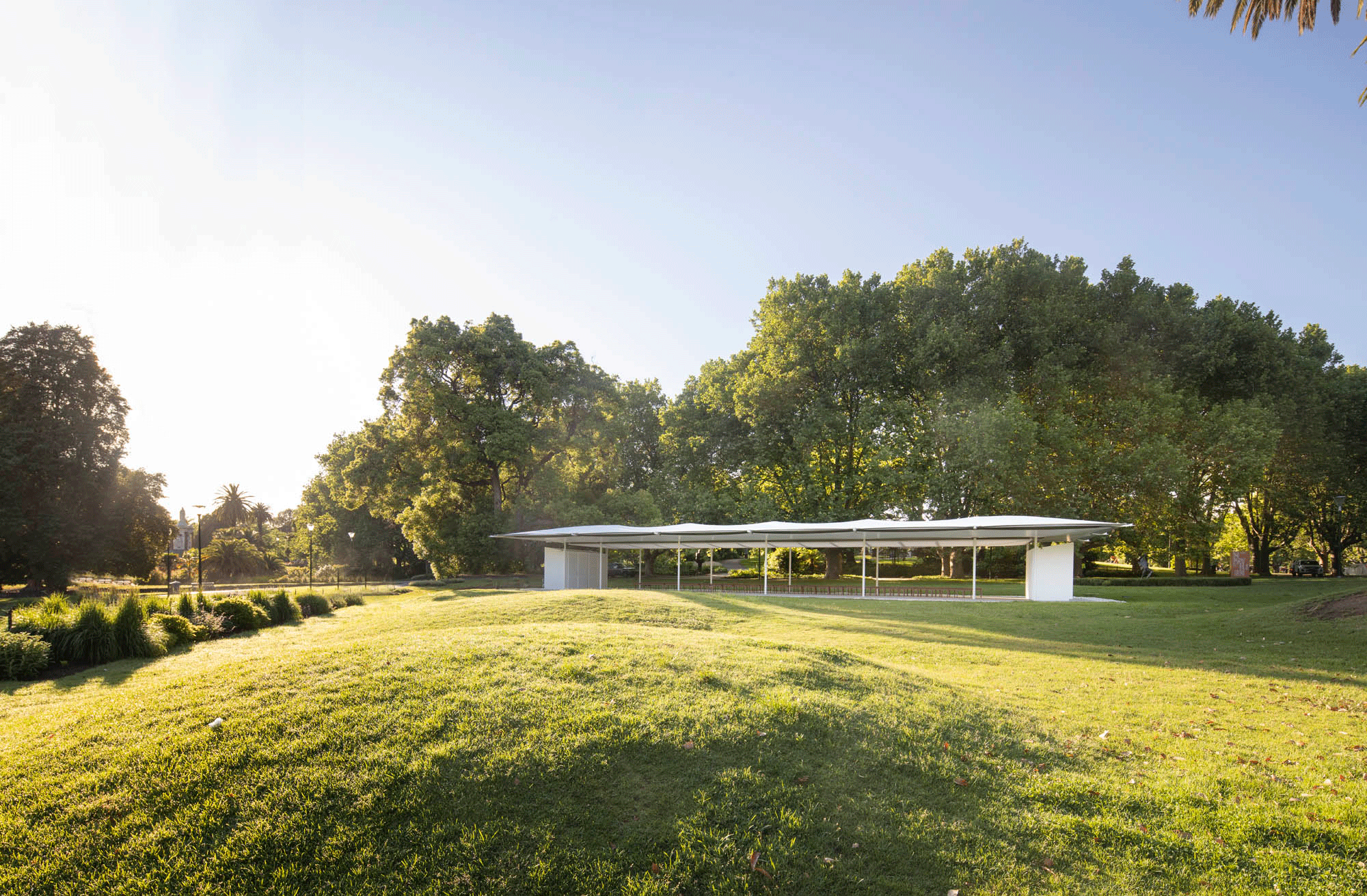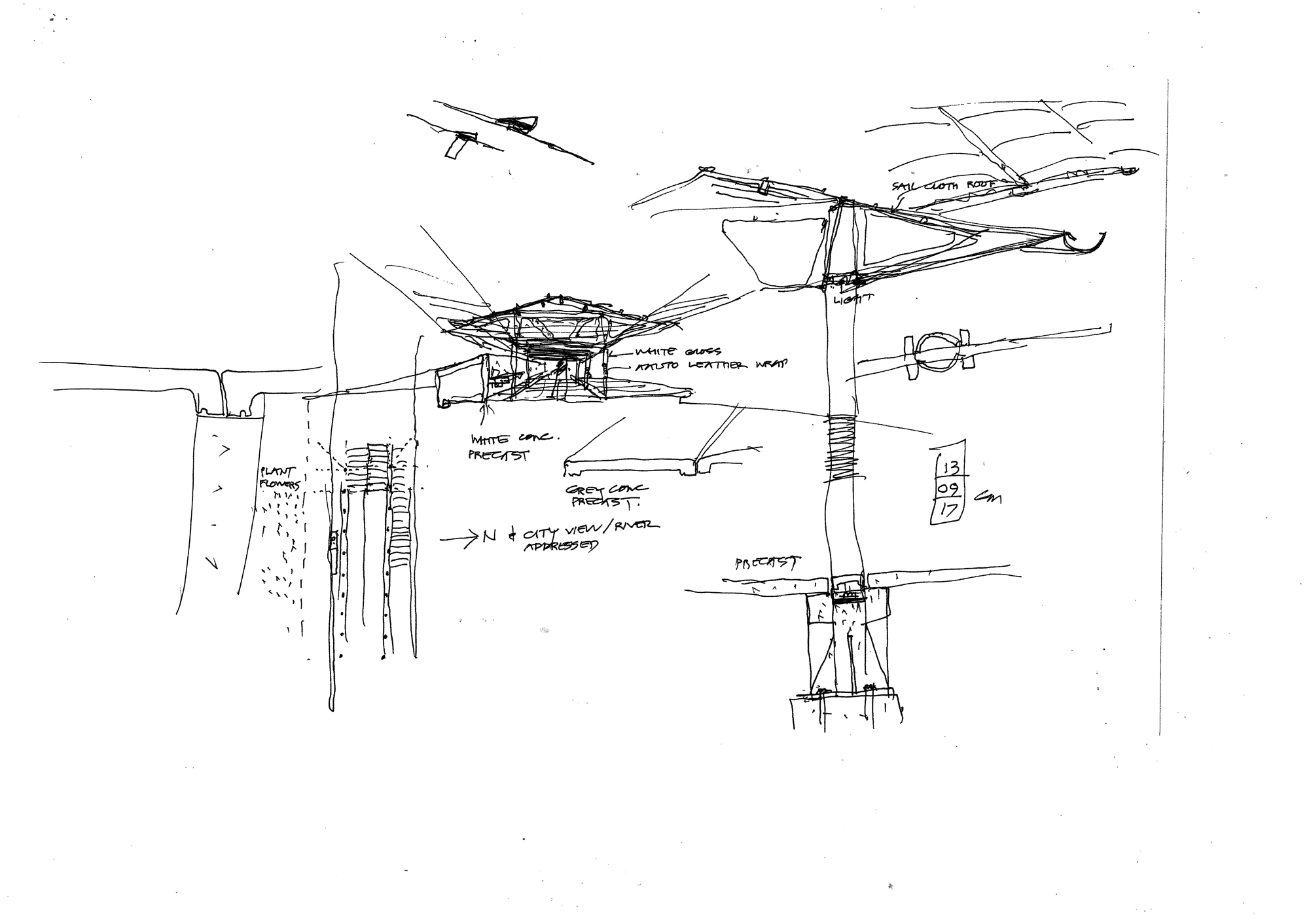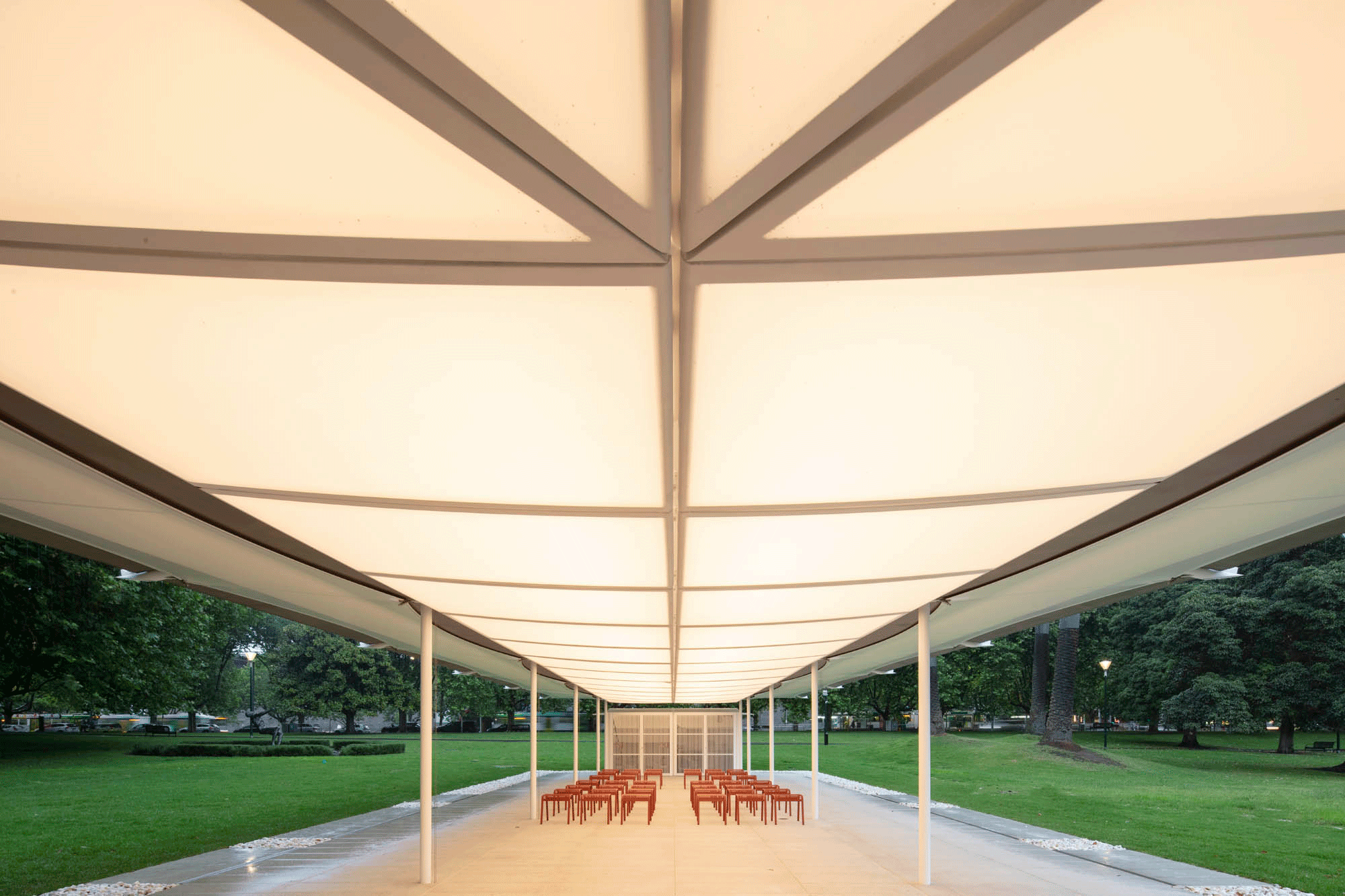 The origin of a pavilion is a tent; specifically, a decorated tent, made of canvas and placed in a garden. The image of a tent facing the city was the starting point for his MPavilion design: a lightweight, temporary structure, its method of construction evident from the outside, its roof translucent canvas, letting the light through and turning it into a lantern at night time. Glenn tells me of a trip he took to Mexico, many years ago, to see the Yaxchilán ruins: the small party flew to Yaxchilán in a little aircraft, and had a picnic under the wing of the plane, covered in aircraft fabric to provide shade. "It occurred to me, this pavilion is like sitting under the shade of the wing of that little aircraft in Yaxchilán, with a marvellous view of the ruins: a lightweight moment of place-making."
"The important thing about the longevity of the building is that it is worth keeping. If it's worth keeping, then you have the beginning of sustainability in a true sense."
Glenn's practice, which celebrates its 50th anniversary this year, began at a time when the Australian national identity was at the fore of everyone's imagination – an attempt of a generation born and raised on this continent to unearth an original soul to the white settler nation. Glenn, however, sees that project as inadequate: "We have to be careful. It's very easy to structure a romantic image of Australia. If our architecture is too self-conscious, too self-referential, it is likely to be a pastiche. One has to look elsewhere: what does this climate mean? How do we work our culture together with the climate? And what is the craft nature of this nation?" He is also adamant that post-war migration has made Australia into a much more interesting, diverse and culturally rich country – and with comparatively few social problems. One of his most cherished projects has been designing the Australian Islamic Centre in close collaboration with Melbourne's Muslim community: "I don't have any faith [in life] after this life; but the Imam came to me one day, put his arm around me and said, 'But you are a very spiritual man.' I made very, very significant friendships on this project – and I don't make friendships easily."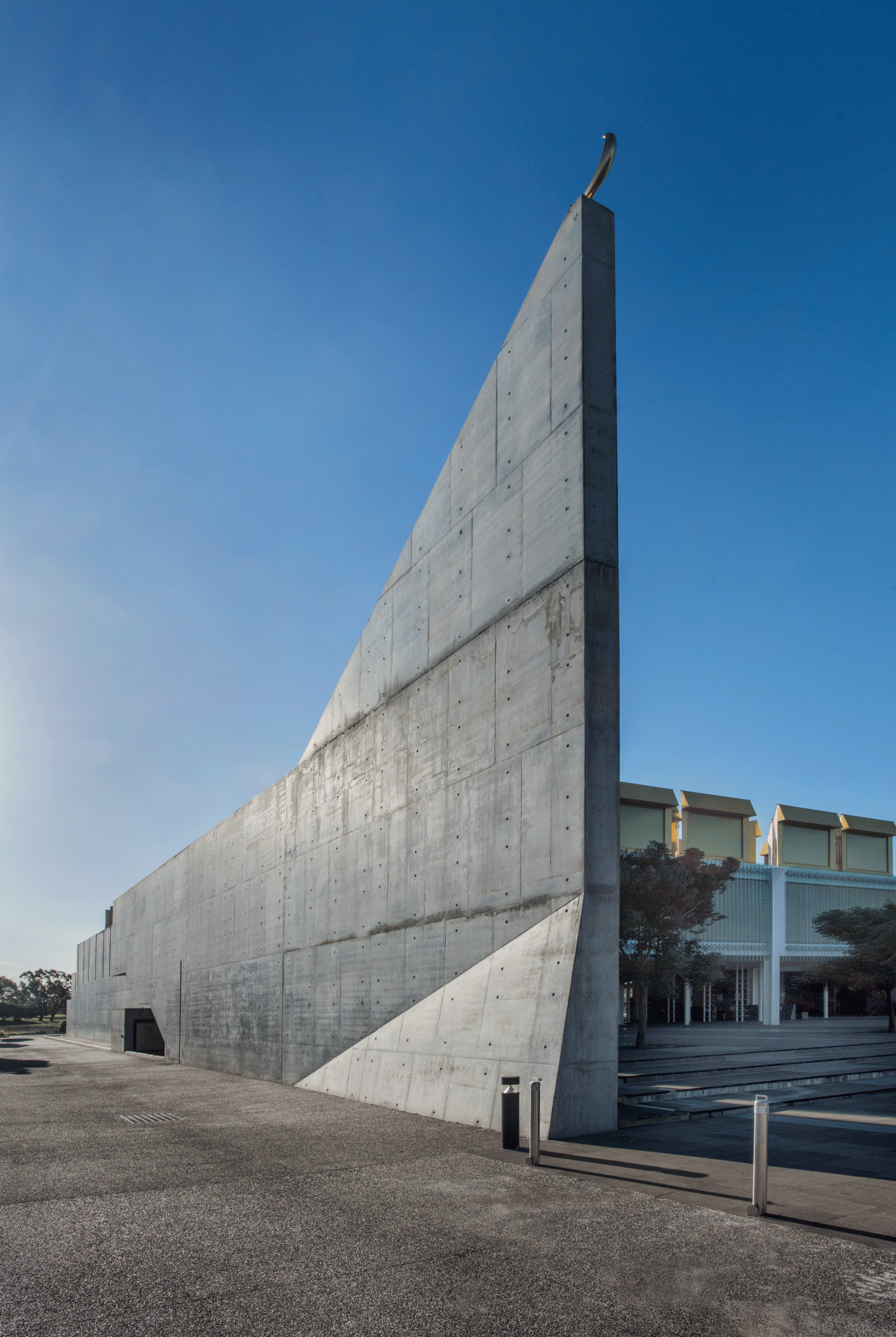 Australian Islamic Centre (2016). Photo by Anthony Browell.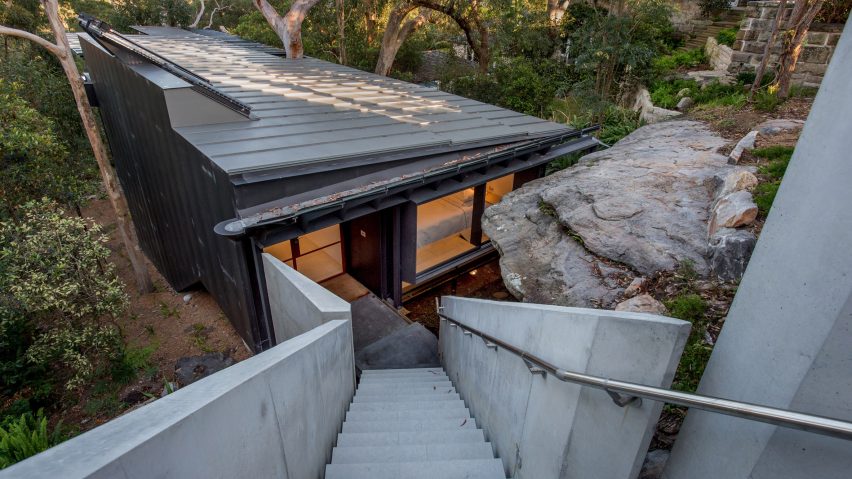 Donaldson House, Sydney, NSW (2016). Photo by Anthony Browell.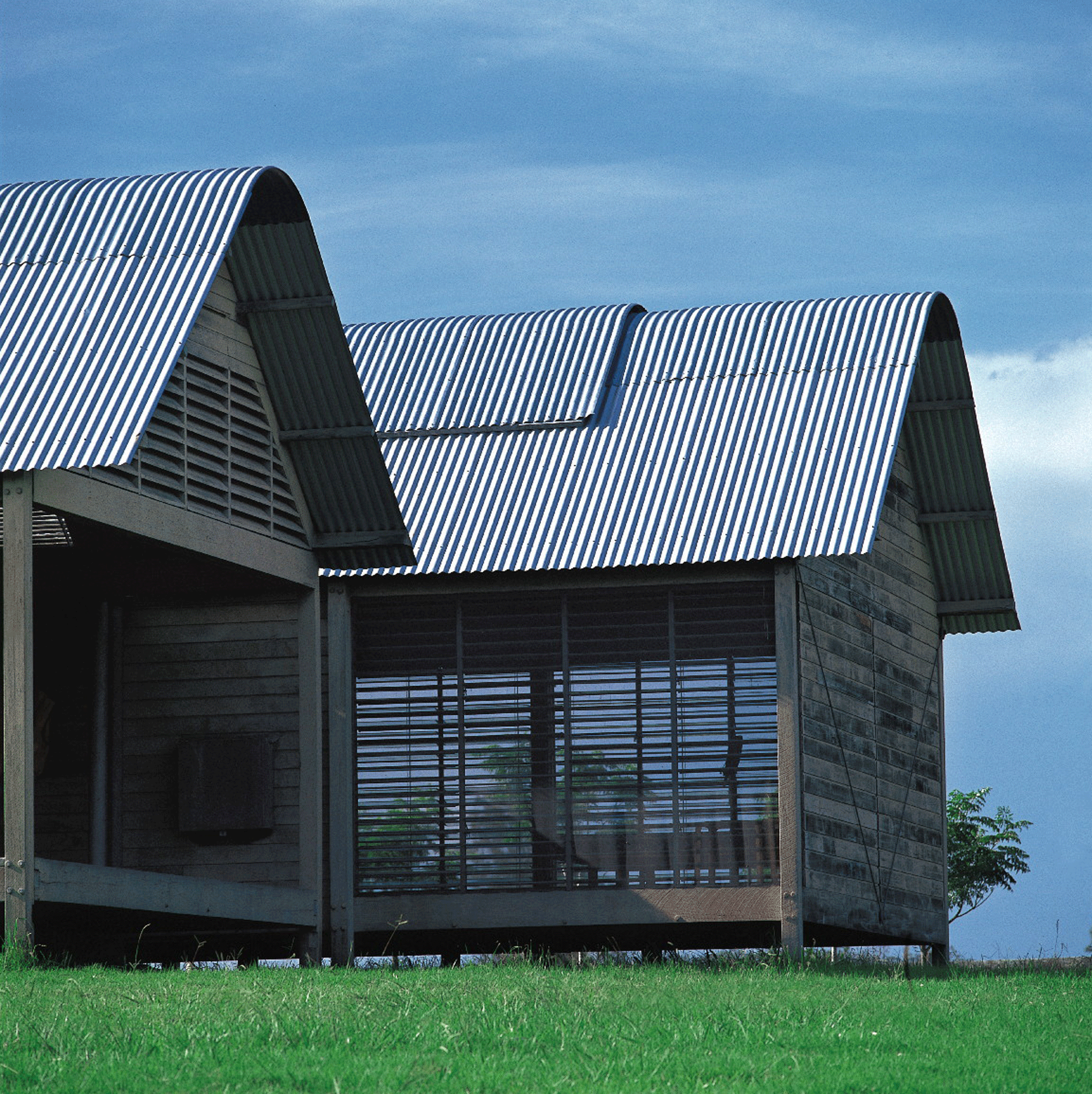 Marie Short House, Kempsey, NSW (1980). Photo by Anthony Browell.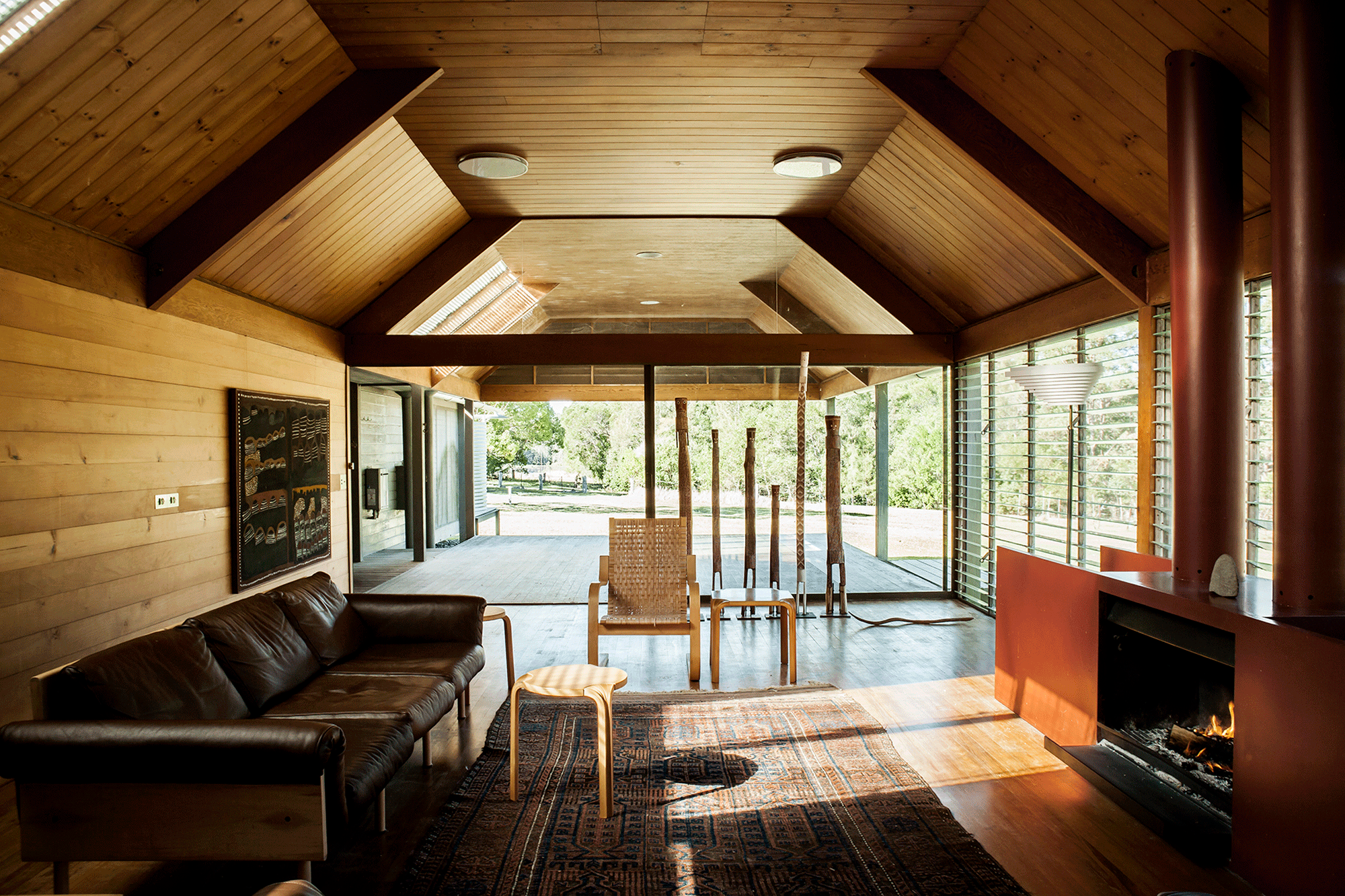 Marie Short House, Kempsey, NSW (1980). Photo courtesy of the National Archives of Australia.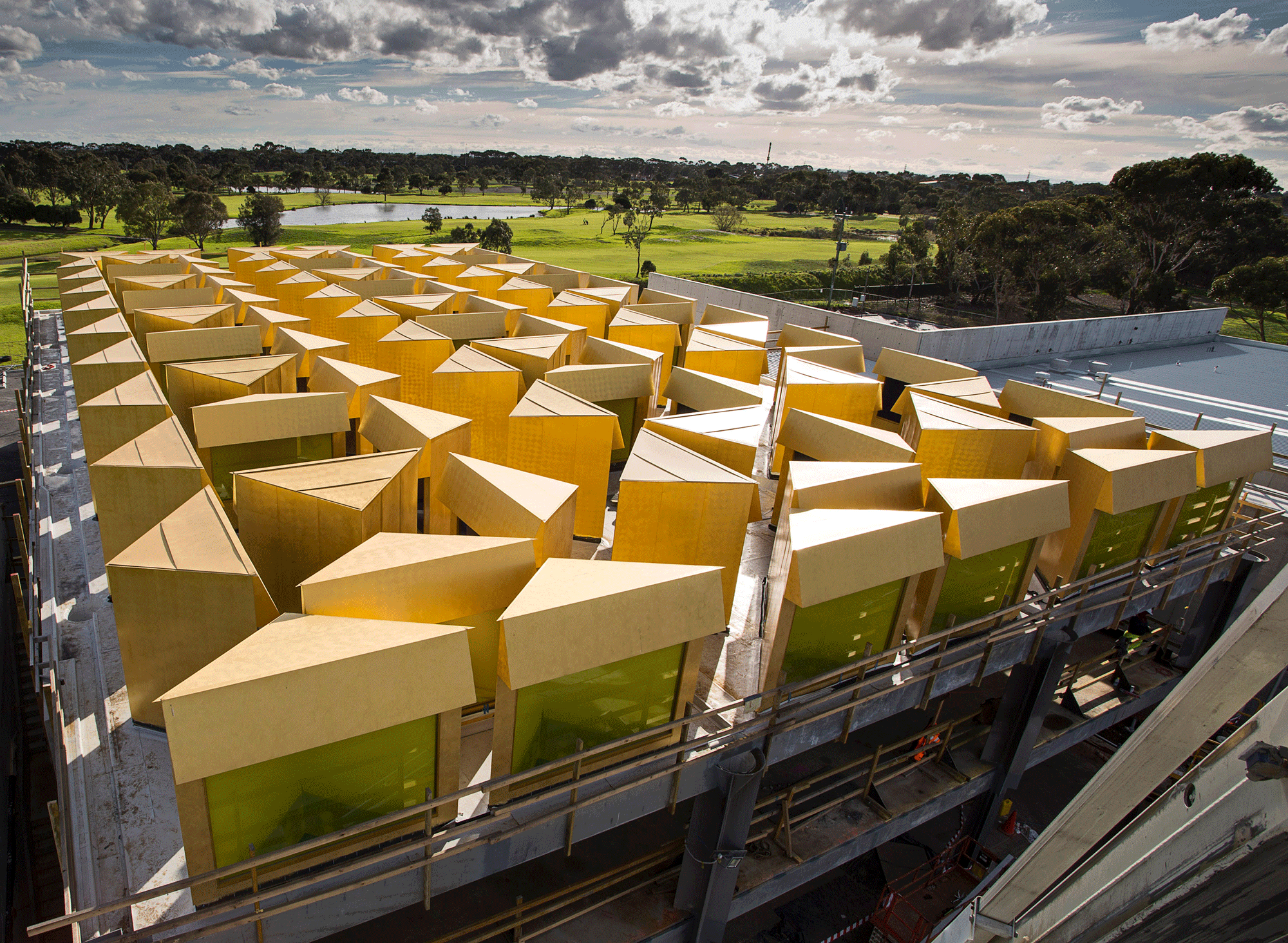 Australian Islamic Centre (2016). Photo by Anthony Browell.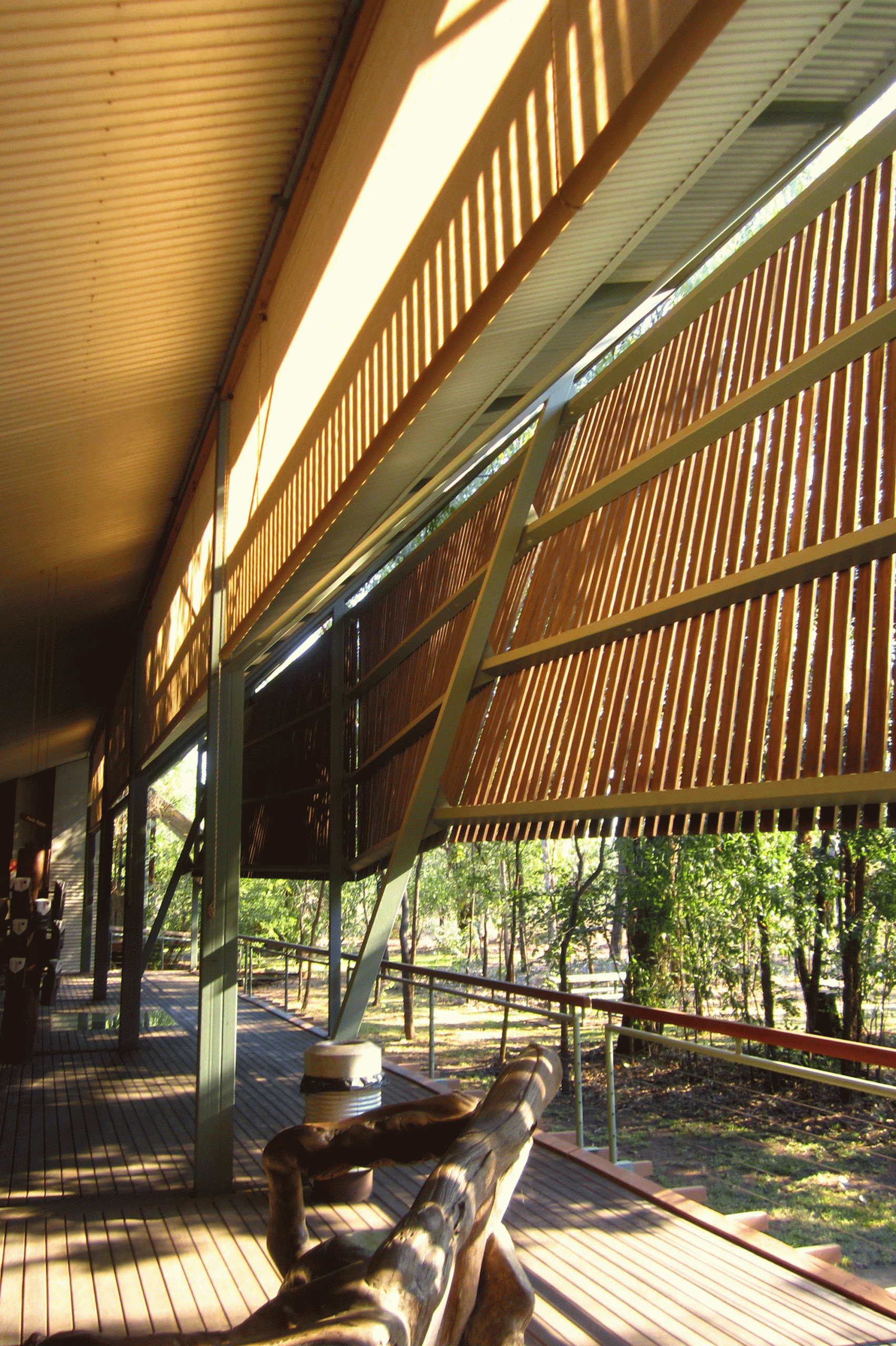 Facade of Bowali Visitor Centre (1993), Kakadu National Park. Photo by Luke Durkin (CC).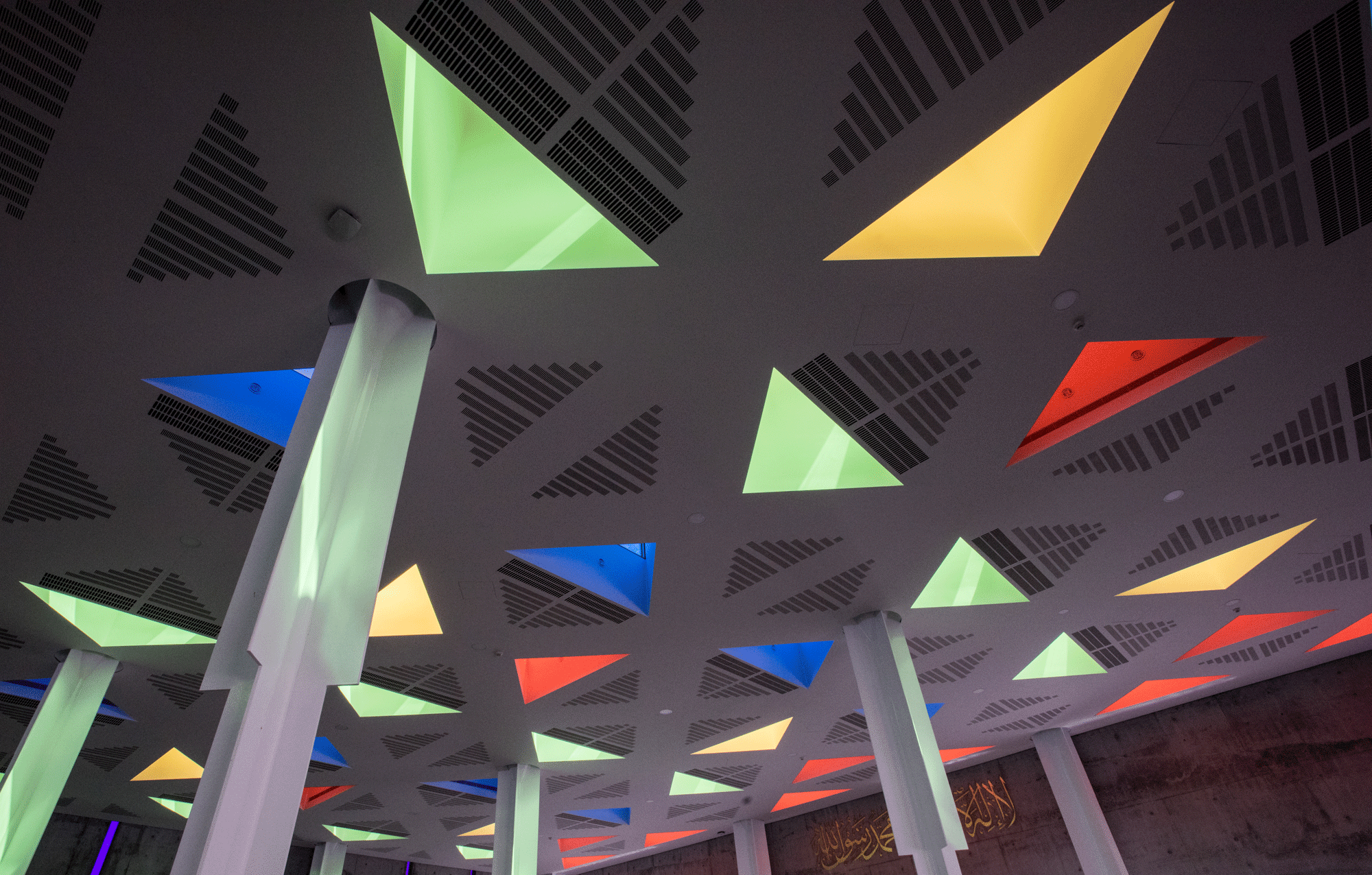 Australian Islamic Centre (2016). Photo by Anthony Browell.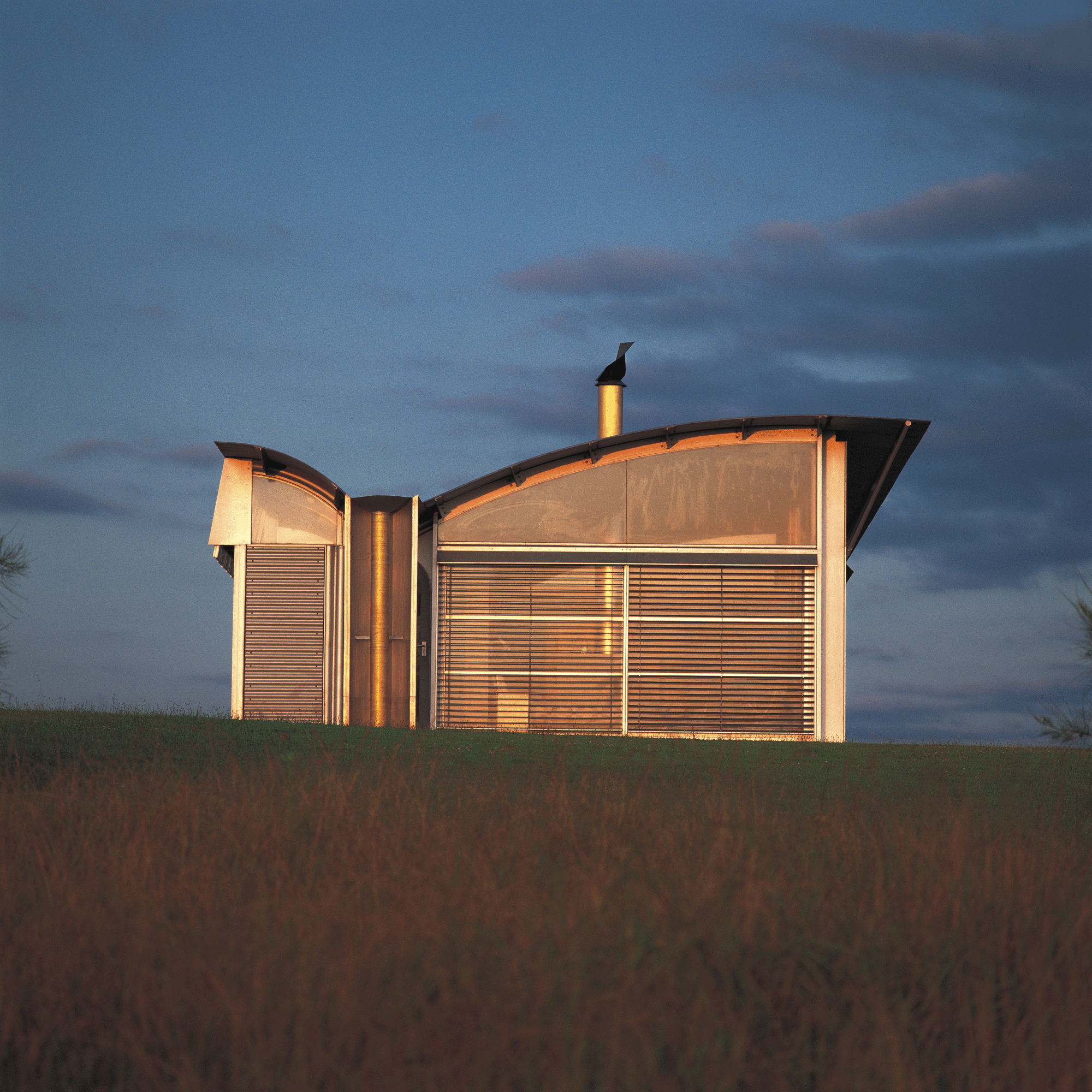 Magney House, Bingie Point, NSW (1999). Photo by Anthony Browell.
His generation defined a distinctive national architecture, leaving an impressive – and daunting – legacy. But the tasks left to the next generation of architects, Glenn says, are very different: dealing with catastrophic climate change, and learning to manage natural energy systems (sun and shade, cool winds, thermal mass) to improve the sustainability of the built environment. "As we learn to manage water, as we learn to manage food – we could learn to manage power consumption in buildings. And if we learn to manage how the power comes to us through natural energy systems, rather than through coal, we will be able to use the power appropriately and reasonably."
The rules young architects will have to face in the future are going to get even more stringent, he says. "For example, and reasonably so, they're going to have to work with the lifetime cycle of a building's effect on the environment, which includes consumption, and how much the building is going to be using natural energy systems, such as orientation, materiality, insulation, the earth and the ground systems. They are going to have to deal much more with environmental issues, because the environment is going to change vastly. We're starting to see it already, in very profound ways. And we've got to accept that we are the cause of the environmental changes."
As we are parting ways, Glenn stops again to emphasise the inseparability of aesthetics and rational design, of pragmatism and beauty: "If we design buildings really well, the chance of them having to be redeveloped is reduced. And the important thing about the longevity of the building is that it is worth keeping. If it's worth keeping, then you have the beginning of sustainability in a true sense."
A heartfelt thanks to Glenn, who took time out of designing and building his wonderful MPavilion to speak with us about his practice, and to the MPavilion team for making our chat possible. This article is part of our latest print edition, #12: (Future) Legacies – launching Friday 15th November in Glenn's MPavilion. Join us to celebrate, and pick up your free copy!