May 22, 2019
As the eleventh print issue of Assemble Papers is about to land in Melbourne (and then travel beyond), editorial team Jana Perković and Cat McGauran explain some of the thinking behind the edition's theme. We live in a time that demands necessary change: but how do we face this urgency with a spirit of community and altruism?
In the final months of 2018, scientific reports were being released almost weekly in the international media, revealing the severity of the threats we face from climate change. The frequency of reports was matched only by the number of floods, wildfires and extreme weather events we were reading about. It brought home the urgency and the necessity of acting now.
The future looks uncertain. For the first time in more than a century, the next generation will be financially worse off than their parents. Rates of home ownership are dropping, and a growing portion of us will be lifelong renters (Alexis Kalagas investigates the emergence of 'housing as a service'). Work and education are changing beyond recognition. And disasters, both natural and caused by human action, invite reflection, as artist Miso does in her ongoing work on disaster zones.
Ours is a society, and a planet, in transition: from low to high density, from carbon to renewables, from manufacturing to knowledge economies, from nature-as-resource to nature-as-building-material; and from climate as 'background' to climate as breaking news. Tackling these urgent problems requires new ways of thinking. It is an opportunity to reconnect with what really matters; to remember the words of legendary designer Dieter Rams, urging us to produce and consume less, but better.
In this edition of Assemble Papers, we connect to thinkers across disciplines who are urging us to see things differently. Artist Yandell Walton uses art to bring the realities of climate change closer. Designer Mary Featherston has made the critique of our learning environments her life's work. Lesley Lokko tac­­kles the hard work of decolonising the architecture education. And Jax Jacki Brown makes us look at liveability from the point of view of someone seated in a wheelchair.
Some of the necessary changes are happening slowly, while others need to happen fast. We visit Holzmarkt in Berlin, where a new approach to ethical property development puts community benefits before profit. We go to Kolenkit, 'Amsterdam's worst neighbourhood', which has been gentrification-proofed with love and community. We look at the new generation of artists and creatives reviving Sarajevo's spirit, and we encounter the visionary gardener who has transformed New York's public spaces. In these stories, places have been profoundly transformed by the work of a few tireless individuals.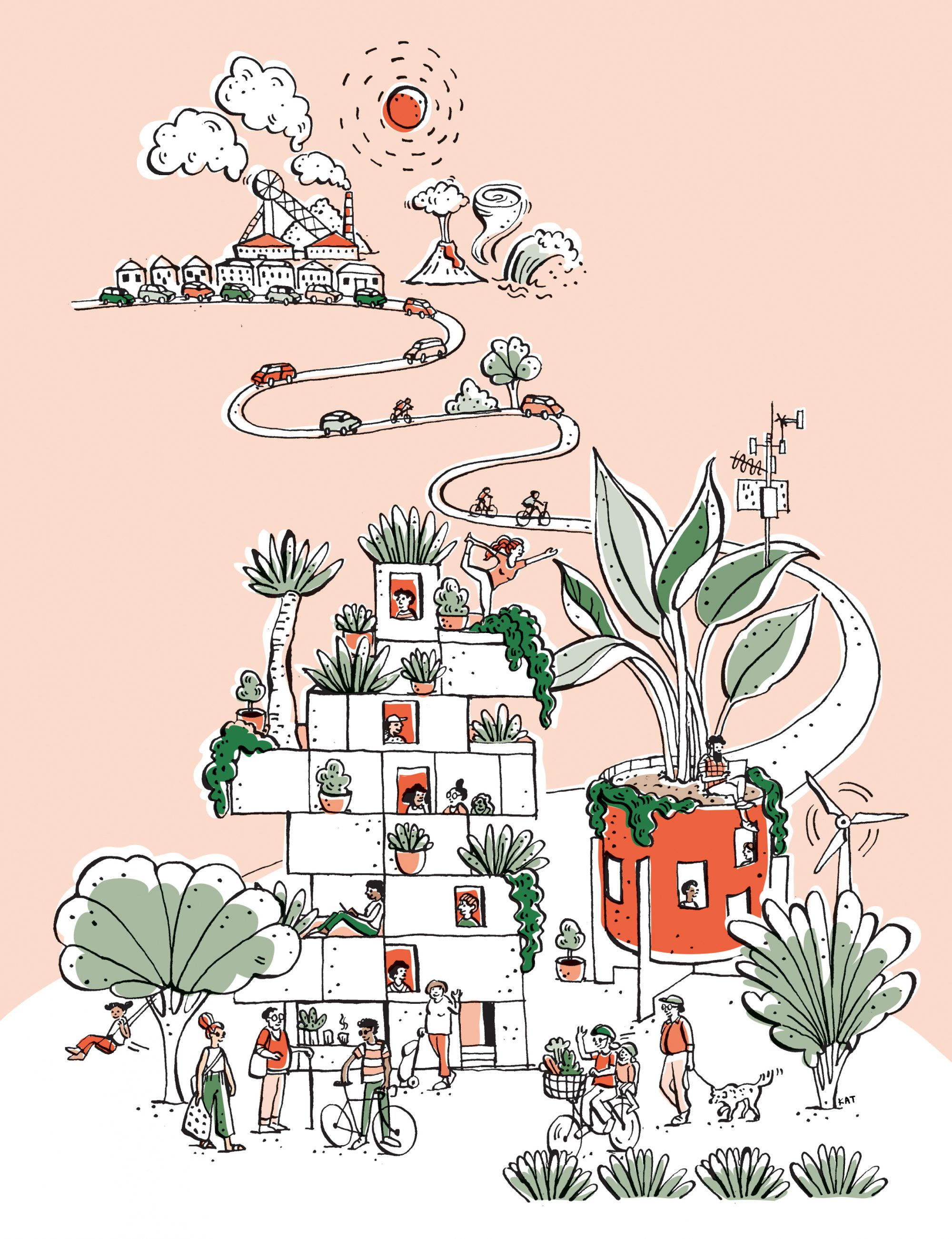 But heroic transformation often starts with small, courageous steps. In suburban Fawkner, we visit Gregory Lorenzutti, who has transformed his home and life with permaculture gardening. And in the inner-city suburb of Richmond, young architect Jack Chen's award-winning transformation of a small-footprint apartment shows a new way to appreciate the 'six-pack', Australia's unloved apartment typology.
In th­e face of profound and inevitable change, we need to recognise that our planet must come first. It will require that we act from a place of altruism. Old power dynamics must shift and, for the first time in a long time, profit cannot be our sole motivator. As Naomi Milgrom urges us in this issue, we must embrace dialogue across difference, and have the courage to dream a little bigger. ­­