EH What is it like to share a room?
JJ Sharing a room has its opportunities and challenges. But any challenges I feel can be easily resolved with communication.
Come up with ground rules and discuss things like space and privacy. I keep busy and have such an active schedule that I'm rarely home. Beyond that, I'm respectful, clean and responsible. I expect others to be the same.
DH I've had housemates before, but never a shared room. This is the first time I've shared a space so personally, but privacy and space seem to function with a natural ebb and flow in our place. Sometimes I'll give a heads up about company, but I think we both enjoy an open policy that anyone is welcome at home. Life keeps us pretty wrapped up – too much to care about boundaries. We have respect for each other's moods and we know when to give breath to a situation.
EH What do you like about shared living?
DH There's a peace in knowing that the struggle in progress is not singular. There are days one of us may be down or up and it's a reminder that we're all just doing our best. I think if I lived alone I would start to get in my head.
JJ I like being able to connect and share experiences and stories of adulthood with another 20-something. It's comforting knowing you're in it together.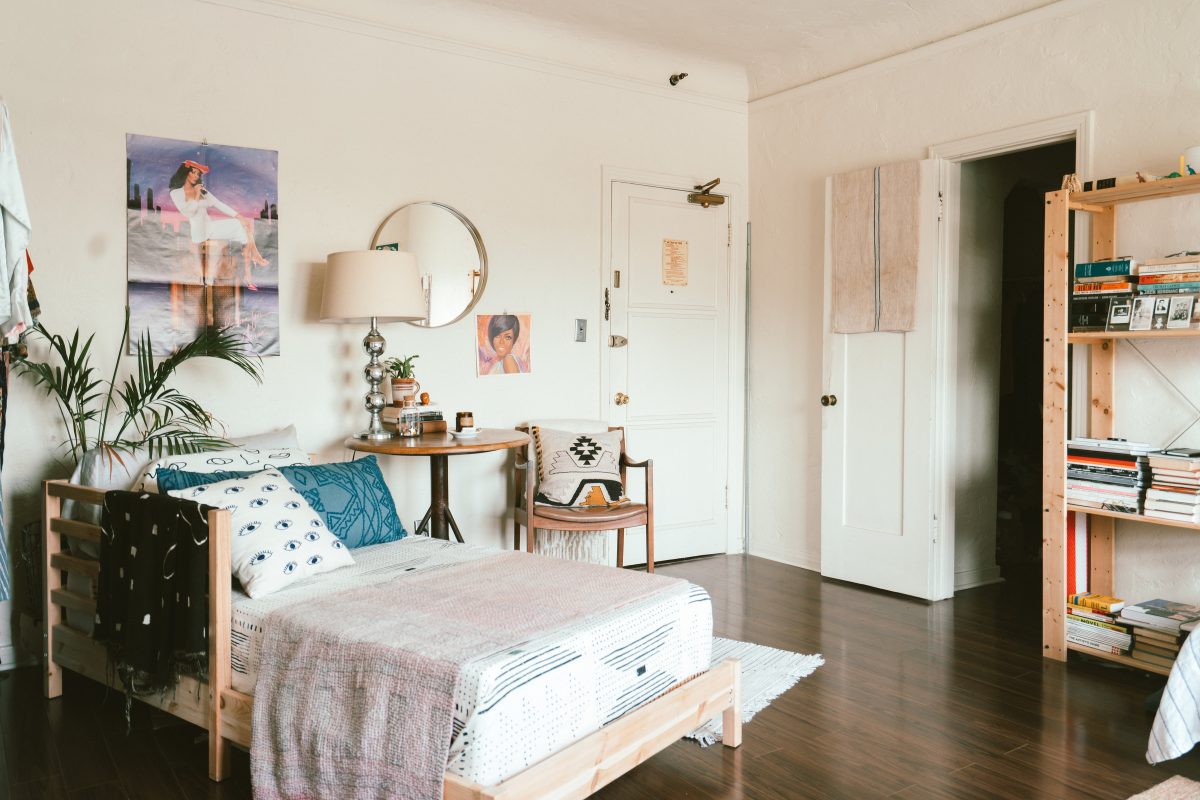 EH How did you merge decorating styles?
DH We both naturally claimed corners of the apartment. If something humours us, we do it. It was fun for us to come together visually and distinguish our personalities. I would say the apartment is pretty evenly split in styles.
JJ I'm a maximalist so I feel like I kind of just took over naturally since I have so much junk and keep acquiring more through my thrift hunts.
EH How long has it taken to decorate the house?
DH The finished result was a few hours of chaotic scramble but in all honesty it's been slowly evolving since day one.
JJWe whipped up the space together collectively and, just recently, I added more decorative pieces to make it feel more lived in.
EH How would you describe your decorating style?
DH I gravitate to a sterile room with solid colours, nostalgic trinkets and baby cacti. I love wood and the contrast of synthetic materials like glass, plastic and paper.
JJFound, eclectic and colourful with a little kitsch. I like a space to look playful and fun.
EH What makes your share house great?
DH Our pad is very much a reminder of how far we've both grown – from a lot of doubt to a natural confidence. Our apartment gives us a sense of home in the city.
JJKnowing that we can both rely on one another to keep things sound.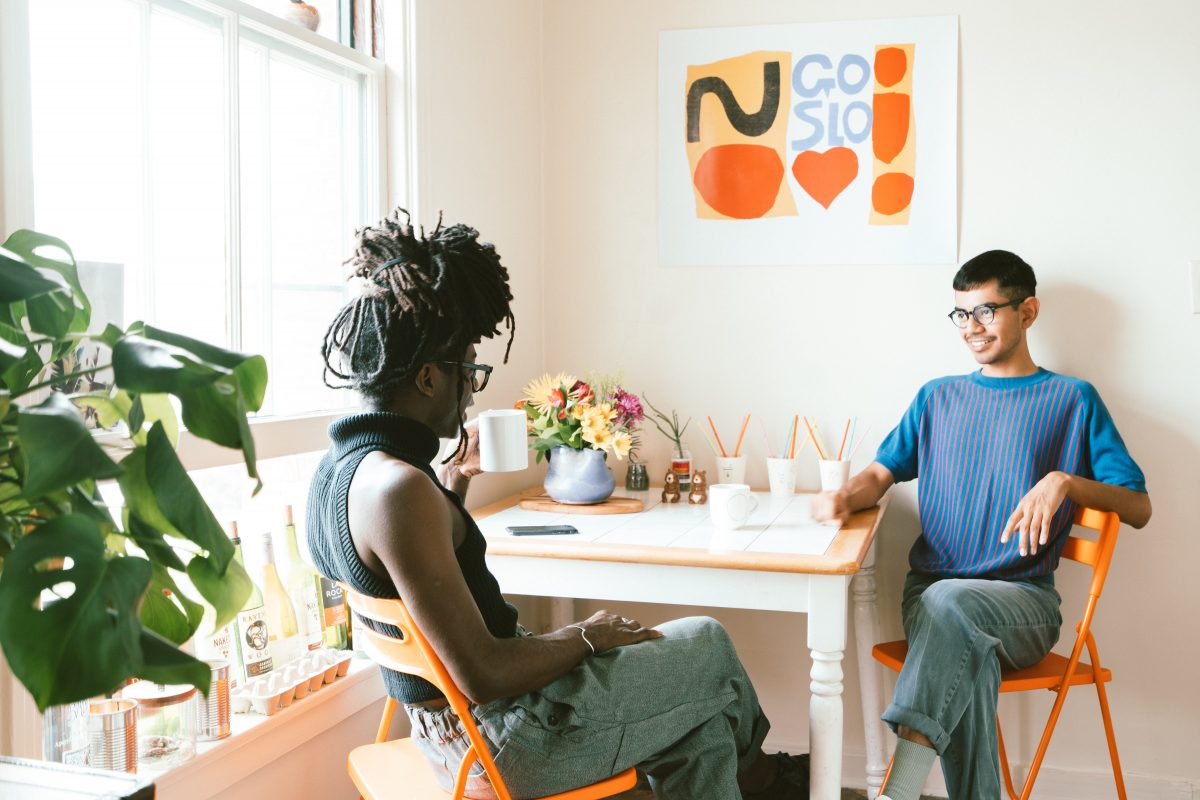 EH What's one decorating secret you could pass on to other  share house decorators?
DHA good balance of risk and control makes a space unique. It's almost like perfecting a recipe, you add and subtract until it feels right.
JJHit up second-hand places for a touch of personality with home decor. I have scoured many thrift, yard and estate sales, and have discovered some of my favourite home finds at these places.
EHWhat tip  could  you give other share housers about living in harmony with your housemate?
DH Respect. After all, it's their home too.
JJ I agree. Be respectful and clean up after yourself. No one wants a dirty roommate.
EH How do you  and your roommate come together after a busy week of work?
DH We're both pretty busy. We're lucky to catch each other at all but once in a while we'll find each other at the same parties.
JJ Whenever we do see each other outside our busy schedules, we always catch up on the latest – what's new in his life, what's new in mine. This usually plays out while we listen to one of Danny's Spotify playlists. He has great taste in music and plays all the jams.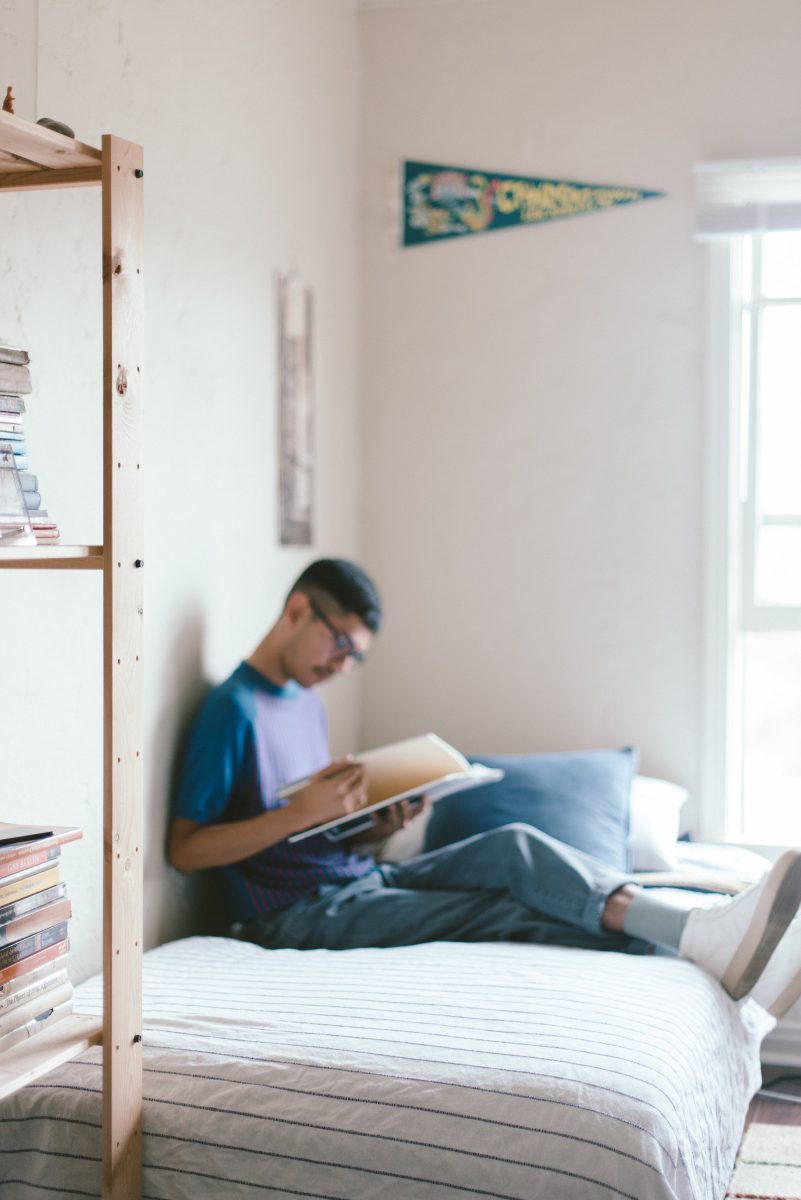 Thank you, Danny and Jamee, for letting us into your beautifully shared space – and to Emily for sharing a chapter from her new book. Shared Living: Interior Design for Rented and Shared Spaces is published by Thames & Hudson.