Housing
Embracing the art of shared living in Shinjuku

Apr 4, 2019
Art curator Hiroshi and food designer Haruna Ito live with their baby Yuri and friend Noriko in a magical share house near Shinjuku, where one bedroom has been turned into an art installation for visitors to stay in. In our special two-part 'shared living' series, Emily Hutchinson looks around the world for some of the most inventive ways of living closer together. This story is one of many collected in Emily's new book Shared Living: Interior Design for Rented and Shared Spaces.
Japanese art is widely appreciated for pushing the boundaries.
Those boundaries sometimes include making entire bedrooms an art installation, as has been done in a share house near Shinjuku.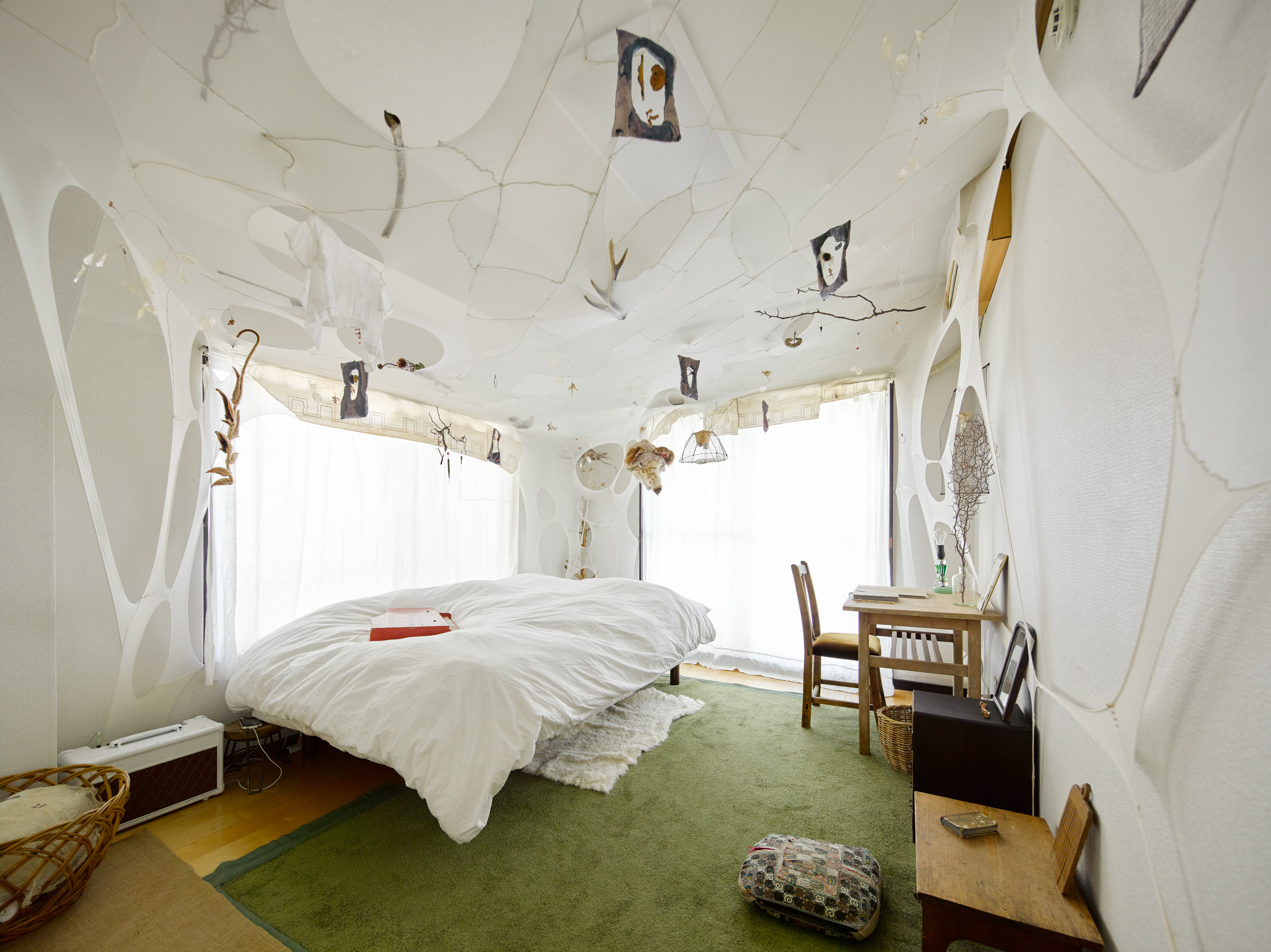 Hiroshi, his wife, Haruna, and their baby, Yuri, live in one bedroom, Noriko lives in the second bedroom and the third bedroom is open to guests and art aficionados to come and rest their heads. Yumi Arai is the artist behind the installation and has created a dreamy atmosphere to escape to.
Hiroshi, Haruna, Noriko and Yumi all met through their love of art.
Noriko moved in with the couple and their baby and lives on the top floor, sharing the bathroom, kitchen and living room with his housemates. 'Everyone works in social design and art, so we have similar interests,' says Noriko. 'No one is stressed in the house – we each keep our own pace and respect each other's space.'
Hiroshi and Haruna had no trouble deciding to share their house with Noriko, despite having a little one. 'It's important [for Yuri] to meet another adult and not only our own family I think,' says Hiroshi.
With the third bedroom vacant, Hiroshi wanted to bring art into their home and approached Yumi to curate it.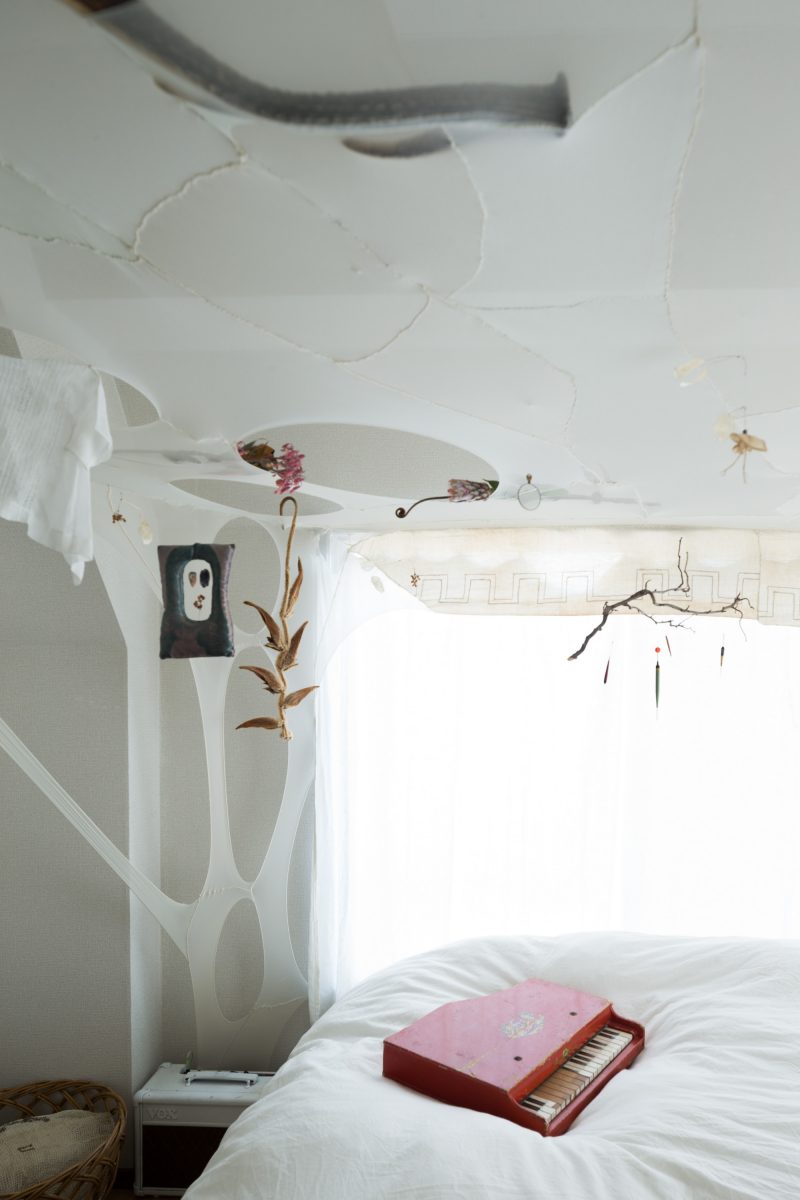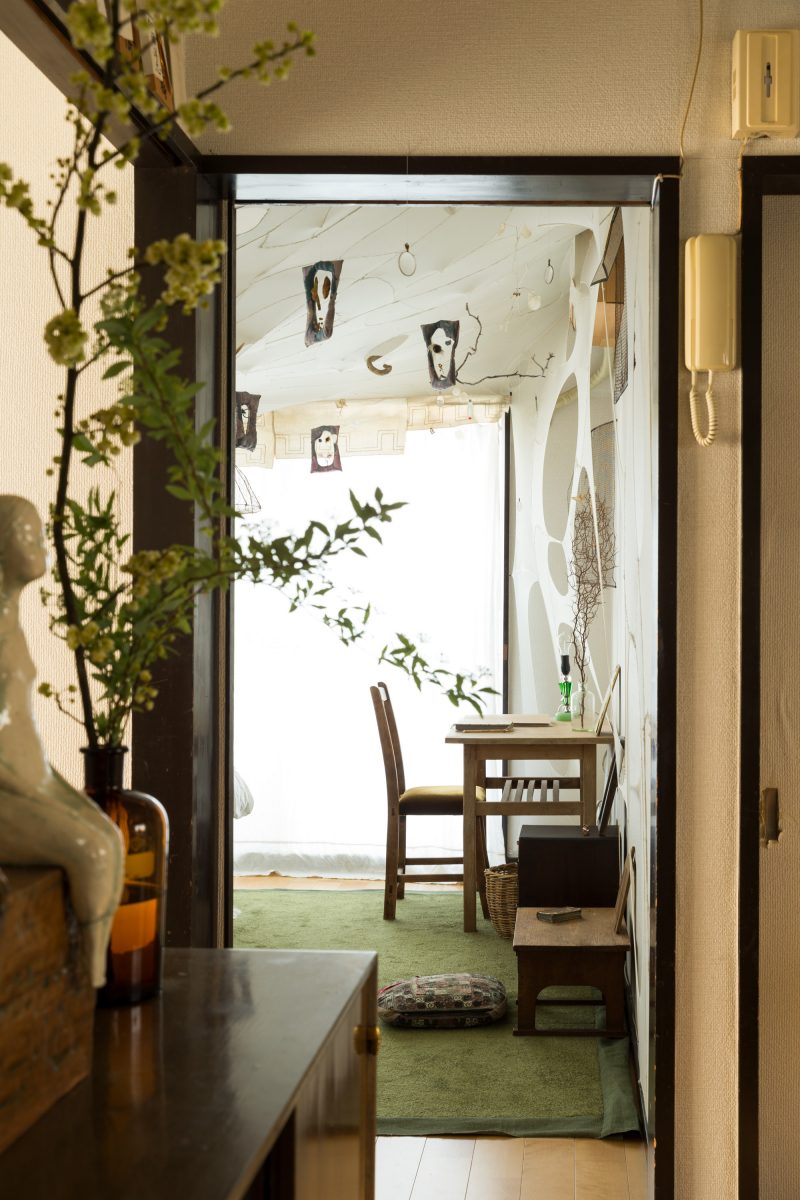 'I was thinking it's sad that installations disappear every time the exhibition finishes and wanted to preserve an installation for a long time,' says Yumi.
The room took about four months to complete and has since hosted a number of guests. Yumi drew inspiration from Finnish and Japanese folklore and the sounds from the street below. 'When I entered the room, I heard some children's playing voices from the elementary school,' Yumi explains. 'Also, there is a sloped ceiling in the room. From these inspirations, I associated it with a kind of secret base and decided the concept of the room would be "maja". In Finnish, "maja" means tree house, which only children can build in the tree. When I was small, I made a secret tree house with friends and the time spent there felt never- ending and not to be disturbed by anyone.'
The sheer tights that are stretched across the room make it feel secluded, with minimal pieces of furniture that includes a writing desk, a chair and a bed. The room encourages dreams and imagination with playful touches like the children's piano and abstract hangings such as the bear head. 'The bear is a symbol of God in a forest according to the mythology of Finnish and Japanese folklore,' says Yumi. 'When I was small I had a teddy bear and shared the most time with it, like a best friend or alter ego. The bear is the most important animal that connects with memories of childhood for me.'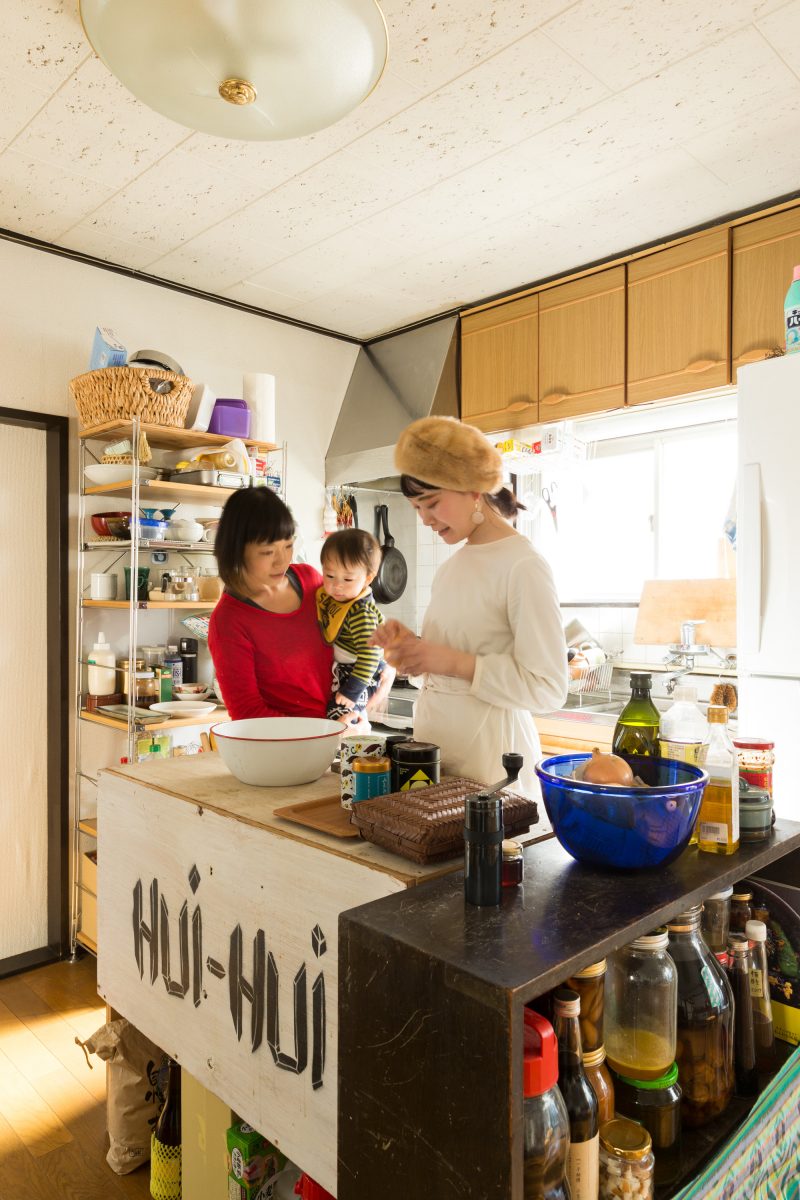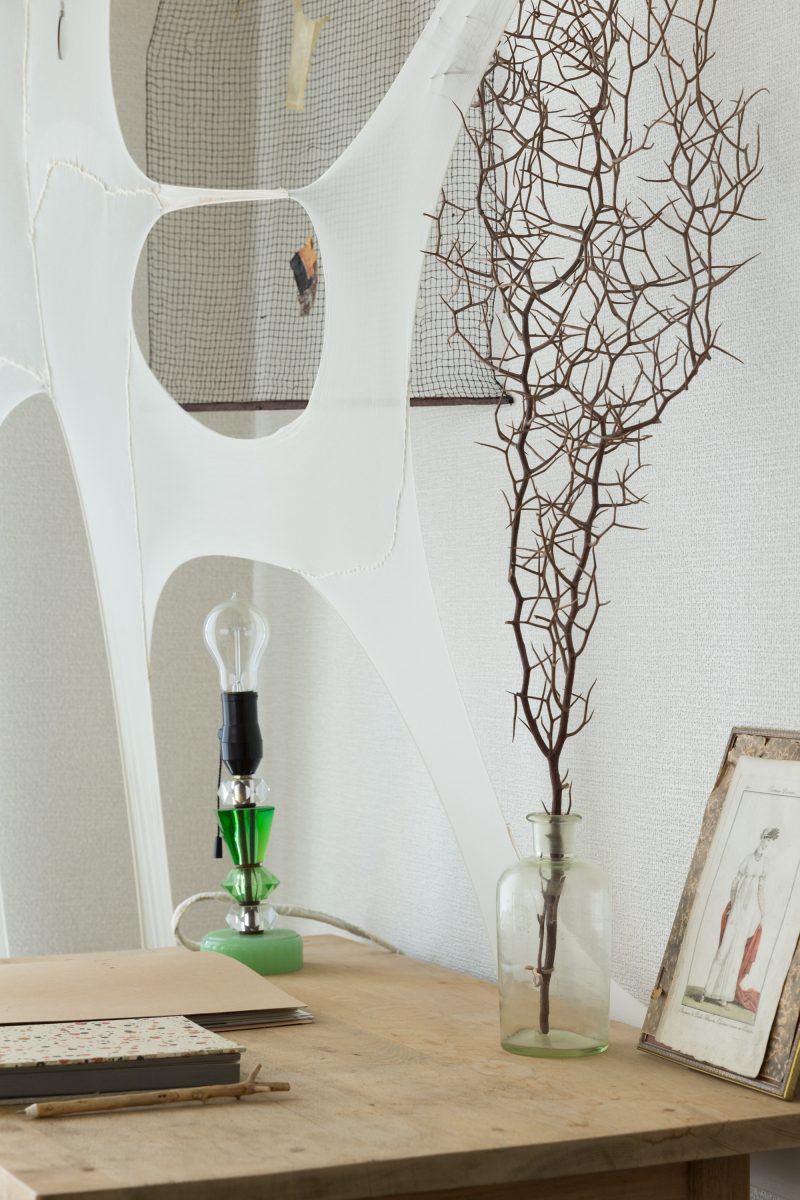 Yumi is a regular visitor to the house and all the housemates connect through their love of art. 'We like to share books and talk about good exhibitions because all of us like art and culture,' says Haruna. Sitting down at the dining table next to the kitchen with Noriko's gyoza or Hiroshi's nabe (a Japanese hot pot dish) is where they come together to share their artistic aspirations with one another and hopefully dream up their next beguiling exhibition.
Thank you for letting us peek into your 'maja', Haruna and Hiroshi and Noriko and Yuri! And a warm thank you also to Emily for sharing with us one of the amazing stories from her book Shared Living: Interior design for rented and shared spaces, published this month by Thames & Hudson.