Culture
AP x Liquid Architecture: AOYE MIX by Chun Yin Rainbow Chan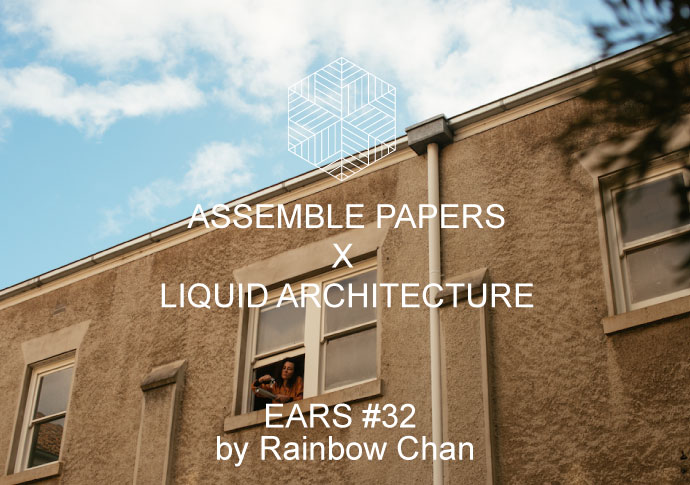 Apr 12, 2018
This year, Assemble Papers has partnered up with Liquid Architecture for our EARS series: throughout 2018, we will be in dialogue on sound and space with Danni Zuvela and Joel Stern, the co-artistic directors of LA. Our first mix of the year is an invitation into thinking about polyphony as a form of sociality.
Liquid Architecture investigates sound in its broadest sense, with an annual program of events where contemporary art and experimental music intersect. Concerts, exhibitions, talks, reading groups – everything from immersive sound experiences to critical reflection on sonority finds place in the program of this unique organization, one of the most exciting in Melbourne's creative landscape.
A mainstay in LA's calendar is Polyphonic Social – a once-a-year exploration of polyphony taking place in and around Abbotsford Convent as summer turns to autumn. To ease us into the cold weather, LA are bringing us a mixtape by Rainbow Chan that conveys some of the energy behind the event's exploration of how music often equals community.
"Rainbow is a multi-talented artist, musician, broadcaster and DJ based in Sydney of Hong-Kong and Chinese heritage," is how Zuvela and Stern describe her. "We've worked with her on a bunch of projects over recent years including Autotune Everything at the Greek Centre in Melbourne, where she did a kind of conceptual karaoke of translating Western pop songs into Cantonese language, but also transposing the melodies and pitches into Cantonese registers. It created a strange hybrid pop form that encapsulated the way in which pop culture is at once global, local, pervasive, meaningless, from everywhere at once, and also, kind of for the same reason, from nowhere at all.
"Rainbow was also a major player in Liquid Architecture's international tour of Taiwan last year called entering tone where she performed, collaborated and killed it profusely, and is a co-curator of our AOYE club night as part of Polythinking. We love her work for its simultaneous embrace of pop sensibilities and traditional forms, its conceptual and avant-garde smarts, and its genuinely experimental approach."
"熬夜 (áo yè) is a Mandarin colloquialism for staying up all night," says Rainbow Chan. "This mix is an ode to late nights in Taipei, new friendships and bottles of Gaoliang wine."
EARS #32: AOYE, tracklisting:
Aloïs Yang – A Radical Scale For The Weight Of Life [0:00]
Rainbow Chan Voice Memos – Bunun Dialect: How are you? Thank you. Cheers! [0:17]
Chi Lu Sha – 望你早歸 (Wàng nǐ zǎo guī) [0:29]
Jannah Quill – ? Live at Korner 02.12.2017 [3:29]
Betty Apple x Rainbow Chan – ? Bedroom Jam 12.01.2018 [5:45]
Tzusing – King of Hosts [8:09]
Tzu Ni – #ffb9dc [11:22]
Fotan Laiki – 火炭麗琪 (Fotan Laiki) ft. YoungQueenz [13:22]
PenSoul – So Into U [16:17]
Meuko! Meuko! – High Dryer [16:17]
LUDU – Sea of Regret (Chunyin Remix) [21:31]
Rainbow Chan – Let Me (Betty Apple Remix) [24:36]
Enderie – Do [27:38]
Ao Wu – 想入非非 (Into the Right and Wrong) [30:14]
MinJu Lee – Noise//Live//nobody_in_the_AcidHouse [32:17]
Moldy – Airplane ft. Sonia Calico [34:23]
Forests – Dead Species [37:28]
Geometer – Xinzhu [40:34]
Chunyin – 條款 (Terms) [43:03]
Lu Jiachi – Shadow 2 [45:21]
Rui Ho – Saga [47:16]
CORIN – Hyperdrive [49:04]
Foodman – Ure Pill [52:20]
Bloodzboi – 冻柠茶 (Iced Lemon Tea) ft. Fotan Laiki [53:44]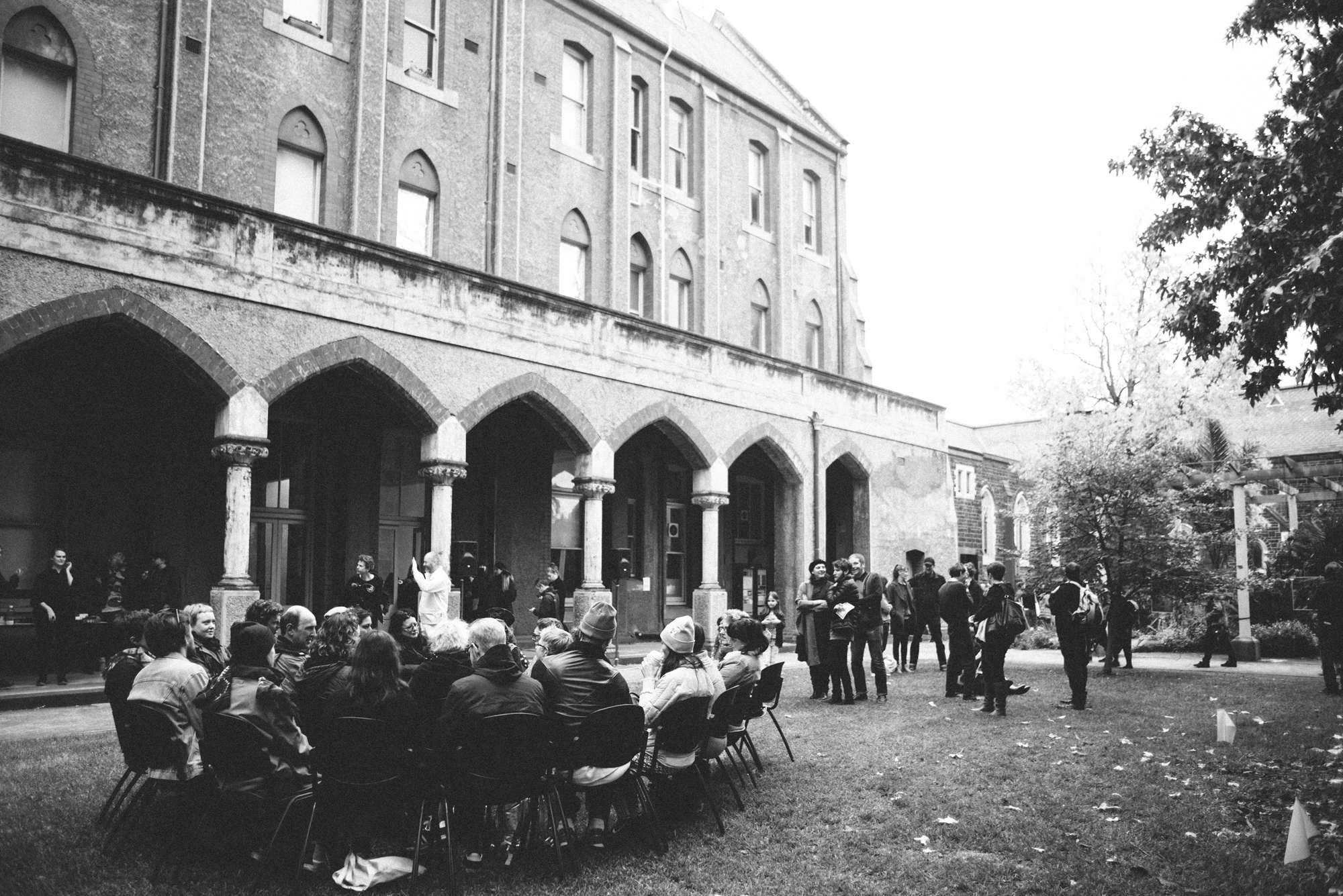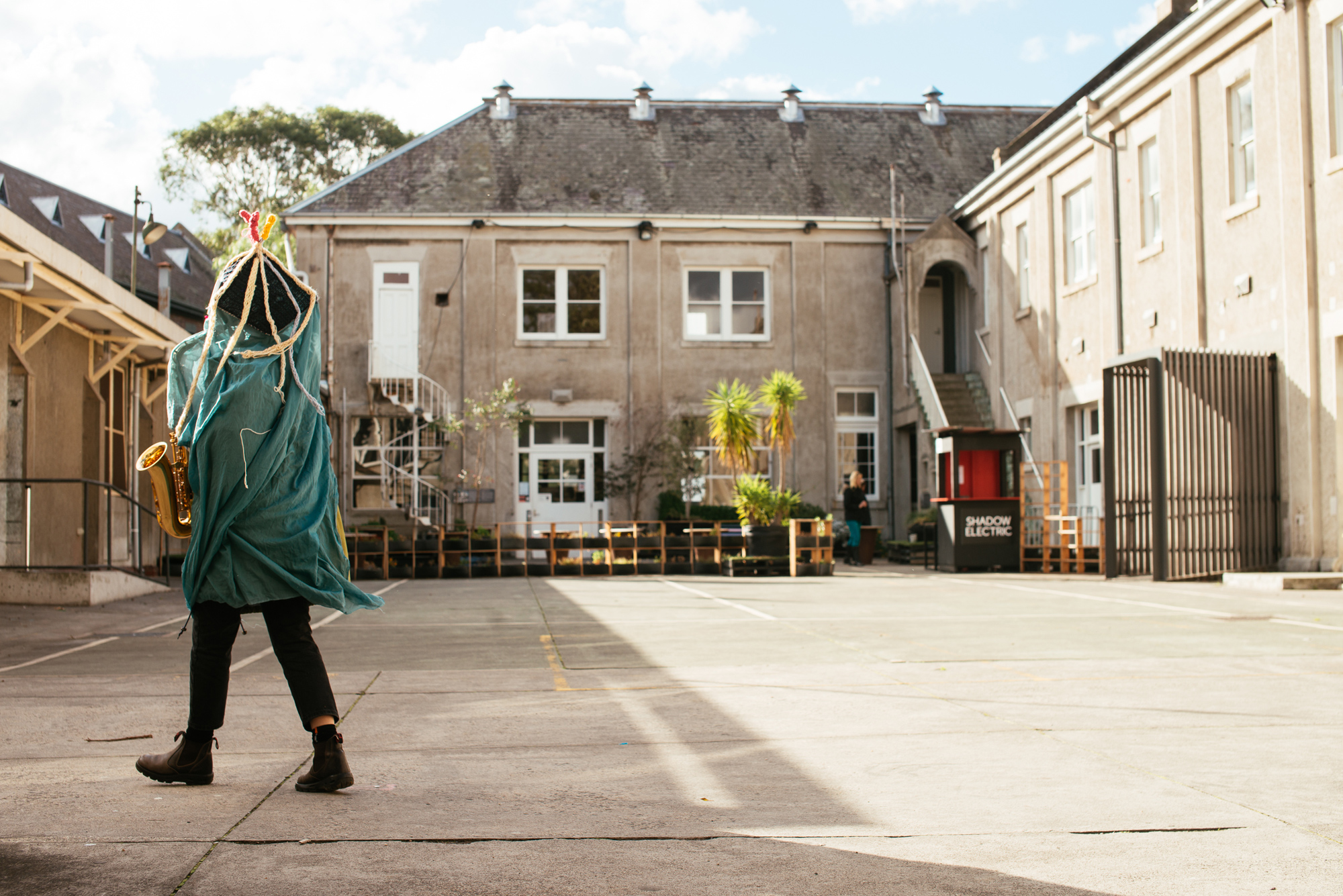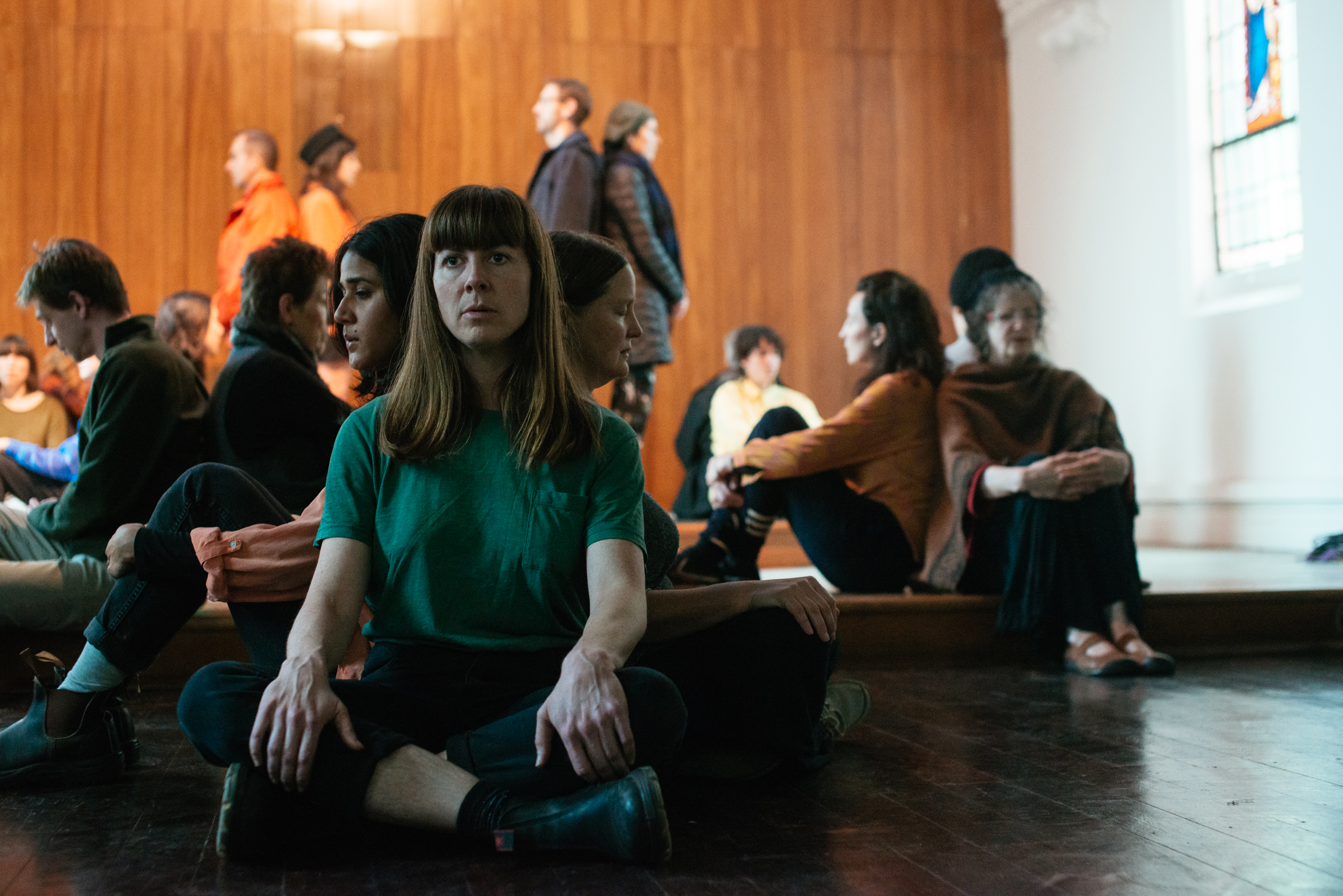 AP: What is Polythinking?
LA: Polythinking is the name we've given to a set of interlocking events that we're staging through the Liquid Architecture program in April and May this year. It is one of our 'investigations', by which we mean loose conceptual frameworks, or sets of sonic questions, that we use as springboards for listening more deeply and critically to social, political, artistic questions. (The other ongoing investigations are 'Why Listen…?' which is about listening beyond the human, and Eavesdropping, which is about the ever-increasing access to, capture and control of our sonic worlds by state and corporate interests.)
The basis of polythinking is a deep consideration of the politics and aesthetics of multiple voices – the way that we, as so-called individuals, are ourselves always already multiple, constituted by various voices and identities. This expanded notion of sound and subjectivity is the basis of an imperative we have to listen differently – to listen openly, embracing complexity, shifting codes and extending beyond collective comfort zones.
The practical answer to your question is this: Polythinking is a Liquid Architecture program that takes place across multiple events and venues, embracing experimental pedagogies, installations, performance art, improvised music and partying.
AP: What about Polyphonic Social? What will be happening at Abbotsford Convent?
Joel Stern: Polyphonic Social is a special event we've held annually at Abbotsford Convent since 2016, which tries to playfully thematise the concept of polyphony. In musical terms, this means to hear many different voices replete in their unique texture – but the term has so much potential to resonate beyond musical parameters: to speak more broadly to ways of being together in social and political space, and to an experimental ethos in which ideas like unison, difference, crowd, individual, solo, group, self, other can be reconfigured in strange ways, or opened up under artistic, and especially sonic pressure.
Some especially memorable works we've presented in these programs include Lara Thoms' incredible lecture-performance-homage to the British pop-prankster collective The KLF; the 'school-band on acid' aesthetics of Prophets; a big collective exploration of Pauline Oliveros' conceptual 'sonic meditations' pieces staged by a number of artists and musicians; Zoe Scoglio's ensemble of artists smashing pots and pans from second story windows; the Hi-God People molesting a precious Convent tree with a trumpet-rope contraption…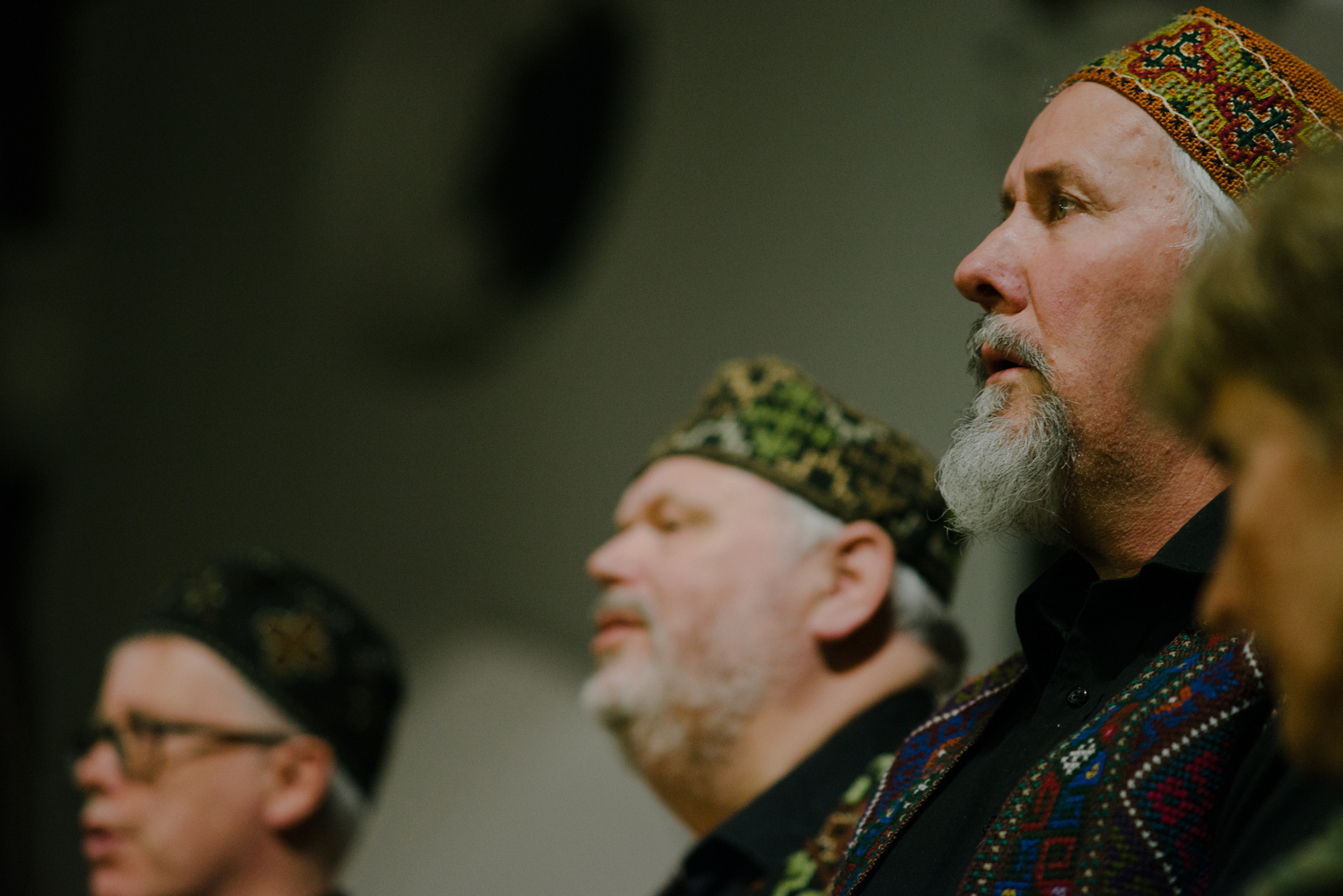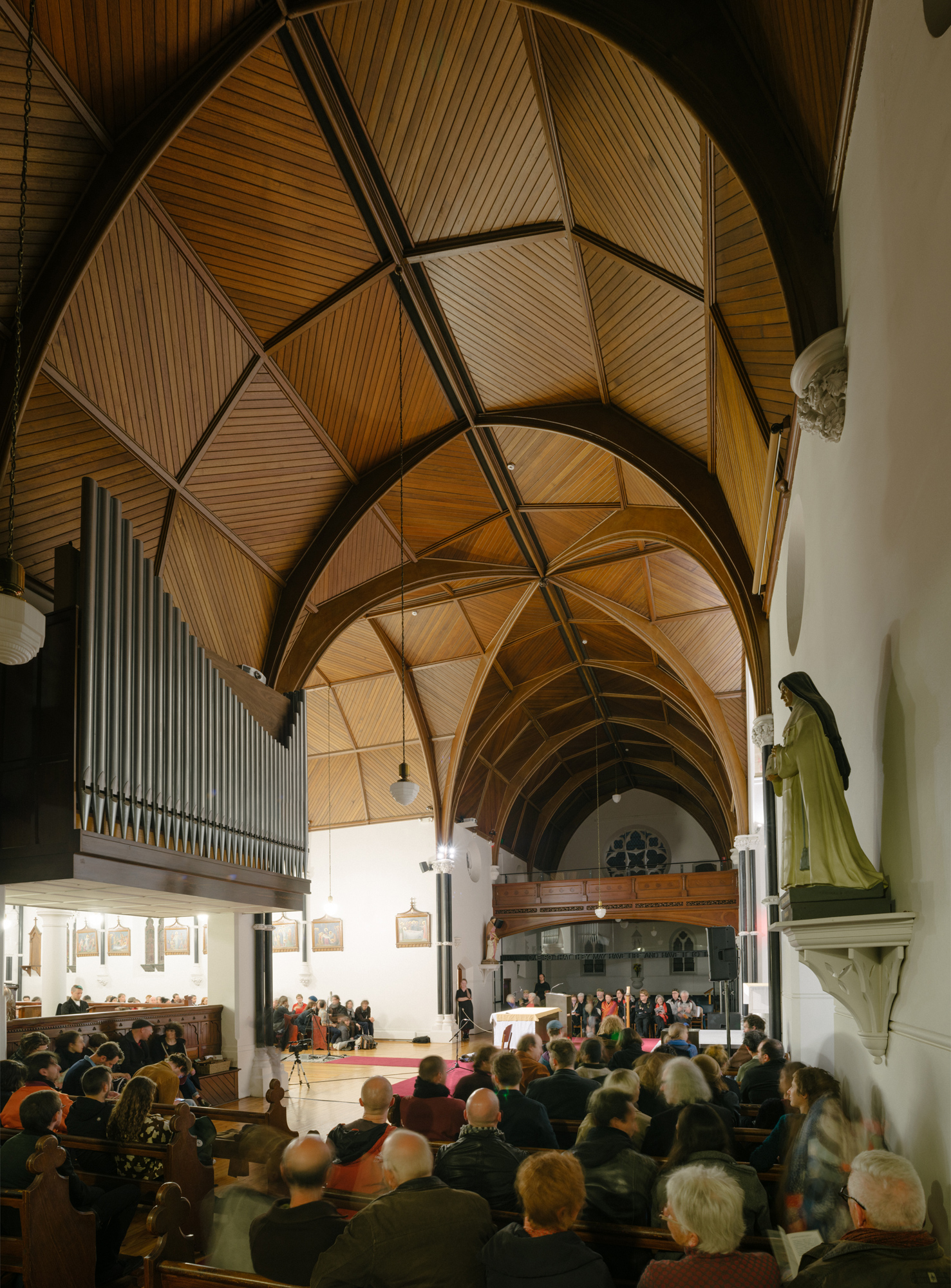 Danni Zuvela: We've also had the pleasure of presenting actual polyphony, as in last year's performance of polyphonic singing by the Melbourne Georgian Polyphonic choir. We contrasted that highly traditional performance with a more conceptual interpretation of polyphony, with Taiwanese artist Lin Chi-Wei turning the audience into a kind of giant tape machine.
We also tried to open up the idea of polyphony into situations where we could ask questions about what many voices together might be saying, and the idea of the "voice without a mouth" – the internal voices, each with their own melody line in our individual and collective minds. Rosie Isaac's performance positioned lies and untruths as a kind of polyphony, as both the lie and the truth co-existing in their narrative.  Uncle Bill Nicholson led us on a guided walk to the Yarra river bank, attuning our listening to the voice of sovereignty that encompasses everything in and on the land the program takes place on.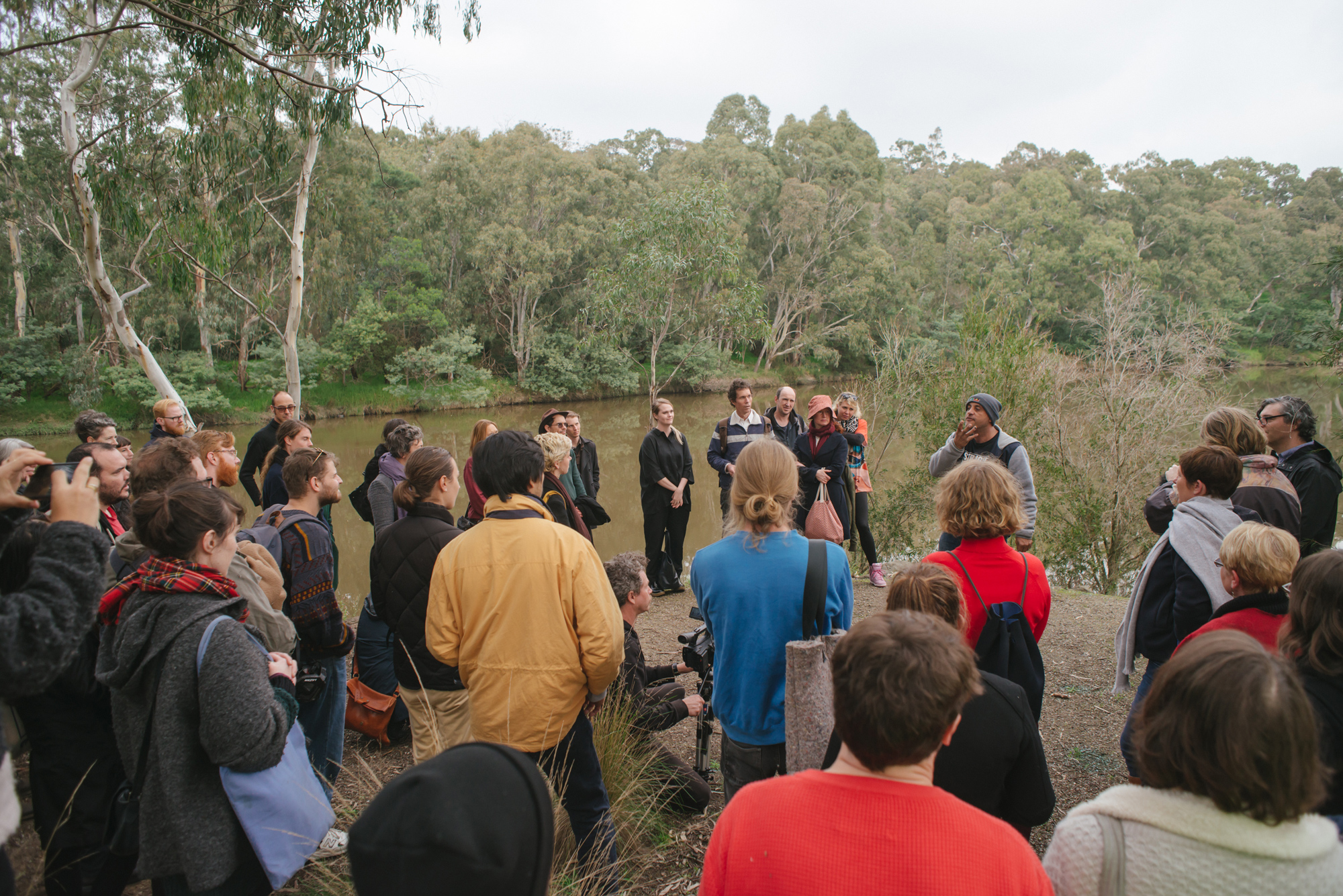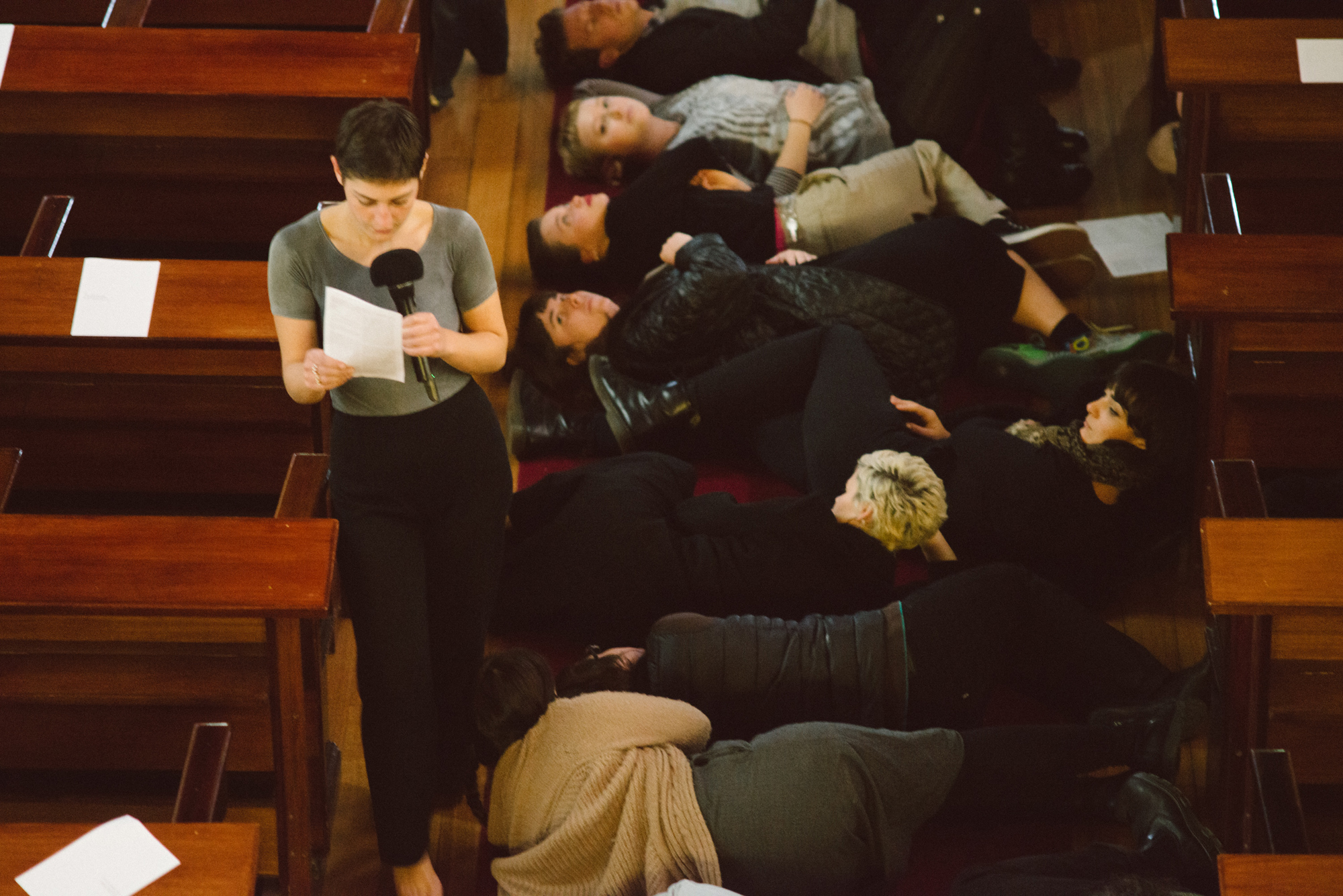 In each case, you're both bathed in many sounds coming together and able to make out distinct individual voices. But it doesn't stop there, because the sound is social. The experience of collective voice draws you back to your existence as a social being. Through listening, you're in a state of moving from the many to the few, and back out to the many again, and to us this is both a perceptual and a political movement.
This movement – from the many to the few, and from the few to the many – is what we are playing with in this year's Polyphonic Social. The workshop program is an experiment in using sound to generate conditions conducive to hearing everyone's voices in a conversation on the shape of society, and the pasts we may want to bring into the future. The installations give us a chance to extend our vocabulary of sovereignty and memory, both at the personal and the collective level, and improve our questions about which voices we should be listening to. And the performances will move from to the multiplicity of one performer's voice, to group channelling of singular voices into our midst from across time and space.
The whole program makes up a very extended definition of polyphony, through turning our attention to multiple modes of listening – polylistening, perhaps!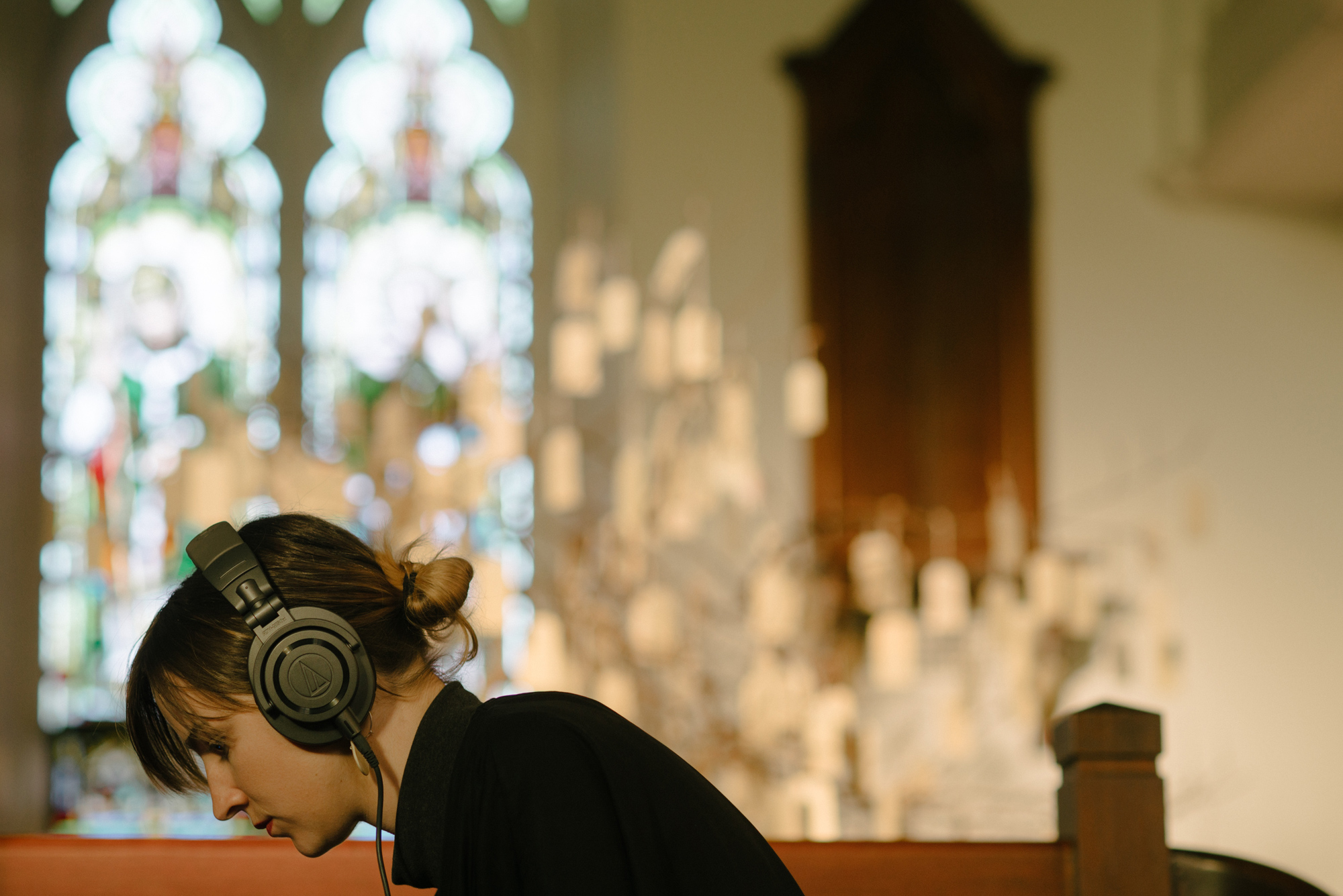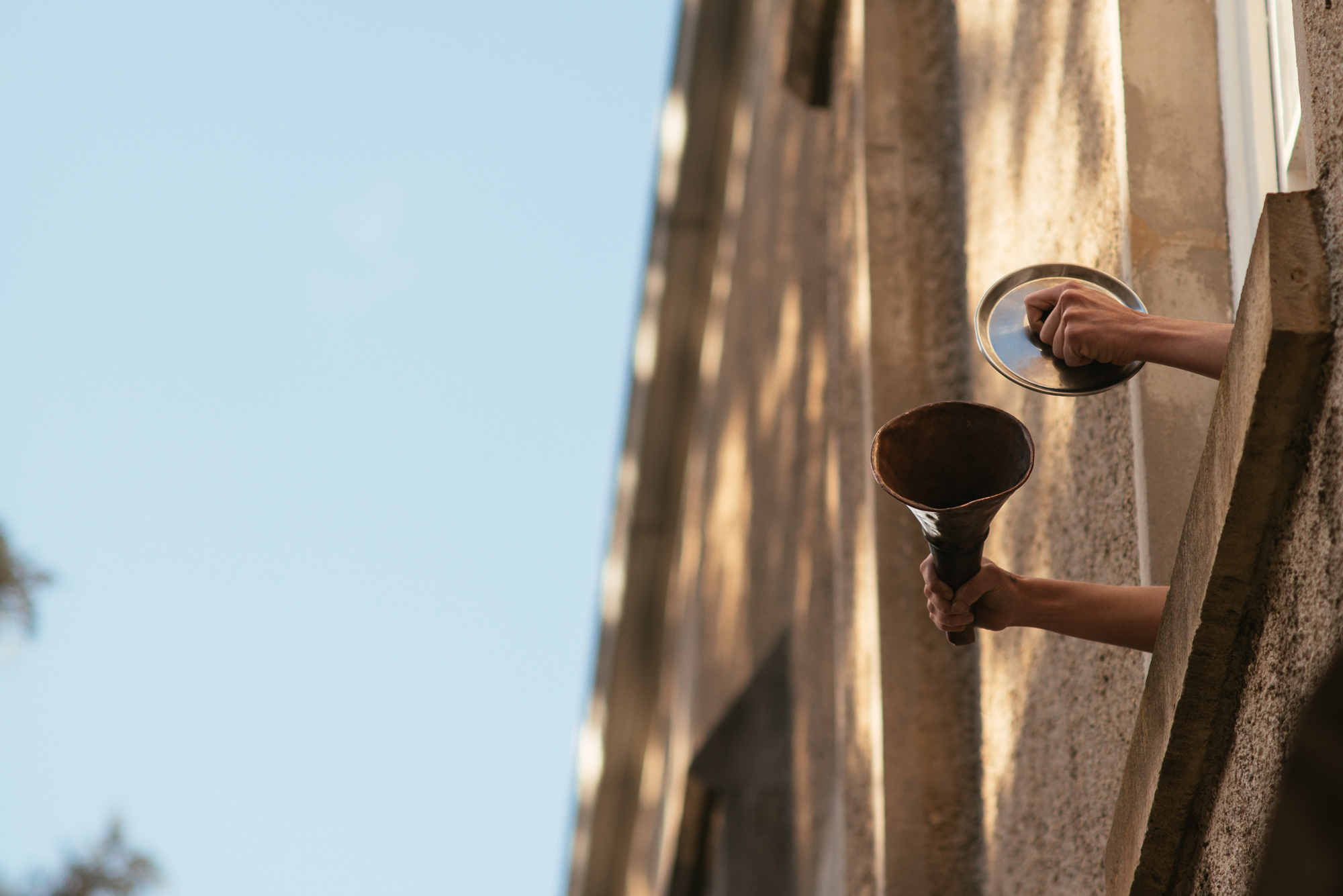 AP: Liquid Architecture always, but particularly in this program, makes great use of space, both through architecture and through movement – walking, circling, excursions into open space or into particular sites. Why is the spatial dimension important to the project?
JS: A huge dimension for all the works is the site of the Abbotsford Convent; its incredible buildings and spaces, and also its complicated and in many ways unknowable history as a place of both spiritual retreat and profound trauma, as a place of dispossession, and as the current home of Wurundjeri Land Council who we've worked with in all of our poly events at the convent. We felt strongly from the beginning of this project that the Convent really takes form as you move through it, and around it, and start to understand the passage-flow between its spaces. So many spaces in the convent resonate in unusual ways – you could say they contain both good and bad vibrations.
For instance, the Oratory, in the Sacred Heart area, is an incredible room. Obviously, oratory is the name given to both a kind of small chapel, and to an act of public speaking. The room is designed architecturally so that the human voice carries across the space. When everyone is quiet you can hear a whisper from one side of the space to the other. In a sense, this privileging of voice, allowing it to reverberate and amplify is quite beautiful. It's to do with transcendence. But it's also to do with power and control and authority, with silencing, and a kind of politics of volume. So many of the spaces in the convent offer up those sorts of tensions, which are very productive for us and the artists to work with.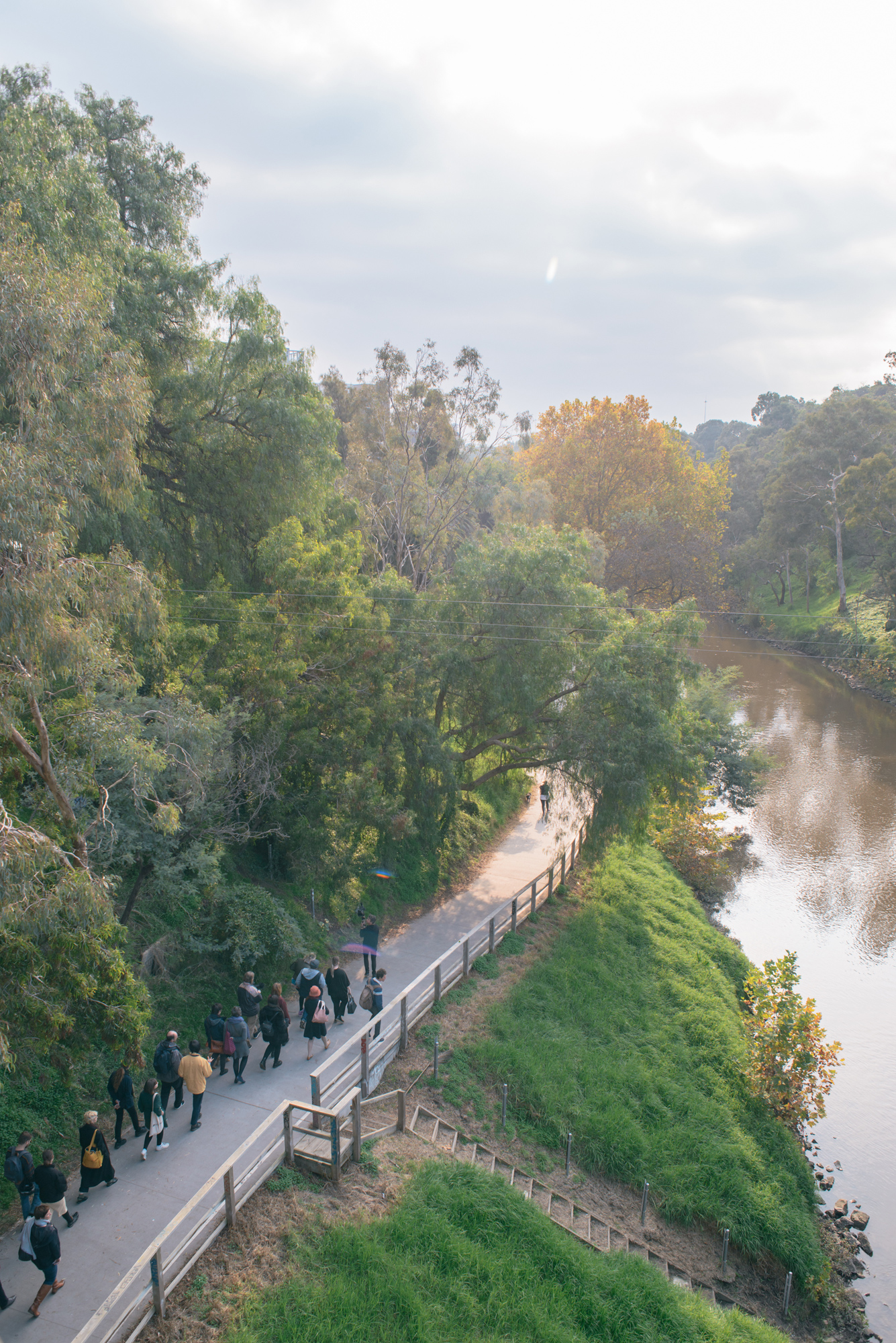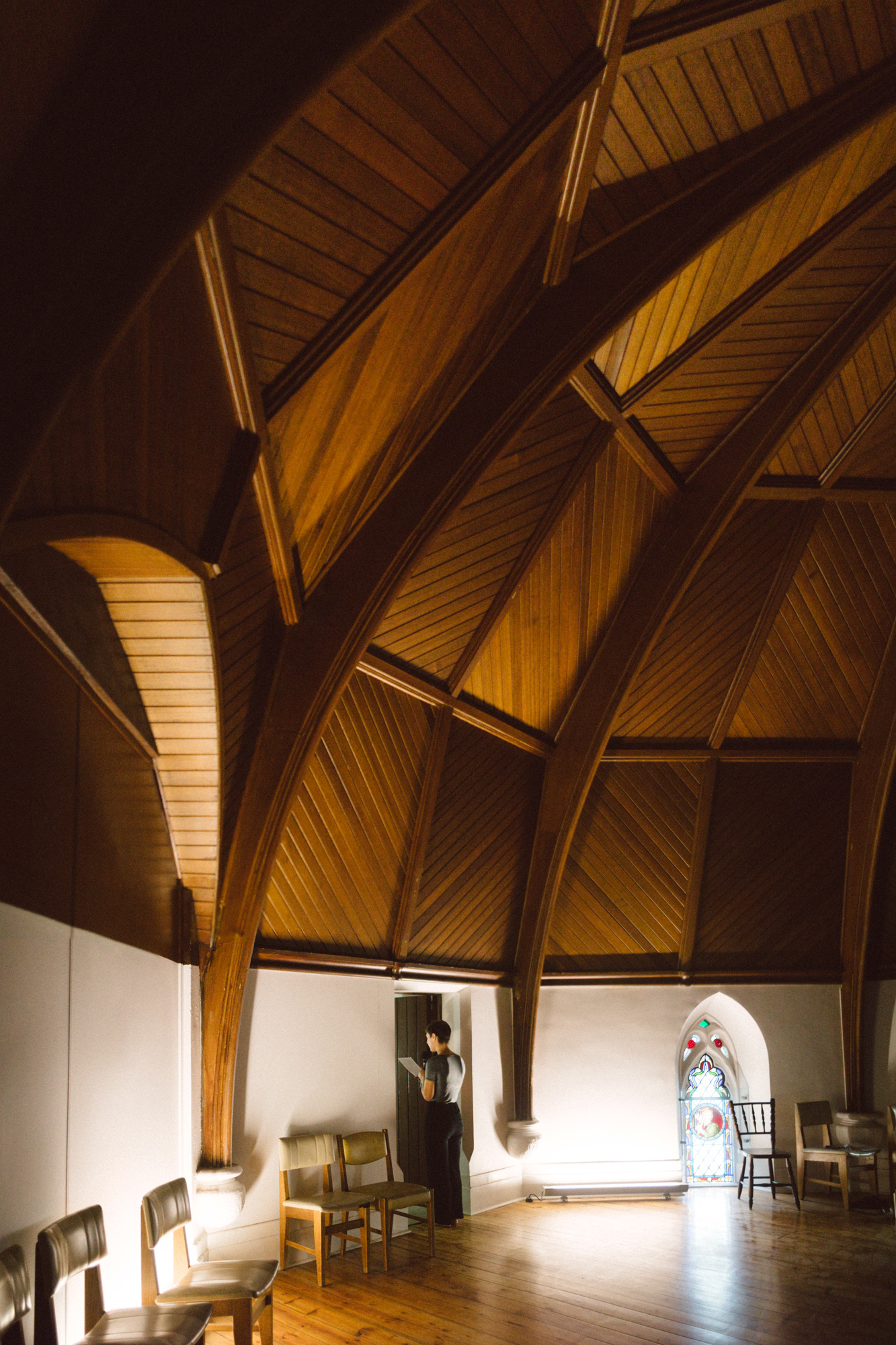 DZ: The Industrial School is also an architecture of power, where silence was enforced during instruction and labour, making it a very potent space for sound and listening today. But then, the entire complex, made from bluestone built from lava and river stone embedded in the concrete, also has stories encoded in every granule, and this is something you particularly appreciate by moving around it and getting a sense of the site as a whole.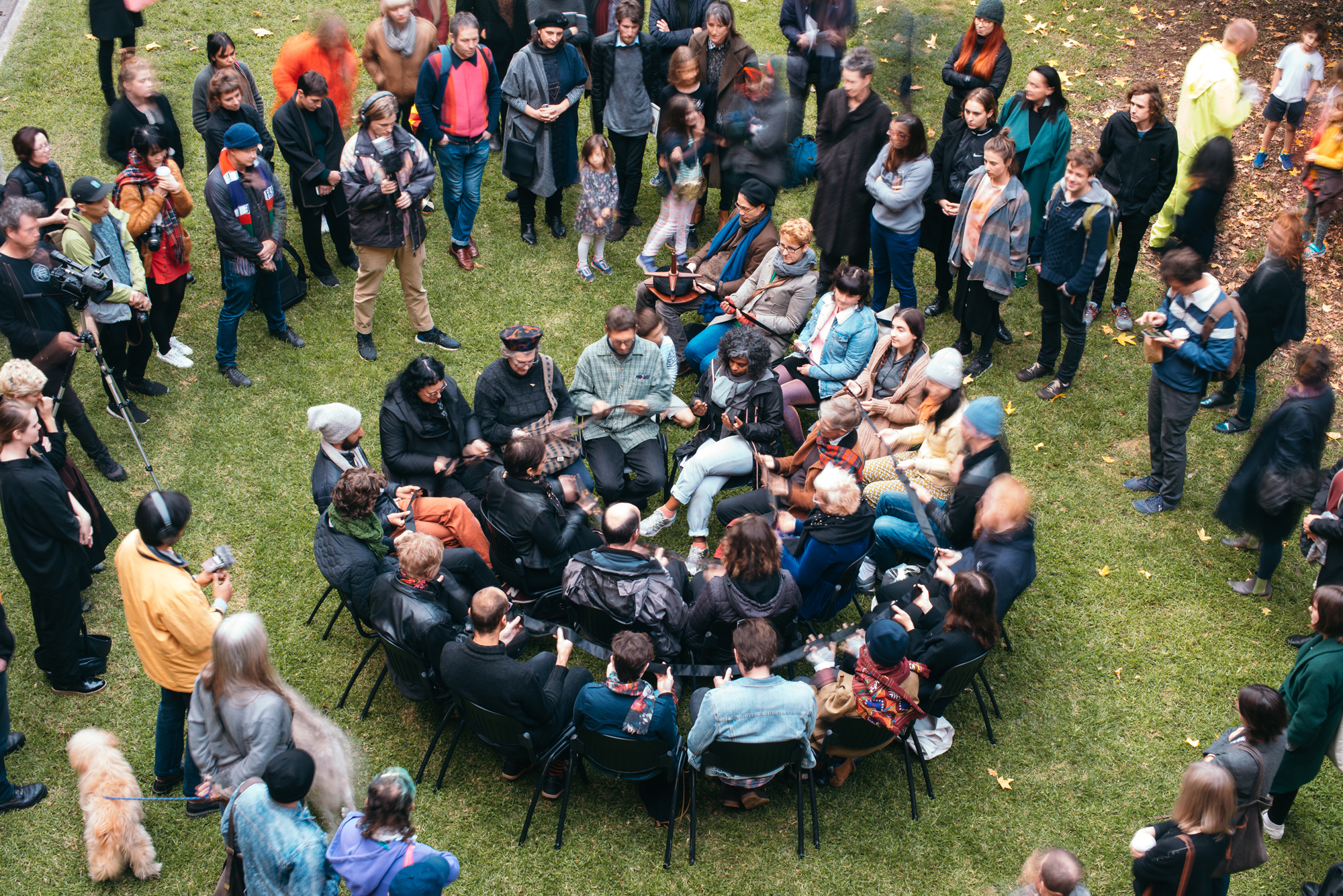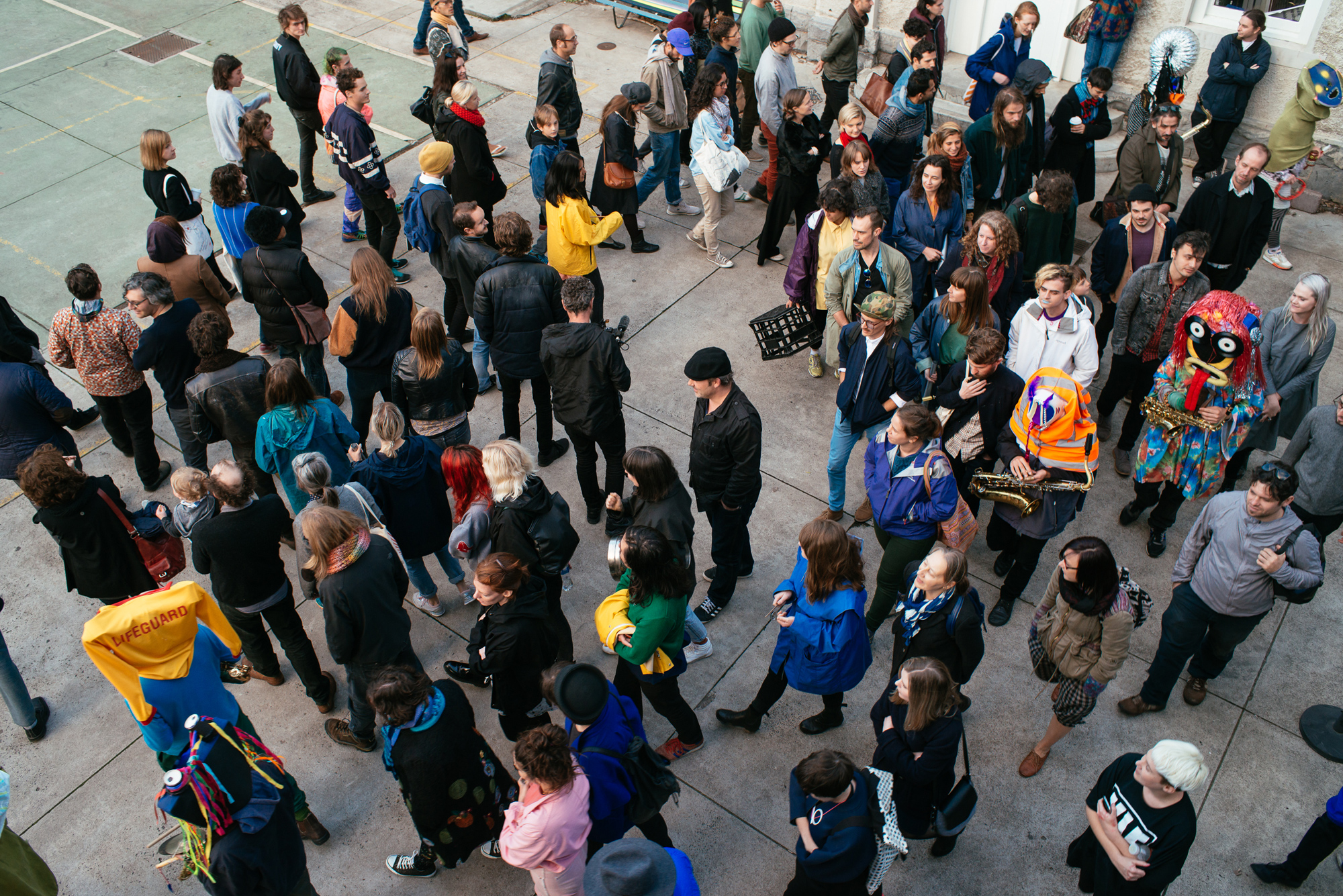 AP: You program something profoundly un-spatialised (sound) in a very spatial way, moving between locations and keep gathering and gleaning sounds in order to 'pin' them to a location. In an increasingly international world, and your increasingly international programming, how do you decide what deserves to be pinned to a particular spot on the map – in this case, say, Abbotsford Convent?
LA: One way of thinking about it is as "sound of space" versus "sound in space". By this we mean that the location has a character and a personality – the sum of its histories and memories – that expresses itself. And there are also sounds that have a strong character and personality of their own, and they can press back onto spaces, and can transform them, or remap and rethink them.
We could also think about it in terms of resonance – everything resonates, and those resonances are physical and material, as well as social and political. Abbotsford Convent, a strongly expressive space, a very resonant space, is kind of co-creating (or is it co-curating?) the sound and listening that takes place there.  The way we work with artists – and each other – is through a lot of dialogue and conversation, which draws out these resonances, and makes some new ones of our own.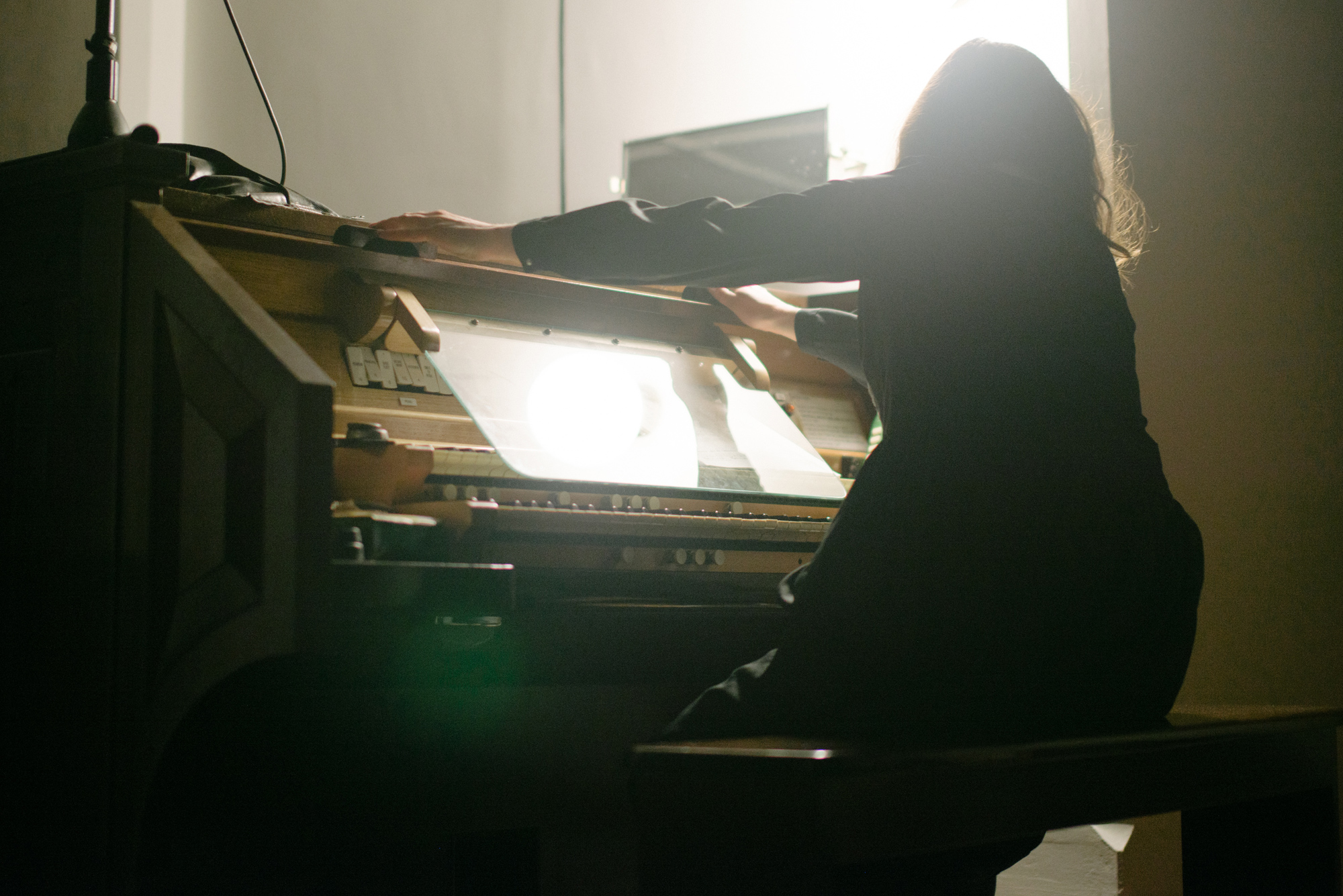 AP: If there were no practical constraints, what would be your dream commission for PS?
LA: We would love to host a performance of Bunun polyphonic singing. We witnessed it in person in Taiwan in 2017 and it was truly amazing. Better still, we would like to host a "polyphony of polyphonies" featuring performances and exchanges from the world's great polyphonic traditions, from the Bunun's songs to Tuvan throat singing, as well as varieties of Georgian polyphonic songs.
We take inspiration from Australian-Georgian scholar Joseph Jordania, who sees the ability to produce and recognise polyphony as an essential human capacity encoded in our biology and therefore as something that binds us as a species and as a collective subject.
Thank you, Danni and Joel, for your work that brings us closer together through sound; and thank you also Rainbow Chan for your mix. Polythinking 2018 will take place in Melbourne between 27 April and 6 May: you can see the full program of Polythinking events here. Polyphonic Social: The Unsingularity will take place between 27-29 April in Abbotsford Convent, as in the previous years – details here. All photos are by Keelan O'Hehir.