Culture
Matcha and pear pound cake with ginger syrup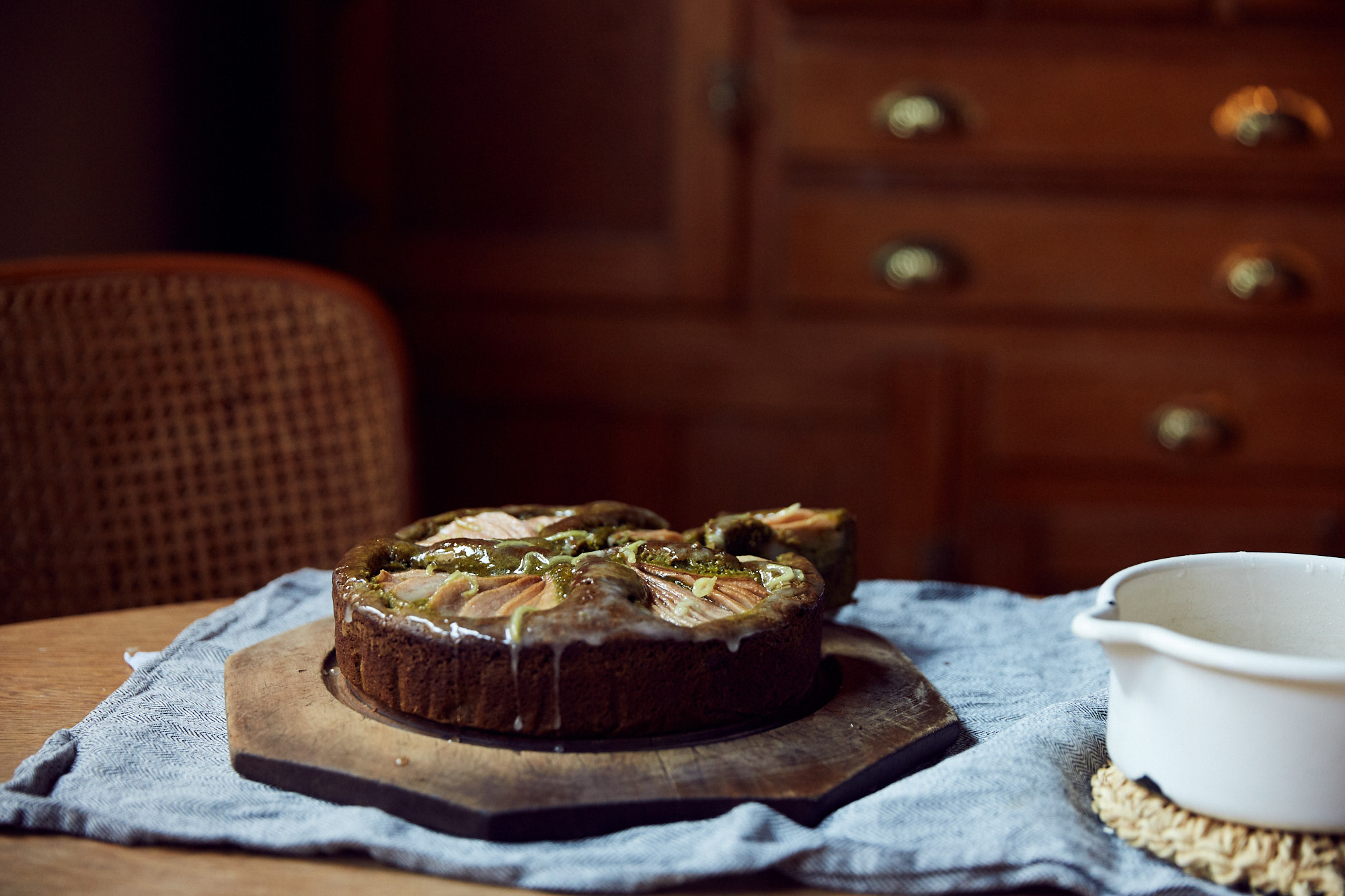 Dec 21, 2017
Matcha is a Japanese powdered green tea which is extremely popular to simply drink as a tea, but is also used to flavour (and colour) desserts and baked goods. It brings a unique flavour to cakes – part vegetal, part sweet – and should be used sparingly. I love combining it with sweet adzuki beans, but also with fruit, as I've done here. Often strawberries are the fruit of choice in matcha desserts but pears work equally as well and could also be substituted with apples or raspberries if in season. You can find matcha at any Japanese grocer and now commonly in health food shops.
Matcha and pear pound cake
Serves 8
3 eggs
200g caster sugar, plus 1tbsp extra for the pears
1tsp vanilla extract
200g butter, melted and cooled
200g plain flour
1tsp baking powder
15g matcha powder
2 beurre bosc pears
Ginger Syrup
60g caster sugar
2 cm piece of ginger, finely sliced
Preheat the oven to 180C. Grease and line a round 20cm cake tin.
In a large bowl, beat the eggs and sugar until pale and combined, just for a minute or two. Add in the vanilla and the cooled melted butter and stir well.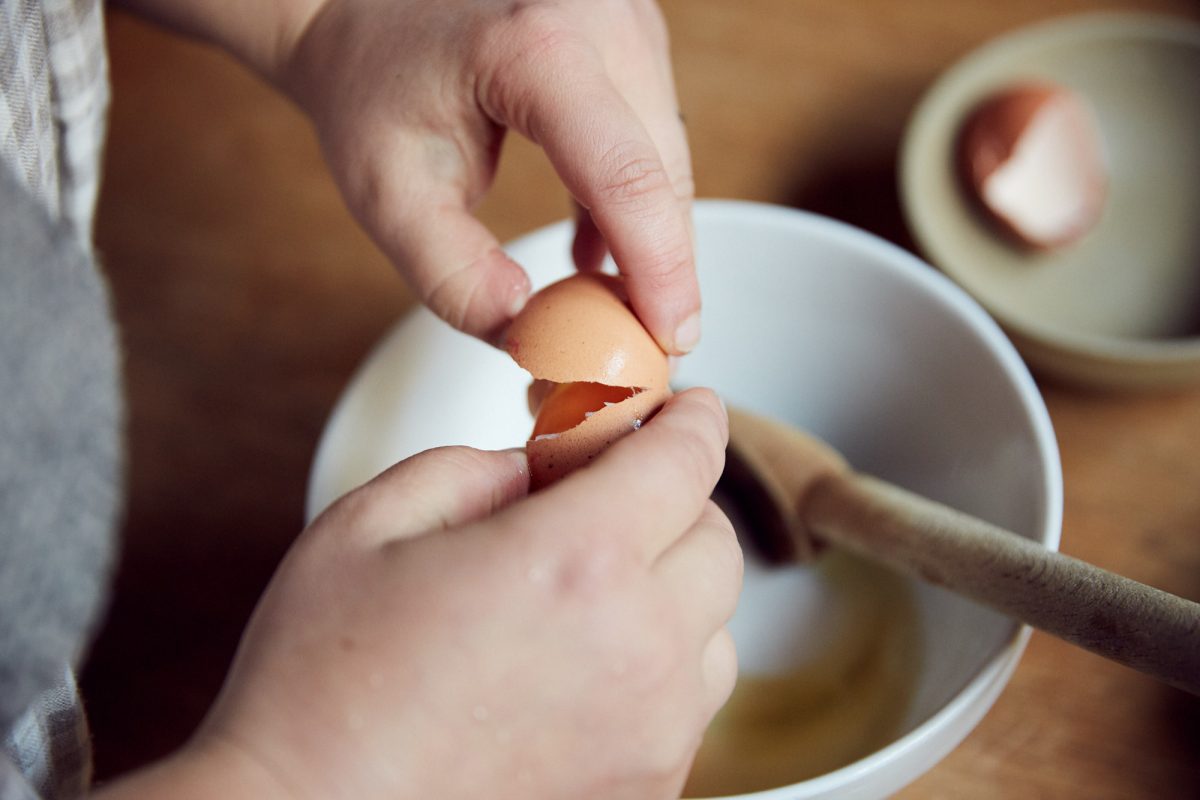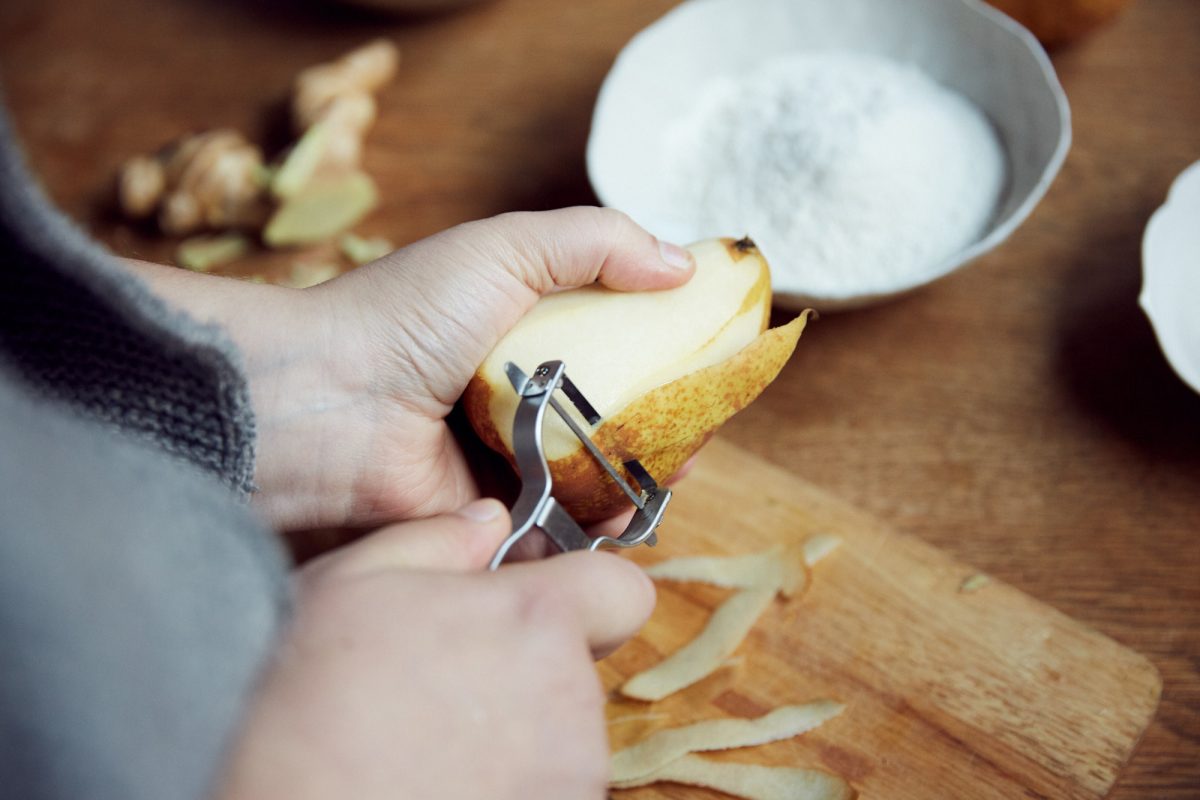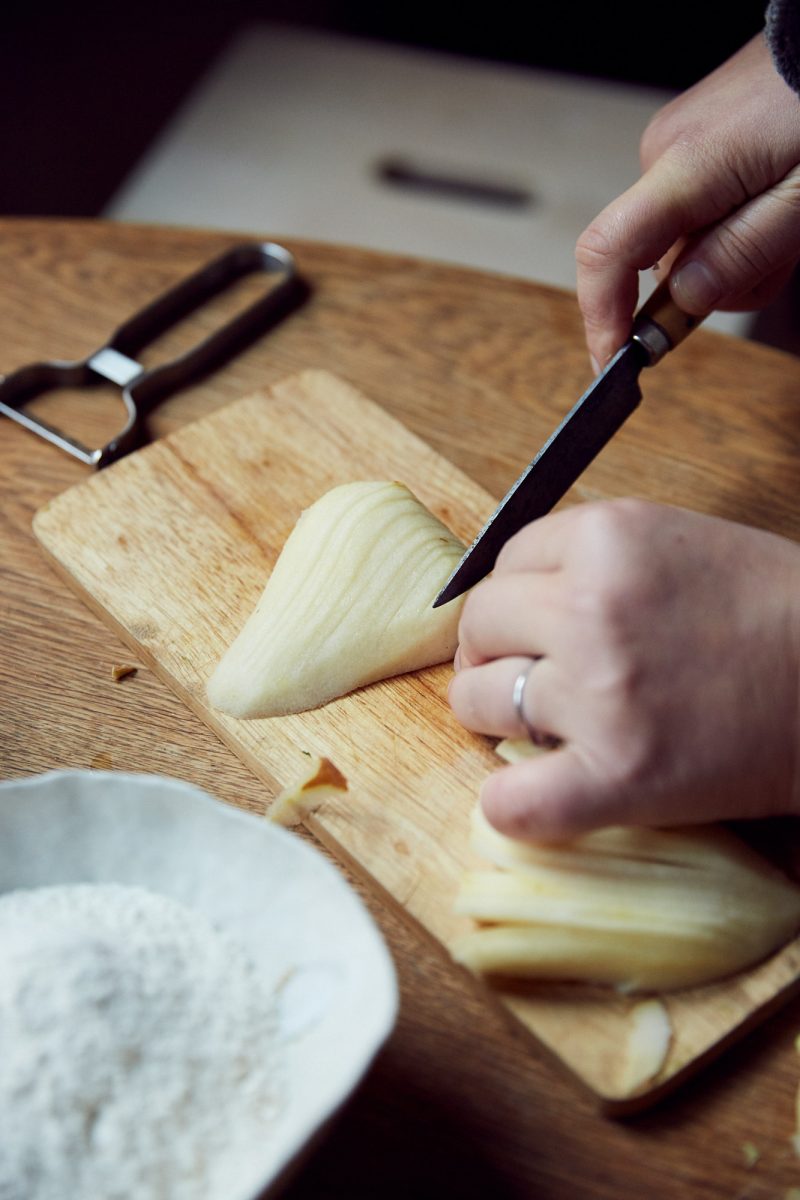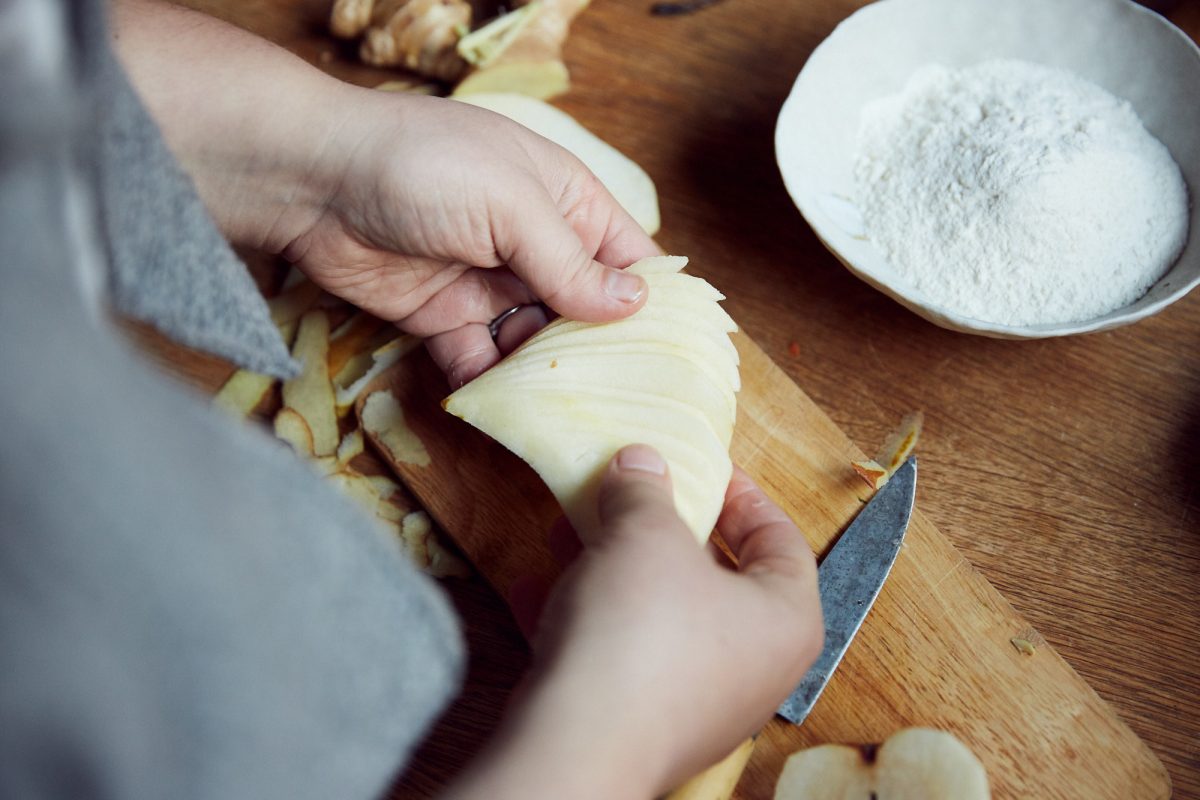 Sieve in the plain flour, baking powder and matcha powder and mix well so that the batter is smooth and all the flour has been incorporated.
Spoon the batter into the prepared cake tin and set aside whilst you attend to the pears. Peel them and cut two cheeks off each pear, avoiding the core. Anything left on the pear can be kept to eat later. Working with one piece of pear at a time, make small cuts into the pear, about 2mm apart. I like to keep each piece whole, so I avoid cutting the whole length of the pear and leave it all joined together, but thin individual slices would work well too.
Repeat with the remaining three pieces and arrange the them on top of the cake, gently pressing them into the batter. Scatter the extra tablespoon of sugar over the pears and bake in the preheated oven for 45 minutes or until a skewer comes out clean when tested. Allow to cool completely in the tin.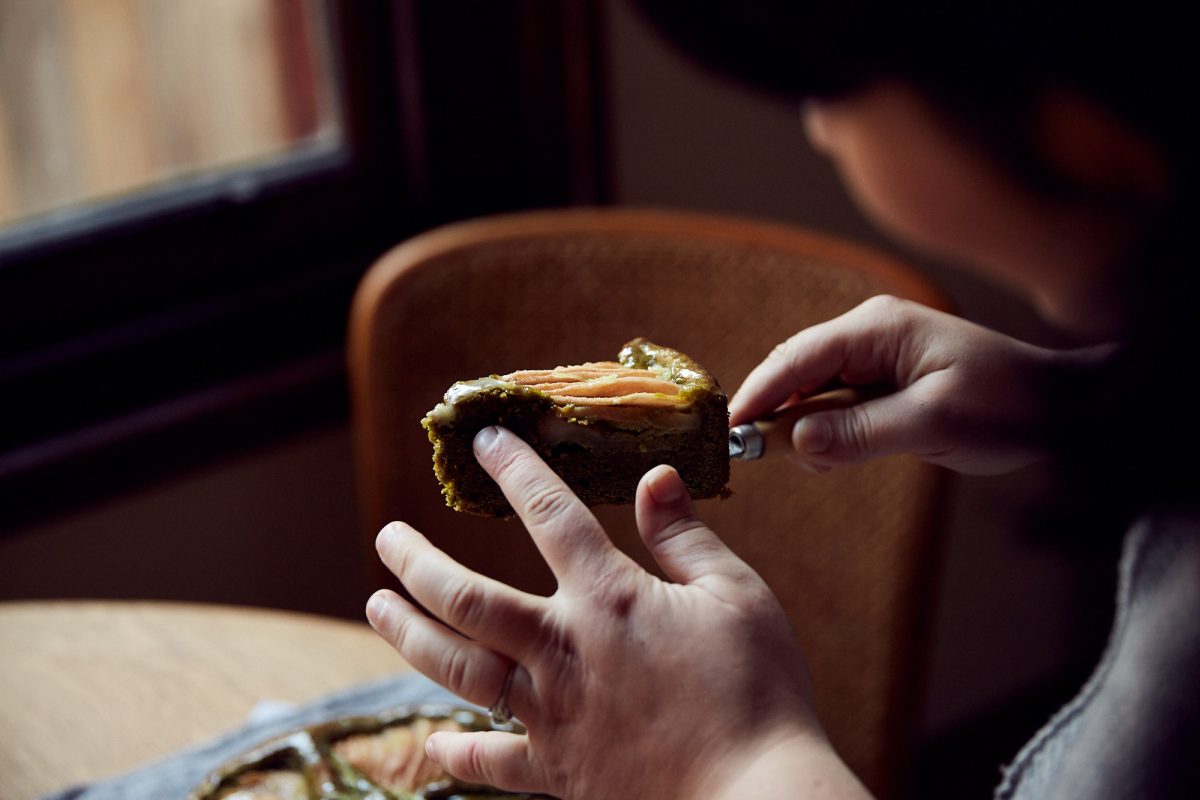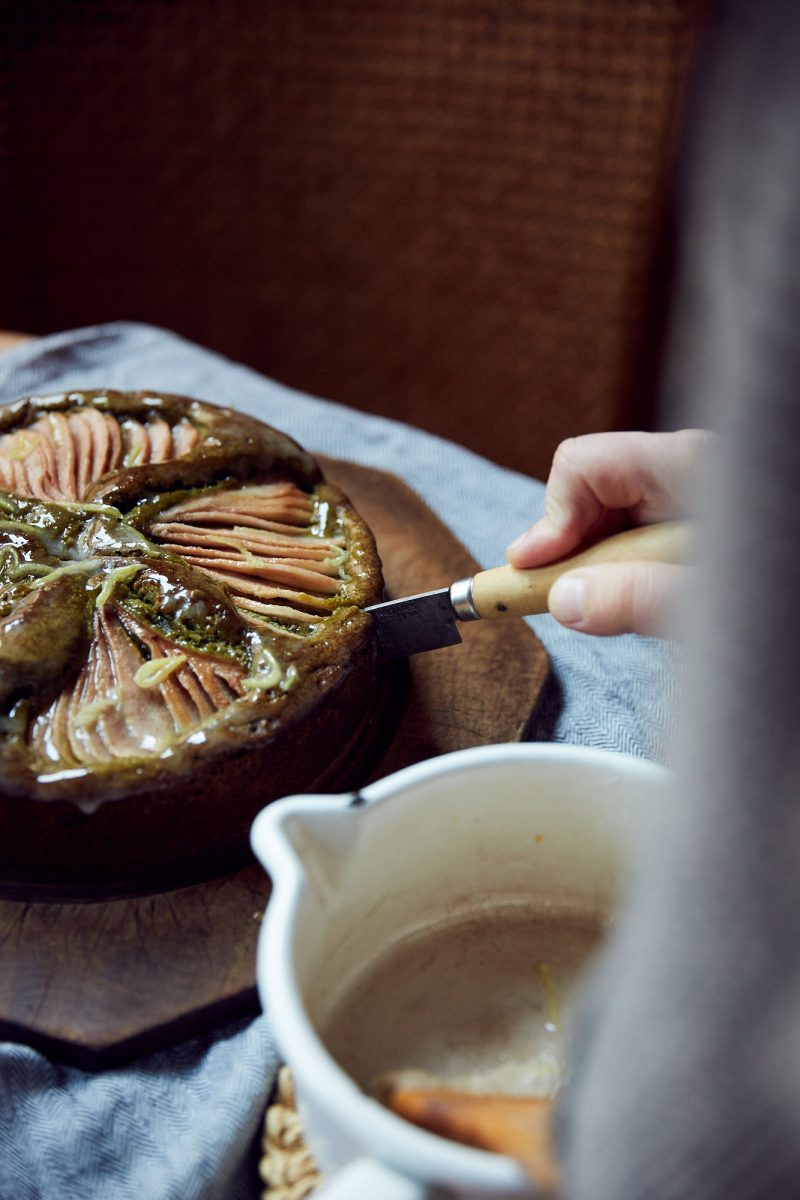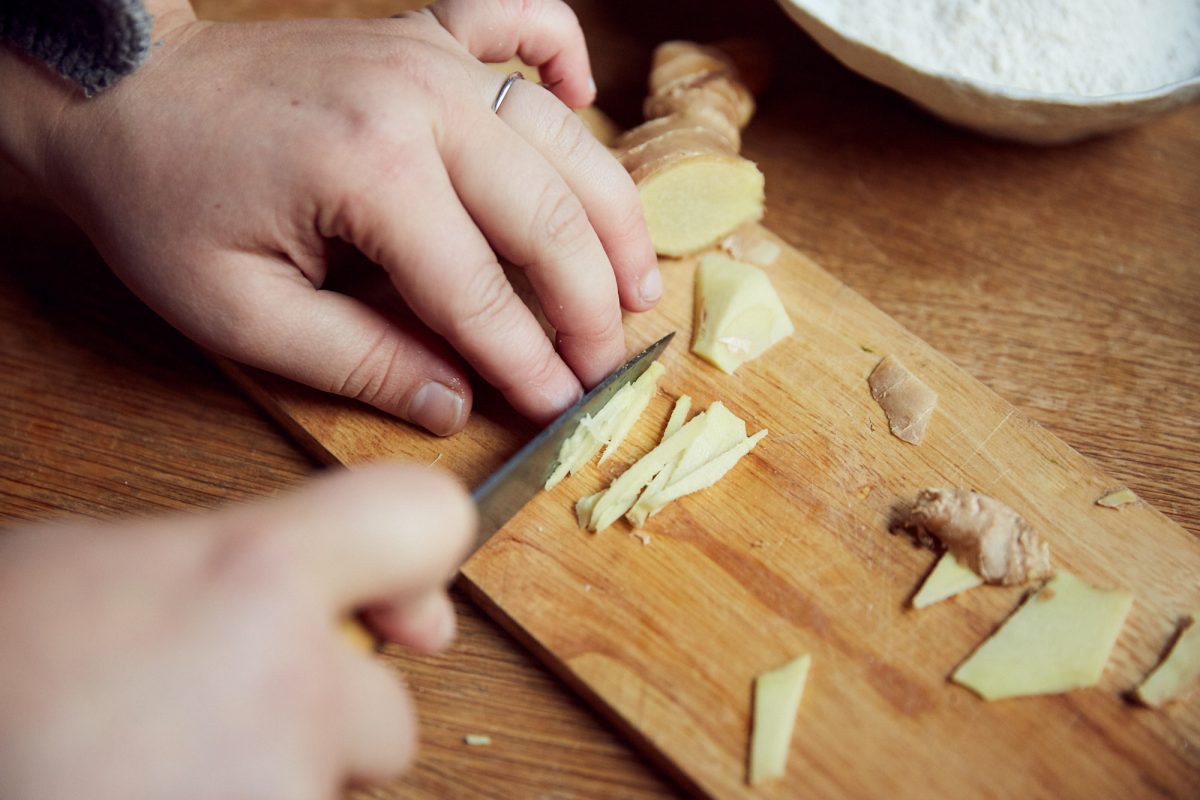 While the cake is cooling, prepare the syrup by simply combining the sugar and ginger in a small pot with 60ml of water. Bring to a simmer over a medium heat, stirring until the sugar has dissolved. Allow to simmer for 2-3 minutes or until just thickened. Cool slightly.
Remove the cake from the tin and transfer to a serving board or plate. Brush the warm syrup over the cooled cake – I like to scatter over the sliced ginger too – and serve. This cake is best eaten the day it's made.
Warm thanks to Julia for this recipe – we'll be bringing it along to many a communal meal over the holiday period. Julia's recently released a book of recipes from her wildly popular blog OSTRO – head over to Readings to grab a copy for yourself (or another!). All photos by the inimitable Tom Ross.