Housing
City Gardens is a hidden oasis in Melbourne

Dec 21, 2017
North Melbourne's City Gardens apartment complex is a haven of communal living, complete with kindergarten, vegetable patches, clothing bins and rooftop hives. Elizabeth Campbell spoke to some of the residents of the Peter McIntyre-designed buildings to learn how collective living works – and see more of the unique spaces they call home.
A series of housing commission projects replaced tight rows of workers' cottages in flood-prone low-lying areas of North Melbourne over the course of the 1960s, in the form of high-rise and mid-rise apartment buildings. One allotment, however, was placed to tender for private development, which became City Gardens.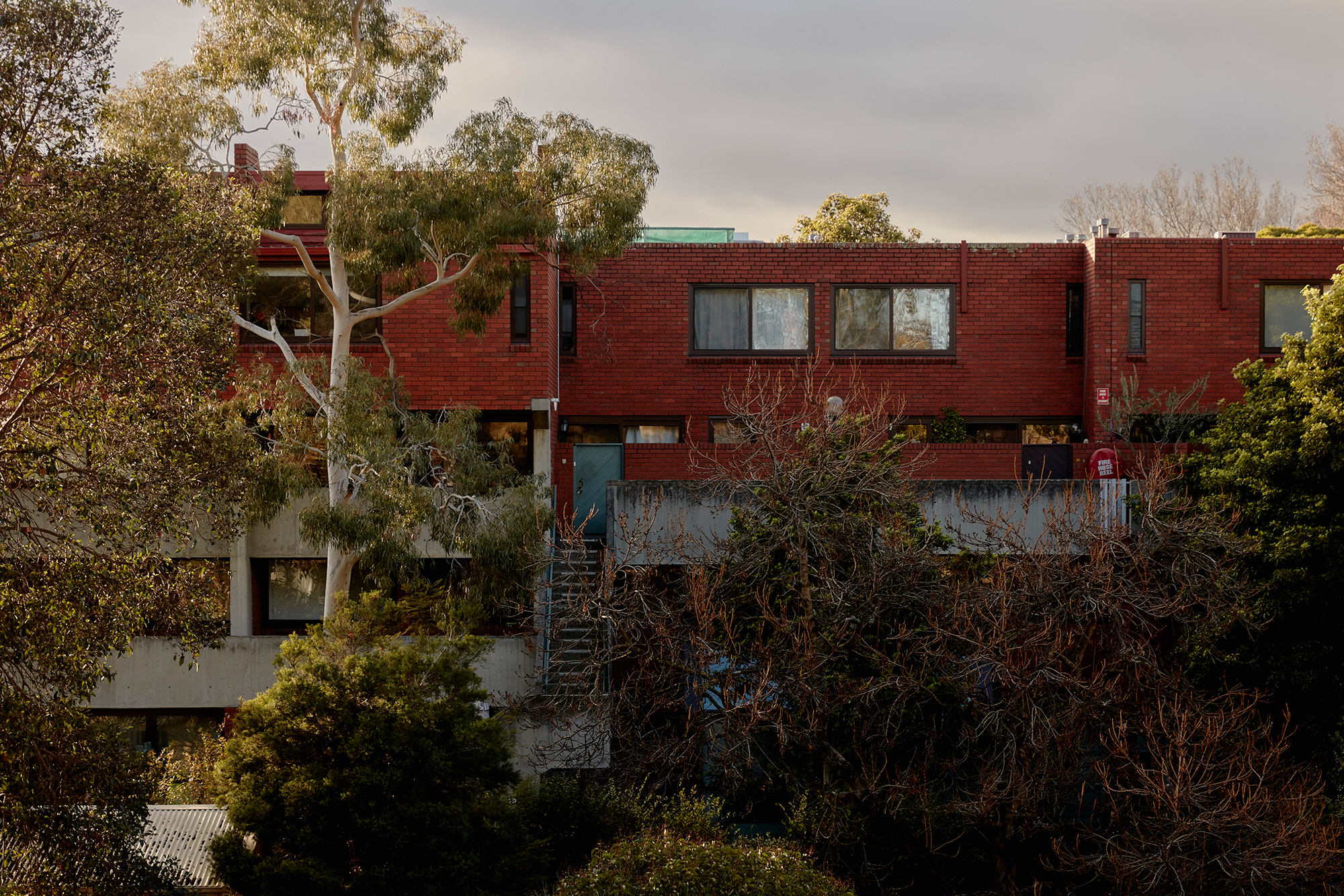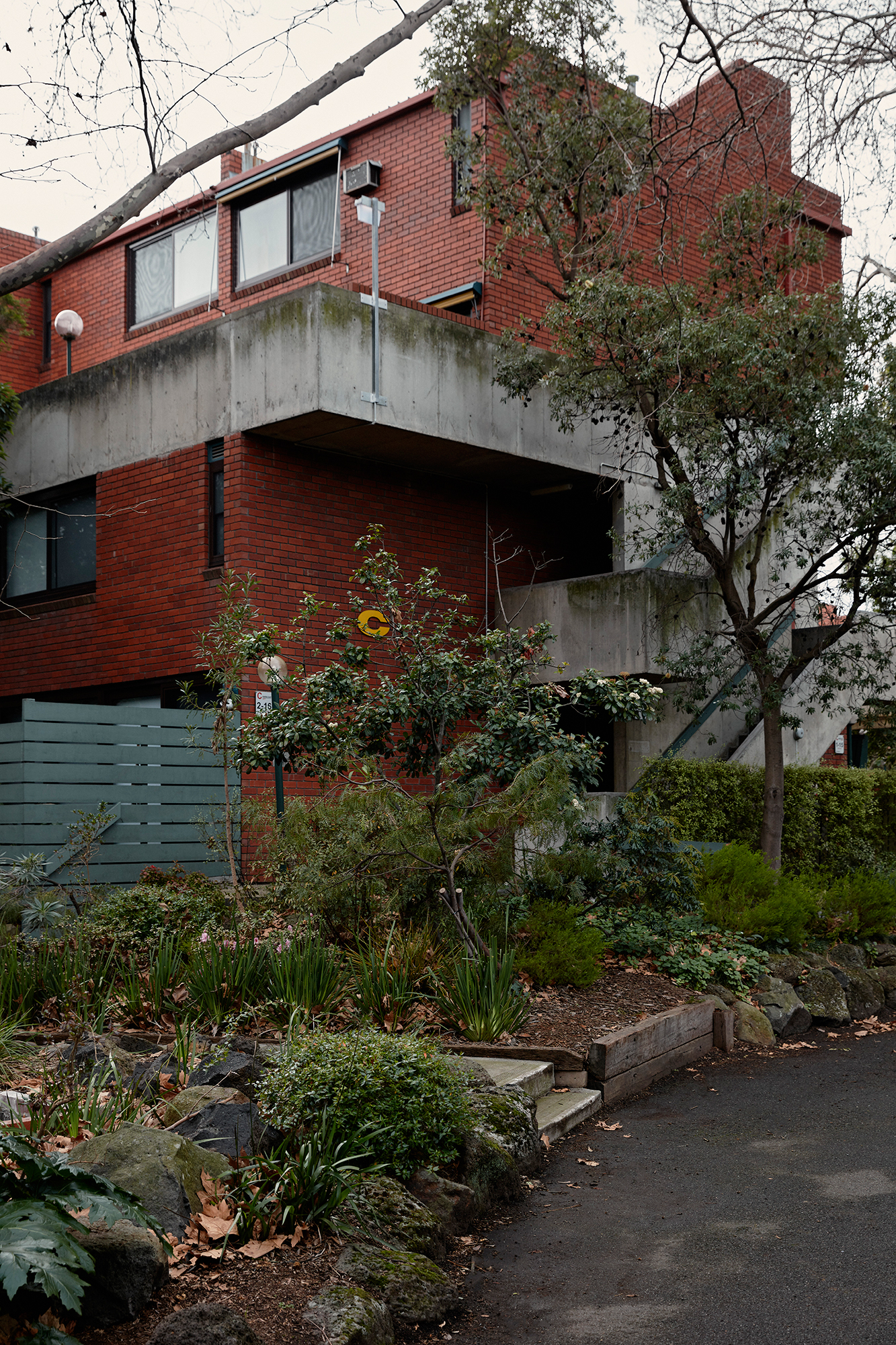 While parts of North Melbourne close to the CBD have been quick to gentrify, the clusters of apartments around Haines Street remained undiscovered until recent years. An area of unusual character, with three- and four-storey buildings nestled among the plane trees at odd angles to the street, it is considered by residents to be an untapped gem of the city, though they often struggle to explain why.
"We can't really describe why we bought it, it just felt right when we walked in. I immediately felt at home," says Amy. Her partner Tom elaborates: "Amy sent it to me online first and my reaction was 'NO WAY!' But when I got here, I fell in love completely – even with the fake floorboards!"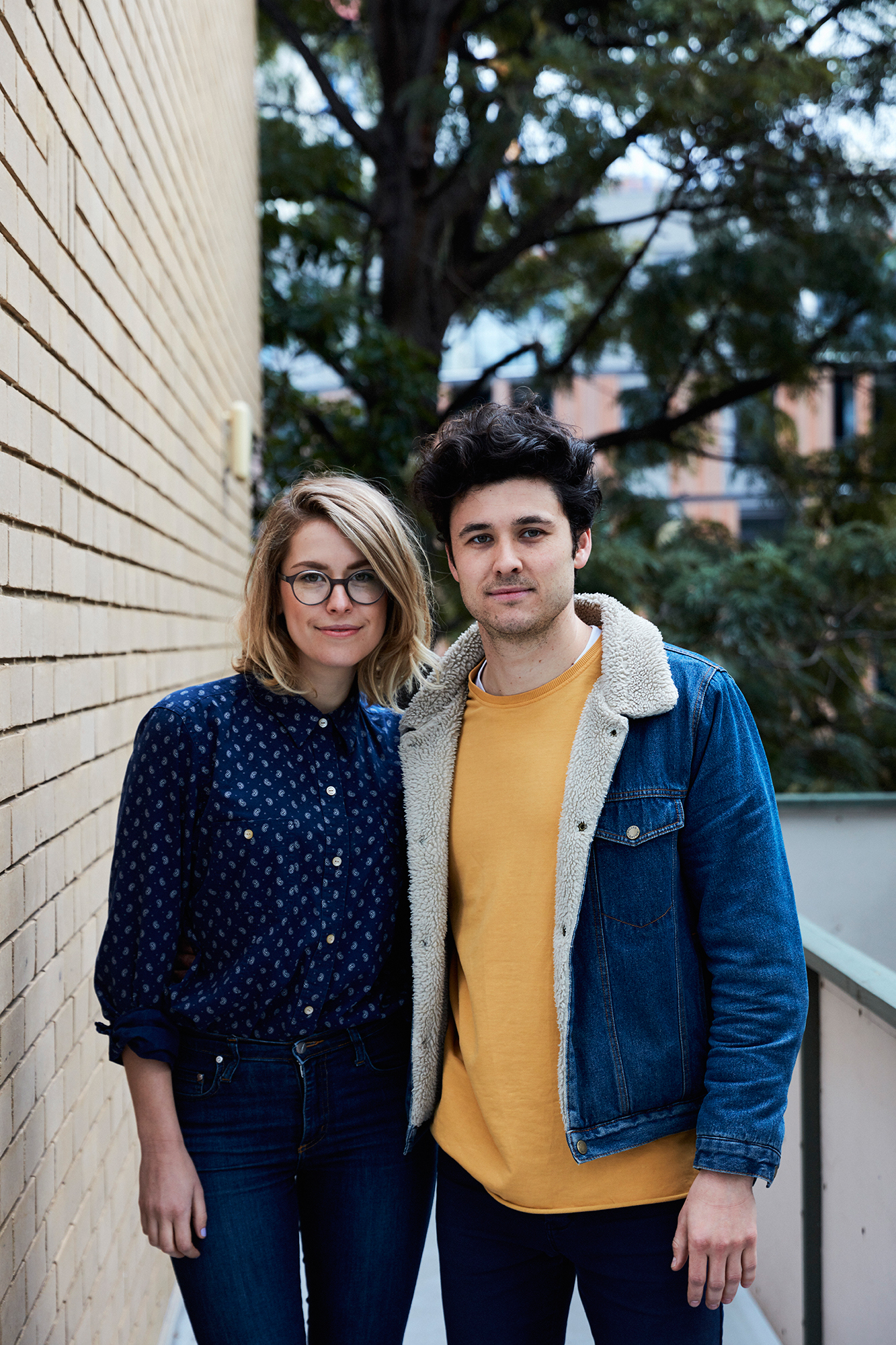 Without knowing that they were buying into architectural heritage, Amy and Tom bought an apartment in City Gardens. It is the only building in the area designed by one of Australia's leading pioneers of Modernist architecture, Peter McIntyre, built in the early 1970s for the Inge Brothers. "The brief was to make attractive apartments," McIntyre says. "There were some terrible buildings going up in Melbourne at the time."
McIntyre designed four main blocks, each with a series of broken facades expressing levels, in concrete and brick. Each block has a wide shared concourse with split levels, for getting around and sometimes bumping into neighbours. These days, the 92-apartment complex is also home to a kindergarten, communal gardens (including a mushroom patch in the basement), worm farms, clothing bins and rooftop bees.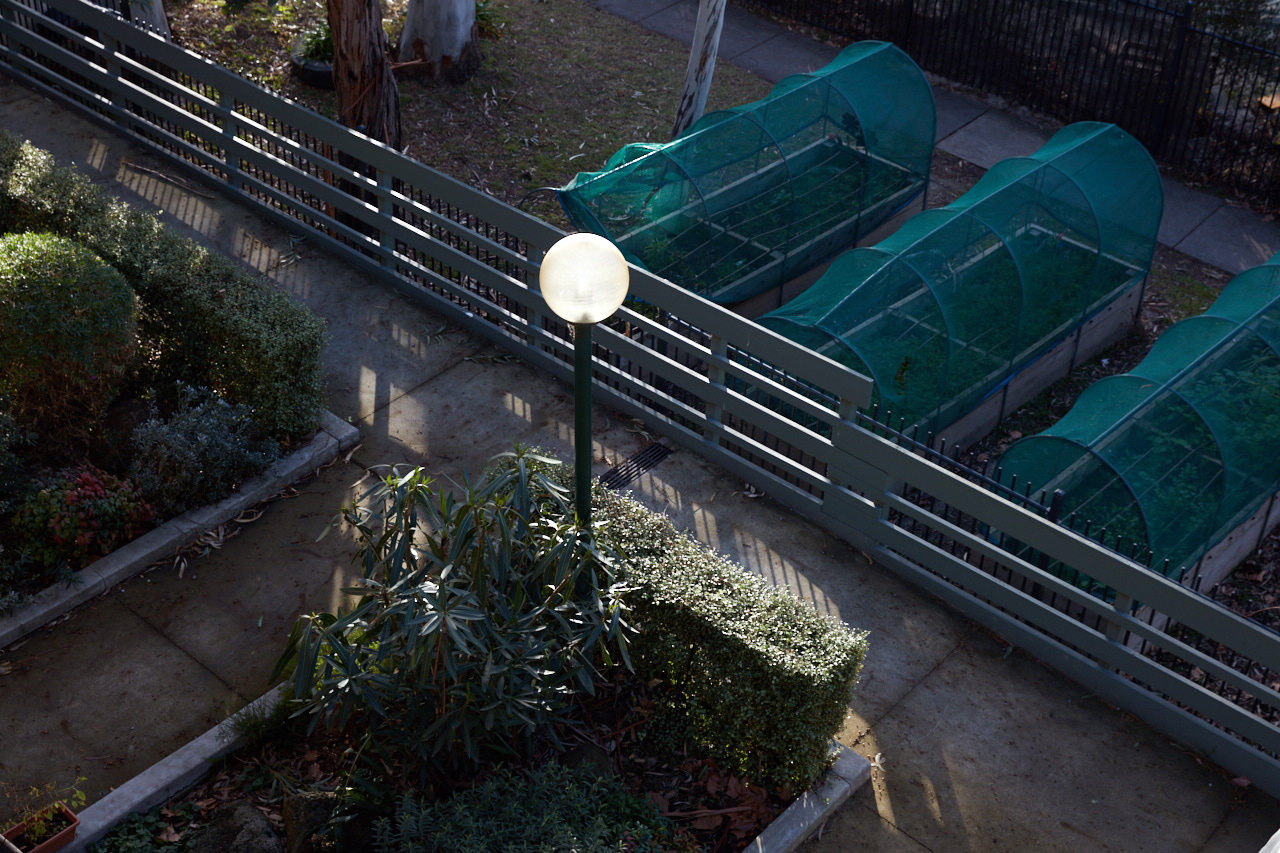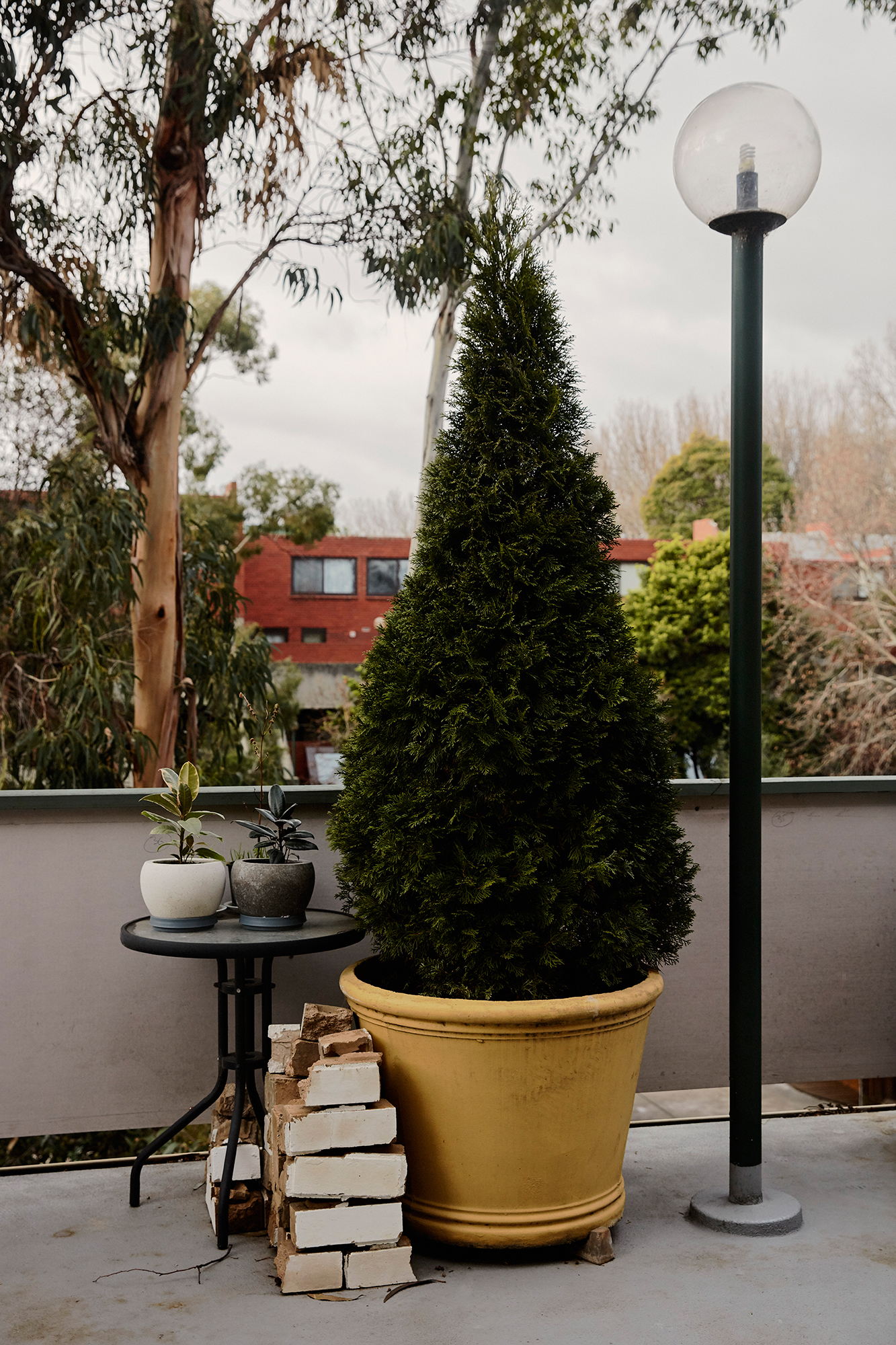 We are welcomed into our first apartment by Alex, her partner Oscar and Juno, their cat. The apartment is on two levels and compact, but connected to light and green on both sides. Downstairs is the kitchen, dining and living space with a wall of open shelving below window height – much of it filled with Alex and Oscar's extensive record collection – an eclectic selection of beautiful lamps and a disco ball. Alex, Oscar and Juno have lived here since January 2017 and have only recently made some small adjustments to the space, carefully considered to respect the original architecture. "We wanted to live in the apartment for at least six months first to see how we felt about changing anything. The only thing we have changed is the wall between the kitchen and living area." Alex and Oscar had to get rid of a lot of their possessions before moving in, but they say they feel good about not owning so much stuff. Through laughter, Alex reflects on Marie Kondo's tidying bible, The Life-Changing Magic of Tidying Up, and the principle of keeping only what brings joy: this is why she kept her disco ball.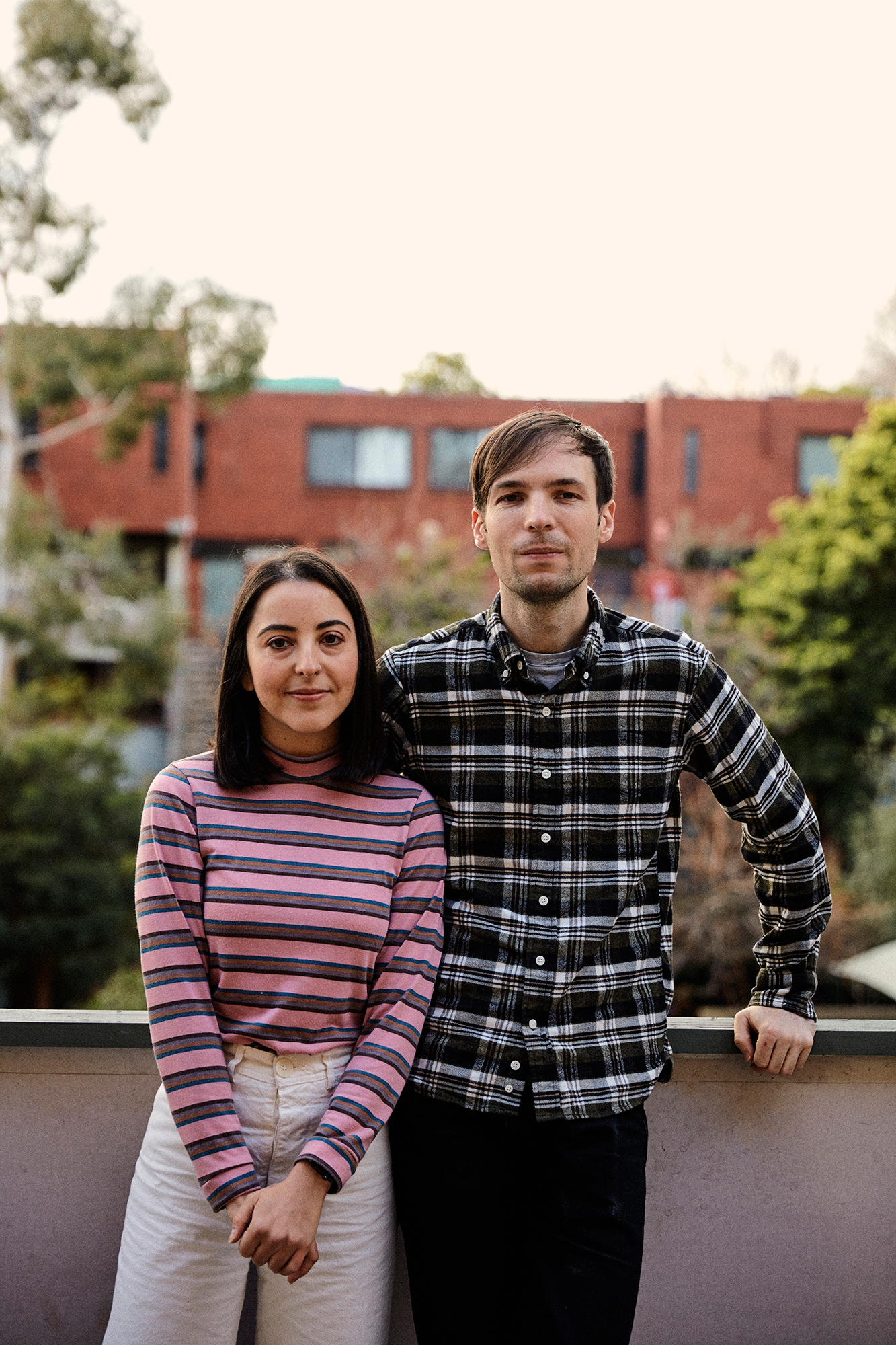 The upstairs floor plan is mirrored: two rooms, each with their own bathroom (with bath and original tiles), and a laundry in the middle (Alex notes the "crazy number of doors"). Alex works one day a week from home on her local clothing label Oracles, using one of the bedrooms as her studio.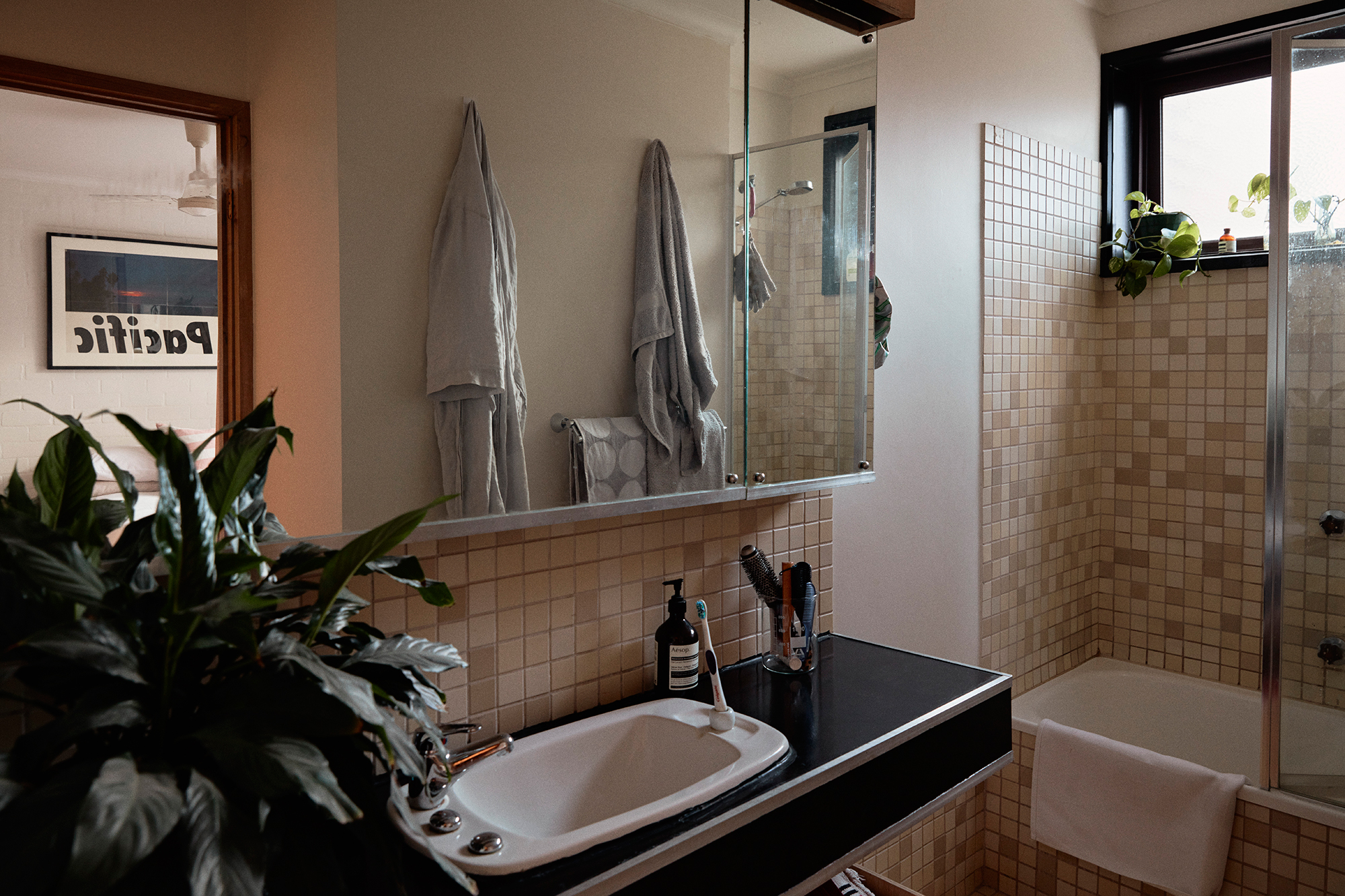 As we walk on the external concourse to the next floor, Alex notes the seasonal change in gum trees surrounding us on all sides. She points to one of the communal grow walls (vertical vegetable patches) on the level below: "There was all this broccoli and no-one was eating it, so we took it all and ate it! It was so great, and no-one said anything, so I guess it was okay. Everyone just shares everything."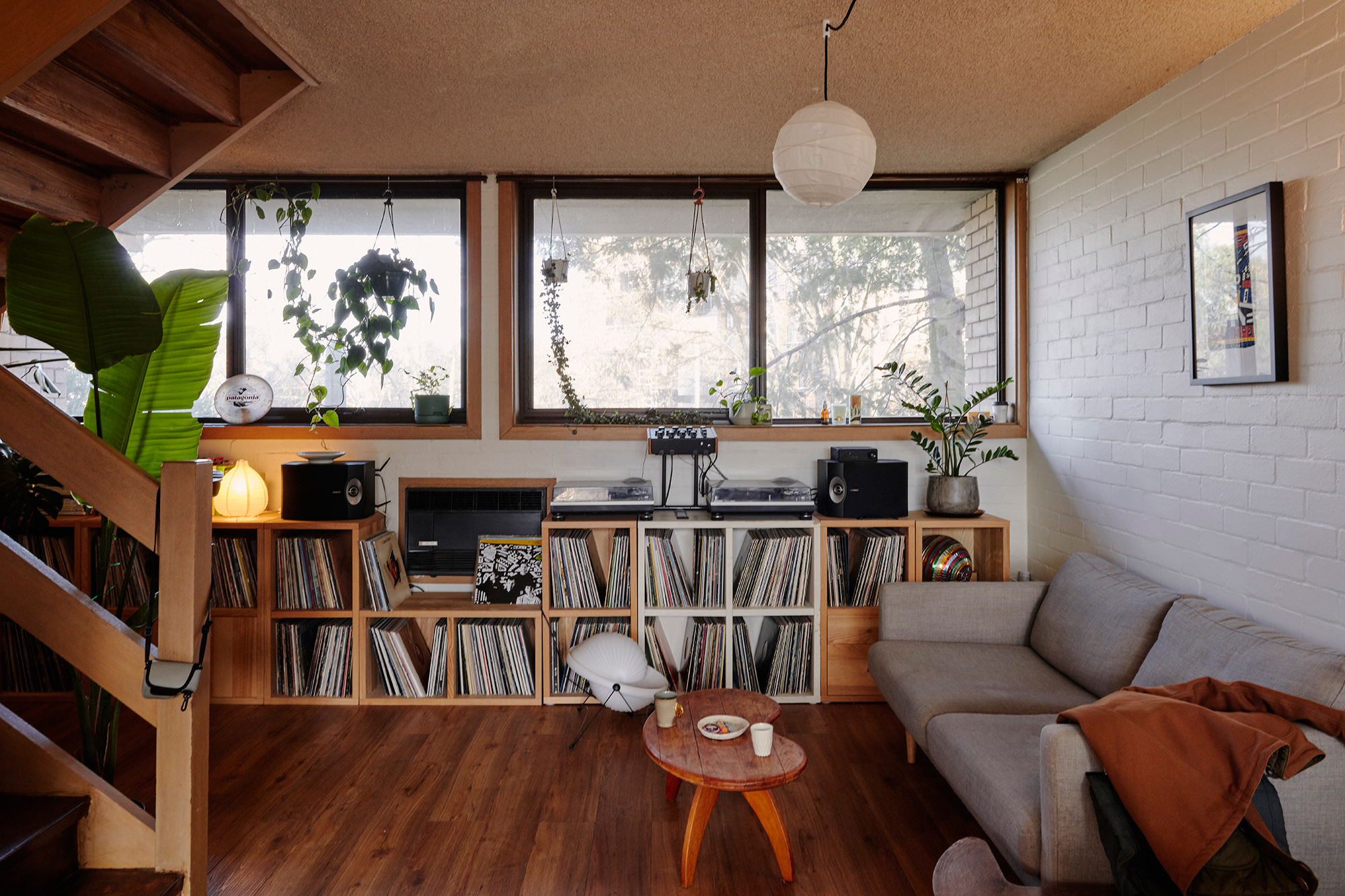 On the next level, we meet Amy and Tom. Like Alex and Oscar, they have owned their apartment for six months. They have made very small changes to their apartment and have taken a DIY approach. As we walk in, Tom jumps straight into asking our opinion of the opening in the kitchen wall: "We cut this ourselves, but we think it should be cut back one more brick or a half brick. What do you all think?"
When they first came to see the apartment, it had fake floorboards and strange light fittings. "It was done up pretty quickly, to sell, we think." Tom goes on: "Most of the renovations we've done ourselves, apart from the polished concrete floor – I mean, I'm not sure if you've lifted a two-tonne machine, but I haven't. So we hired someone to do it and he was the best.
"The stairs we tackled ourselves. Originally, we thought it would take three days – but it's taken three months and there are still areas we want to sand back. I don't understand why there was carpet on them in the first place: it's beautiful, solid Tassie oak."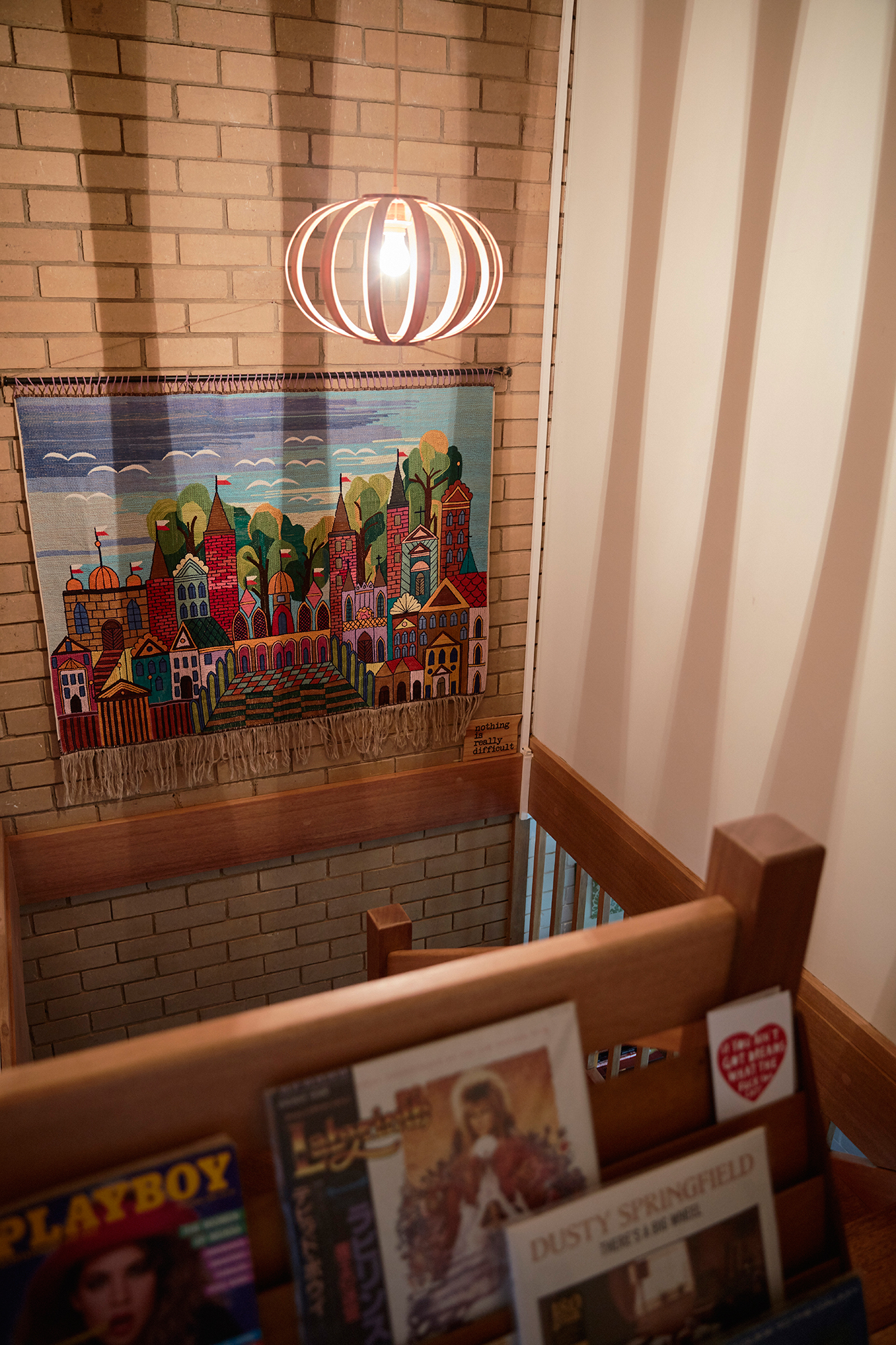 They were here when the first honey was harvested from the communal beehives: "We bought five jars," Amy says. "One of the children in the complex designed the labels for the jars too. It was all very cute." The bees came from the first grant applied for by members of the body corporate, along with the purchase of bigger recycling bins and six worm farms.
Alan and Trevor are self-appointed caretakers of the communal facilities at City Gardens, and members of the body corporate for five and ten years respectively. As we chat, sitting outside their residence with two dogs, Ruby and Buddy, they wave to residents walking by. Alan notes that many younger people and families have moved in over the past five years, changing the demographic of City Gardens. It is evident that the two take great pride and enjoyment in caring for the communal facilities, which they believe are a great contributor to this connective community. Alan describes people chatting to each other every day, and notes that most residents get along. When I ask about why that is, he replies: "Shared spaces change people's perception of living in an apartment block. I know two people who got together because they kept 'accidentally' meeting at the worm farms!"
Trevor adds that the community makes the complex safe: "There is a single mother who lets her two young children play outside because she knows that Tony, the gardener, is around to keep an eye on them." He continues: "There's no other apartment complex in Melbourne doing the same things as we are doing, and if there are, we were the first."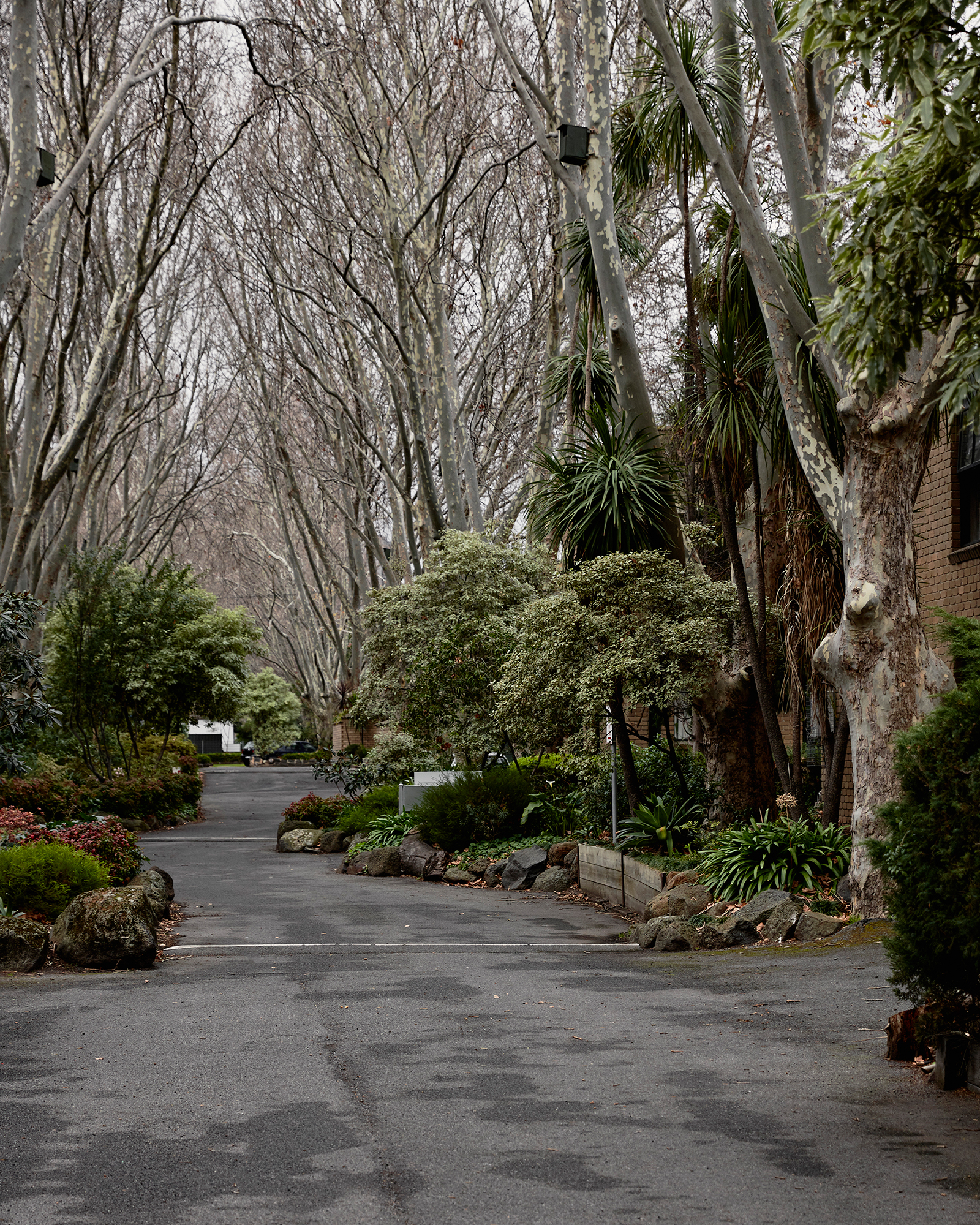 They thought applying for a grant from Melbourne City Council to start communal activities would be a good way to encourage people to live together with a smaller footprint. "It's not rocket science. It's small things like what we've done here that reduce the impact we have on the environment."
Though the esteemed architectural provenance of the building is not widely known, the residents today share an overwhelming sense of community, individual pride of ownership and history of the complex. Everyone I spoke to has great respect for the original design, approaching any alterations to their apartment with serious consideration. McIntyre's experience speaks to the same: "People living there still call me to ask what I think about changing parts of the design."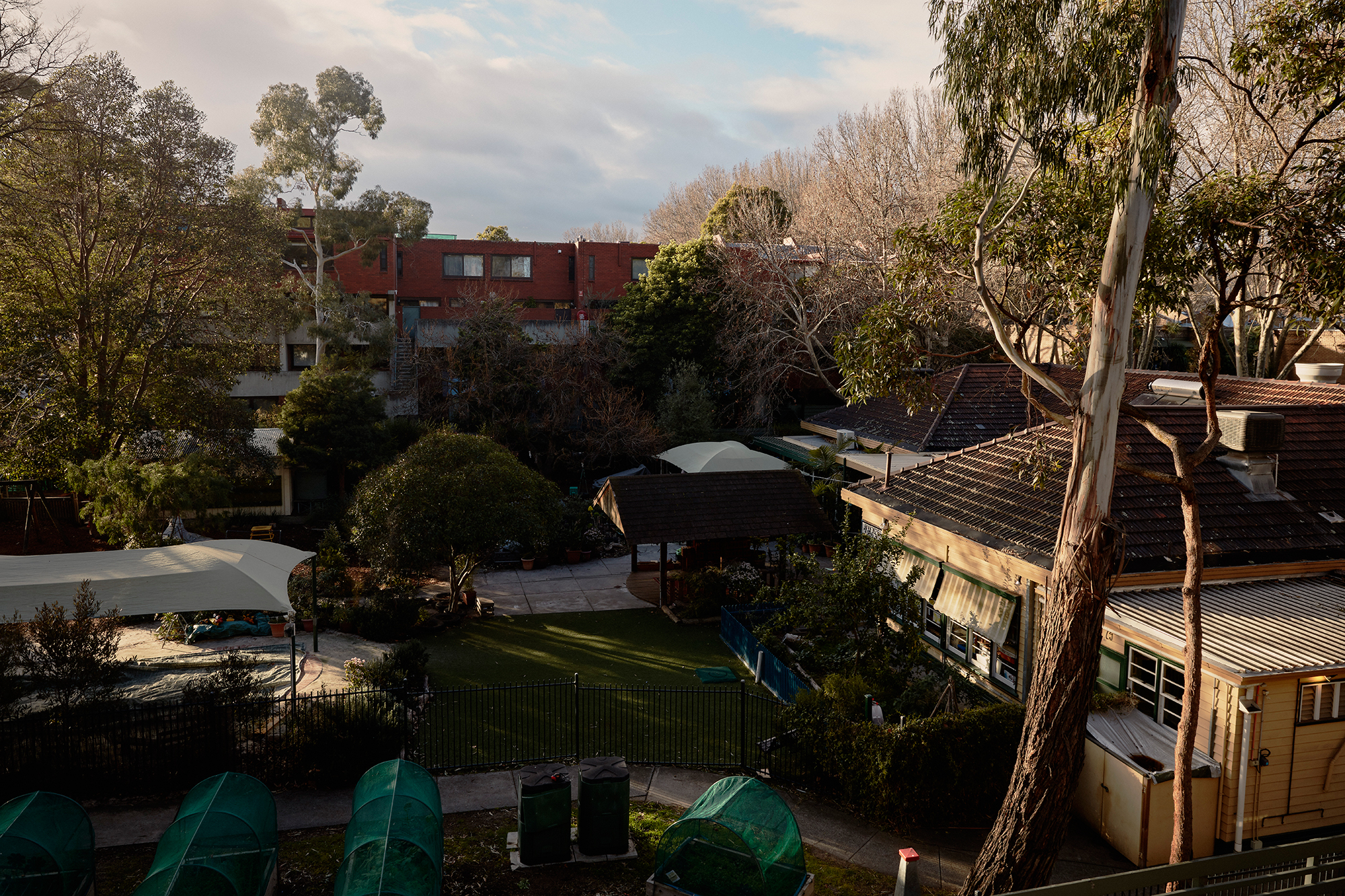 There are still some rivalries and disagreements, and each block has its own dedicated owners' committee. The residents of D-Block are even considering leaving the overall body corporate structure, a decision that echoes both the physical arrangement of the complex, and the slightly chaotic construction process. Money dried up in 1977, and the last of the four blocks languished incomplete for a few years, its basement briefly becoming home to many homeless people in the area. While blocks A to C face a shared courtyard, today D-Block stands apart, separated from the other blocks by the kindergarten on site.
However, the communal aspects of the complex bring everyone together in a manner that outweighs any ongoing debates, Trevor says. The residents are excited by the plans for a new metro station at Arden. It is infrastructure to support dense urban living in the area, a concept that was at the core of McIntyre's thinking in his 1973 Melbourne Strategy Plan: "The great failure with the Australian government is the lack of infrastructure they supply with housing density," he wrote. "To have a city that works, infrastructure and architecture need to be constructed hand in hand."
This article originally appeared in Issue 8 of Assemble Papers, 'Metropolis.'. A huge thank you to Elizabeth Campbell for penning this piece, Ben Clement for capturing the essence of the apartments in the luminous afternoon light, and to City Gardens residents Amy, Tom, Alex, and Oscar for letting us peer inside your homes! City Gardens even have their own website – find out more about the complex here.