Culture
Brazil nuts and apples form the base for a luxe gluten-free muesli

Aug 17, 2017
Sunday Barca-Irving is an actor; her partner, Peter Deering a designer. Yet most of their time lately is spent with Sunday Muesli Co, their small-batch granola company. The starter mix for this labour of love was that common combination of inability to find just what they wanted on the market, and a conviction that they can do it better (with mother working as food writer and editor, Sunday grew up among food bibles). The two turned Sunday's recipe notebook into a simple range of four toasted mueslis, made with luxuriously high-quality ingredients in their commercial kitchen in Richmond. They source ingredients locally, from organic wholesalers, and Sunday is still across every batch of muesli made. The mixes are healthy and wholesome, but their focus is taste, they say, rather than dietary fads. For Assemble Papers, they share one of their scrumptious creations.
Cooking is my daily meditation. Pete always catches me cooking in my overcoat, as it's inescapably the first thing I do as I walk in the door – I start rummaging around for ingredients to put together a wholesome and soul nourishing meal. It always feels like everything else can wait.
My mother taught me to cook. She has a talent for whipping up a one pot-kind of dish with ease, using basic seasonal ingredients. My parents are vegetarian and I think the spice element always shows up subconsciously in my food, to create depth of flavour and contrasting moments in each morsel.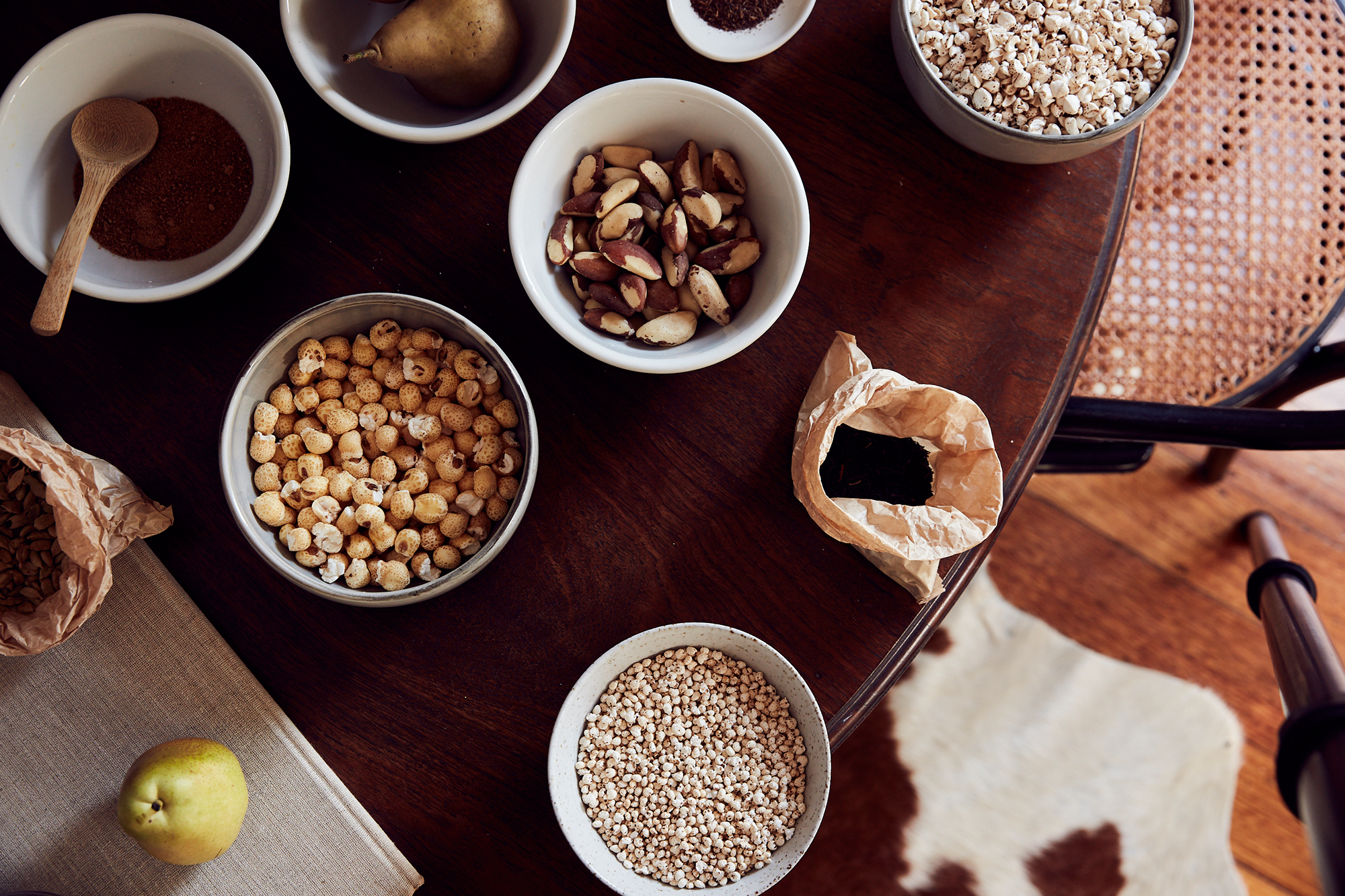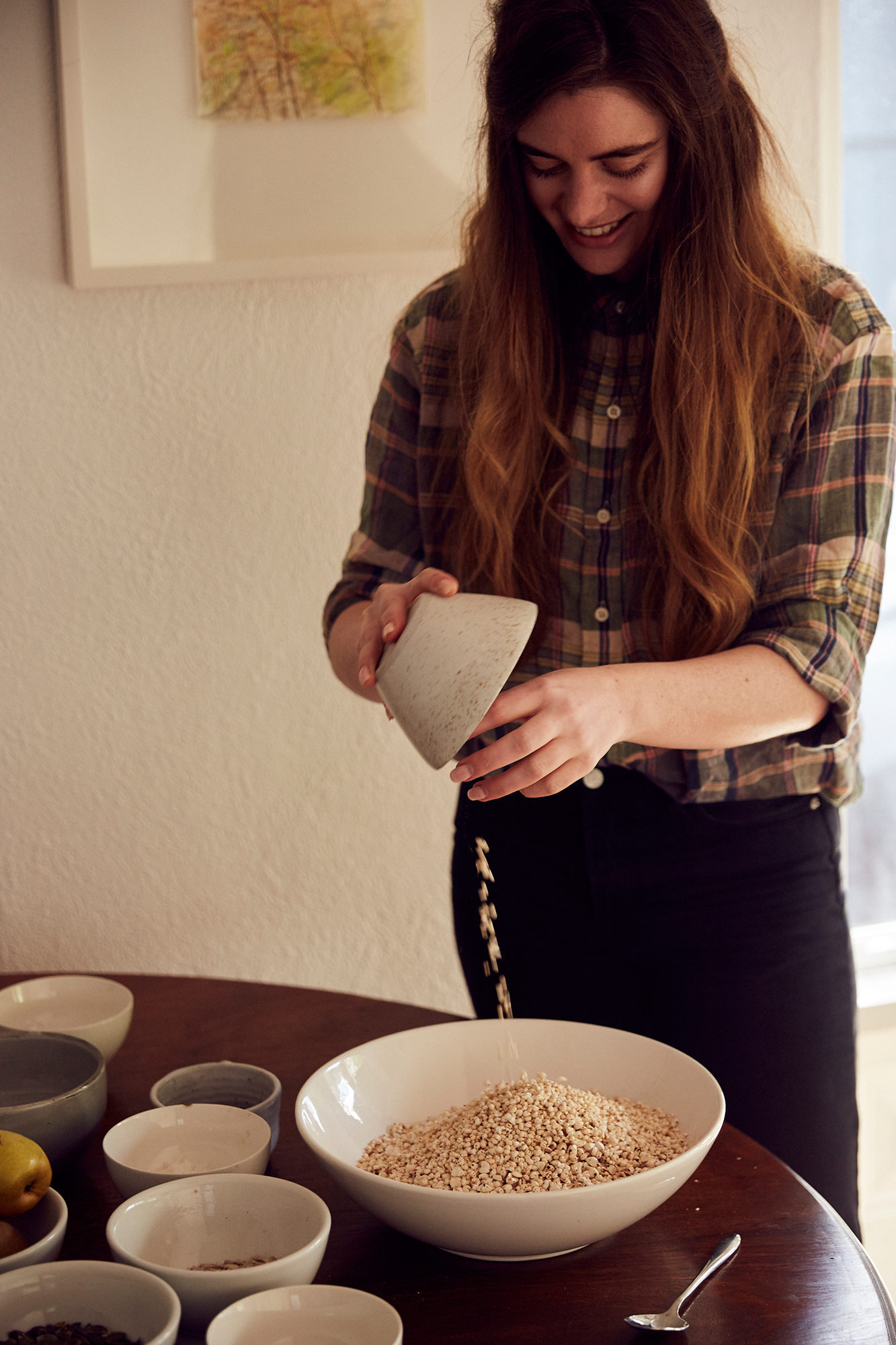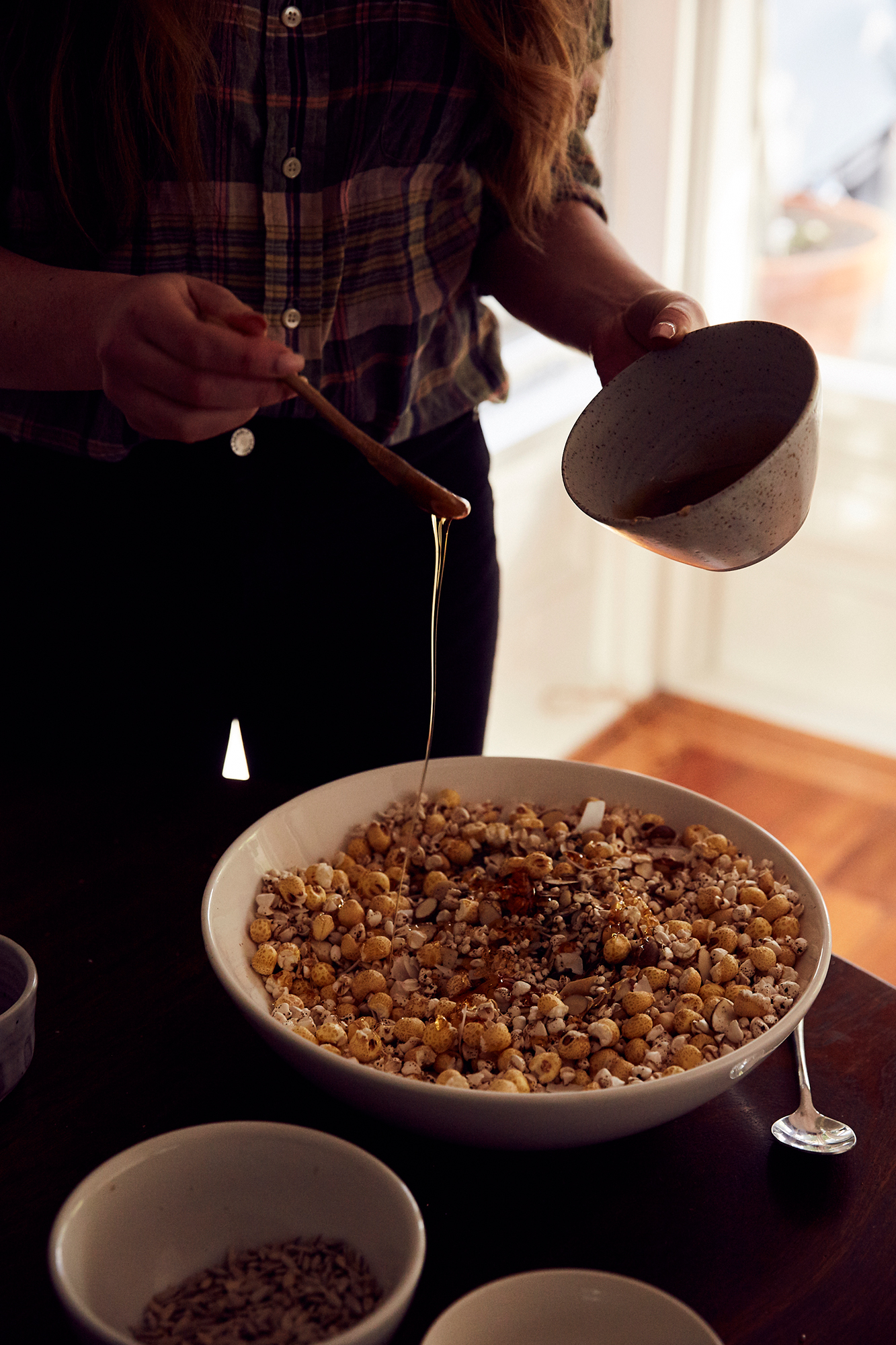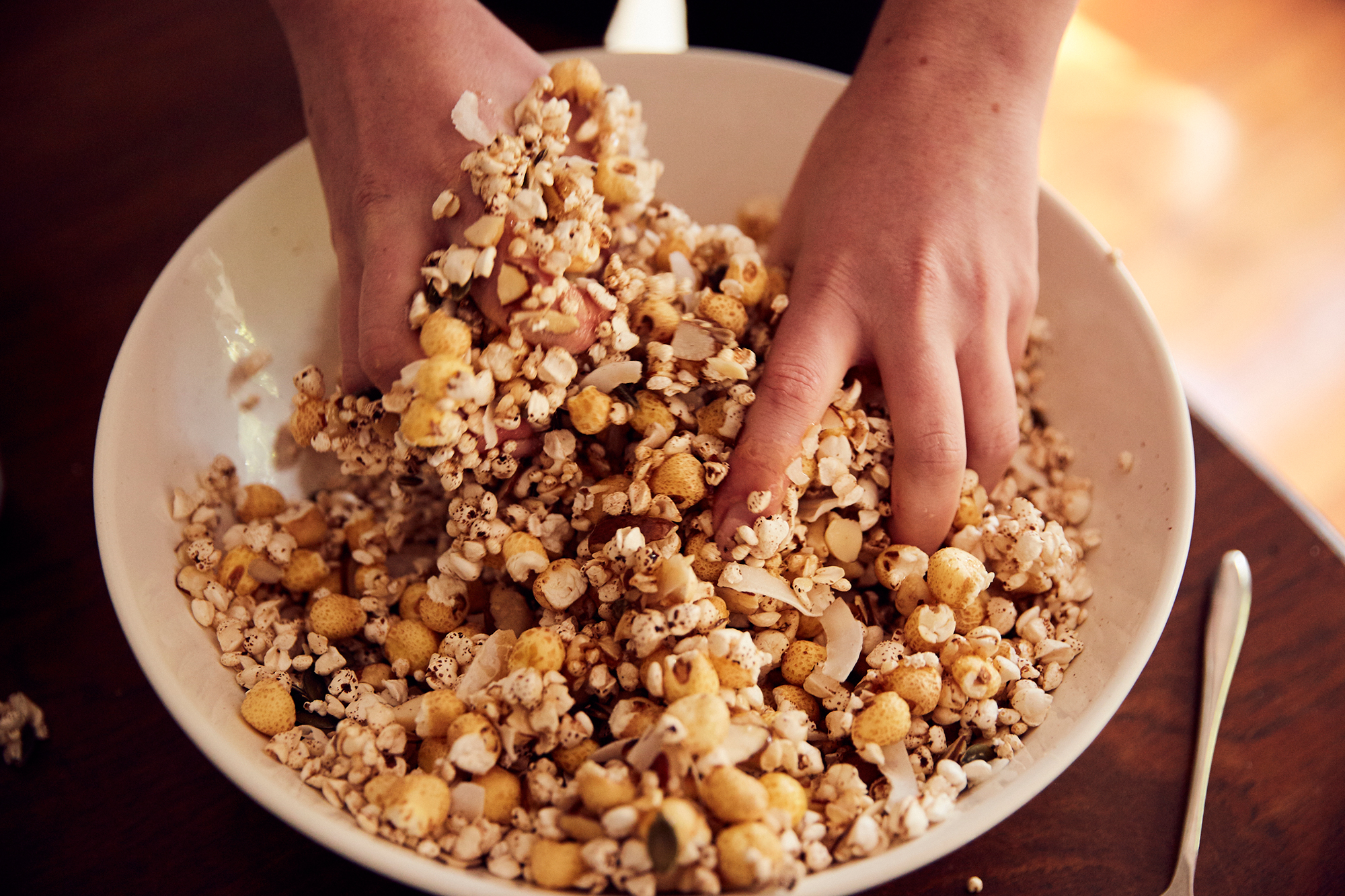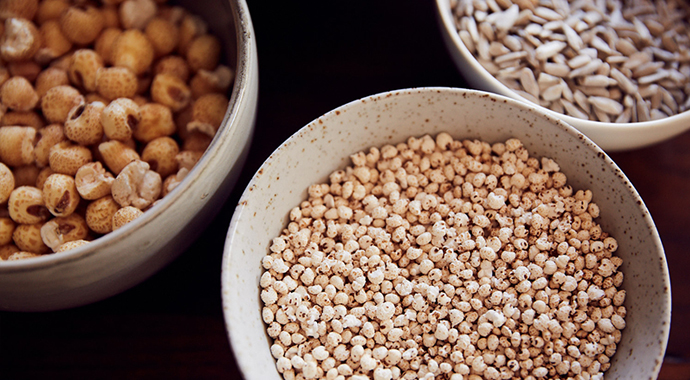 Poached fruit was always a go-to sweet dish in our house. It reminds me of childhood. Pears definitely say winter. They can be easily substituted for apples, but the harder the pear the more it'll hold its shape after a lengthy period of poaching. Be generous with the spice mix and always pop whatever is accessible in the cupboard. It can be served with coconut yoghurt and fresh vanilla bean, if you have one on hand.
There are plenty of nut mylk recipes available, but it is something so simple and easy to make at home in abundance, and it will have such richness of flavour compared to the boxed ones. My favourite kind of muesli needs to be crispy, light and middle on the sweet scale. With ancient puffed grains and seeds, this gluten-free, naturally sweetened granola ticks those boxes.
BRAZIL NUT & APPLE GLUTEN-FREE PUFFED CEREAL
Flavour profile – Brazil nut, dried apple
Makes 1kg
200g mix puffed cereal grains – buckwheat 50g, millet 50g, brown rice 50g, corn 50g
Sunflower 150g
Flaked coconut 150g
Brown rice malt syrup 150g
Pumpkin seeds 100g
Flaked almond 100g
Brazil nuts, roughly chopped 100g
Linseed 50g
Mix all ingredients together until each seed, nut and puffed grain is coated in brown rice malt syrup, place on baking tray and bake for roughly 20 minutes. You shouldn't need to stir, I quite like the very top being slightly more toasty.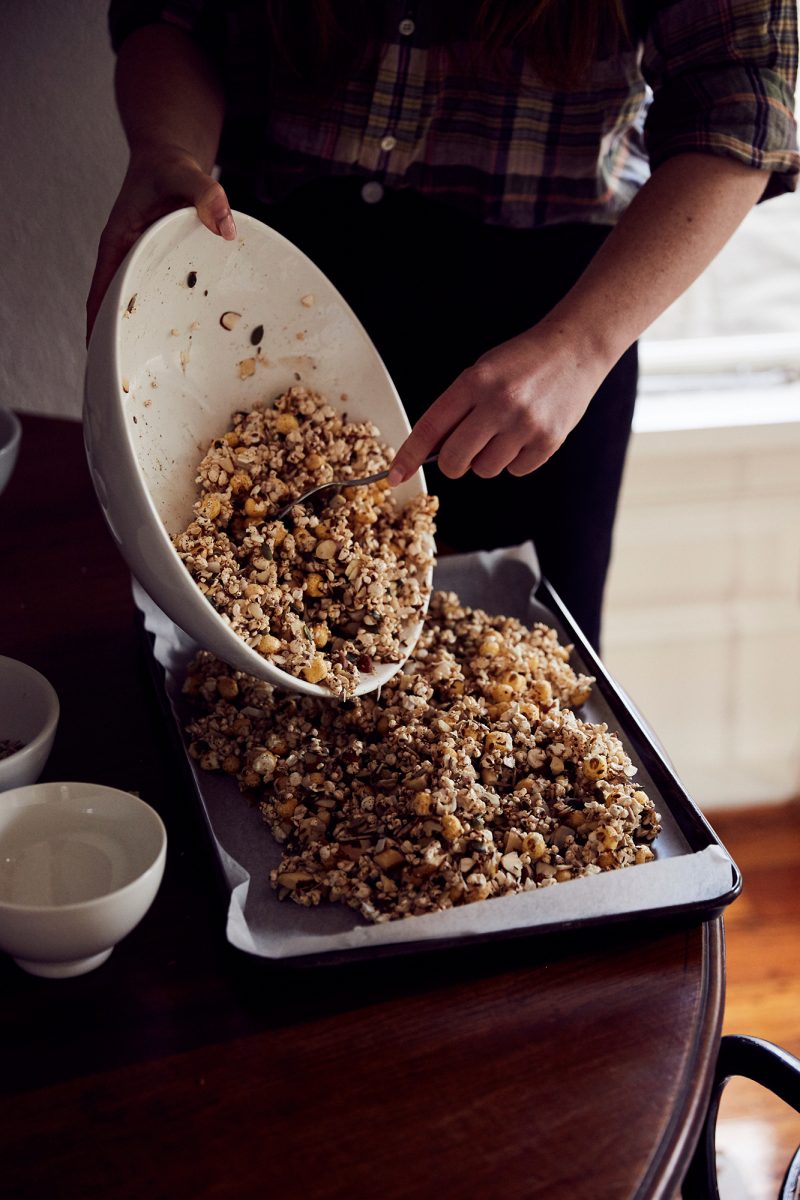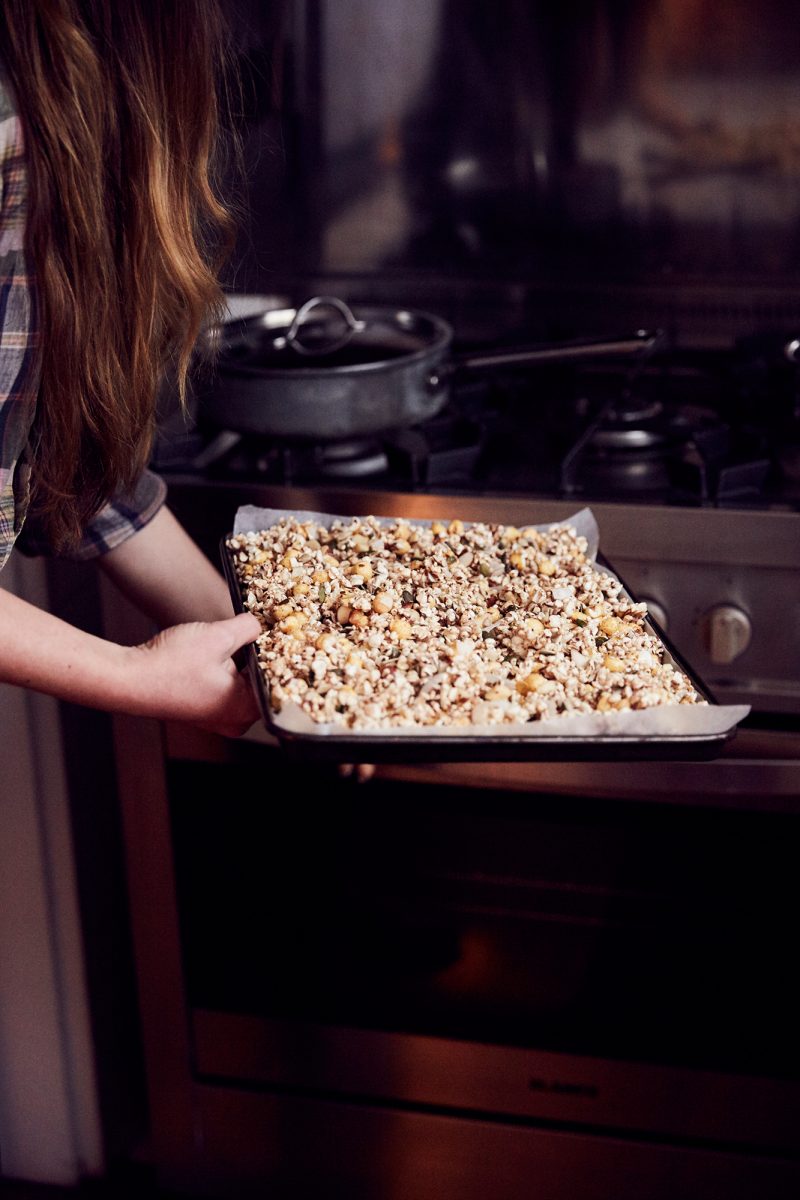 CHAI SPICED POACHED WHOLE PEARS
4 pears – beurre bosc is ideal but a mix of seasonal pears (apples can of course be substituted)
Cinnamon quills
Star anise
Cloves
Peppercorns
Grated nutmeg
Fine slivers of fresh ginger
Coconut blossom sugar
5 cups cold water, to have the pears ¾ covered
Bring pot to the boil, reduce heat and leave to poach with lid on for a good 1 ½ hours, adding extra water if needed. Ideally, though, you are left with a rich syrup. Remove pears carefully as they will be rather soft and delicate. Strain the remaining liquid and then bring to the boil and reduce, until you have a quarter of the amount. You will get, essentially, a few spoonfuls of rich chai syrup to pour over each pear.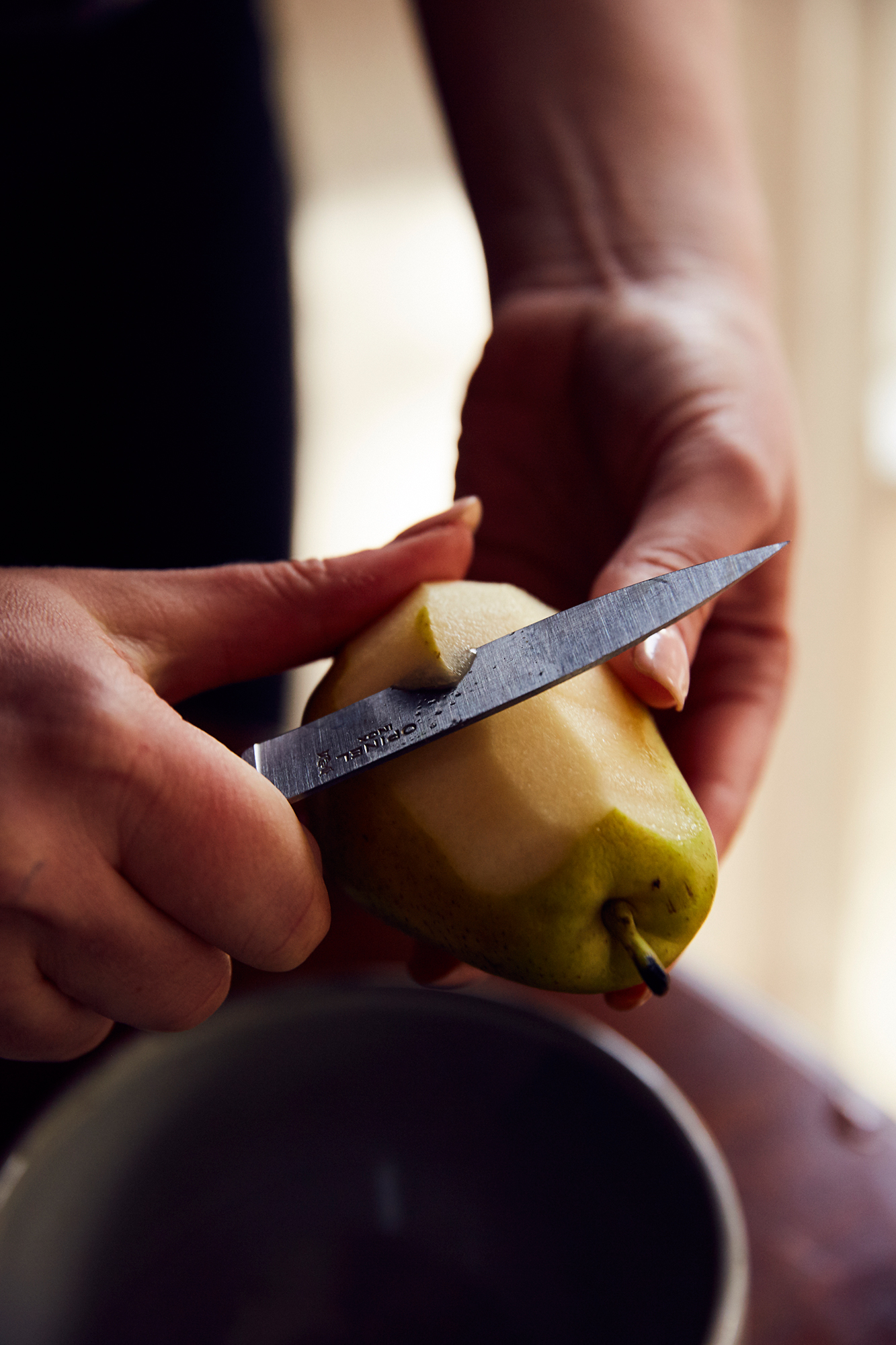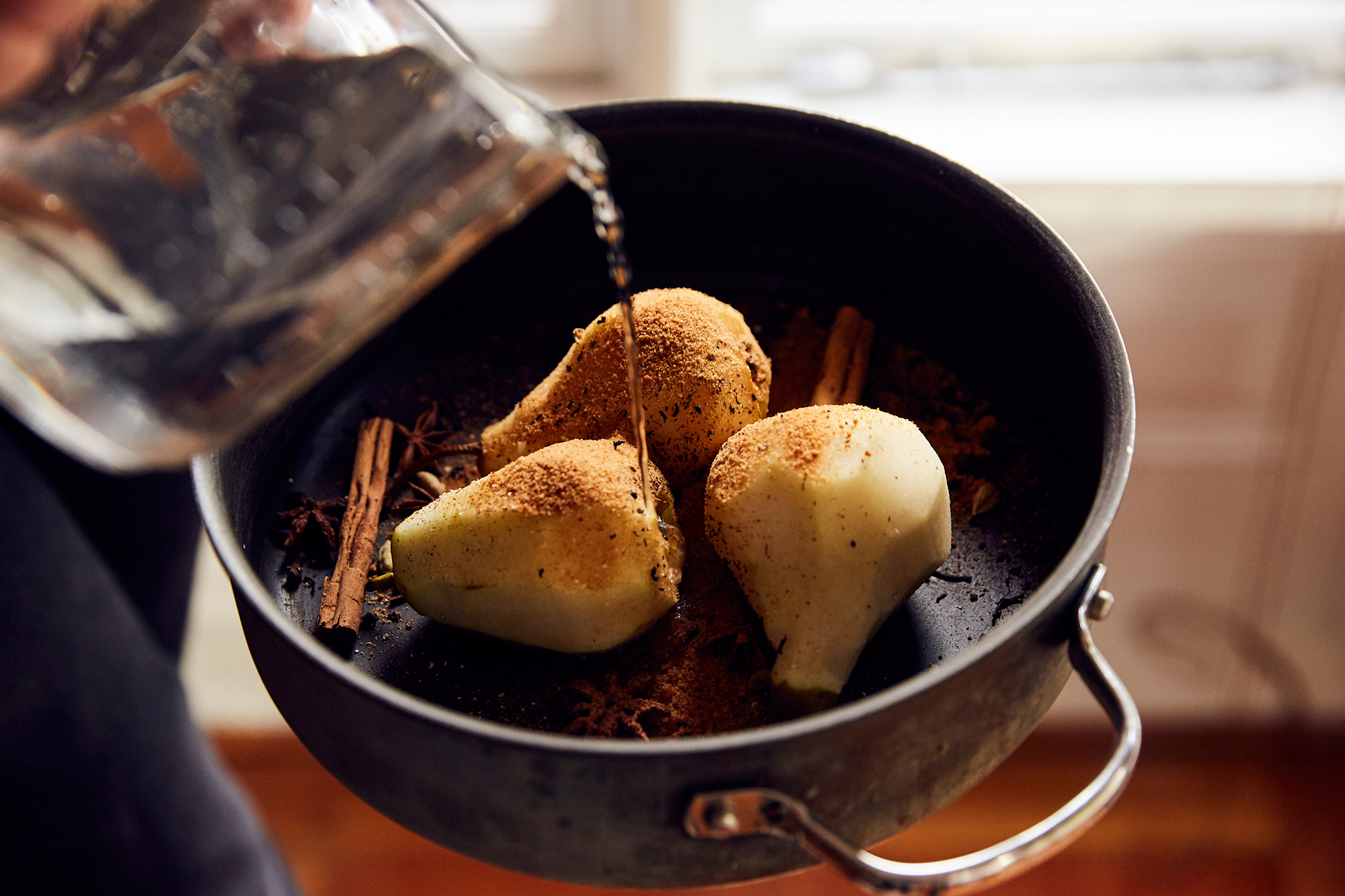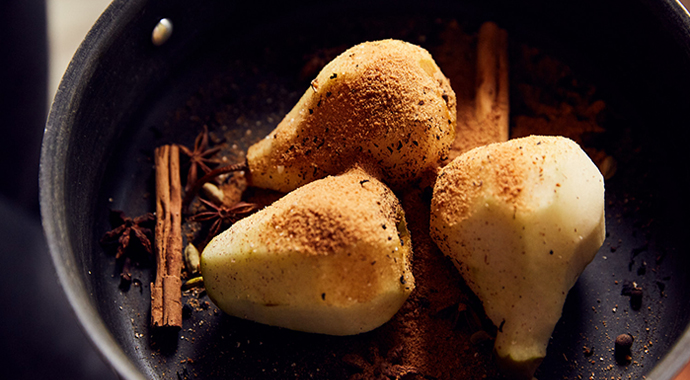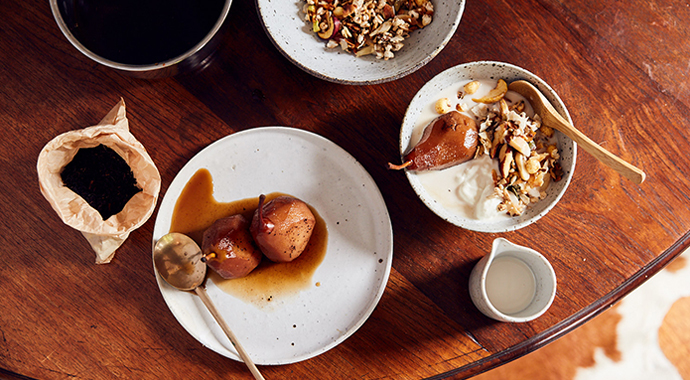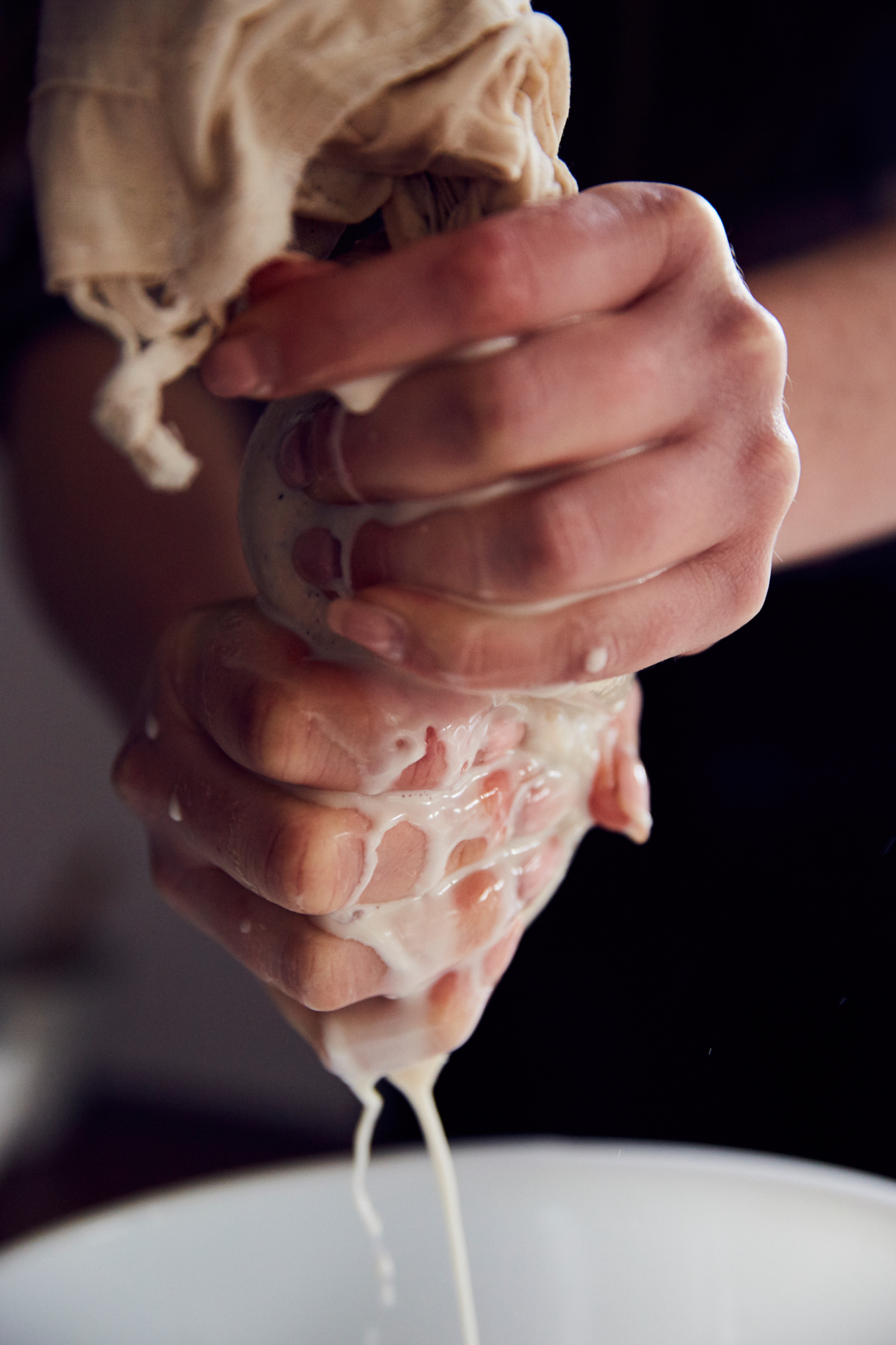 MACADAMIA CARDAMON NUT MYLK
1 cup macadamia nut
1 cup almonds
3 madjool dates
1 tsp dried cardamon or 4 pods split and inside seeds removed
Soak ingredients in 5 cups of water overnight or a few hours to make blending easier. Blend in a high-powered food processor, then pass through a cloth bag or muslin and squeeze out fresh nut mylk. As an alternative, just as delicious is coconut yoghurt with a fresh vanilla bean stirred through.
Thanks to Sunday and Peter for sharing this deliciously deluxe, wintry recipe with us – we're excited to start mixing up on our own batch of morning bliss. Browse Sunday and Peter's mouth-watering selection of hand-made granolas, all available to order through Sunday Muesli Co. All photos by Tom Ross.