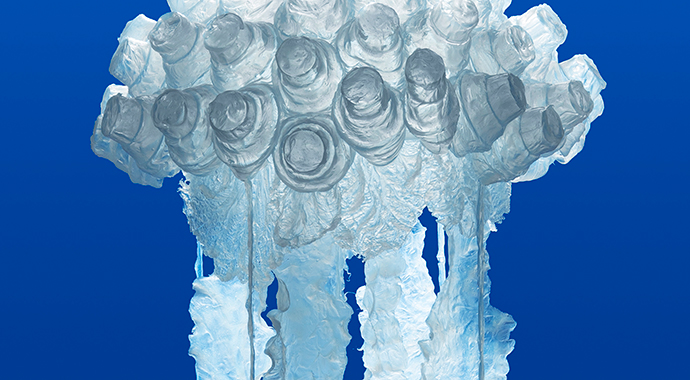 Apr 21, 2017
Melbourne artist Penelope Davis's work is usually situated in the realm of post-photography, in which photographs are brought to life without the use of a camera. To craft these 'cameraless photograms', light is passed through transparent resin casts to expose photographic paper that is then developed and printed. In her most recent exhibition, Sea-change, Davis delves deeper into the sculptural side of her practice, creating a series of 'jellyfish' forms to examine our appreciation for the natural world and our symbiotic relationship with it.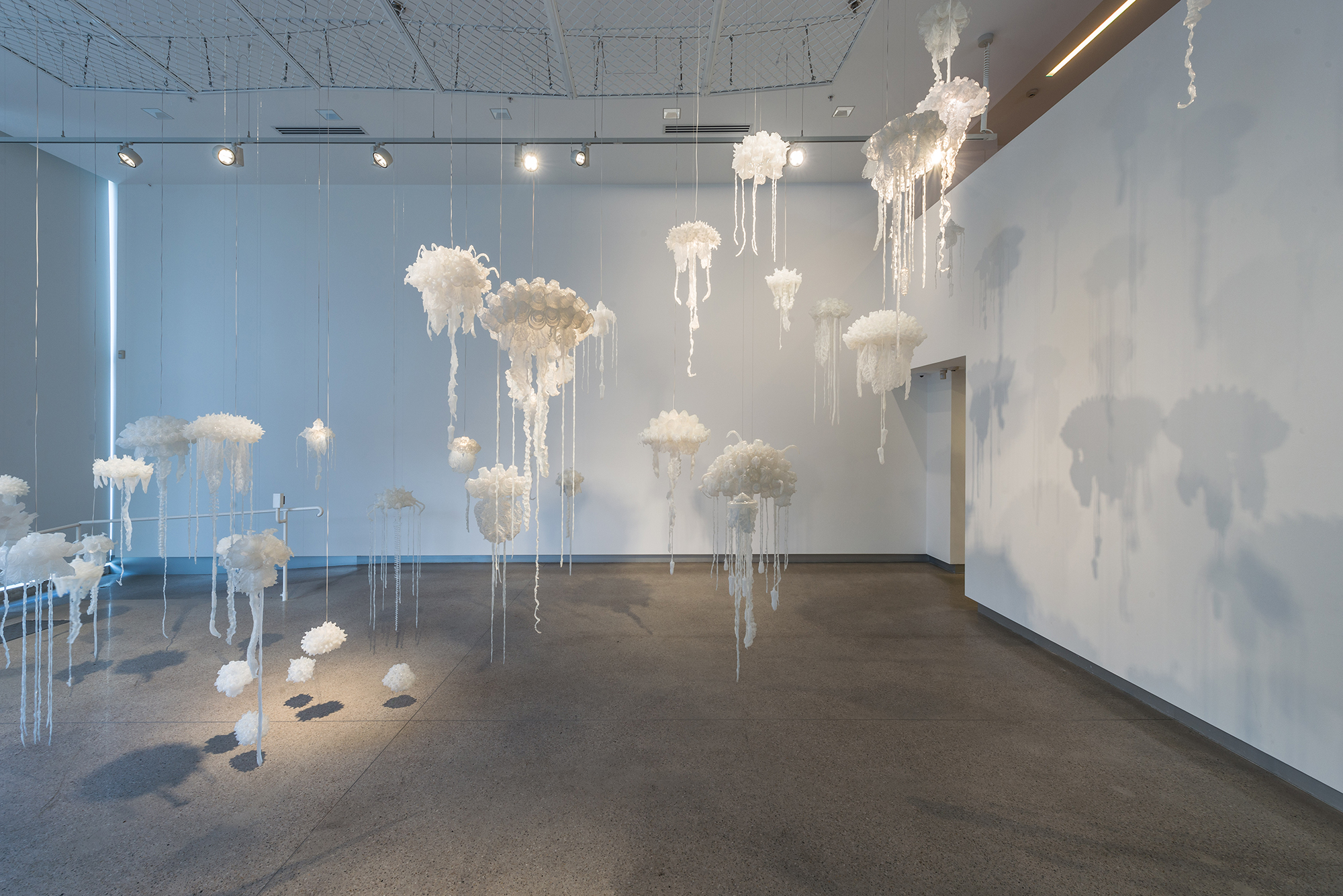 Assemble Papers: Part of the premise of Sea-change considers the idea that the proliferation of jellyfish directly relates to humans' impact on the oceans, as well as the greater impacts of global warming. What drew you to explore this particular motif?
Penelope Davis: For me, jellyfish have symbolic value. They're quite beautiful, and while I'm attracted to them aesthetically they also represent something quite monstrous. I'm interested in drawing people into this side of things, so that in looking more closely we're inspired to think about some of the catastrophic issues that the jellyfish represent. Jellyfish have this quality of 'weediness', like cockroaches, which means they're very good at surviving – and in fact flourishing – in environments that other species are struggling in. Because of the actions of humans, marine environments are now often warmer, more polluted, have been overfished and have lost much of their species diversity – yet jellyfish flourish in these environments. And not only that, but their proliferation actually compounds these conditions, making the survival of other species difficult. So jellyfish become this indicator, in a way, of so much that's going wrong.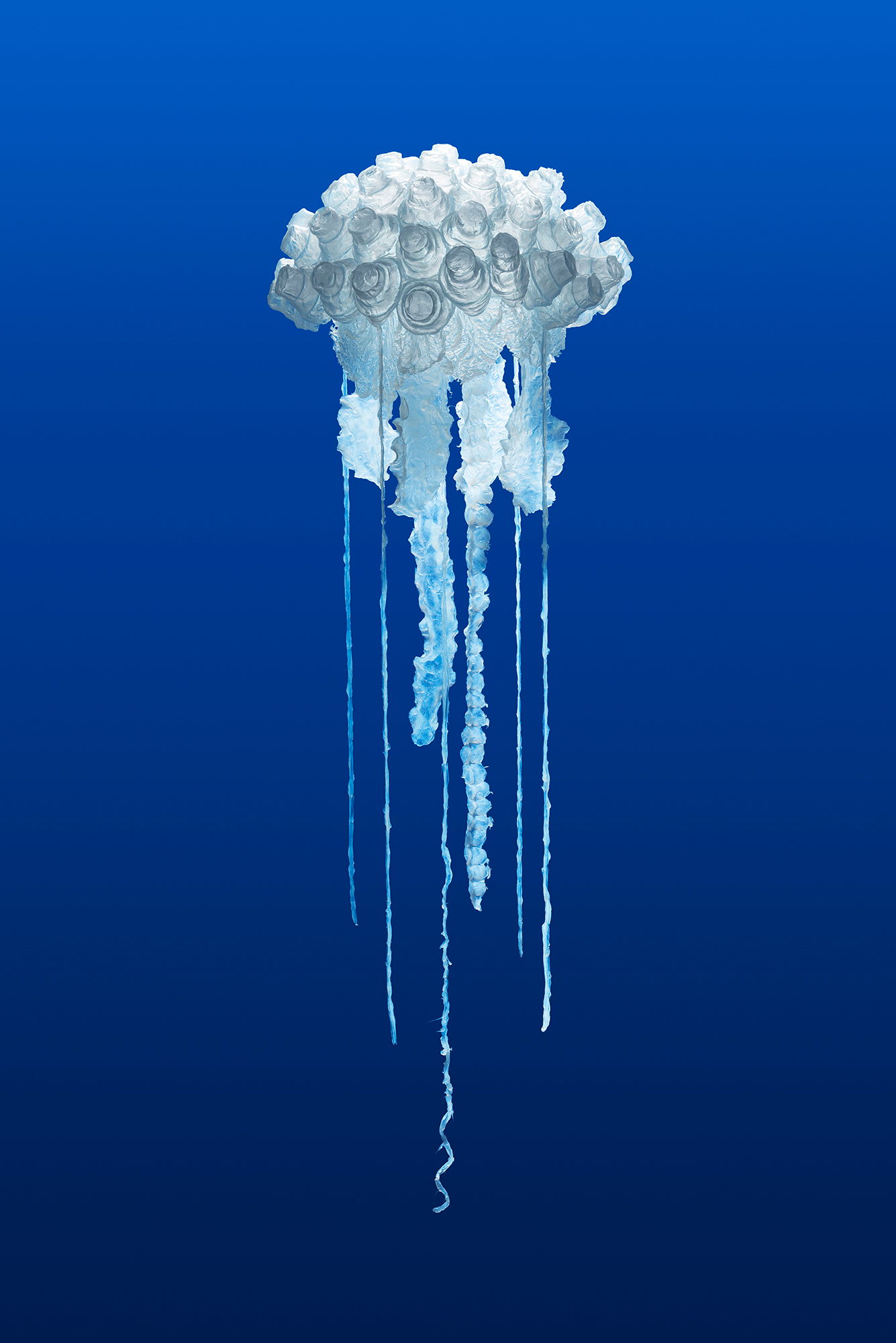 AP: Can you speak about the materials you've used in Sea-change?
PD: The sculptures are made from a cast in silicone of power cords, power points, mobile phone chargers, plastic bottles and all kinds of detritus resulting from our manufacturing and over-consumption. I would cast all these components individually, then hand-sew them together using fishing wire. It was a really labour-intensive process – I suppose you'd call it 'slow' art. [Laughs.] The process of making them was actually really contemplative in itself, lending itself to sitting and thinking about the meaning of it all.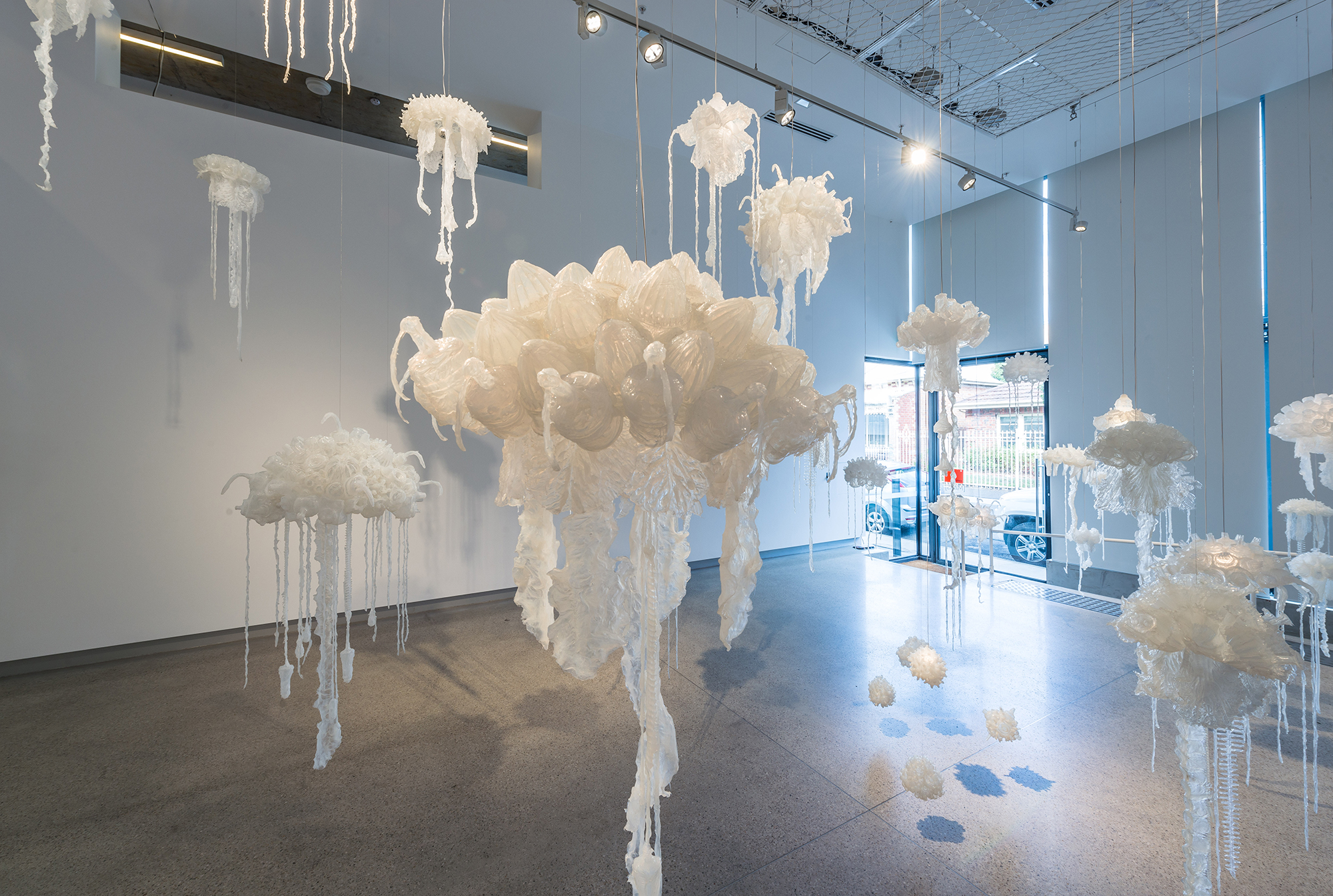 AP: Sea-change is a part of ART+CLIMATE=CHANGE 2017, which aims to harness the power of the arts to inspire action on climate change. Is this something you've actively sought to engage with in your practice?
PD: In short, no. It's something I've only recently started to think about. I had a studio residency last year at Carlton Connect Initiative's LAB-14 Gallery, funded by Creative Spaces. The building was full of climate researchers and scientists from the University of Melbourne. Being surrounded by people who work in the science community on these issues, I did start to think about climate change, and how the arts can tackle these issues we're facing. Scientists work with these issues in a very focused way that leaves little room for poetic license – of course because they need to experiment and research in a way that creates a repeatable, easily validated, empirical kind of outcome. But it's often dry and not easy to communicate to the public. Maybe the role for the arts in all this is to help communicate these things in more poetic, accessible ways. People need to be able to contemplate these issues in more empathic ways.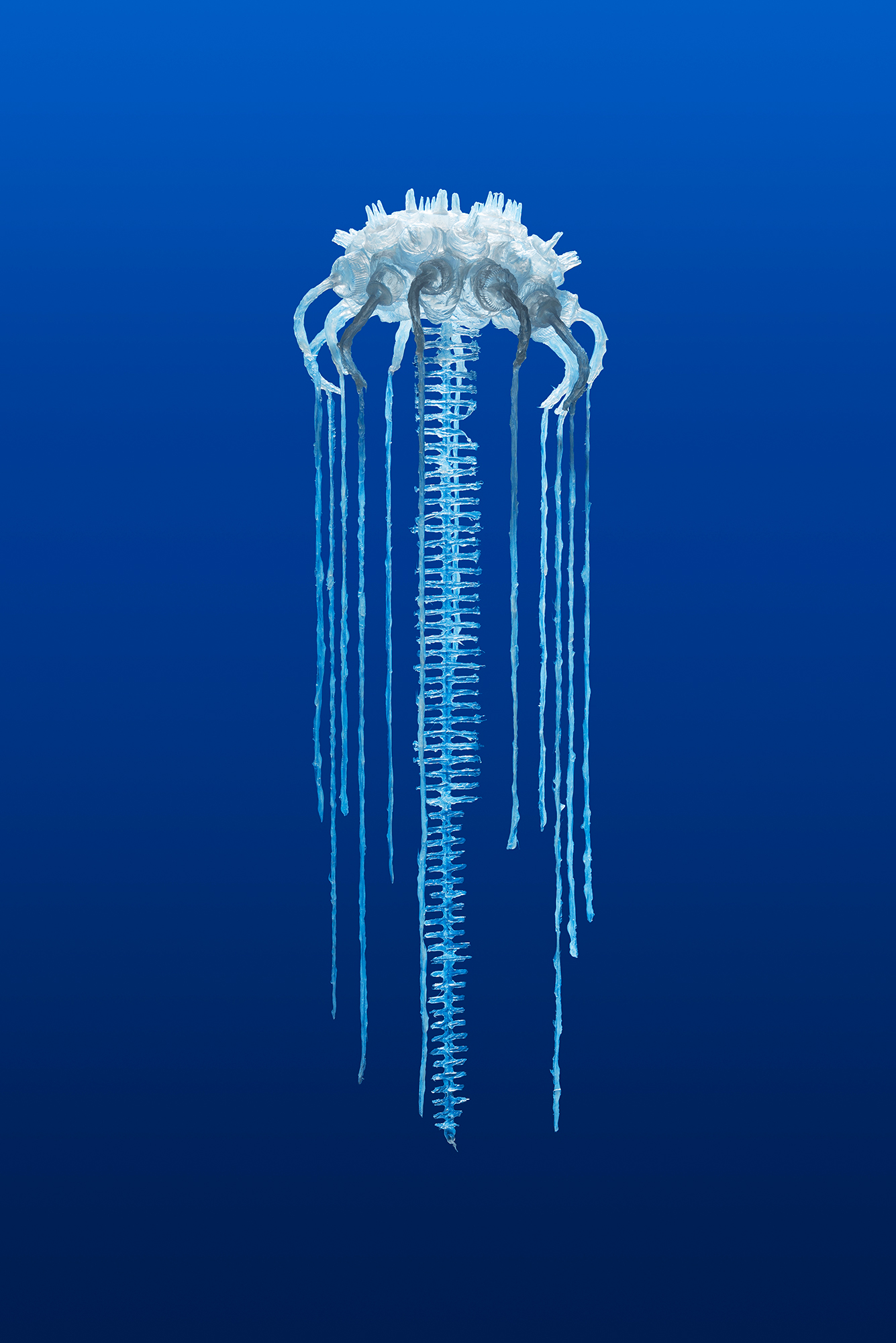 AP: Without wanting to needlessly conflate your work with that of your father, the late sculptor John Davis, there are some parallels that can be drawn from Sea-change – particularly in your awareness of ecology and sensitivity towards nature. Was that connection intentional?
PD: It's funny because when I got into art, I was already in my thirties and was working with perhaps the most un-haptic medium imaginable: photography. But the way I approached it was probably similar to the way my father may have gone about hand-making things, working with positive and negative spaces and all of that. When I was making these jellyfish, I did think about how I used to watch my father sitting in the lounge room, hand-sewing calico and twig fish, and how that's similar to what I was doing! At one stage he made this beautiful work of 150 fish that are all slightly different – it was very poetic, beautiful and poignant. Somehow I thought, "I'm going to make 50 jellyfish!" without directly linking it to my dad's work. Which is ridiculous, because of course they're connected.
That said, I'm not trained as a sculptor, so there was a lot I had to overcome. Whenever I was trying to find ways of making armatures, or finding things that could work as supports within the jellyfish domes, I realised these are things my dad would have always been dealing with when making his work.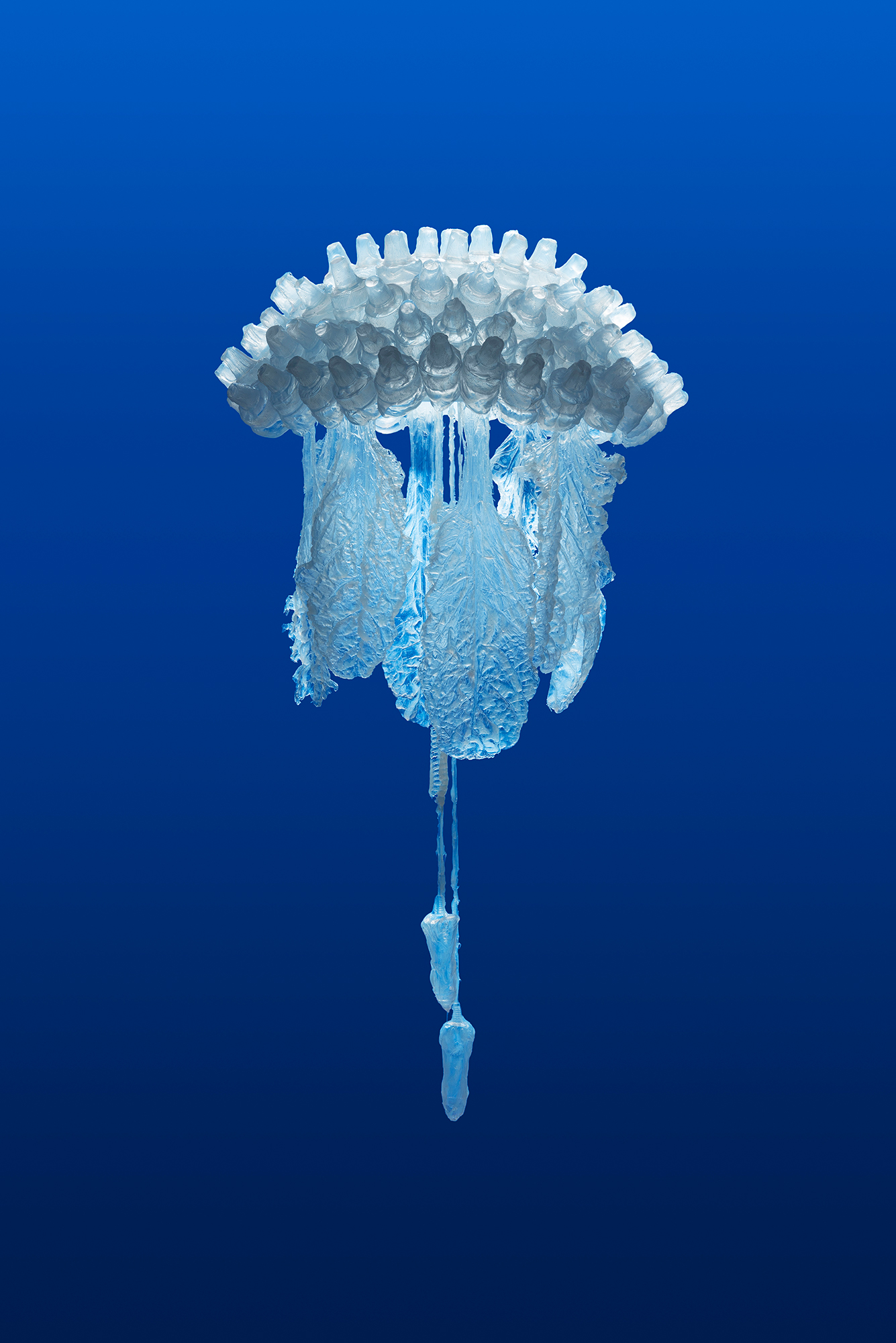 AP: A lot of your practice involves post-photographic images, in which you create photographs without using a camera. How do you see these sculptures in relation to your photo-based work?
PD: I think they're an extension of it, but not one that I consciously set out to follow. I do a lot of casting and moulding of objects for my photography, using scanners and things like that to arrive at the final images. But I really enjoyed making these things – I enjoy haptic processes that take time, where the technique and what happens along the way often lends itself to an outcome. So the casting and moulding is something I've been doing for awhile. Living in Elwood, I do a lot of walking along the beach, and would often notice lots of jellyfish blooms. I wanted to explore them conceptually, and instead of focusing on making a final photographic image, I decided to focus on the process of making instead.
Sea-change is showing at MARS Gallery, Windsor until Saturday 6 May 2017. The exhibition is part of ART+CLIMATE=CHANGE 2017 – view the full festival program at artclimatechange.org