Housing
Amee and Karl appreciate the little things in their Brutalist London home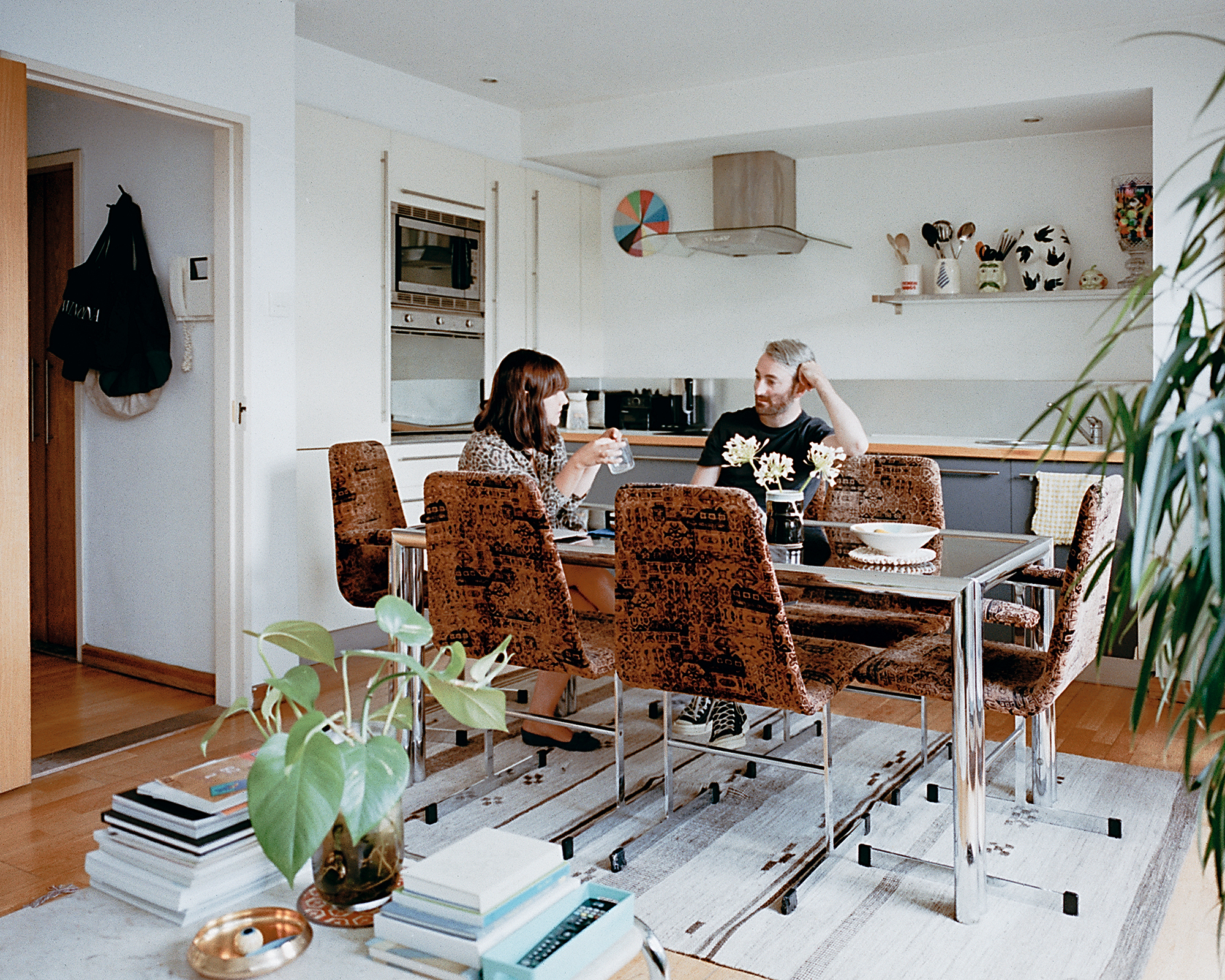 Feb 20, 2017
Inside the 16-storey Keeling House in London's Bethnal Green, PR specialist Amee Patel and illustrator Karl Maier (one half of transatlantic duo Craig & Karl) welcome us into their Brutalist maisonette inspired by the Japanese concept of 'zakka'. Rachel Elliot-Jones and photographer Morgan Brown drop in on the couple to chat about their work, their daily routines and their Brutally beautiful London abode.
Our latest lesson in living (not decorating) comes from the other hemisphere, in the Bethnal Green home of Amee Patel and Karl Maier. A long-time Londoner, Amee launched her PR consultancy AMPR in 2015, following on from stints as PR manager of Saint Laurent and, before that, as a member of the womenswear team at Purple. AMPR is the nimble conduit for the work of renowned object, spatial and apparel designer Faye Toogood; Grace Wales Bonner, the 2016 recipient of the prestigious LVMH Prize for young Fashion Designers; and independent UK sunglasses label Zanzan Eyewear – among others. Karl is the Karl in Craig & Karl, illustrator duo extraordinaire, who began working together on the east coast of Australia and now straddle the Atlantic (Craig is based in New York). Craig & Karl's illustrious collaborators include New York Fashion Week, National Geographic, Colette, Vogue, Google and, more recently, our favourite loo paper, Who Gives A Crap. Craig & Karl's work is distinctively bold and colourful, and always elicits a smile.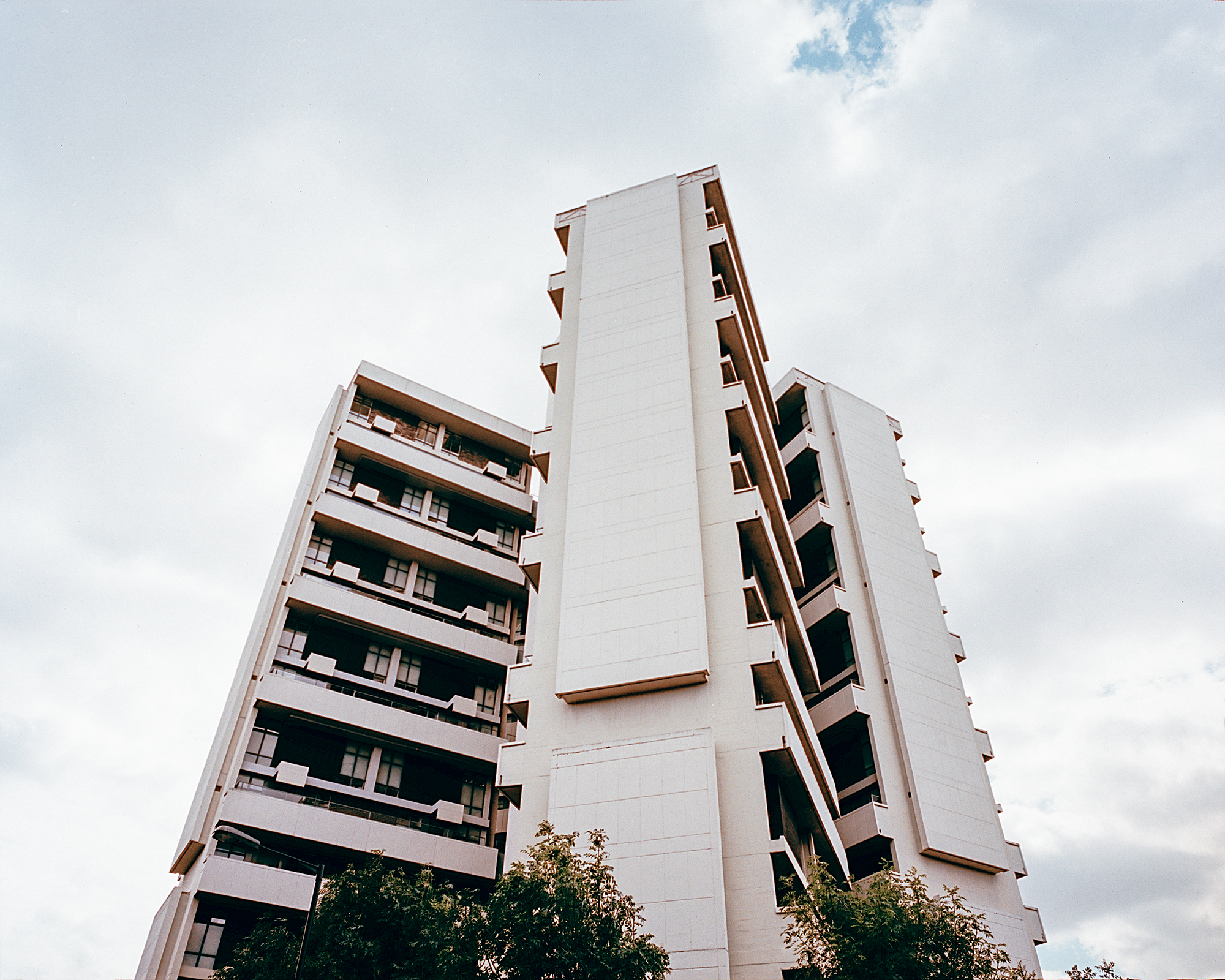 Amee and Karl live in Keeling House, a 16-storey Brutalist treasure designed by Denys Lasdun and completed in 1957. Originally conceived as social housing, the building fell into disrepair in the '70s and '80s (like many others of its kind) and was closed in 1992. In 1993, it became the first post-war building to receive Grade II listed status in the UK, but unfortunately the Local Council did not have the funds to restore it to its former glory. After being acquired by a private developer, the building was given an almighty facelift and promptly populated with architects and designers partial to the Brutalist form. Here, Amee and Karl take us through the story of their lives in their first-floor maisonette.
*
Karl Maier: "I've lived in this apartment for four years. It's actually the first and only place I've rented in London. I think I got quite lucky as I only had a small window of time to find a place and managed to get in first for a viewing when the agent had just dropped the price.
East London has been changing for many years, with an influx of money and gentrification. There are a lot of new builds going up, and an urge to raise house prices and to bring people into the area, which sadly means a lot people are being priced out. That said, our end of Hackney Road (in between Bethnal Green, Hackney, Victoria Park and Hoxton) is still resolutely clinging on. Our local shop is still the corner shop, there are very few new builds in our immediate vicinity, and our neighbours come from a range of different backgrounds.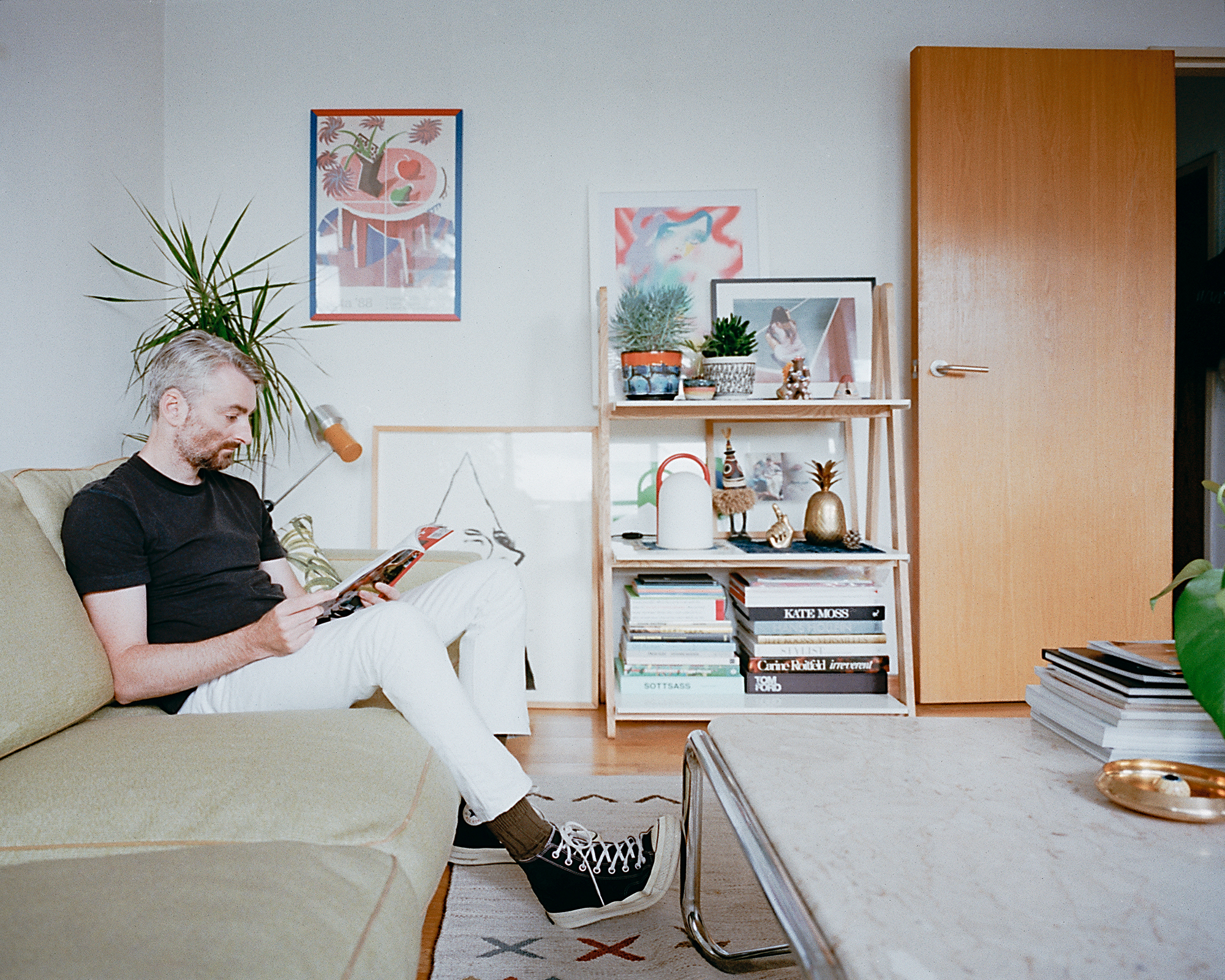 I was living in Sydney before here, and the two places could scarcely be more different. The lifestyle in Sydney is obviously pretty dreamy – very outdoorsy with beaches and the harbour, and a near-endless summer punctuated by a brief yet somehow still delightful winter. London is kind of the opposite, with the built environment accounting for much of its charm, as do many of the parks. It's definitely geared around a colder climate though, with summer often feeling like more of an intermission than an event. It's simply a much better place for work too.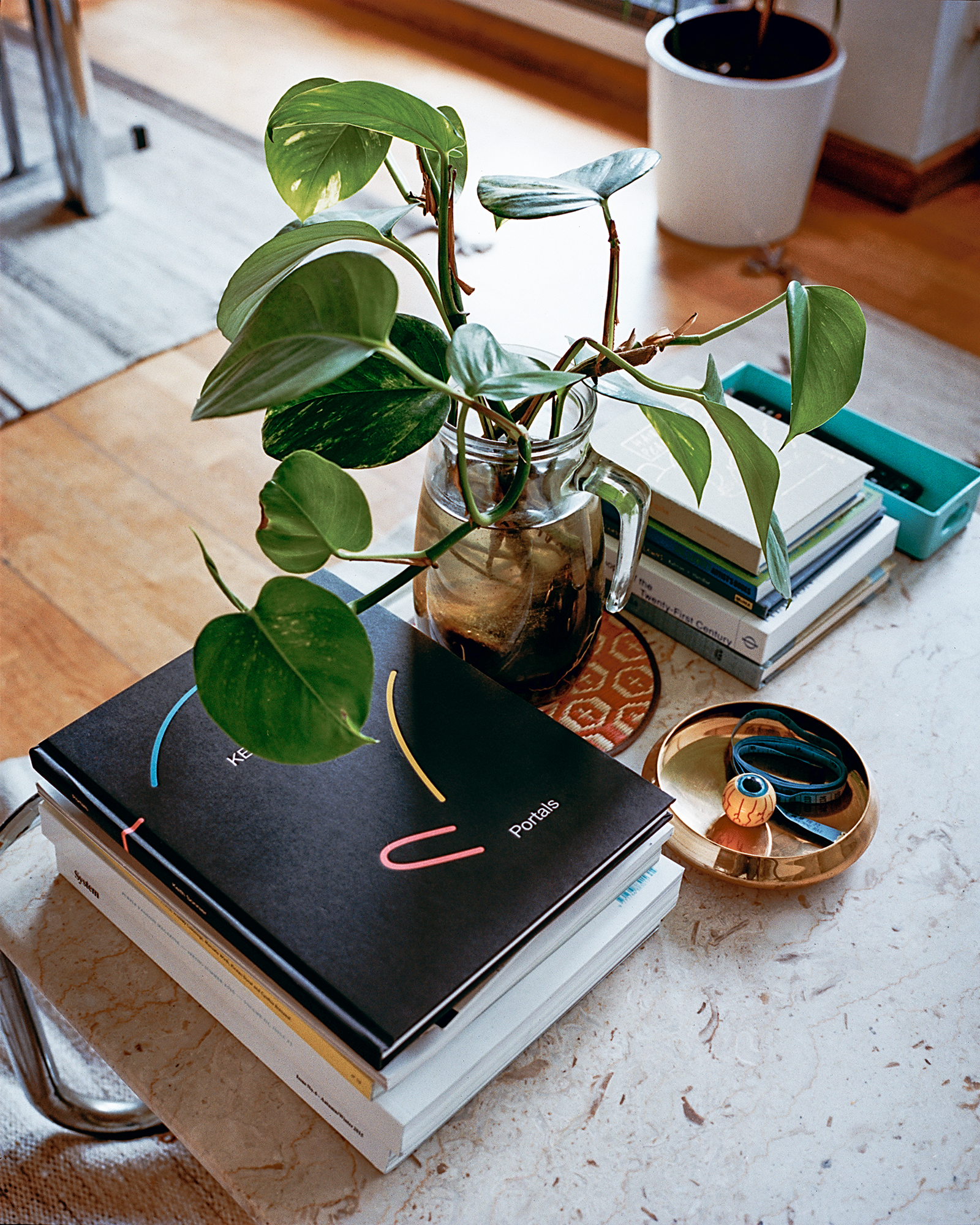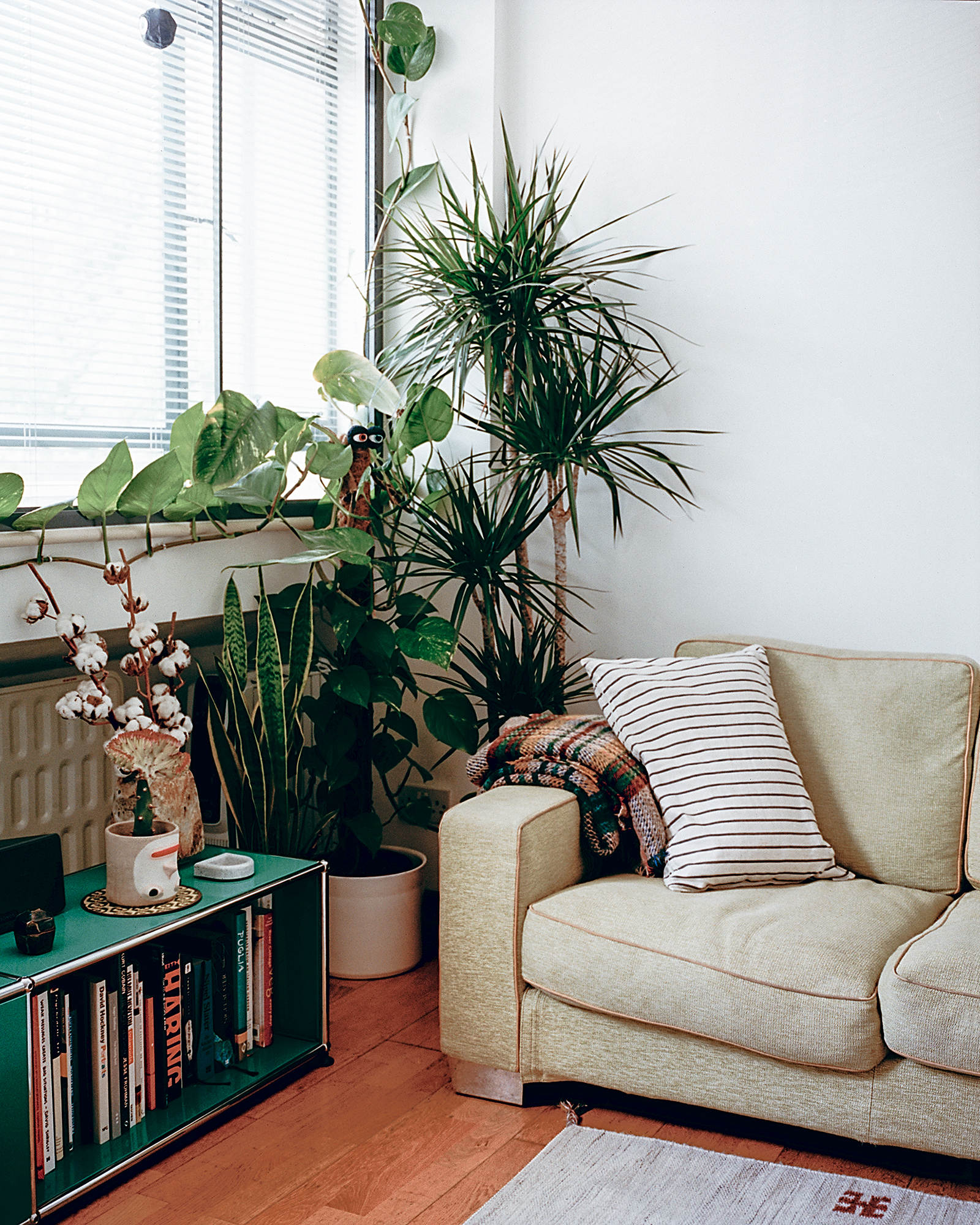 In London, I start my day with a coffee before contemplating what lies ahead – checking Instagram and putting off checking emails. Generally it takes me a little while to get going in the mornings, but one of the joys of being self-employed is not having to be at my desk at any fixed time. I usually arrive at my studio in Dalston around 10.30 or 11am, after a pit stop for another more impactful coffee at Pavilion on Broadway Market. If the weather's nice I'll walk, which takes around 45 minutes (otherwise it's a reasonably grim bus ride).
At home, Amee and I spend most of our time in the downstairs kitchen and living area – that's where most of the action takes place. Comparative to the size of the space, we have a huge green sofa – it's actually the only piece of furniture that came with the apartment that we've kept in circulation. It's incredibly comfortable, and has been lovingly dubbed the 'Midori' lounge, for reasons now oblique.
I think the plants in our apartment add a lot to the space. Plants, and for some reason palm trees in particular, became very important to me when I moved to London. I think I also take a lot of comfort in the happy presence of physical objects – in our place it's a mix of things that have been collected over time, mostly things that amuse or delight in some way."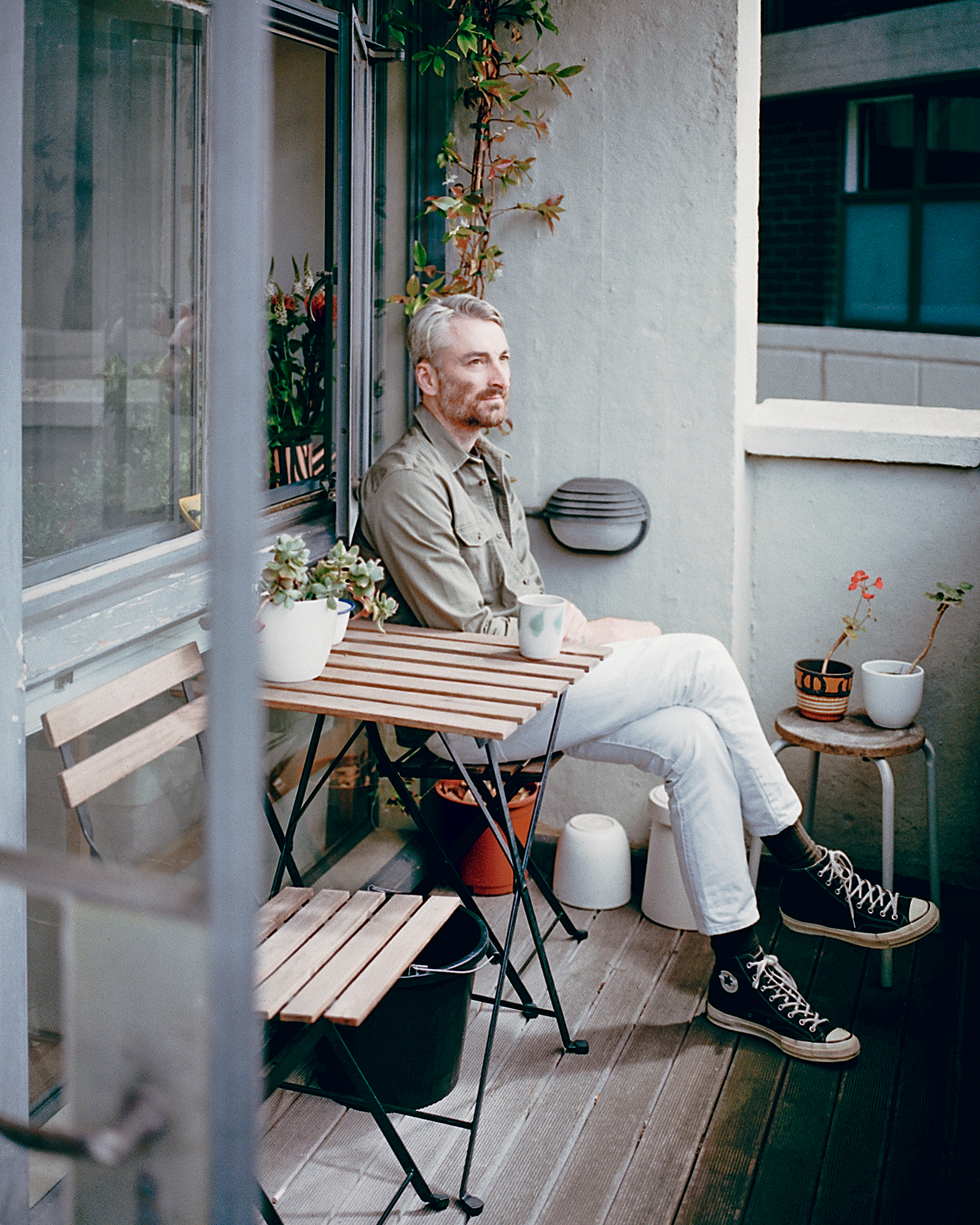 Amee Patel: "I've lived in London my whole life. To me, it's still the greatest city in the world. Visually, it's such a mix of hundreds if not thousands of years of dwellings, modernisation, rebuilding and so on; it's that mix of history and the future clashing together that I love. London is a city where you can never get bored – a kind of 'choose your own adventure' of culture, art, green spaces and places to eat. Of course there are five airports, too, which makes getting out of London 'summers' very easy.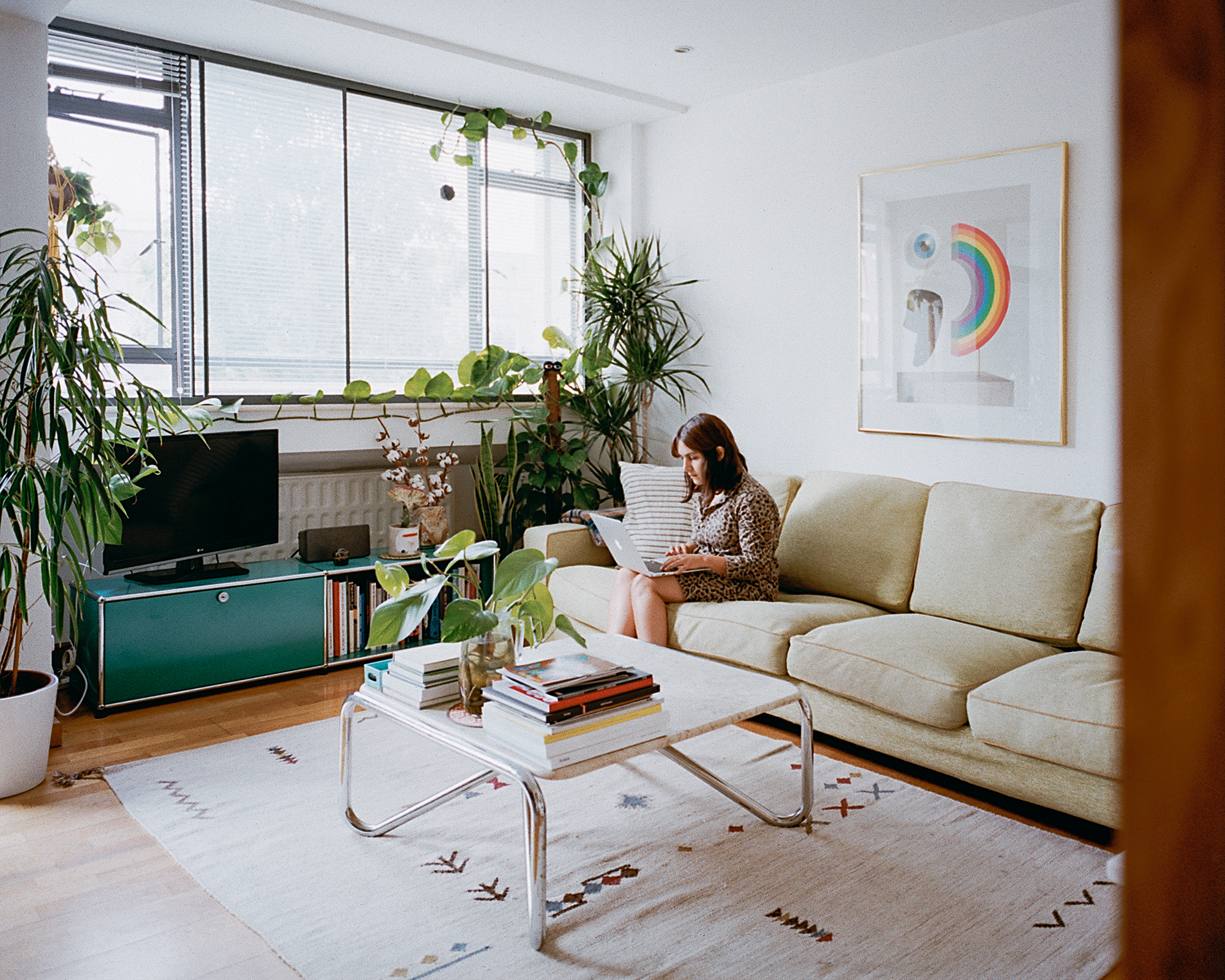 Karl is the reason I came to live in this apartment. By the time Christmas rolled around in the first year we were together, me and my (now limited) collection of Vogue magazines were installed at Keeling House. Me moving in allowed us to rethink configurations of rooms and to buy new furniture, making the place 'ours', rather than me just moving in to Karl's existing space.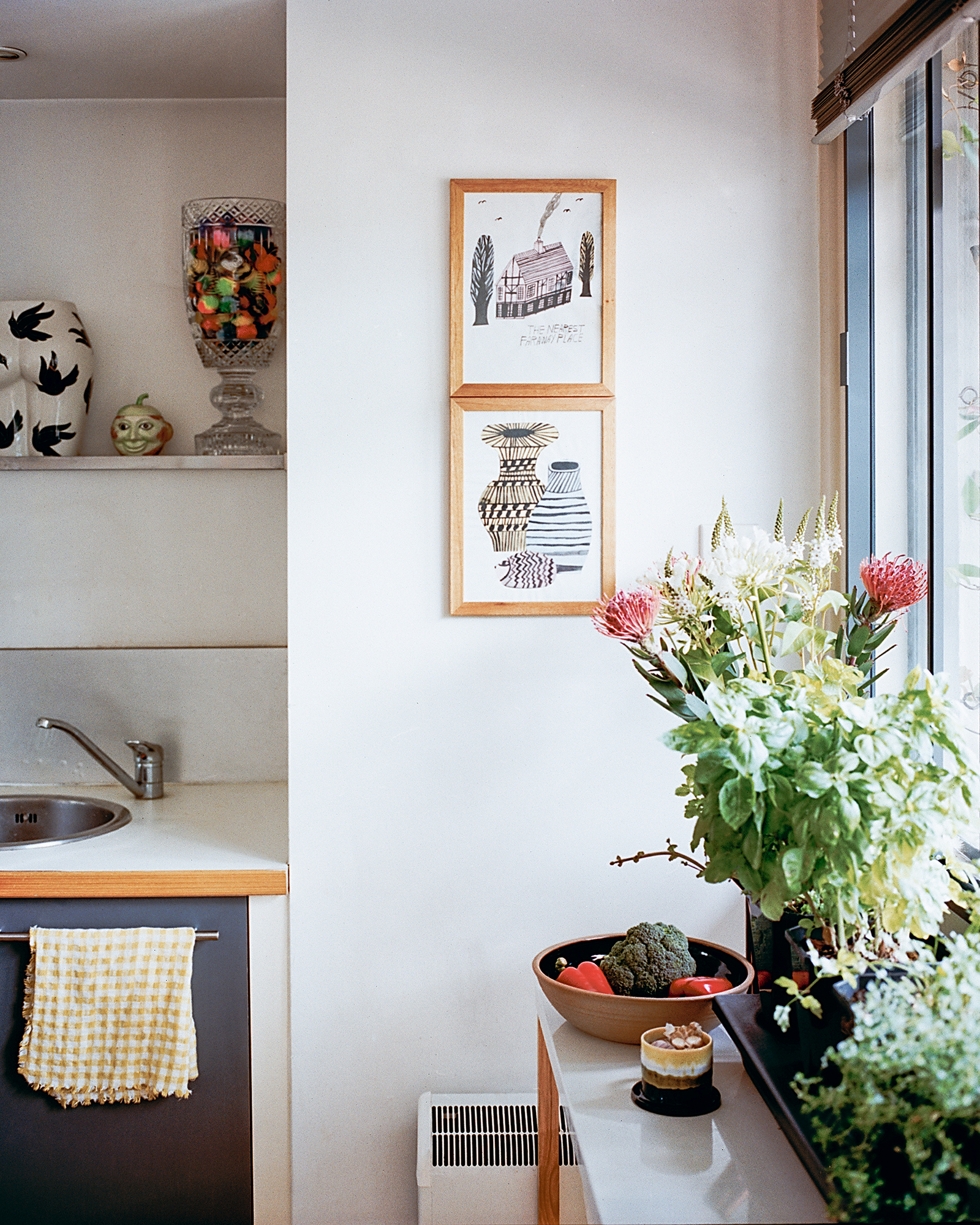 A standard day for me starts with waking up and making coffee. My office is a handy six-minute walk from home, so I get there around 10am, make a green tea and crack out the emails. I rarely have a set routine – it all depends what my clients are working on – but a few times a week I'll generally have meetings at local spots like Hoi Polloi or Albion in Shoreditch, or at different studios. Karl and I tend to clock off around the same time and either meet for a drink or head home to make dinner. Several nights a week we'll go out to eat or see friends, mostly locally, but every now and then we like to go to this one Italian restaurant in Bloomsbury, which everyone is always more than happy to travel for.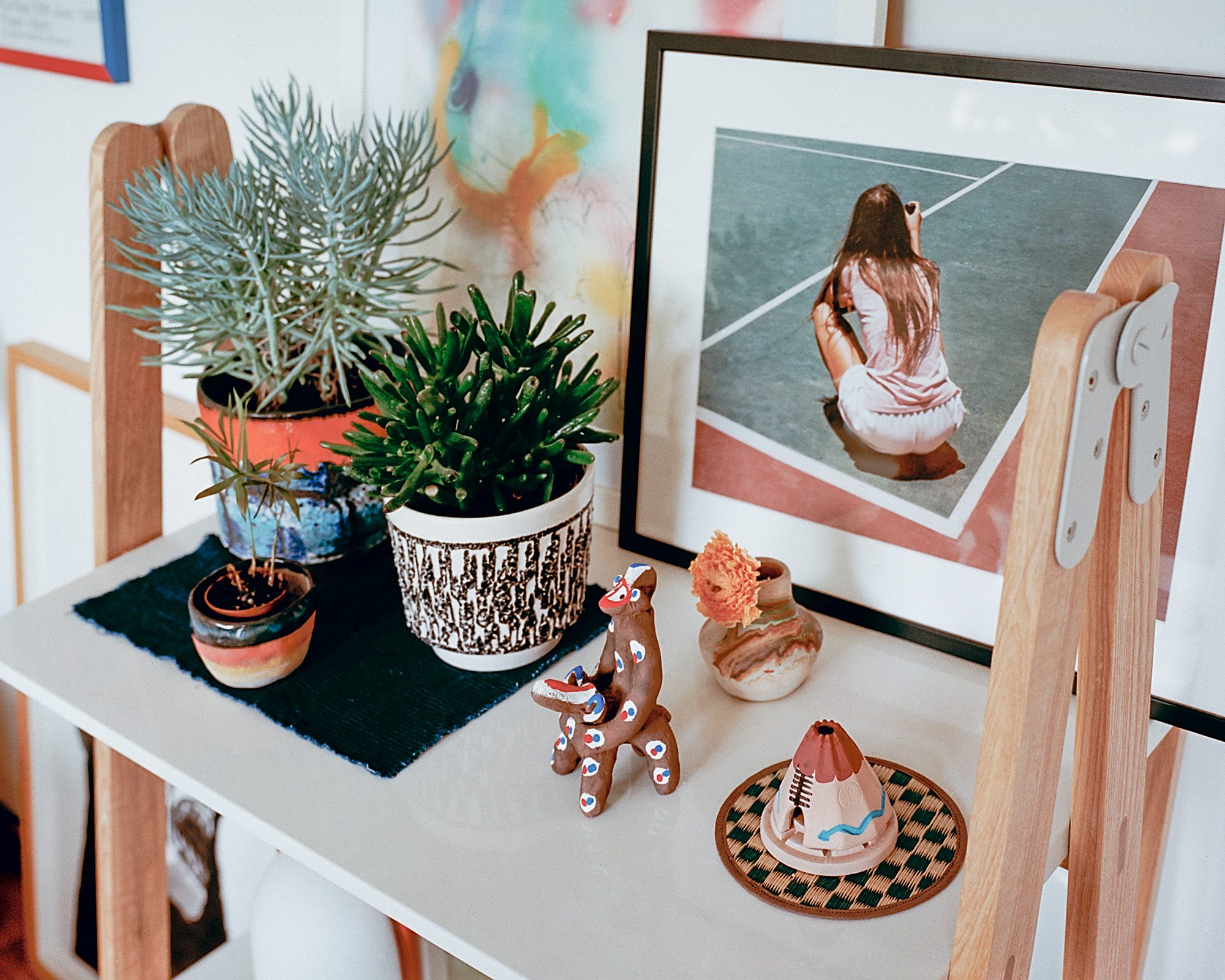 One of our friends has a long-running joke that when she texts us to ask what we're up to, one of us will answer "going to the Barbican". Both Karl and I have always been fans of Brutalist architecture, of which there are many great functioning examples in London that don't seem cold or imposing. We like that our apartment and the building it's in, Keeling House, were built for real function. If you look at the plans for Keeling House, it was intended to be like Le Corbusier's ideal living environment, in contrast to so many soulless new builds. The layout of the apartments (which is pretty much the same all the way up) gives us a lot of space. Aesthetically, one of our favourite parts of the building is its 'X' shape and the way you can experience it in the lobby, with the lift going up the central post.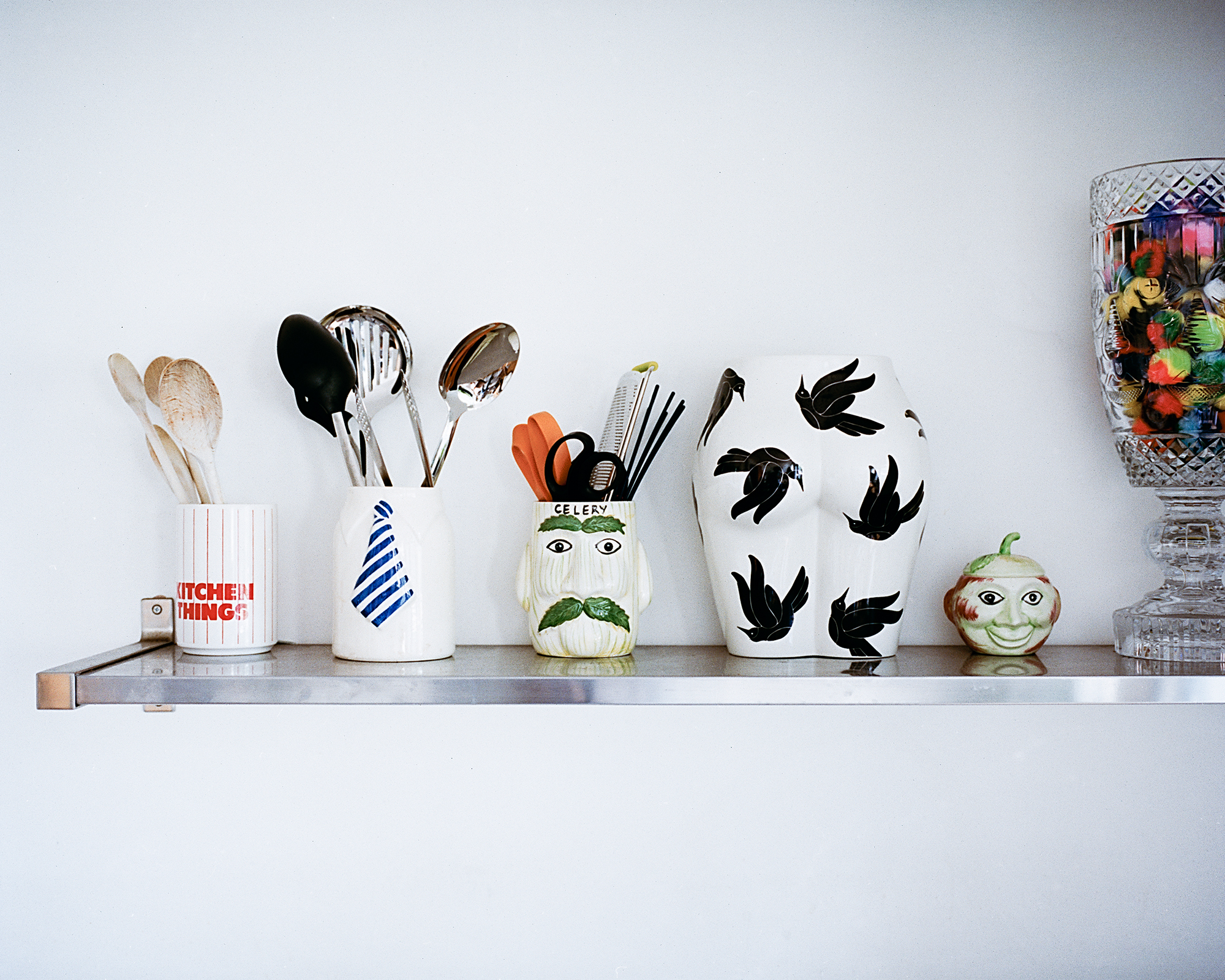 In our home, it's actually the small objects we've collected that make me feel happiest. We've both brought into the home strange things from our various travels before we met, but it's the pieces we've picked up together in the past few years that I love the most – from a vase we stole from a dive bar and a small 'face' pot we got in New York to a volcano-shaped incense burner from Tokyo and a Julie Verhoeven print we got at a friend's charity auction. When we were in Japan this year, we discovered a great term, zakka, which describes the art of finding joy in trinkets and possessions. It made us feel a lot better about all the things we've accumulated!"
This article first appeared in Assemble Papers Issue 6: 'Future Local' (September 2016). A special thanks to Amee and Karl for showing us around their beautiful home. You can check out more of Morgan Brown's photography at morganwsbrown.com.