Housing
City Edge is Melbourne's original urban village

Jan 30, 2017
South Melbourne's City Edge, built in the early '70s, is inner-city medium-density housing at its finest, with its 'urban village' design by Daryl Jackson and Evan Walker rendering it a landmark development of its time. Rachel Elliot-Jones and photographer Tom Ross head to City Edge to chat with residents about City Edge's significance and value to Melbourne's built heritage.
Beyond the higgledy-piggledy mess of towers south of Melbourne's CBD and the multi-lane hum of Kings Way, there's a cluster of brown-brick, stained-wood and concrete buildings under a canopy of 40-year-old spotted gums. This special spot is the City Edge apartments, designed by Daryl Jackson and Evan Walker and built in stages between 1971 and 1974. Constructed on slum reclamation land, it was a landmark development at the time – the first inner-city medium-density project in Melbourne that wasn't a housing commission – and it earned Jackson and Walker a bronze medal at the Royal Australian Institute of Architecture awards in 1976. It was an exercise in living closer together that went against the tide of quarter-acre suburbia; the cultivation of a village in the sky where all sorts of different people could live together comfortably and affordably without forgoing their proximity to the city.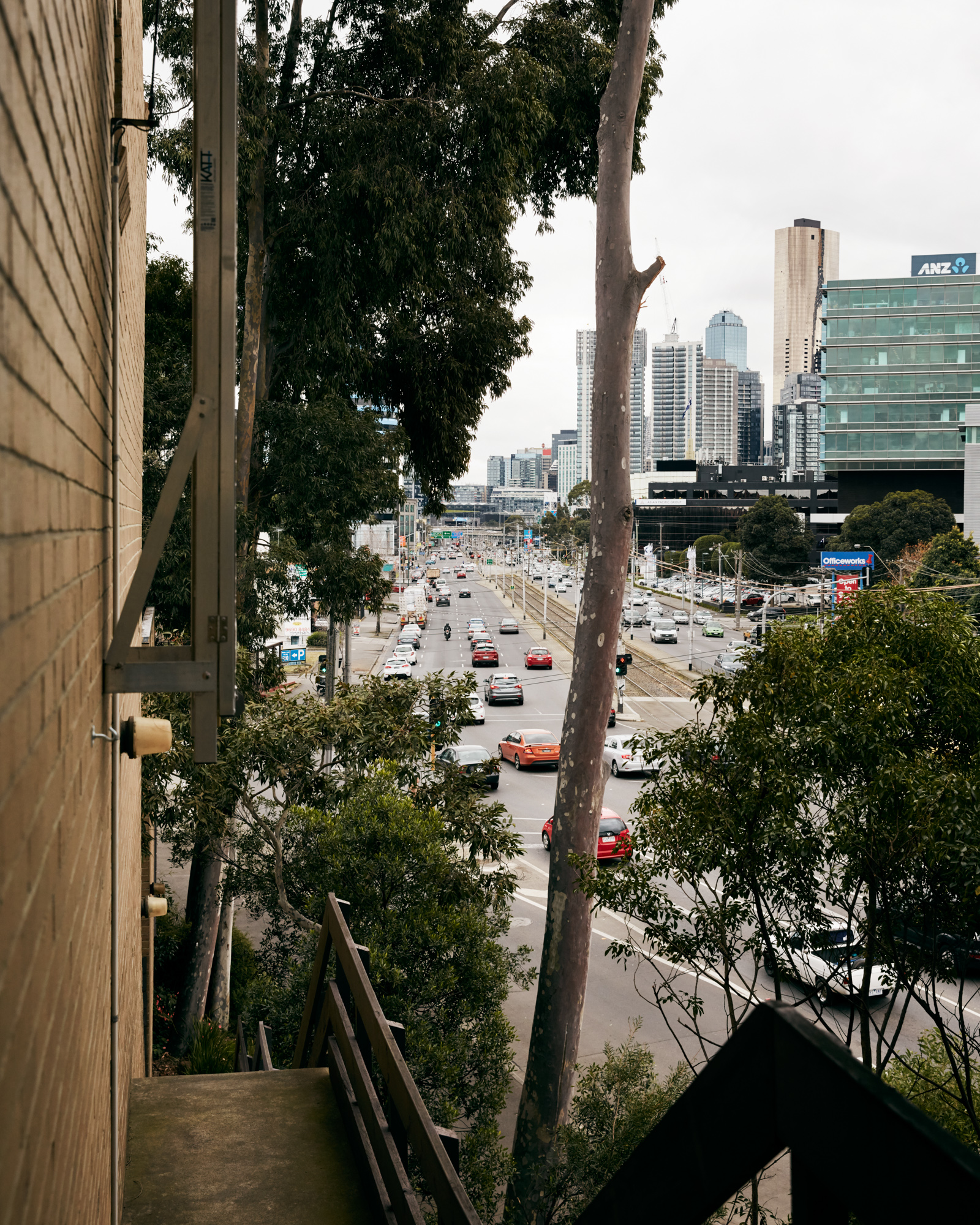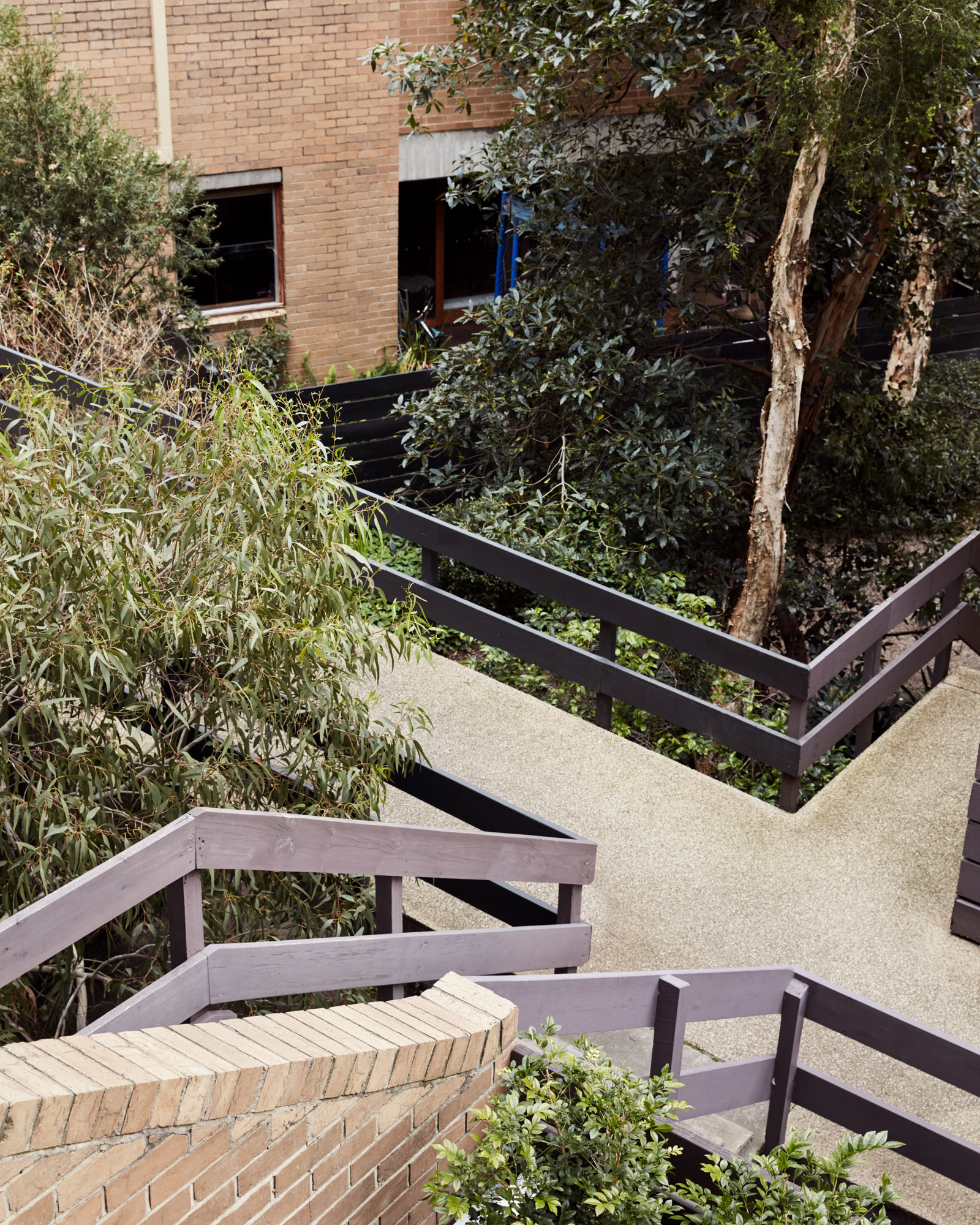 City Edge is made up of a series of three- and five-storey buildings comprising 175 apartments, a kindergarten, a crèche and countless cooing bellbirds, blackbirds, sparrows and parrots who live among the native gardens. Four out of five stages of Jackson and Walker's original design were realised. The fifth, on the north-western boundary in the crook of Napier and Park Streets, was intended to provide community shops and services for the people living there, but was sadly abandoned due to funding obstacles.
Seventy-three-year-old Jan Boyd ("but a young seventy-three") is a Stage Four resident, president of the owners committee and formidable opponent to the proposed development next door. Jan is an obliging guide and storyteller to photographer Tom Ross and I, meeting us at the Napier Street entrance. We climb a concrete staircase to a floating pedestrian walkway, one of a network of platforms that hover above the ground-floor car park and weave between the buildings. Jan points out the different types of apartments: to one side there are the stepped balconies of Stage Four's two-bedroom Bs, Cs and Ds; to the other, the purple-hued timber carrels of the one-bedroom As – where Jan lives.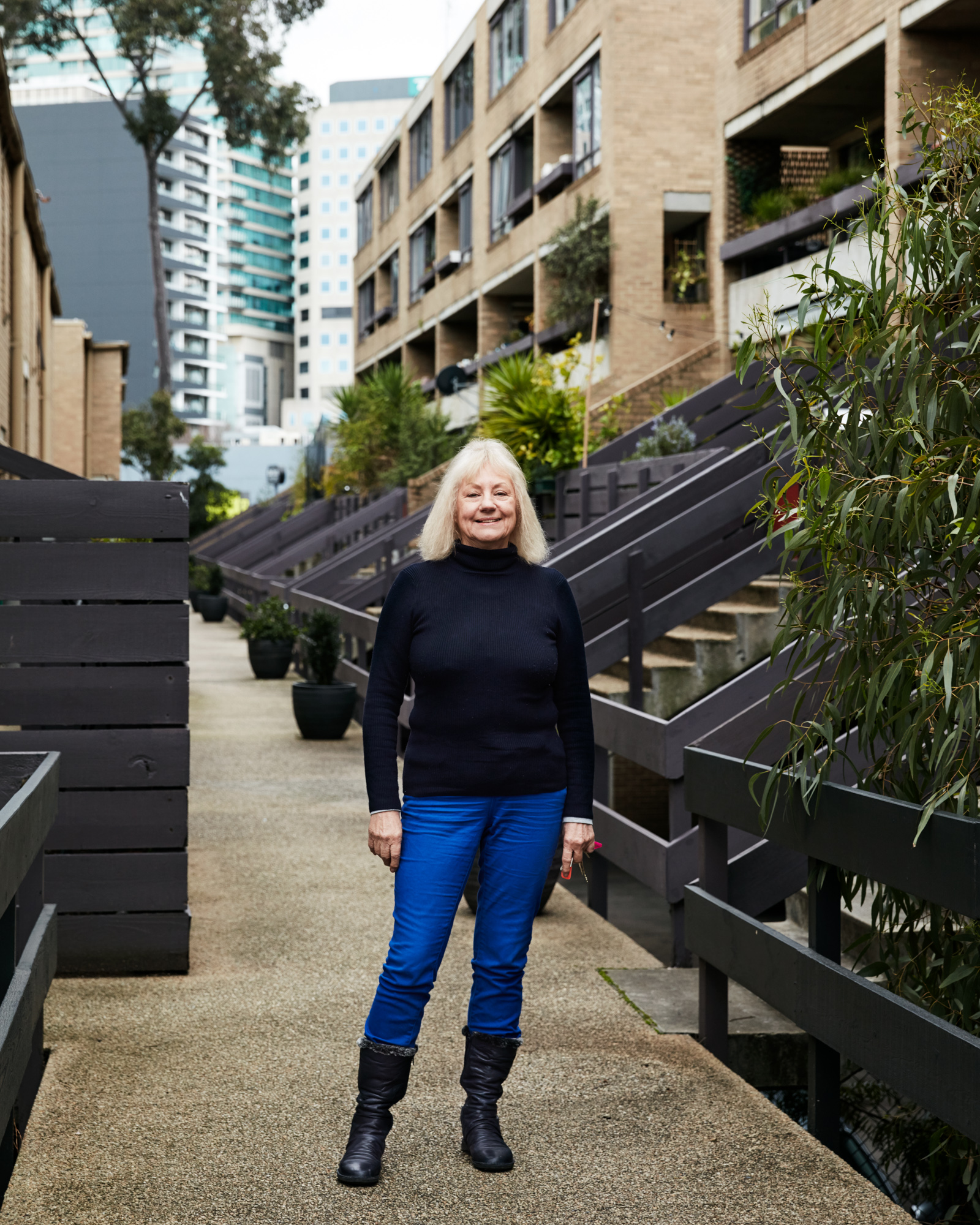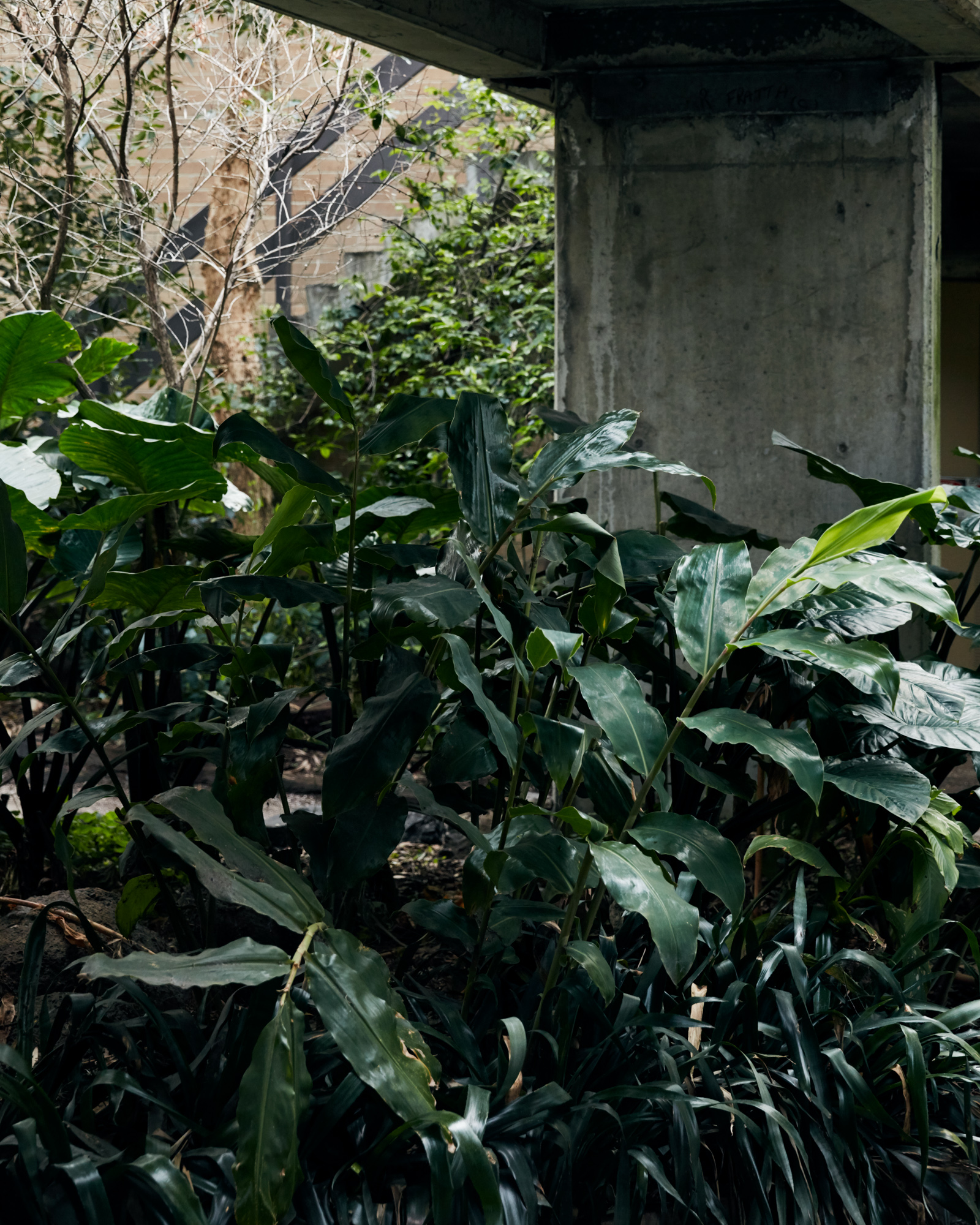 Jan's place is compact but connected to light and green on both sides. "The sunlight is the highlight of my little flat here," Jan smiles. "I tell people that I live in a tree house. It's beautiful, I sit [on the balcony] on my chair and I can read and knit and do whatever I like." Jan has happily lived here for 10 years, down-sizing and returning to the neighbourhood where she grew up – a suburb she says she would otherwise be priced out of, if not for choosing to live small.
Joining us on Jan's couch is fellow resident Craig Bridge, a 41-year-old brand strategist and restaurant co-owner who bought a split-level B apartment with his wife Christine two years ago. Craig is fond of London's Barbican Estate and saw similarities in materiality and communality within the design of City Edge. "The modernist approach to architecture contributes to the timeless character of the building," says Craig. He and Christine stalked the real-estate listings for months trying to find a way in, narrowly missing out on a Stage One two-bedroom A apartment before settling on their Stage Four B.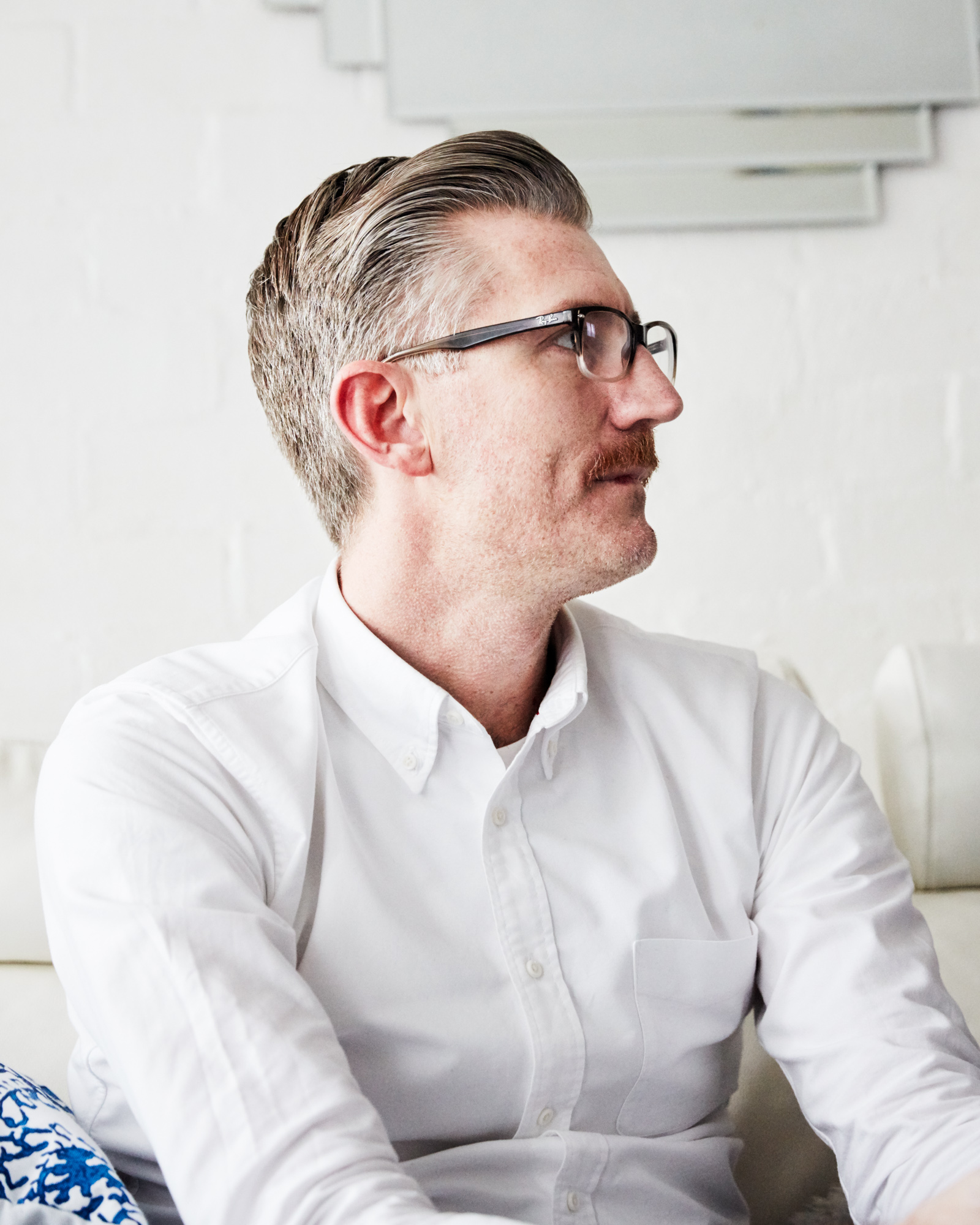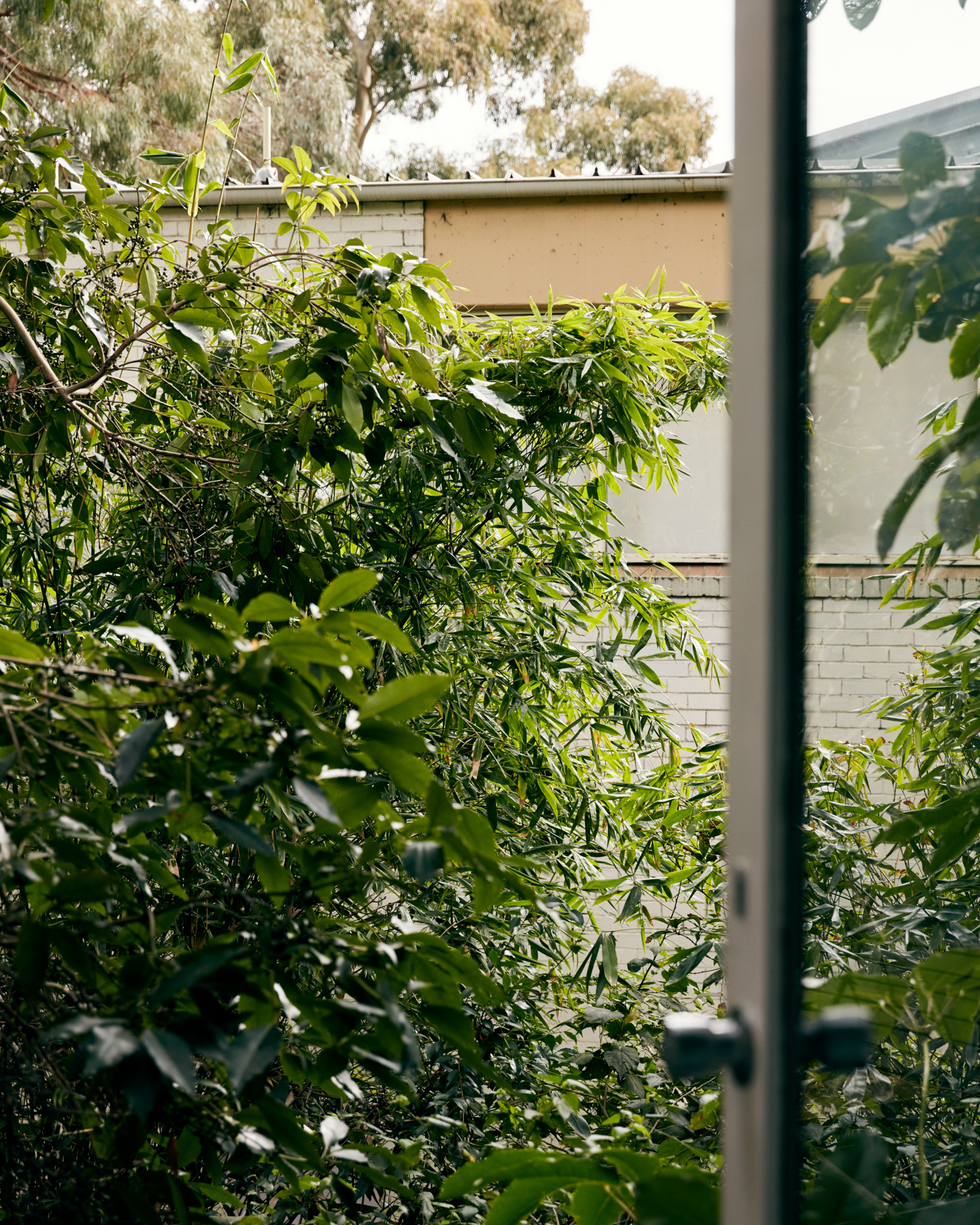 The four of us venture back across the gangway to Craig's, commenting on things as we go. "This tinted glass through here is a bit wild," says Craig, as we climb up a cobalt blue carpeted flight of stairs, which perhaps hasn't stood the test of time as much as some other details around us. Carpet or no, City Edge's sunny stairwells and corridors with city views are a much happier alternative to the dark, poky circulation spaces in the average high-rise built in Melbourne today.
Christine welcomes us in and she and Craig point out some of the original design details they love. The brickwork is a signature throughout all the apartments, transitioning from the tan hues of the building face to glossy white-coated interior walls. Thick triple-brick walls cloak the exterior, dulling the sounds of neighbourly goings-on and reducing city traffic to a soft murmur, while a '70s-style popcorn ceiling provides acoustic separation from the apartments above and below.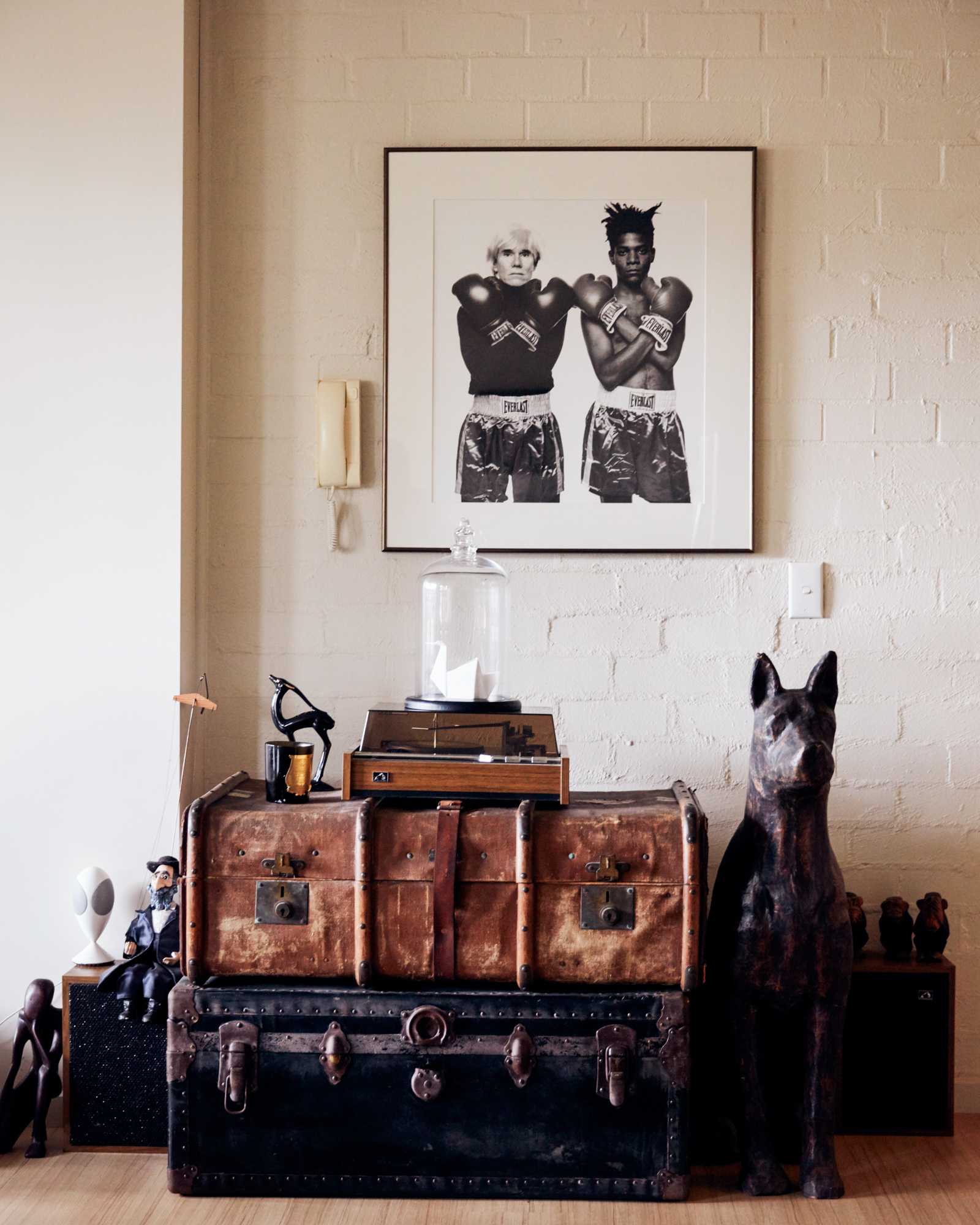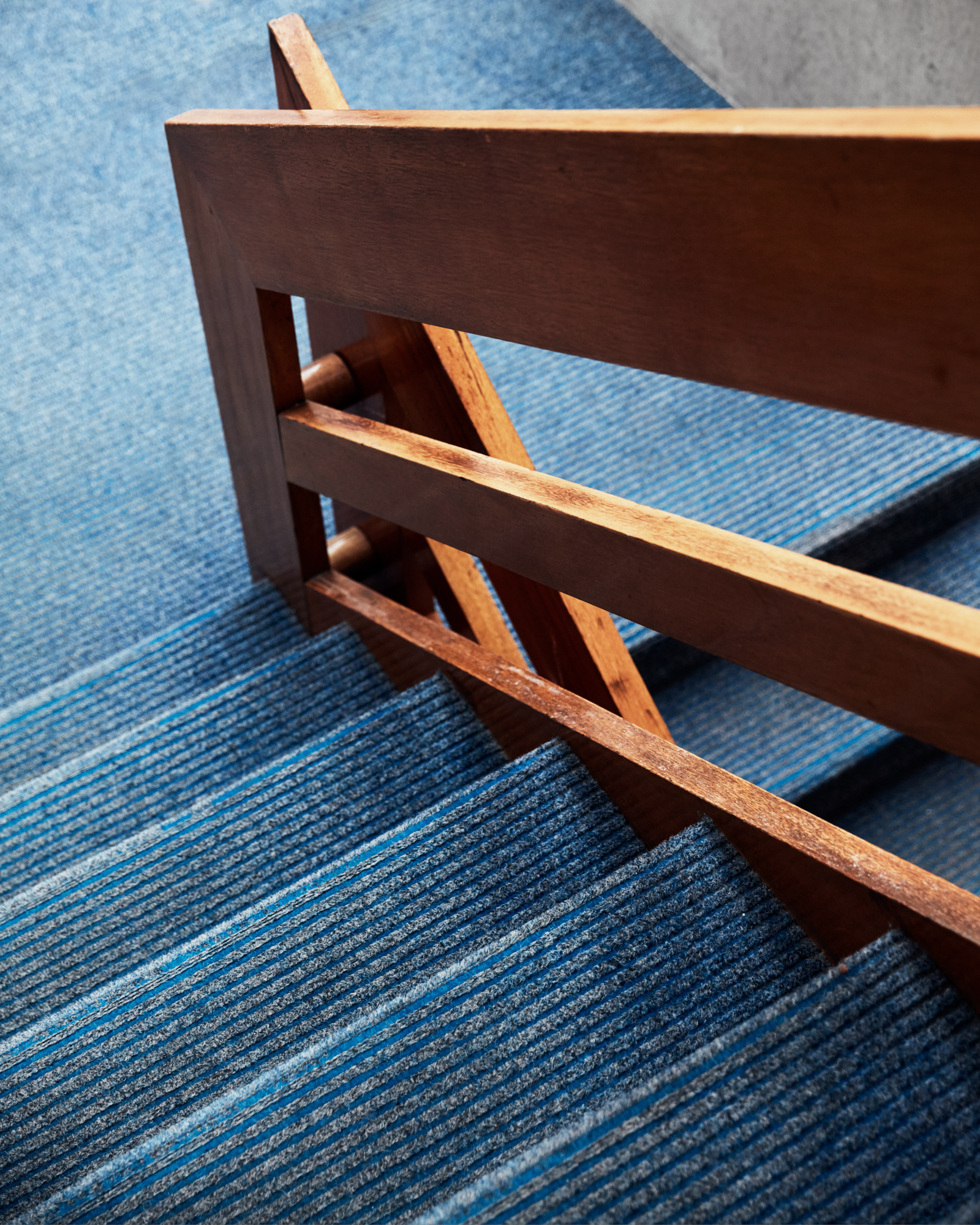 Asking Jan, Craig and Christine what they enjoy most about living at City Edge, the unanimous answer is the location – just a short stroll away from the South Melbourne markets, Albert Park Lake, the Botanic Gardens and the Southbank Arts Precinct. With three different trams at your doorstep, you can be in the city centre in under 10 minutes, avoiding the need for a car. (Craig and Christine rarely use theirs, usually getting around on two wheels instead of four.)
Before we say our goodbyes, we pay a fleeting visit to Angela, another Stage Four neighbour. Angela is one of the original owners who has lived in her place on-and-off since City Edge was built. Hers is one of the few un-lettered one-bedroom apartments on the ground floor, at the foot of the gum trees. Her green thumb and native flora knowledge, honed over 17 years of tending to a large garden in Moorabbin, have deftly guided the cultivation of the communal gardens. "We've got all sorts of honeyeaters, tiny skink lizards and praying mantises [thanks to] the native plants," Angela says. Punnets of native daisies and a silver princess eucalyptus are being nurtured in Angela's little courtyard before they join the shared garden beyond her fence. Angela introduces us to the Flinders Range wattle and purple-flowering native mint she's already planted.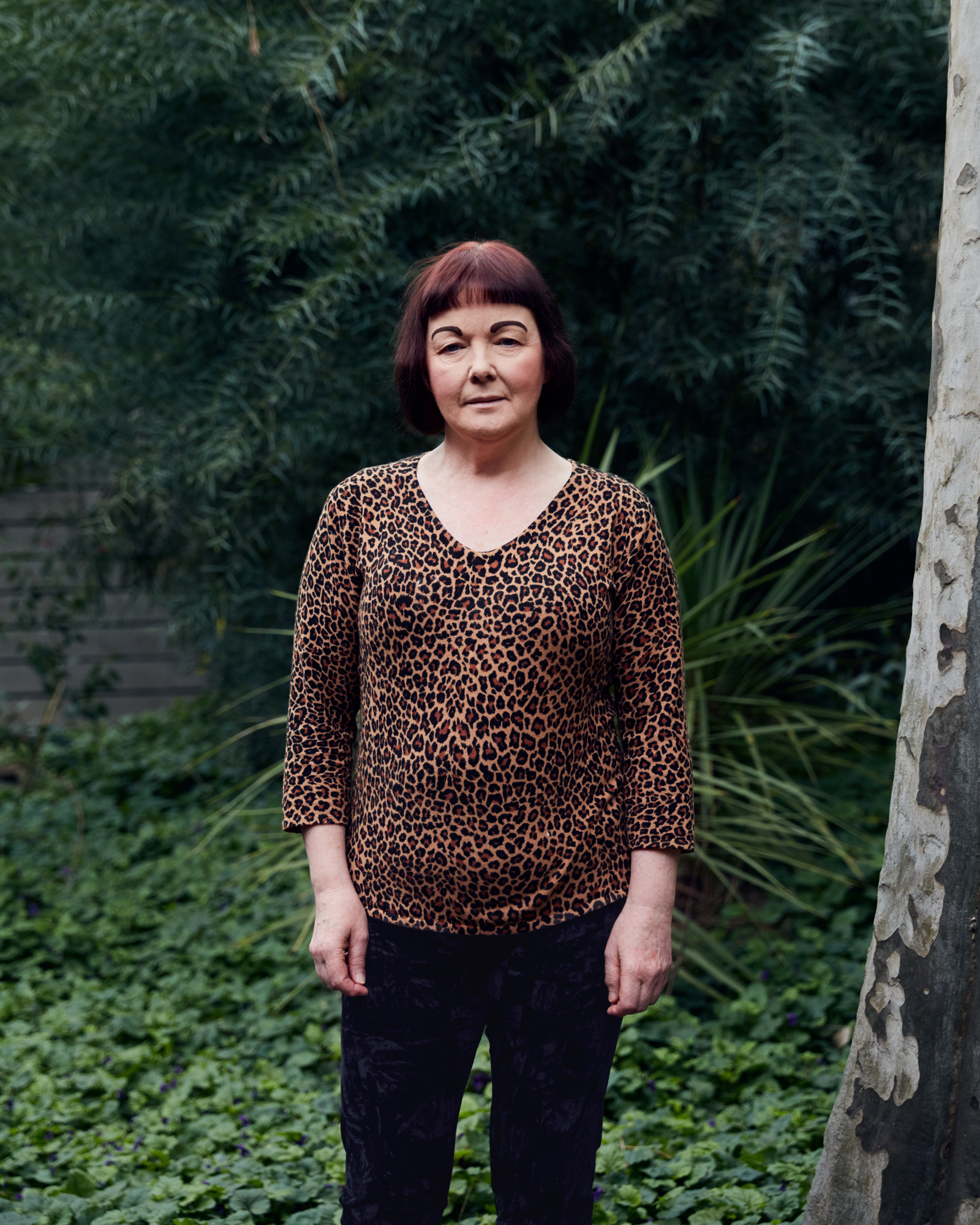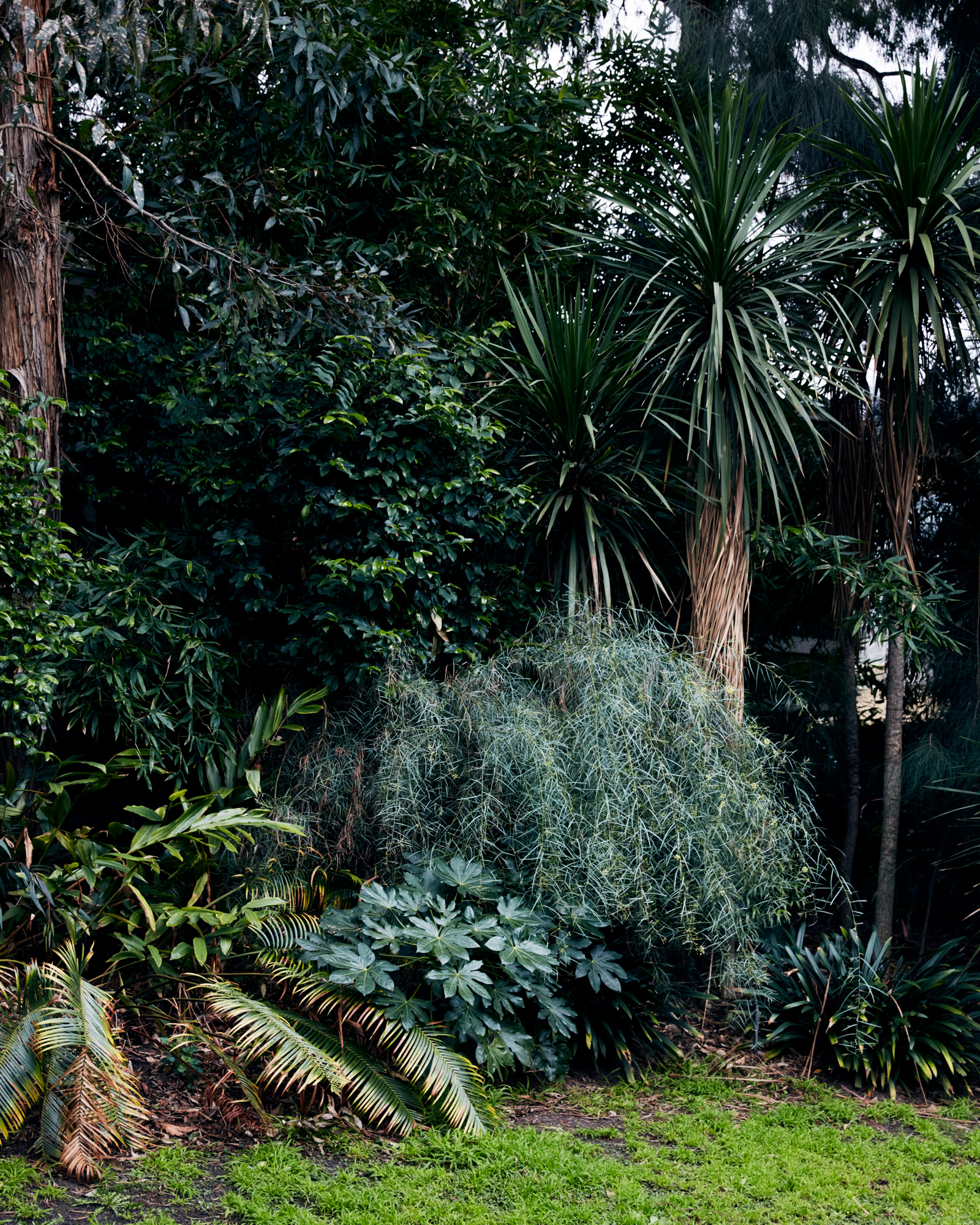 It's clear the community here is close-knit. There are families, first-year uni students, pensioners and pets, and they all look out for one another. "It's a real mix, but I think the place attracts friendly people," says Craig. Strangely, however, the neighbourliness doesn't seem to extend across the invisible boundary of each stage. Each group of residents keeps to themselves and has a dedicated owners committee. There are rivalries and disagreements. Jan's valiant efforts to get a City Edge-wide Christmas barbecue off the ground fell flat.
One thing that does manage to bring everyone together is the threat of development on the former Stage Five site. There is a rather innocuous two-storey brick building there now, hidden by the leaves. In 2014, the City Edge residents rallied to oppose a nine-storey development, leading to a victory at VCAT. The tribunal upheld Port Phillip Council's refusal to issue a permit on the basis that it was "an uncomfortable fit" for the local context. Now there's a six-storey glass blob approved to be built – a jarring contrast with the muted palette of City Edge that will result in the lopping of a few much-loved trees. The advent of this building is particularly worrying for the residents of Stage Four, where sightlines and access to sunlight will be severely compromised.
Jan is determined to keep fighting the good fight and will continue to stand-up for City Edge with her neighbours. They know they're part of something special here. "It's very difficult to explain to people just how good it is," says Jan. "You have to come here and see it."
Endless thanks to residents, Jan, Craig, Christine and Angela for walking us through City Edge and into their homes. This article first appeared in Assemble Papers Issue 6: 'Future Local' (September 2016).