People & Place
Hakan Elevli and Mohammed Haddara on building faith at the Australian Islamic Centre

Oct 11, 2016
More than just a place of worship – the Australian Islamic Centre embodies the experience of being a modern-day Australian Muslim. Co-designer Hakan Elevli and building director Mohammed Haddara sit down with Emma Telfer to discuss their unexpected collaboration with Glenn Murcutt and the process of creating a contemporary Australian mosque.
On the opening night of the NGV Australia exhibition Glenn Murcutt: Architecture of Faith in August 2016, Glenn Murcutt AO was filled with praise for the Newport Islamic Society, his client for the last 10 years in the creation of the Australian Islamic Centre in the south-western Melbourne suburb of Newport. "I have not worked with a better group of clients in my 47-year career," he declared. It's high praise coming from perhaps Australia's most celebrated architect, not to mention the country's only Pritzker Prize winner, especially after the arduous process and numerous hurdles involved in getting the project off the ground.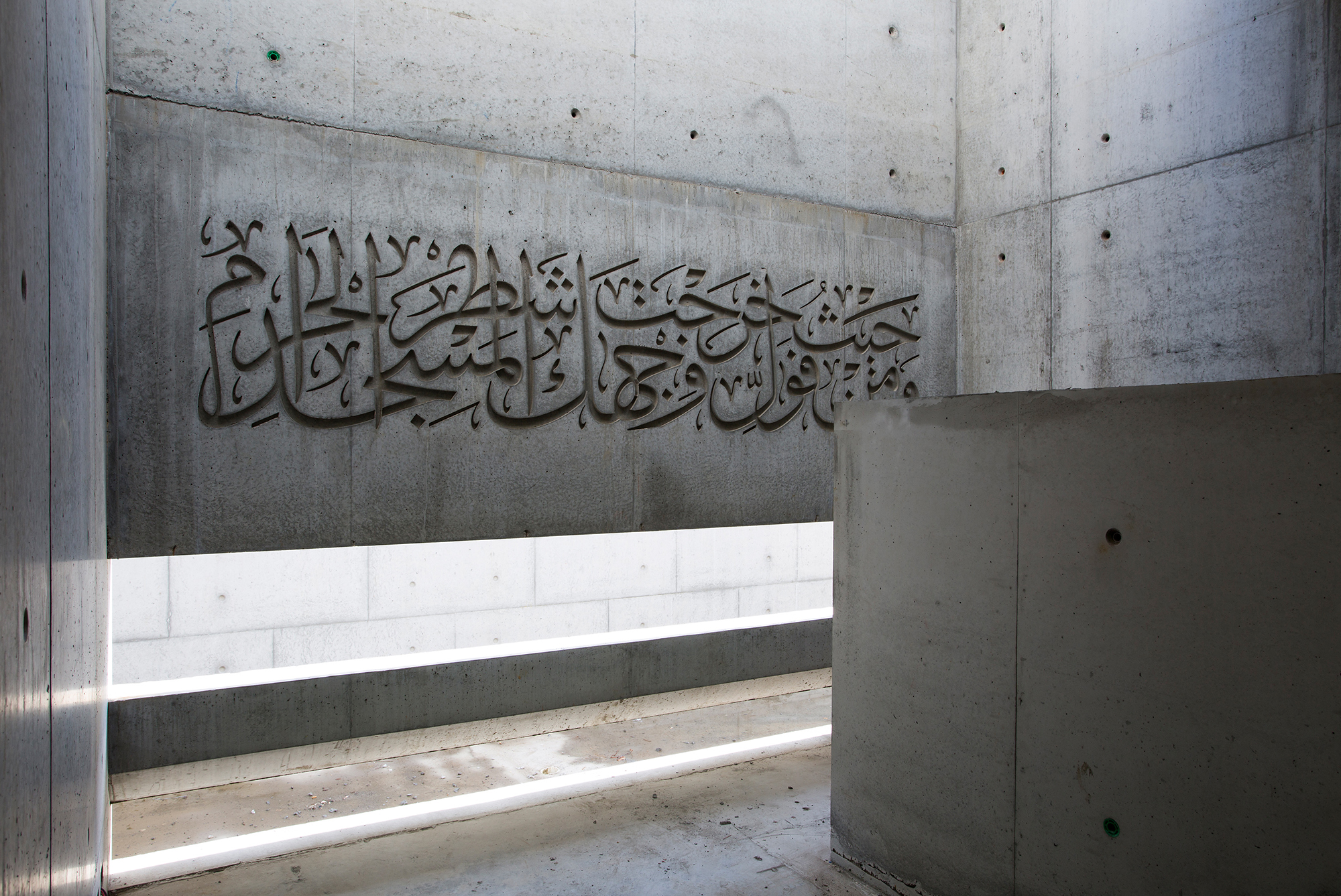 Designed in collaboration with Hakan Elevli, principal of Melbourne architecture practice Elevli Plus, and funded by the Newport Islamic community, the building comprises a mosque, a library, a cafe, an education centre, sporting facilities and a large outdoor area. The Centre maintains an unobstructed view throughout the building, in a deliberate gesture of transparency and inclusion: it is actively intended to welcome the non-Muslim community inside its doors. Murcutt and Elevli's design does away with the need for a high-domed roof and traditional minaret, focusing instead on the purpose of such features within the mosque, and how they might be reinvented. (Of course, essential requirements were respected, such as the orientation of the mihrab – a wall towards which prayer is conducted – towards Mecca.) Perhaps most striking is the series of 96 golden lanterns embedded in the mosque's roof that filters light into the spaces below through red, yellow, green and blue oculi made of glass, triangular in shape, echoing the significance of odd numbers in Islam.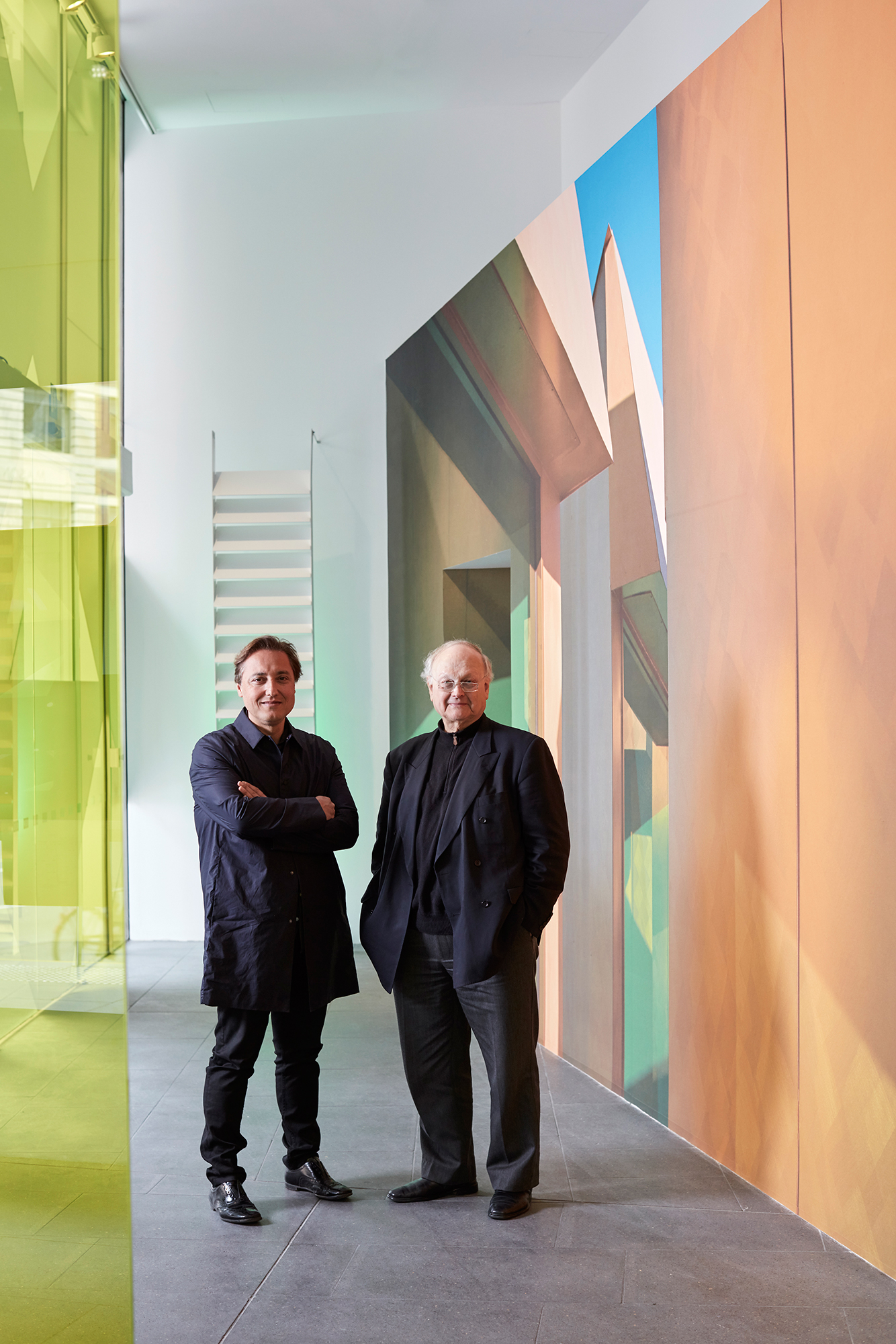 On the last weekend of July, the almost finished Centre (set for completion towards the end of 2016) was opened to the public for the first time as part of Open House Melbourne. In this special Pollinate interview – our occasional series of conversations between thinkers, doers and experts from a diverse range of fields – Open House creative director Emma Telfer speaks with Hakan Elevli and project manager Mohammed Haddara (associate director of Haddara Constructions, the builders of the Centre) about the story behind this groundbreaking and inherently community-led project aimed at forging new perceptions of Islam in Australia.
*
Emma Telfer: Let's start with the birth of the Australian Islamic centre and the somewhat radical appointment of Glenn Murcutt as architect. Where did a small Islamic community group in Newport with a modest budget find the audacity to engage Australia's only Pritzker Prize winner and, arguably, the country's most respected architect?
Mohammed Haddara: I was approached by the Newport Islamic Society to head the building committee because of previous experience working with the community. The brief was great: their focus was on the youth and they wanted a contemporary building. They didn't just want to build a mosque, they wanted a place where they could socialise and involve the youth in their community. So I was introduced to Michael Zaar, who had already supported the community in trying to find a site, and together we headed this building committee team. It was Michael's idea to approach Glenn – I didn't actually know who Glenn was! [Laughs] Michael wanted to approach some famous architects, and Glenn was the first one we approached.
Hakan Elevli: Was I the second one?
MH: You were the third, actually! [Laughs] It was Glenn, then Zaha Hadid, and then Hakan Elevli.
HE: I'm very happy to be included in that bunch!
MH: We looked at Zaha Hadid because of her Muslim background and Glenn because he's an Australian architect with great experience.
HE: He had also been a judge at the Aga Khan [Award for Architecture, which focuses on projects that serve the Islamic community], though he didn't have any experience in designing Islamic architecture himself.
MH: So Glenn got back to us and said he was interested and that's when we approached Hakan.
HE: I got a phone call saying, "We know you've designed mosques…" – I designed a very traditional mosque in Keysborough a long time ago, before I had even started my practice – "…would you be interested in collaborating with Glenn Murcutt to help design our new mosque in Newport?" At first I didn't believe it, I thought it must be a joke! Who would ask me to collaborate with Glenn Murcutt on such a beautiful project?
MH: So we organised for Glenn to come to Melbourne, and we took him around to a few mosques. Some were really well designed, like the Turkish mosque in Albion, but other than that a lot of the mosques we saw were converted halls and 'make-do' mosques.
HE: Glenn's vision is to always understand what he's doing. Even though he understood a little bit about Islamic architecture through his involvement in the Aga Khan Award, he wanted to see what kind of facilities already exist in Melbourne. So we took him to a few sites and to meet the committee.
MH: I think the collaboration was just meant to be. For me, as a builder, you get complex construction, and you sit there and say to yourself, why does it have to be that way? Why can't we build it more simply? But when you understand the purpose and the design intent, you just do what Glenn wants because there's reason behind it. I've never experienced anything like it.
HE: Working with Glenn, you start to realise the difference between architects and architects. At no stage did we ever say "the facade has to look like this because it will look beautiful" – Glenn doesn't work like that. It's about the light you can bring in, the purpose it has and basically the design evolves from the requirements of how the building is going to work. It's all about the nature and also how it's positioned in relation to the Islamic requirements for the building. Every little detail has been conceived specially, rather than going to standard specification and saying okay, we're going to use this. We never did that.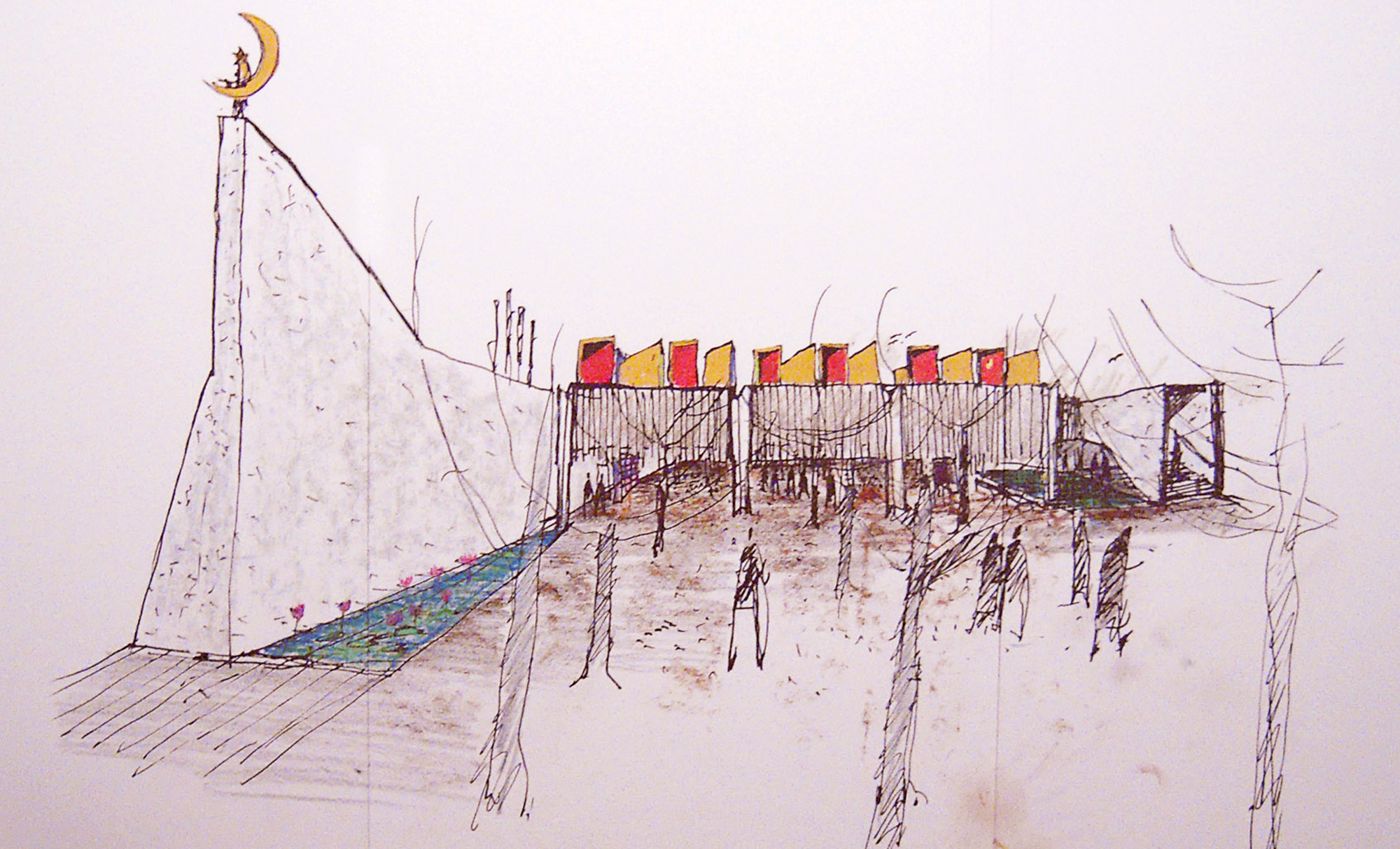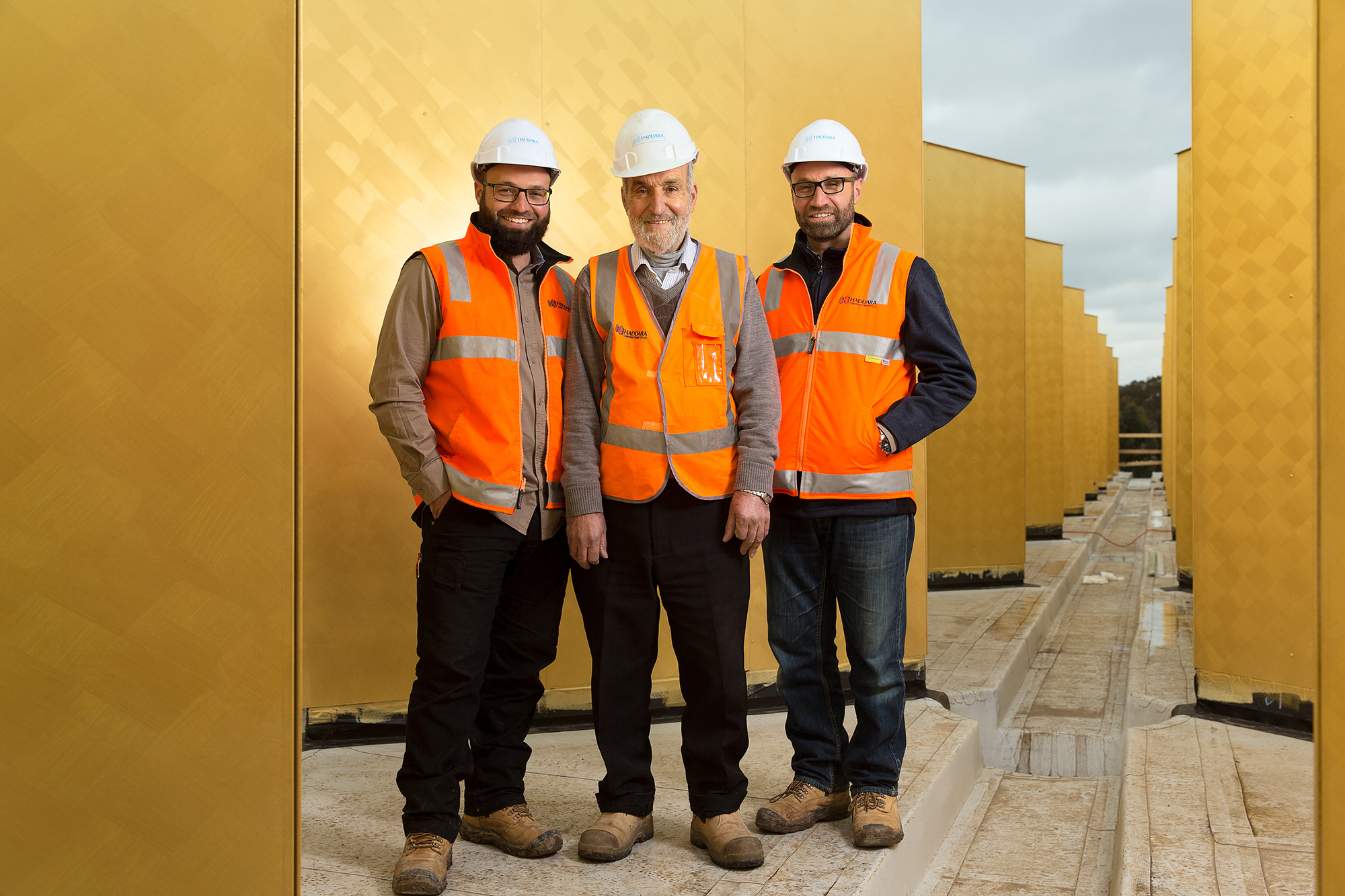 ET: It probably would have helped with your budget if you did! But it sounds like the project has always been fluid.
MH: Exactly. And we did end up with a project that cost us a lot of money to make. We know from our experience what a building will roughly cost, but with this one we had no idea because it's just so different.
HE: Glenn just has so much respect within the community – they're totally for everything he does, and they don't want to let him down. The Imam actually invited Glenn to the first prayer, to come up to the first row. He said "We don't mind what you do, how you do it, what you pray or what you're thinking, but just be there with us." There is genuine trust there; they genuinely do love him. At the talk we did [at the NGV Australia with Glenn Murcutt for the opening of the exhibition Glenn Murcutt: Architecture of Faith] the Turkish Consul General [Mehmet Küçüksakallı] came up to me after the talk and said, "I want to congratulate you two because this isn't just a mosque anymore – this is beyond a mosque." It felt like such an amazing accomplishment to hear that. And to work with Glenn was such an incredible experience too. People pay a lot of money to take part in his masterclasses, which I never would have done – I probably wouldn't have been selected!
ET: Sounds like you ended up having a 10-year masterclass.
HE: Exactly, and we've developed a great bond over that time. But what really feels great is seeing the outcome. The project is about Muslims, because having our culture within Australian society is so important, but really I believe being able to show non-Muslims what we do is the best outcome possible. That's why I believed in having Glenn on board. Because, again, everything he does has a purpose, and the purpose for this project was this beautiful integration between Muslim and non-Muslim Australians. It's so important to be able to achieve that and especially to be able to achieve it through architecture.
MH: I commend the community for wanting to build a contemporary mosque that would attract the youth in the community too, and for asking Glenn to design it for them. It shows they had a real vision.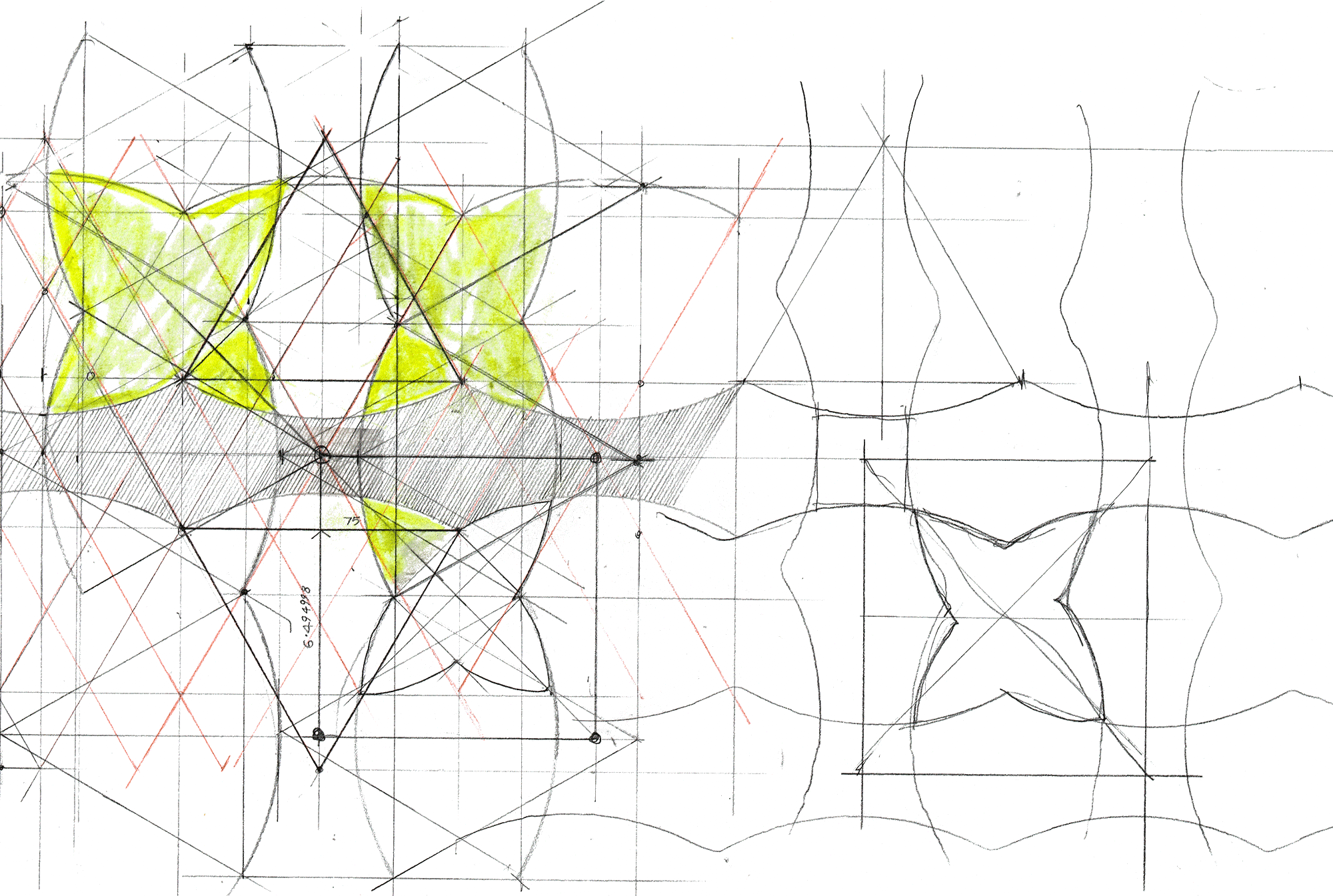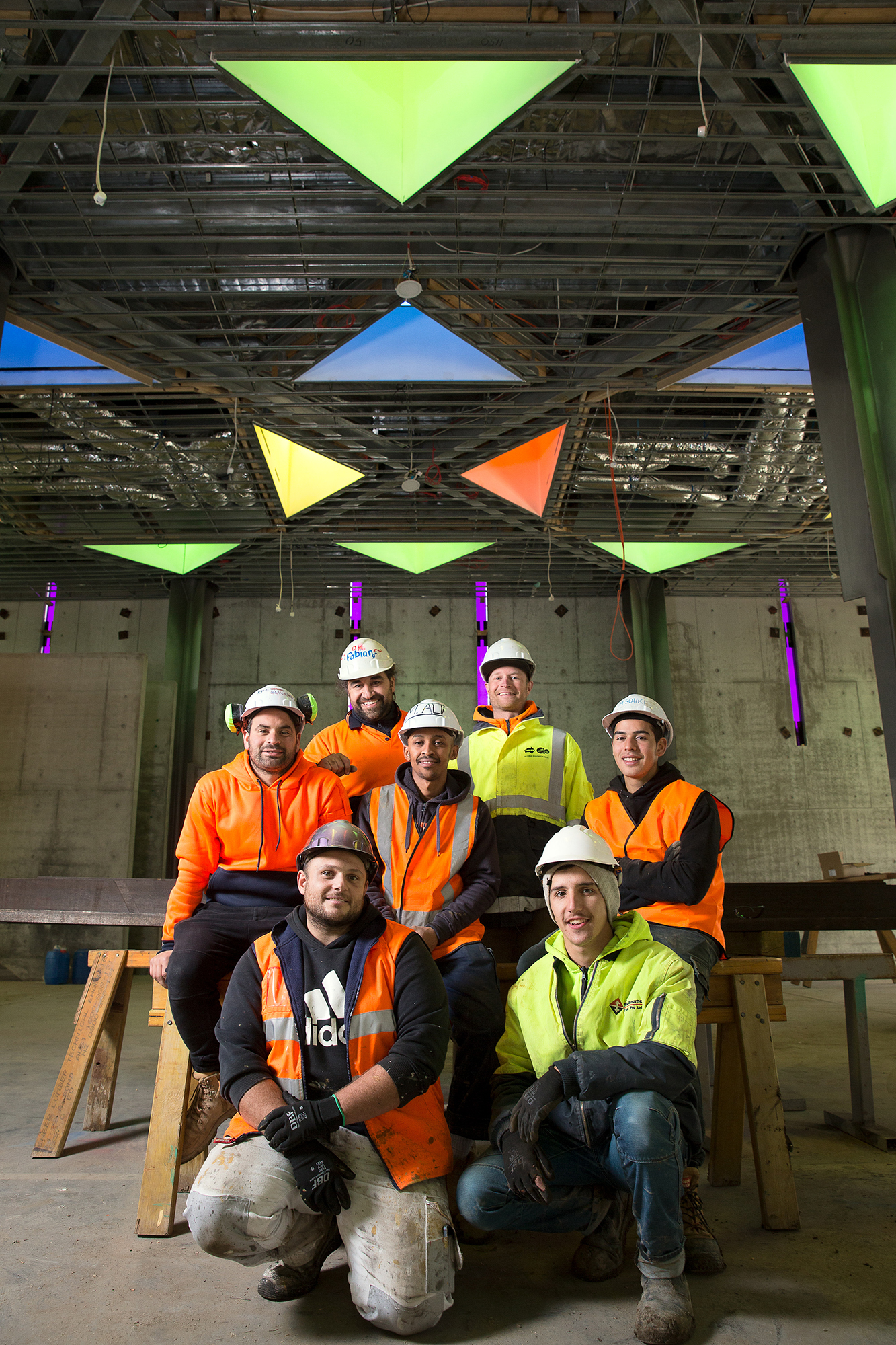 ET: Was there ever any resistance from community elders about the proposed contemporary design? It sounds like Glenn's considered approach and purposeful nature would have helped things along, but were there any hairy moments along the way?
MH: Prior to the current Imam, there was another Imam who was a big supporter of the project; he still is. And Glenn actually knew more about minarets and domes than we did, more than us and more than the community, so when Glenn explained why we should or shouldn't have different elements in the mosque, the Imam could see why.
HE: Having the Imam's support right from the beginning was the most important thing, because if the Imam says no, it's not an option. But the Imam was definitely a forward thinker. And there are actually so many examples of mosques with no domes and no minarets, globally. As Glenn would say, we don't need these things anymore. That's why he created the gold lanterns, which represent the domes, bring in coloured light and act as ventilation shafts to exhaust hot air out of the building during summer. The beautiful thing is that now, no-one is saying, "I wish we had a dome". The building is so beautiful and unique, people are going to come out of their way to pray here.
MH: It's not just a building, it feels like we're creating a piece of art.
HE: Mohammed had never heard the word 'couture' before, then during one of the Open House tours someone said, "This is like a couture building!" and afterwards Mohammed said to me, "What does 'couture' mean?"
MH: [Laughing] And it actually describes it perfectly!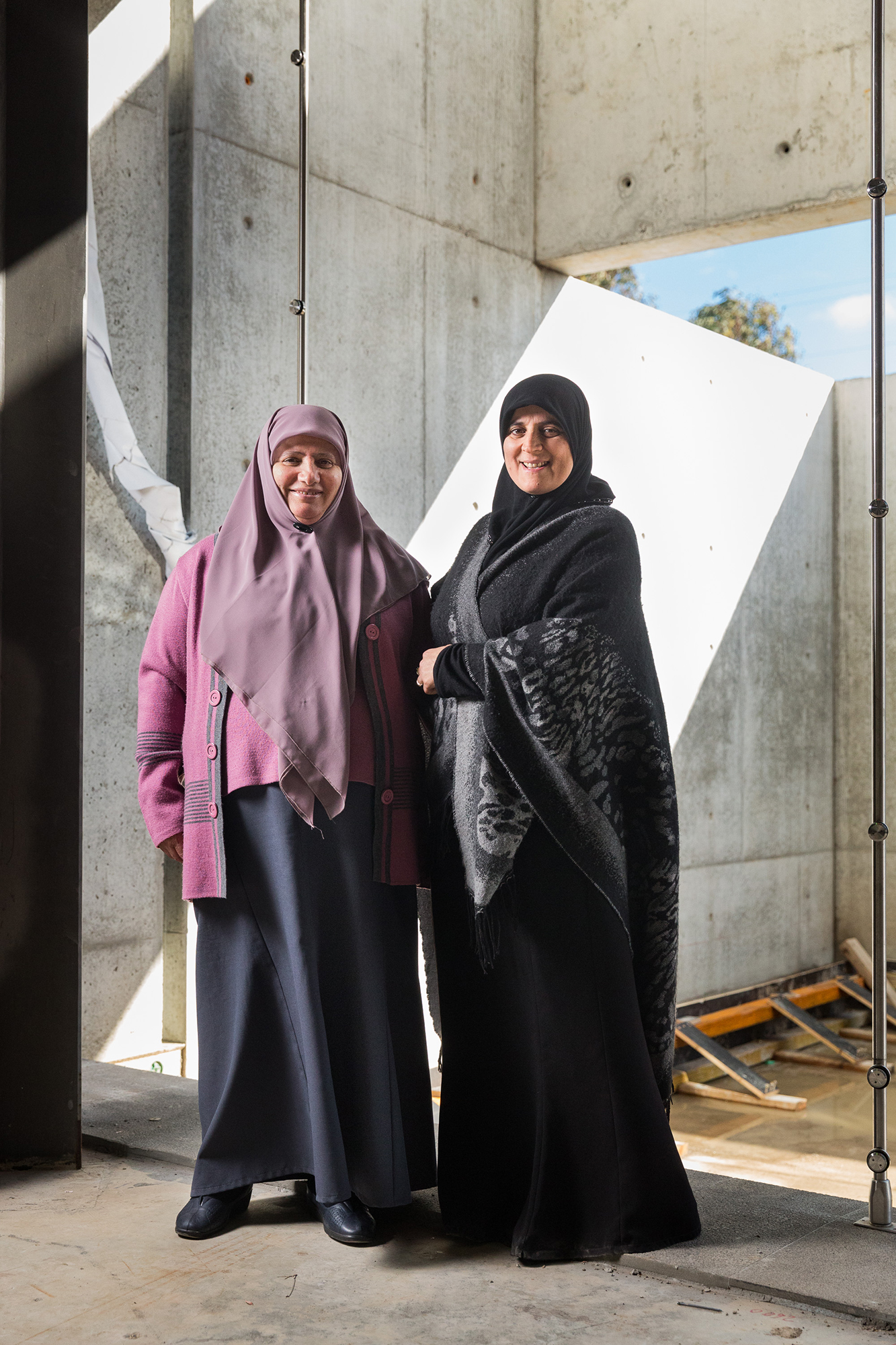 ET: You spoke on the tour about the younger members of the Newport Islamic community, who have been excited about the building representing an Australian identity within their faith.
HE: I have a 10-year-old daughter, who has a mixed background. She doesn't look Turkish like me, and I'm bringing her up in an Australian Muslim way. I want young people like her to find a place that they'll feel comfortable in and can have ownership of. I think kids would love to see classic mosques and churches as well, of course, but this mosque represents the experience of being a modern-day Australian Muslim. It's also a great learning centre.
ET: You've also spoken a lot about your respect for Glenn and the great honour in working with him. How has your relationship with him impacted your own practice?
HE: I've been living and breathing architecture since I was a child. I can't do anything else! But before Glenn, my attitude towards architecture was very different to now. I'm more selective in what I do.
MH: I was born and raised in the construction industry – my dad established our company. I know a lot about construction and I've done a few community projects before, too. But I've never felt about a building the way I feel about this one. I want to see more purpose in what I do now. That's how it's changed me – it really has.
Thanks to Hakan Elevli and Mohammed Haddara for sitting down with us and Emma Telfer to discuss the wonderful Australian Islamic Centre. To find out more about the Australian Islamic Centre, be sure to visit 'Glenn Murcutt: Architecture of Faith', running at the Ian Potter Centre: NGV Australia at Federation Square until 19 February 2017 (huge thanks to the NGV for sharing a selection of photos from the exhibition with us). For more information on the Australian Islamic Centre, you can also visit australianislamiccentre.org.
Original image: External view of the ceiling lantern of the Australian Islamic Centre, Newport, designed by Glenn Murcutt AO and Elevli Plus in collaboration, 2016. © Tobias Titz; Glenn Murcutt. Courtesy National Gallery of Victoria.