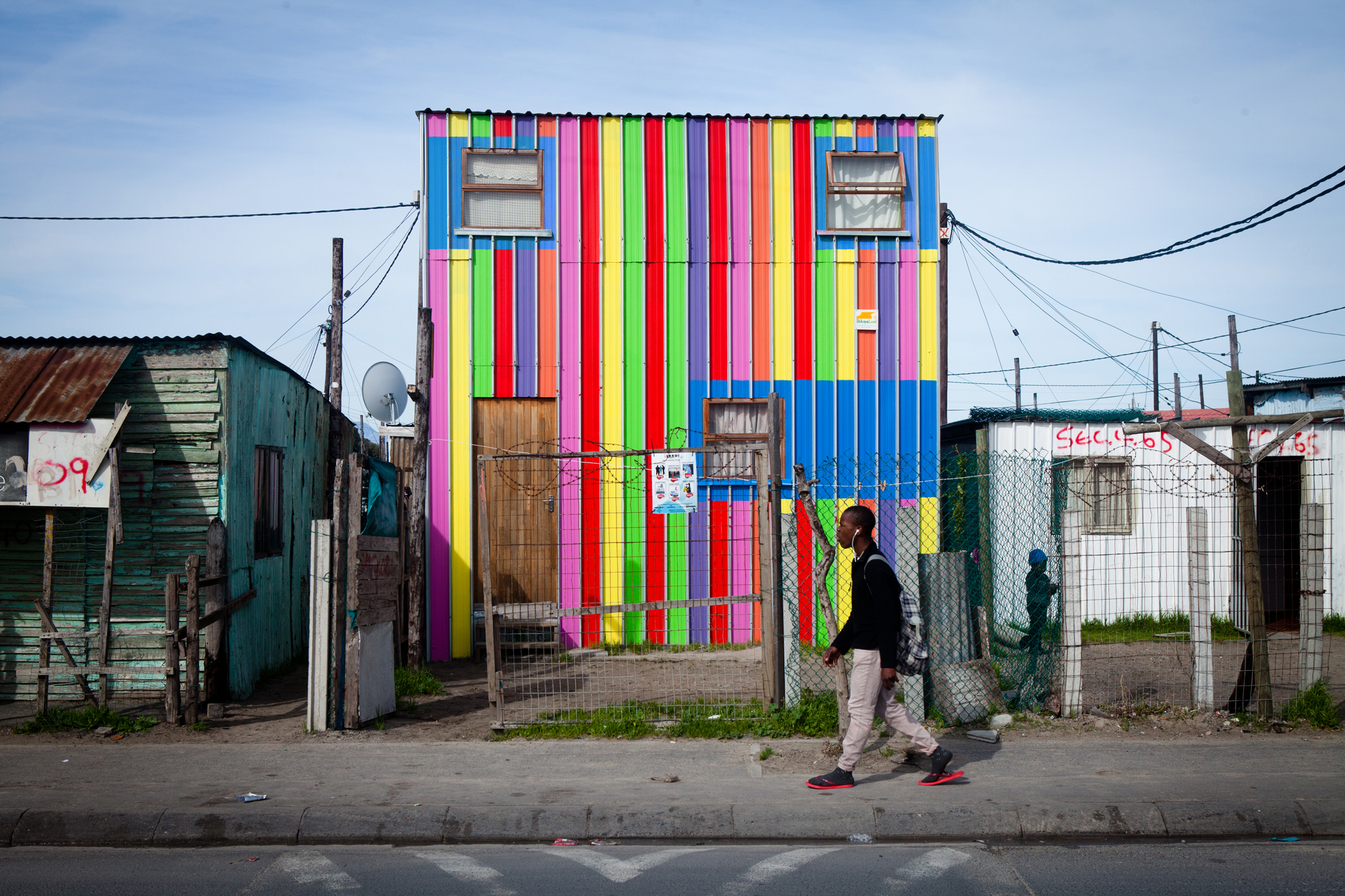 Sep 13, 2016
'Interdisciplinary' is often described as the collaboration between different fields – a synthesis of professions in order to usher in new perspectives. In general, the term doesn't gel with me, especially when it comes to architecture. (It brings to mind marketing jargon, or the pseudo-intellectual.) Yet, in the context of Urban-Think Tank (U-TT), the Caracas and Zurich-based 'interdisciplinary design studio', the word symbolises the broader ethical role architects can play in built outcomes.
More and more, architects with strong moral consciences are taking development into their own hands in order to shape better cities through design. Locally, if we take the case of the Nightingale apartments in Melbourne as an example, we can see that the push for a broader, socially and environmentally engaged architectural practice is on our doorstep. Regardless of the Victorian Civil and Administrative Tribunal's (VCAT) 2015 decision to overturn the project's town planning permit [since time of writing, the building has once again been approved and construction is underway – Ed.], the Nightingale has shown that architects have the ability to move away from acting as mere 'service providers' towards becoming generators of space and social progress. Nightingale, established by a group of Melbourne architects, aims to engender an industry-wide change in attitude towards ethical development. This group represents the interdisciplinary architect: market developer, designer, researcher and activist.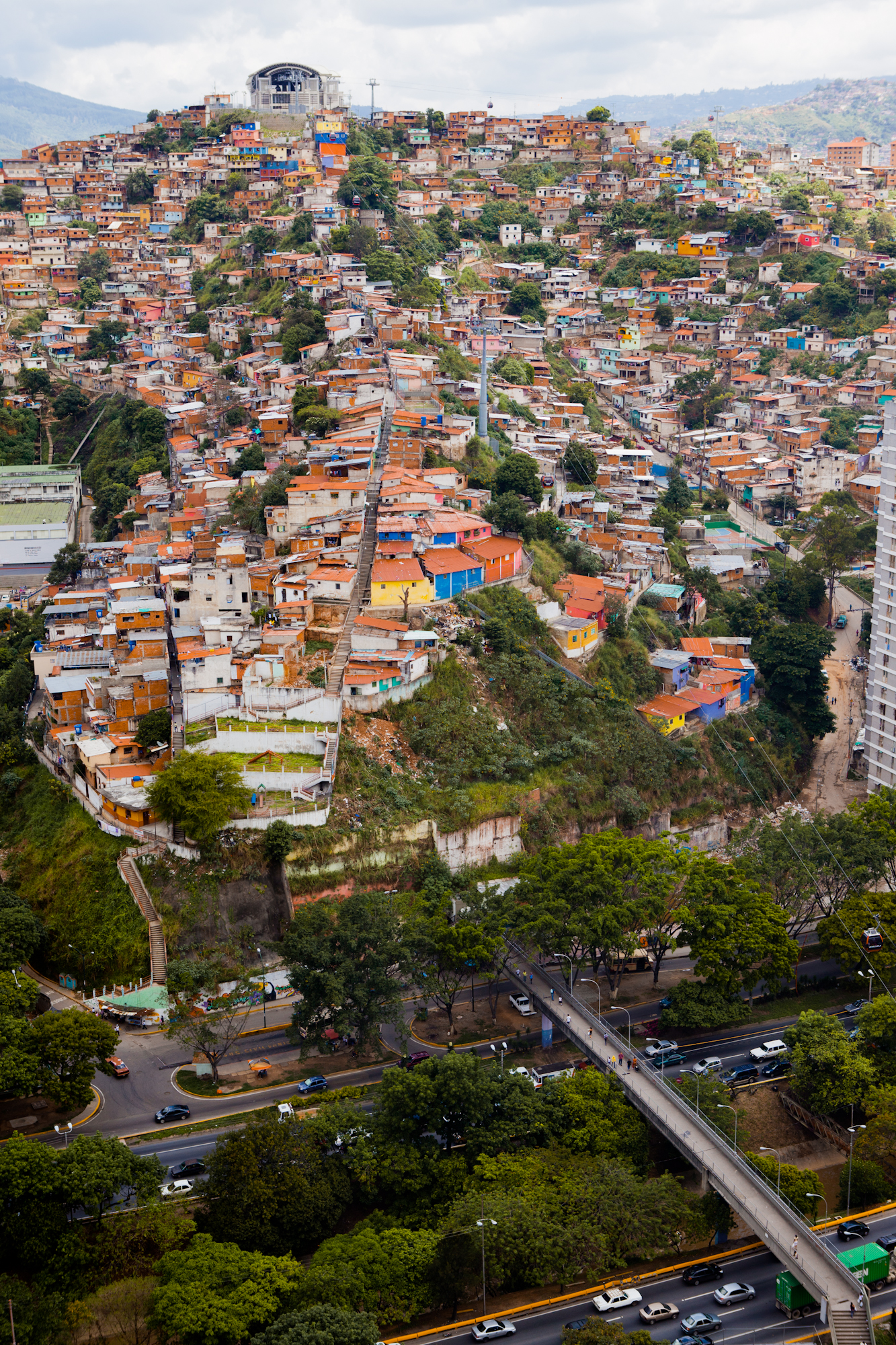 When I speak with Alfredo Brillembourg (co-founder of U-TT), it is clear he feels that this aspiration to better society has been lacking in architecture over the past 20 years. Says Brillembourg, "Our concern is the ethical and moral role of the architect in society." This moral consideration has been a constant in U-TT's work over its lifetime. After speaking with Brillembourg and reflecting on local and global antecedents and current trends, I can see how 'interdisciplinary architecture' is a good thing after all.
Brillembourg set up U-TT with fellow Columbia University graduate Hubert Klumpner as a not-for-profit organisation based in Caracas, Venezeula, in 1998. U-TT has since morphed into a larger organisation working within the auspices of the Swiss Federal Institute of Technology in Zurich (ETH Zurich) in collaboration with government and philanthropic partners, yet its architectural agenda remains focused on 'the city' – and more notably the 'informal city' as Brillembourg puts it. Twenty years ago, Caracas was a city suffocating through economic crisis. Vast inequality played out between self-organised, informal slum communities and private development. Caracas defined 'informal' for U-TT; a city that, as Brillembourg says, is "not made according to any standard prescription… [it arose] from within itself and its makers." Where many saw a city in crisis, Brillembourg and Klumpner saw potential.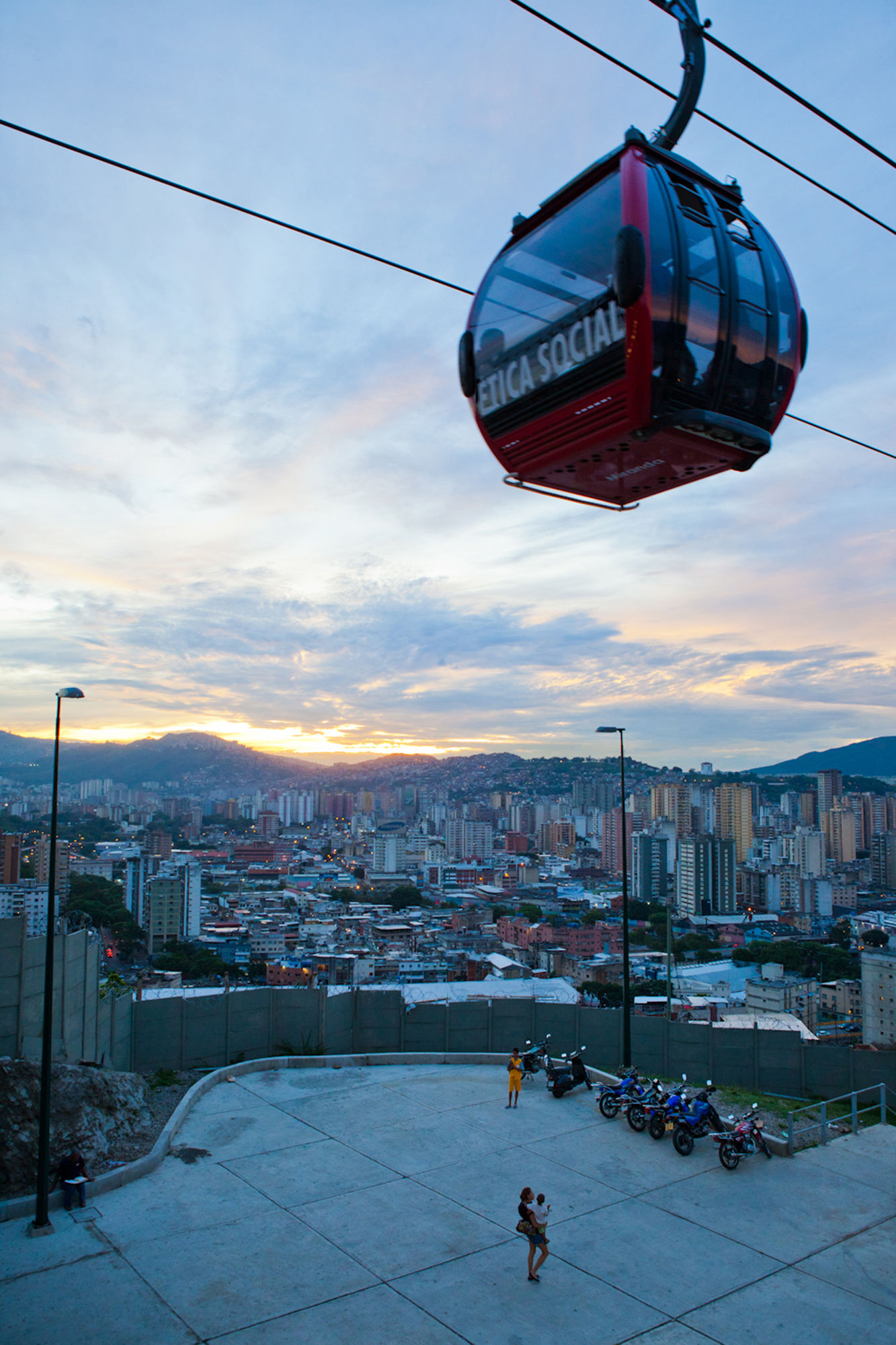 Brillembourg believed that U-TT had "to break away from the traditional office [model] of waiting for the client to call, to create an advocacy group of interdisciplinary skills in order to tackle the larger issues at stake." What was at stake was equality, or "the right to the city". As Brillembourg puts it, the shaping of and access to the city was being determined by "the few in power": the government, corporates or the private sector. The inequality lay, not only in the access to development, but in the disregard the city's powerbrokers had for the informal model of self-organised communities. Western ideals of modern architecture and planning took precedent, yet these produced inadequate realities for the communities of Caracas. The city's population had exploded through rural-to-urban migration: private citizens attempted to house themselves on unclaimed land, forming informal settlements untouched by governmental planning or social constructs. It was in these so-called 'slum' communities that U-TT saw the possibility of future city developments through collective effort. The research they put forth became Informal City: Caracas Case. Funded by the German Federal Cultural Foundation, it was their first publication and set about explaining the need for a shift in the consideration of urban culture. Focusing on the 'global city' of Caracas, U-TT claimed: "It is questionable if architects will build this city… an interdisciplinary approach to working with developers and politicians is not a choice, but… literally an issue of life and death." While polemic, U-TT's conclusions had supporting evidence. At the time, 42 percent of the whole population of Caracas was settled in self-organised informal communities. With such a staggering percentage of city dwellers forming their own paths to urbanisation, what was the role of architects and planners in the creation of these settlements? And, assuming there was at least some involvement from these professions, how much could they influence the speed or quality of this development?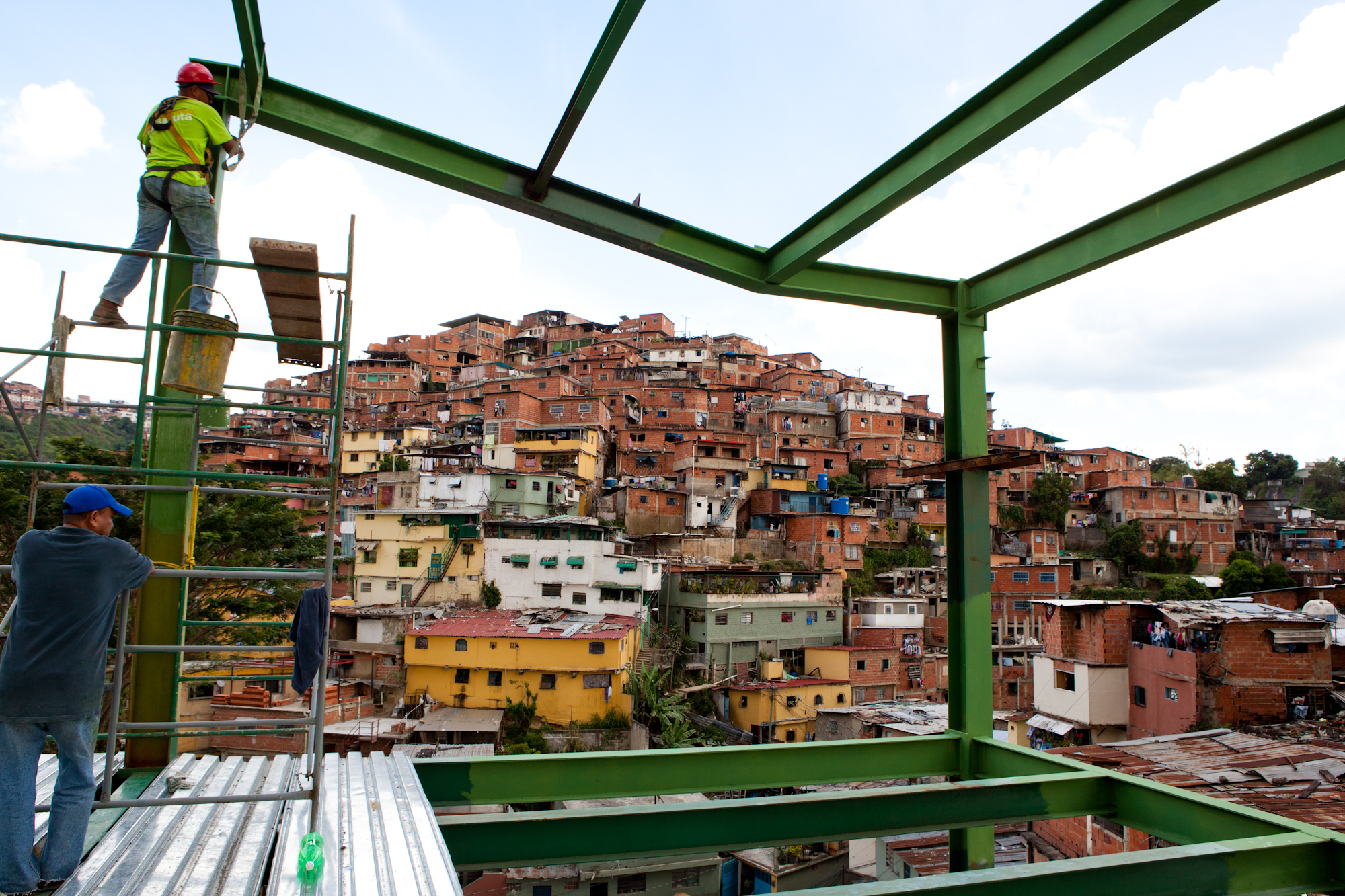 The role of architecture in informal communities is a question that is already being posed from within the profession. Architects such as Alejandro Aravena of ELEMENTAL, the curator of the 2016 Venice Architecture Biennale [and recipient of the 2016 Pritzker Prize – Ed.], have initiated projects that give flexibility and control of housing back to the owner-occupants. In 2004, ELEMENTAL settled 100 families of Quinta Monroy, Chile, at a cost of US$7,500 per unit. The project's low cost and raw finish offered the flexibility for future DIY self-development by each household. ELEMENTAL's aim was to reverse the trend of declining social housing prices by allowing the owners to add value to each property through personal extensions or additions. While this model speaks volumes for the architect's potential in similar situations, it also states the more open, collaborative position of such architects. As time goes on and renovations, additions and improvements are planned and self-driven by individual homeowners, the people of communities such as Quinta Monroy themselves become the designers.
The 1920s Quartiers Modernes Frugès in Pessac, France, by Le Corbusier is an earlier example of this. At the time, the development was lambasted; the historian Henry-Russell Hitchcock referred to Pessac as a "serious disappointment". However, as French architect and researcher Philipe Boudon explained years later, much like ELEMENTAL's Quinta Monroy, Le Corbusier's open-plan living allowed residents to self-modify and develop their housing. The latitude within Le Corbusier's design allowed occupants to adapt their homes based on their own particular needs – a positive rather than negative consequence of the design.
While this was probably not the direction in which Le Corbusier wanted the project to evolve, what transpired showed that good housing is as much about the actions of the resident communities as it is about the design intent of the architect. In reality, architecture is forever incomplete, as it is forever adapting to human activity and evolving social principles. However, the architect has a choice to either change with these principles or work to shift the principles themselves.
Yet, to Brillembourg, the problem with such projects is that they are often forgotten. "There are lessons to be learned around the globe… However, no-one is looking at good development… The idea that government has abdicated the cities and the public good to developers is wrong and the city has to take responsibility."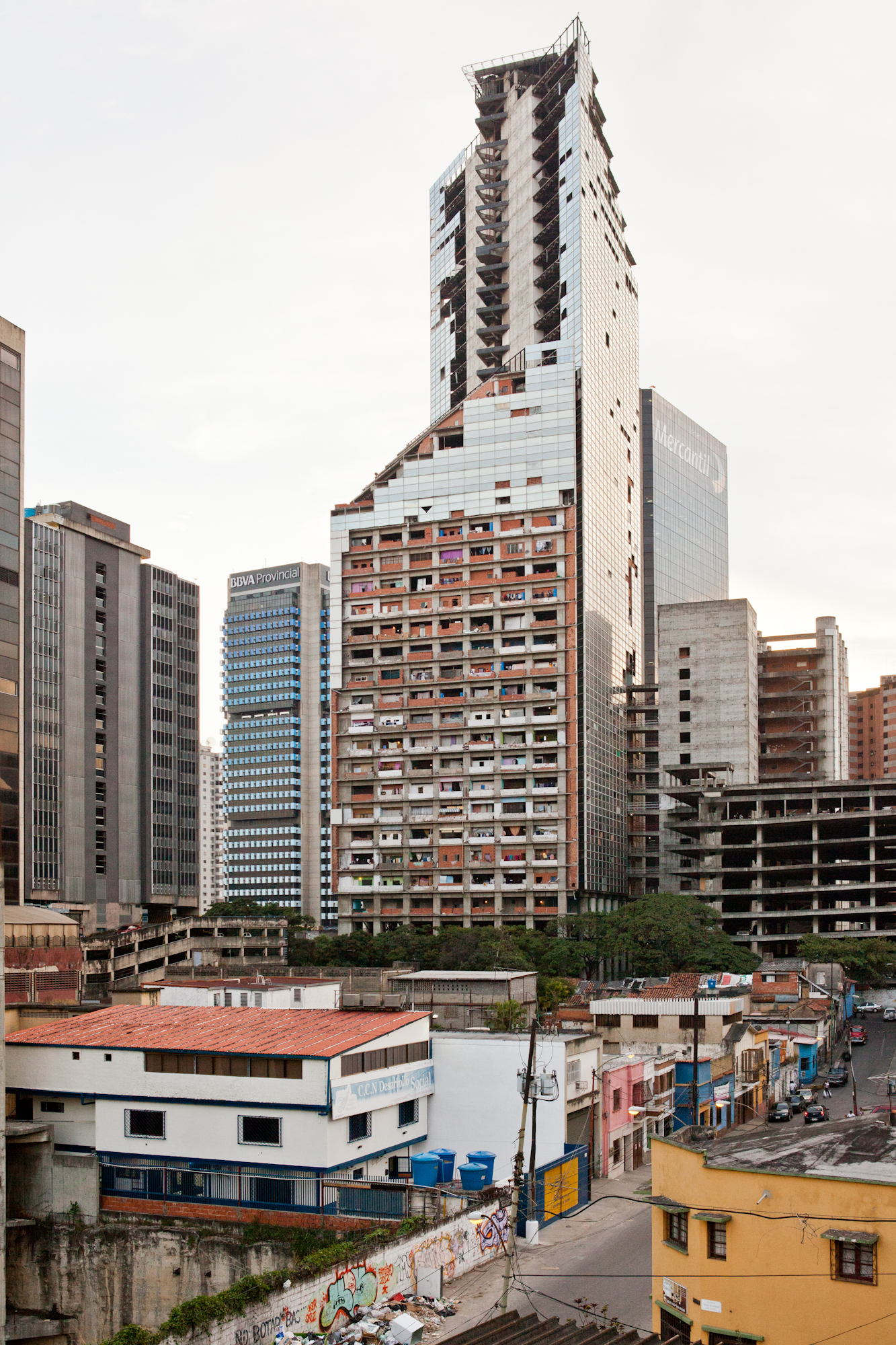 There are examples of cities taking responsibility for their own outcomes and U-TT believes it is its obligation to communicate these stories. Previously aligned with Columbia University's Graduate School of Architecture, Planning and Preservation (GSAPP) and now ETH Zurich, U-TT constantly produce considered research that offers greater understanding and learnings from significant 'global city' case studies. In addition, U-TT also advocates for collective effort to confront the problems they encounter through their research. U-TT's publications, such as the magazine SLUM Lab, align directly with its architectural outcomes. Projects such as Empower Shack in Cape Town have promoted real solutions to housing problems while demonstrating U-TT's ability to instigate projects in underserved environments. Empower Shack, a singular prototype housing model for an informal settlement in the BT Section of Khayelitsha, was created after consultation on site with local residents and studio research back in Zurich. The success of the first shack has since led to plans for an additional 68 houses, based on an updated design, to be built over the course of 2016. U-TT's sustained advocacy process, involving the community and local NGO partner Ikhayalami, has borne a viable pilot for community-led housing.
The Torre David tower is another example of people-powered community. A 45-floor tower in the heart of Caracas that was left vacant after the banking crisis in 1994 became a self-organised village to more than 750 families. U-TT set out to investigate this 'vertical slum', the results of which included a documentary film, an exhibition at the 2012 Venice Biennale, and a detailed book describing the phenomena and particular context that gave rise to such a unique community. Motorcycle taxis delivered people and goods up the tower; systems such as washing and electricity were set-up by the residents within this atypical context. The people of Torre David lived and thrived through sheer drive and self-determination. Yet, along with its admirers, this work also drew criticism from the more purist segments within the architecture community. Architectural Review's Dan Hancox dubbed it "parasitical, feeding off the toil, risk and enterprise of the building's thousands of slum-dwellers". Yet, to U-TT, Torre David is not the ideal model to emulate; however, it offers insight into the paradigm shift needed in urban strategies.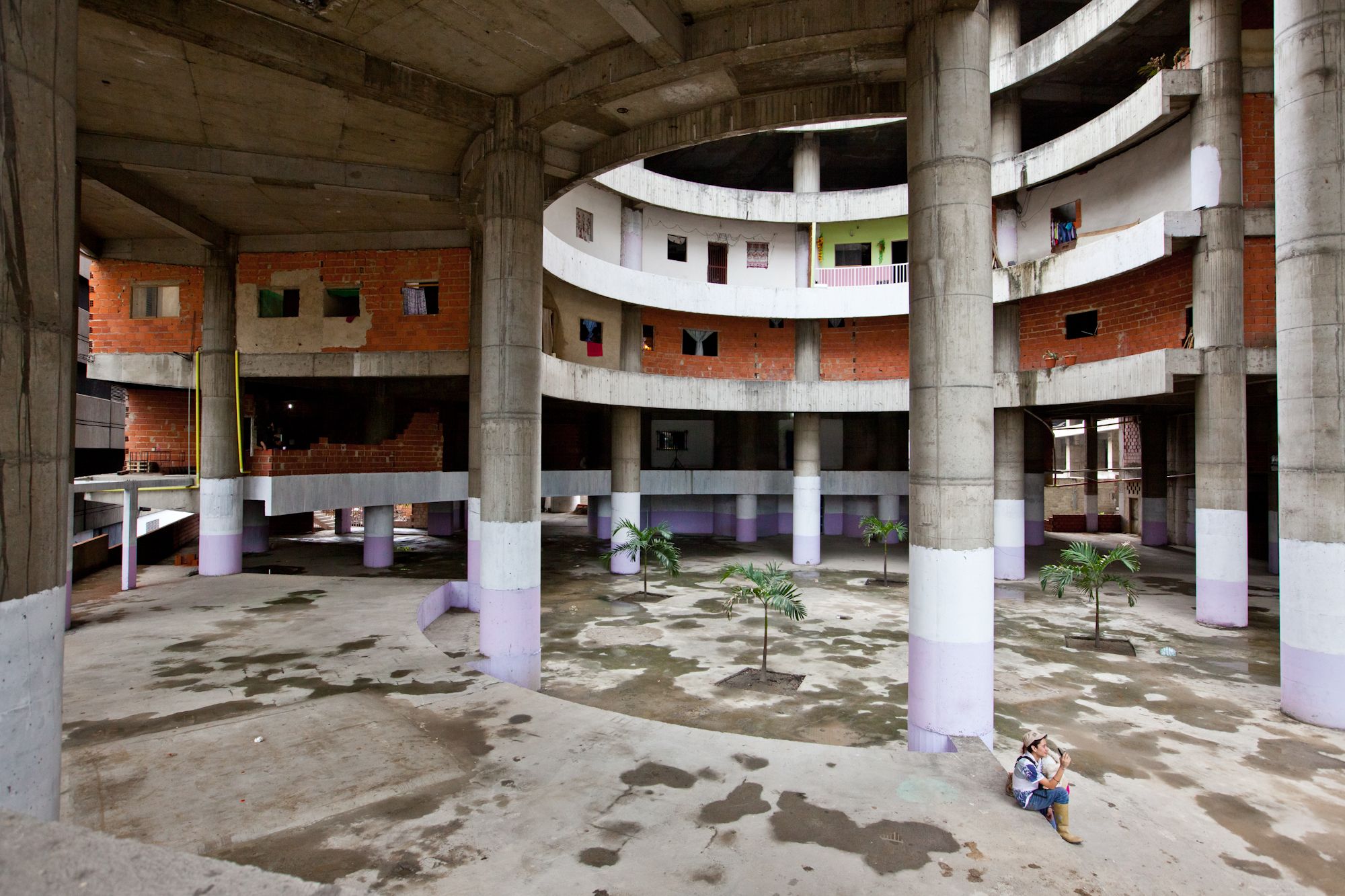 U-TT's philosophy is as much about advocacy and communication as it is about physical architecture. As Brillembourg explains, he wants to engage a larger public in the conversation in order to reflect the complex nature of cities and the inequality inherent in urbanisation. In the field of architecture, this is nothing new. From Le Corbusier to Rossi, Koolhaas and Archigram, for the last century, architects have published their beliefs for two primary reasons: to promote business success and to proliferate architectural ideals. What is clear through films such as Torre David (2013) and Mumbai: Maximum City Under Pressure (2014) is that U-TT differentiates itself from its predecessors through its willingness to communicate and advocate, not just with fellow architects, but also with a broader audience and context to activate the collective agency that is needed to change cities. U-TT's approach with the Metro Cable in Caracas is such an example. Trust in local knowledge through public consultation in the local barrio of San Agustin was crucial to reversing a government-proposed road network in favour of the first cable-car system in Venezuela to link isolated hillside residents to the public metro system. Not only did the implementation of the project reduce the impact of unnecessary roads and cut commute times drastically, it also saw minimal impact on existing housing in the barrios. This was the work of the interdisciplinary architect thinking and acting far beyond standard practice.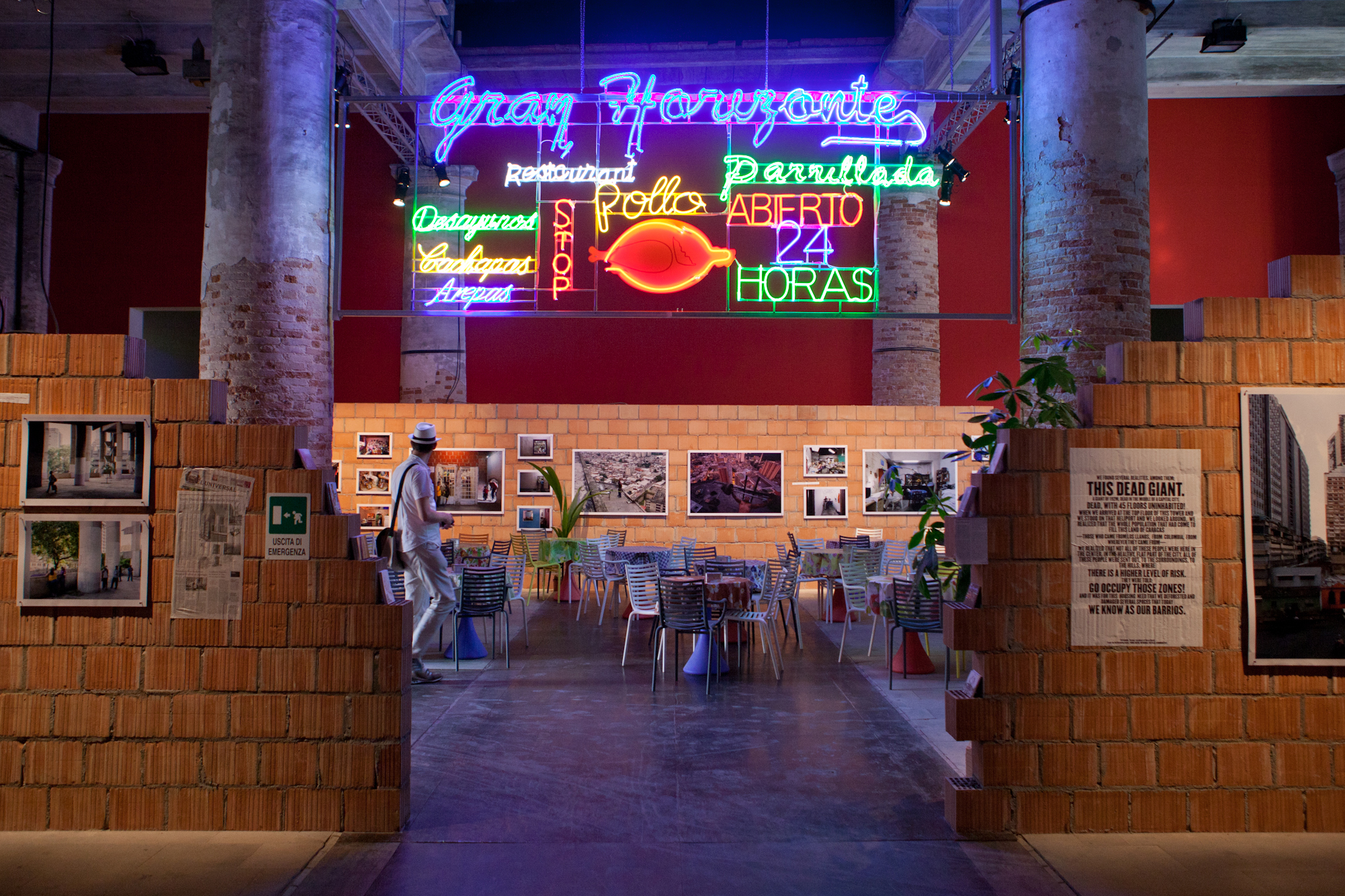 Ironically, it is architect David Chipperfield, best known for designing luxury museums and galleries, who articulates the ethical challenges ahead for many architects. In rapidly growing cities, where the role of the architect is often undermined, he asks: "What can architecture do? Can architecture do anything? Are we just decorators?" For U-TT, architects must foster change through their work and through the way they communicate their vision with the public. In putting the emphasis on working actively and collectively with communities and pushing beyond service provision and 'decoration', U-TT use a many-limbed approach to architecture to act as change-makers of the urban reality.
This article first appeared in Assemble Papers Issue 5: The Ecological Age (April 2016). Many thanks to Jimmy Carter for his words and U-TT's Daniel Schwartz for his photographs. Head over to Urban-Think Tank's website to keep up with their ongoing research and developments.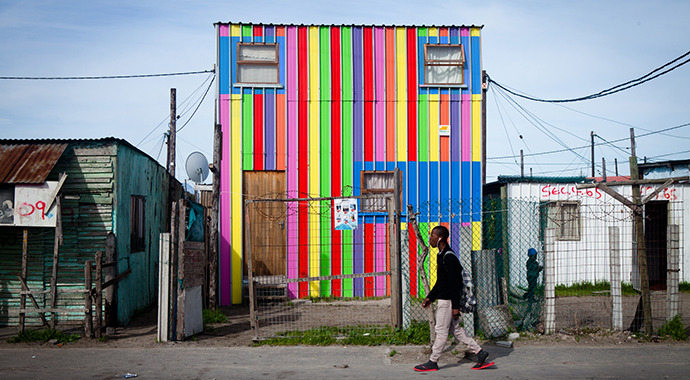 The Empower Shack prototype in Khayelitsha, Cape Town, was painted by the community to celebrate Nelson Mandela Day. Photo by Jan Ras.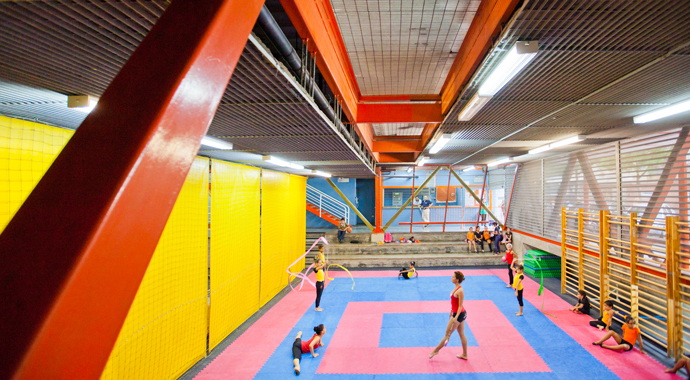 Featuring a flexible modular design, U-TT's first Vertical Gym in Caracas aimed to promote greater social capital in nearby areas. Photo by Daniel Schwartz.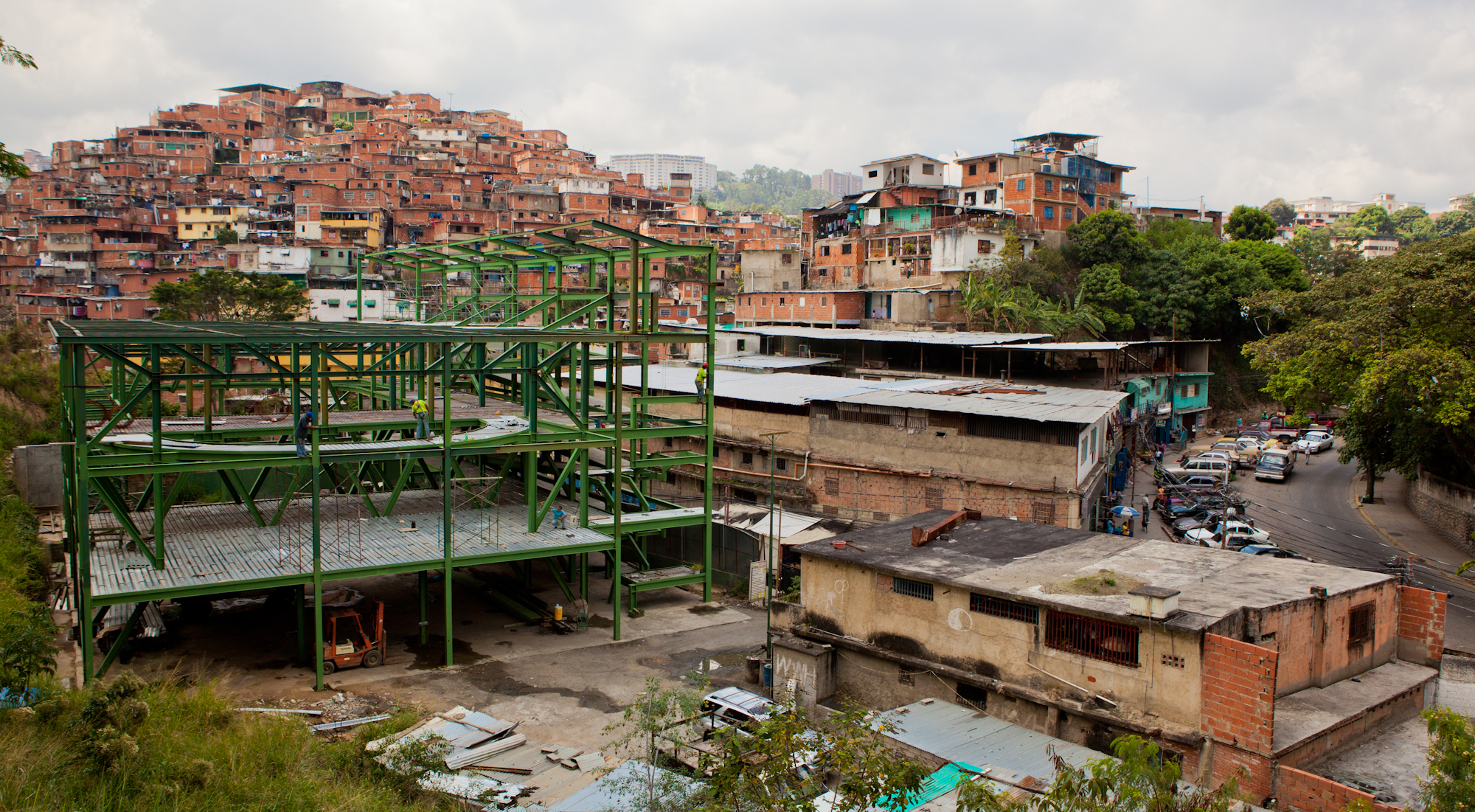 Construction on the second Vertical Gym in Baruta, Venezuela. Stacked recreational facilities over three floors and a rooftop court. Photo by Daniel Schwartz.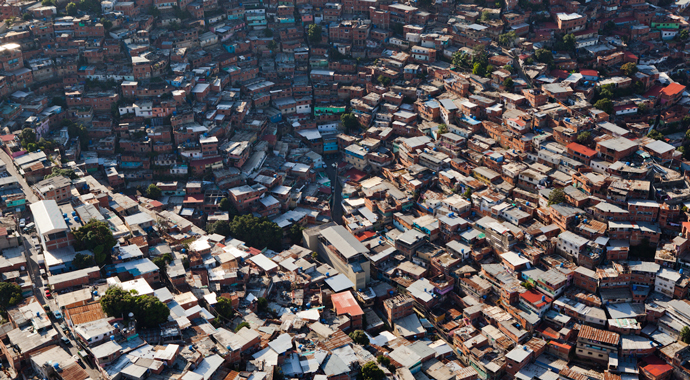 The super-dense barrios of Caracas, Venezuela, as seen from the sky. Photo by Daniel Schwartz.