Culture
One-of-a-kind design at 1-­OK Club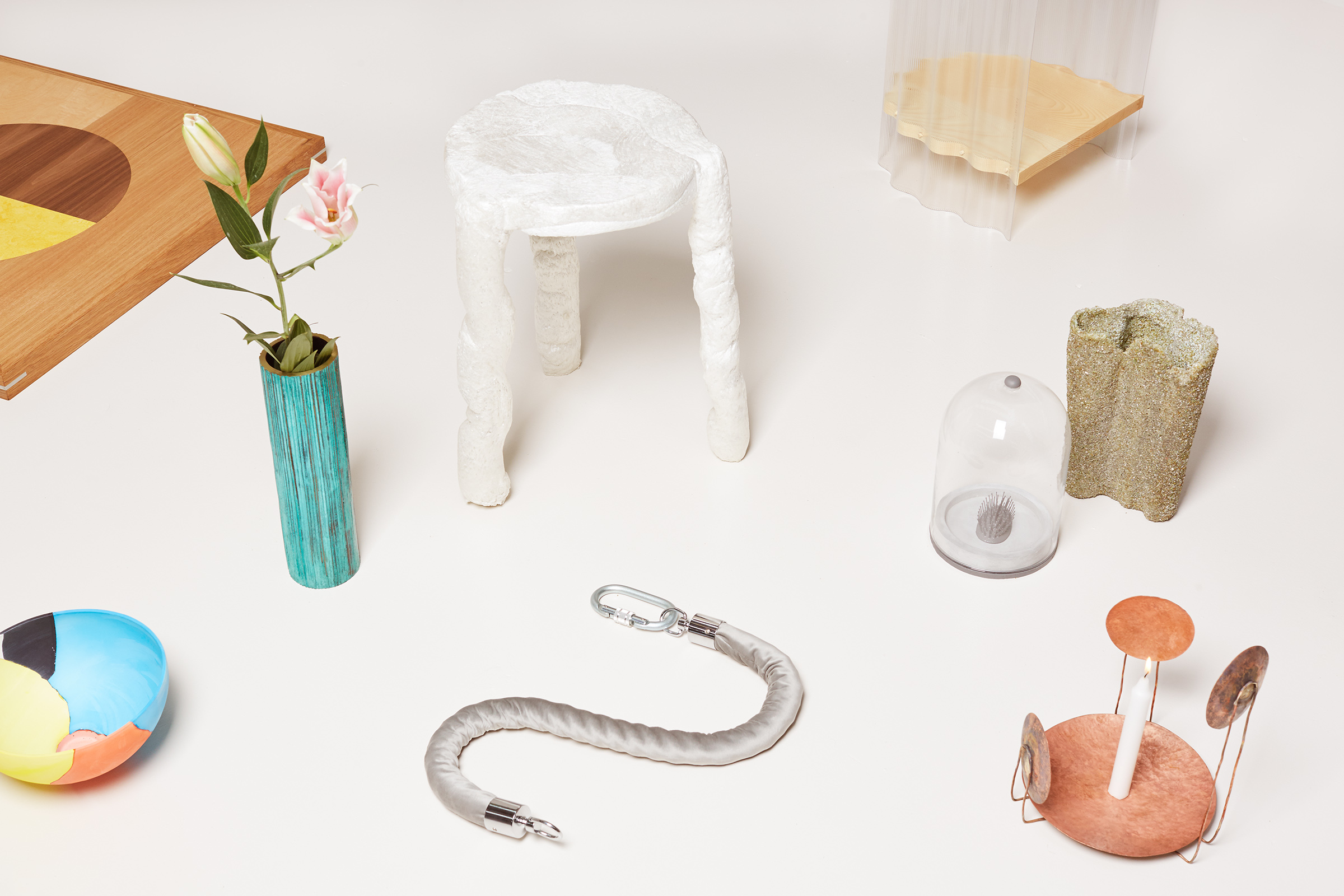 Jun 24, 2016
Fed up by the lack of representation in Australia for objects produced outside of a commercial environment, Melbourne designers Dale Hardiman and André Hnatojko recently took matters into their own hands. Last year the pair – both practicing designers themselves, with their design collective LAB DE STU and product design studio Dowel Jones (both in collaboration with Adam Lynch) – unveiled 1-OK Club: a new platform dedicated to representing and commissioning unique objects with a focus on experimentation and exploration. In August 2015, 1-OK Club presented its first exhibition at the National Gallery of Victoria, 'WORKS 1-43', which invited 17 Australian designers to create one-off or limited edition objects in the hopes of liberating the designers from the constraints of commercial practice. Almost a year later, 1-OK Club's second exhibition has finally arrived, and we're proud to be presenting it at the current Assemble Papers HQ, 122 Roseneath St. Opening Friday 1 July, 'WORKS 44-52 LIVE' will see nine designers – Adam Goodrum, Ash Allen, Elliat Rich, Elliott Mackie, Flynn Talbot, MANY MANY, Peter Trimble, Simone LeAmon and U-P – showcase nine new works. The format will be both #IRL and digital, with a live stream of the works available online for the duration of the exhibition (which runs until 5pm on Friday 5 July). We caught up with Dale and André ahead of the opening.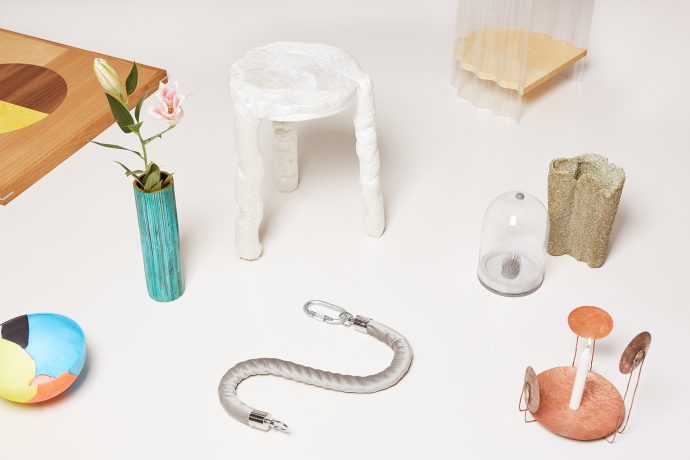 Assemble Papers: What inspired the creation of 1-­OK Club last year?
Dale Hardiman: 1­-OK CLUB began from various conversations over many years between André and I. We felt that if we were to produce work outside of commercial production, we wouldn't have a place to exhibit it, and also wouldn't have any idea how to sell the work individually.
André Hnatojko: Over the years of conversation with our community of designers, we realised that this was felt by many other designers about limited edition and one-off works. The early ideas of what 1­-OK CLUB would be began as a platform exclusively for the both of us to produce work and distribute – we both run commercial furniture and lighting businesses and couldn't see how limited edition or one-­offs could work through these pre­-existing businesses.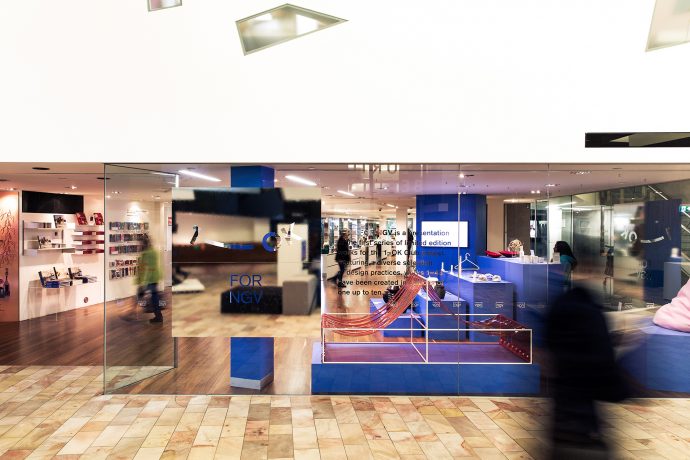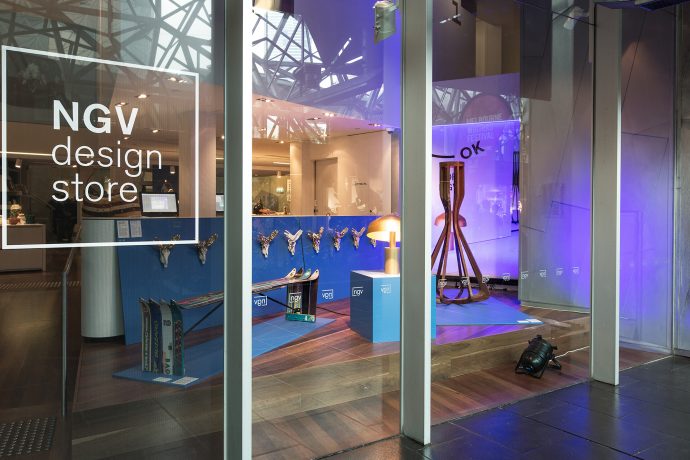 AP: What kind of response did your first exhibition at the NGV, WORKS 1­-43, have?
AH: We were of course hesitant beginning 1­-OK CLUB – we weren't really sure how the design community would respond, and we also weren't sure how designers and potential contributors would respond.
DH: Having the National Gallery of Victoria host the exhibition helped set the tone. Since the launch in 2015, the designers' responses have been key. Although we began 1­-OK CLUB as a place for limited edition and one­-off pieces to be purchased, we hope it helps create a conversation surrounding design outside of commercial practice in Australia.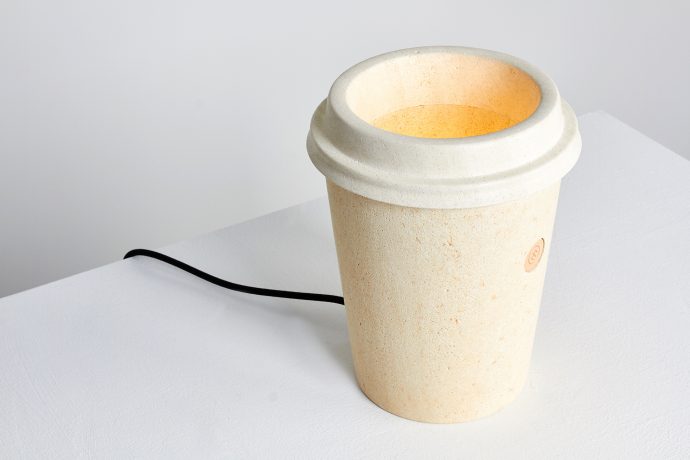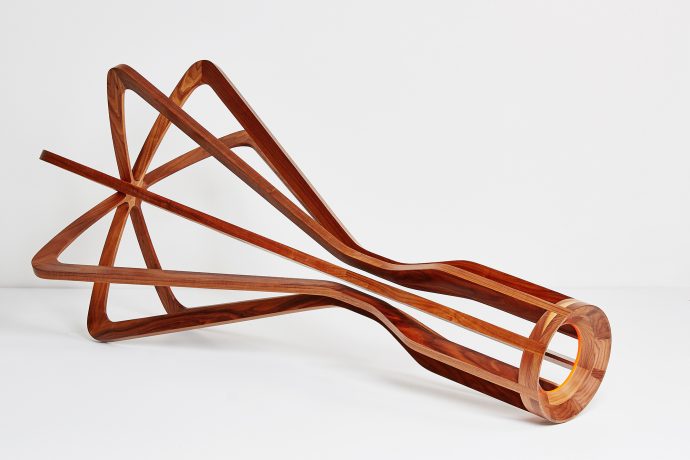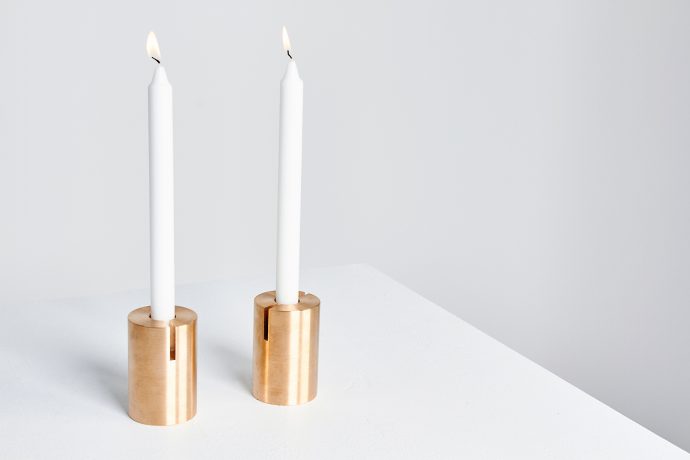 AP: 1­-OK Club differs from your practice as LAB DE STU and with Dowel Jones in its central ethos of encouraging design experimentation outside of a commercial setting. But do you find the process to have a positive effect on your more commercial work?
AH: Each project or business exists for a different reason, and we begin new projects when we feel there is a particular purpose. In the case of LAB DE STU, we saw the value of strength in numbers from the start of our careers. We began LAB DE STU to be represented under the one umbrella, which means when one designer gains a certain amount of traction or is involved in an awards program, the others gain from this also, even though the work may not represent the other designers' directions.
DH: LAB DE STU was founded to represent individual designers together, Dowel Jones was founded to produce commercially viable furniture and lighting, and 1-­OK CLUB was created to represent non-­commercial outcomes. Although all of these seem to have a different objective, they all fit within design practice. In working with some designers who focus predominantly on commercial outcomes, we hope their involvement in 1­-OK CLUB will result in them thinking differently, which could then inform their overall practice.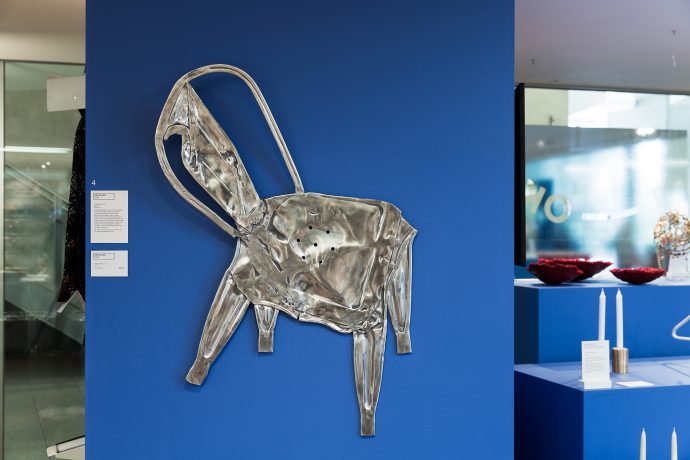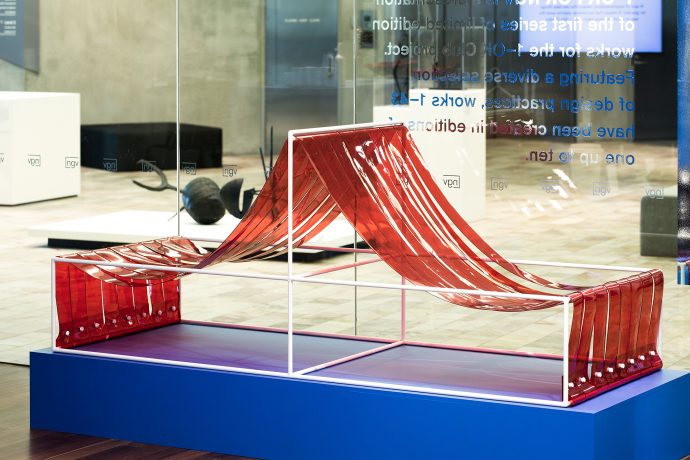 AP: The designers featured in WORKS 44­-52 LIVE encompass a range of backgrounds and experience. Was it important to you to feature designers at varying stages of their careers?
AH: In beginning 1-­OK CLUB last year and selecting designers for the first collection, we thought we might be met with some level of hesitation but instead found there to be enthusiasm and excitement. The process of selecting designers comes from putting together a wish list of designers we would like to work with and also asking fellow designers within educational institutions who of their ex­-students could be suitable.
DH: A really important factor when beginning 1­-OK CLUB was to ensure that designers of varying stages of their career were included.We want to provide opportunities for designers to produce work they may not have otherwise had the opportunity to explore, or who thought they would never explore work in the realm of limited editions or one-­offs. The designers commissioned to produce work for WORKS 44­-52 LIVE were chosen because of either previous work we'd seen, or a previous conversation we'd had with them surrounding what we're trying to do.
A Rubbish Stool from Peter Trimble on Vimeo.
AP: What kind of brief were the designers given for WORKS 44­52 LIVE?
DH: Working in collaboration with Assemble Papers and presenting work at 122 Roseneath St., we thought it most appropriate to work by the principles of Assemble Papers: "the culture of living closer together".
AH: Giving a brief appropriate to location, while presenting the works entirely online means we are proposing an alternative exhibition model, while still staying true to each designer's respective area, including Melbourne, Sydney, Alice Springs, London, Zurich and Rotterdam. Alongside the overarching brief, contributors were asked to produce work within set dimensions to allow for presentation and live streaming.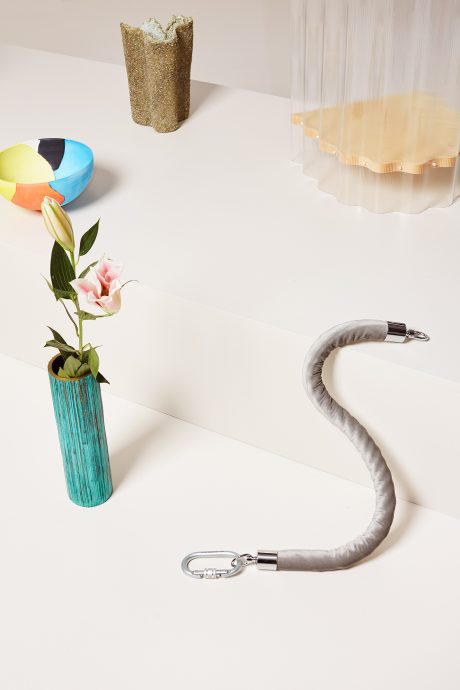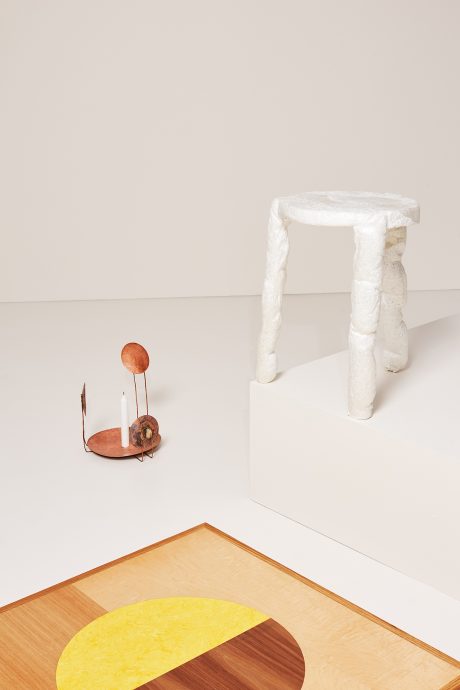 AP: Can you tell us about the 'live' elements of WORKS 44-­52 LIVE – what brought about this aspect of the exhibition?
DH: It was really thanks to Moustache's presentation at Milan Furniture Fair last year that provoked the conversation of how to present design internationally without having to travel. We have both exhibited internationally numerous times, and we understand the costs and time involved, along with the difficulty being visible within trade halls among hundreds of other brands. The exhibition was originally conceived as a live feed with no movement, allowing viewers to understand that the exhibition and the works existed within a specific time and location. As we further developed the exhibition we realised that we wanted works to be featured equally, but in an environment where not all the works were viewable instantaneously. The rotation speed of the overall exhibition platform is approximately one revolution per minute, meaning if you're wanting to view the work furthest from the front, you'll need to wait 30 seconds. As well as allowing for movement within the exhibition space, we realised that when photographing works it's standard practice to shoot from all angles. To allow for all angles of the works to be viewed within the digital space, each work rotates itself on another disc at a speed of approximately three-and-a-half revolutions per minute, allowing for each rotation to show the entirety of the work (excluding the underside).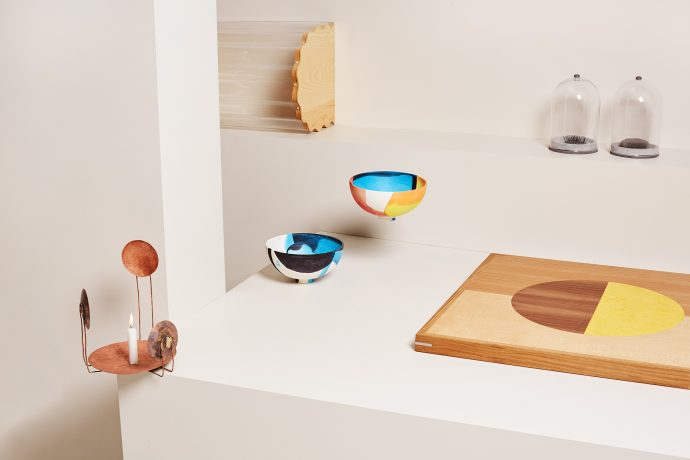 AP: Is the digital element of WORKS 44­-52 LIVE something you hope to incorporate in future 1­-OK Club exhibitions?
DH: WORKS 44-­52 LIVE will see the first exhibition for 1­-OK CLUB working outside of standard gallery formats. The purpose of 1­-OK CLUB was always to attempt to explore unknown territory. Last year we both produced work for the exhibition WORKS 1­-43, but this year felt that our work should be represented as the overall presentation of the work itself.
AH: As designers with backgrounds in furniture design primarily, exhibition practice is something we are used to, but not in the capacity of acting as the exhibition designer or organiser, and this may be why we are searching for alternative outcomes to the traditional gallery setting.
WORKS 44-52 LIVE opens next Friday 1 July at 122 Roseneath St., Clifton Hill, and will be opened by Ewan McEoin, The Hugh Williamson Senior Curator of Contemporary Design and Architecture, National Gallery of Victoria. Come and see the exhibition IRL, or view the works online from 6pm on the day of the opening, or between 9am and 5pm AEST thereafter, until 15 July. Visit the Facebook event for more details, or the 1-OK Club website: 1-ok.club.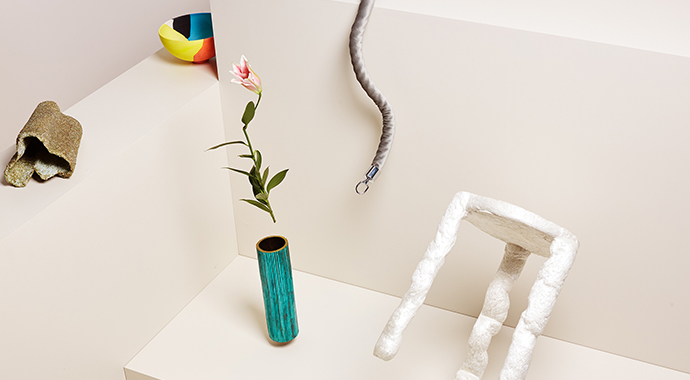 1-OK Club's 'WORKS 44-52 LIVE' opens on Friday 1 July, 6–9pm, and runs until Friday 15 July. The exhibition will also be viewable via a live stream online. Photo by Elise Wilken; styling by Nat Turnbull.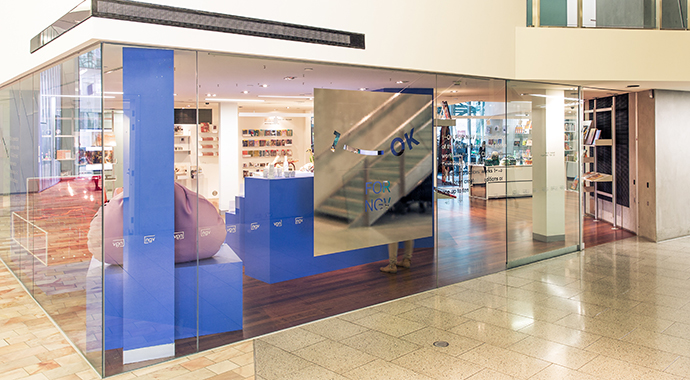 In August last year, 1-OK Club held their first exhibition 'WORKS 1-43' at the National Gallery of Victoria. Photo by Kristoffer Paulsen.
Ross Gardam's 'Aurora' lamp (2015), featured in 'WORKS 1-43' last year at the NGV. Photo by Kristoffer Paulsen.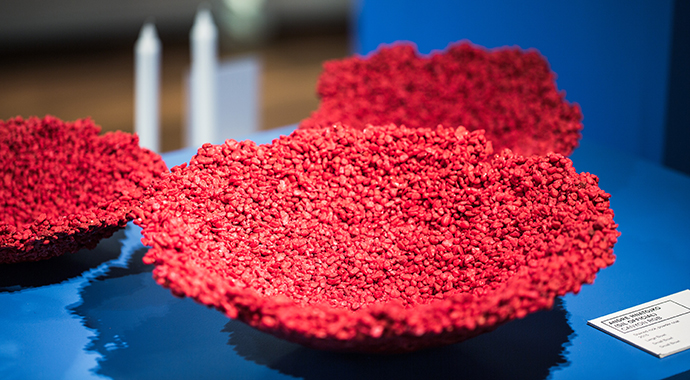 Andre Hnatojko's Canyon RGB series (2015), stained rock/powder coat, featured in 'WORKS 1-43' last year at the NGV. Photo by Kristoffer Paulsen.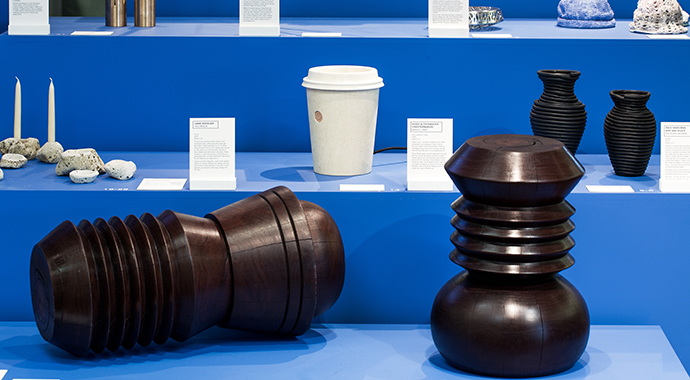 Jo Wilson's 'Timber Sculptures' (2015), featured at the NGV last year in 1-OK Club's first exhibition. Photo by Kristoffer Paulsen.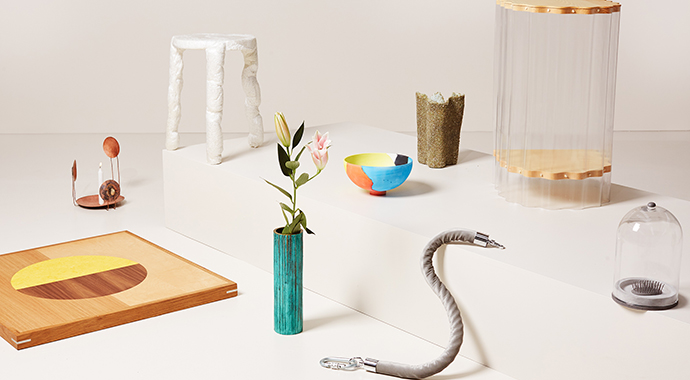 Designers featured in the upcoming exhibition, 'WORKS 44-52 LIVE', were asked to produce work within set dimensions to fit the site-specific presentation. Photo by Elise Wilken; styling by Nat Turnbull.