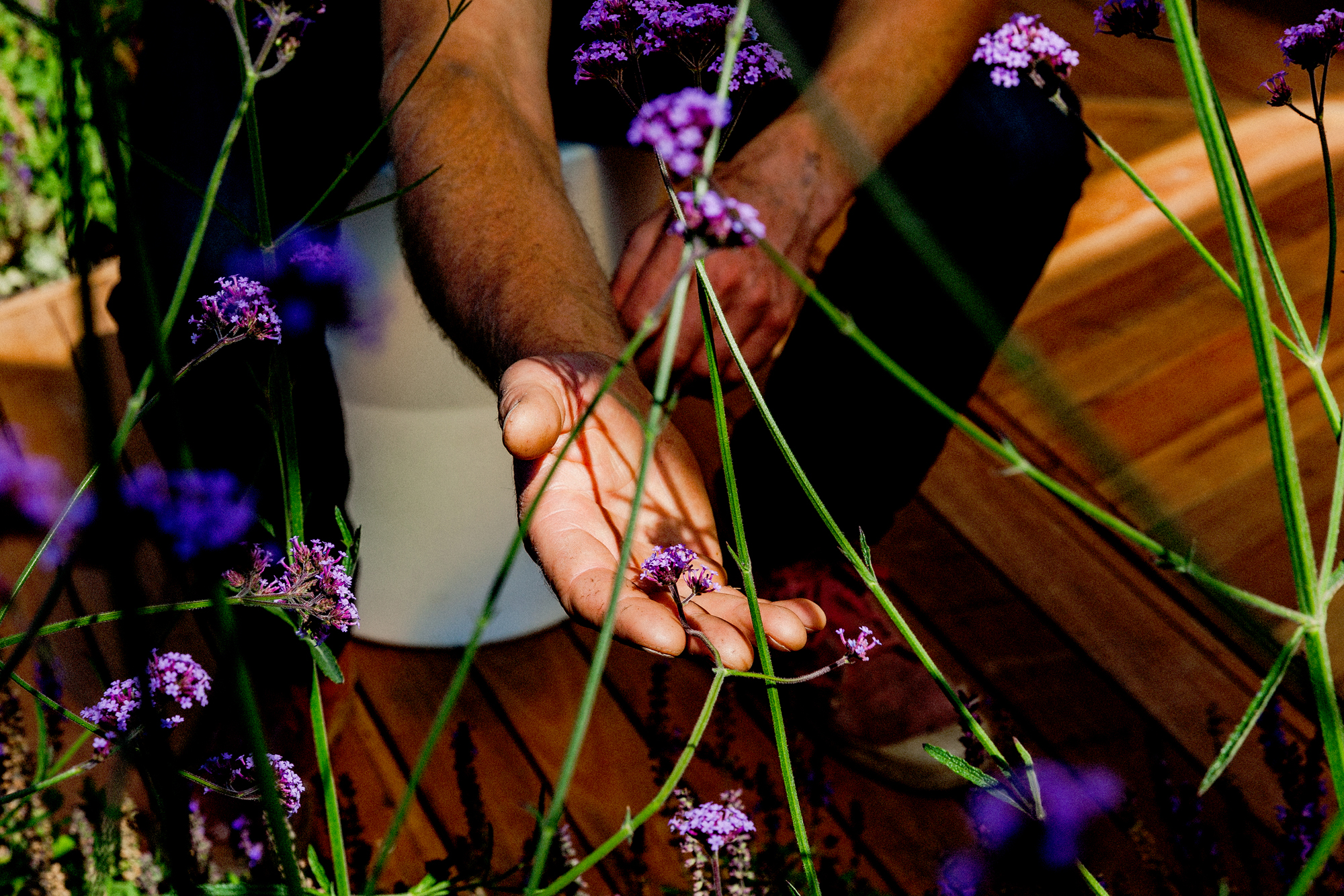 Jun 10, 2016
Joost Bakker has dirt under his fingernails, always. The Dutch-born polymath rises before the sun most mornings to collect flora from his family's property in Monbulk, Victoria. The son of a fourth-generation tulip farmer, Joost was destined to love soil. He drives to Melbourne each week in a truck laden with seasonal goodness to create his floral­–industrial installations in some of the city's top restaurants. With understated confidence, he calls himself an artist whose mediums happen to include flowers, farming, architecture, design, hospitality and sustainability – a zero-waste da Vinci of our times.
I first came across Joost when I worked as a forgetful waitress in a city café. Joost would barge in (his words) to install his unconventional flowers – whole tulips with bulbs, exploding asparagus stems and steel mesh – as unsuspecting city workers gobbled up their lunchtime panini. Since then, Joost has taken his environmental philosophy further afield. He recently designed and built a fire-resistant house in Kinglake, Victoria, one of the communities hardest hit by the 2009 Black Saturday bushfires. His living and breathing pop-up restaurant Greenhouse has beguiled Melbourne and Sydney (with a permanent Perth Greenhouse opening in 2009). And while his bone-and-broth-based café Brothl is now closed, Joost's vanguard approach to sustainable food has spread to some of the finest restaurants around the globe. I catch-up with Joost to talk about his radical yet welcoming approach to ecology.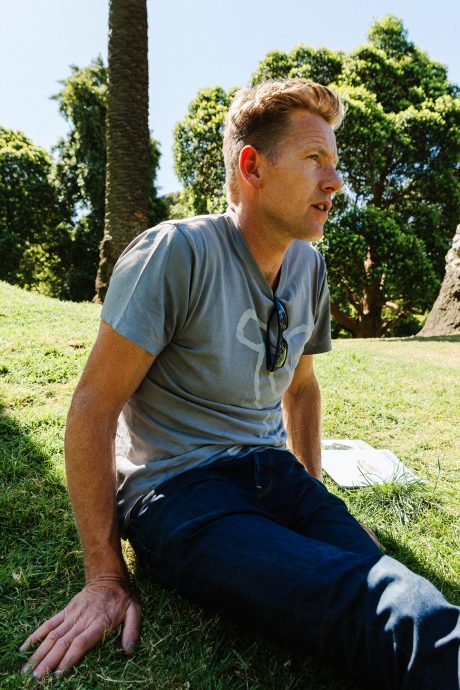 To grasp the ingenuity of Joost, we need to travel back to Melbourne in the '90s. In 1994, Joost had a worm business, supplying castings to biodynamic farms and vineyards. At the same time, he shared a space with a friend (a mushroom wholesaler), at South Melbourne Market. He wasn't making much money, but together the pair built a coolroom – a fortuitous melding of flowers and fungi. "Mushrooms need to be kept at 4°C and so do flowers," Joost recalls. "I started doing boxed flowers for restaurants. I'd do flowers and then go and have a bite to eat with my friends. Then one day […] when I saw Jeff Buckley play, you could just see he was doing what he loved. I loved installing flowers and I was given creative license, even then. I thought, why not just focus on that… so I did."
Thanks to an easing of liquor licensing laws in 1988, Victoria went from Australia's most wowseristic state to its most liberal. At the same time, the recession saw a city awash with cheap, vacant commercial real estate. (Perfect conditions for what would become Melbourne's prized 'European-style' food and bar culture, led by some of Joost's future friends and creative allies: Con Christopoulos of the European and Andrew Blake of Blake's among others.) Despite a history of temperance (and the resultant, boozy 'six o'clock swill'), Melbourne had a cosmopolitan awakening. Enter a 20-year-old Joost. He began installing flowers in some of Melbourne's new-cosmopolitan establishments: the Gin Palace, the Supper Club and Hairy Canary. While Joost's use of reinforced 'reo' mesh and terracotta pots has now spawned countless imitations, back then, the reigning aesthetic was generic: gerberas, carnations and plastic flowers. Joost was determined to bring visibility and engagement with nature's cycles to city dwellers: "I've always been obsessed with waste. I would never use a new vase; it was always a box that I'd found in a recycling yard, a vase made out of electrical cable, a fire hydrant box or something that I found. It was always about making people realise this stuff isn't waste, it's beautiful, especially when you start to contrast it with natural things."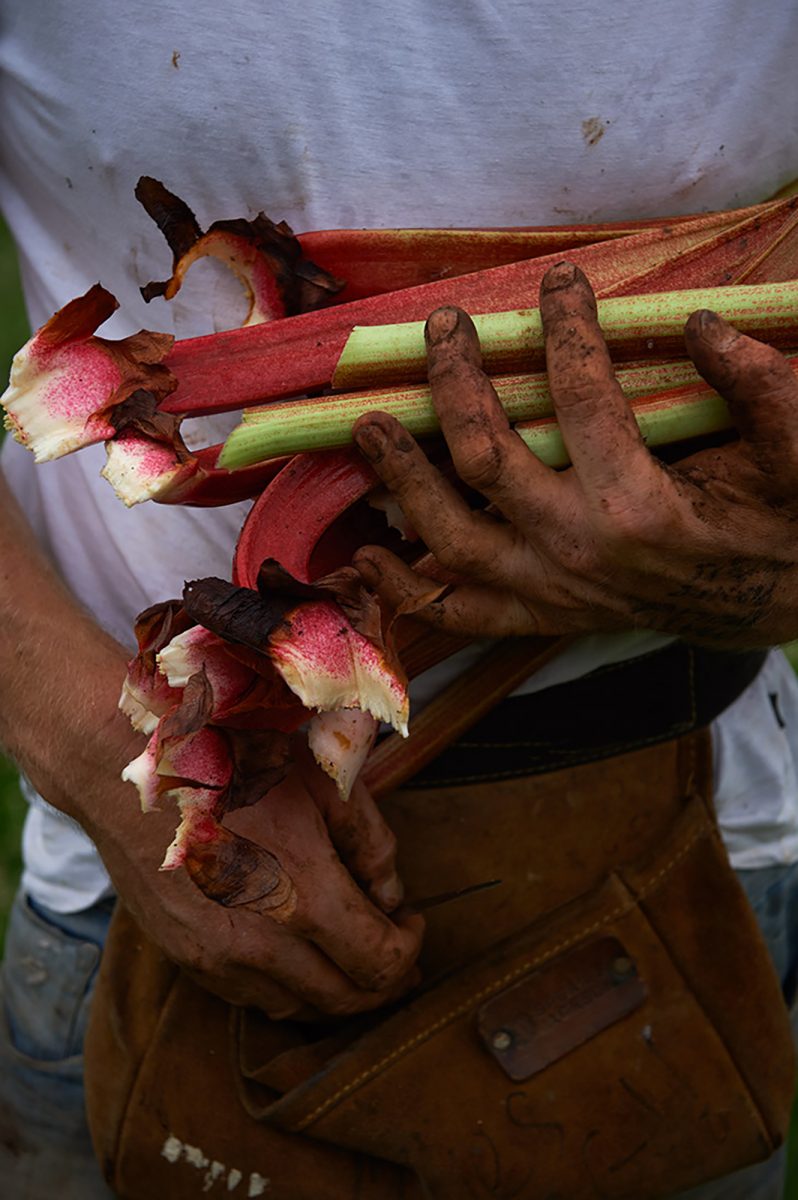 Joost Bakker: never without soil under his fingernails. Photograph by Earl Carter.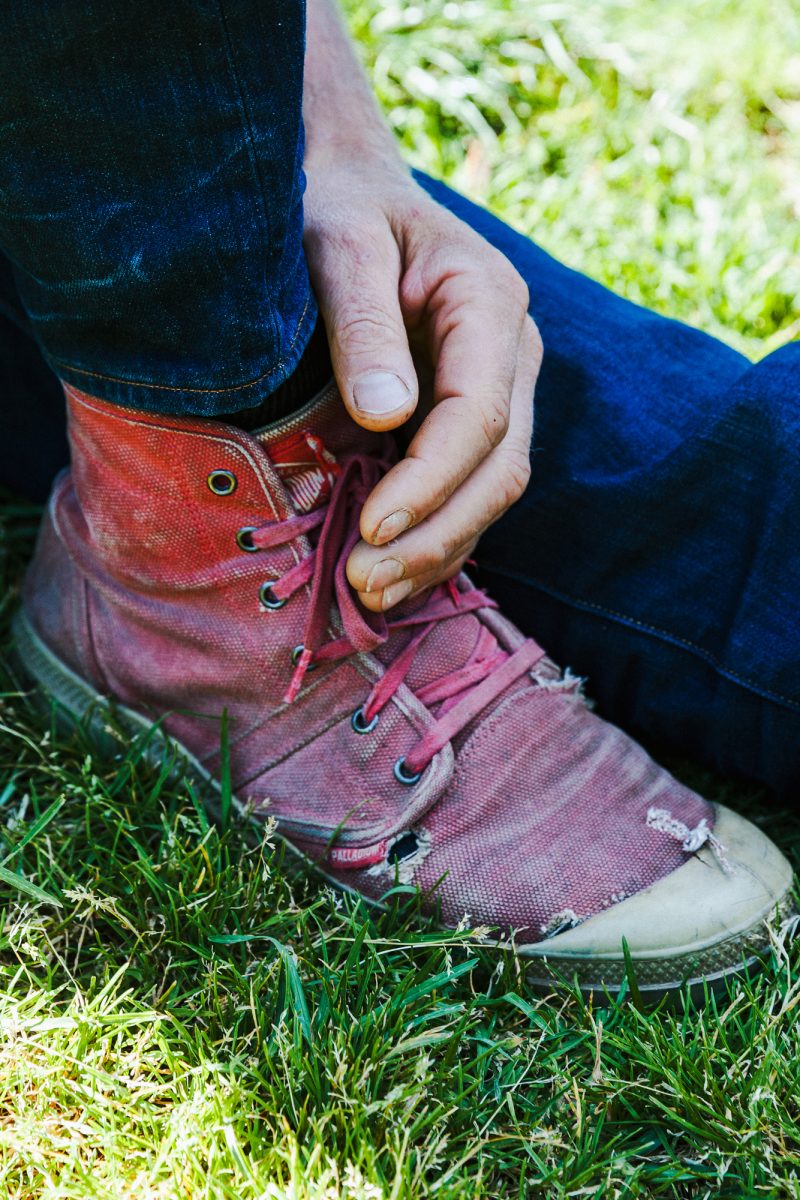 Joost Bakker: an artist whose mediums happen to include flowers, farming, architecture, design, hospitality and sustainability. Photograph by Ben Clement.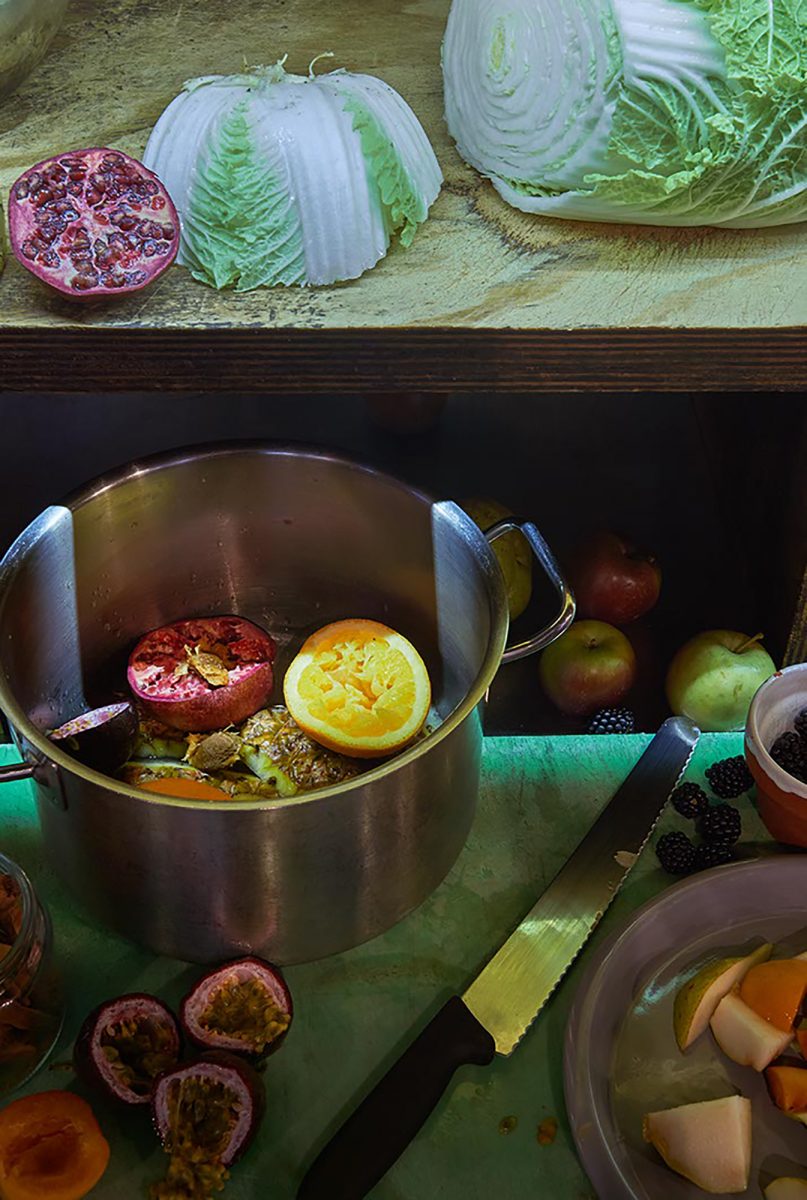 A rainbow of seasonal produce awaits the slow-cooking process at Joost's bone-and-broth cafe, Brothl. Photograph by Earl Carter.
He began pushing his vision into a beige landscape. "I'd go into shops and get really annoyed that there were no beautiful vases of foliage or flowers, or anything seasonal. And so, my starting ambition was to make it easy for shops to get boxed, seasonal flowers." He doorknocked Country Road, Laura Ashley and even McDonalds. Esprit became his first customer. Within a year and a half, 200 'Golden Arches' franchises were receiving Joost's boxes of Echinops, pineapple lilies and foliage; tulips in winter, roses in summer. "I didn't care who it was, I just felt that everybody had to have some kind of connection to what was going on in the countryside. It sounds totally normal now, but 20 years ago, florists would say: 'How could you get away with just using foliage?' But foliage is beautiful!" insists Joost.
From floristry, Joost's interest in the coexistence of nature and human habitat became total. In 2007, he designed and self-built a home for his young family (wife Jennie and daughters Ruby, Charlie and Remy) on their six-hectare property in Monbulk. Not formally trained (he never completed high school), Joost's curiosity and keenness of intellect means he can problem-solve whatever he puts his mind to – a designer in the best sense. The Monbulk house and its surrounding edible and floral fields is a case study in Joost's ecological philosophy through its materiality, construction and in the delight it brings to its inhabitants. Full of artworks by Joost and family friends, the house is beautiful yet basic: recycled concrete, steel beams, straw bales, block-work and raw plywood. Clad in a living skin of 11,000 strawberry plants in terracotta pots, the Bakker house is future-proof, ready to be recycled in one, two, three, four or five generations' time.
A year later, at the behest of new friend and supporter Rob Adams, director of city design at the City of Melbourne, Joost went on to build his first Greenhouse, a pop-up sustainable bar–restaurant. Sited in Federation Square, Greenhouse took the eco-conscious design and minimalist magpie aesthetics of Monbulk to the masses. Says Joost, "I came up with the idea of making it a hospitality business because I wanted to show my friends in hospitality that you don't need to be as wasteful." But, just as he signed the dotted line, along came the 2008 global financial crisis and the project's corporate sponsors disappeared. Joost and Jennie borrowed-off their own assets to complete the project, losing around $250,000 of their own money. Through sheer grit, Greenhouse opened to popular acclaim. Sustainability was on show at every level: a rooftop farm produced the restaurant's fresh fare, no plastic or packaging, onsite composting and the greenness of the structure itself (hay bales, sustainably sourced plywood and a wall of strawberries). A seasonal menu was dreamed-up by Vue de Monde's Shannon Bennett and Fenix's Ray Capaldi. At a time of global austerity, dining at Greenhouse was joyful, while still spruiking Joost's eco-advocacy message loud and clear.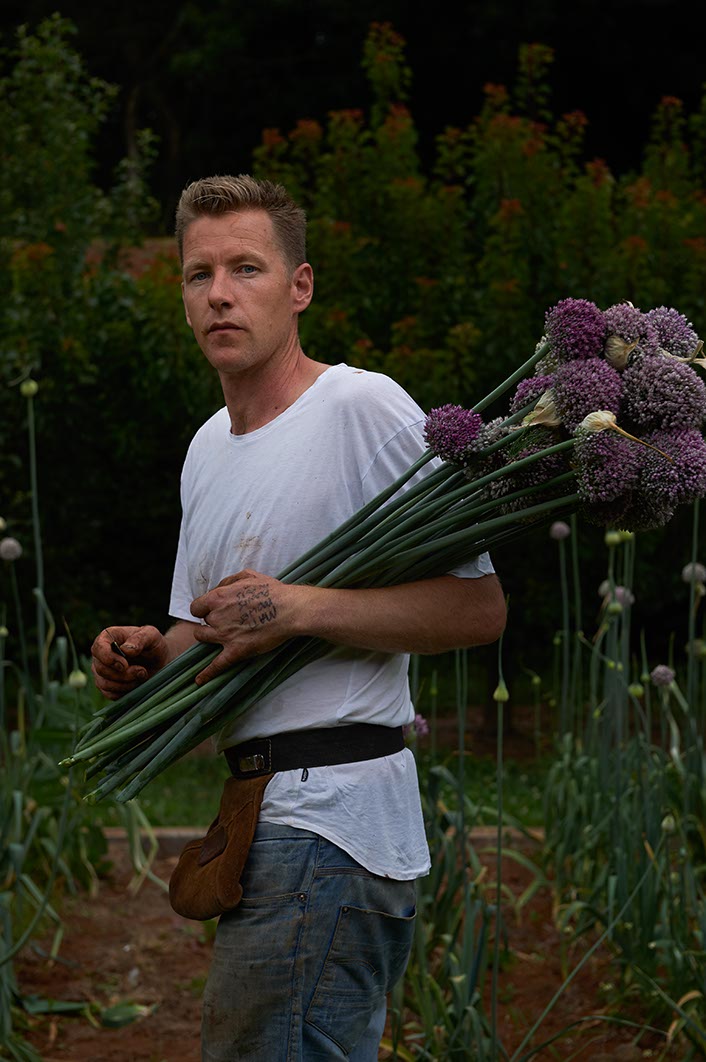 It was from floristry that Joost's interest in the co-existence of nature and human habit began. Photograph by Earl Carter.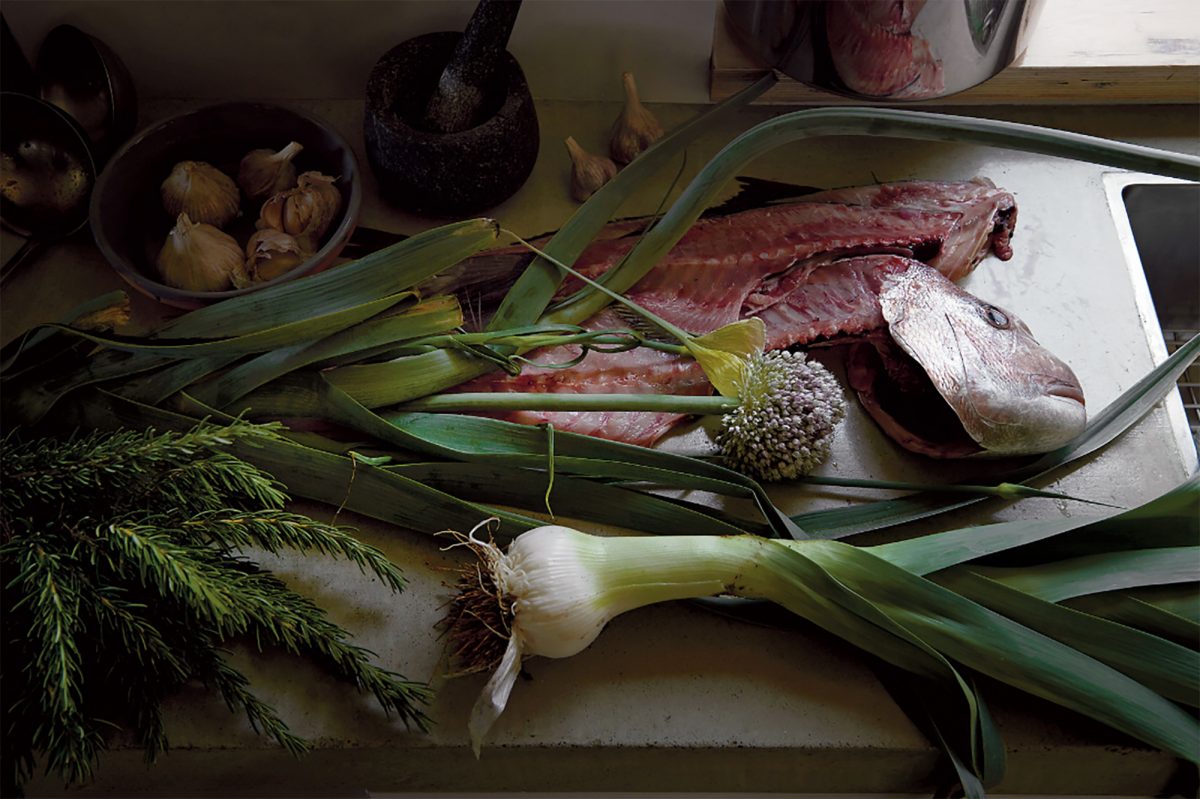 A discarded fish head is ready to be used in broth. Photograph by Earl Carter.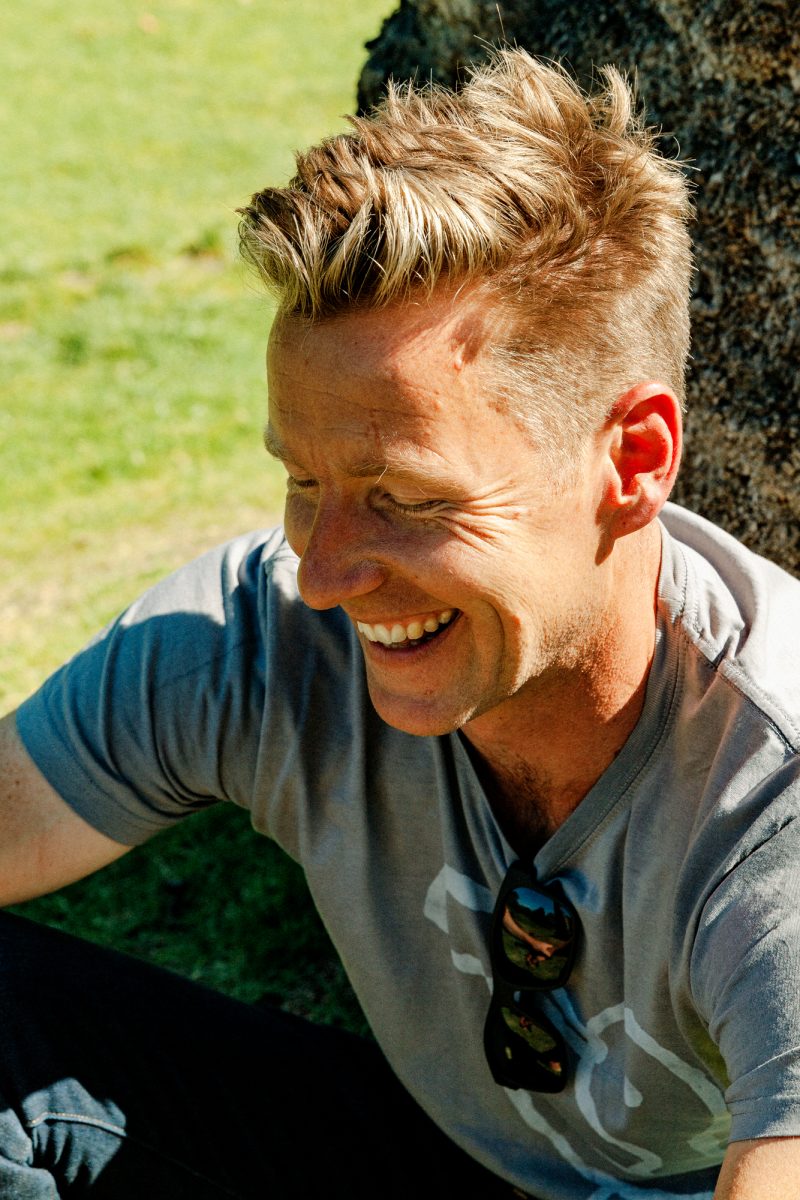 Joost Bakker: "I loved installing flowers; I was given creative license, even then. I thought, why not just focus on that… so I did." Photograph by Earl Carter.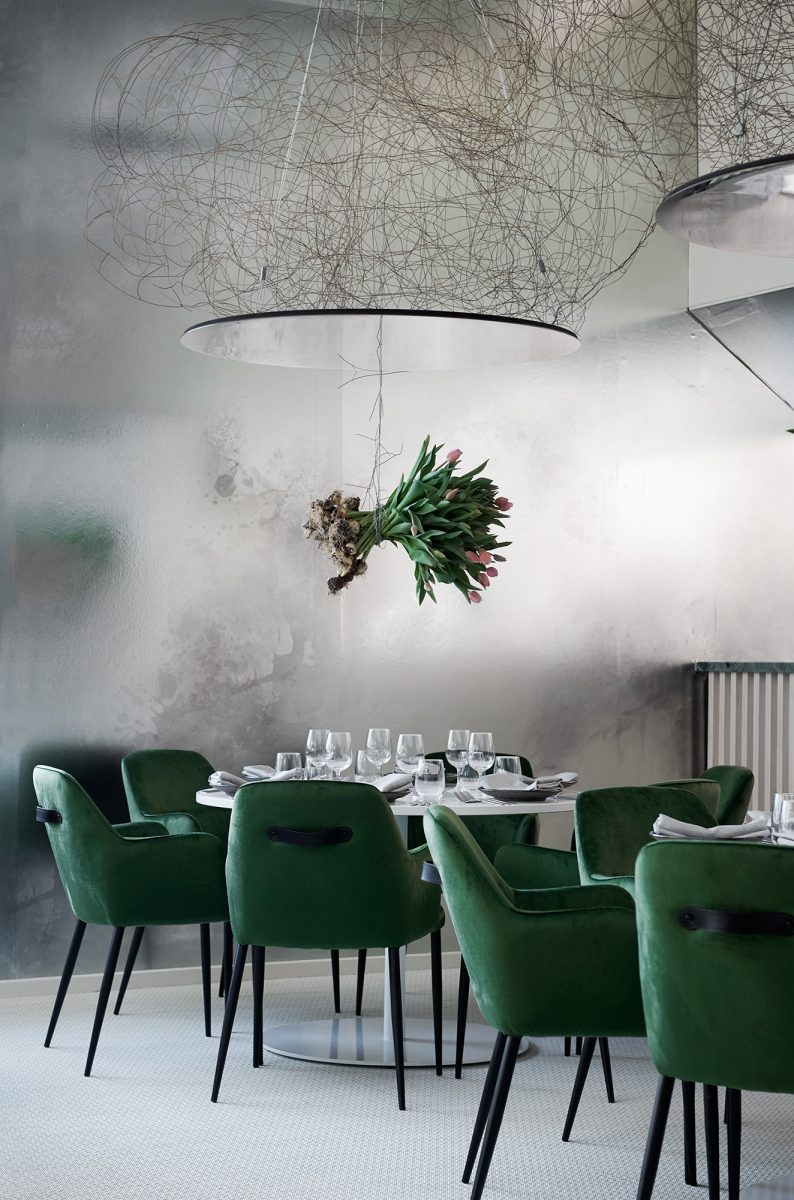 Exposed seasonal beauty – Joost's tulip installation for the 2015 Lexus Design Pavilion at the Melbourne Cup Carnival. Photograph by Earl Carter.
Change takes time. Joost had hoped that Greenhouse would lead to a rapid uptake of zero-waste practices by his hospitality peers. Yet, even after a high-profile Sydney Harbour pop-up, his in-vessel organic composting method didn't take off. "My dad said to me at the time, 'What's two years? It's nothing. It takes a generation to make change.'" Undeterred, Joost opened his own closed-loop café Silo in 2012 in a Melbourne laneway. Suddenly, from Maggie Beer to the New York Times – the world took notice. Joost thinks it had to do with legibility: "I've realised that Greenhouse was so big that people couldn't get their heads around its elements. It was covered with plants, it was harvesting urine… people walked in and were a bit overwhelmed. The difference with Silo was that it looked like a normal café – but it didn't have a bin." Silo was small and approachable while punching above its weight on sustainability. René Redzepi of Noma, lauded as one of the world's top chefs, is now a zero-waste pilgrim since visiting Silo.
Joost sees green roofs as the way of the future. He regrets not putting one on his Monbulk home, but they have become central to every built project since, including his most recent residential commission in Kinglake, Victoria. Constructed from steel frame, straw-insulated walls and ModakBoard (a non-toxic, magnesium-oxide based cladding), Joost's design combines sensitivity to extreme Australian bush conditions with his self-described "rough, robust and rustic" aesthetic. He worked with the CSIRO to fire-test the house, transporting the structure mid-build to a test site in Mogo, Eurobodalla, NSW. The house was subjected to a 'flame front simulator' ("pretty much a giant barbecue" in the words of CSIRO's Justin Leonard). While the external temperature reached a searing 1000oC, the interior of the house remained a relatively breezy 35 oC. (It passed with flying colours.) While Joost enjoys building, he isn't in it for the money. Instead, he will set up an open source platform to share knowledge and designs for sustainable residential architecture with any potential owner–builder. "I want to provide the engineering and technical drawings for this system that allows you to build multistorey buildings and simple dwellings. It means that people can do it themselves."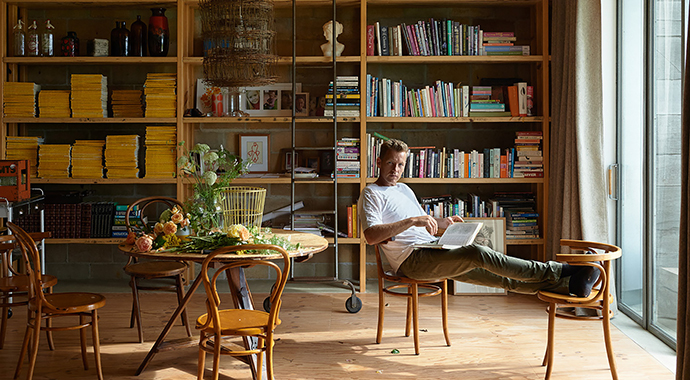 Flowers, National Geographic and the natural world are central inspiration to Joost, pictured at home in Monbulk. Photograph by Earl Carter.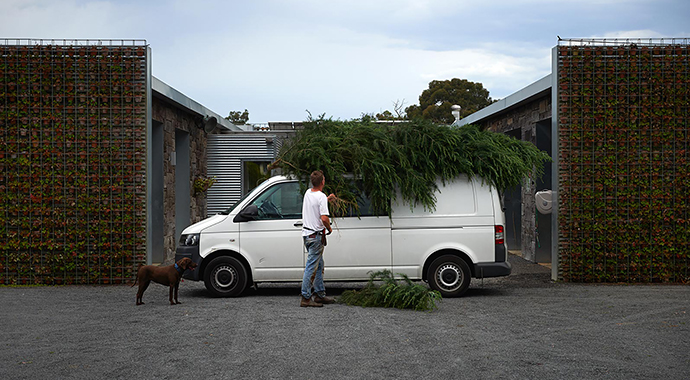 Joost loads up his van with trees and foliage from his Monbulk farm while Molly the dog looks on. Photograph by Earl Carter.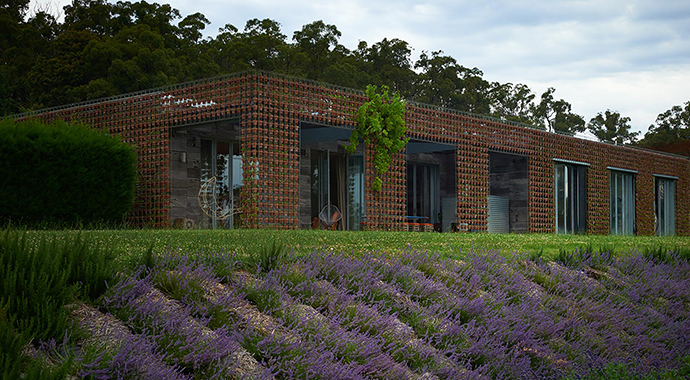 Joost Bakker's Monbulk home, covered with thousands of strawberries. Photograph by Earl Carter.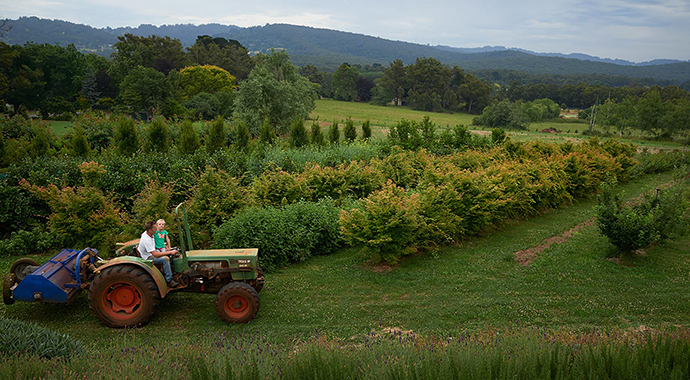 Joost on his property at Monbulk, Victoria Photograph by Earl Carter.
Joost's vision of self-sustaining cities and a world without waste is infectious and he is confident that even the dirtiest players can change. His harshest critics are often his friends, who question his motives for engaging with big business. "I copped a lot of flack for doing stuff with Flemington. I've never put a bet on a horse race; it's not my thing. But to me, there's no point talking to people that are already converted about how we should be living or what we should be eating. I want to convince people that aren't already living or behaving this way." Since meeting Joost, Qantas CEO Alan Joyce has committed his airline to being zero-waste by 2020 through the rollout of in-vessel composters in all domestic lounges and recycling waste plastic into flowerpots. Meanwhile, Joost has installed an organic composter, edible gardens and beehives at the newly revamped Eastland shopping centre in the suburbs of Melbourne. He is adamant that good food comes from rich soil; his closed-loop composting crusade is about respecting the provenance of food and the land on which it's grown. Now, thanks to Joost, McDonalds is implementing a stainless steel milk-delivery system. Even fast food, it seems, is learning to slow down.
Joost lives at a mile a minute in order to teach others to go slow. The night of our interview, he will host a talk with renowned Fäviken chef Magnus Nilsson; the following week he will speak about the importance of soil at festival21. Before he races off, I ask him what he thinks the future holds for his children. "I think we can easily feed the world's population with a hell of a lot less land. Our cities will end up feeding most of us, in the not too distant future. The next 10 or 20 years are going to be so exciting. Our kids will be the ones that drive it. I'm working with Google, so I'm privy to some of the stuff they're working on and it actually empowers the producers. All of a sudden, on our phones, we'll be able to look at the cow that's providing us with milk, the pasture, or at the microbe level in the soil… Yeah, it's terribly exciting what's going on… so many things to do. Question everything is my motto."
Thanks to Joost for taking the time to speak with us, and to Ben Clement for his beautiful photos of Joost taken at last year's MPavilion in Queen Victoria Gardens. This story was first published in 'The Ecological Age', the fifth print issue of Assemble Papers.