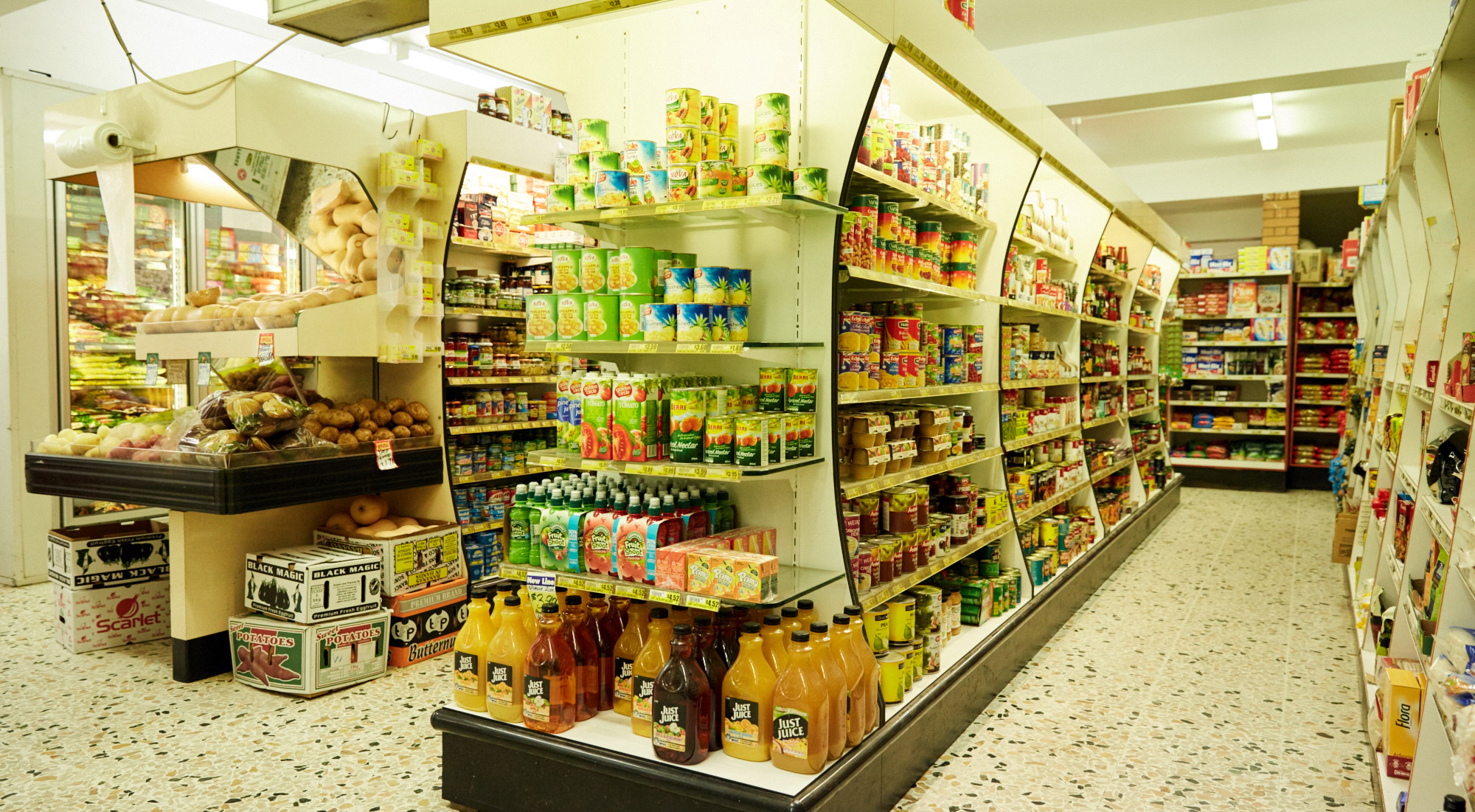 May 12, 2016
Opened in 1975 by Joe and Vicky Aiello, Flower of Sorrento is a hidden diamond in the inner-northern Melbourne suburb of Clifton Hill. Now run by the couple's children, Flower of Sorrento has withstood the demise of similar stores in the area, remaining a favourite among locals thanks to its enduring and indispensable charm.
While Australia's supermarket duopoly continues to loom large, an independent grocer tucked away from the busy surrounding shopping strips of Brunswick and Fitzroy remains a favourite of its local community. Founded in 1975 by Joe and Vicky Aiello, Clifton Hill's Flower of Sorrento has stood the test of time on the decidedly placid Spensley Street.
In 2001 the couple handed over the store to their children, Albert and Rosie, with the family's Italian heritage carried through the store's distinctive name derived from Joe's picturesque hometown, the coastal southern Italian city of Sorrento (not, as Albert is quick to point out, the Mornington Peninsula equivalent – a quirk frequently remarked upon by delivery drivers and customers).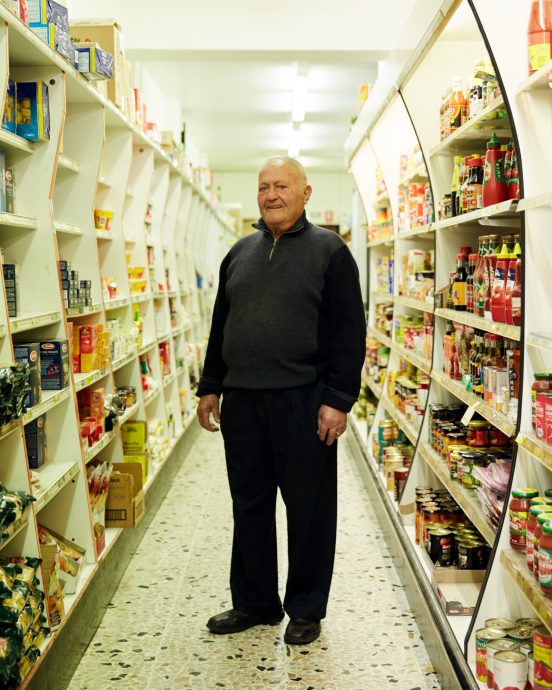 With a modest frontage removed from the arterial roads of Clifton Hill, Flower of Sorrento is healthily distanced from any 'bigger fish' that could impact business. But despite the comparative lack of passing trade, the location and history of the store – which dates back to long before the Aiellos took over – have been key in building lasting relationships with much of the local community.
"You've got to have a good relationship with the locals. It's your lifeblood. It's what makes you open the door in the morning," explains Albert. "It's David down the road, or Stuart or Mary. It's first-name basis. It's more personalised than walking into a shop and just grabbing whatever you need and heading back out again."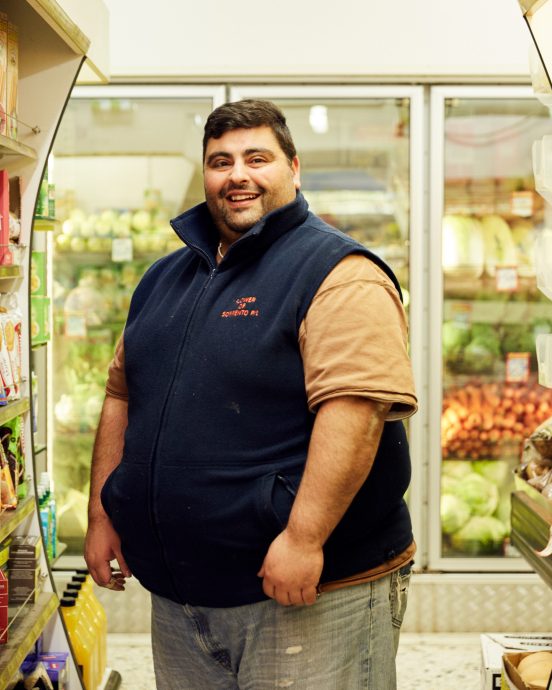 Flower of Sorrento is a happy alternative to the traffic, carparks and queues that often go hand-in-hand with larger supermarket chains. With the concept of the 'big weekly shop' becoming increasingly irrelevant to the inner-city lifestyles of many nearby residents, the Aiellos have been able to keep intact a dedicated local customer base.
Once upon a time, the shop's stock closely reflected the Aiello family's Italian background, but over the years this has slowly shifted. "When mum and dad first started [the store], dad didn't know what an avocado was! He'd never seen a mango or a kiwi fruit. In Italy, these types of produce have probably only come through in the last ten years or so. The shop is now a mixture of all different flavours," says Albert.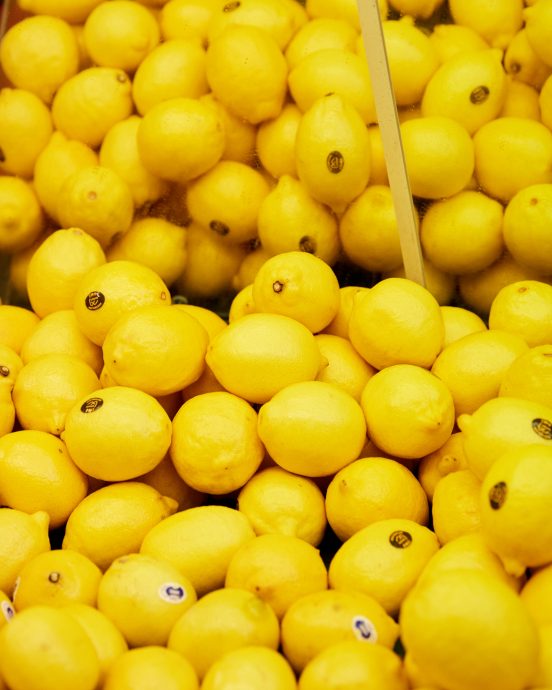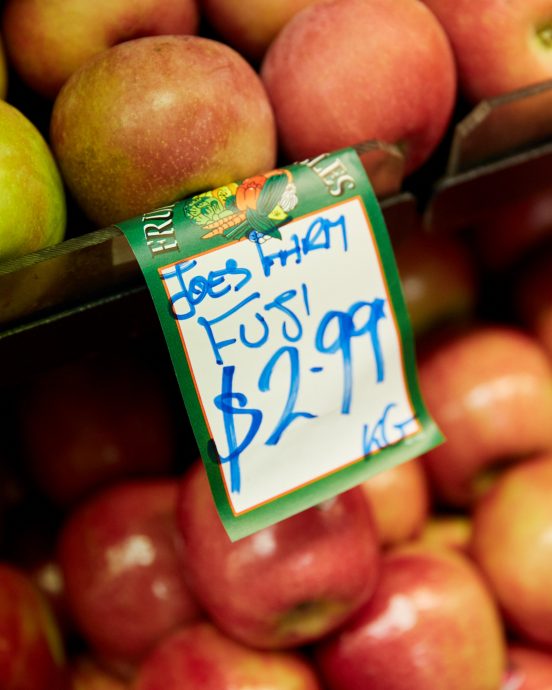 What sets Flower of Sorrento apart from other similar shops in the area is the produce lovingly cultivated on the family's Heathcote farm, with a significant amount of fruit and vegetables provided by the farm over the years. The Aiellos also produce a number of other goods, including an olive oil that has become a renowned local favourite, and the family's 'Mt Camel' Shiraz, which you can find down the road at the Royal Hotel. In the past, Joe and a good friend have also produced handmade honey, but as age catches up with the store's 78-year-old original owner, produce from the farm stocked in the shop has gradually slowed. This is the first year that labour-intensive harvests like tomatoes will be sourced entirely from elsewhere.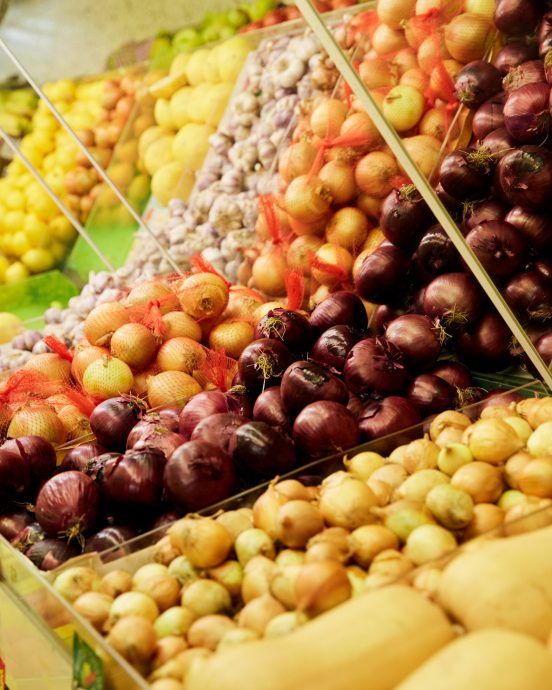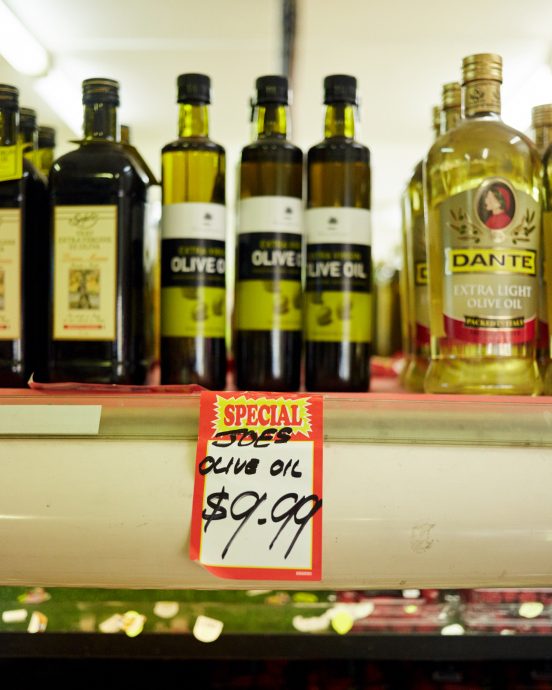 "When we first got the farm, mum and dad used to grow a lot of things – tomatoes, corn, all kinds of fruit trees – that we did sell in the shop. But as times goes on, dad has gotten older and can't do as much as he used to," says Albert, adding that Joe's eye for "great quality fruit and veg" remains strong as ever, with Joe accompanying Albert to the Epping market each Monday before dawn.
Early mornings at the markets have almost always been a part of Albert's life. He recalls spending school holidays helping in the shop and driving to the farmers' market with his father as a child. Once home to workers and labourers from various nearby factories that have since moved elsewhere, Clifton Hill has experienced slow but noticeable change over the years.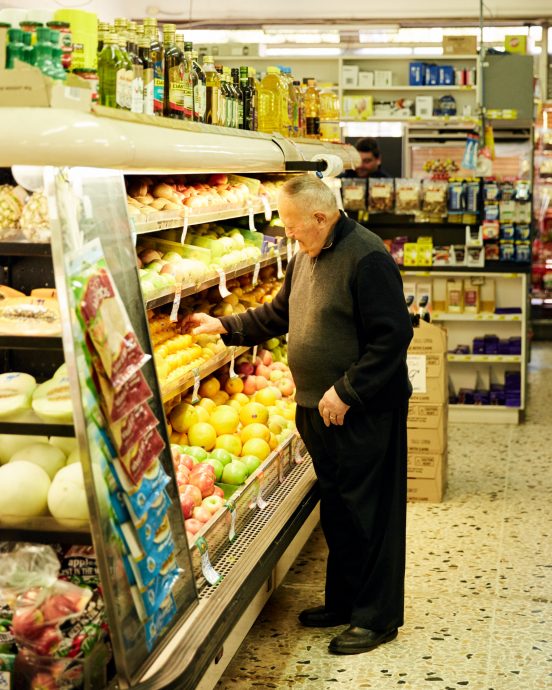 "I remember growing up and going to school outside of Clifton Hill, and people didn't even know where Clifton Hill was. But slowly and surely Clifton Hill has become trendy. It wasn't so trendy when I was kid!" says Albert, laughing. "Clifton Hill was sort of a low-income, labour-force area – now it has become more of a white-collar suburb."
Encircled by the Merri Creek, the Eastern Freeway and Queens Parade, Clifton Hill's borders create an island-esque suburb that, in Albert's opinion, retains the spirit of a rural community. With several nearby schools, the suburb has become a popular inner-city location for young families, which Albert feels has contributed greatly to the overall connectedness of the area.
"This might sound funny but [Clifton Hill] is like a country town in the middle of the city. You've got your general store, the pub, and the school. The three things that make up a country town – we have those things right here."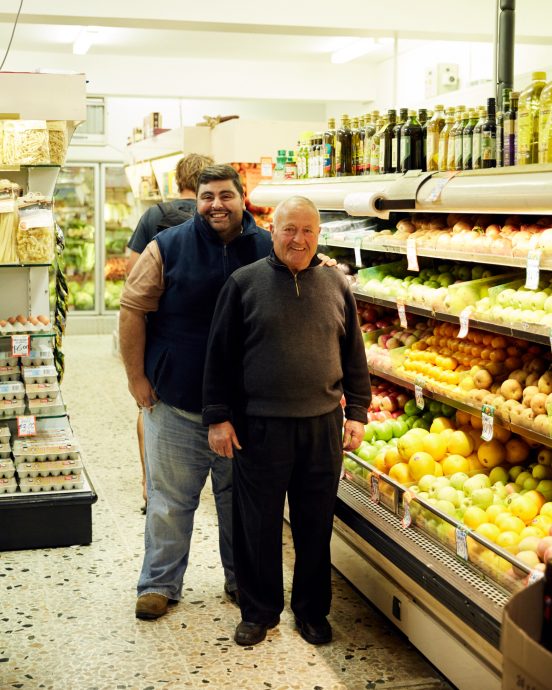 The built environment of Clifton Hill has changed significantly over the years. Albert remembers the Sidchrome toolbox factory that used to sit across the street from Flower of Sorrento; the Dunlop North British Rubber Shoe Company factory, which was demolished in the late 1970s; and a now-defunct local clothing company that produced Albert's school shirts when he was a child.
While much of the inner north's industrial businesses of the 20th century have been demolished, repurposed, or have gradually shifted to Melbourne's outer reaches, Flower of Sorrento remains an enduring gem in Clifton Hill.
A huge thanks to Joe and Albert of Flower of Sorrento for taking time out of their day to chat about their wonderful store. You'll find Flower of Sorrento at 58 Spensley St, Clifton Hill – we recommend trying Joe's tasty farm-grown Fuji apples!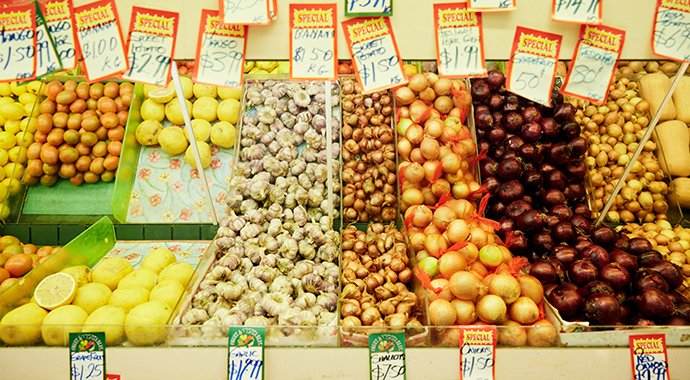 Flower of Sorrento's original owner, Joe – now 78 years old – still joins his son Albert every Monday morning at Epping Markets to pick out the best quality fruit and veg for the store. Photo by Tom Ross.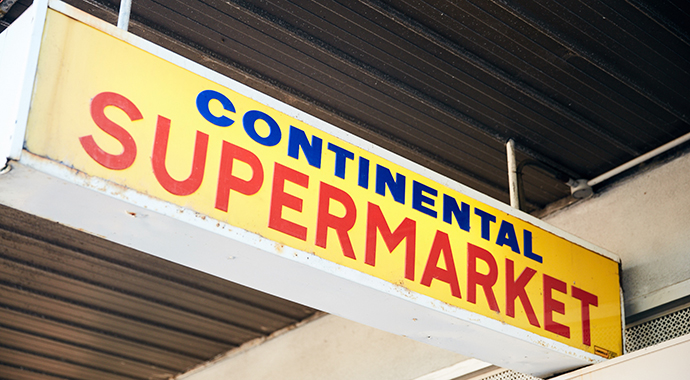 In Flower of Sorrento's early days, the Aiellos' Italian heritage was reflected in many of the goods they stocked. But as Clifton Hill's community has changed over the years, so too have the flavours of the store. Photo by Tom Ross.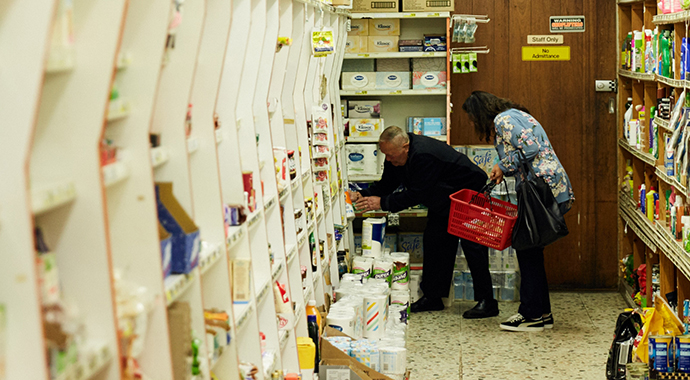 Family-run independent grocers are becoming increasingly rare, but Flower of Sorrento has maintained a strong presence in the Clifton Hill community. Photo by Tom Ross.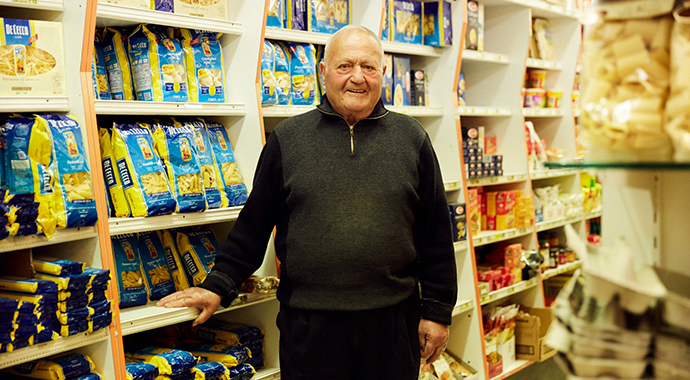 Originally founded by Joe (pictured) and Vicky Aiello, Flower of Sorrento has been a staple of the Clifton Hill community since 1975. Photo by Tom Ross.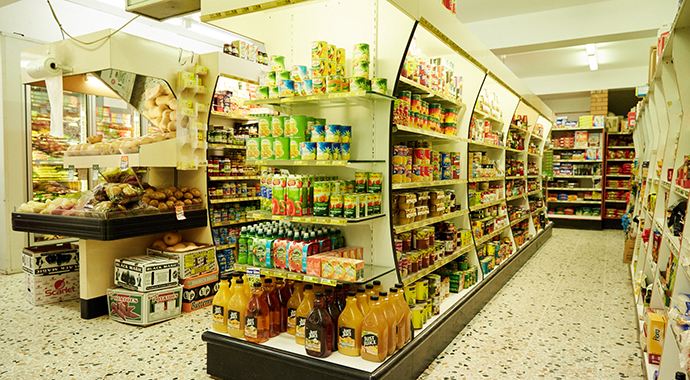 Despite its modest frontage, Flower of Sorrento stocks a wide range of goods inside. Photo by Tom Ross.