City Living
Contentious spaces: Practise Studio Practise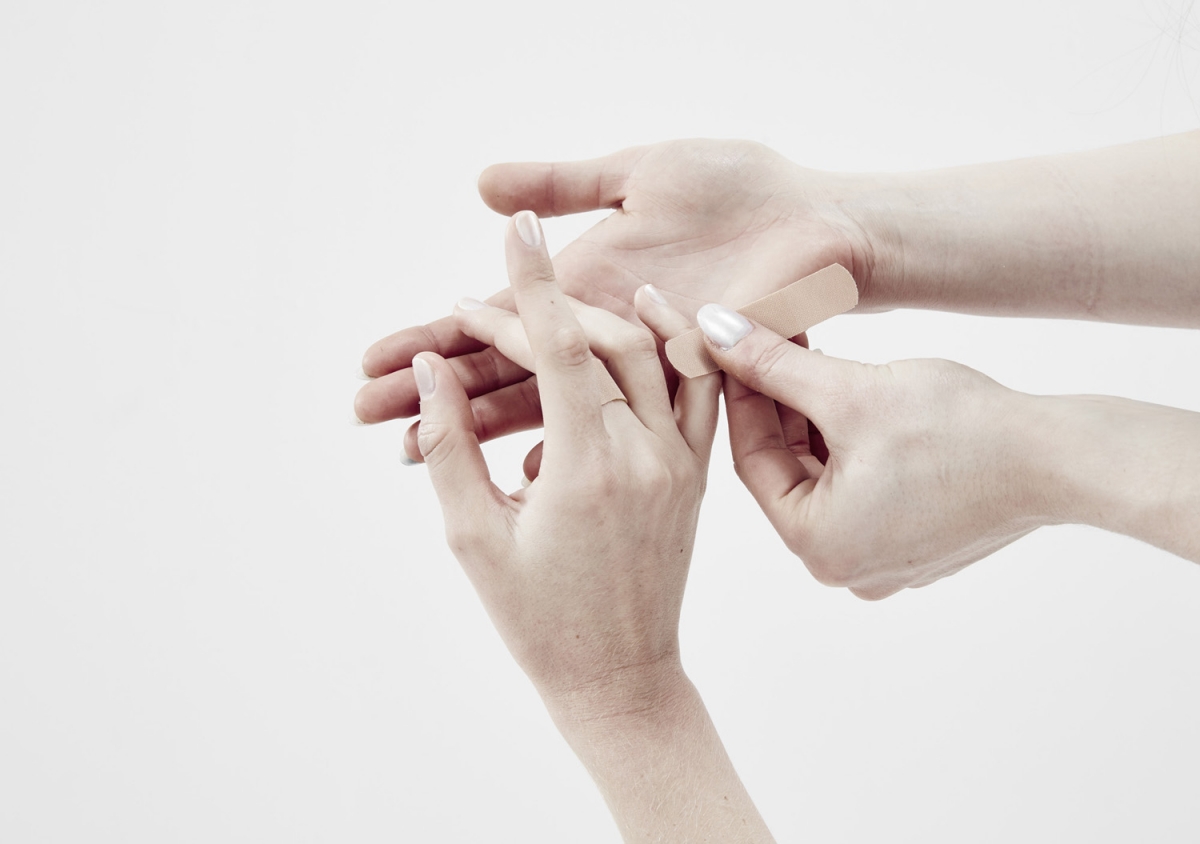 Apr 29, 2016
We're sure by now you've heard all about the Brutalist Block Party (BBP) – the May-long program of talks, workshops, lunches, dinners, social situations and a weekly produce market that we're presenting with Open House Melbourne in a vast concrete-fronted warehouse in Clifton Hill. BBP is a celebration of the under-celebrated: an homage to the site's Brutalist heritage and to post-war architecture everywhere, in a convivial nod to the spirit of community at the heart of this architectural approach. A crucial part of the event is a specially commissioned spatial installation, 'Brutalist Bollards and Pillars of Contention', by Melbourne multi-disciplinary creative studio Practise Studio Practise. With their work spanning art direction, set design, product and experiential design as well as curatorial exercise, PSP will also be presenting a Brutification workshop, a 'Make A F-ake' workshop, and collaborators Otis Armada will be putting on a series of conceptual dining events entitled 'Otis. Brutal.' Ahead of BBP's opening night this Friday 6 May, we caught up with PSP's Lauren Stephens, Laura Clauscen and Frederick Mora to talk all things Brutal.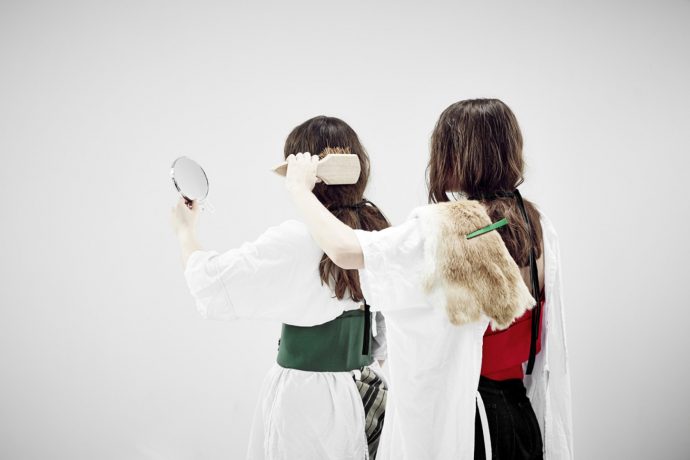 Assemble Papers: Practise Studio Practise (PSP) is a young company, having only formed in 2014. How did the collaboration come about? Can you explain the connections between PSP, Otis Armada and Lucky Prawn?
Frederick Mora: PSP is our most recent thread but we have all been working, conspiring and training together in different incarnations since about 2012. The last couple of years have really been about gaining more exposure and experiences throughout a swamp of fields and practices. It has taken us a couple of shuffles to work out our best sword styles and how we can use them to level up. In the Year of the Monkey, PSP will be our zone for all things spatial, functional and visual, whereas Lucky Prawn will digest all of our food-related projects. As we grow we hope to bring more bon vivants to the table and spread out.
The Brutalist Block Party (BBP) is a good example of how this organised chaos works: we focus the resources of PSP into the spatial installation of both BBP and Otis Armada, leaving Lucky Prawn to focus on ideation surrounding food and its delivery.
We will be brutally familiar faces at 122 Roseneath St, as PSP will be also be running two workshops, the first being 'The Association for Brutification', and the second presenting FREITAG's Melbourne version of the 'Make A F-ake Workshop', where patrons are invited to fabricate their own FREITAG F-ake.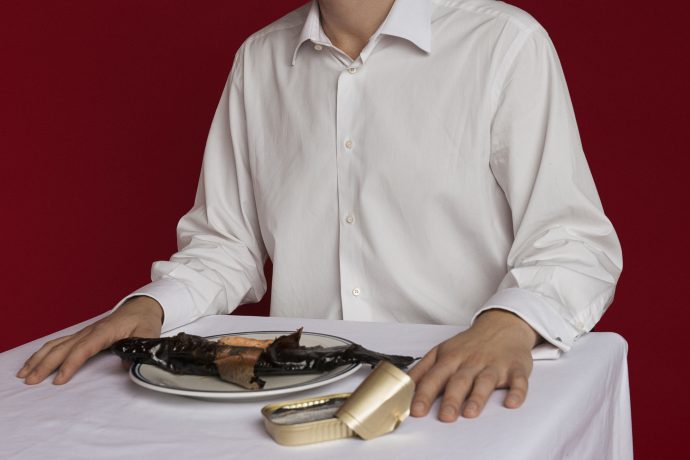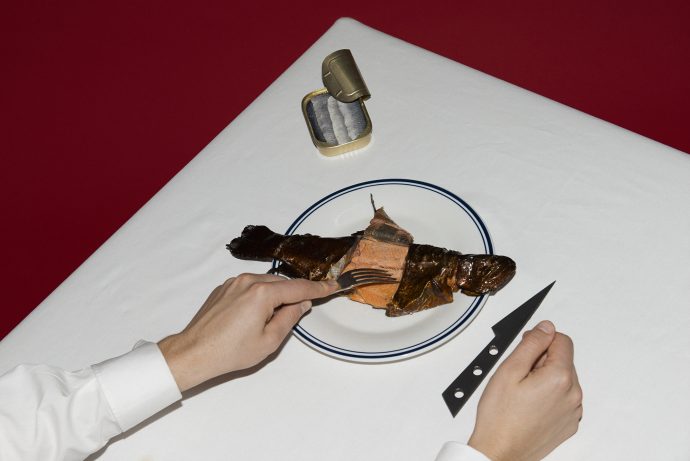 AP: Your work spans art direction, set design, product design and curatorial exercises. In your own words, how would you describe what PSP does?
Lauren Stephens: It really began as a platform for our tendency to collect, document and record not so much the cutting-edge but the ordinary – acknowledging these visual, audible, tangible and spiritual experiences as idyllic in their pure state but also wanting to harness their energy and pick them apart to recontextualise.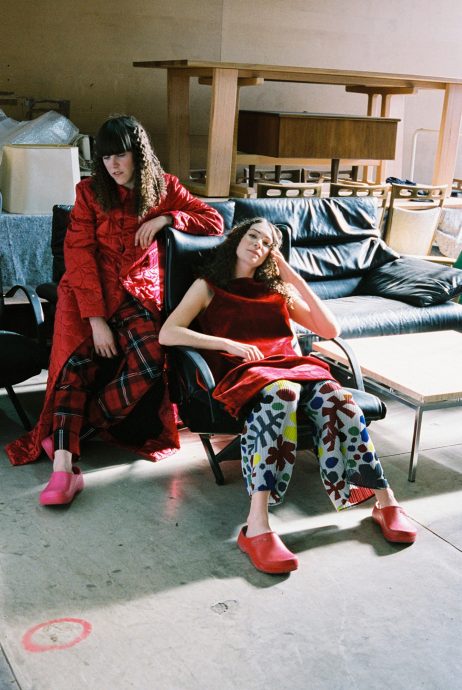 AP: What have been some of your favourite collaborations?
LS: The holy grail is to throw a giant net across the globe, shrink it, then put it in our pocket. A matrix of rare birds for us to undergo regular hunting activities with. Fruitful archeological digs have encountered material alliances with Freitag (ZRH), campaign exploration with Mathery Studio (IT) for Pastello at the National Gallery of Victoria (NGV), expeditions in Tokyo street debris with Shin Hamada (JP), documentation of Otis Spring with Champ Magazine (JP) and freezing field trips with Everyday Coffee x Crumpler in New York.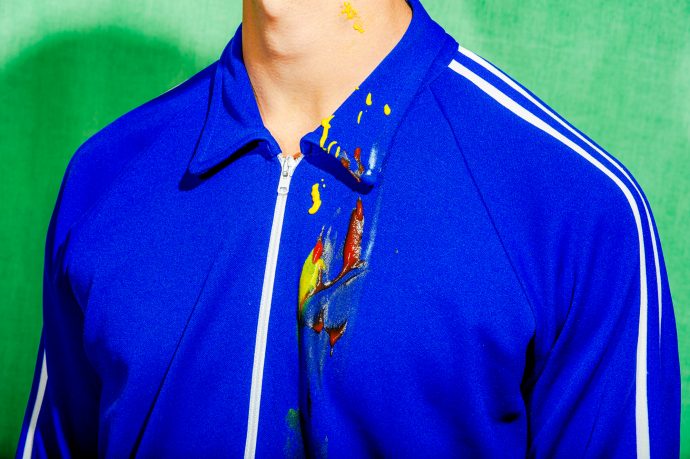 Laura Clauscen: Facing our Melbourne hub, we've been working/cooking hard to compile what could outwardly be known as a cookbook with Ben Clement (Good Sport) and Tristen Ceddia (The Blackmail). 'Fat Brad' will personify and document the eating habits of our main man Brad Pitt across his 20-odd-year career. Stay tuned for some serious food smut.
Alongside 'Otis. Brutal.' we are filming a series of short videos entitled 'A Brutalist Being' with our long-time collaborators Coco & Maximilian. These will be launched at 'Otis. Brutal.' as an after-dinner mint. The previous Otis Spring saw C&M create a series of 'Digestion'-themed videos for the same purpose.
The 'Don 1' (2015) tandem chair delved deep into our puerile knowledge of furniture design to form a bloody ode to butchery as part of the first 1-OK.CLUB at the NGV.
For the 2015–16 MPavilion we hosted 'PSP: Tour de Materials' (2015) alongside The Office for Good Design, where we shone light on a few of our favourite local material suppliers.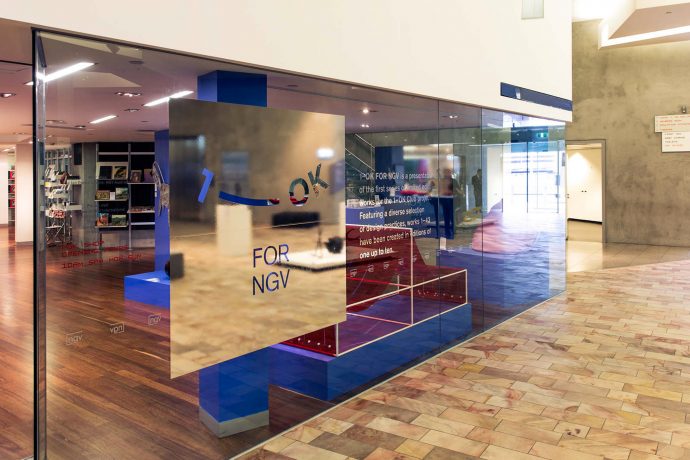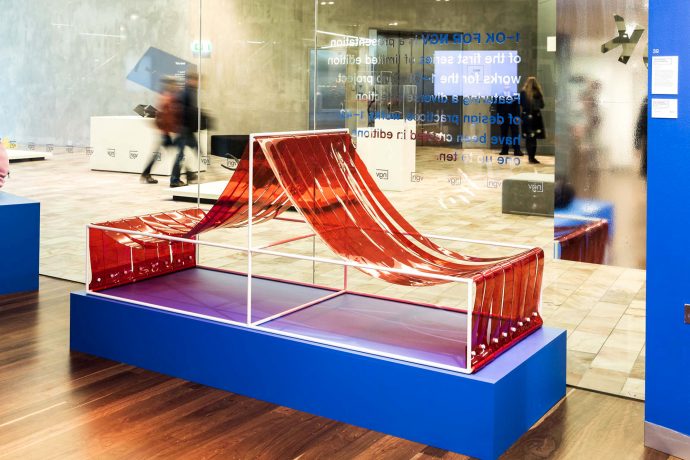 AP: At the upcoming Brutalist Block Party you'll be presenting 'Brutalist Bollards and Pillars of Contention', a spatial installation made especially for the event series. Can you tell us a bit more about that?
FM: At the base of every Brutalist building is a hive of contention. While we know this wasn't the intention of the architects, we think it is a most artful ploy. For the BBP we have commissioned a series of contentious columns throughout the space. 'Pillars of Contention' hopes to emulate the argument, not the architecture. We hope for people to challenge their Brutalist bollocks, question their function – Brutal bollards perfect for etymological, culinary, architectural, intellectual and aesthetic fisticuffs.
AP: You're also presenting a workshop, 'The Association of Brutification', in which "household objects will undergo a Brutalising assembly line, redefining them as objects of intrigue and desire." Can you elaborate?
LS: One: Title your inner 'Brutalist Being'. Two: Possess and harness the internal power of Brutification through the act of guided movement. Three: Transform your everyday object by manipulating at each Brutification station. Four: Perform detailed analysis and documentation of your objet d'Brute.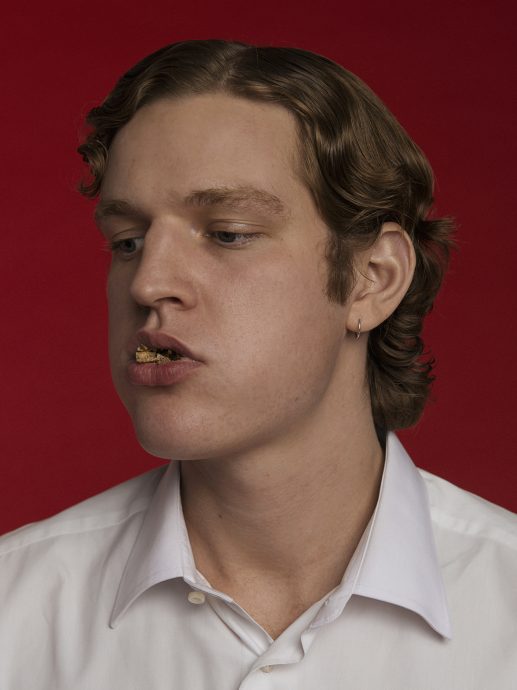 AP: Where does the idea of Brutalism intersect with what PSP is all about? Do you see beauty in the Brutal?
FM: Like Brutalism, PSP is often drawn to things that acknowledge but manage to eschew comfortably accepted design principles. We think there is something really rewarding about abandoning all pretense when it comes to design and finding merit in the rough. Ugly is undeniably as impactful as beauty. At PSP we praise anything that cuts the mustard and is doing something new or reviving something forgotten. Brutalism was a powerful display of indifference to commonly warmed-to aesthetics, a push back against the expected. In today's creative climate, where the internet is an infectious beast, PSP responds by constantly looking forward into the unexplored or backwards to industries that are completely uninfluenced by trend. We look to the office or the workshop or the deli, we bury our head in some soup or get out of town – that's where we look for 'beauty'. While Brutalist buildings were the monstrosities of their period, they are now praised design fodder, celebrated by all those in the know. Perhaps the detested buildings of our time, like cane-toad housing developments or shoebox skyscrapers, will come into their own too – we hope not, but healthy design should be contentious. Nails which stick out always run the risk of being hammered down; for PSP it is about approaching our work in a fashion that is fearless, functional and bold. I guess that is pretty Brutalist.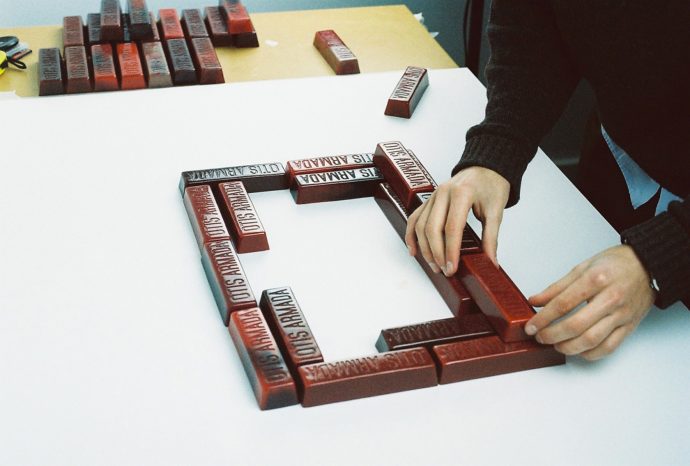 AP: Do you have any favourite Brutalist buildings?
LC: Through our involvement in the Brutalist Block Party program, we turned our focus to the hordes of Brutalist buildings that housed educational and government institutions. This overarching utilitarian motif saw us become fascinated with the 'the four-headed monster' more formally known as the Crosley Tower (1969) at The University of Cincinnati designed by A.M. Kinney, and the glorious monolithic forms of the Endo Pharmaceutical Laboratories (1964) Garden City, New York, by Paul Rudolph. Prior to BBP, we had been fixated with Alison and Peter Smithson, who are often described as two of the founders of New Brutalism. Their House of the Future (1956), though not traditionally Brutalist, has become a constant source of influence with their regard for modularity and customisation in almost cave-form.
AP: What are PSP's plans for the rest of 2016?
LC: Continue the W.W. (world-wide) exploration with regular field trips to distant lands, to inflame our idée fixe. Other vital objectives include launching a food channel, rare bird-watching in Tel Aviv and Istanbul, launching a series of furniture titled 'Prototype,' 'Fat Brad', and delving deeper into the land of Foley.
Thanks to Lauren, Laura and Fred for taking the time to speak to us about PSP and all things Brutal. For more of Practise Studio Practise's work, visit practisestudiopractise.com. For more information on PSP's 'The Association of Brutification' workshop, 'Make a F-ake' workshop and 'Otis.Brutal.' with Otis Armada, visit the Brutalist Block Party website: brutalistblockparty.com.au. Opening night is Friday 6 May – hope to see you there!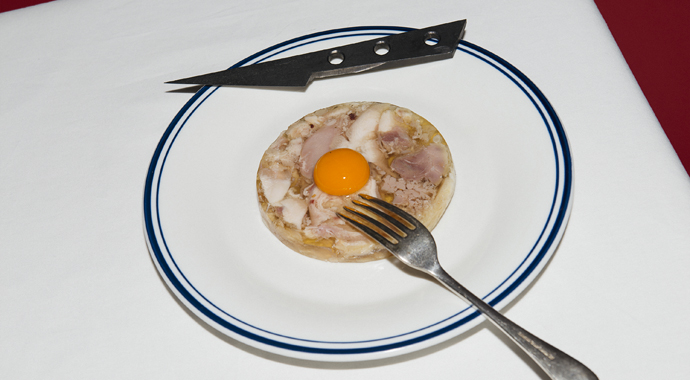 Practise Studio Practise/Otis Armada, 'A Brutalist Being'. Photo by Phebe Schmidt.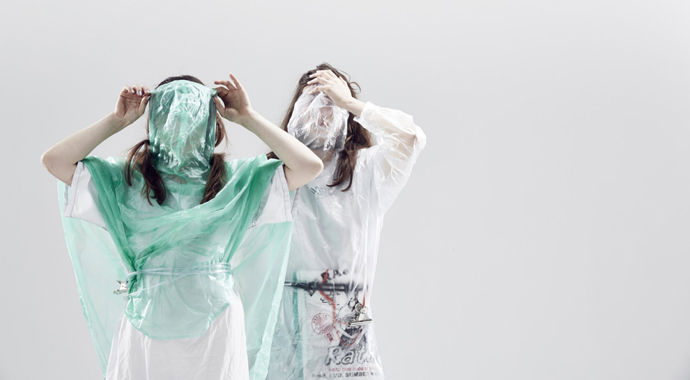 Practise Studio Practise, 'Rituals'. Photo by Reuben Gates.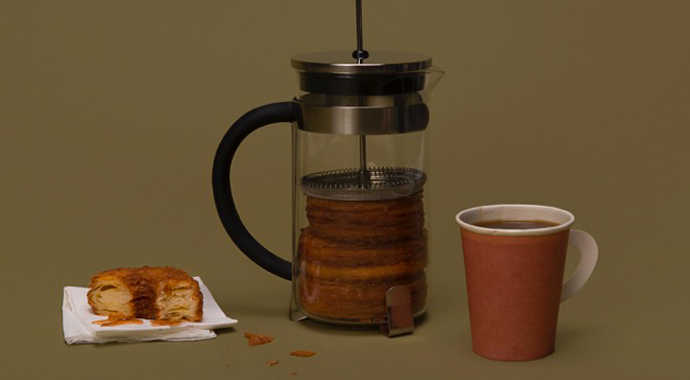 Practise Studio Practise, 'Cronut King', for Vice Munchies. Photo by Phebe Schmidt.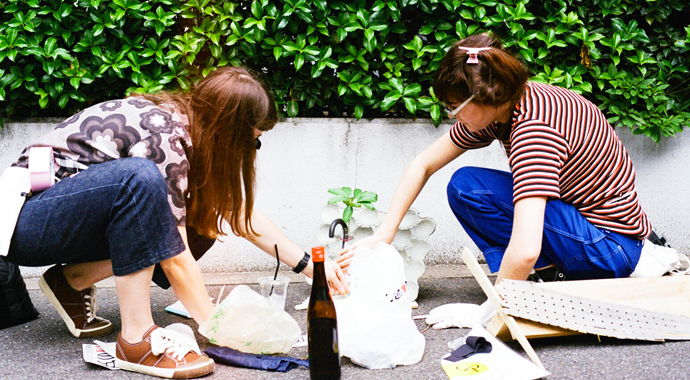 Behind the scenes: Practise Studio Practise making 'Tokyo street ceramics'. Photo by Shin Hamada.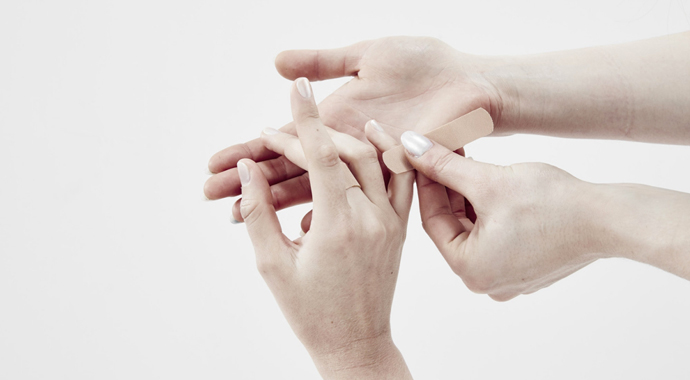 Practise Studio Practise, 'Rituals'. Photo by Reuben Gates.