City Living
MGS Architects' Rob McGauran on architects as agents for social change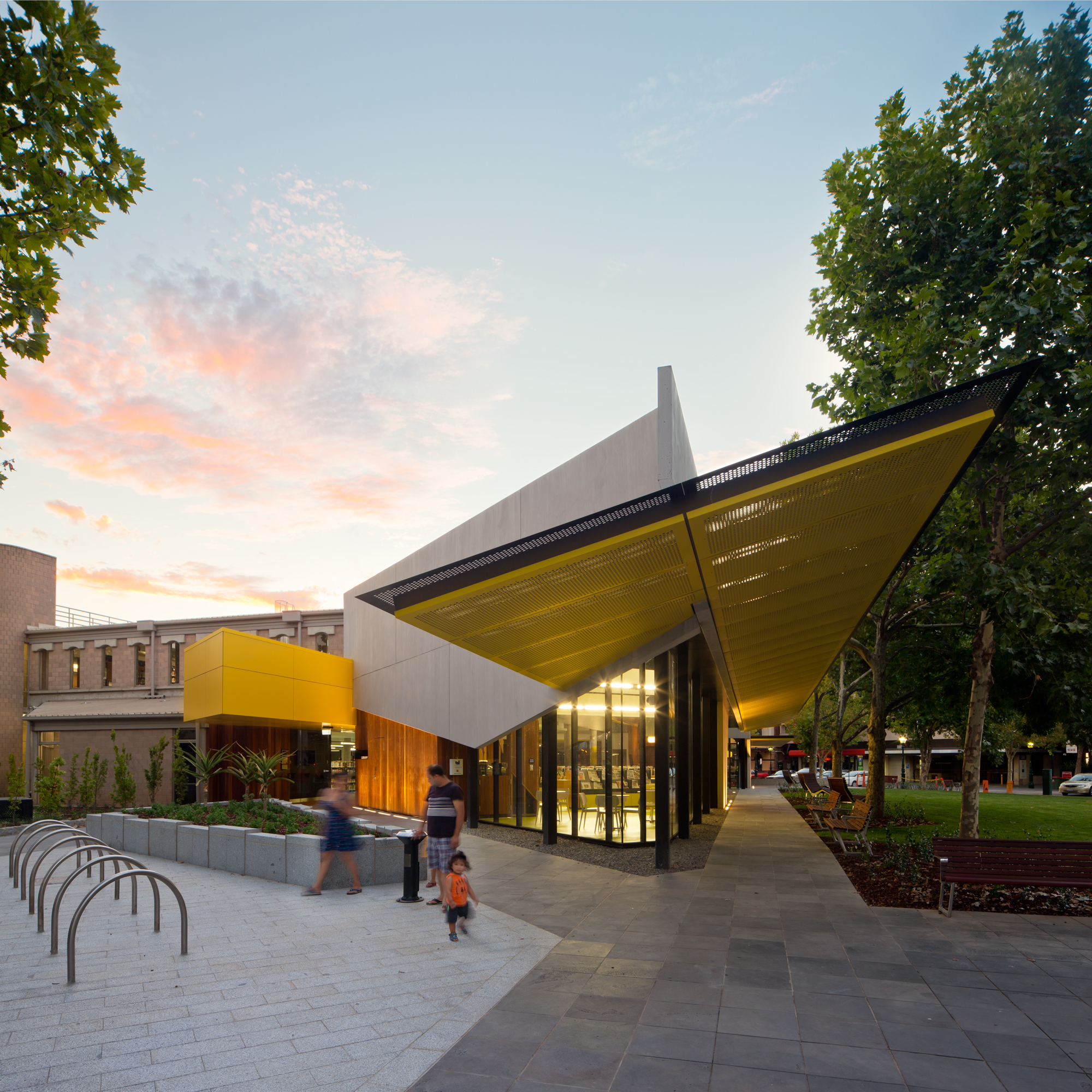 Mar 18, 2016
"Our practice has always been to do work that we find is meaningful. And what do we mean by meaningful? I suppose that comes down to what we see as the opportunity we have as architects to make some sort of difference – whether in a design sense, in a cultural sense or in a social sense." Founding co-director of MGS Architects, Rob McGauran, speaks with Emily Wong about expanding the role of the architect into an agent for social change.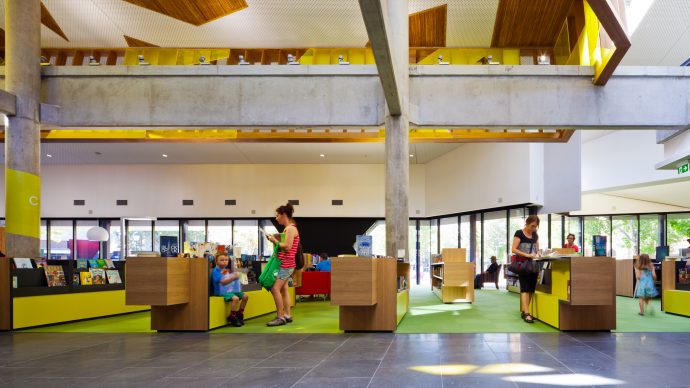 Hailing from country Victoria, Rob McGauran recalls his early experiences moving to Melbourne. "I'd been lucky. I'd gone to a technical school and I got a scholarship to a private school in Melbourne before a tertiary education – the first in our family. So I saw the benefits of opportunity, first hand," McGauran reflects. A mere 18 months after graduating from architectural school in 1985, McGauran and Mun Soon joined forces to establish MGS Architects (Eli Giannini joined as co-director two years later). Now almost three decades on and the original team has long since expanded into a thriving collective of architects, landscape architects, urban designers and planners, all plotting out projects in an airy former warehouse in inner-city Melbourne. While the practice's diverse folio includes houses, libraries, restaurants and government institutions, MGS is probably best known for its community housing as well as its more recent work in university master planning.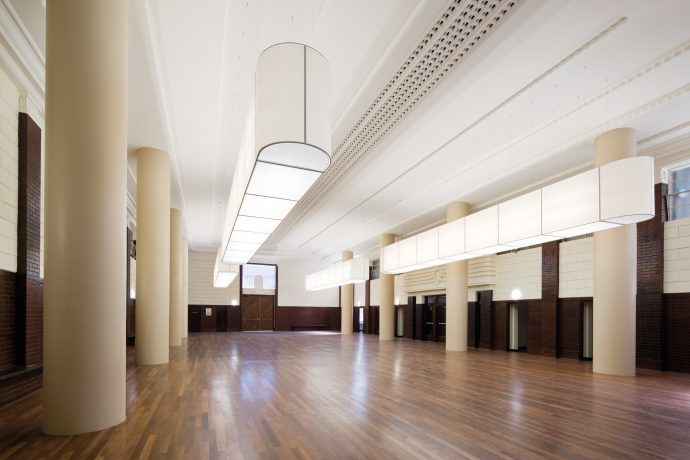 For McGauran, purpose and meaning drive his practice, shaped by a deep and genuine fondness for the city in which he lives and works. "[Historically, Melbourne] has been an incredibly inclusive city – an egalitarian society – and that's an extraordinary strength," he says. "Twenty years ago, though, we became very concerned with trends. According to the data, we were trending away from affordability, from people being able to live cheaply near jobs, from investment by government in social inclusion. And so the question for us became how, as architects, we could subvert that."
For McGauran, creating real change often means moving beyond the more traditional role of the architect into new and unfamiliar territory. Take Drill Hall, a project in which the team redeveloped a heritage building near Melbourne's Queen Victoria Market into a community hub and housing. "Drill Hall was an interesting project because it involved being more entrepreneurial," Rob reflects. "We had to convince the council that rather than sell a property to a large developer, they should transfer it to a non-profit instead." Not the role of a conventional architect, some might say, but for McGauran, it's an indispensable part of his practice. "Projects need architects to be engaged with what some might consider the 'less sexy' parts," McGauran asserts, "because these are the parts where you can get it right – where you can advocate for design in a deeper way." Architects can get involved without being experts at everything. "Often it's about helping to convince people that the impossible things are possible," he explains, as in the case of Drill Hall, where project funding was an initial hurdle. "Showing people that risks can be managed and that there are partners out there that can help them on that path."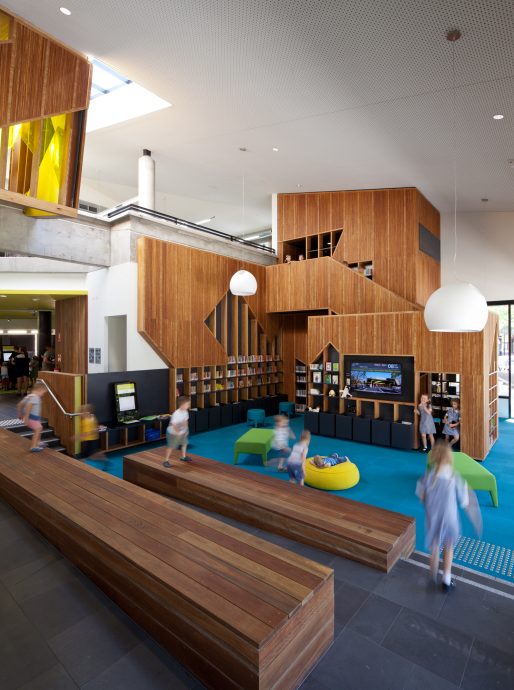 For McGauran, making a difference comes down to the details. And at MGS, the unique needs of the building's residents take top priority. "In social housing situations where residents are spending more time in their homes than would, say you or I, the quality of the home becomes vital," McGauran says. So, rather than mimic the standard balcony sizes for a social housing project in Altona, his team designed bigger areas for increased activities: a vegie garden, a sunny hang-out space, room for a pet. "Providing serendipitous spaces in which to redevelop social skills is important, but it's also important to give people the option of having quality individual accommodation that they can withdraw to if they so choose," explains McGauran.
A sense of the domestic and the personal is of equal importance in social housing for McGauran and his team, which they carefully design into spaces through vibrant colour schemes, integrated interiors and detailing." Many of our buildings' residents have lived in institutionalised spaces and temporary accommodation, so our use of details like the stud frame [at Altona, for example] are centred around symbols of domesticity, of home," McGauran explains. "Colour – a strategy that we use quite a lot – has been particularly important in giving community housing residents a sense of distinctiveness and difference."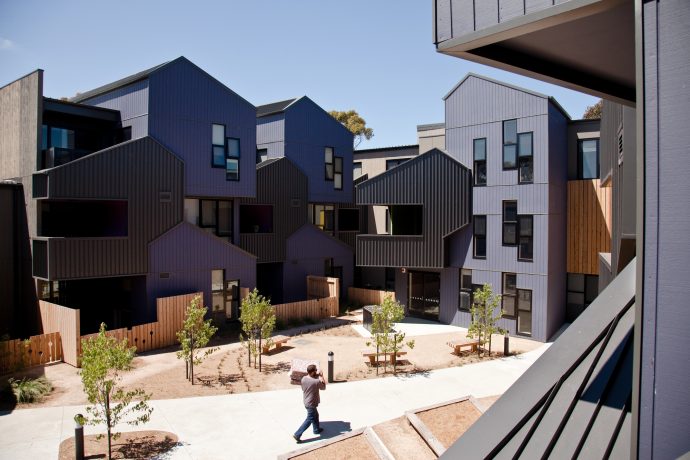 In contrast to many high-profile architectural practices, MGS values function over form, collaboration over more the traditional top-down approach. "We've deliberately not been a big-ego practice," McGauran says. "We prefer to view ourselves as design orchestrators or choreographers." What jumps out about projects like the one in Altona and Drill Hall, then, isn't necessarily their style but their vision. Drill Hall encourages inclusiveness and interaction through a nearby public swimming pool and event hall on site, while their redevelopment of the Bendigo Library re-imagines the space not simply as a repository for books, but as a civic landmark for the entire community (complete with exhibition spaces, everyday nooks in which to pause and reflect, a volunteer resource centre and internet access). When it comes to their current master plan for the University of Wollongong, McGauran says, "We, as designers, need to think about not just how we develop the university, but about what greater role the university has in the region."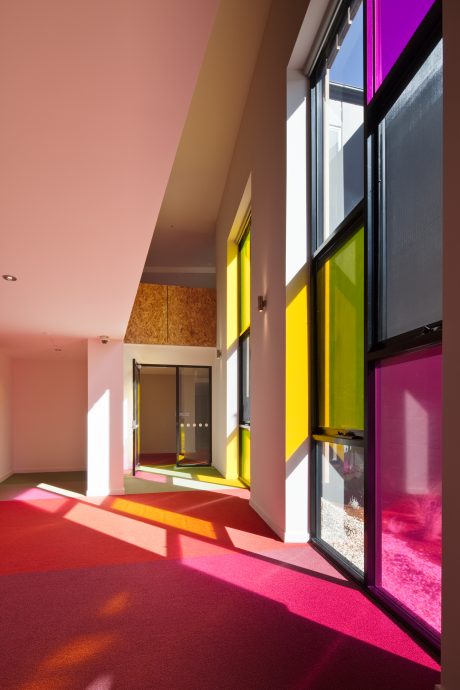 For McGauran, good design is based on solid research – determining everything from the choice of site to the finer detail. For the directorial team, it's a serious commitment; one that extends well beyond the office nine-to-five. In addition to sitting on the boards of affordable housing agencies and nurturing research partnerships, each year the directors head overseas to meet with other organisations and designers delivering on-the-ground projects around the world. "We [Victoria, Australia] are going to be challenged with some unusual issues over the next 10 years," McGauran asserts. "The really encouraging thing is that there are models elsewhere that have already tackled some of these issues."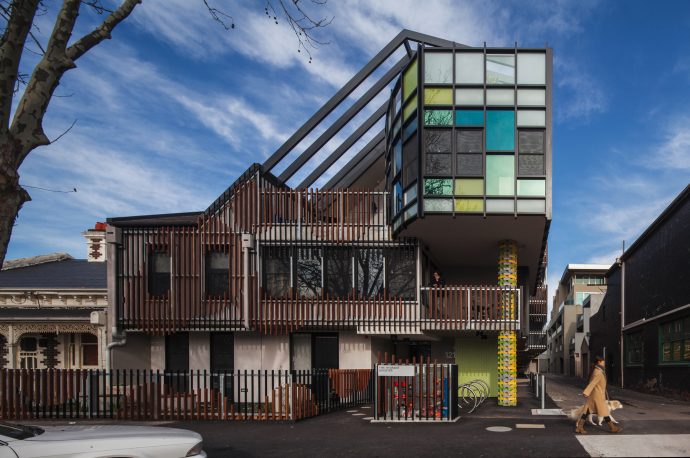 When asked whether Drill Hall is likely to pave the way for similar affordable housing initiatives, McGauran – a man of admirable energy – is already many steps ahead. "My concern with projects like Drill Hall now is that they're not at a big enough scale," McGauran responds. "I mean, Drill Hall's great, but it's only 59 units. How do you deliver 200,000 units to Melbourne? How do you transform an entire suburb?"
As we urbanise at every level, what is clear is that McGauran and his team have big, city-transforming change on the agenda.
To see more of MGS Architects' work, visit: mgsarchitects.com.au. Thank you to Andrew Latreille (Latreille Delage Photography), John Gollings and Trevor Mein for their photographs.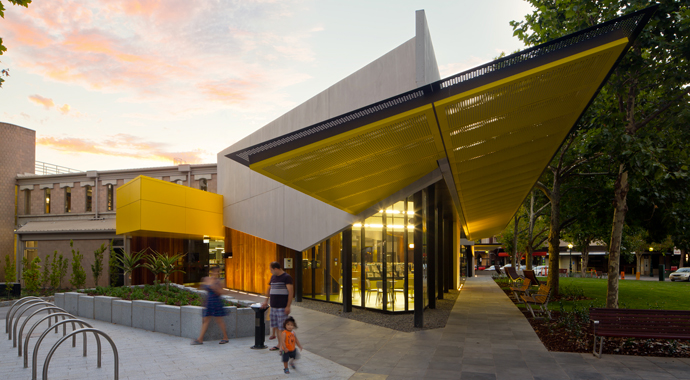 Bendigo Library includes quiet nooks, meeting spaces, a children's library and 'cubby house', galleries, upgraded research facilities and extended internet access for the community. Photo: Andrew Latreille (Latreille Delage Photography).
Built in 1937, the heritage-listed Drill Hall now comprises 59 units of social housing in the heart of the city. Photo: John Gollings.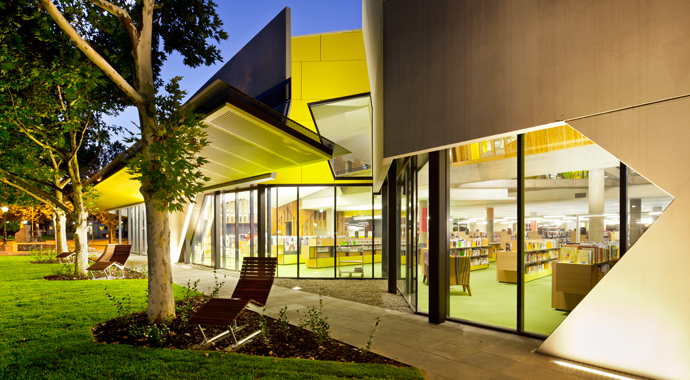 Bendigo Library. Photo: Andrew Latreille (Latreille Delage Photography).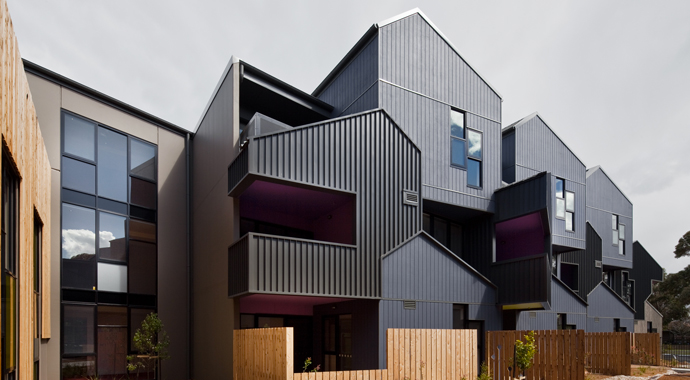 Winner of the AIA's Residential Architecture – Multiple Housing: Frederick Romberg Award in 2013, McIntyre Drive Social Housing in Altona inserts medium density and a sense of independence and communality for residents with disability into a suburban context. Photo: Trevor Mein.