Dec 15, 2015
When I was studying in Florence, my school was right near the most wonderful pizzeria. A tiny hole-in-the-wall type of joint with only a handful of bar stools and always with a line out the door. They only served four types of pizza and on Sundays, porchetta in rolls – an absolute treat. There was never a real need to make my own pizza – it was always cheaper and far more delicious to eat it out. The 'reliability' of my tiny apartment's oven may have also had something to do with it!
After Florence, I then went on to live with a family in the Tuscan countryside where stopping off for pizza was far less convenient than before. We, like many villas in Italy, had our own wood-fired oven, but it was outside and being winter, nobody dared. This is when I was introduced to the magic of pizza fritta (fried pizza!). On a Friday night, we would make the dough and enjoy the pizza fritta for lunch on the Saturday.
Instead of being cooked in the oven, the dough is gently fried in a pan with olive oil where it puffs up, all golden and crunchy. Then, it's topped with fresh tomato sauce, buffalo mozzarella and basil leaves, making it the best way to eat pizza at home. You can make several at a time too and all without a blaringly hot oven cranked to the max in summer. I've also made this while camping once and it was a real delight. You can prepare the dough the night before and let it prove in the fridge – just bring it out an hour before to ensure it has time to come alive again. Although my version is the classic way, you can try other toppings like big salted anchovies, olives or roasted pumpkin – any topping that is already cooked will work well.
Makes 8 individual pizzette.
For the dough
200g '00' flour
200g plain flour
5g active dry yeast
5g fine sea salt
A splash of extra virgin olive oil
200ml luke warm water
For the sauce
750g cherry tomatoes
4 cloves of garlic, chopped
Large handful of basil leaves
Generous pinch of salt
A few tbsps of extra virgin olive oil
For the topping
3 balls of buffalo mozzarella, roughly torn
Handful of basil leaves
Olive oil, for frying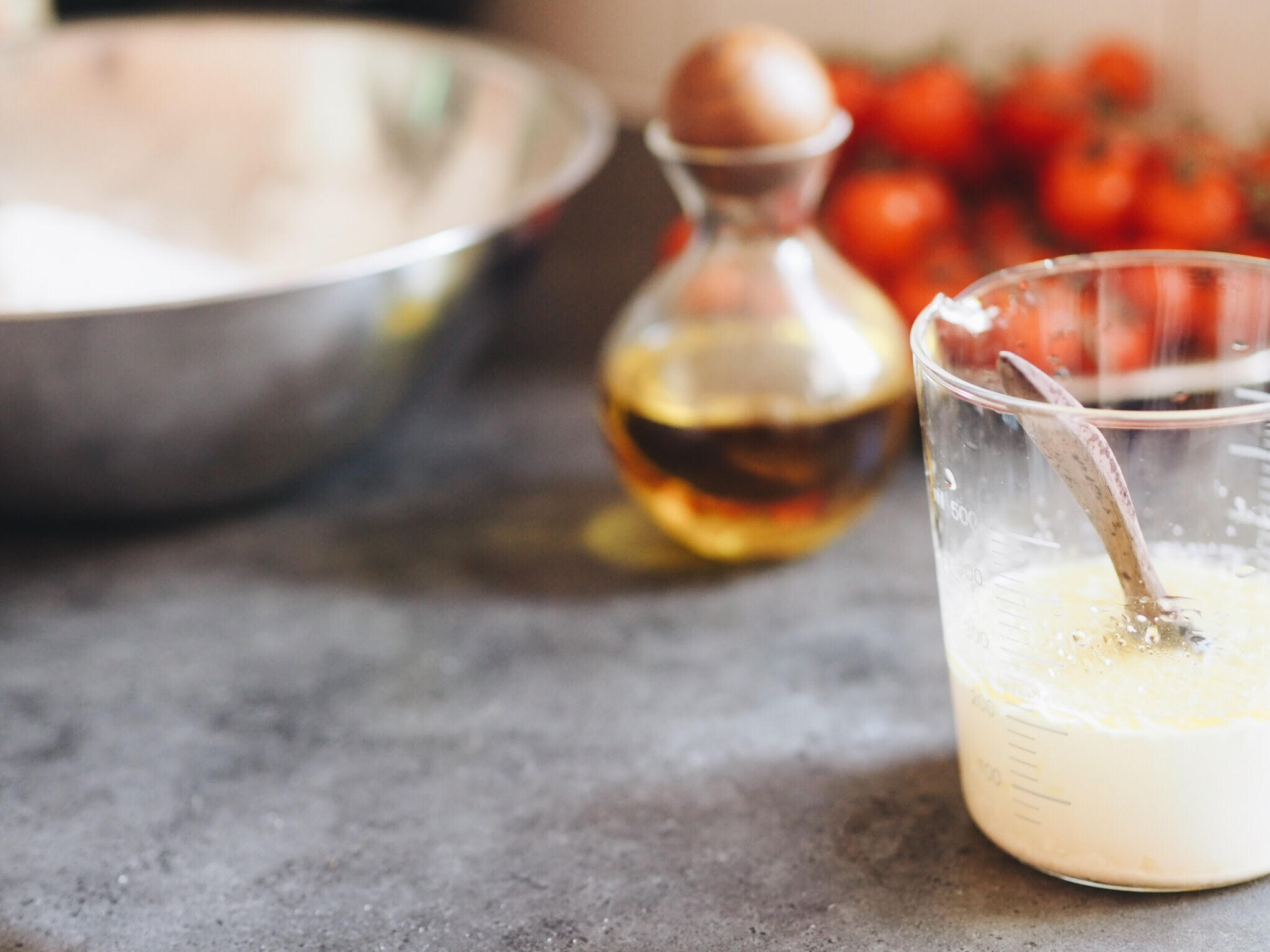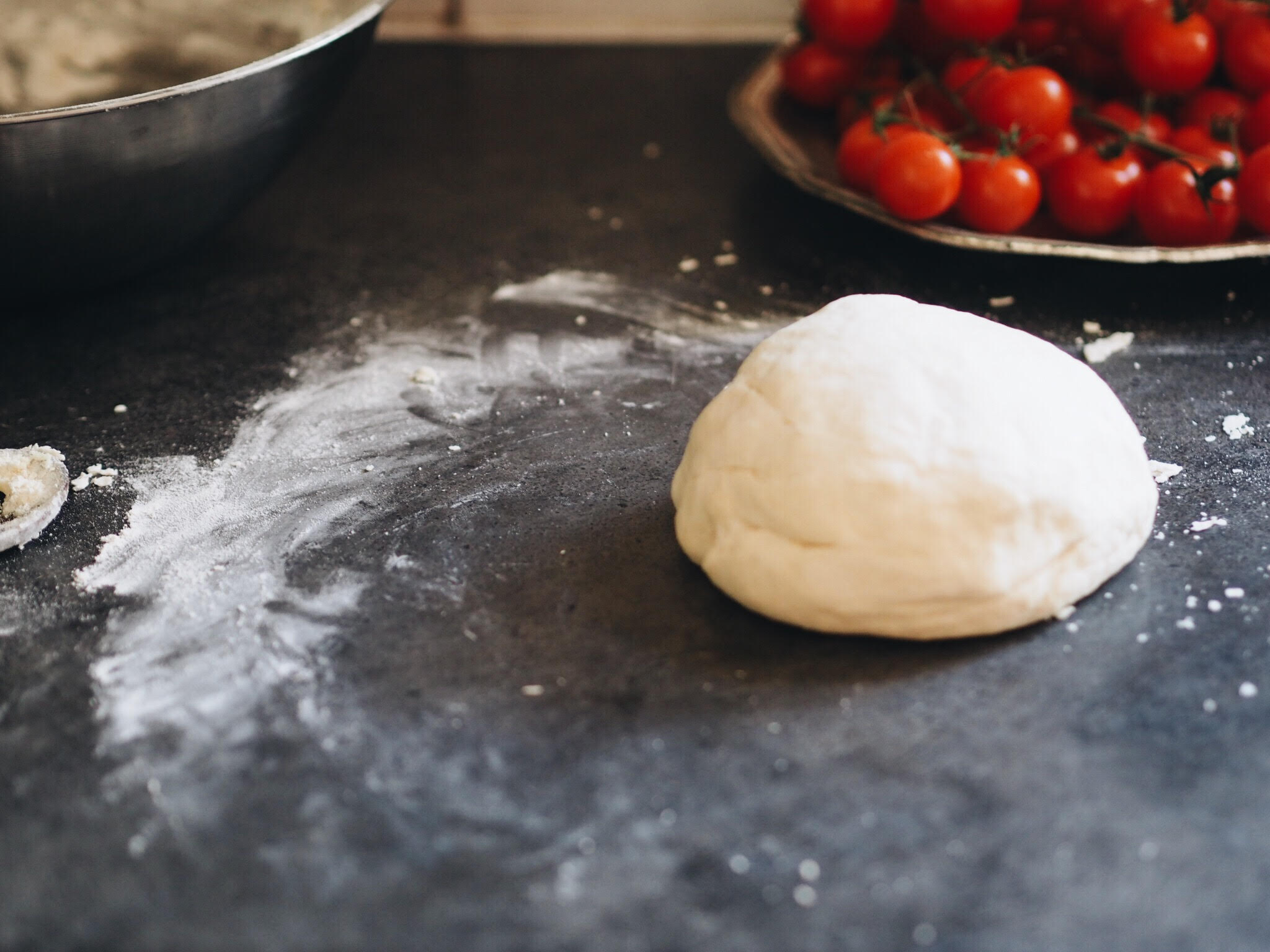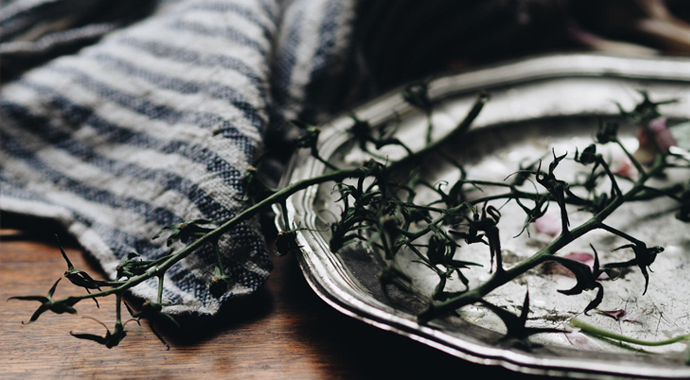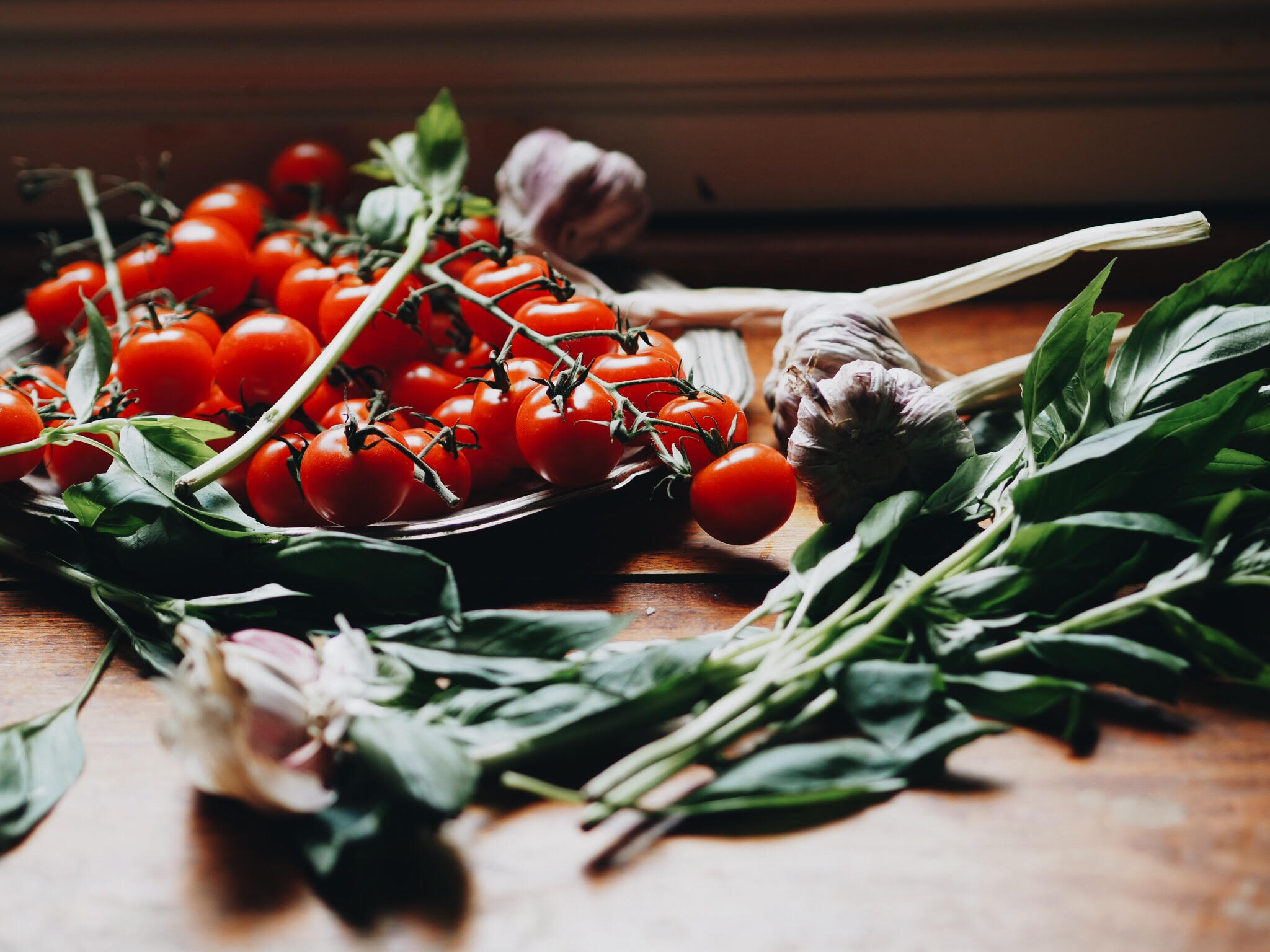 For the dough, mix the flours together in a large bowl and set aside. Place the yeast, salt, oil and lukewarm water in a jug and stir until the yeast has dissolved. When the mixture is foaming (approximately 10 minutes), pour into the flours and mix with a spoon and then with your hands until combined.
Turn out onto a floured bench and knead for 5–10 minutes or until you have a smooth and elastic dough. (This can also be done in a stand mixer with a dough hook attachment, however this will only require 3–4 minutes of kneading.)
Place the kneaded dough in an oiled bowl, cover with a cloth and set aside for 30 minutes or until the dough has doubled in size.
Knock back the dough with your fist and knead again for 5 minutes. Roll into 8 balls and place on a lightly oiled tray, allowing room for the dough to rise and spread. Cover with a damp cloth and allow to rise for a further 3–4 hours in a warm place or overnight in the fridge (remembering to bring back to room temperature before using).
While the dough is rising, you can make your sauce. Place all the ingredients in a large pan and, over a low-medium flame, slowly cook the tomatoes, garlic and basil. With the back of a wooden spoon, burst a few of the tomatoes to release the juices, ensuring the garlic doesn't burn. After about 10 minutes, the remaining tomatoes should begin to break down on their own and release their juices, which will create the sauce.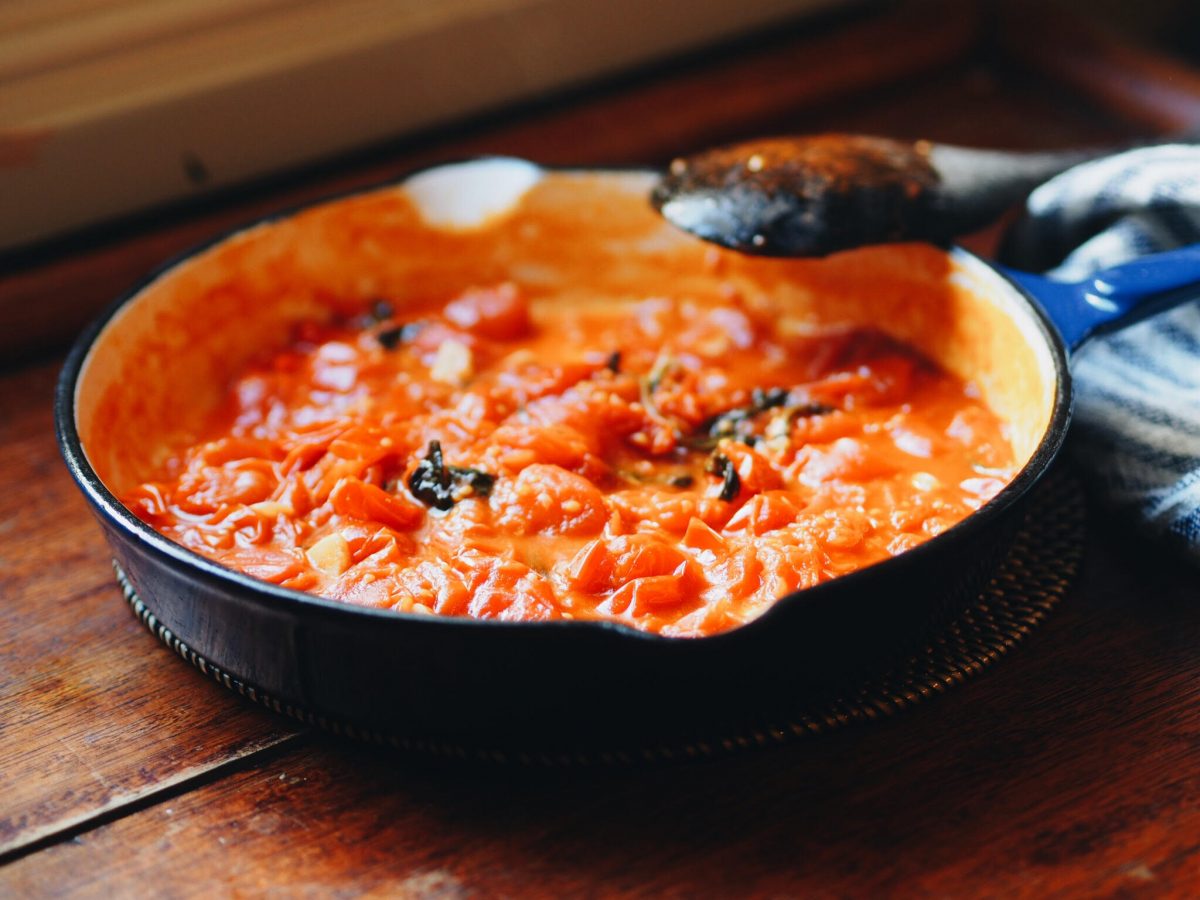 Processed with VSCOcam with a6 preset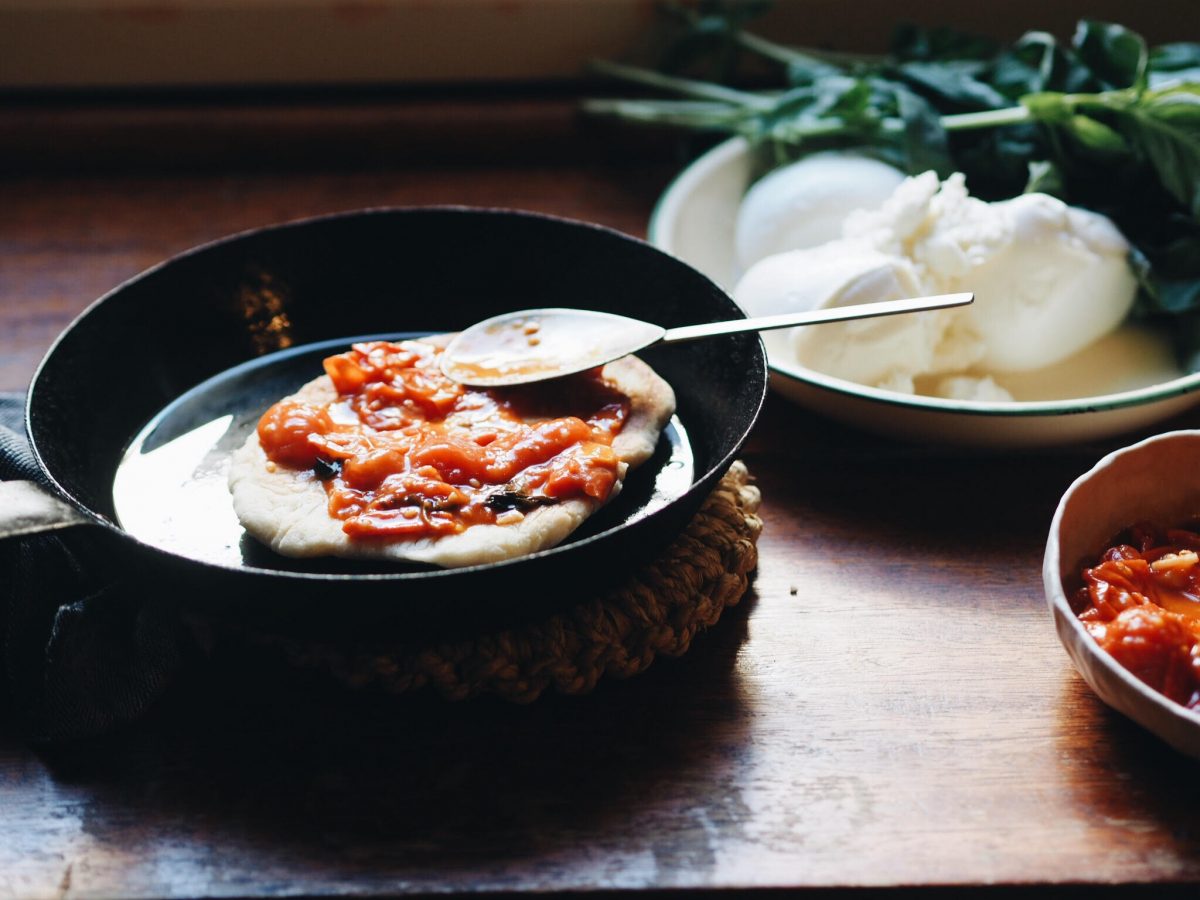 Processed with VSCOcam with a6 preset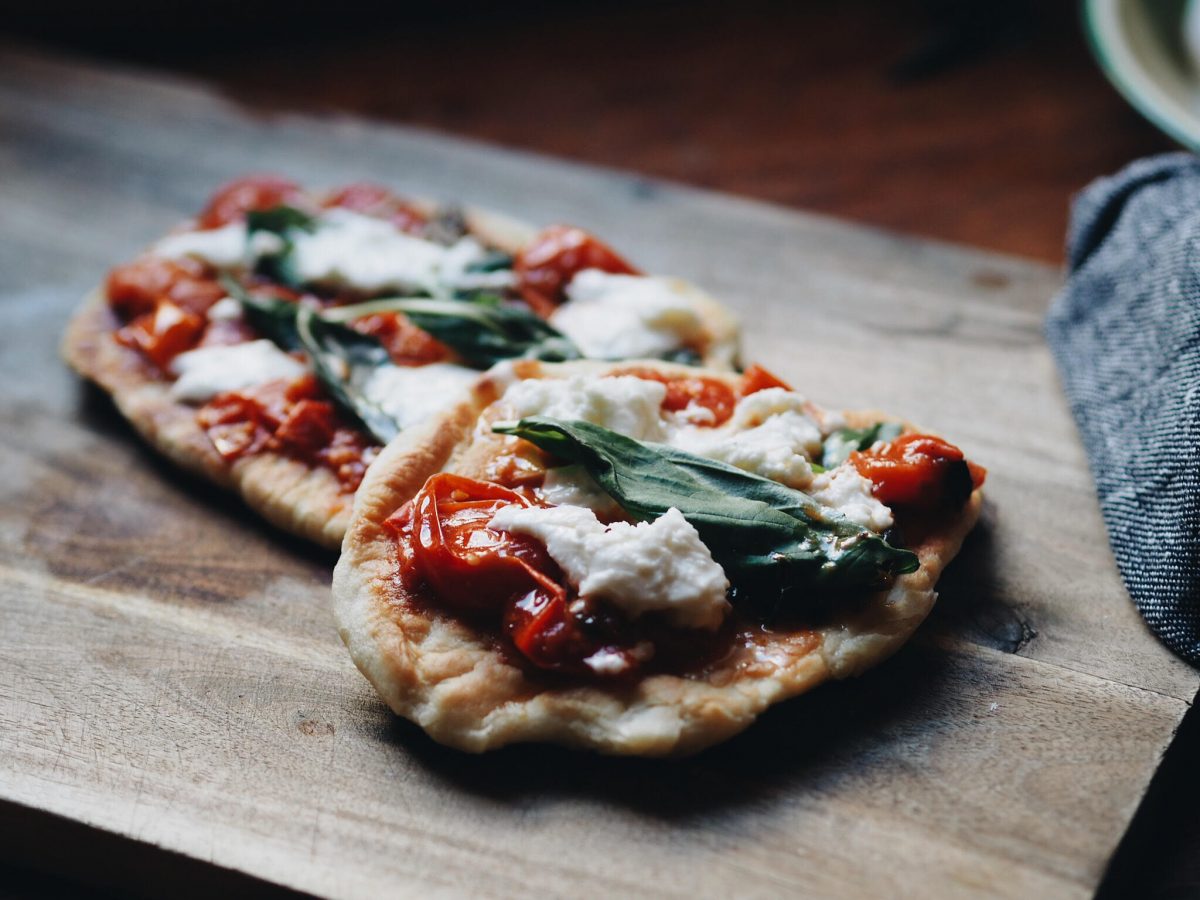 Processed with VSCOcam with a6 preset
Simmer until all the tomatoes have collapsed and the sauce is thick (20­–30 minutes). If the sauce begins to dry out, you can add a small amount of water. Set the sauce aside while you work on the dough.
Once your dough has risen for the second time, you can begin shaping it into small pizze. Using your hands, press into the dough, moving outwardly until you have thin round-ish discs.
Heat a pan over a medium heat and add a generous splash of olive oil. Gently place a pizza round into the hot oil and cook for 1–2 minutes or until golden. Flip the dough over and take the pan off the heat immediately. Quickly top the pizza with the fresh tomato sauce, a few basil leaves and some mozzarella. Return the pan to the heat and cover with a lid, or alternatively, pop the pan under a grill and cook until the cheese is melted and the underside is golden. This is the trickiest part as you need to melt the cheese whilst being careful not to burn the pizza dough! When it's ready, remove from the pan and leave to cool slightly before serving. Repeat this step with the remaining pizza dough and proffito!
A huge thanks to Julia for sharing her pizza fritta with us – do try this at home. You can catch more of Julia's delicious meals, desserts and treats over at OSTRO, her blog dedicated to slow food made easy.