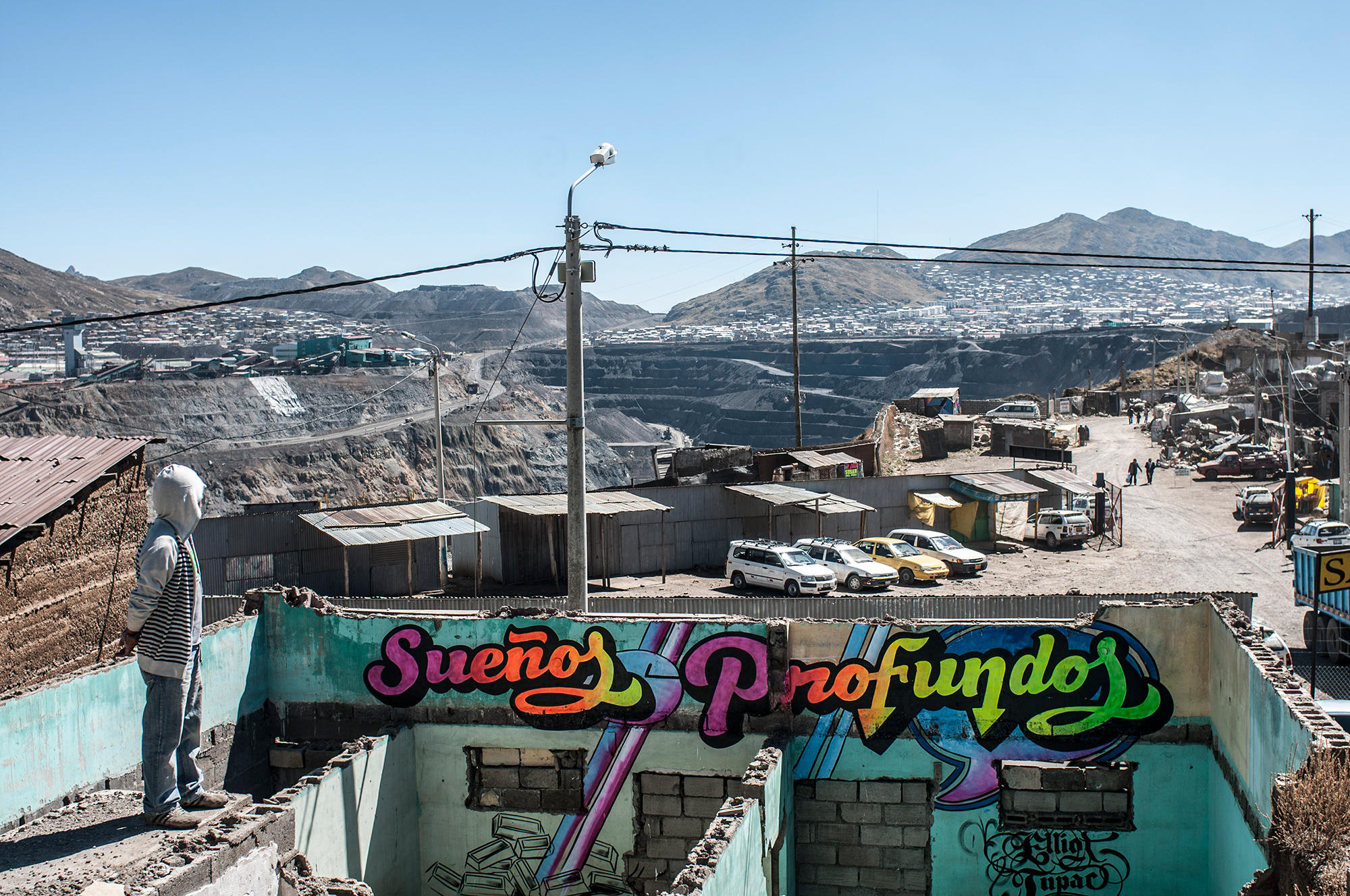 Nov 23, 2015
We zig-zagged up and across the high sierra in our van. The air thinned, vegetation became sparse, roadside food less and less edible. We were climbing through the Peruvian Andes to Cerro de Pasco, one of the highest cities in the world, at over 4,300 metres above sea level. Since silver was discovered here in the 17th century, Cerro de Pasco has become synonymous with mining. Now, it is more mine than town – year on year, an open cut mine envelops the 70,000 residents who perch around its ever-expanding perimeter. In a cruel double-bind, 'El Tajo Raul Rojas' (The Pit of Raul Rojas) is both provider and polluter. Almost all local families are employed directly or indirectly by mine owners Volcan; yet the mine is also responsible for poisoning the community's air, soil, water and bodies. A 2007 study funded by the US Centre for Disease Control and Prevention found that 91 percent of children and 82 percent of women of reproductive age had heavy metal blood levels above the safe range – leading to kidney and liver failure, stunted growth and intellectual disabilities. Without a doubt, this was the most desolate place I had ever been.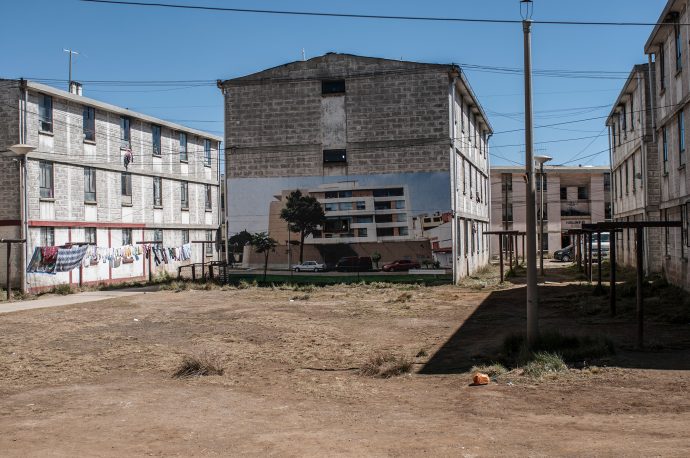 Yet, this uncompromising place was also where I experienced the first HAWAPI, a site-specific art residency (at the time known as AFUERA). Over ten days, artists from across Peru, Spain and the US converged in this high-altitude community – creating performances, installations, murals and even a Buckminster Fuller-inspired museum – in response to Cerro de Pasco's fragile social and ecological state. For the artists, this was the first time many confronted the localised impact of mining and global consumption patterns firsthand, with such closeness. Hawapi, means 'outside' in the Indigenous Quechua language. As director Maxim Holland says, "The basic premise behind HAWAPI is to take artists to locations that are at the centre of a larger political, social or environmental issue, which they would not typically have access to, let alone be able to work in. It is very important to us that the locations we choose have a tangible and visible connection to the issues we are trying to explore. This tends to lead us to places that are on the brink of some sort of collapse." Since 2012, the festival has taken place in a different location each year: from the post-earthquake township of Pisco in southern coastal Peru; to the remote Pariacaca, a high tropical glacier above Lima. In such extreme environments, in most cases, the resulting art is a kind of poetic, rather than ecological, remediation of the landscape. In the lead up to this year's festival in Huepetuhe, a gold mining settlement deep in the Peruvian Amazon, I asked Maxim about HAWAPI's philosophy of art that fuses purpose with poignancy.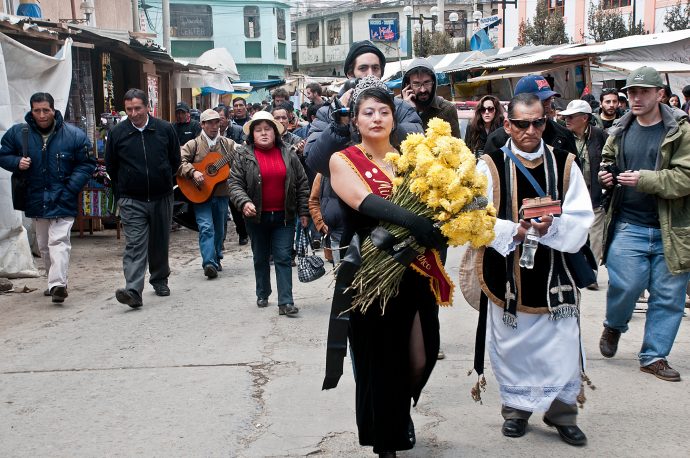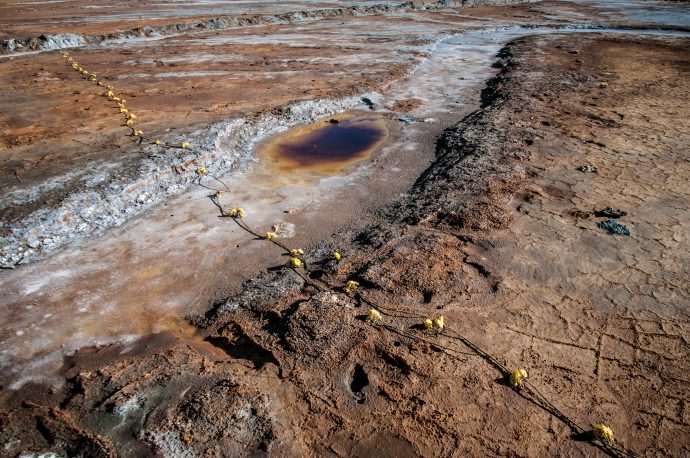 Eugenia Lim: Your background is in film, the travel business, and in public art and environmental action (I recall your early project Boycott Plastico). Was there a catalyst that led you to start HAWAPI, or has it been a natural evolution?
Maxim Holland: I always saw my artistic projects as completely removed from my work in the film and television industry. However, in HAWAPI, I have finally found a way to apply the skills I learned over the years working in production to a project much closer to my heart and which fulfills my creative aspirations. As for the environmental aspect, it is undoubtedly important, however, it is not my main concern or a major driving force for the project. Even back when I was doing Boycott Plastico [a campaign encouraging locals in Peru's Sacred Valley to choose reusable glass over single-use plastic], I used to tell people that my issue with plastic bottles was more about aesthetics than the environment. I do not believe that environmentalism, or any other ideology for that matter, should be a means to an end. I feel that if we are driven by common sense and basic principles, including aesthetic ones – respect for the planet and the balance of nature is inevitable.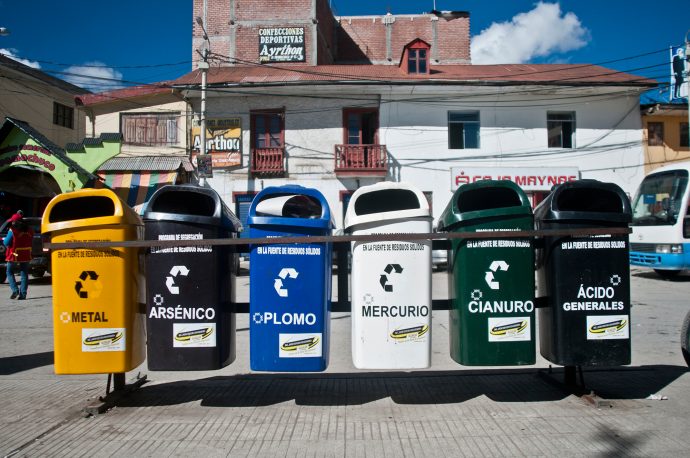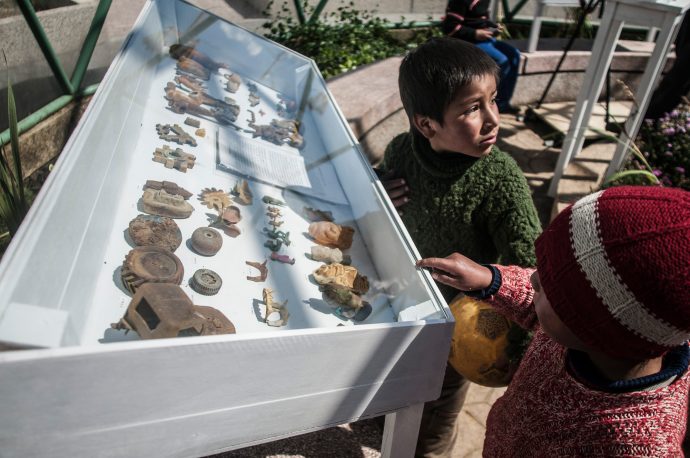 EL: How do you gain the local community's trust in the lead up to the festival?
MH: Usually, I will visit the location four or five times in the lead up to the residency in order to meet and establish relationships with members of the local community. In general, the most important contacts I have made have been by pure coincidence, so I try and speak with as many people as possible. You never know when a taxi driver or shop owner might end up taking a keen interest in the project and become its ambassador within the local community. This has never been truer than with this year's location, Huepetuhe. Because of the illegal and informal nature of the mining activities they are involved in, the locals are extremely closed and very suspicious of outsiders. This has meant that we have had to come up with some very creative solutions in our approach to the community. For example, in Huepetuhe there is a real mistrust of anyone who is taking photographs, so this year, we have decided not to allow any cameras during the residency, and instead, we'll take two courtroom sketch artists with us to create a visual record of our activities.
Another strategy we will adopt this year to mitigate the risk of confrontation with the local community will be to build a temporary structure in the middle of Huepetuhe – a kind of cultural centre from which the artists will create their work and engage the community. This will allow us to centralise the group's activities and provide a space in which the locals can approach us and find out more about the project.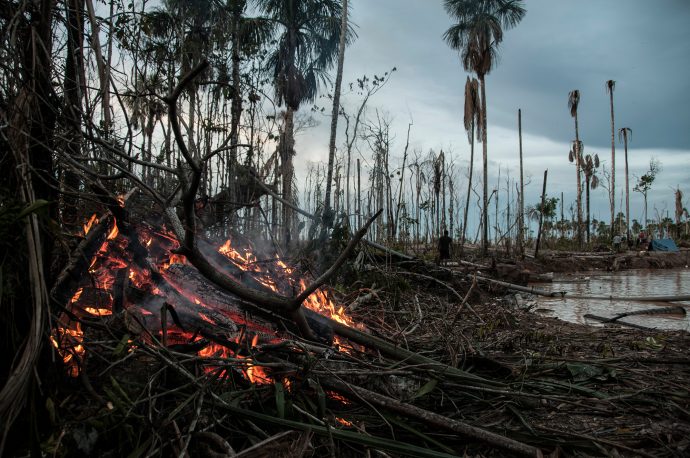 EL: You've called Pariacaca [a mountain on the border of the Junin and Lima regions in the Peruvian Andes] "remote yet relevant". Your choice of timing and location was very deliberate for HAWAPI 2014. Can you tell me more about the context for last year's festival?
MH: Our decision to go to Pariacaca stemmed from the fact that Lima was set to host the UN Climate Change Conference at the end of 2014, so we were looking for a location both relevant to Lima and related in some way to the issue of climate change. Peru accounts for approximately 70 percent of the world's tropical glaciers (which are disappearing at an alarming rate). So, while there were any number of environmental regions in Peru where we could have worked, tropical glaciers seemed like the most poignant. Once we had established this, Pariacaca – because of its vital importance to the City of Lima – was an obvious choice.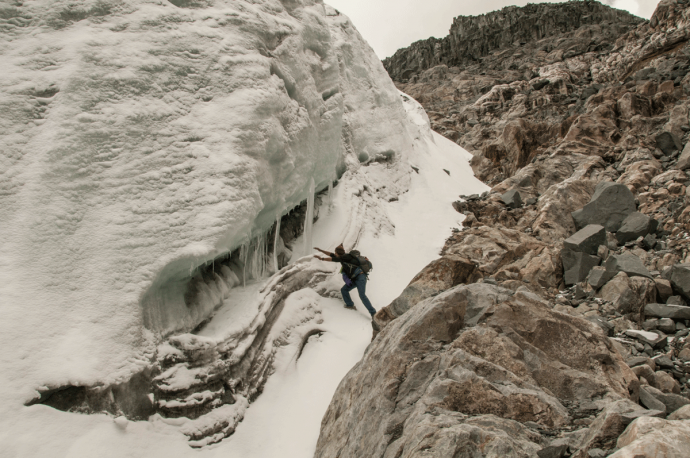 EL: It strikes me that the unique thing about HAWAPI is that it throws into focus the hyper-localised impacts of globalised consumption patterns: mining, pollution, climate change. Is it your intention to draw wider global attention to these complex issues by being so site-specific in your approach?
MH: Absolutely. I often feel that we too easily overlook the sheer interconnectedness of global issues. For example, we feel a deep sense of satisfaction when we buy a cup of organic free trade coffee while at the same time, failing to consider the environmental costs of the paper used to make the cup it is served in. Or, the social costs from the mining of the metals used in the manufacturing of the espresso machine, or the fuel consumed to get the coffee to the café where we are drinking it.
One of the main things I wanted to focus on at Pariacaca was the importance of interconnectedness within the climate change debate. I specifically chose the location for our campsite and the route we took to get there, to highlight this. Our journey started in the sprawling suburbs of Lima, took us along the coast through some of the continent's driest deserts, and up into the mountains along the Cañete River, all the way to its source – the two glacial lakes that our campsite sat between. The only time we lost sight of the river on the two and a half day journey was for a short stretch in which it runs its course underground. Along the way, we saw large fields of crops irrigated by its waters, small towns whose economies rely on its rapids for whitewater rafting, and even a major hydroelectric plant that uses its flow to generate electricity for Lima. All this provided a very tangible and visual sense of the importance of Pariacaca for Lima and the wider central Peruvian coast – and set the stage for our time spent with the glacier.
EL: At Pariacaca, despite your best intentions to live and create 'off the grid', your composting toilets and solar power failed. And, determined to encounter the majesty of Pariacaca, you ended up mistaking a smaller glacier for 'it'. What did you learn from these setbacks?
MH: There was definitely a degree of naivety and idealism in our approach to reducing our impact on the area during the residency. It felt like a good opportunity to try to put into practice some of the technologies that we are told will mitigate some of the effects of climate change. However, the reality was definitely a lot harder than we expected – an important lesson for us all. No matter how sincere one's intentions – real, systemic change, on a level that affects the daily comforts we are accustomed to, is very hard to achieve. However, another surprising outcome of living in such a remote and untouched location was that we all became extremely aware of the impact we were having on the place… and it didn't take long to realise that this impact, while a lot more visible at the time, was a lot less than the impact we have everyday just by living in a city like Lima. For me, these two perspectives are of vital importance in thinking about climate change and how we, as individuals, can take part in the surrounding debate.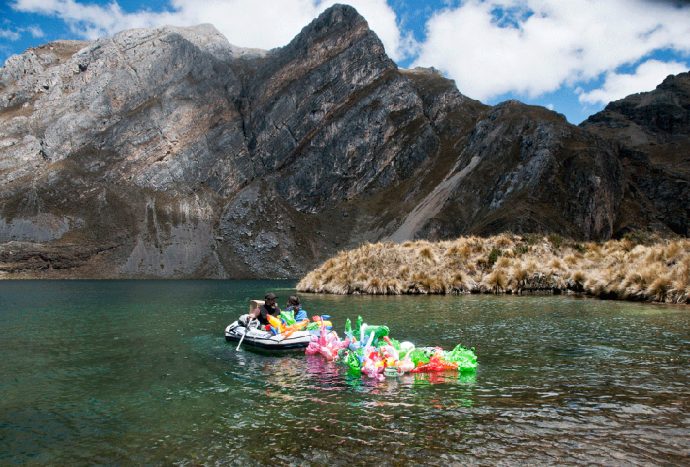 EL: In Pariacaca, one of the people in your group was Haresh Bhojwani, the then Deputy Director of the International Research Institute for Climate and Society at Columbia University. He had a challenging time realising his project. Can you tell us a bit more about his Carbon Cube?
MH: Haresh set out to create a life-size representation of the amount of coal burnt each day in the world. The resulting structure would have been a cube measuring 300m x 300m x 300m – colossal and larger than any manmade structure! Obviously, this is a daunting task to try and achieve anywhere, let alone at over 4000 metres above sea level and in the middle of nowhere. That didn't stop Haresh from trying! His original idea was to mark out the structure using helium balloons and rope, and although we managed to get two 90 kilogram tanks of compressed helium to the end of the road, we were not able to get them all the way to the campsite. This made Haresh's task considerably more difficult – he had to hike two hours down to the helium tanks from camp and back each day. Added to this, the extreme weather conditions eventually led to all of the balloons either escaping, or bursting. Despite never achieving his original vision, Haresh's project had a very strong impact and engendered a sense of solidarity within the group – each and every one of us pitched in to help and to come up with creative solutions to the problem. In the end, Haresh created a cube representing one second of coal consumption; approximately 7m x 7m x 7m – still a very impressive structure.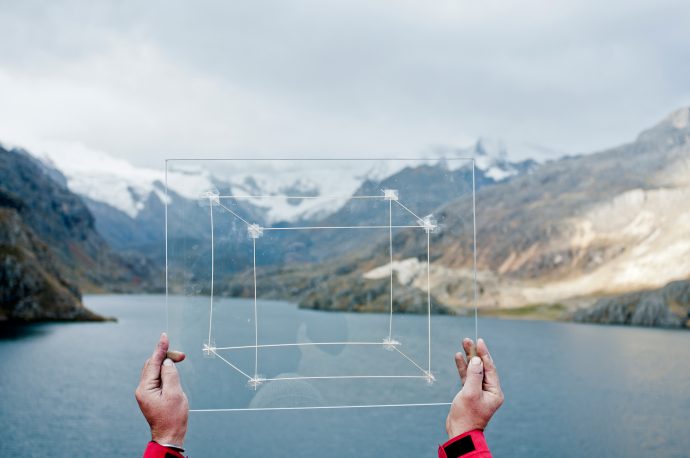 EL: What are some of the key projects from last year's [Pariacaca] HAWAPI?
MH: There were too many to mention here… but one which stands out was Radio HAWAPI, a shortwave radio station set up by the Mexican duo Gabriela Leon and Nahu Rodriguez. The radio station had a range of approximately 100 metres, only just covering our campsite and the surrounding area – yet this gave us a real sense of community. The radio featured live interviews with members of the group, a variety of impromptu shows and, to the delight of the cooks and mule-skinners, even took song requests. Being in such an isolated place yet having our very own media network was quite remarkable. It was also interesting to see how the villagers from the nearby community of Tanta reacted to the radio station on the day they came to visit us. They were intrigued, and seized the opportunity to broadcast the various activities that they had planned for us on the day.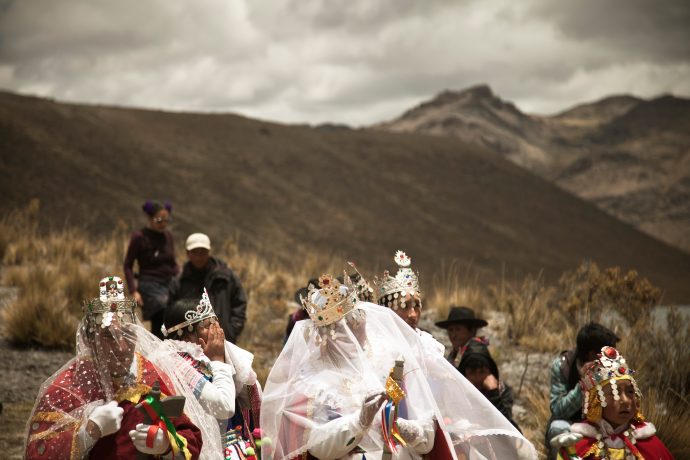 EL: Do you return to locations after the festival/do you keep in contact with the community? Can you talk more about the long-term impact of the festival?
MH: I have returned to the first two locations, Cerro de Pasco and Pisco, and in both instances, have become keenly aware of the impact of the project. This is most apparent in conversations I have had with locals who have gone on to start their own social/cultural initiatives inspired by the project. Another gratifying and lasting result has been to witness how many of the works left behind have been adopted, preserved and even defended by the local community. In both Cerro de Pasco and Pisco, when murals were painted over by political campaigners, there was huge outcry on social media, and in Cerro de Pasco, the local government was even pressured into declaring the remaining murals municipal patrimony.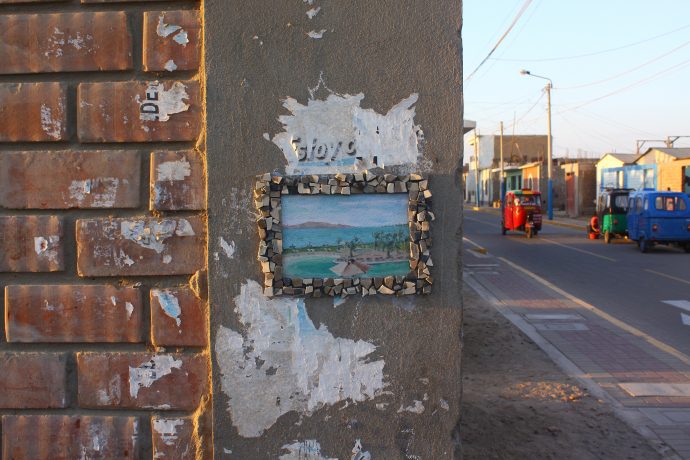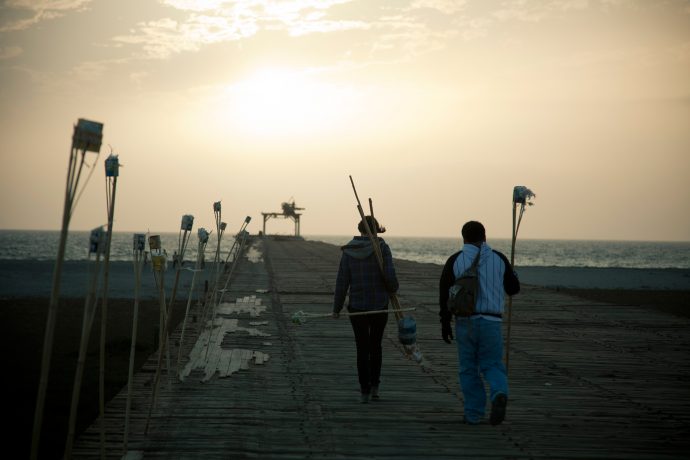 EL: Is the creative process more important than the artistic outcome when it comes to approaching climate change?
MH: I think this varies widely from artist to artist, however in the case of HAWAPI, I think the process and the experience of the project have a very strong and lasting impact on each and every one of the artists. Because the works that we left in Pariacaca are so remote and isolated, it is very hard to know how many people will ever see them or even how long they will last. So I think the real lasting impact of the project will reside in the artists themselves, and the work they produce in the future.
EL: Tell us about this year's location and context.
MH: This year, HAWAPI will be held in a small informal mining community deep in the Peruvian Amazon called Huepetuhe. Currently the southern Peruvian Amazon is experiencing an unprecedented gold rush, which is having a huge environmental, social and economic impact on the entire region. The effects of this boom are largely seen as negative by the government and in the media and there is a real focus on the environmental impact. However, I am interested in exploring the more complex social and economic effects of this boom.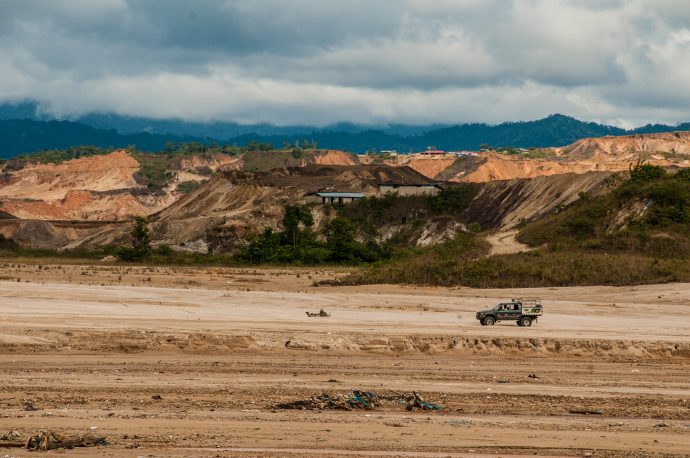 EL: And finally… Do you see art as the vehicle for systemic change?
MH: I see art as planting the seeds, which later lead to systemic social change. I believe artists have a certain responsibility to question the status quo, devise radical new ways of understanding and to propose new models for confronting current issues. This is what motivates me to keep doing HAWAPI despite all the challenges.
This year's HAWAPI ran 26 August – 6 September in Huepetuhe, Peru. To learn more about the residency, artists and events, visit hawapi.org. Note: Maxim Holland is the brother of Quino Holland, an Assemble director.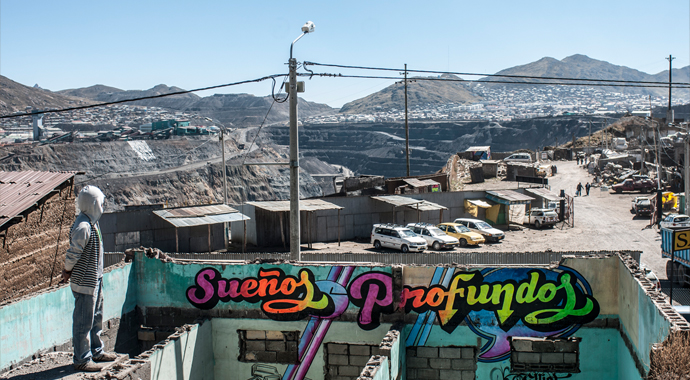 Renowned Peruvian muralist Elliot Tupac stands above his piece 'Sueños Profundos' ('Deep Dreams') and contemplates the gaping open-pit mine in Cerro de Pasco, Peru. Photo by Eduardo Valdez.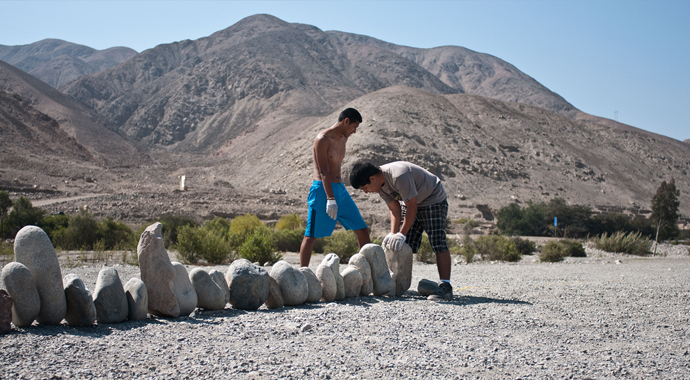 A work by Eduardo Valdez takes shape during HAWAPI in Pisco, Peru, a town devastated by earthquakes in 2007 and 2012. Photo by Eduardo Valdez.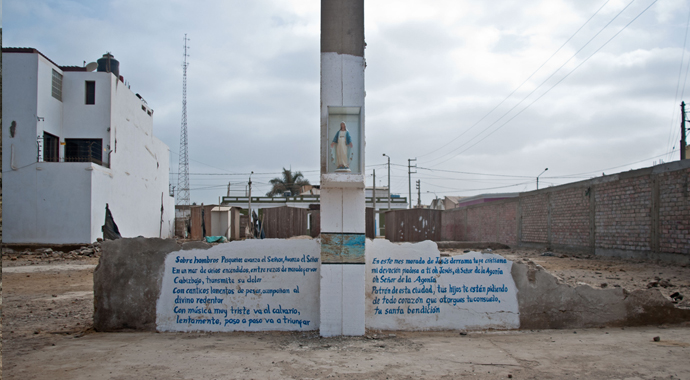 'Agonia' by Raura Oblitas installed in Pisco during HAWAPI, 2013. Photo by Eduardo Valdez.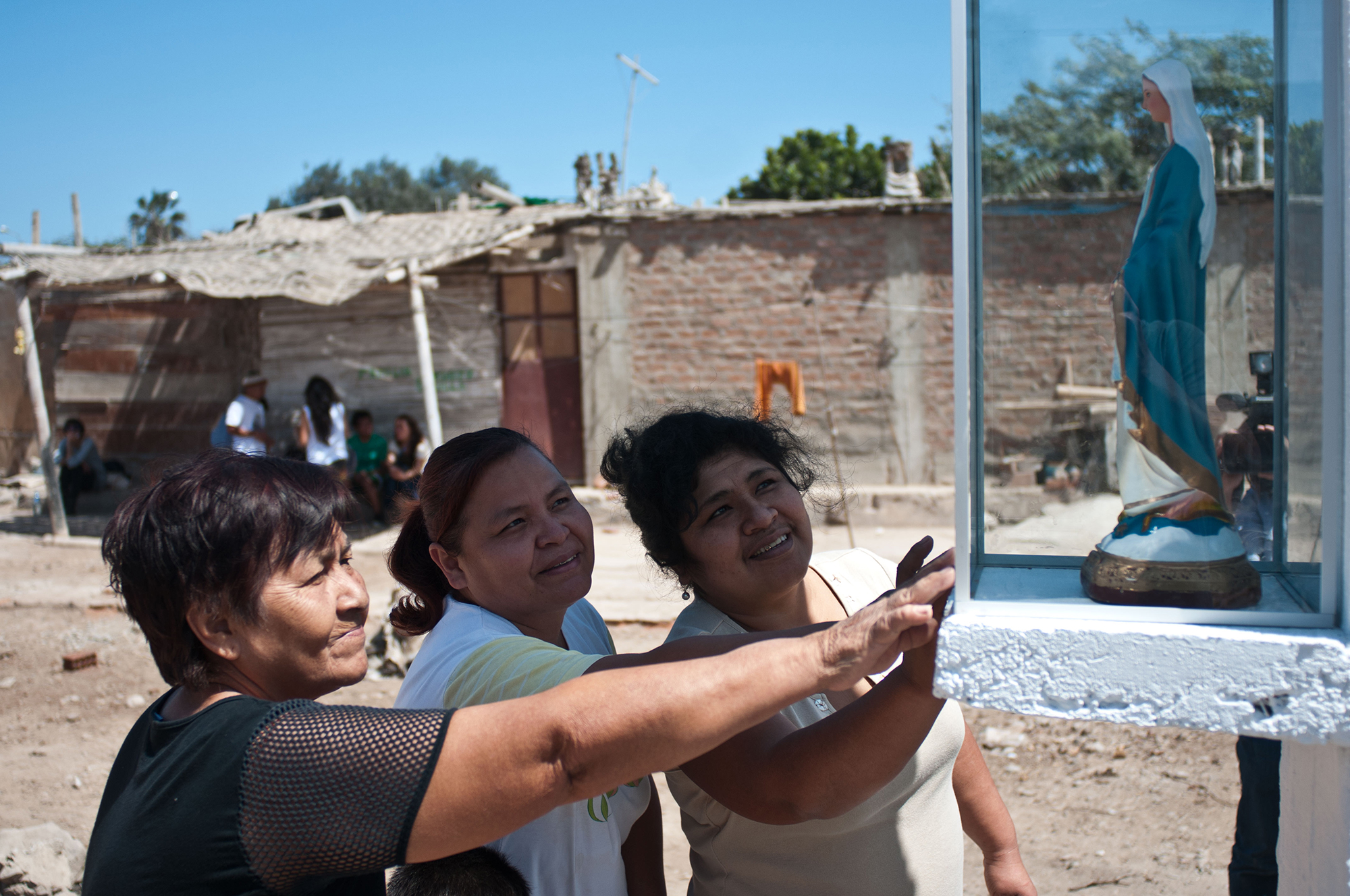 'Agonia' by Raura Oblitas in Pisco during HAWAPI 2013. Photo by Eduardo Valdez.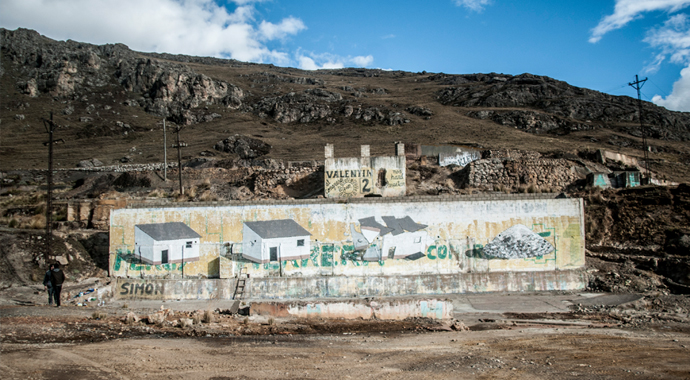 A large-scale painting by Spanish artist Escif on a modern-day ruin in Cerro de Pasco. Photo courtesy of HAWAPI.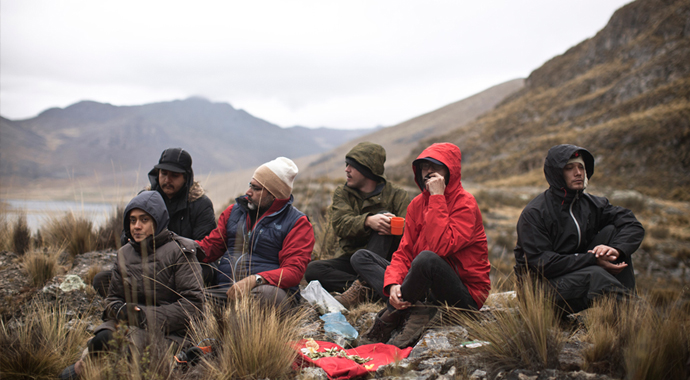 Artists (including HAWAPI director Maxim Holland, second from right) at basecamp during the 2014 Pariacaca edition. Photo courtesy of HAWAPI.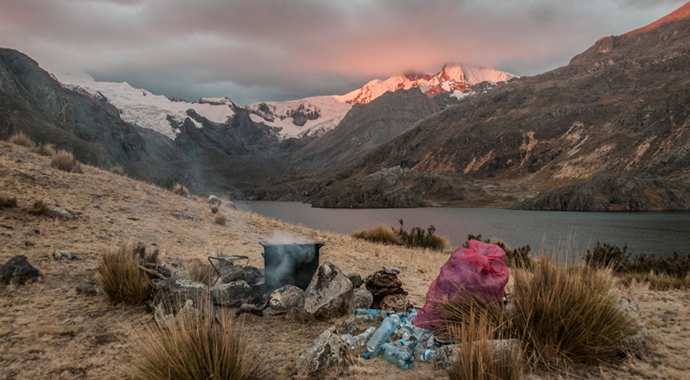 Meditating on one of the world's most precious finite resources: water. Photo by Maxim Holland.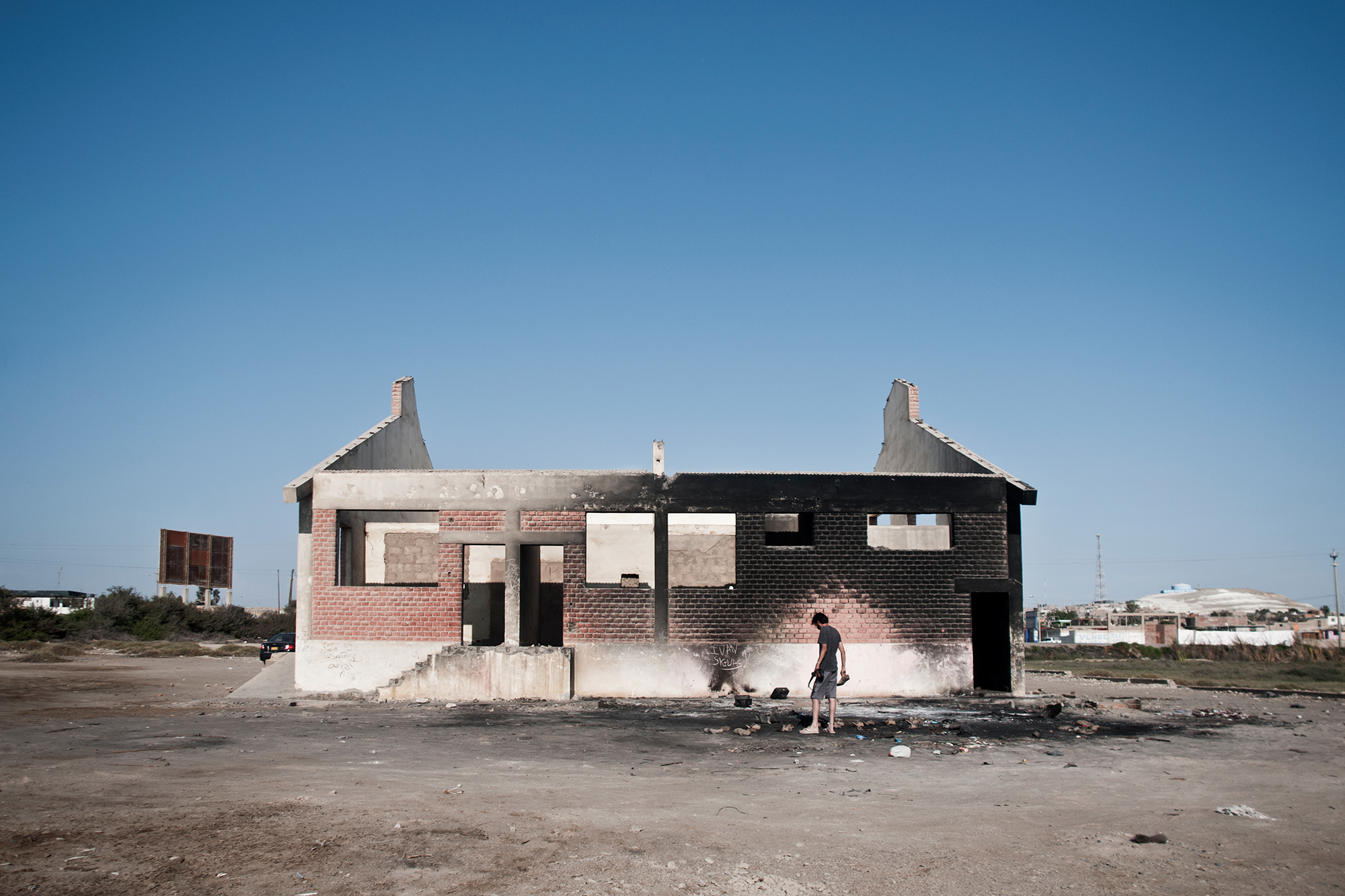 Maxim Holland rummages through the detritus of an abandoned building during a scouting trip to Pisco. Photograph by Eduardo Valdez/Dana Bonilla.