Culture
French Onion Soup with Gruyere Toasts

May 22, 2015
French Onion Soup is truly classic fare made from the most simple of ingredients – the brown onion! I remember the first time I made this soup without my Mum – I rushed the onions and all I was left with was a pale insipid boiled onion mess! It's all about taking your time and letting the onion's natural sugars slowly caramelise. In fact you'll have to season the soup carefully to balance out the natural sweetness. I can't remember my Mum ever putting the soup in the oven as I do, but I like how with this method, your soup comes to the table bubbling and cheesy. Either way, this old school soup is full of flavour and so satisfying on a winter's night.
I have fond memories of eating this soup as a child. The smell of onions cooking often wafted through the house well before I was even out of bed most Sunday mornings. This heady aroma meant we would be hosting guests later in the day for a long lunch. The soup would be followed by roast pork with 'pommes Lyonnaise' and end with a boozy chocolate mousse – retro done right! My mum worked for QANTAS in the '70s and along her travels, she procured and refined a handful of dishes. Her food was always accompanied with embellished tales of late nights spent in Parisian bistros after long-haul flights, and quick trips to Morocco to buy exotic spices. Every meal was a history lesson, or at the very least, a lesson in how to tell a great story.
What you'll need:

100g butter
2kg brown onions, thinly sliced
1/4 cup brandy
1tbsp plain flour
1L beef stock
3 sprigs of thyme
1 fresh bay leaf
Gruyère Toasts:
8 slices of baguette, cut on the diagonal
250g gruyère cheese, coarsely grated
Serves Six.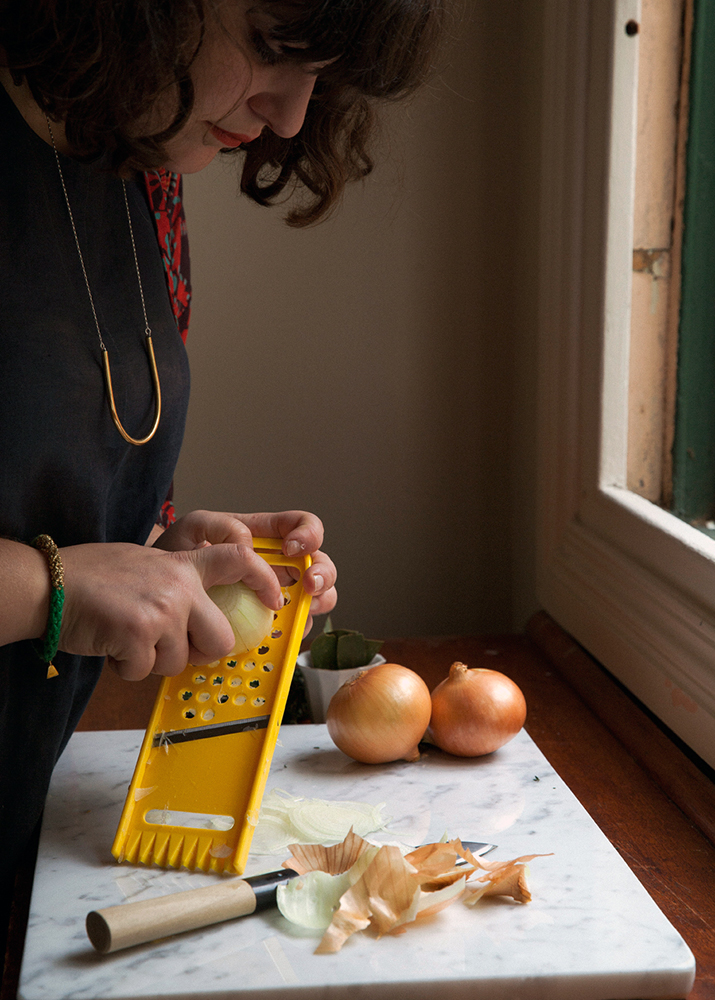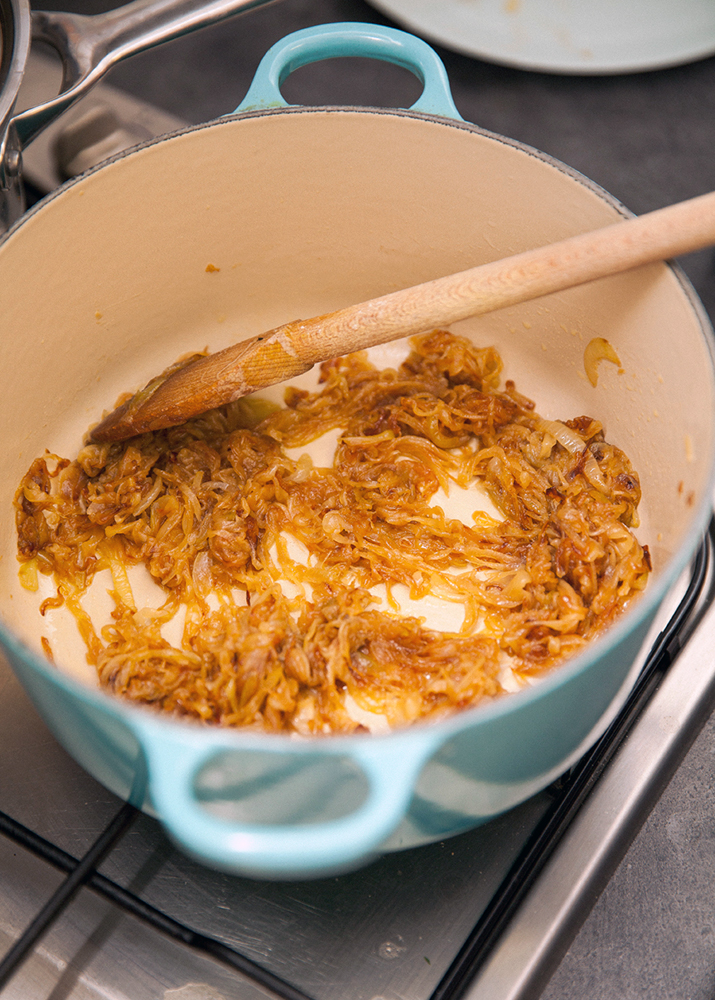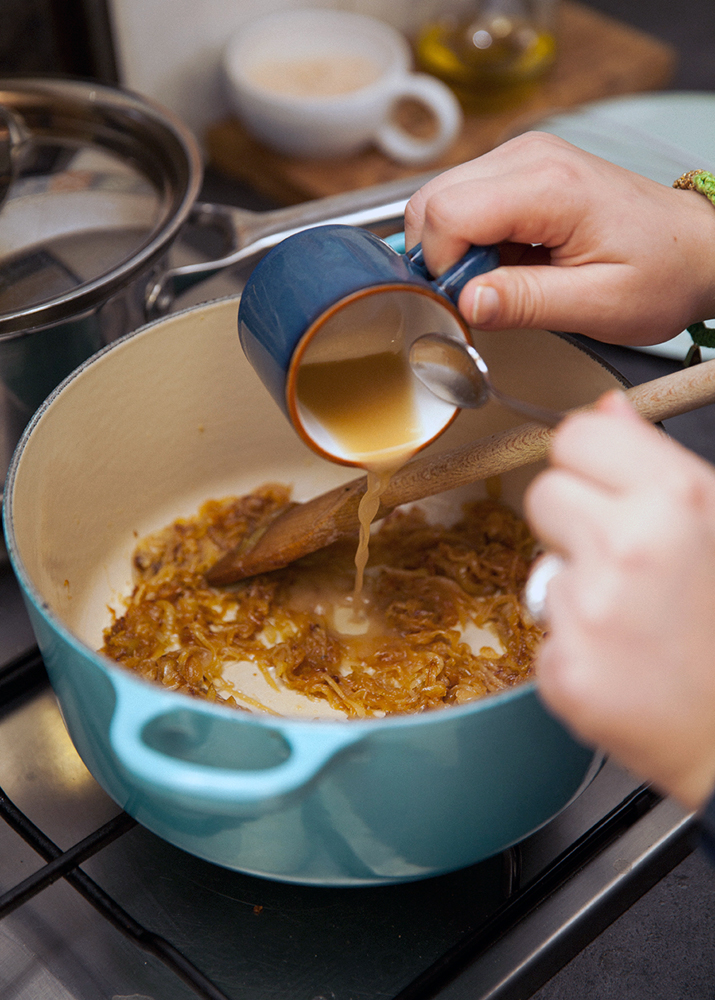 Melt butter in a large saucepan over a high heat. When the butter begins to foam, add the onions and stir to coat. Cook on a medium-high heat for 30-40 minutes, stirring occasionally to ensure the onions don't burn. The onions should have a nice golden colour and be caramelised (this step is really important to draw out the subtle sweetness of the onions).
Add the brandy to the onions and cook for a few minutes until the liquid has evaporated a little.
Mix the flour and a little of the stock in a small bowl to get rid of any lumps. Add to the onions and cook for a minute or two, stirring constantly.
Add the remaining beef stock, thyme and bay leaf and simmer for a further 20 minutes until the soup is rich in colour. Season with some cracked black pepper and salt, if needed.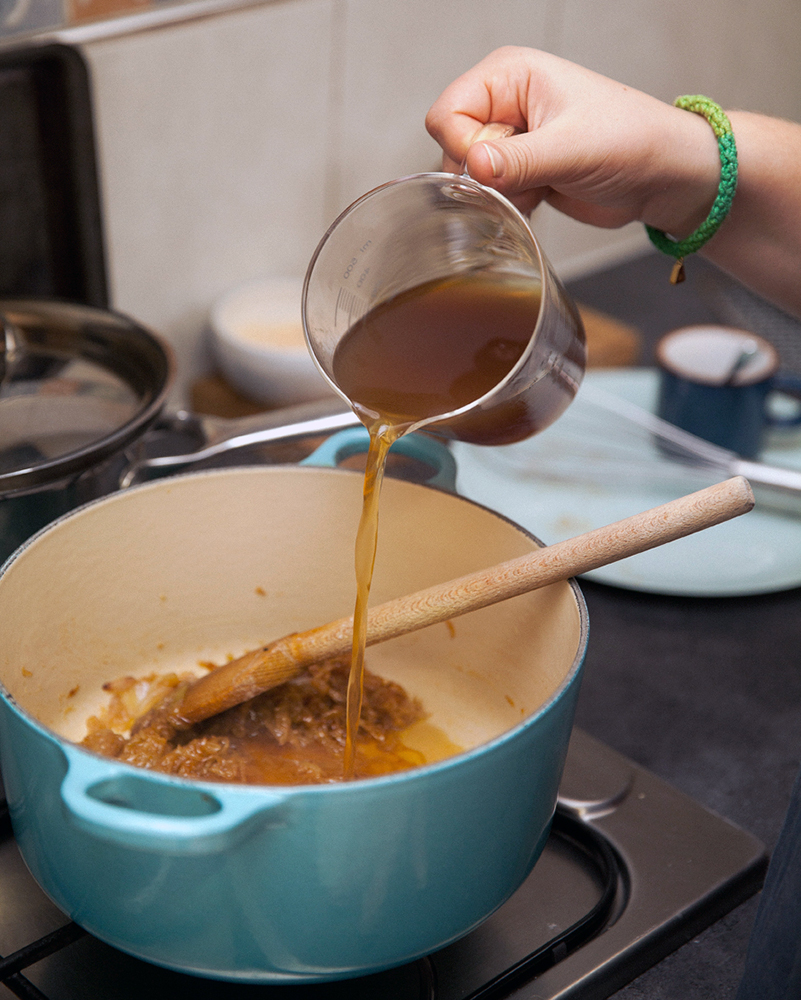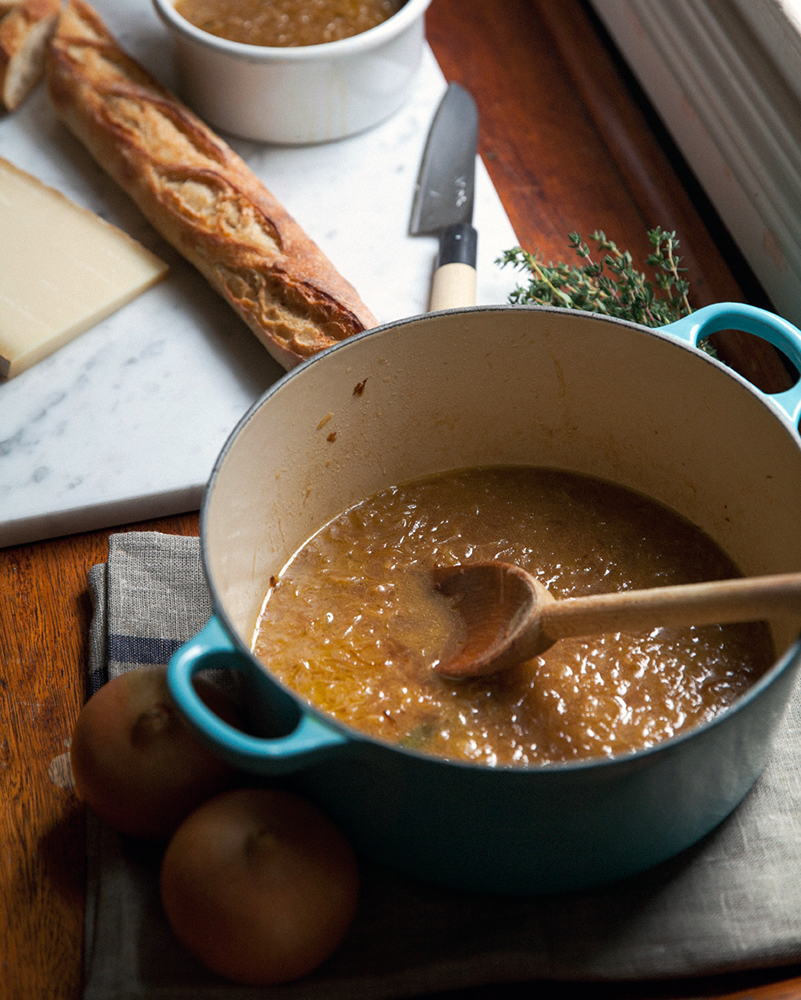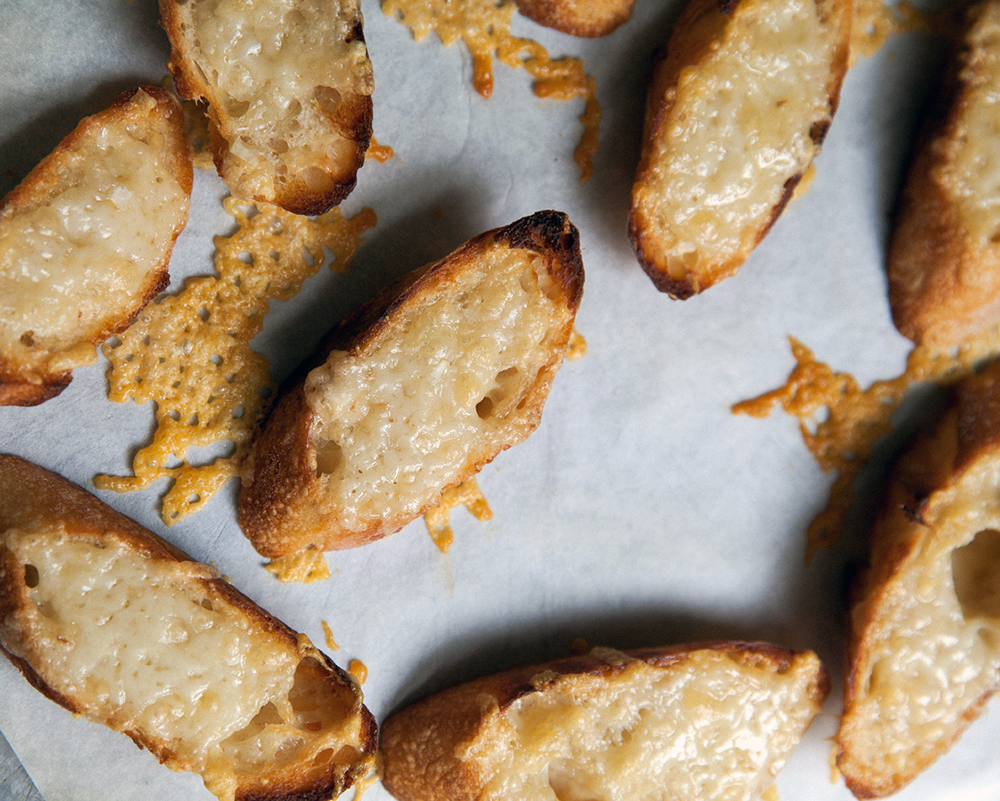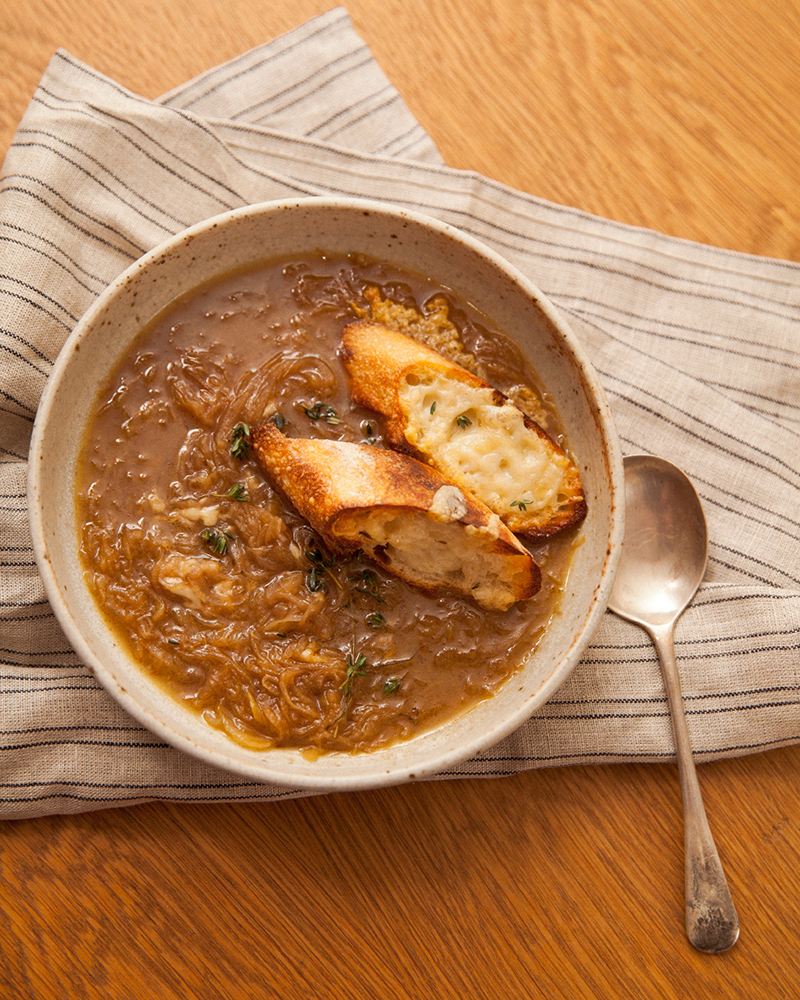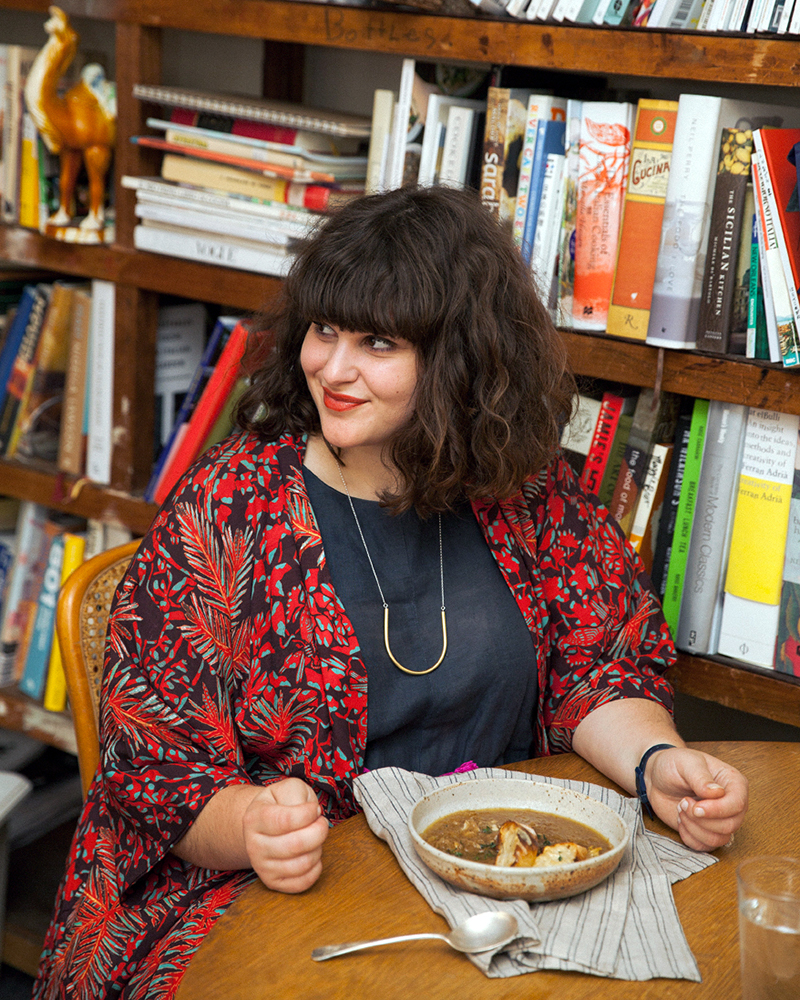 Ladle soup into individual oven-proof bowls and transfer to a tray. Scatter soups with half the cheese.
Top the baguette slices with the remaining cheese and transfer to a separate tray. Place soup and bread under a grill and cook for approximately 5 minutes until cheese is bubbly and melted.
Serve soup immediately with the cheesy bread pressed gently into the soup. Bon appétit!
A big thank you to Julia for sharing this generational speciality. We can't wait for the next rainy Sunday to try it out ourselves. For something sweet to accompany it, browse the beautiful recipes on Julia's blog Ostro. Also, check out the stunning collection of Japanese homewares Julia and her husband, Norihiko, curate for their online store, Minami. All photos by the indomitable Ben Clement.