City Living
Social Architecture and (un)sustainability: NORD Architects Copenhagen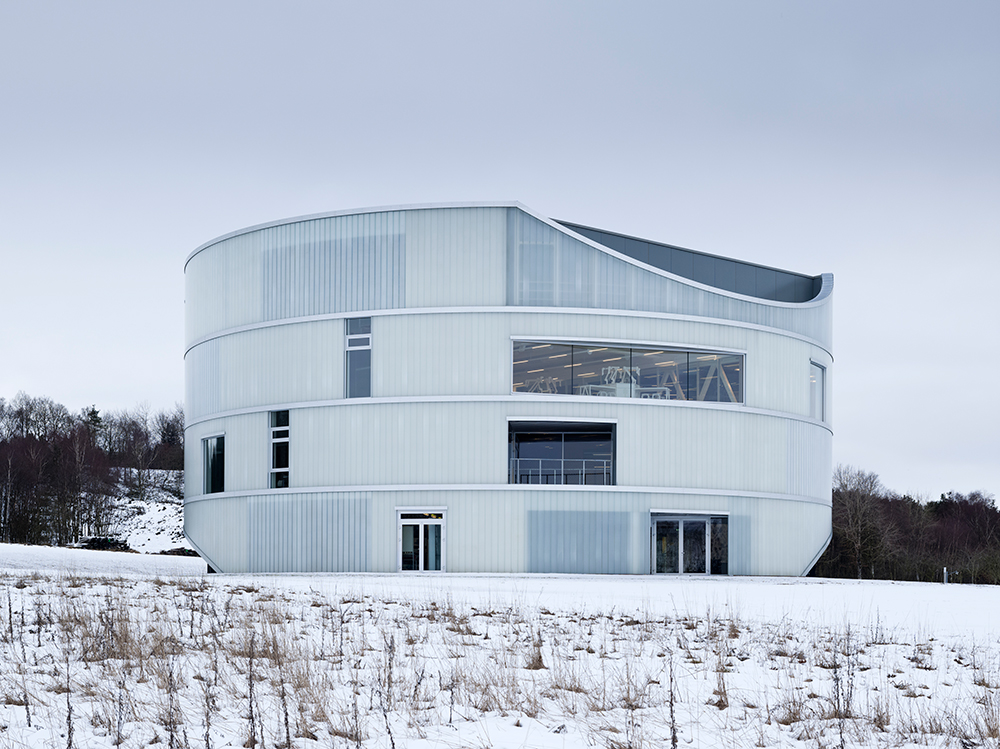 May 12, 2015
Johannes Molander Pedersen and Morten Rask Gregersen, founding partners of Danish architectural firm NORD, met when working and studying in London. Returning home in 2002 to a stagnant construction industry and economic crisis in their native Denmark, they began practicing without buildings, running participatory design workshops for local councils and organisations – a social architecture in lean yet progressive times. From these humble beginnings, NORD has gradually matured into an award-winning architectural innovator; yet Johannes and Morten remain dedicated listeners, collaborators and 'process designers'. According to Johannes, "the things that drove our practice when we started are still the things that drive us now".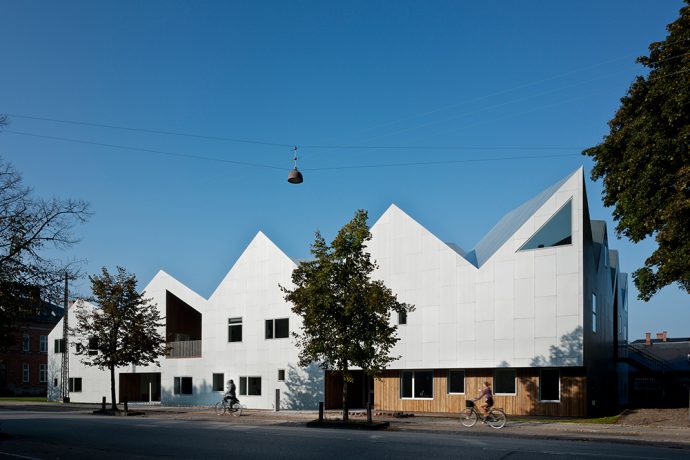 NORD is now a multi-disciplinary office employing urban planners, architects, landscape architects, process consultants, and academics. NORD is still grounded in real-world social engagement and fine grain; its commitment to dialogue and interaction with the people, organisations and communities who it designs for keeps an honesty and simplicity to its work. NORD prides itself on challenging the very notion of architecture, not just in built form but in terms of our modes of social interaction and organisation, reinventing new institutional models for an ever-shifting economic and social landscape. As the inaugural DROGA Architects-in-Residence, an initiative of the Australian Institute of Architects, Johannes and Morten are currently tag-teaming their stays at DROGA, a Surry Hills apartment designed by Sydney firm Durbach Block Jaggers. Walking down from her own nearby studio, Genevieve Murray sat down with Johannes after a recent lecture at the Sydney Opera House to talk about NORD's collaborative and socially-engaged architecture.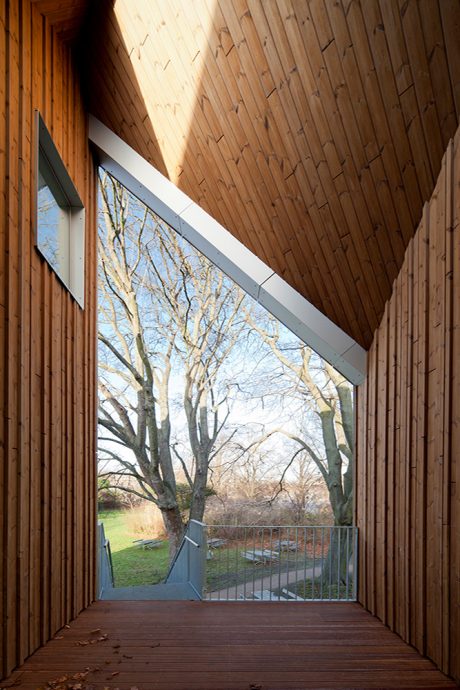 Genevieve Murray: NORD is over ten years old now. How does the firm of today compare to your original vision? 
Johannes Molander Pedersen: We met in London while studying and working before both moving back to Copenhagen. Our belief in the ability of architecture to affect real change developed in our last years of study. We started at a time when there was an economic crisis so there was not much building work going on. Open processes, user involvement, community engagement – these were all things driving our work at the outset and were ideas suited to the climate of the time. Our first project was as consultants working on public involvement in design processes. Then, slowly we got projects that were closer to buildings… so it has really been an organic process in terms of the development of the practice. Really, the things that drove our practice when we started are still the things that drive us now. Working with content, organisations and people.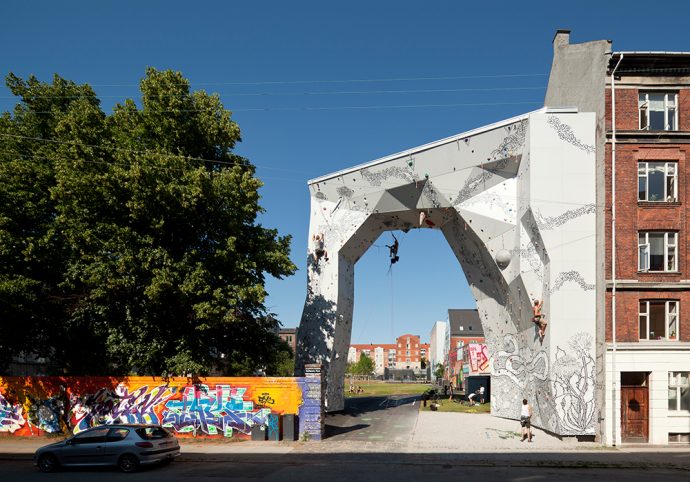 GM: Tell us about the atmosphere and politics back in the early 2000s – when firms such as NORD, BIG and COBE were formed…
JMP: What is great about this time is that a lot of companies were starting up. We have seen this again now, since the most recent crisis. Before this, architecture had been reduced to additions to existing structures. But then [after the crisis], we were able to get back into the machine room of forming society. Government had a lot of pressure to develop in new ways, so they looked to younger practices.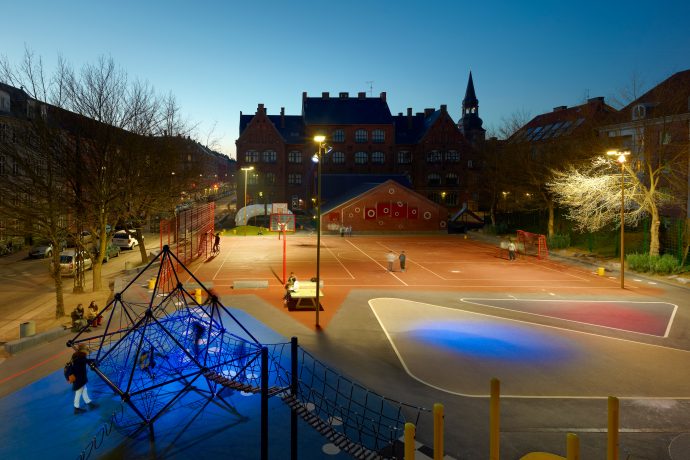 GM: Institutional critique is normally associated with contemporary art, not architecture. Yet, NORD often interrogates the purpose and function of the institution or organisation it designs for. What do you learn from this?
JMP: Well, really we see that our institutions have a very complex public interface. What we began to do was to ask institutions about their core task and performance and how that was changing. Then we analysed how this content should interfere and communicate with the space – before translating this into architecture. So, in a sense, we work towards developing a concrete interface and a clearer message through the architecture. For example, this comes down to details, such as the reception area in our Cancer Centre that is actually a dining table. Visitors are welcomed by a volunteer before they are invited to sit around the table together. The environment is welcoming and soft, stretching the boundary between public and private.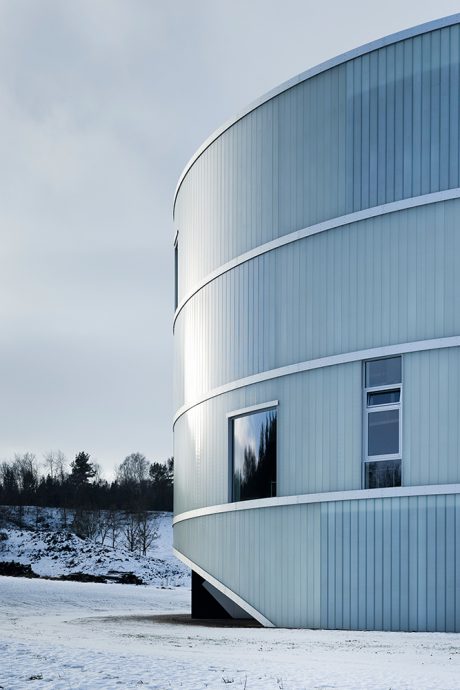 GM: You recently spoke about your Natural Science Centre project and how the building itself was designed to attract more women into the profession. Can you talk a bit more about this idea?
JMP: Traditionally lab spaces and research centres are fairly daggy – dark, closed-in spaces that seem closed or exclusive. This image is a problem for the sciences, so we turned the building into a modern educational laboratory with modern spaces including all the latest gadgets and materials displayed really beautifully and professionally. What we found was that the students came into these spaces with their lab coats on and really began to take a sense of ownership over them, and particularly the girls or young women enjoyed this kind of role-playing. Yet, the building did not patronise the students by looking like a playground. [Students] could engage with the content and imagine themselves as professionals, acting equally. We could say that the spaces are 'un-gendered' rather than having some particular characteristic that attracted women.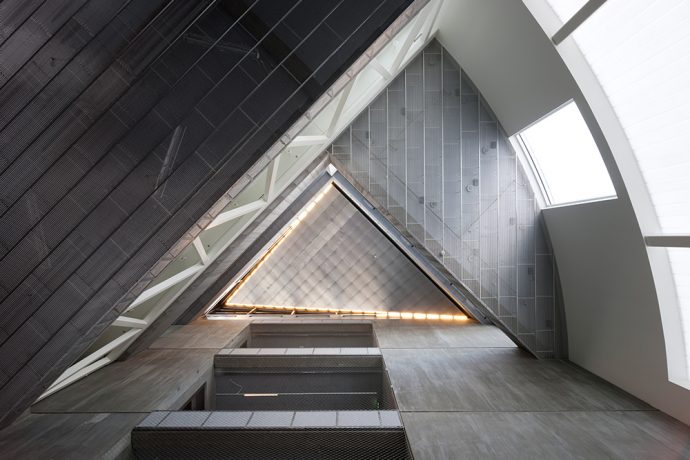 GM: Your project 'City X' is a remarkable piece of community engagement. How do you see this process impacting on the design of the city? 
JMP: City X involves kids and youth in the city at sites of urban development projects. The aim is to improve the projects and to support, educate and create a sense of ownership amongst local kids. We got the idea some years ago and now it is a fully-integrated secretariat embodied in the municipality of Copenhagen. I think that through City X, we've engaged several thousands of kids in qualifying the development of Copenhagen. One of the most innovative results has been the opening up of several schoolyards in Copenhagen, avoiding fencing and turning them into combined urban community spaces.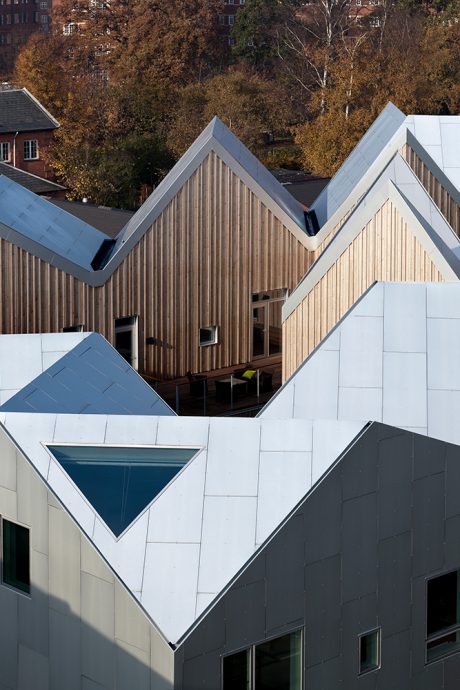 GM: In the article you wrote for 'Can We Design a New Country' you introduced the notion of (un)sustainable architecture. How does this relate to crisis, be it economic or environmental, and how do you see this shaping practice? 
JMP: Sustainability should be implicit of course. When we wrote this article, we were surprised that we got such a response. We went on national radio to answer lots of questions, because it really challenged current thinking. What we were saying, or asking of architecture, was how do we define and manage the concept of sustainability in a constantly shifting world?
Of course the goal of sustainability in construction is to make buildings with the longest possible life-cycle. But, what we found in practice was that there just isn't the budget for this anymore.
This led us to thinking about the notion of (un)sustainability. The problem with architecture is that it lasts too long. Perhaps we can design things that are not designed to last forever, that have a life-cycle related to say – in the case of our institutions – the four-year political term. Or, for example, urban spaces that are designed to last for three months in relation to the passing of the seasons. An architecture that then adapts to new or shifting demands and contexts. It goes back to this notion of us architects getting back into the machine room, and our understanding of the power of architecture. If we are to embrace a notion of (un)sustainability, where breakdown is integrated into architecture, then there can be ongoing innovation and development of skills. It is a content-driven architecture that will always be reflective of the times.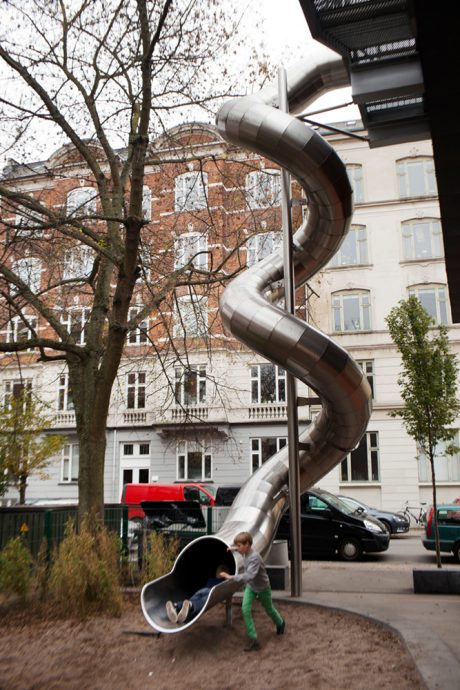 We'd like to thank Johannes Molander Pedersen for providing us insight into NORD's inspiring, collective-minded work. For more information on NORD Architects Copenhagen, visit: nordarchitects.dk.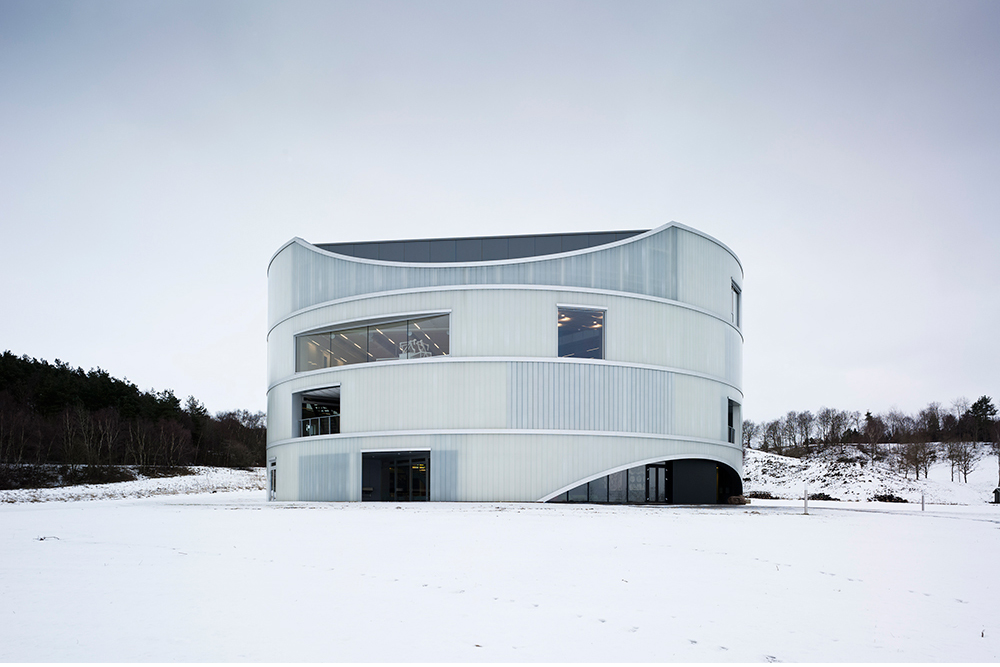 The Natural Science Centre in Bjerringbro, Denmark, takes on the challenge of reimagining science for students. Photo: Adam Mørk.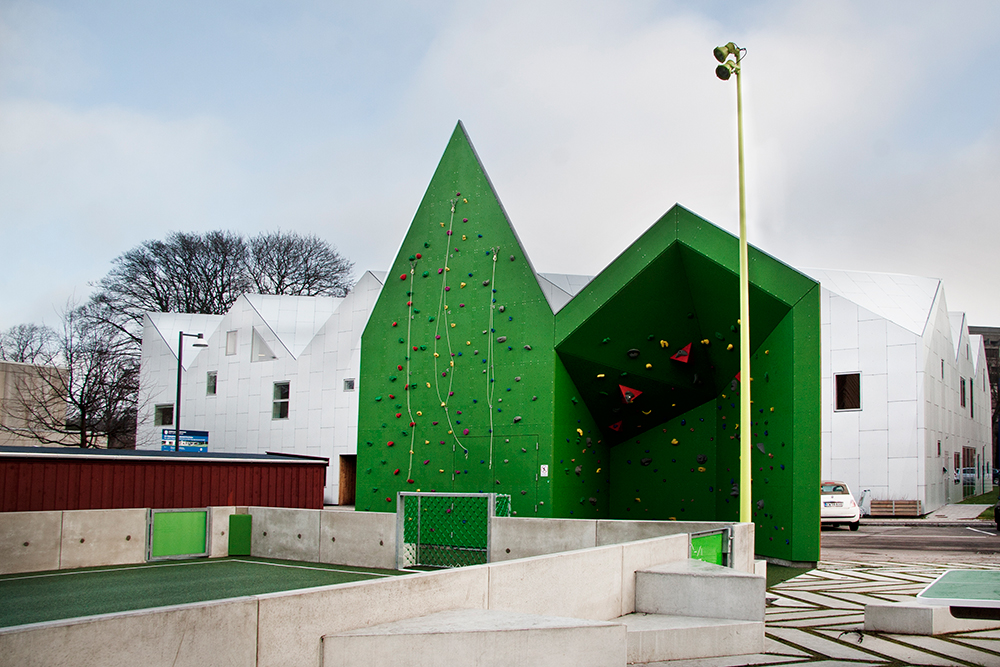 A rock-climbing wall in the 2013 addition to NORD's Centre for Cancer and Health: year-round green space. Photo: NORD Architects.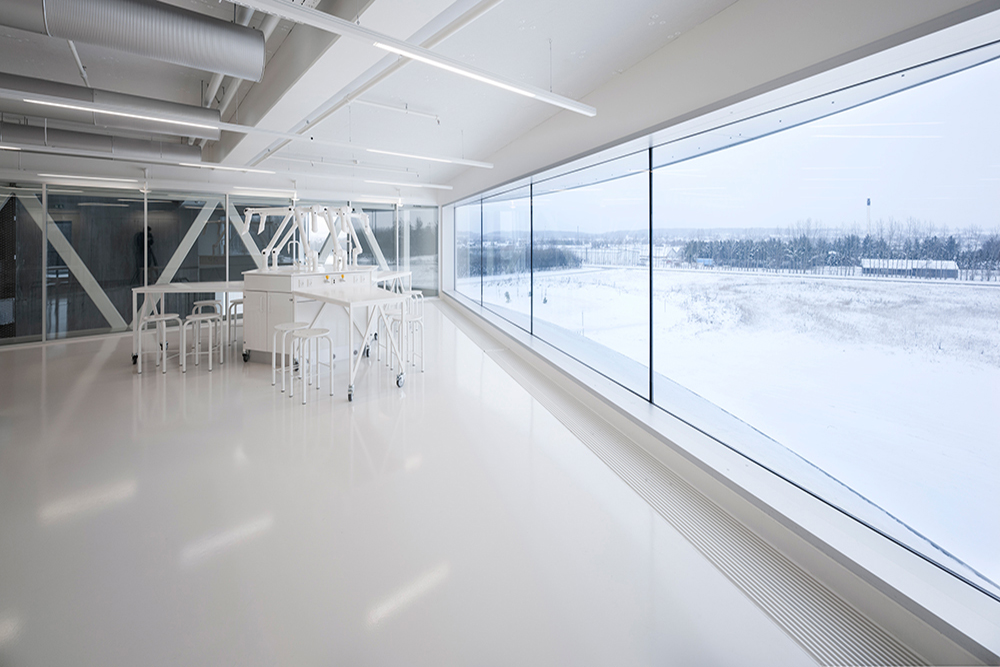 Laboratory meets landscape at the NORD-designed Natural Science Centre. Photo: Adam Mørk.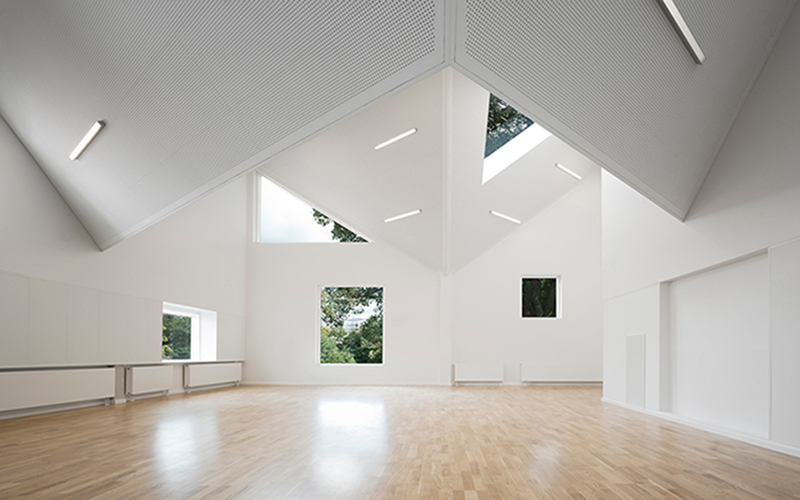 Roof and window spaces play with texture and light inside the Centre for Cancer and Health. Photo: Adam Mørk.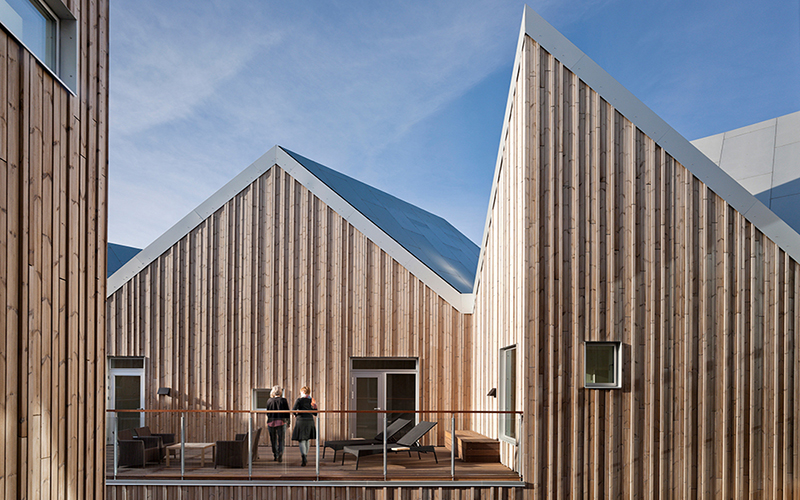 Fresh air atop rooftop balconies at the Centre for Cancer and Health. Photo: Adam Mørk.