Culture
ELBOWRKSHP: A Studio at the Centre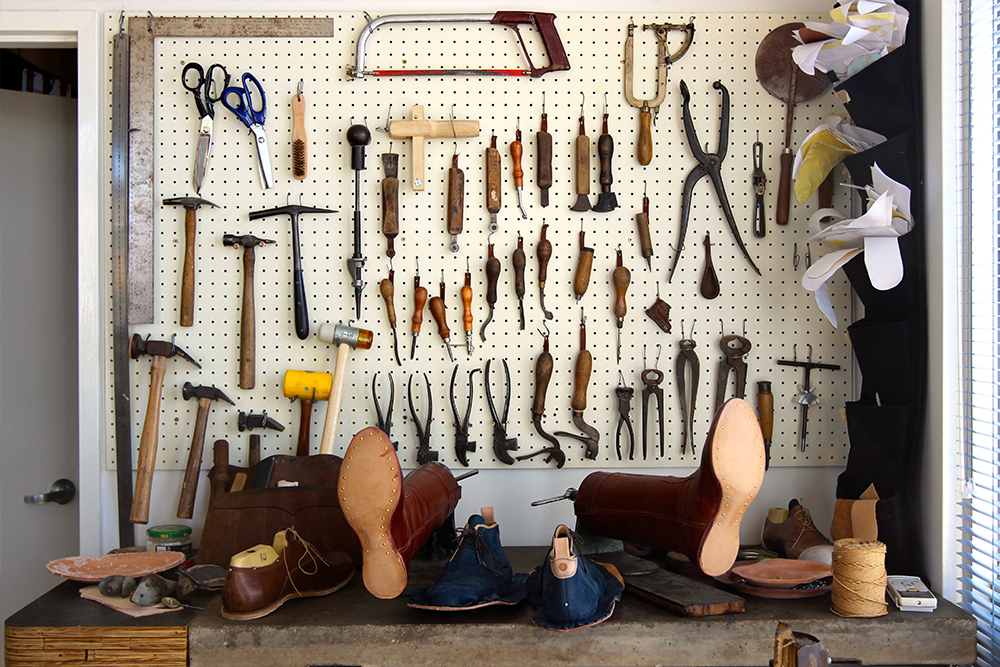 Nov 14, 2014
Just off the Stuart Highway in Alice Springs, cornered to the west by a red rocky outcrop and to the east by a smash repair shop frequented by police troopies and dented Winnebagos, is Elbowrkshp—a creative space run by designer Elliat Rich, and bespoke shoemaker James B. Young.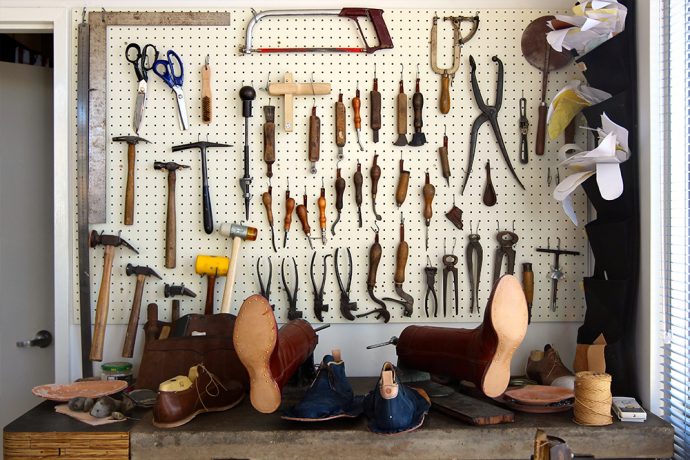 Elbowrkshp comprises three parts—a retail space, a shared studio and a workshop. Located in what appears at first to be an isolated outpost, the town of Alice Springs quickly reveals itself to be quite the opposite; rather a rich culture and a constant stream of global visitors, mean high art, craftsmanship and innovation mingle just beneath the surface.
The town itself often, understandably, sits secondary in people's minds to the vast and immense landscape that surrounds it. Rocky hills act like roundabouts or wayfinders, poking up through the grid of streets. Big, old trees are the monuments out here and the red gum-speckled riverbed, dotted with people and campfires, cuts a path down through the middle of town and out to the mountain range beyond. Most surprisingly, it didn't feel like I'd ventured far beyond the urban jungle. I could've been in Collingwood if it wasn't for the towering red rocks rising around us, and local folk in well-worn Akubras and dusty boots.
James and Elliat have been in Alice for the last 10 years. The move here was inspired by an 11-month camel trek to Broken Hill via the Snowy Mountains, after which they decided to trade in their coastal home for a life in the red centre. When Elbowrkshp launched in April this year, I made it out there to take part in the festivities. Once back in Sydney, I sat down to chat via the technological string that ties our lives together…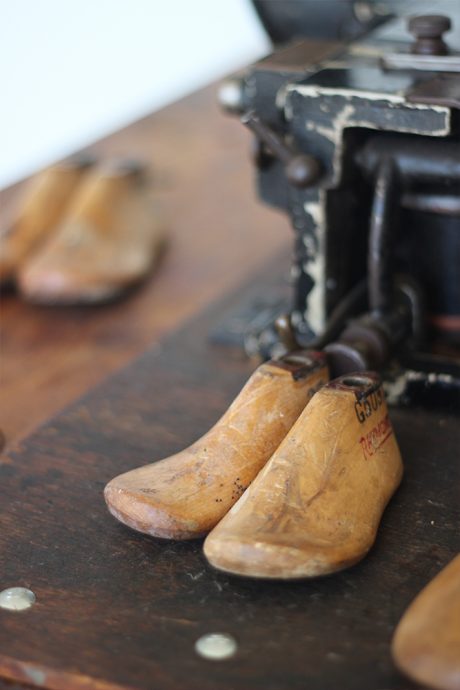 You've always been collaborators of sorts. What was your vision for the shared space and its future?
JY: Our relationship has always thrived when we've had a common goal or mission. So it's really about setting ourselves up to live in the space and share it with our entire family [the couple has two children, Golda and Ace]. The vision is to include other people in that—to have a space to make and produce items that say something about Central Australia. It's a place so rich in valuable stories and in a small way we seek to embed something of those stories in the objects we make.
There's a little precinct of creative types developing around you [instigated by Mike Gillam and Maria Giacon and including Dallas Gold's gallery, Raft Artspace]—how does your work or practice fit into this?
JY: Living in a town that was originally developed for a tourist economy, Mike has been a champion of egalitarian spaces for people who live and work here—creative people and also trade practitioners—the precinct is a contribution to the culture of the town. There's our immediate space, then there's its relationship to the shared precinct and then to the town itself—I guess that idea of creativity and expression flows through all those layers.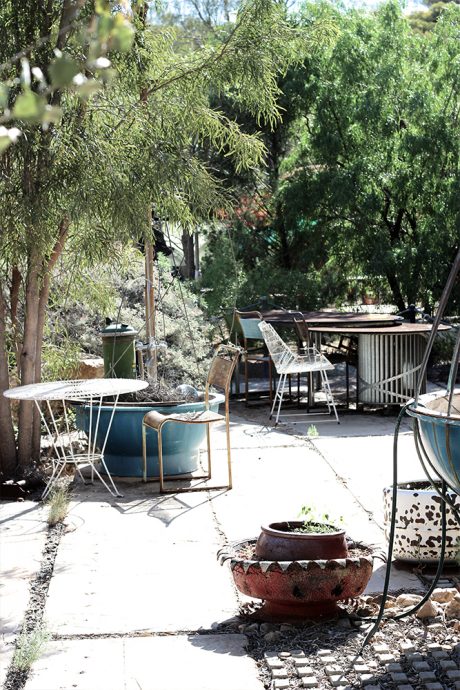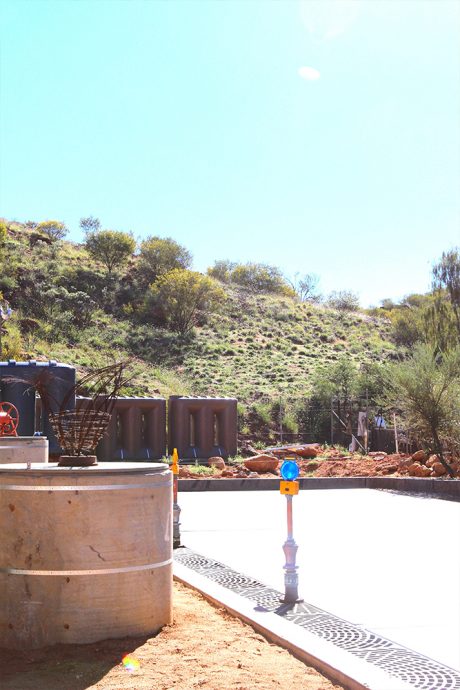 Elliat, you've just exhibited your Decennia Chair in Milan, Italy, for The Other Hemisphere exhibition curated by Sarah K. How does being in Alice Springs make something like this possible, creatively and professionally?
ER: There are a few negatives, but also a lot of positives. The Other Hemisphere is unique, in that it's one of the few opportunities Australian designers can take part in internationally. Alice Springs is certainly isolated by location and from a traditional design community—that became very apparent when the The Other Hemisphere exhibition was on. I went to Sydney for the opening and it was such a blast meeting other designers and being dropped in 'that world' for a bit. Being in Alice makes opportunities such as The Other Hemisphere all the more valuable to me.
Being in a small town I feel you understand things more holistically than might be possible in bigger places–culturally, environmentally, futuristically. Here the ethos is one of problem-solving. Innovation is mandatory because we're working at the interface of a very distinct set of cultural and environmental factors. And being able to juggle interesting work and bringing up a family in a place so wonderfully dominated by the 'outside' and to have such a strong sense of community… You can leave home three minutes before a meeting starts and still arrive on time. Being in Alice works for us.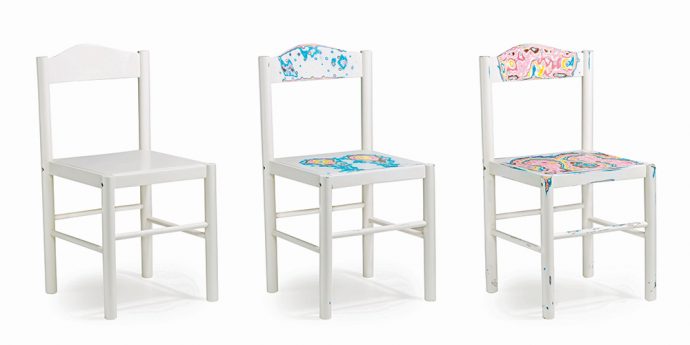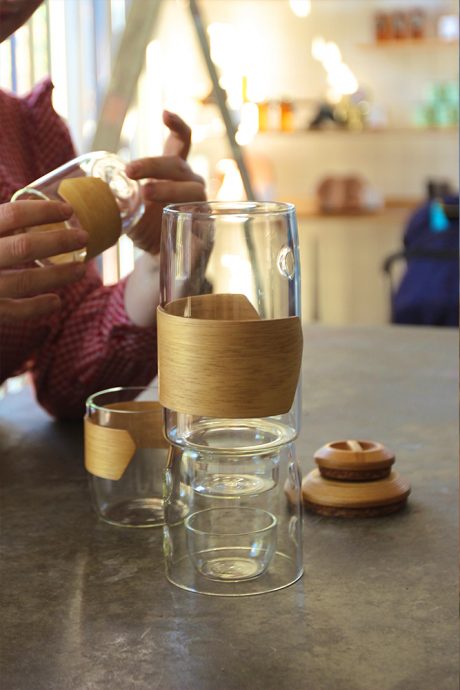 You're a lover of ritual and how this relates to the objects in our lives or how they can themselves be the instigators of rituals. What has your time as an urban, and then desert explorer taught you about this?
ER: 'Malka', my piece of furniture shown at a student exhibition in Germany  [which Elliat imagined for her future grandchildren, and named after her great-grandmother] was designed to enhance the ritual of a birthday. Introducing objects into a ritual is a really solid and obvious way of creating continuity and a reference point.
Everyone has rituals in their lives, complex and simple, and, I feel, we have a natural affinity or need for ritual. I guess living out here makes those rituals quite distinct and easier to recognise—sitting down and making a fire when you're out bush, or having a cup of tea—it creates something of itself that is deeply satisfying and shareable.
 'The object sustains the ritual and the ritual sustains the object', I always say.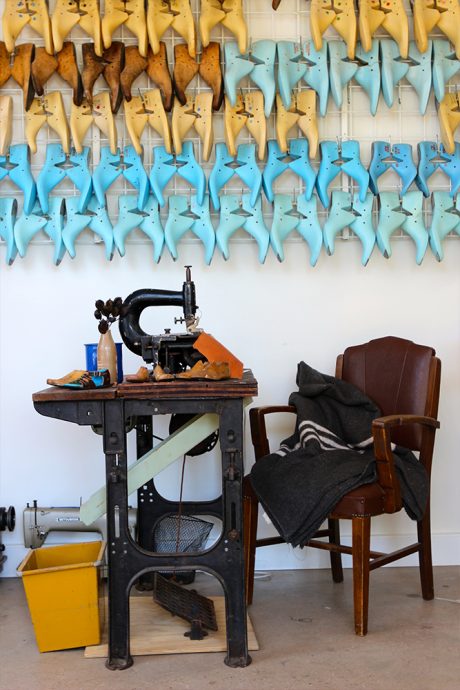 James, what brought you from Sydney's College of Fine Art (COFA) to making shoes in the Northern Territory?
JY: Well, I was studying design at COFA and, as adolescent as I was, I was reviled by the consumption that I could see around me, and, you know, I guess unknowingly I was looking for a different relationship to objects than manufacture and consumption. I remember having the sense that the objects I was interested in were the ones I could make myself. This was largely in conflict with the training I was getting at school. The journey to shoe-making was initially via making camel saddles, for our own use, but then commercially since I got to Alice 10 years ago. That was born out of necessity, of needing gear that wasn't available, and it brought with it a deep appreciation of things that are made well and made to last. Making gear that we had to depend on, that we couldn't afford to have fail.
I guess shoes has been about moving into a medium where there's a depth of knowledge in the design and construction, as well as the history of how and why shoes are made. It will be decades before I could come close to mastering it. Making shoes is just so hard, you know, to bring together high quality materials, a customised fit with style, it's an incredible challenge and the margin of error on a pair of shoes doesn't exist. Eventually, the better you get the smaller the margin gets—like a vanishing point—your lens deepens.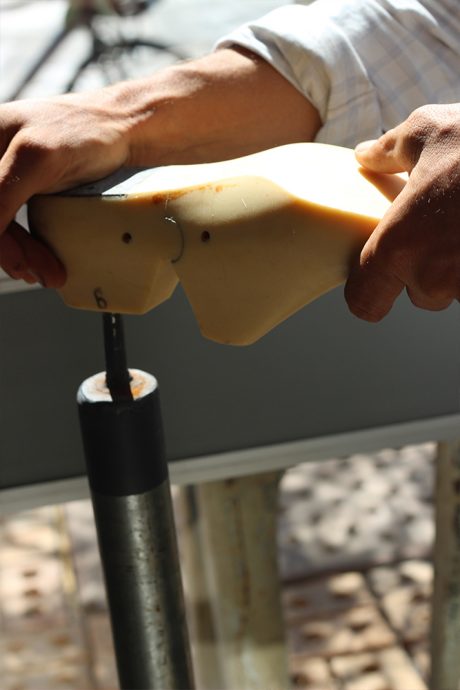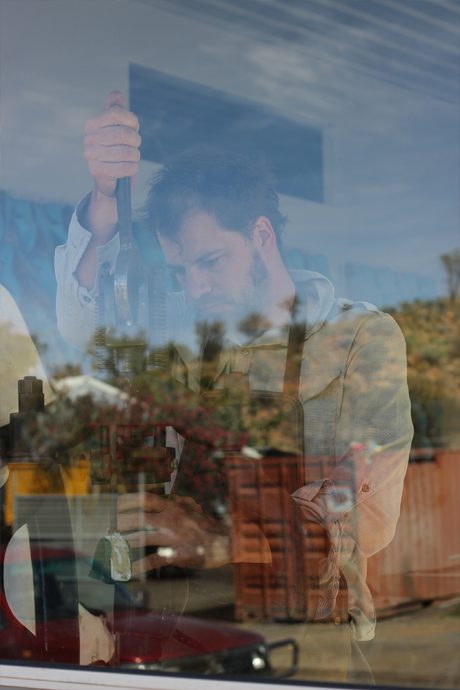 What drew you to Alice specifically, and what has made you stay?
ER: It wasn't a tough decision, we just thought it was a good idea and it presented itself as the perfect confluence of our interests, our sense of adventure and identity—and it still does. It provides opportunities that we haven't found elsewhere, and there's an incredible community of people who are extraordinarily driven and innovative in their practice. For a small town Alice totally punches above its weight in terms of the creative calibre of work that comes out of here, and a culture of work that is unique within Australia.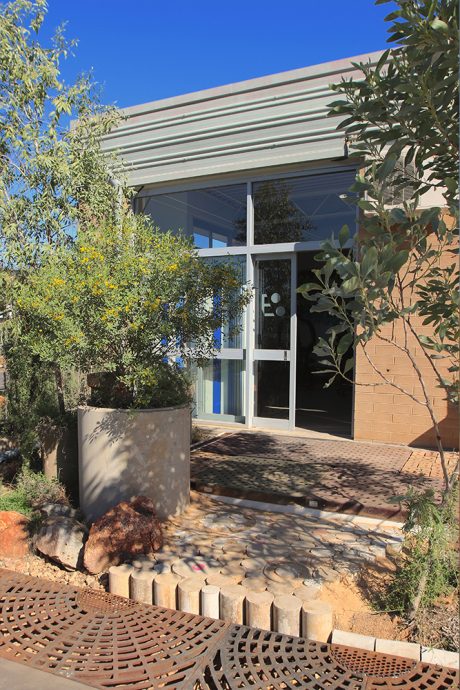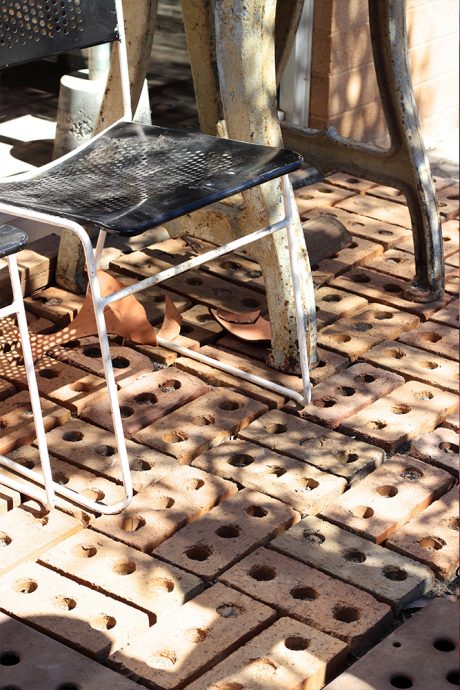 Perspective is a wonderful gift offered by landscape. What is it that this place, in its geographical isolation, has given you?
JY: For me having worked in land management, I guess there's another lens for looking at and experiencing country that sits with a more technical knowledge of ecology, and there's a professional aspect to that. There's also a real mix of peoples reliance on country, its stories, and different cultural perspectives that play out here in how country is used and how it also in turn looks after the people. It's a privilege to live in such a dynamic and dramatic part of the world. Climate is a member of the family here, I find that very grounding.
ER: This place is unique and rich and the natural environment dominates every vista. Also a lot of socialising is done outside, so there's a wonderful connection to the edges of the wilderness that surround us. There's a lot of mythology that is associated with Alice, most of it deserved. We live surrounded by sacred sites and ancient stories. You hear a dozen languages being spoken walking down the mall. For me as a designer, Alice is wonderland. The scale across time and place, the influx of ideas, the opportunity for entrepreneurs and being consistently connected and challenged beyond your immediate daily life. And there's so many different relationships to 'the environment' here; an ecologist, a traditional Elder, a geologist, a mountain biker, an artist—they can each tell you something unique and inspiring about the same rocky outcrop. For me it's about finding the consistencies or underlying stories that connect us to each other and to place.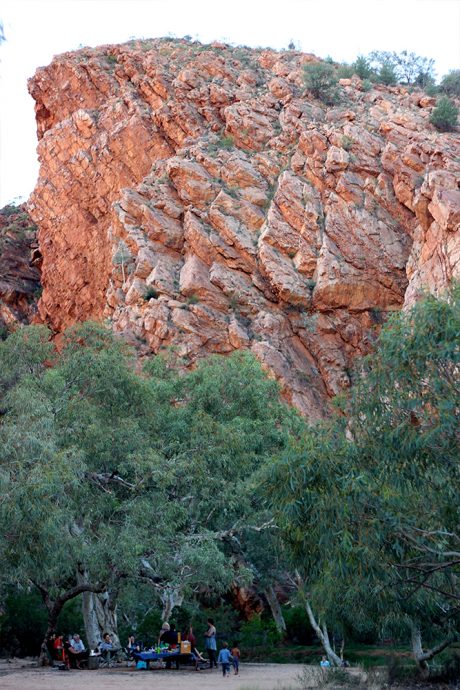 Elbowrkshp is also a retail outfit. You get people dropping in who've heard about you on the grapevine, what else do you make and sell out of the space?
JY: There are the camel saddles, which are an every-now-and-then job that always seem to come along, and each year I make a batch. We've also got some small items that are for sale through the workshop; a Kangaroo leather and timber hand mirror designed around the one we stapled together when we set off on our first camel trek 15 years ago. These ones are much nicer, with copper tacks and countersunk magnetic closures, but are in essence the same design that we can claim has been rigorously road-tested—all the way to Broken Hill and back! We are selling micro-edition honey from the remote Tanami Desert. It comes from two hives in an area with no introduced plants. The terroir is unique to the region and is batched under the blossoms of the season. At the moment we have Bloodwood and Whitewood from summer 2013.
Then there's the James B. Young's 'Fat of the Land'. It's a very high quality shoe dubbin and general-purpose leather nourisher. The camels are shot as part of a feral animal management program, the humps are literally cut from the carcass producing 15 – 30L of very pure adipose tissue. I render them down in a big pot and have refined my recipe of all natural ingredients. Bags are coming! I have been prototyping my range of men's and women's bags but have been so overwhelmed with shoe orders that I'm struggling to find the time!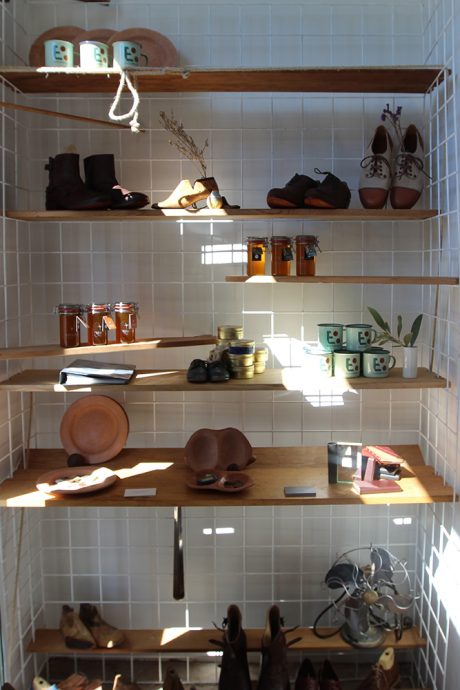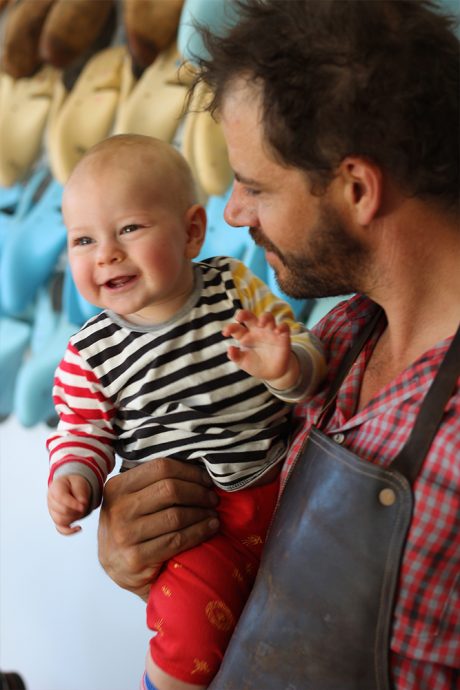 Thanks to Elliat and James for giving their time for this great story. If you're ever out that way, drop into their space at 8 Hele Cresent or follow what they're up to at @jamesbyoung on Facebook, @elbowrkshp on Instagram or via elliatrich.com. All images by Genevieve Murray.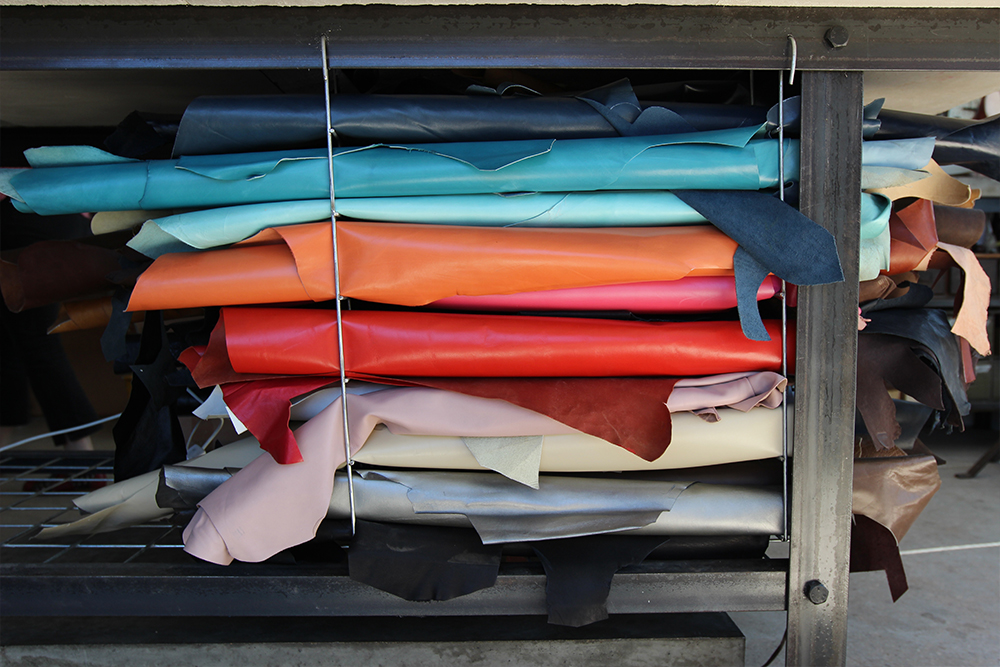 Brightly coloured leather waits to be transformed into footwear at the Elbowrkshp.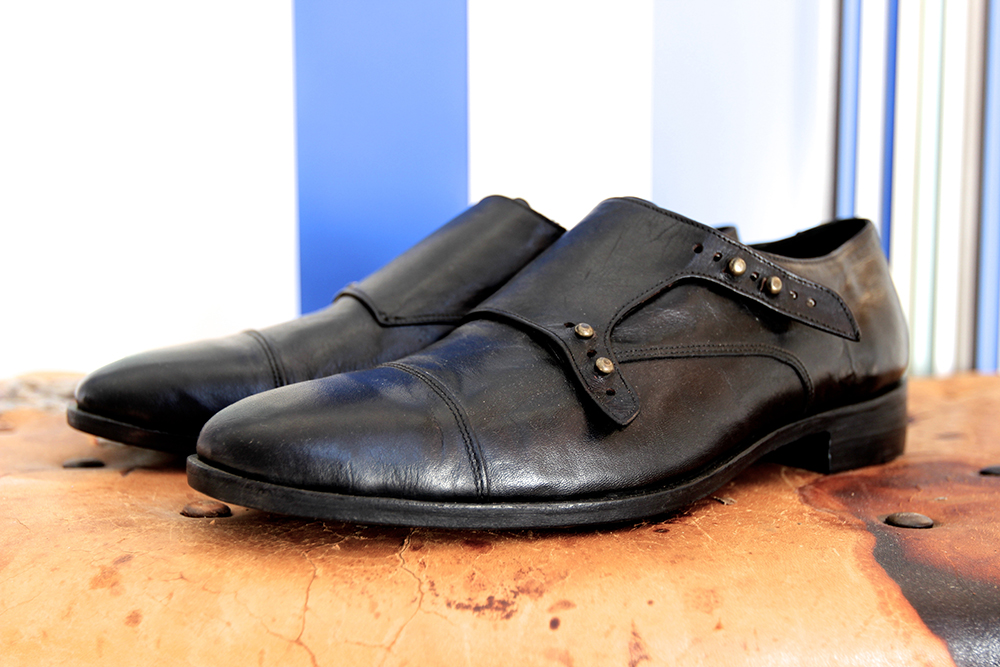 A pair of James' unique creations.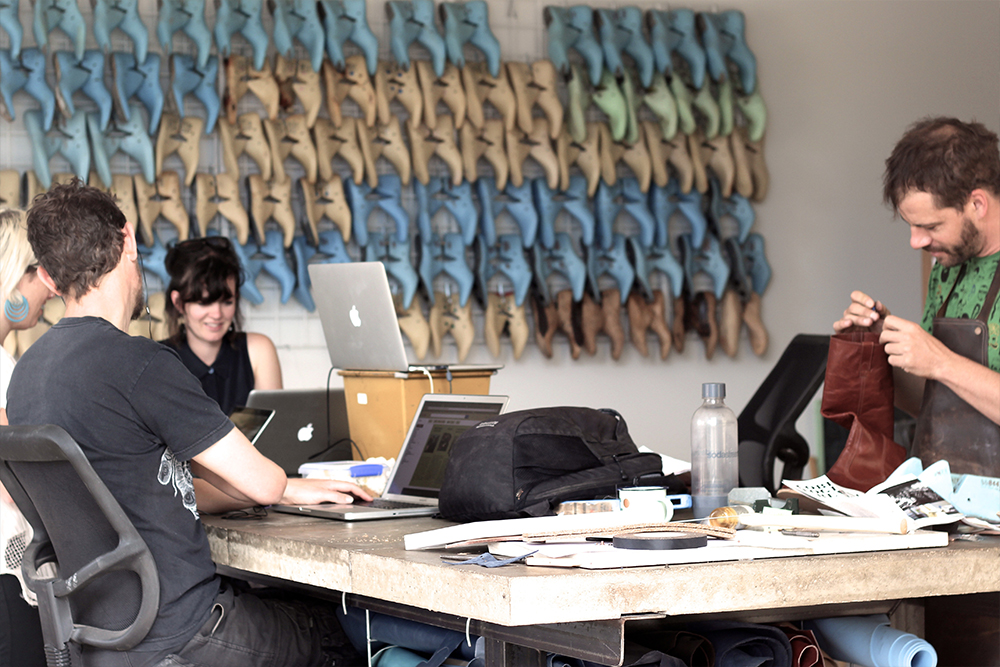 Impact Producer Alex Kelly, artist Beth Sometimes and filmmaker Stu Mannion using Elbowrkshp as an office.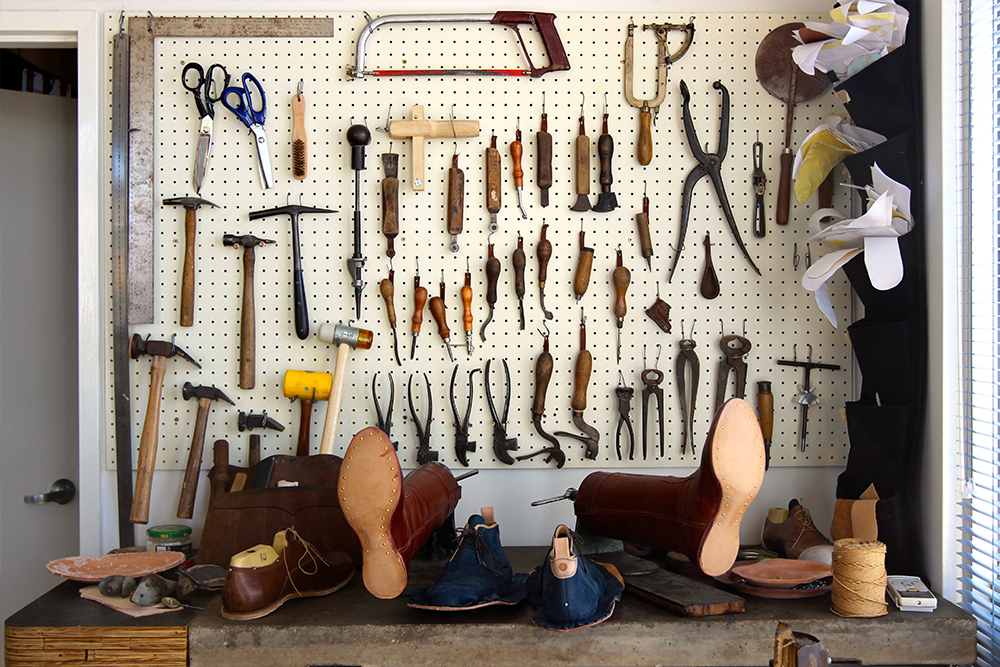 The many tools of a shoemakers trade.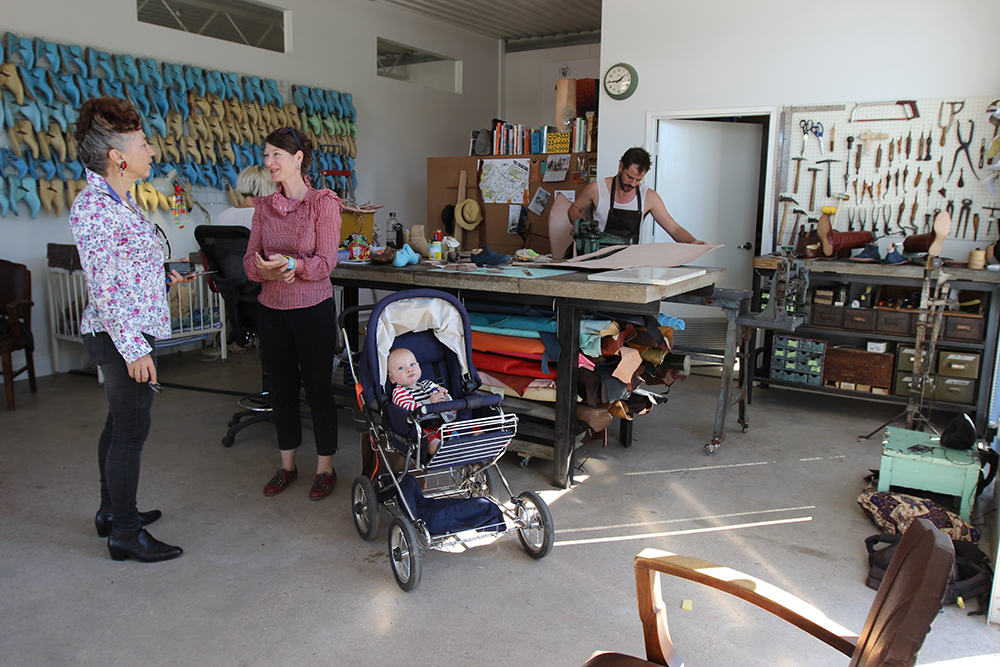 Elbowrkshp is part of a strong creative community centred around the 8 Hele Crescent precinct.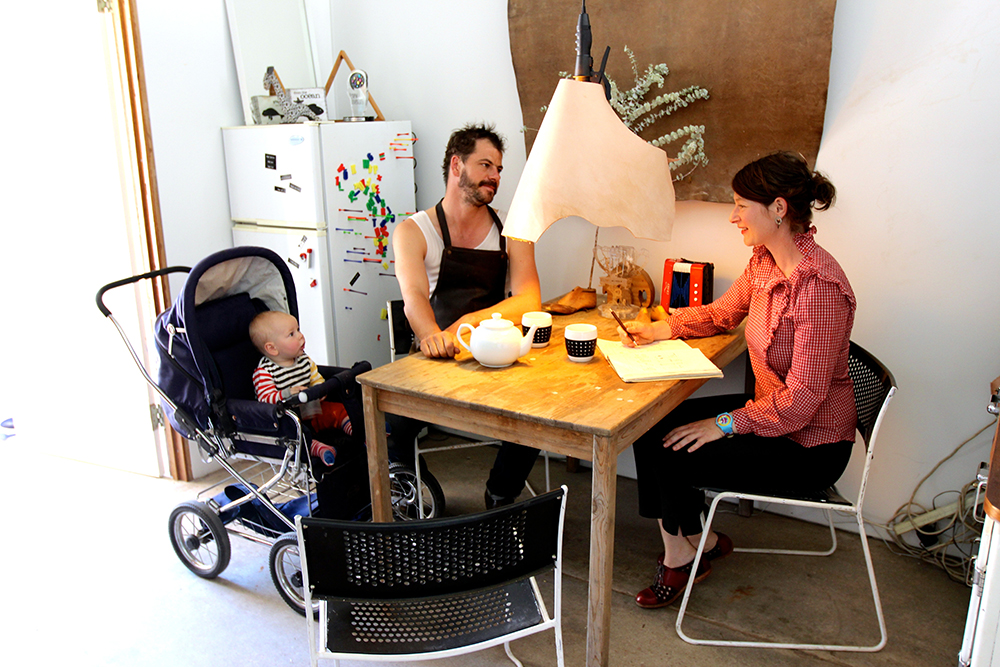 Tiny Golda chips in while Elliat and James enjoy a cuppa in the studio.