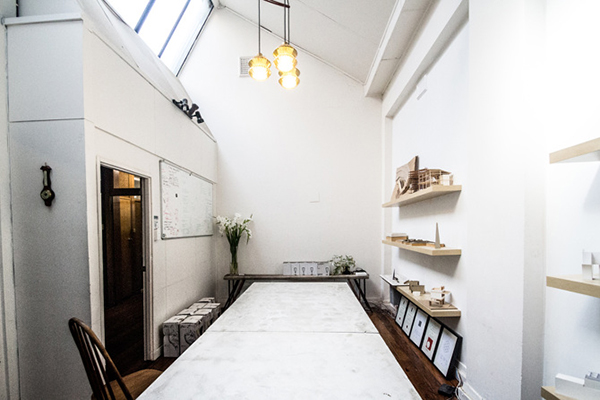 Oct 24, 2014
Perth's been hiding some long-languished spaces – that dismissed shell of a department store, a blanket of sunburnt rooftops, heritage buildings left to lose their vigour – and in response, local architects Nic Brunsdon and Beth George, fuelled by this vacancy and the latent dynamism of their hometown, created Spacemarket. The goal at the heart of this ambitious curatorial project – 'of pairing disused spaces with useful people' – is a nexus that aims to augment the city, and re-engage its inhabitants.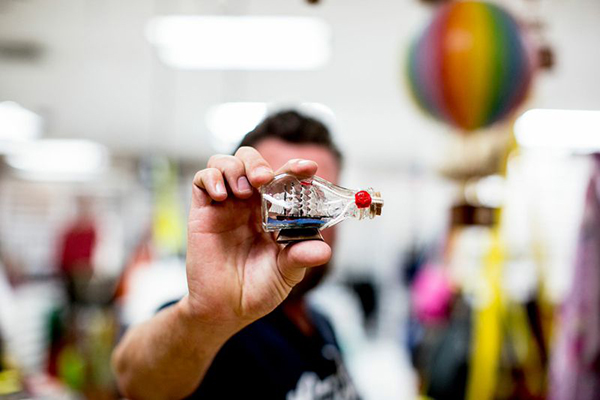 Inspired ideas and meaningful design, the kind that can cause a cultural shift and change a city's rhythm, rarely spring up in vibrant minds as light bulb moments. They are more regularly born out of necessity, crafted as a resolution to a problem, or out of sheer frustration.
It was the latter that led Nic and Beth to launch Spacemarket in 2011. When living in Melbourne, Nic's solo architectural practice sat comfortably in a $50-a-week studio space above a pub in Brunswick. It couldn't have suited him better. So in 2010, on return to his hometown, the hunt was on to find a work space as dynamic as his spot atop the boozer.
However, the Perth Nic envisioned returning to after a decade away appeared to have changed significantly. Expensive and shiny, improvements were vast – but affordable studio space for a young sole trader, not so easy to find. "Perth does have a rich heritage. It just gets quite easily brushed aside. It's sold as the Wild West, the frontier land, where there is no history."
The baby boomers here are quick to tell the youth, forlornly, that there were once plenty of beautiful buildings in Perth, many having fallen victim to the prosperous mineral boom of the 1960s and the fruitful years that followed. The truth though, revealed by looking up and in, showed Nic that it was more the case that any building stock a little off kilter, old or imperfect was just hidden behind glossy facades.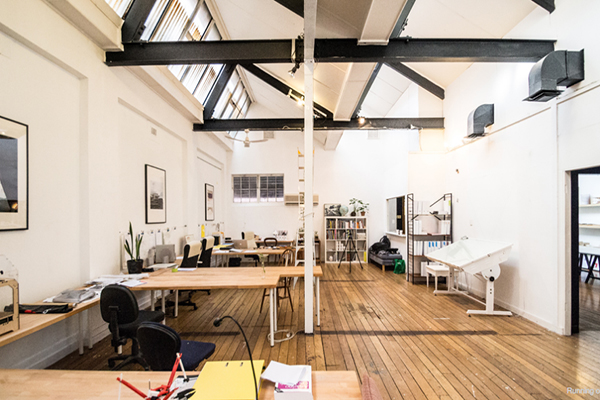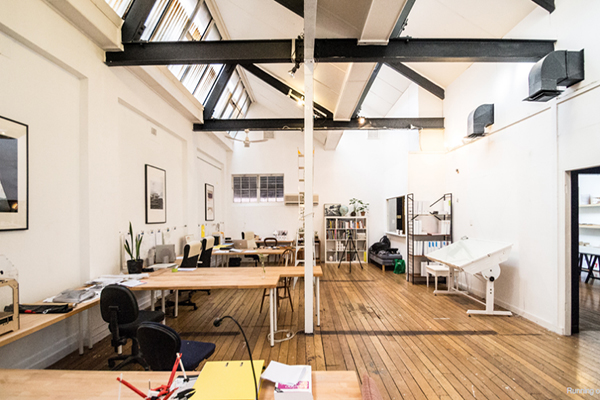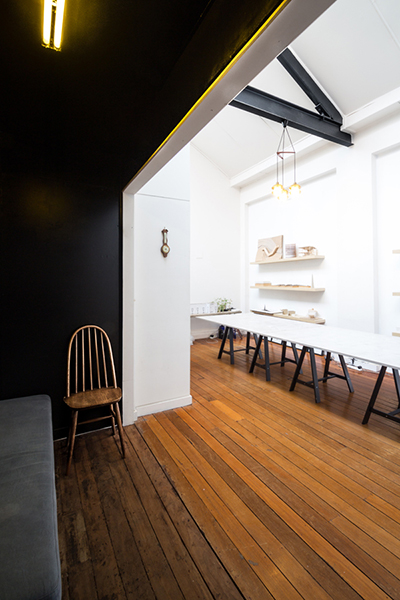 Nic spotted a disused level in King Street, a quiet end of the CBD that still bore plenty of character, (and is now home to his architecture practice, and Spacemarket's development arm, Post-), so in industrious fashion, he approached the City of Perth for a grant. "It was one of those lovely synchronous things. I emailed the City my application but it was too large and bounced back, so I had to walk it down there." Walking it down there meant he avoided the faceless transaction of handing over his bid, instead getting a chance to bond with the Development Officers. "We just started waxing, talking bollocks about everything and then we just found this really nice connection. We were bouncing on the same energy."
During this fortuitous chat Nic was introduced to the City's Forgotten Spaces Report, which threw some light on his judgements and revealed 40,000 square metres of underutilised space throughout Perth's CBD. So, buoyed by the knowledge that the most sustainable and efficient way of unlocking a city was through reactivation, Nic and Beth responded with Spacemarket.
The Spacemarket model is multifaceted. A mobile app, Why So Empty?, invites you to sharpen your gaze as you walk the streets, take a photo of a space that needs some love, and upload. A Facebook page, Meet Market, is a public-run web of spaces and potential tenants that is successfully playing real-estate cupid. These networks have placed exhibitions in warehouses, coffee roasters in empty dance studios, and found countless fledgling creative businesses floorspace akin to Nic's Melbourne office.
Then there are Spacemarket's larger projects. Ventures like The Ward, produced in collaboration with Artsource, which saw a derelict hospital transformed into artists studios, or Moana Chambers in the CBD, a grand turn of the century building that, despite its significance, was left dormant for a decade. "When it was built in 1890 and when it was built was named the finest building in the Commonwealth at the time, and it's in Perth. It's amazing."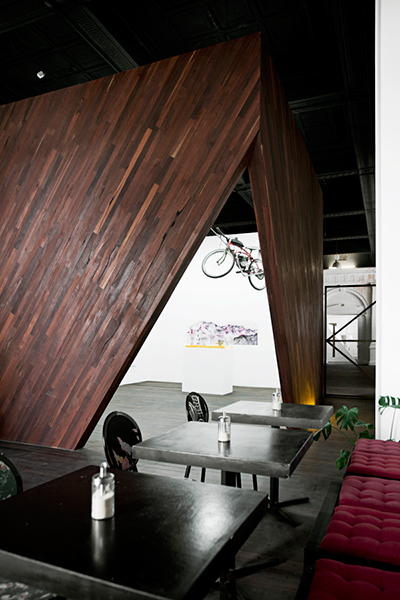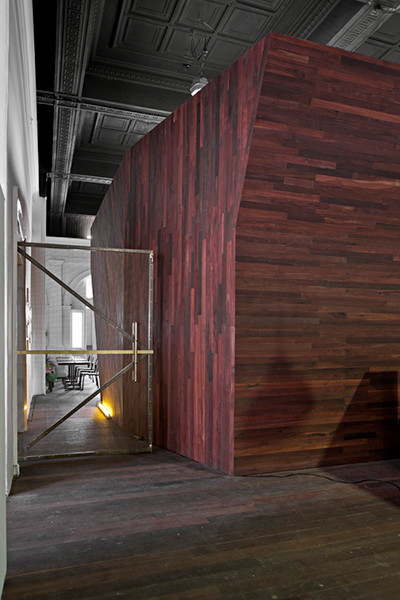 After receiving a Matched Funding Grant from the City of Perth, Nic, Beth and friends sensitively restored and tenanted Moana's old ballroom and tearooms, and then released it back to the public. It now hosts a co-working space, a café, and an art gallery. Nic is emphatic in his explanation of Spacemarket's involvement in these processes. "We're not in the role of tenant services, we're in the role of project creation. It's all about people understanding that it's not ours, it's theirs." This sentiment dovetails perfectly with the vision of Spacemarket's most ambitious community project, MANY6160 – named after the postcode in which it now finds itself a hub.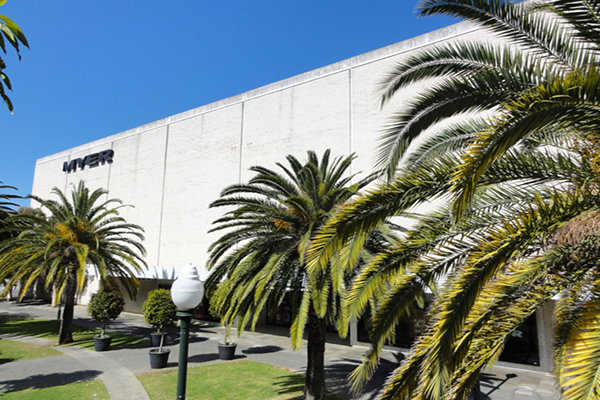 Fremantle is a tangled town just south of Perth, full of salty dogs, Norfolk pines – and potential. For over four decades a monolithic MYER department store has sat on its central square, and, by the time it closed it's doors in 2010, its charm and necessity had long ago left it. Spacemarket took over the building in early 2011 and, with a team of like-minded partners, intiated the MYRE project, becoming MANY6160, which now swells within the shell of the old building.
This is 'short term activation' at its most grand, and original. At 20,000sqm, it's also the largest temporary activation site in Australia. Unlike most of the Spacemarket projects, and in the same vein as say the Renew Newcastle scheme, MANY6160 won't live within the old department store walls forever – a $220 million development of the square it sits on is poised in the wings – but the model is responsive to its environment, malleable and ultimately, movable.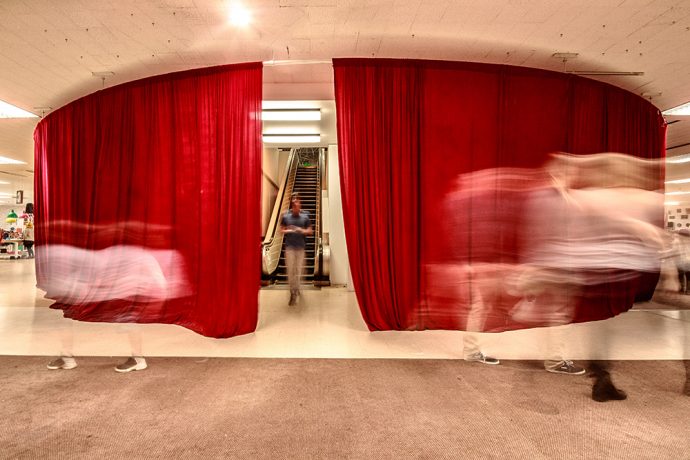 The premise? Devote time, sweat and limited funds to bringing the down and out department store back to life. Invite expressions of interest from the locals, and soon arrive at over 50 labels, makers and designers working together under the one roof. The place buzzes like a live event. MANY has operated multiple levels of retail, manufacturing, community programmes, art and design, markets, research, a function centre, a rooftop bar and community garden. In it's short life, the space has evolved into a vast collaborative community project that has changed the way people move through the area.
The retail level of MANY catches your eye, and spills out into the street, but on the second level sits the Production Floor, offering affordable studio space to surfboard makers, furniture designers, painters, sculptors, metal workers, fashion designers and screen printers.
The ultimate incubator for those businesses unsure of their next step amongst the dire forecasts for the retail sector, or those failing to afford market rent to create what they create, MANY6160 is a unique cooperative.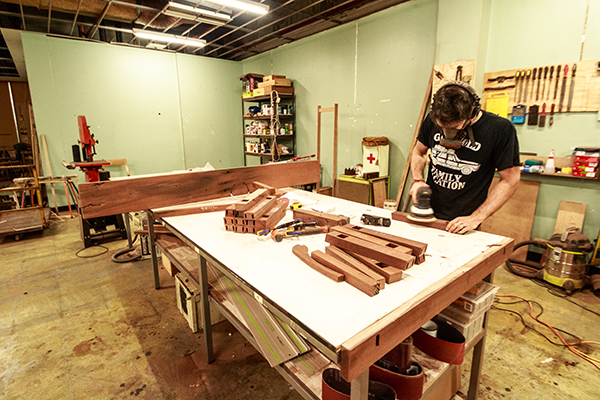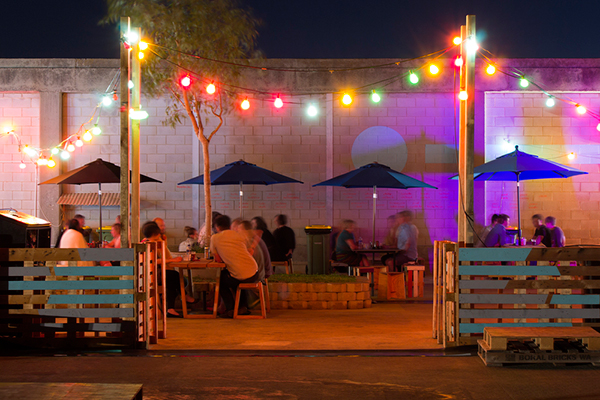 Perth has been guilty of trying to pull its ideas from elsewhere. Spacemarket's success lies in what it asks of the city – to look a little closer to home for the good stuff, to expect more, and then play a role in creating it. They represent a call to densify rather than to sprawl, to work with existing structures and re-think the way we use them. And all of this with as little structural intervention as possible – do what is needed for the space to become workable, then inhabit. Which isn't always so easy for compliance issues on a heritage-listed space. Spacemarket's approach is a holistic one though, not one that shuns the big players – councils, property developers, building owners are essential to Spacemarket's success – but one that also demands more of the citizens, asks them to be productive and aware.
"Because you can have the big stuff, but you need the small stuff. I've got no problems with the big stuff, but unless you can fill it in with a bit of variance, the fine grain, street level stuff then your cities are worth nothing. If it's all fine grain then it's homogenous, but if it's all large scale then it's monotonous."
Spacemarket's mix is just right. They're blazing a trail, changing the tempo and enlivening a city.
A big thank you to Nic Brunsdon for giving his time for this article. For more information on Spacemarket contact hello@spacemarket.com.au. Or watch their Ted Talk x Whadjuk talk here. Images have come from a range of sources however we'd like to thank Steven Davies, Thom Perry, Dave Sharp of Vanity Projects, MANY6160, City of Fremantle Mayor Brad Pettitt and Cale Black.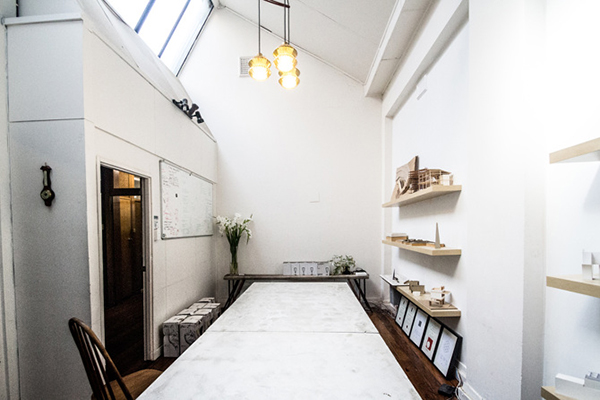 Previously dust and boxes, Nic Brunsdon reclaimed this space as his Post- Architecture studio. Image by Vanity Projects.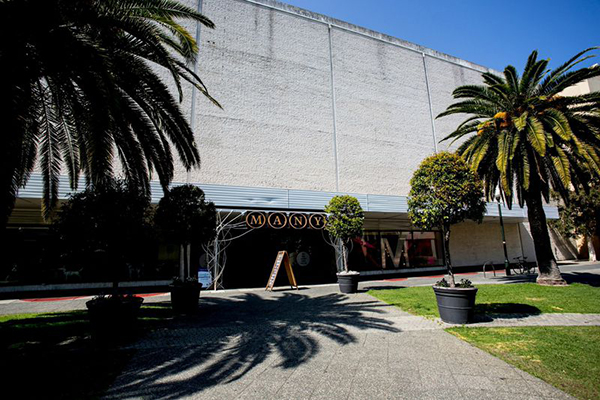 MANY 6160, Kings Square, Fremantle. Image by Steven Davies.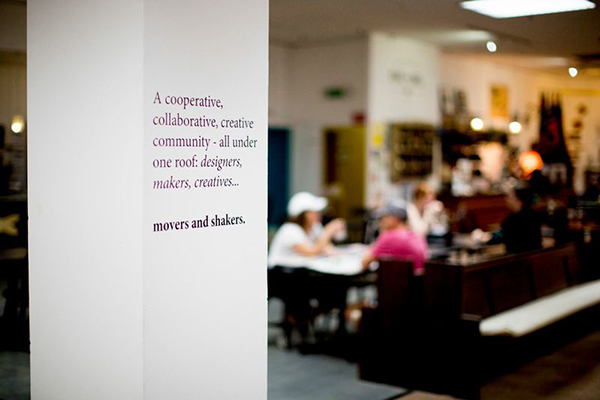 Self-defined: the MANY 6160 community. Image by Steven Davies.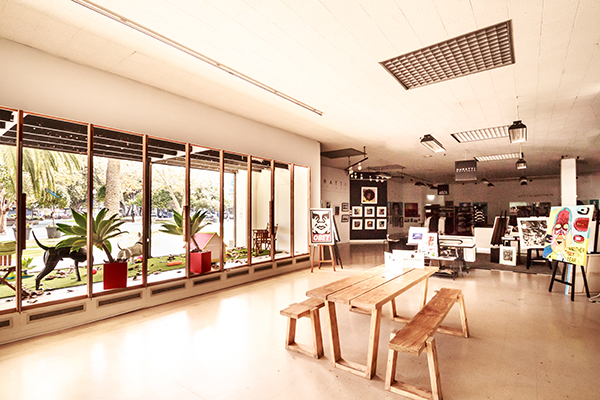 Across the open-plan ground floor of the former MYER building. Image by Vanity Projects.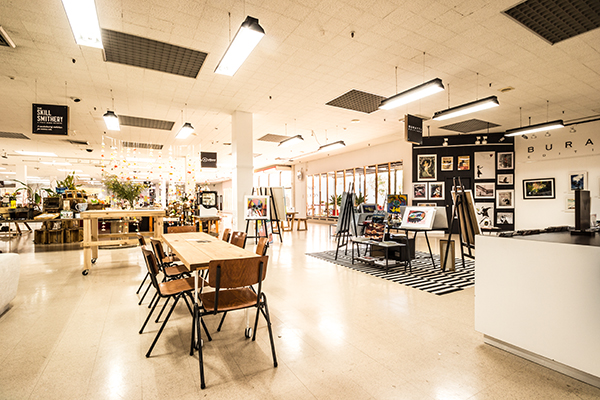 Art and community workshop space sit amongst the retail of MANY 6160's ground floor. Image by Vanity Projects.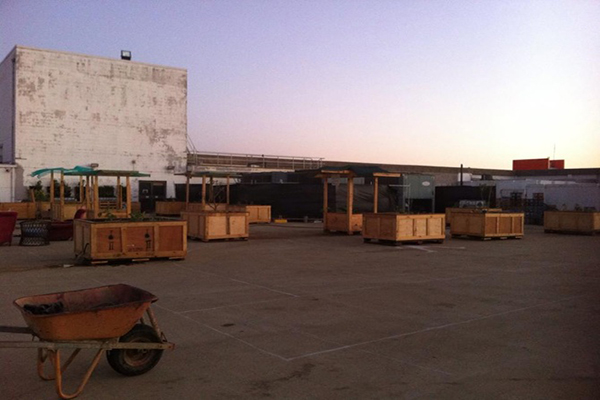 Permaculture and community garden at the Freoasis space, on the MANY 6160 rooftop. Image courtesy of MANY 6160.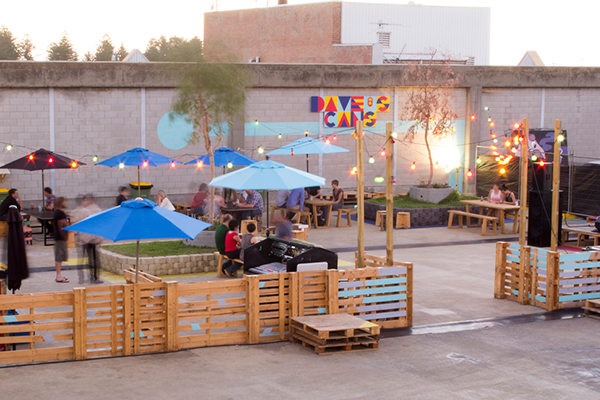 Dave's Cans sat atop the MANY 6160 rooftop last summer. Image by Cale Black.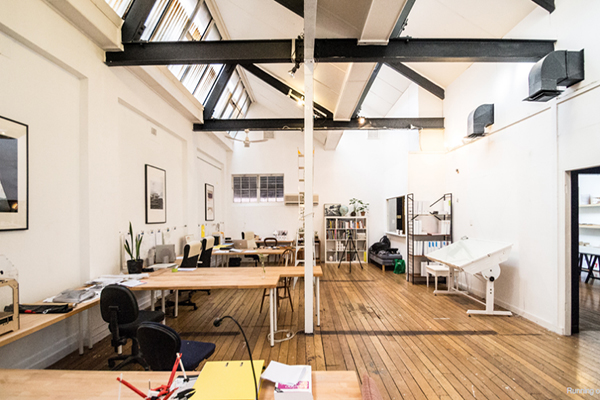 The reclaimed King Street space in Perth CBD was repurposed as the Post- architecture studio. Image by Vanity Projects.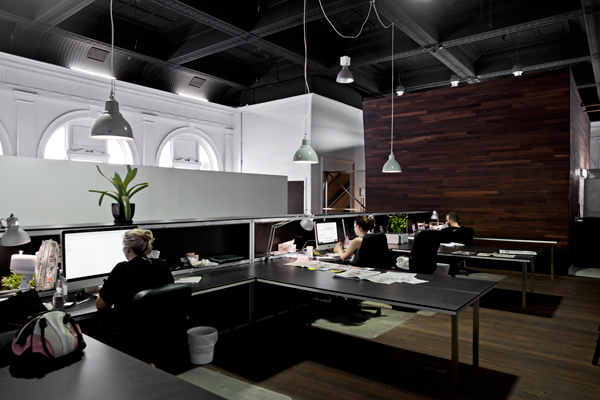 Inside the offices at Moana Chambers. Image by Vanity Projects.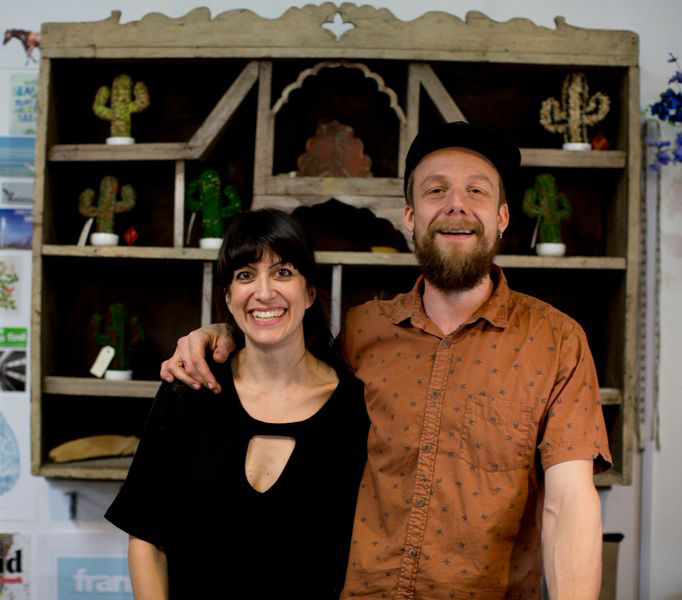 Tenants Matthew Bale and Kate Hulett at MANY 6160. Image by Steven Davies.