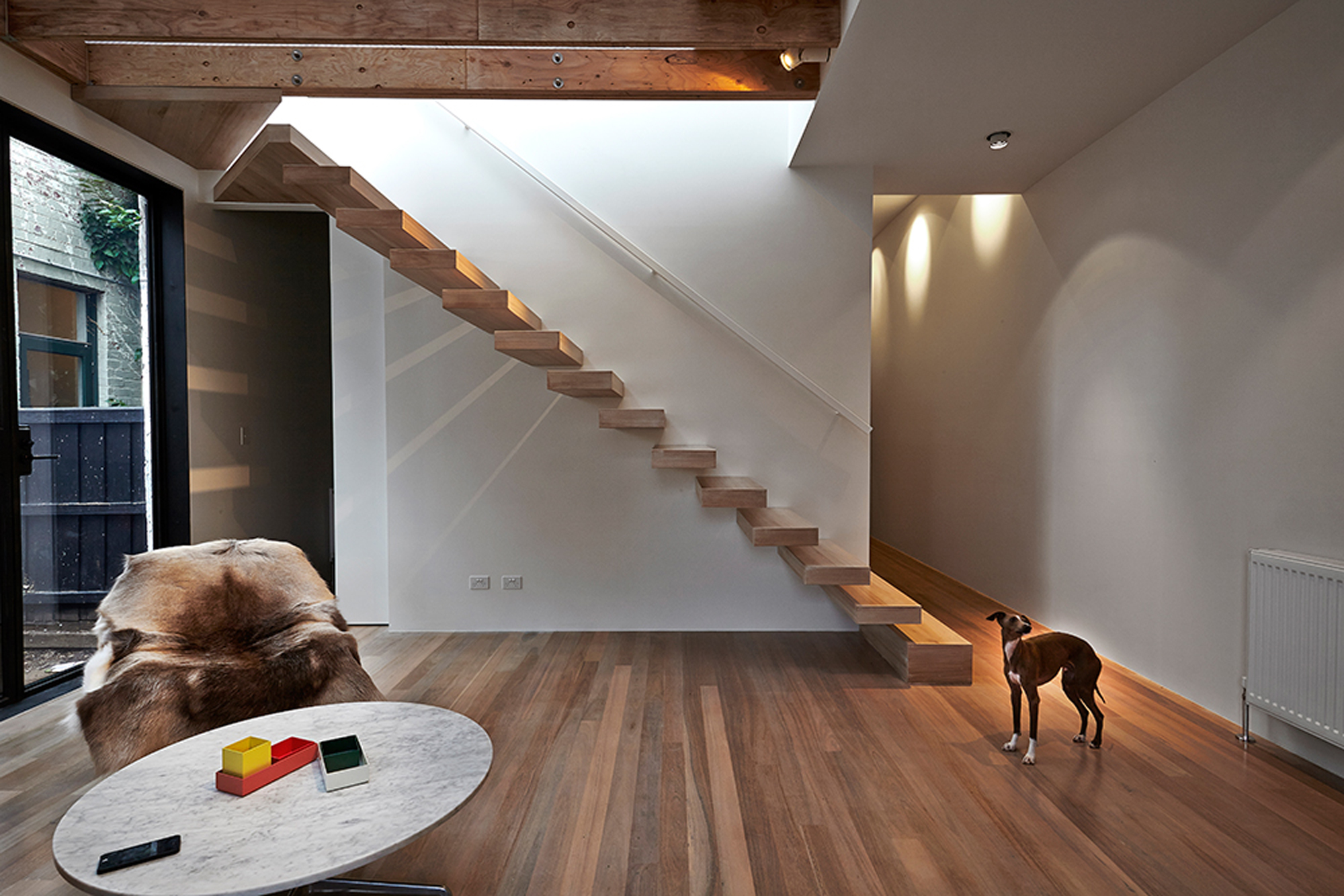 Aug 7, 2014
Edwards Moore is a small but potent Melbourne-based architecture studio that has amassed an impressive (and deservingly lauded) body of work since principals Ben Edwards and Juliet Moore came together in 2009, finding common ground in their passion for human-centred design. Their projects span residential, retail and conceptual, characterised by an agile and artistic approach to architecture and a commitment to innovation that transcends budget or space constraints.
A humble budget can often lead to lofty ideas, and this was especially the case with Lightbox House. Edwards Moore say it ensured "clarity in the conceptual thinking behind the key design strategies" which allowed the house to take shape swiftly. (The whole project was conceived of and completed within a year and a half, including the planning process.)
The design is a direct response to the unique site constraints, with the house "dwarfed by the surrounding urban fabric", sandwiched between a several storey apartment building on one side and a terrace on the other. Edwards Moore sought to draw the outside in, improving access to natural light and the exterior landscape, while also maintaining privacy and creating a "comforting oasis" within the inner city context.
One of the key features that serves this objective is an oversized steel window with an aspect over surrounding rooftops and treetops, which offsets the modest plot size and lack of immediate open space. In addition, the second storey is not just a space-creating mechanism – the higher plane seeks out natural light via the translucent polycarbonate roof that encases it, and then delivers it to ground level through a perforated floor that forms the ceiling of the room below.
The layout of the house is a reflection of the owners' needs – a young couple (Nick and Nicola) whose priorities are likely to change over time. This meant "the house needed to allow connectivity, yet provide the separation required for future plans". Accordingly, Edwards Moore retained existing ground floor rooms (including a bedroom, bathroom and living area) but then added a ground floor master bedroom, mid-level living area and upper level kitchen and dining area.
There were also two four-legged family members to think about – Italian greyhounds Joyce and Floyd. Their needs were not lost on dog-loving duo Edwards Moore, who regarded them as "important members of the team" and made sure they were considered "throughout the decision making process, especially in relation to the perforated floor and ensuring the size of the perforations didn't catch their little paws."
Despite standing up to its looming neighbours, the resulting structure is not at all imposing. Edwards Moore explain, "The new building envelope was designed to minimise its impact on the heritage streetscape, as well as the amenity of the surrounding properties. The restrained material palette and sloping translucent roof provide a discreet and sympathetic addition to the existing urban landscape."
All photos by Daniel Aulsebrook. Many thanks to Ben Edwards and Juliet Moore for their time and insights.