Andrzej Nowicki is a Melbourne-based, Polish-born, South Africa-raised artist, who made the antipodean migration after a stint living in New York. He has recently shown his silhouetted collages and paintings at the likes of Tristian Koenig gallery in Collingwood and Chapter House Lane in the CBD. He is also the initiator of Grey Eye Society – the Melbourne drawing class for drinkers with a drawing problem.
Andrzej says, "With Grey Eye Society I work with small groups of people so that I can help them better understand how drawing works and what they need to do to learn how to be able to draw. I keep small groups so that I am able to help my students develop confidence and a personal approach to their drawing. The course is also a wine appreciation course and in each class we explore different grape varieties and wine-making regions. Drawing and wine are quiet different experiences but together they help people create a new association, which in turn helps them gain confidence in both choosing wine and drawing."
And on top of all that, Andrzej is an incredible cook and a captivating storyteller. We entreated him to exercise both these skills for Assemble Papers and he treated us to Pork & Pineapple – the modestly named Nowicki family recipe that has its origins in communist Poland, but has evolved and accumulated ingredients as the Nowickis moved to South Africa and then beyond. Andrzej explains the genesis of this deliciousness…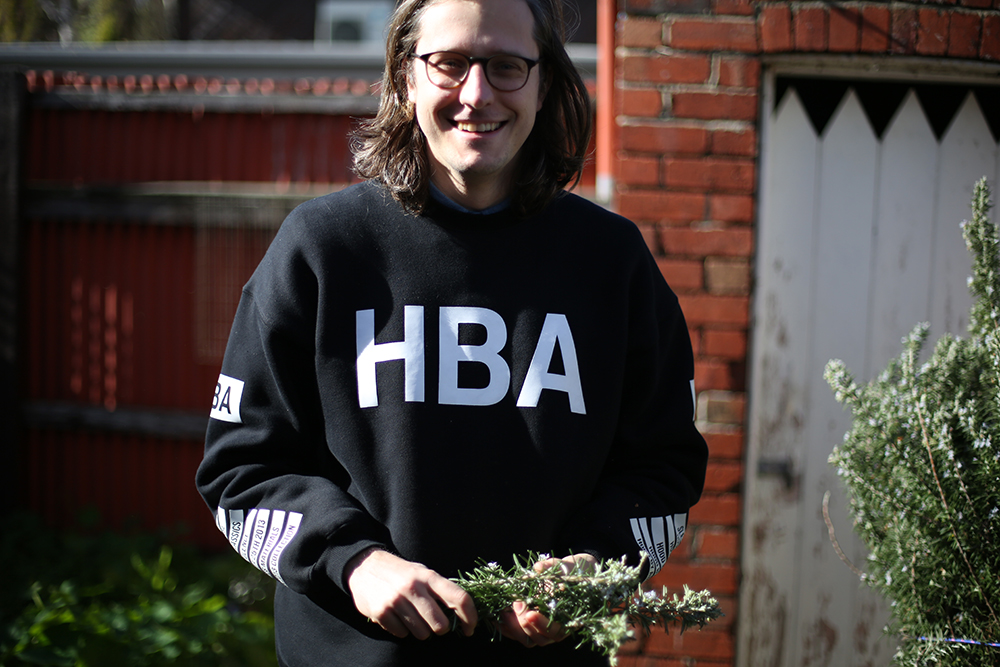 "Pork & Pineapple (yeah it's just called that not very romantic) is a recipe my aunt invented in Poland in the mid '80s. Every part of the recipe was based on making this spicy and aromatic dish out of really anything you could find or get your hands on (everyone back then lived on food stamps and food – especially meat – was rationed out!).
My aunt was always managing to get stuff into Poland that you didn't really have access to during the communist era, so she had things like tinned pineapple and curry powder, which you couldn't get in Poland and people didn't really have much contact with or experience of back then.
So my aunt used to get pork and cook it with rosemary, tinned pineapple, paprika and dry curry. It was a family favourite and whenever we visited Warsaw we kind of hoped she was going to make it for us.
When we moved to South Africa we suddenly had all of these great fresh ingredients and heaps of variety. My mom went crazy experimental and started to cook many different cuisines, mainly Chinese and Indian food. Eventually after a few months of experimenting she went and made P&P. Her version was the best – she started to add soy to it and played around with garam masala instead of standard yellow curry powder, and also used better pork cuts. She also started to make it with French fries, which is what makes this dish – the crunchy fries soak up all the juice from the P&P and become the most sought-after part of the meal. Traditionally, in a mouthful you'd want a chunk of pork, a piece of pineapple and a French fry.
I make P&P too and, like my mom, I alter the recipe depending on where I'm living. It was different in NYC and it's different in Melbourne too – it's actually different every time I make it but here's a basic step-by-step guide on how to make it. I hope that you will make it twice and on the second time you will make it different and invite me (I'll bring the fries!)."
Ingredients
1/2 kg good quality pork loin
1 tsp salt
½ tsp cayenne pepper
½ tsp smoked paprika
½ tsp sweet paprika
4 cloves of garlic, crushed
A big handful of rosemary
1/2 cup of soy sauce
1 large (really big, you'll need a lot of juice) tin of pineapple
1 tbsp of curry powder
6-8 fresh curry leaves
To serve:
A generous pile of french fries or your crispy potato of choice
Serves four (or three hungry people)
Cooking method
A couple of hours before cooking take the pork out the fridge and sprinkle it with the tsp of salt. Let it sit out for a while so it's at room temperature.